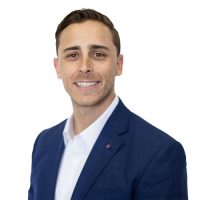 Co-Founder & Managing Director
Kyle is a 3rd generation South African. He grew up in Southern California but would travel back to South Africa often to visit family and go on safaris. Those safari experiences helped instill and reinforce, in Kyle, a passion for animals and conservation which has continued to grow to this day.
Kyle worked in the NFL representation industry for eight years, specializing in client services, athlete marketing, and player representation.  In 2014, Kyle planned and led a trip of NFL athletes to South Africa, where they visited two luxury safari lodges, Cape Town, and Johannesburg. The players and their families unanimously agreed it was the trip of a lifetime.
Building on this trip, Kyle began to help Larry on the side with the growing referral business from friends and peers who were interested in visiting Africa. As the stream of referrals continued to grow, Kyle decided to transition full-time and formalize Ubuntu Travel, along with his wife, Leah.
Kyle received his undergraduate degree in 2009 from Southern Methodist University and an MBA from the University of Southern California in 2014. He lives in Newport Beach, California with his wife Leah and their two Bernese Mountain Dogs, Buddy and Bear.
What inspired you to start Ubuntu Travel?
While I've always been passionate about African travel, I'd have to say the real "aha moment" for me came during our 2014 NFL players trip to South Africa. Seeing others experience the wonders of Africa for the first time, and the joy that it brought them, truly resonated with me at a deeper level. I want to recreate and share those feelings with as many people as possible and Ubuntu Travel provides the perfect outlet.
What is your most memorable safari experience?
Each and every safari experience is unique and unlike the other. Some of my oldest childhood memories are of sitting in a safari vehicle with my parents and being awe struck by everything in front of me. Each and every experience is etched fondly into my brain, from my many trips to South Africa growing up, to my first time in the Okavango Delta with my wife, Leah, as well as the incredible experiences we've had gorilla trekking in Rwanda. I look forward to creating many more memories on this incredible continent.
What is your favorite African dish?
As a native South African my answer is of course biltong, which is the South African version of beef jerky, although it can be made from other types of game. There's nothing better than enjoying some biltong and a gin & tonic during a sundowner in the bush on an evening game drive.