When thinking about going on safari, you may envision open-air Jeeps roaming the grasslands, gazing out at extraordinary wildlife and scenery. And you wouldn't be entirely wrong to think that – that's certainly a very popular way to traverse the African continent! There are many other ways to travel beyond that, most of which depend on the locations you choose to visit and their respective terrain, the activities you plan to participate in, and your budget. So if you are wondering what are the best modes of transportation in Africa, this guide will help you plan your trip.
The best modes of transportation in Africa
Practical, Private and Adventure Travel
Certain parts of Africa call for different modes of transportation. There are various options available if you're looking to travel in luxury, or arrange for private or adventure transportation. As a safari agency, we are able to coordinate all of these for you prior to your trip depending on your itinerary and preferences.
Train
One of the most spectacular train experiences in the world, the Rovos Rail combines modern convenience with timeless rail history. Journey to Victoria Falls, Durban, Pretoria, Cape Town and more in style and luxury, with the option to choose from a Royal, Deluxe, or Pullman Suite. On board, there are dining cars as well as lounge/observation cars to take in the magnificent scenery.
Vehicles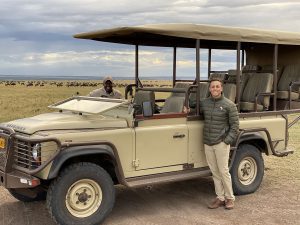 Moving on the ground is what people most often think of when they picture traveling in Africa. A few of the most practical and exciting options are below: 
4×4 Safari Vehicles & Open Game Drive Vehicles

– these are typical for safari game drives throughout Africa. With multiple rows of seats at varying heights, this type of vehicle is excellent for game viewing and experiencing the great outdoors!

Closed Safari Vehicles

– featuring a pop-up roof for viewing wildlife, these vehicles are used in private concessions/safari parks, usually found in East Africa. In private parks, regulations mandate that closed vehicles are used, as opposed to the open vehicles found in other parts of Africa.

Transfer Vehicles

– used in cities for tours or airport transfers; most typically resemble a high-end sedan or SUV with a driver-guide. These are almost always private transfers or excursions for just your group and designated guide.
Air Travel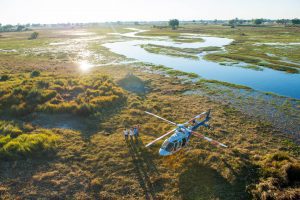 Because Africa is such a vast continent, air travel is popular and smart. Here are a few methods that visitors most commonly use: 
Commercial Flights

– used for practical reasons, these flights are used for travel between countries or longer distances within countries. 

Bush Flights

–

 

Cessna Caravans and other small planes are

used to reach lodges and remote destinations. As space is limited, it's important to know luggage restrictions when flying this way; no hard suitcases are permitted, only soft-bodied duffels without a rollerboard. These flights often double as game drives, with incredible views of the surrounding scenery and animal sightings on the runway!

Private Charter Flights

– available for groups looking to fly private, which usually comes at a higher cost but can help with getting to destinations swiftly by avoiding longer layovers or stopovers. Definitely an exclusive and luxurious way to travel through Africa.

Hot Air Balloon

– this early morning adventure provides an awesome perspective over Africa's most stunning wild lands. One of our favorite rides is over the Mara River in the Masai Mara, Kenya, for the breathtaking views of the winding river and hippos.

Helicopter – another neat perspective that gifts visitors with a birds' eye view of incredible landmarks; we suggest seeing the Okavango Delta in Botswana via helicopter, with other contenders being Victoria Falls and the Cape Town coast.

Water Transportation
Experiencing Africa by water is truly magical for those who get to experience it.  Destination depending, we recommend trying one of the below if your itinerary allows:
Mokoro

– most commonly found in Botswana, this dugout canoe is used to navigate the shallow waters of the Okavango Delta. Gliding through the water on a mokoro brings you eye-level with Africa's wildlife. 

Canoe

– a great option for any African water safari, this more traditional canoe moves through the water with large paddles.

Boat Safaris

– akin to a game drive, but on a boat, which is ideal for seeing lots of water birds and unique landscapes. 

Sundowner Cruise

– large double decker boats perfect for sunset cruises in Zimbabwe/Zambia. Think happy-hour on the water with awe-inspiring views of Africa!

Other Adventure Travel
Horseback

– certain parts of Africa have horseback safari available, which offers a rare and unique perspective to see wildlife and different terrains. 

Walking

– for those looking to really get immersed in wilderness, walking safaris are a fantastic way to see and hear the beauty of the wild. More on walking safaris

here. 
Different Experiences Call for Different Modes of Transportation
As indicated above, there are many memorable and exciting ways to travel through Africa. While some modes of transportation should be elected for more practical reasons, we always suggest having some fun and incorporating travel methods that bring you life-changing views of Africa and it's stunning wildlife. With so many ways to see and experience Africa, you won't regret it!
Start Planning Your Dream Trip
Reach out and let's start talking. We'll listen and begin to tailor an experiential, private, luxury vacation based on exactly how you want to experience Africa. From adventure to relaxation—and everything in between—let us handle every detail of your unforgettable journey.