Kyle and I spent two weeks in October checking out lodges in East Africa, with the goal of learning all about the new covid-19 protocols at safari lodges in Africa and how hospitality groups and lodge operators plan to keep visiting guests safe. Since international travel had just recently resumed in this part of the world, we understood that local governments may still be working out the kinks with new systems and procedures, and we would need to have an open mind. What we didn't realize was how well the countries we would visit had their COVID-19 protocols under control; some of the countries we visited were exceptionally more strict than the United States, particularly Rwanda. We understand that comfort levels with traveling will vary based on many factors (if you or a loved one are at higher risk, your age, etc), but we were really impressed by the new procedures in place at safari lodges and hotels in Africa, and felt very safe traveling.
New Covid-19 Protocols in Airports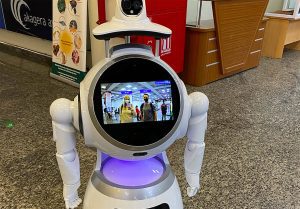 For the most part, we experienced strict regulations while in airports and on planes. Airport personnel were clear about rules and expectations, and regulatory signage could be seen everywhere throughout the terminals. We found that the majority of travelers were taking things as seriously as we were; all travelers wore masks, and some even wore face shields and protective gear covering their entire bodies. In higher traffic areas, like security and customs, there were stickers on the floor indicating where travelers should stand to adhere to proper social distancing measures. We also noticed that there was no shortage of sanitizer in the airports. Dispensers were adhered to every wall and kiosk, and travelers were asked to sanitize their hands before entering the airport, before handing passports and documents to staff members (and then again once documents had been returned to them), and then finally before boarding flights. It wasn't flowery, scented sanitizer, either. This stuff was as strong as it gets! If sterile had a scent, this would be it. Safety protocols were thorough and it was clear that everyone was doing their part to limit the spread of the virus.
We were also very impressed with how strict flight attendants were during flights. If your nose mysteriously appeared above your mask, someone would be there to let you know your mask needed to be raised back up. The only time you were allowed to remove your mask was while eating or drinking, but otherwise, they needed to remain on for the entire flight. For a 24-hour travel day, we were very happy to have extra disposable masks to swap out every few hours.
It seems like this is trending more and more regardless of where you are traveling to (domestically or internationally), but before entry, many countries require proof of a negative COVID test within a set window of time. We needed to show our printed copies at multiple checkpoints throughout airports and were tested a few times during our trip to make sure we stayed within specific testing window regulations. While this requirement can't completely ensure that all travelers are healthy, it definitely reduces the chance of someone with COVID getting on a plane.
Covid-19 Protocols at Safari Lodges and Hotels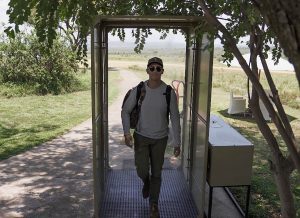 Throughout our trip, we had some evening arrivals and because of travel timing the next day, we needed to stay in city hotels. Hotel operation was in line with what we expected: temperature checks upon arrival, symptom surveys provided to ensure we were feeling well, and heavily increased cleaning in the rooms and common areas. Hotel staff and guests were expected to wear masks at all times and social distance, and we seldom saw someone not adhering to these rules.
In Rwanda, we stayed in a city hotel in Kigali to wait out our COVID test results, as the local government requires an additional test upon arrival for all visitors. Once we checked in and were settled, an on-site doctor met us at our room to administer an oral swab test. We were then told to remain in our room until the test rest results came back the following morning. Hotel staff left all meals at our door, limiting any contact with us until we were released with negative tests. We felt this was a great way to control exposure and keep guests and hospitality staff safe, while also creating a comfortable environment for tourism to resume.
Safari Lodges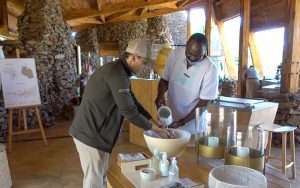 So many African countries rely on tourist dollars to fuel their local economies, so it was clear that they weren't messing around when it came to client safety with strict health measures in place at safari lodges. Daily temperature checks were mandatory, as was hand washing or sanitizing prior to entering any common areas. Some of the properties were able to make it feel like a luxury, rather than regulation; a beautiful basin set up at the entrance of the lodge with fragrant hand scrubs and someone pouring warm water over your hands as you washed them. It almost felt like the start of a spa treatment! Social distancing was optional but very easy to do if you wanted your space. There was no slap on the wrist if you and another guest wanted to chat over a cocktail or meal (which in this controlled environment really mimicked normal life pre-COVID) but with reduced capacity at lodges, there was plenty of space available so guests didn't need to cross paths if they didn't want to.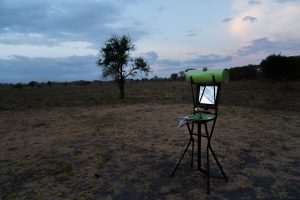 A major benefit of being on safari during this crazy time is you are already in a position for "natural distancing". Open safari vehicles and fresh air are the ideal space to spend your time out in the African wilderness. If you want to add another layer of security, guests can request a private vehicle so that you aren't sharing with any other travelers. Depending on what lodge you're staying in, this can sometimes be an added cost, but for extra cautious guests can provide some additional peace of mind.
Depending on the lodge operator, some safari guides and rangers wore masks during game drives, and some did not. We went along with whatever our guides suggested for our safety, but if there were ever a situation where guests wanted their guides to always wear masks, they would absolutely do so to make the client comfortable. We witnessed a handful of travelers who insisted on wearing masks throughout their game drives which did not seem to detract front heir experience at all. At the end of the day,  it all comes down to personal preference and what you feel will provide the most enjoyable and comfortable experience.
Safe Travel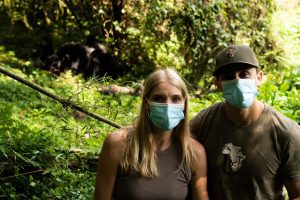 We were pleasantly surprised by how safe we felt traveling in the middle of a pandemic. Kyle and I are fortunate that we aren't high-risk travelers, but it was clear that African countries we visited felt a strong responsibility to keep visitors safe, while also protecting their residents from the Coronavirus. After two weeks traveling between Kenya, Rwanda and Tanzania, our takeaway was that safe and responsible travel is very possible right now.
With your own personal preparedness (protective masks, sanitizing supplies, social distancing while traveling, etc) paired with the health and safety measures implemented by African governments and lodge operators, travelers can have an incredible safari experience without compromising their safety. We're here to help answer any questions you may have about traveling today, and hope we've helped shed light on the possibility of travel in the near future.
Start Planning Your Dream Trip
Reach out and let's start talking. We'll listen and begin to tailor an experiential, private, luxury vacation based on exactly how you want to experience Africa. From adventure to relaxation—and everything in between—let us handle every detail of your unforgettable journey.