With everything going on in the world today, we are definitely ready to turn the page on a new chapter. With the extra time you may have at home, filling your life and mind with positivity and new insights may be just what the doctor ordered!
For some educational, enlightening and hilarious page-turners that will transport you to Africa, take a look at our 'must-read' list… and thanks to Amazon, all of these 'adventures' can be delivered right to your doorstep!
1. Ubuntu: One Woman's Motorcycle Odyssey Across Africa, by Heather Ellis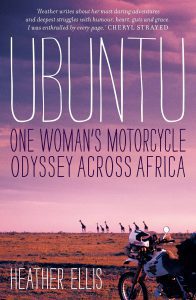 We love this read, for obvious reasons, as it illustrates the true ethos of Ubuntu, and how there is a universal bond that connects all humanity together, no matter where you come from. The book tells the extraordinary story of a woman who, alone and against all odds, rode a motorcycle through some of the world's most remote, beautiful and dangerous places and was met with kindness along the way.

Ubuntu Travel Insight:
Our good friend, Daniel Martin, had a similar experience riding his bicycle from London to Cape Town a few years back and joined us for an Ubuntu Travel Speaker Series event in Costa Mesa, California to tell the tale. Daniel, similarly to Heather, experienced sincere kindness throughout his journeys through some of the stereotypically 'scary' parts of the world.
2. Mama's Last Hug, by Frans de Waal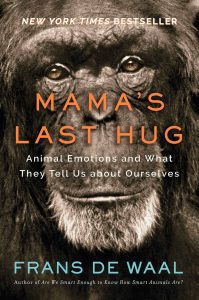 Primate behavior researcher Frans de Waal explains his belief that emotions are felt all throughout the animal kingdom. The book is titled after Mama, the matriarch of the chimpanzee colony at the Burgers Zoo in the Netherlands, who expressed true emotion and love with select humans she interacted with. Through a series of heartwarming stories, de Waal debunks the thought that emotions are reserved for humans alone and that animals are incapable of self-expression and feelings.

Ubuntu Travel Insight: 
After researchers sequenced the chimp genome in 2005, scientists have uncovered that humans share approximately 99% of their DNA with chimpanzees, making them our closest living relatives!
3. Love, Life and Elephants: An African Love Story, by Dame Daphne Sheldrick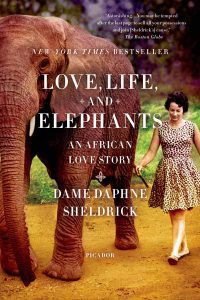 Daphne Sheldrick, reputably one of the first people to successfully raise newborn elephants, recounts her career as a conservation specialist who dedicated her life to preserving wildlife, specifically elephants, in Kenya. In her memoir, she shares her love story with a few of the animals she protected, as well as the magical and heartbreaking romance with her husband, David Sheldrick, who greatly influenced her passion for conservation.
Ubuntu Travel Insight:
The Sheldrick Wildlife Trust and Elephant Orphanage exist today in Nairobi and their dedicated staff care for numerous orphaned elephants and other wildlife until they are ready to be released in the wild. Guests have the opportunity to sponsor or "adopt" animals and provide funds to help support them during their rehabilitation, as well as see the animals in person and watch a feeding. This is an absolute must-see while visiting Kenya!
4. Gorillas in the Mist, by Dian Fossey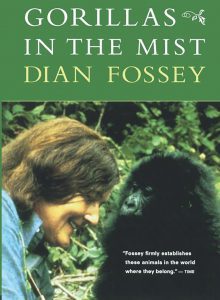 Dr. Dian Fossey, renowned primatologist and expert on mountain gorillas, recalls her personal adventure story and scientific discoveries throughout her time with the gorillas, which happened to be one of the longest field studies of primates (approximately 15 years).
Ubuntu Travel Insight:
Gorillas in the Mist can be a fantastic resource for travelers before gorilla trekking in Rwanda, as it gives valuable insights to the research and conservation of mountain gorillas, as well as a preview of what it is like to spend time with these animals prior to trekking. If you find this to be a great read, be sure to watch the 1988 film, featuring Sigourney Weaver.
5. Whatever You Do, Don't Run: True Tales of a Botswana Safari Guide, by Peter Allison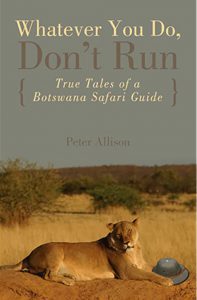 This book is a comical complication of real-life stories and experiences from safari guide, Peter Allison, recounting his time as a safari ranger in Botswana. Allison explains that in a place where the wildlife should be the most dangerous thing around, his encounters with unruly tourists and guests can sometimes be even wilder than the wildlife! His stories of inebriated guests wandering off in the wilderness and adopting a wild animal as his pet will leave you in hysterics – and wishing you were on safari to witness it all!
Ubuntu Travel Insight:
Interested in becoming a safari ranger, yourself?   See if you have what it takes at EcoTrainng – a professional safari guide school near South Africa's Kruger National Park. Various courses are on offer – from wildlife specific training or guiding training of different lengths (28 days to a full year).
Start Planning Your Dream Trip
Reach out and let's start talking. We'll listen and begin to tailor an experiential, private, luxury vacation based on exactly how you want to experience Africa. From adventure to relaxation—and everything in between—let us handle every detail of your unforgettable journey.