Even though it seems as if life is on 'pause' at the moment, you can still keep dreaming of the next incredible destinations to visit once we can push 'play' again! The team at Ubuntu Travel has compiled some of our favorite Africa-inspired movies for you and the family to immerse yourselves in, and further the daydreams of your upcoming safari.  Discover Africa through these unique perspectives, and explore a new part of the world from your living room.
1.  Gorillas in the Mist (1988)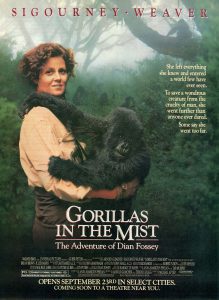 This historical drama film is a real life story, based on the autobiography of wildlife expert Dian Fossey.  Midwesterner Fossey (Sigourney Weaver) leaves the United States for Africa, where she studies the gorillas of Rwanda and Uganda. As Fossey develops a bond with the animals, she also becomes wary of the poachers who prey on them. Fearing that the gorillas will go extinct if humans continue to hunt them, she organizes a defense league to protect the animals; in doing so, though, she puts herself in a perilous situation. 
Where to Watch:
Ubuntu Travel Insight:
Dian Fossey is buried next to her gorillas, many of which are believed to have been killed by the poachers that likely murdered her. For guests visiting Rwanda to trek to see the mountain gorillas, you can participate in a hike to visit her actual gravesite near the Karisoke Research Center.
2.  Out of Africa (1985)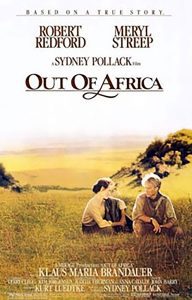 Set in the beautiful surroundings of colonial Kenya, this brilliant tale of romance and drama follows the aristocratic Karen Blixen (Meryl Streep) on her journey to Africa to join her husband, Bror (Klaus Maria Brandauer), who spends their small fortune on a coffee plantation. After discovering Bror is unfaithful, Karen develops feelings for hunter Denys (Robert Redford) but realizes he prefers a simplistic lifestyle compared to her upper-class background. The two continue on until a series of events that force Karen to choose between her love and personal growth. 
Where to Watch: 
Ubuntu Travel Insight: 
Meryl Streep developed her accent by listening to recordings of Karen Blixen reading her own works. In Nairobi, Karen's former home, where she and her husband intended to operate their coffee plantation, has since been repurposed as the Karen Blixen Museum. It is a common stop on most Nairobi city tours. 
3.  Invictus (2009)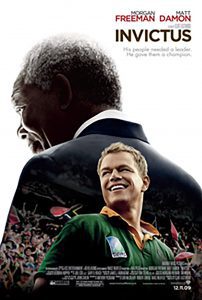 After his 27-year imprisonment and subsequent election as President of South Africa, Nelson Mandela (Morgan Freeman) faces the task of unifying a country divided by race. This is an inspiring dramatization of a true story that occurs only months after the end of Apartheid; divisions still exist between the country's whites and blacks, something Mandela notices during an international rugby match when black supporters cheer on the opposing side against the mostly white South African Springboks. This film highlights the unifying ability of sports, as South Africa comes together to rally behind the eventual World Cup champion, Springboks.
Where to Watch:
Ubuntu Travel Insight:
Though he has passed on, Mandela is still a great influence in South Africa, and throughout the world, today. He was one of the main proponents of the ethos of Ubuntu. During city tours in Johannesburg, guests can still drive past Mandela's House in Soweto, or learn more about the difficult times showcased in the film by a visit to the Apartheid Museum in Johannesburg.
4.  Mandela: Long Walk to Freedom (2013)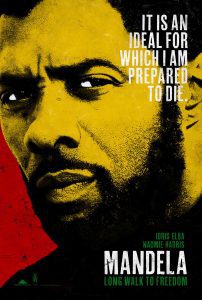 In this captivating historical drama, the remarkable life of South African revolutionary, president and world icon Nelson Mandela (Idris Elba) takes center stage. Though he had humble beginnings as a herd boy in a rural village, Mandela became involved in the anti-apartheid movement and co-founded the African National Congress Youth League. His activities eventually led to his imprisonment on Robben Island from 1964 to 1990. Not too long after his release in 1994, Mandela became the first president of democratic South Africa.
Where to Watch:
Ubuntu Travel Insight:
In order to prepare for the role, actor Idris Elba spent a night in the real Robben Island prison, locked in a cell next to the one where Nelson Mandela was held. For visitors to Cape Town, we highly recommend a tour of Robben Island, to get the full historic layout of what life was like for Mandela during this time.
5.  The Gods Must be Crazy (1980)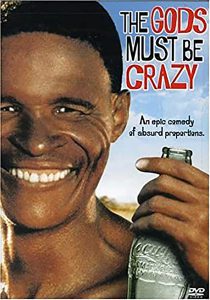 The tribal people in a remote African desert live a happy life, but it is all torn to pieces when a Coca-Cola bottle falls from a plane. With the villagers fighting over the strange foreign object, tribal leader Xi (N!xau) decides to take the bottle back to the gods to restore peace. His journey to the "end of the world" eventually has him crossing paths with a bumbling scientist (Marius Weyers) and a band of guerrillas who take a schoolteacher (Sandra Prinsloo) and her class hostage.
Where to Watch:
Ubuntu Travel Insight:
Due to an informal international embargo against South Africa, the film was released as a film of Botswana, despite having a South African director and being financed with South African government funds.
6.  Sides of a Horn (2018)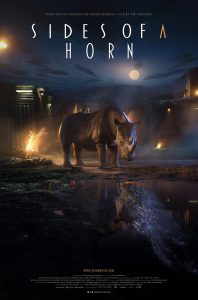 Sides of a Horn is the first film to tell the story of Africa's poaching war from both sides of the fence. Based on actual events, and filmed in the townships and game reserves most directly impacted by wildlife crime, this dramatic short film paints an unbiased portrait of a modern war that is tearing communities apart and driving a prehistoric species to the verge of extinction.
Where to Watch:
Ubuntu Travel Insight:
Director, Toby Wosskow, joined us for a private screening and panel discussion at one of our Ubuntu Travel Speaker Series events in Costa Mesa, California, to help spread awareness on the poaching war and what we can do to help.  You can watch the full panel discussion following the screening on the Ubuntu Travel YouTube channel:  Sides of a Horn – Panel Discussion
Start Planning Your Dream Trip
Reach out and let's start talking. We'll listen and begin to tailor an experiential, private, luxury vacation based on exactly how you want to experience Africa. From adventure to relaxation—and everything in between—let us handle every detail of your unforgettable journey.