We are so blessed to have technology on our side during this global lockdown.  Having the ability to 'travel the world' with a click and a swipe has been a valuable tool in keeping our morale boosted and dreams alive.  
To help keep you entertained while at home, some of our valued partners in Africa are now live streaming directly from the African wilderness. The passion and love of wildlife displayed by the safari guides on feature is sure to provide a wonderful escape from our temporary isolation and bolster future travelers for their next (in person) game drives. Join us on safari and be part of the conversation!  Interact with some of Africa's most esteemed guides and wildlife experts by tuning in to these select channels:
1.  &Beyond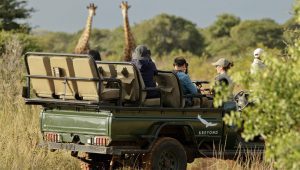 andBeyond Travel has a collection of 29 luxury lodges and camps peppered throughout Southern and East Africa, superbly placed to provide guests with the very best of Africa's iconic safari and island experiences.  Each accommodation is uniquely designed to showcase its own style and character, derived by a harmonious blend of the respective region's surroundings and the authenticity of an African safari. andBeyond's team of outstanding guides and trackers are keeping the safari spirit alive by bringing the wild of the African bush to your living room.
TUNE IN

:
Instagram Live:  @andBeyondTravel
Expert guides like Jarryd du Preez will be streaming live as they come across animal sightings while they are out in the field keeping an eye on the precious wildlife in the Sabi Sand & Phinda Private Game Reserves.  Make sure to turn on your IG Live video notifications so you don't miss out!
Facebook and YouTube Live:
For regularly scheduled live streams, you can tag along with the safari guides on Facebook – @andBeyondTravel or YouTube – andBeyond twice-daily for three-hour-long game drives exploring andBeyond's Ngala Private Game Reserve & Djuma Private Game Reserves.  You can view the safaris between 6:30 am-9:30 am PST and 9:00 pm-12:00 am PST.
Join the conversation on Twitter:
Tweet to @andbeyondtravel followed by the hashtag #wildearth to post your safari questions to the andBeyond team.
Previous Safaris:  andBeyond WILDwatch
2.  Singita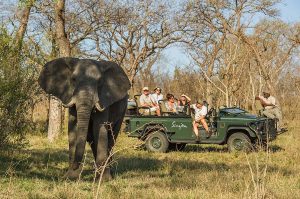 Having its first property constructed on the family-owned land of the Sabi Sands Game Reserve in 1993, Singita's 15 award-winning lodges and camps are the epitome of bespoke luxury accommodation.  Spread across six regions in Africa, the organization employs 1,600 people, which includes 130 poachers-turned-game scouts; Singita's dedication to sustainable conservation and the empowerment of local communities is truly exemplary.  During this chaotic time, Singita brings the soothing views of nature to your household in their daily live streams of Africa's most unspoiled and hidden locations.
TUNE IN:
Instagram Live: @Singita_
Facebook Live: @singita.gamereserves
Broadcasting twice daily on Instagram and Facebook, resident photographer and former guide Ross Couper expertly navigates the pristine landscapes to bring you up close and personal to some of Africa's most treasured species. 
Previous Safaris:  Vimeo – Singita Safaris
3.  Lewa Wilderness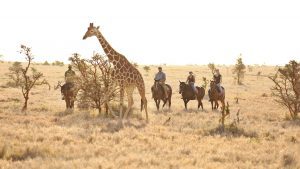 Situated near the base of Mt. Kenya (Africa's second tallest mountain), Lewa Wilderness is one of Kenya's oldest safari destinations.  Starting out as a family-owned cattle ranch, Lewa Wilderness was the first property in the region to host visitors, dating back to 1972. Guests will experience a truly unique and personal safari experience at Lewa Wilderness; game drives are rich with a variety of animals, and guests are almost guaranteed to see the "Big Five".  And now the Lewa Wilderness team is bringing this special experience directly to the palm of your hand.
TUNE IN:
Instagram Live: @lewawilderness
Facebook Live: @LewaWilderness
Trained Maasai guides will take you on a picturesque nature walk safari, offering a unique perspective than that of a safari vehicle.  Or join the Lewa Wilderness team for a horseback ride around the Lewa Wilderness property, or via camel, experiencing the wildlife in a different way!
4.  Tswalu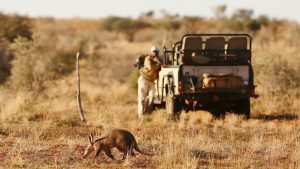 "To leave our world better than how we found it" is the mantra of South Africa's largest private game reserve, Tswalu Kalahari.  Family-owned since 1998, it's been their mission to restore the heavily farmed landscape back to its innate state. Being very conservation-focused, the Tswalu team has also successfully re-introduced a variety of indigenous wildlife, making it a special place to view elusive animals of Africa.  Bring the family together for a magical reunion to stay in Tswalu's exclusive use residence, or vacation in one of the nine houses in the 'village' enjoying an intimate experience as a couple or with a group.
TUNE IN:
Instagram Live:  @tswalu
Join the resident researchers and photographers as they now turn to live streaming their routine patrols of the private reserve, to engage with us stuck at home, for some educational Q&A sessions about this magical property and the rare animals within.
5.  Angama Mara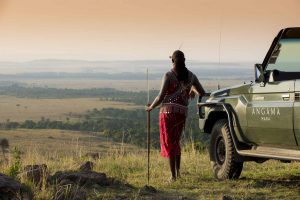 Looking out from the escarpment at Angama Mara, guests are left breathless and in awe of the Great Rift Valley below, home to some of the most romantic scenes from the iconic 1985 movie 'Out of Africa'.  Towering above Kenya's Masai Mara region, are two separate camps, comprised of 15 tented suites each. While on this reserve, guests experience tailor-made safari experiences, with excellent game viewing all year round.
TUNE IN:
Instagram Live: @angamasafari
Gather around the fireplace with your quarantine crew for some 'David Attenborough-esque' storytelling.  The team at Angama Mara is passionate about educating its 'virtual guests' about the history of the property and the Maasai people.  Key players, like Adam Bannister, can answer all your questions about the native wildlife and environment of this unique ecosystem.
Want more travel inspiration and information, straight to your inbox?
SIGN UP FOR THE UBUNTU TRAVEL NEWSLETTER!
Start Planning Your Dream Trip
Reach out and let's start talking. We'll listen and begin to tailor an experiential, private, luxury vacation based on exactly how you want to experience Africa. From adventure to relaxation—and everything in between—let us handle every detail of your unforgettable journey.