All of Africa is special in its own right, either for a first-time visitor or for a more seasoned traveler.
Because of the diversity between parts of the continent, it is an ideal location to visit more than once, so that you can truly drink in its unique splendor and cross each country off your bucket list. The regions of East Africa and Southern Africa, in particular, offer magical yet different experiences, so it is important for travelers to identify what their dream itinerary looks like so that they can decide what part of Africa is the best fit for them to visit.
These determining factors generally come down to which animals, scenery, and activities you'd like to see and experience while on safari. Because Africa is so big, it's important to identify where you want to go ahead of time so you can make the most of your time on vacation. 

Eastern vs. Southern Safari "Circuits"
One of our key recommendations is that travelers maximize their time by minimizing extended inter-Africa travel. This means limiting your travel to countries that are within close proximity to each other. Within Eastern Africa, it is wise to pair the likes of Kenya, Tanzania (and Zanzibar), Rwanda, or Uganda together, wherein one can partake in gorilla and chimp trekking, traditional safari game drives across the magnificent Masai Mara and Serengeti, hike Mount Kilimanjaro, or relax on white sand beaches. The Southern Africa circuit boasts equally exciting and diverse options with visits to South Africa, Botswana, Namibia, Zambia and Zimbabwe. Between the stunning water safaris in the Okavango Delta, climbing the red sand dunes in Sossusvlei or wine tasting in the Cape Winelands, you can see and do it all within this circuit. 
It is not uncommon for guests to travel to both circuits in the same trip, especially if they've made the long trek from the States (which is usually 24+ hours just to reach the continent of Africa). Typically though, this means a longer trip and an extra travel day or two sprinkled into travel plans. If you have the time to experience them both, we highly recommend doing so! 

East Africa Circuit 
In East Africa, you will find your traditional 'out of Africa' safari setting boasting wide open savannas and grasslands as far as the eye can see, large watering holes with congregating animals, and scenic mountains. 

Kenya and Tanzania
The two most popular safari parks in this region are the Masai Mara and the Serengeti, both famous for their superb game viewing and plentiful wildlife. Guests can spend time with local Maasai tribes to learn about African culture, tribal living and more. Additionally, the Ngorongoro Crater, located in Tanzania, is often compared to 'the Garden of Eden' and offers breathtaking views of wildlife from the bottom of a volcanic crater. The majority of the national parks in this part of Africa are public and highly regulated, meaning your safari vehicles must be enclosed with a pop up roof and roll down windows for viewing. You can, however, visit private game reserves within these areas for off road safari experiences and night drives. You will have ample opportunity to see the 'Big 5' (lions, leopards, rhinos, elephants and cape buffalo), but generally, large herds are the main attraction in this part of Africa.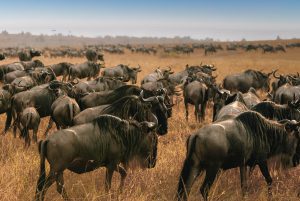 In East Africa, visitors have the chance to witness the Great Migration, which is the annual migration of millions of wildebeest and zebras between Kenya and Tanzania. This event draws guests from all over the world and is truly a spectacle worth seeing. Depending on the location of your safari camp, your game drives may be just a few hours long, or you may need to pack up and take off on an all-day adventure to follow the migration along its path. 

Rwanda and Uganda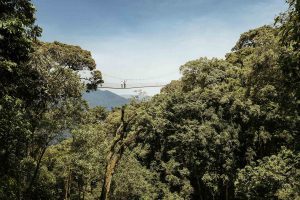 Another of East Africa's highlights is primate trekking in Rwanda, Uganda and some parts of Tanzania. Rwanda and Uganda both offer opportunities to trek with habituated mountain gorillas, which is arguably one of the most spectacular and intimate wildlife encounters one can experience. In Rwanda, the habituated gorilla families are easier to reach, while in Uganda the treks are much more challenging to reach the animals. Additionally, there are areas where guests can trek to see wild chimpanzees as well. Another favorite activity is canopy walks within the lush forests, which can give you a bird's eye view of the surrounding regions and wildlife. Rwanda and Uganda also offer fantastic traditional safari experiences with parks such as Akagera National Park in Rwanda and Queen Elizabeth National Park in Uganda. 

Zanzibar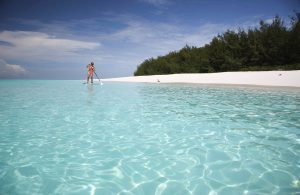 To experience it all, we recommend paying a visit to the beautiful white sand beaches and island of Zanzibar. Off the main island, you can also visit small private islands for ultimate relaxation and endless water activities, including world class scuba diving, snorkeling, swimming with dolphins, boating, and more. 
On the whole, the East Africa circuit allows guests the opportunity to experience thrilling primate trekking paired with traditional safari and beach destinations.

Southern Africa Circuit
Countries in Southern Africa bring both great diversity and numerous options for adventure and wildlife viewing. 
South Africa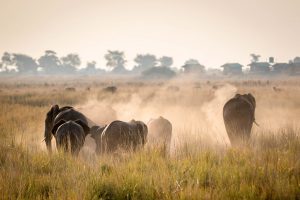 With a mix of everything, South Africa is home to some of the most densely populated parks (animals and wildlife), giving visitors a chance to see the Big 5 in one game drive. It is also an ideal location for first time safari visitors, ensuring that they see 'everything', but also serves as a great option for those more seasoned with safari, because of the wide range of accommodations. Moreover, Cape Town is a very popular destination for visitors regardless of which circuit they visit because of the stunning beaches, gorgeous hikes (Table Mountain and Lions' Head), Cape Winelands, and incredible dining. 

Botswana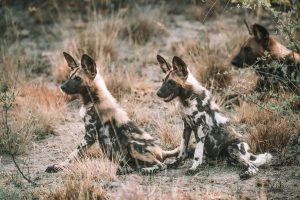 Botswana features the incredible Okavango Delta and Chobe National Park for land and water safaris, wherein an exciting mode of transportation (weather and water levels permitting) is a mokoro (a traditional dugout canoe). It is typical for safari here to feel very wild and action-packed, with the opportunity to see huge elephant herds, in addition to tons of other activities for the whole family. South Africa and Botswana are great for viewing cheetah and leopard, as well as wild dogs (while wild dogs are sadly regionally extinct in most parts of East Africa). 

Zambia & Zimbabwe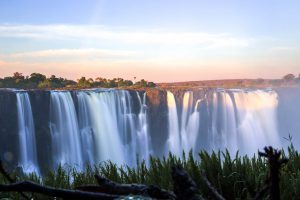 Home to the breathtaking Victoria Falls, featuring stunning views of one of the seven natural wonders of the world, Zambia and Zimbabwe are great for all types of visitors. Guests are able to track rhino on foot, partake in adrenaline-filled activities like white water rafting, bungee jumping, or taking a helicopter tour. The Zambezi River flows seamlessly into Victoria Falls and is beautiful for sundowner cruises. Traditional safari game drives and some of the continent's best walking safaris are also available in certain parts of each country.

Namibia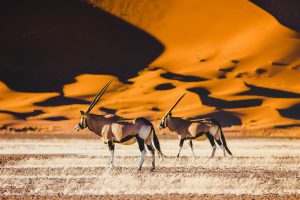 Last but not least, Namibia is a totally different type of safari and offers beautiful coastlines with shipwrecks (great to view by helicopter), desert-adapted wildlife for a unique safari experience, incredible stargazing because of the lack of light pollution, and hiking or surfing up and down extraordinary red sand dunes in Sossusvlei. 
It is important to note that a typical schedule for safari game drives consists of a few hours in the morning and a few hours in the evening, when animals are most active in the cooler times of day. In Southern Africa, safaris typically follow this schedule, whereas in East Africa they can extend to full day game drives if traveling further from camp to follow the migration herds. Long game drives are not common in Southern Africa, which can break up the day nicely and makes it a good fit for older travelers or families with guests who prefer not to sit in a vehicle for extended periods.

Conclusion
We firmly believe that Africa's magic is unlike any other place on earth. Whether you pay a visit to the Southern or East safari circuit (or both), you will surely come home with more memorable experiences than you could ever imagine!
Want more travel inspiration and information, straight to your inbox?
SIGN UP FOR THE UBUNTU TRAVEL NEWSLETTER!
Start Planning Your Dream Trip
Reach out and let's start talking. We'll listen and begin to tailor an experiential, private, luxury vacation based on exactly how you want to experience Africa. From adventure to relaxation—and everything in between—let us handle every detail of your unforgettable journey.