At Ubuntu Travel, we strive to meet the needs of our clients and provide exceptional service before, during and after their trip. While there are a myriad of ways to experience an African safari, including overnight accommodations, generally guests have a few options: mobile camps that move daily, tented camps, self-driving camps, and of course, 5-star luxury accommodations. The latter is our specialty.
We take pride in the ability to customize travel experiences for couples, groups, and families of all kinds. The properties listed below are some of our favorites and offer plenty of opportunities for personalization. Ultimately, our goal is always to take the stress out of planning so you can focus on connecting with your surroundings, creating memories, and bonding with loved ones.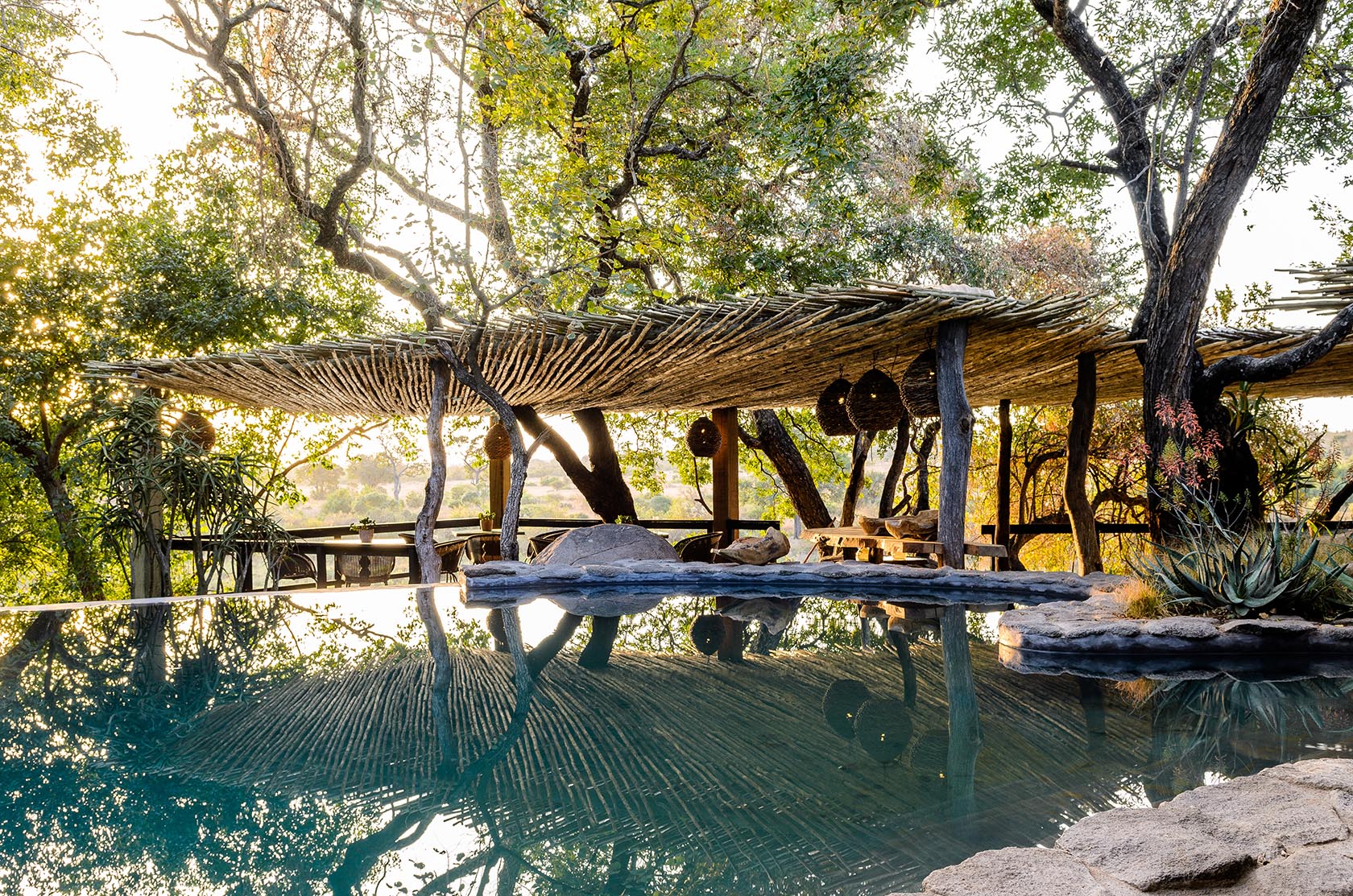 Top Luxury Safari Lodges
1. Singita Boulders
Located in Sabi Sands Private Game Reserve in Kruger National Park, this lodge boasts 12 suites, a below-ground wine cellar and feeds seamlessly into the surrounding boulders and awe-inspiring 45,000 acres. This presents guests with unique opportunities to gaze out at the nearby Sand River, encounter wildlife, connect with staff and other guests, or indulge in relaxation by the fireplace and private plunge pool that accompanies each suite. Furnishings are handmade and designed intentionally to reflect the abundance of natural beauty that surrounds it.
Singita Boulders has made a name for itself within the culinary scene and offers exceptional food, wine tastings and white glove service. Of high interest in the area are daily game drives with chances to see the Big 5, guided safari walks, star gazing, shopping in the Singita Boutique and Gallery, and an interactive experience in the Sabi Sand Canine Unit.
Other amenities include a gym, laundry service, mobile connectivity, secure parking, bar, library, spa, business center, internet access and a TV room. Singita Boulders is best suited for honeymooners or sophisticated travelers and presents countless opportunities for travelers to dip their toes in luxurious African magic.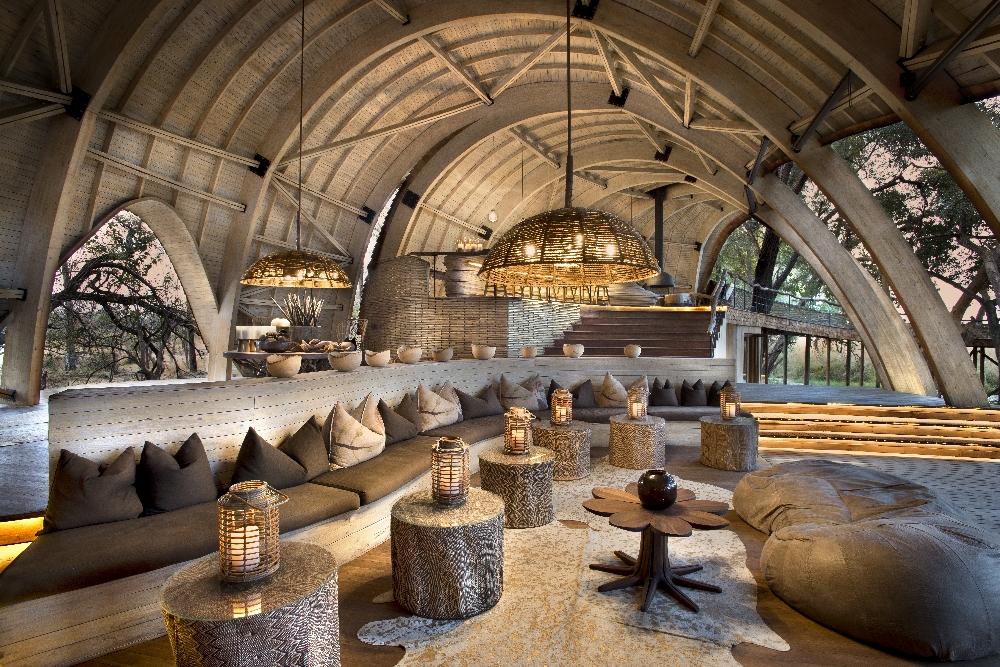 2. andBeyond Sandibe Okavango Safari Lodge
Located alongside the magnificent Moremi Game Reserve, the andBeyond Sandibe Okavango Safari Lodge and its guests regularly enjoy close wildlife sightings and uninterrupted views of the stunning Okavango Delta. Directly inspired by its position in one of the most staggering natural areas in the world, the 12 handmade and organic cocoon-like suites sit gracefully amongst the trees and were designed to blend with the surroundings.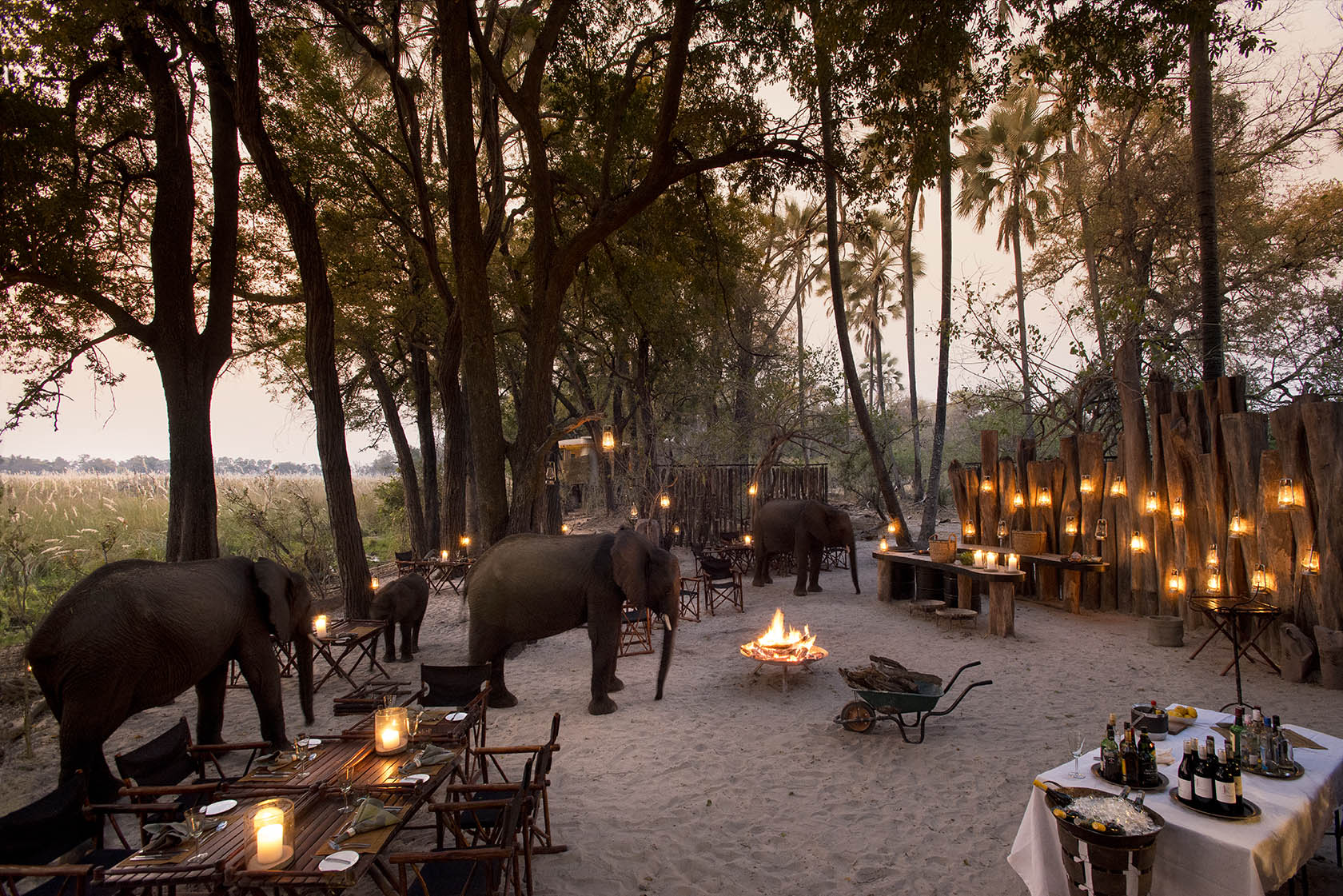 With seasoned and knowledgeable staff, guests have an opportunity to learn from some of the best in the business while on safari. The lodge also features an interactive kitchen wherein guests can delight in the wonderful smells and sights of world-class cuisines. While dining, animals may wander onto the open dining deck or somewhere on the property. Morning and evening game drives are included with one's stay, while guided safari walks and helicopter flights are also available. Guests also have an opportunity to relax and unwind with one of the five massage varieties available at the spa.
andBeyond Sandibe Okavango Safari Lodge is ideal for those seeking adventure, wildlife enthusiasts, photographers, nature lovers, couples and families.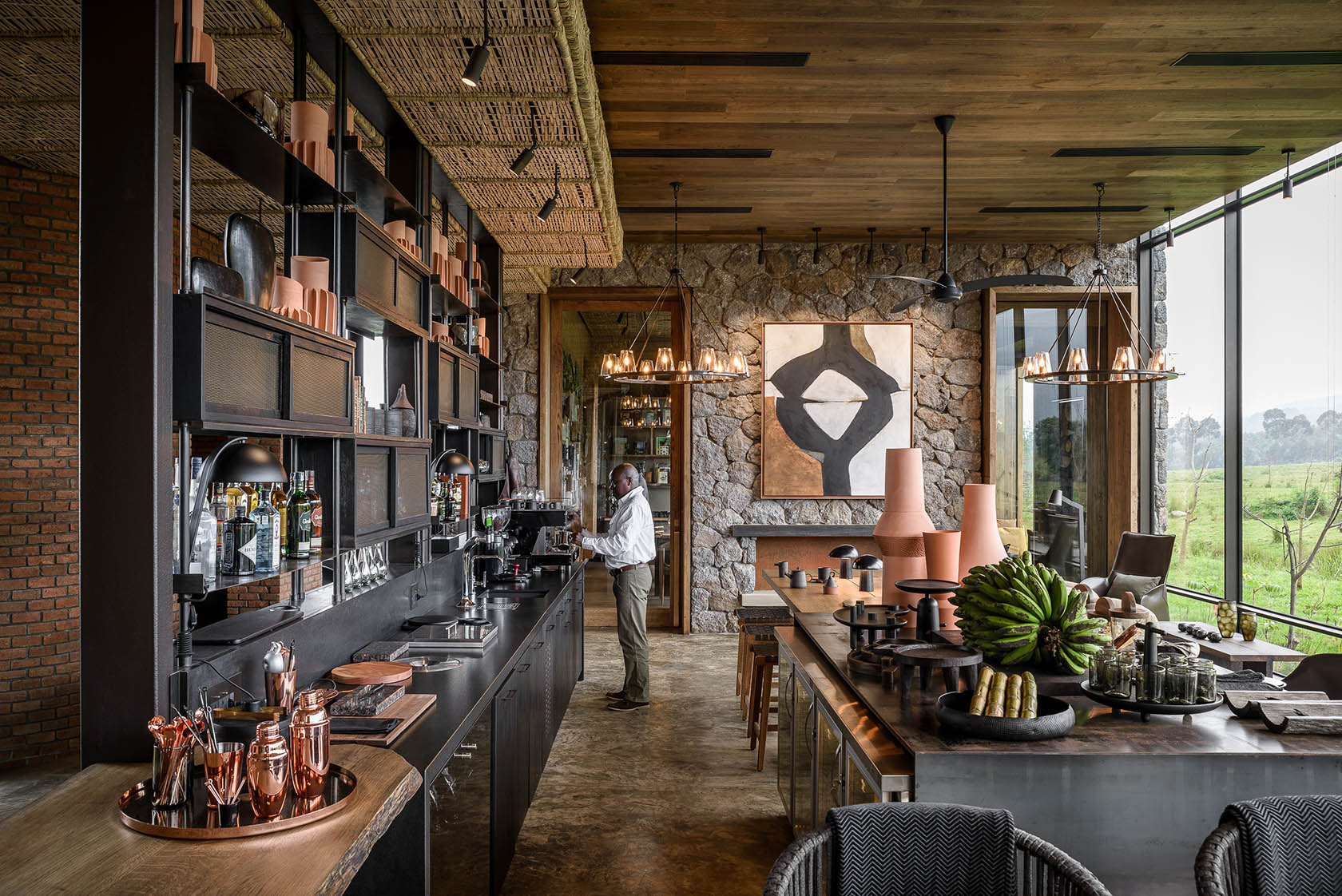 3. Singita Kwitonda
Located amongst towering volcanoes, the environmentally-conscious Singita Kwitonda Lodge opened in 2019 and was specifically designed to reflect its spectacular surroundings. Due to its location, many seek out Singita Kwitonda for its close proximity to Volcanoes National Park and the spectacular gorilla-trekking experiences that await. Singita Kwitonda provides most of the gear needed for such excursions, including waterproof pants, jackets, backpacks, walking sticks, and shoe covers, so all guests need to bring are hiking boots.
Featuring 8 private suites, guests have access to private plunge pools, indoor and outdoor fireplaces, and large window spaces that give way to breathtaking scenery. The open style kitchen gives guests the unique opportunity to taste in authentic Rwandese cuisine, which features farm-to-table style dishes and fresh produce from the on-site garden. If interested, guests may partake in meal preparation at the invitation of the chef.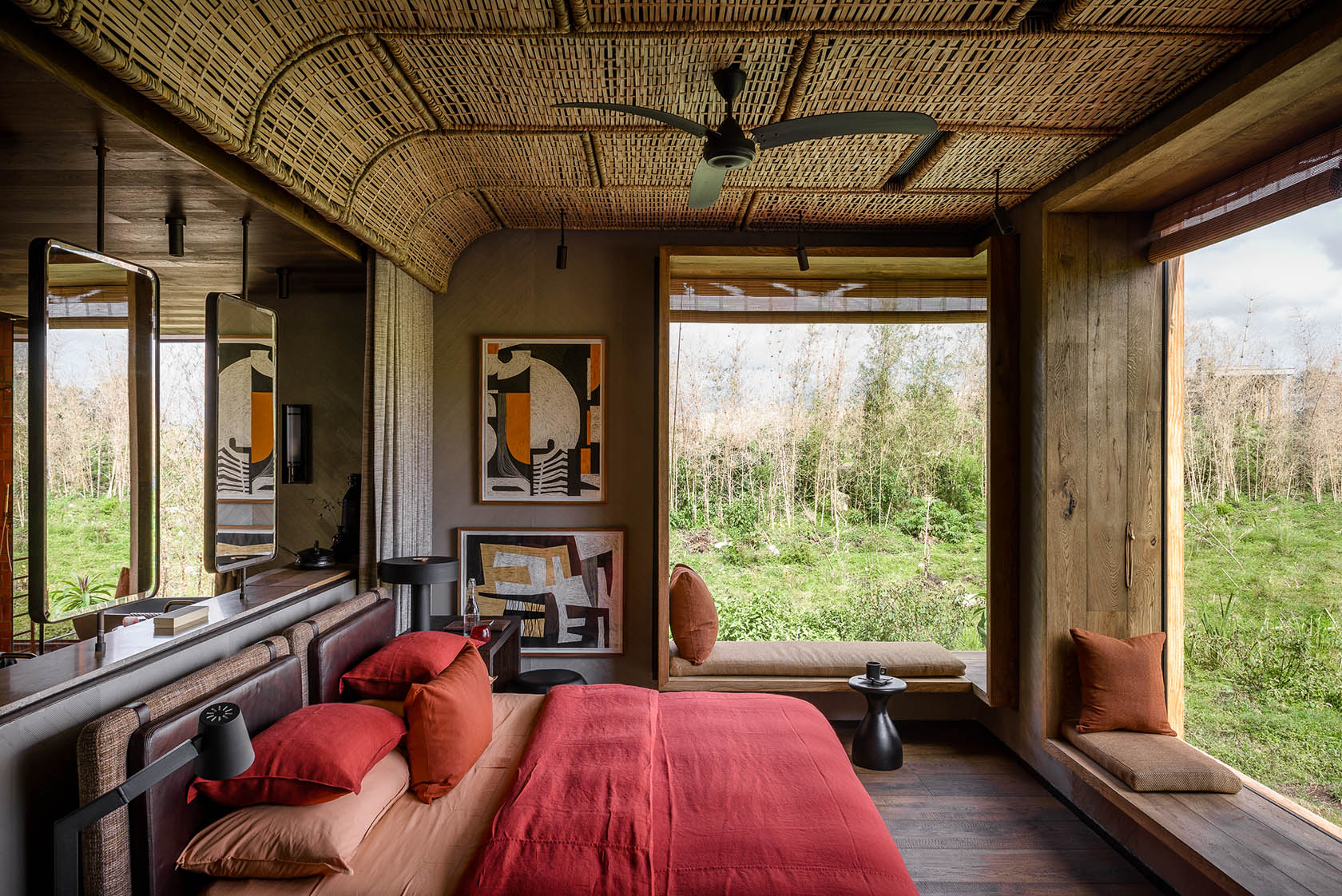 Gorilla conservation is on the hearts of many, and the Singita Kwitonda Lodge has endeavored to improve their habitats through several reforestation efforts. Distinct amenities at the lodge include a bar, gym, library, spa, complimentary laundry, TV room, internet access. Singita Kwitonda is best suited for luxury travelers.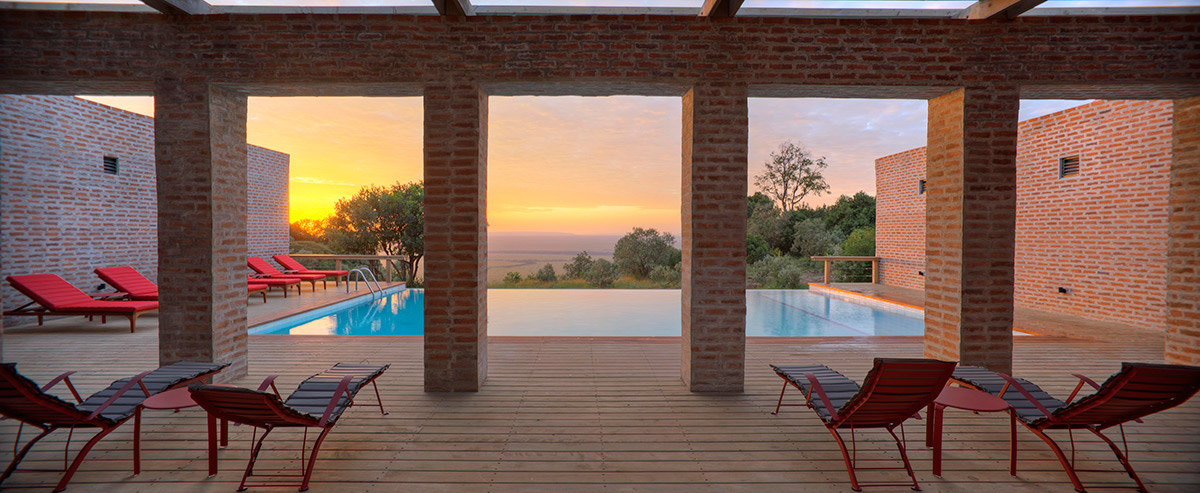 4. Angama Mara
Greeted with a warm Kenyan welcome and stunning views, guests staying at the family owned and operated Angama Mara are sure to be charmed by the expansive and remarkable surroundings that comprise the Maasai Mura, widely regarded as the finest game reserve on the African continent. Each of the 30 tented suites on the property overlook the Great Rift Valley, wherein guests can take in the views from the comfort of their verandah or balcony. During certain seasons, it's possible to see large herds of the Great Migration from the lodge.
As the day's activities come to a close, guests have an opportunity to taste an African Sundowner. The sunken fire pit creates a special sense of community in the evenings as guests congregate for farm-to-table bites, and incredible stargazing opportunities await as nightfall approaches.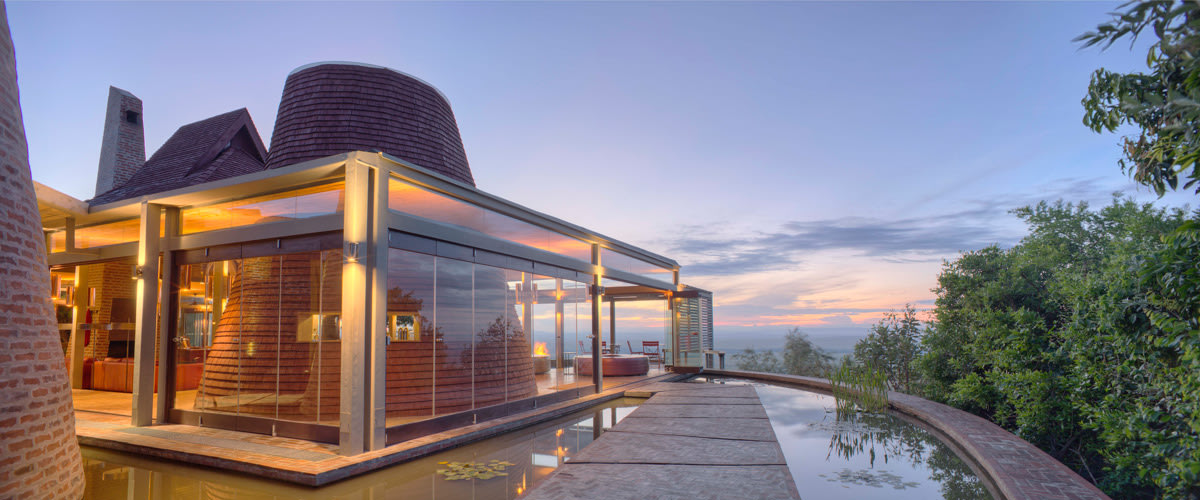 Notable activities include safari drives to see the Big 5, gourmet picnics, bird watching, high tea, garden tours, massages, guided walks and hot-air balloon rides. On site, there is a chapel, gym, library, pool and spa, so guests have options aplenty to explore, or unwind. Additional amenities include access to a private airfield and private vehicles. Angama Mara is best suited for luxury travelers.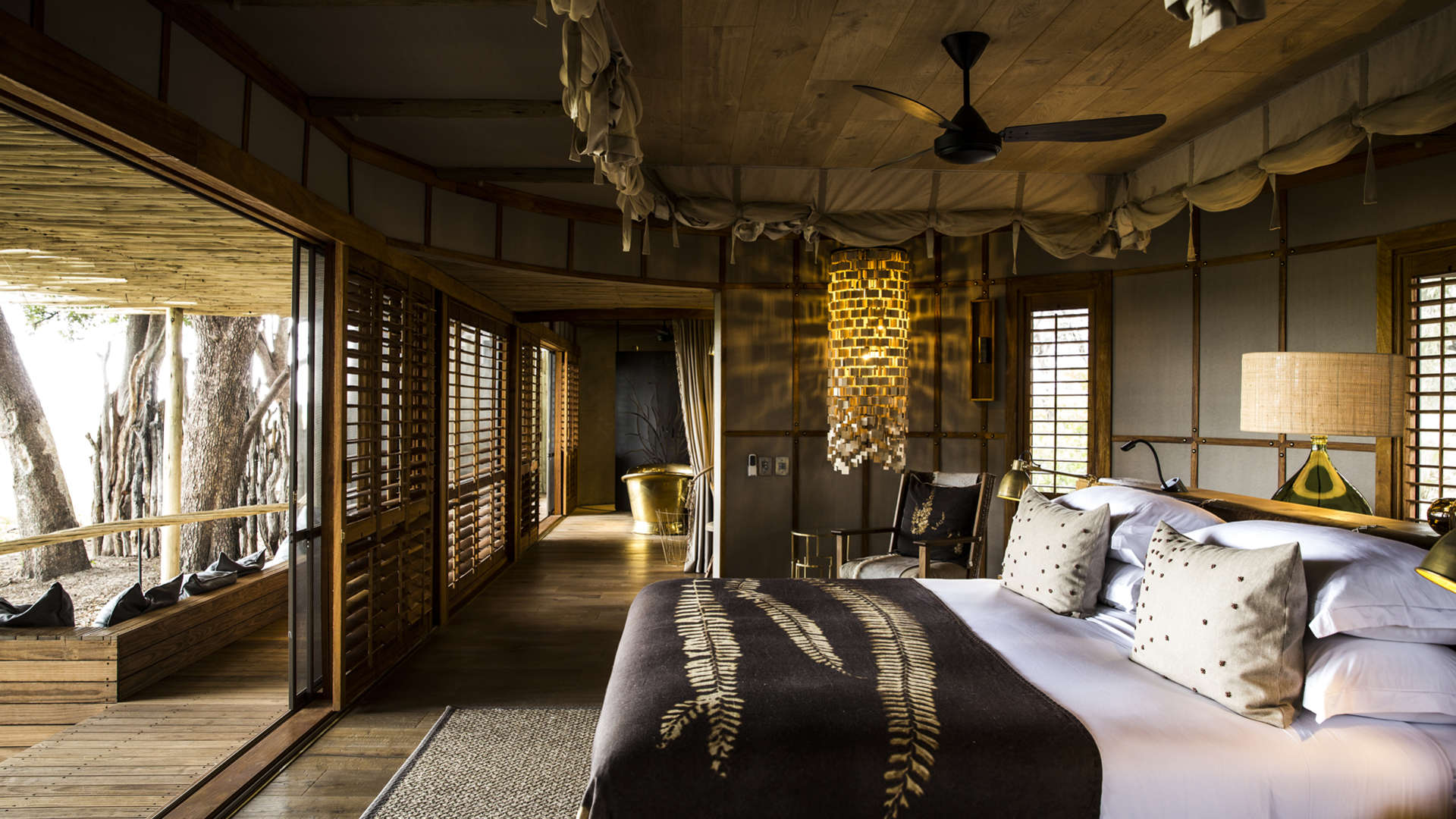 5. Mombo Camp
Recently reconstructed, Mombo Camp is a premier camp that utilizes natural materials, minimal human footprint, and maintains a 100% solar status. Known affectionately as the "Place of Plenty", Mombo sits above a floodplain that is teeming with wildlife throughout the year. As such, it presents guests with several opportunities to view big game.
The 9 guest tents sit perched on wooden decks below shady trees and uphold Mombo traditions through stylish and thoughtful cultural details. Back-of-house tours are available to learn more about how the property maintains such a light footprint, in addition to other experiences where guests may pamper themselves, workout, or sit and engage in a presentation on conservation efforts. Mombo Camp has partnered with the Botswana Government and works tirelessly to reintroduce black and white rhino into the wild plains of Botswana. The epitome of responsible luxury, Mombo is best suited for high-end travelers.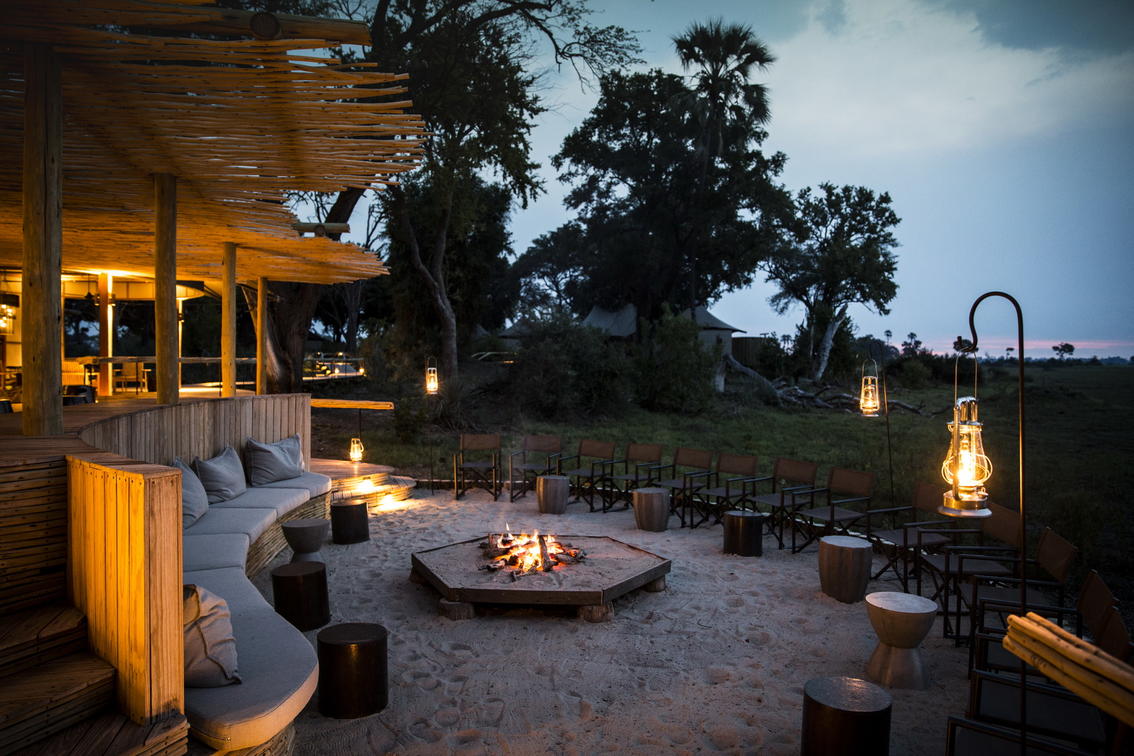 Top Luxury Exclusive Use Properties
1. Arijiju Kenya
A stone wall compound situated on a Kenyan hillside with iconic views, Arijiju House is a sanctuary for adventure and thoughtfully designed by architects from all over the world. Complete with 5 outstanding rooms, Arijiju is perfect for multi-generational families, couples traveling together, holidays abroad with family members, or extended stays.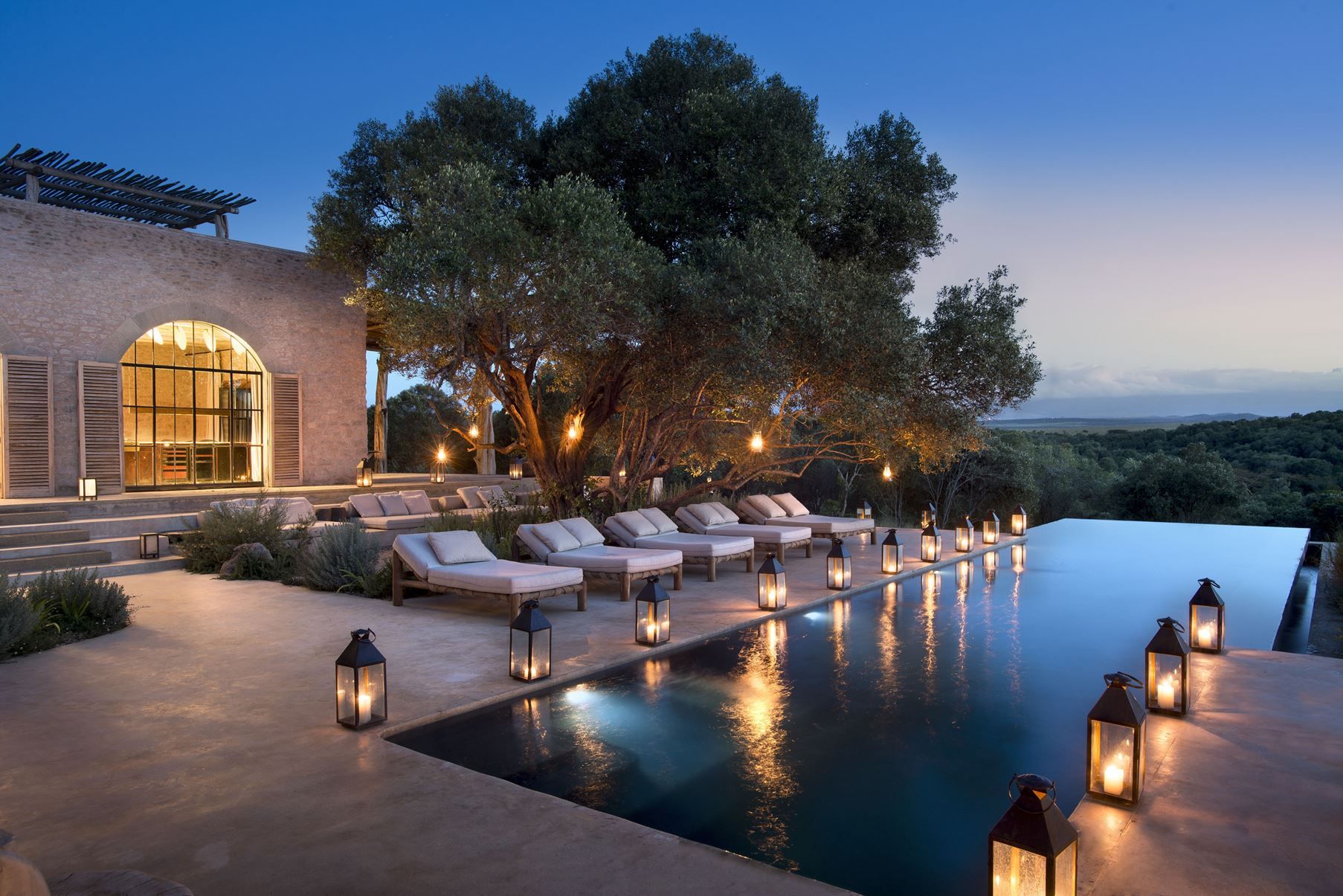 This exclusive-use property features a spa and hammam, yoga deck, gym, clay tennis and squash courts, and a pool. There is certainly no shortage of adventure at Arijiju, as guests are presented with unique opportunities to enjoy helicopter flips, quad bike safaris, horseback rides, and big five game drives. One of Arijiju's most distinguished features as an outdoor bedroom for guests who desire to sleep under the stars. Fresh fruits and vegetables, smoothies and salads make up the menu at Arijiju and reinvigorate the body of each of the guests, giving them energy throughout the day.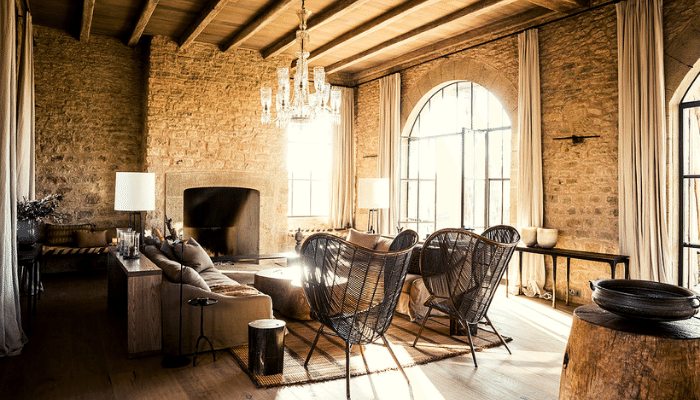 Skillfully designed with Meru stone and inspired by the monasteries of ancient Europe, Arijiju will transport you through time and space and afford you a tranquil and special look into East African culture.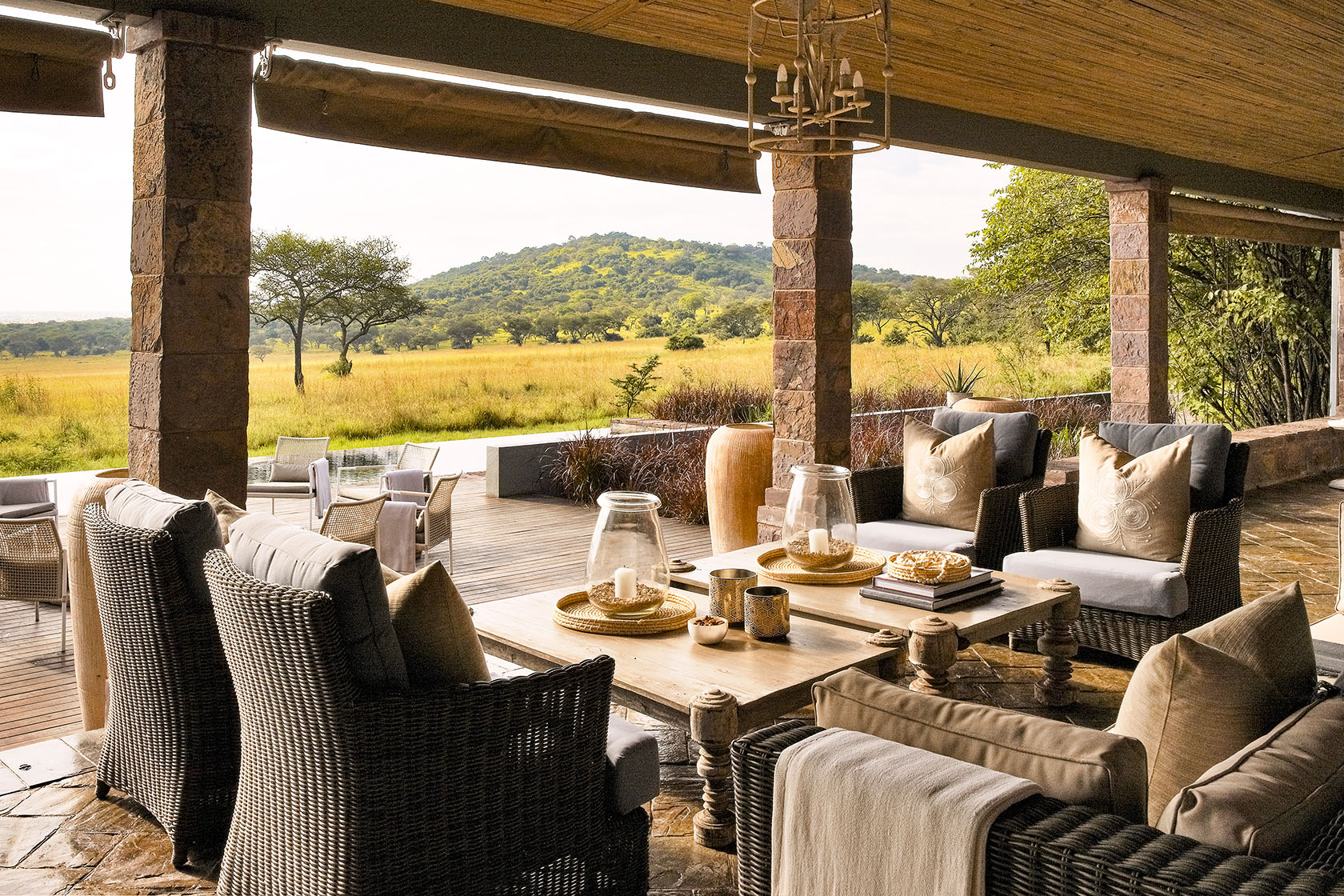 2. Singita Serengeti House
The Singita Serengeti House is a peaceful retreat for families and friends and sits in the heart of the Serengeti in northern Tanzania. Built in response to the desire for privacy and flexibility, this house comes complete with 4 villas, all of which are intricately designed and offer both indoor and outdoor living. The remainder of the property is home to a big pool and accompanying deck, interactive kitchen, and several vantage points from where guests secure unobstructed views of nearby wildlife, specifically wildebeest.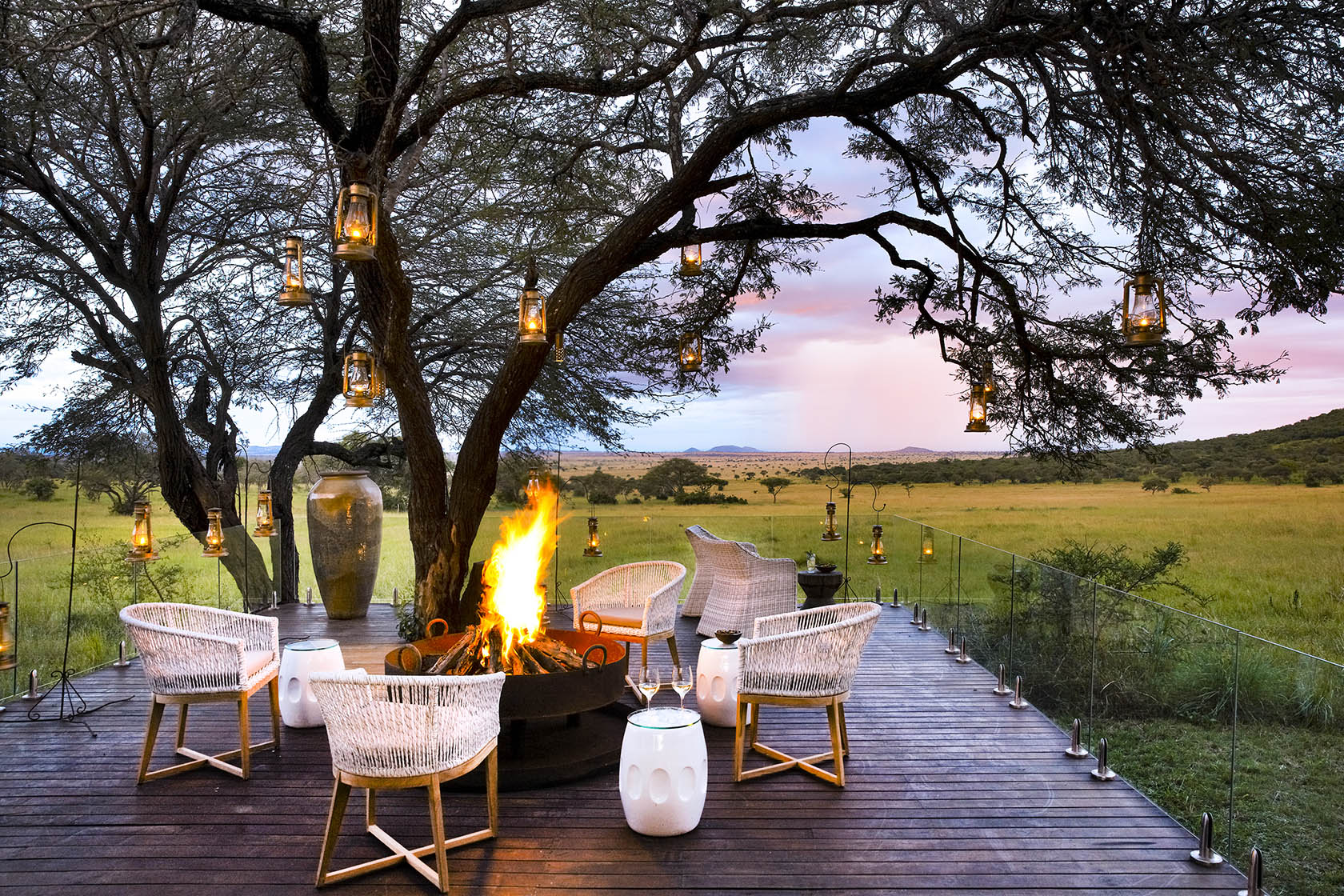 The lodging experience includes a Field Guide, chef and host, so vacations at the Singita Serengeti House are truly exclusive and tailor-made to carefully meet the needs of each guest. Itineraries, meals and activities are fully decided by the guest so they can determine the pace of their vacation. Other amenities include babysitting services, a media room, fitness center, firepit, and outdoor sala. The beautifully furnished communal spaces naturally invite bonding between families and friends.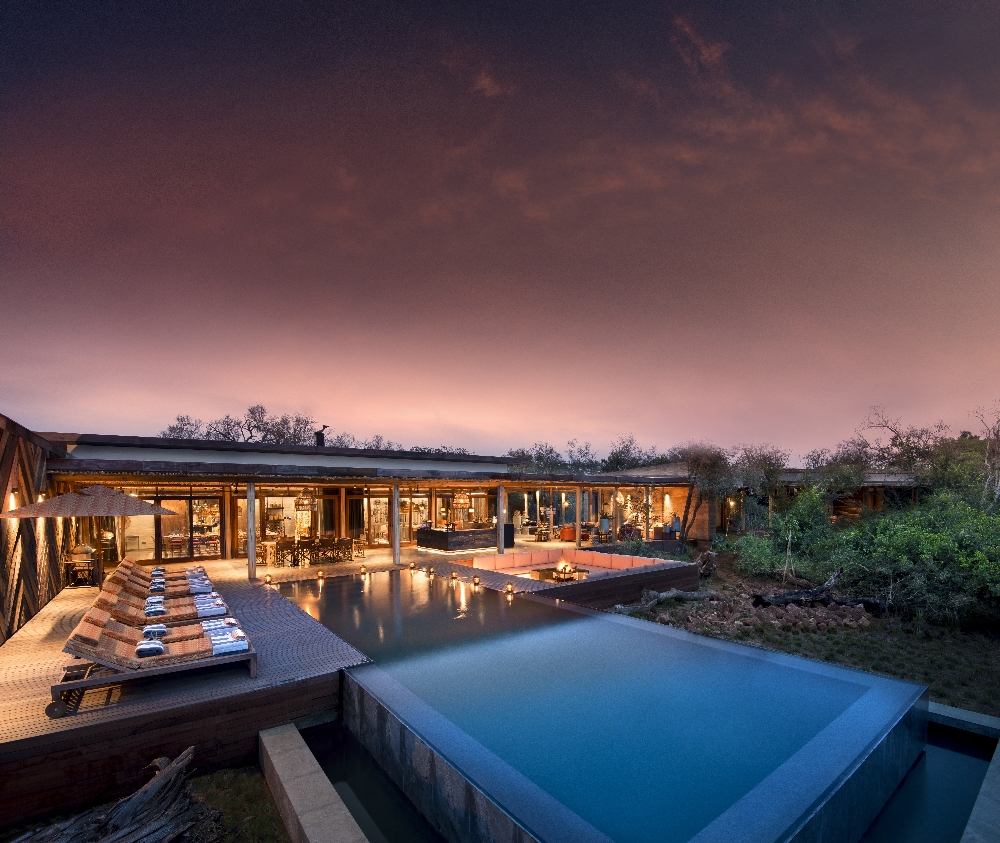 3. andBeyond Phinda Homestead
The andBeyond Phinda Homestead is where elegance meets the comfort of home. Deemed a contemporary bush farmhouse, the property proudly features an interactive kitchen, several open spaces, flat-roofed walkways, and shaded areas that open up to sun decks and a dazzling pool. Intricate details honor the local history and Zulu culture.
Complete with 4 sole-use safari villas, the Phinda Homestead is ideal for group traveling, especially families with young kids, which can be accommodated with bunk beds. Each guest experience is entirely customizable, and included in each stay is a private 4×4 safari vehicle with a dedicated ranger, tracker, butler and chef. Popular activities include day and night game drives, walking safaris, Zulu village tours, Maputaland beach adventures, night turtle drives, scuba and ocean safaris, and black rhino tracking on foot.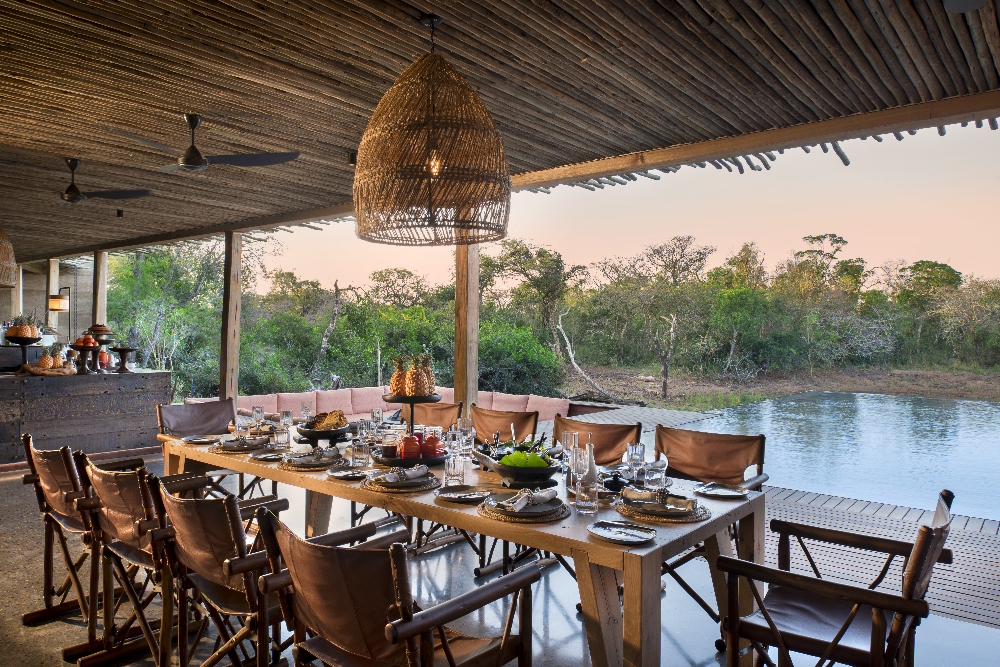 The lodge comes complete with WildChild, an engaging entertainment program for younger children, as well as a gym, restaurant, communal dining, complimentary laundry service, and bar. At any point during their trip, guests can take in the staggering and vast views below.
Conclusion
Africa contains nearly as many luxury lodging options as it does exciting opportunities. Whatever a traveler's preferences or wishes are while abroad, we believe there are accommodations and activities for everyone.
Start Planning Your Dream Trip
Reach out and let's start talking. We'll listen and begin to tailor an experiential, private, luxury vacation based on exactly how you want to experience Africa. From adventure to relaxation—and everything in between—let us handle every detail of your unforgettable journey.