We've recently arrived back home after a two-week adventure in East Africa, with the goal of experiencing the new safety protocols abroad and reporting back on what it is like to travel during covid-19.
The first thing we learned is that we've missed travel! Between having a baby in January and COVID lockdowns, our time away from home has been very limited this year, which is outside of the norm for the Green family. A big part of our job is exploring new destinations in Africa so that we can best support our clients and their travel ambitions. With that in mind, we decided to roll up our sleeves and get out there to see what COVID era travel is all about.
Our top priorities for this journey were to understand if traveling is currently safe, if it is responsible given the current climate, and if it offers the same valued experience as it always has. We, of course, anticipated some noticeable differences while traveling, with new measures aimed at keeping travelers safe and limiting the spread of COVID. After visiting three countries over 16 days, we were pleasantly surprised by the overall travel experience, the newly implemented and enforced COVID safety measures, and how comfortable we felt being abroad.
Here's a (not so) quick recap of the entire journey, what we enjoyed and what we learned…
Travel Preparation for Travel during Covid-19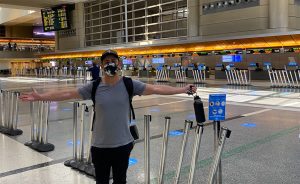 Aside from our passports, visas and immunization record cards, the new piece of documentation that was needed prior and during our travel was a negative PCR COVID-19 test. Depending on the destination, proof of a negative test is required within a designated window of time before your departure. Our flightpath for this trip took us from LAX via Amsterdam to Nairobi, at which point we needed to show a negative PCR test that was taken no more than 96 hours prior to departure from Los Angeles. Testing facilities in the states are showing much quicker turnaround times, and there are plenty of places to get expedited tests if necessary. Additionally, we packed all of our normal safari essentials, including our Ubuntu Travel branded facemasks, and plenty of Lysol wipes and sanitizer.
Flying during Covid-19
Freeways? Empty. Check-in and security lines? Empty. Airports? You guessed it. We clocked less than a minute from the time we entered LAX to the time we arrived at the Tom Bradley International terminal, which for anyone who has been to LAX knows is easily 20 minutes less than usual. It was definitely strange and somewhat sad seeing the airport deserted, but the lack of crowds undoubtedly made for an easier travel experience.
Airport staff were wonderful, patient and understanding. We kept our negative COVID test results handy, as we needed to show them at multiple checkpoints throughout the airport. Fellow flyers were compliant and masks were worn everywhere. Our flight was about 30% full so boarding was easy and uneventful, and passengers kept an appropriate distance where needed.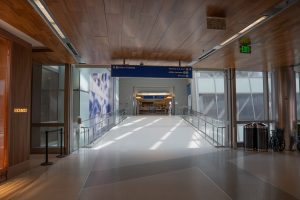 Before our trip, the thought of keeping a mask on for over 24 hours seemed impossible. How would we ever be able to sleep, or get comfortable? Well, we did. And it was totally fine. Prior to our flight, KLM sent out an email asking us to bring enough disposable masks to switch them out every 3 hours during the flight. To our surprise, the flight attendants did not mention or enforce this, but we were really glad to have the extras. We alternated between disposable medical masks and some lighter cotton ones for comfort, and almost forgot we were wearing them throughout the flight. It was very comforting to see all guests adhering to the mask rules.
One noticeable difference was the meal service on board. They still offered welcome drinks in business class and two hot meals, but there were not the usual choices with the food offerings. For example, Kyle doesn't eat any seafood (crazy, I know) and on each flight the only choice for a starter was some type of fish. We fully applaud the airline staff for making the best of the situation, but new health regulations were just a bit limiting. Packing a few extra snacks for the flight may come in handy for picky eaters. Otherwise, the flying experience was great.
Kenya
Upon arrival in Nairobi, airport staff seemed to be taking COVID protocols pretty seriously, which was a relief. We went into this experience knowing that we wouldn't be able to control everything; not all travelers will be as diligent or as cautious about protocols as we were, and we just needed to do our best to stay out of compromising situations. In scenarios where we had no control, such as moving through the lines at immigration, we decided that we would just go with the flow. For the most part, we were successful. A few security line bottlenecks and a handful of travelers with their masks below their noses were our biggest conflicts. All in all, the experience was very smooth.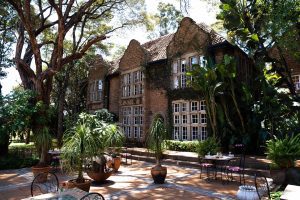 Our driver from Giraffe Manor (our first stop of the trip…YAY!) greeted us warmly and kindly. He asked us to ditch our masks to put on clean medical masks that he provided. We wore them during our transfer from the airport and during check-in at the hotel. Before our vehicle was even allowed on the property, our temperatures were checked by a security guard and we had to fill out a survey confirming that we weren't experiencing any symptoms and agreeing to additional temperature checks throughout our stay. Giraffe Manor's procedures were thorough and clear. We knew exactly what to expect and what was expected of us for the duration of our stay.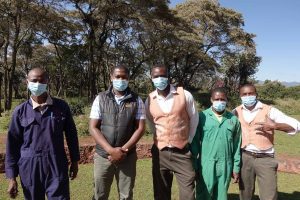 Sanitizer and designated handwashing stations were located around the manor, and staff were diligent in cleaning the common areas every few hours. We were asked to wear masks wherever we might be passing other guests, but aside from that, we were able to enjoy the property (and fresh air) without a face covering. 
We were particularly fond of all the different seating areas around Giraffe Manor. We found ourselves in a cozy corner with a couch and fireplace, and at a secluded lounge set up for high tea, away from other guests. With plenty of space on property, as well as reduced occupation policies, we found it easy to keep our distance from others and enjoy the beautiful surroundings and wildlife.
The obvious highlight of our stay at Giraffe Manor was the incredible Rothschild's giraffes roaming around the property. All of our interactions with them were incredibly special and we loved learning about each of their unique personalities. The hotel staff clearly regard them as family, knowing all of their quirks, likes and dislikes. Some prefer to be fed a certain way, some will let you touch their faces, one can't be left alone near the swing (if you've searched #giraffemanor on Instagram, you'll be familiar with it) because he plays with it and gets wrapped up and stuck. You get the idea. Tons of character with this bunch and it was everything we could have hoped for.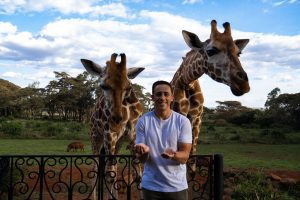 I won't spoil it for you by sharing all of what we experienced, but trust me – it's awesome! We absolutely recommend a night or two here if you're able to include it on your next visit to Nairobi.
We left the manor with countless memories and a keepsake silver giraffe pitcher from the gift shop. Not my typical travel purchase, but after seeing them in use over the weekend, I couldn't help but picture it on our kitchen table.
Rwanda
From the minute we touched down, we could feel that Rwanda had their COVID protocols under control. Airport staff was actively policing social distancing and everywhere you looked, you would see signage about new health measures and designated standing areas to keep travelers appropriately separated. Immigration officers were dressed in full-length protective suits and were taking every necessary precaution to keep themselves safe. They even had a futuristic, temperature-scanning robot roaming the baggage area reciting safety instructions in various languages.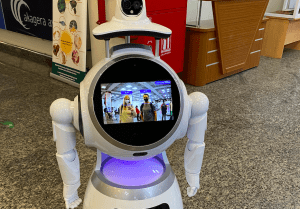 It was required to have proof of a negative PCR COVID-19 test within 120 hours of our arrival, so our original tests from back in the USA sufficed, as we had only been in Kenya for two days. Rwanda also requires visitors to have another test taken upon arrival (they have a few designated hotels in Kigali for you to stay at while you await your results). Our transfer and check-in at the hotel were all done with masks, and once we were settled in our room, a doctor met us there to administer the test. In Rwanda, they use an oral swab (instead of the nasal test typically done in the States) which was quick and easy. After a few rounds of room service and a great night of sleep, we received our negative test results in the early morning and proceeded to set off on our journey to Volcanoes National Park.
The drive from Kigali to Volcanoes takes about 2.5 hours, and the winding roads lead you through a few cities and various rural areas until you reach the mountain town of Musanze. We were absolutely blown away by what we saw throughout our drive: MASKS EVERYWHERE. Even people pushing their bikes and crops up the steep hills and kids playing on the side of the road were all wearing masks. We stopped in a small town along the way for a quick restroom stop and were directed to an outdoor washing station to clean our hands and get our temperature taken before we could enter the facilities. We even witnessed the local police pull over a car ahead of us to tell tourists they needed to be wearing masks at all times, even within their private vehicle. Don't mess with Rwanda!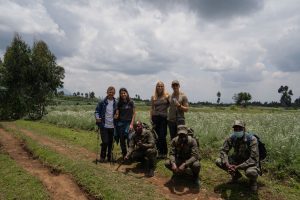 There is no doubt that tourism in Rwanda is hurting, which is really sad because of how heavily gorilla conservation projects and local people rely on tourism dollars. To put things in perspective, we were the only two guests at the first property we visited, One & Only Gorilla's Nest, and had only one honeymoon couple join us during our stay at Singita Kwitonda. Even checking in at Park Headquarters before our trek was very atypical, as the park is usually packed with people getting ready to head out for their treks. Out of the 96 trekking permits available daily, there were only seven guests total on the day we trekked. This means fewer guides, trackers and porters are being utilized, which in turn means a significant loss of income for many.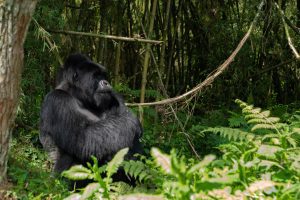 On a positive note, our gorilla trekking experience was equally as magical as ever. The only limitations were a slightly increased distance that needed to be kept from the gorillas and the requirement of face masks at all times. I can understand how some people may view this negatively, but at the end of the day, these rules are being enforced purely for the safety of the gorillas, who share 98% of our DNA and are highly susceptible to human diseases.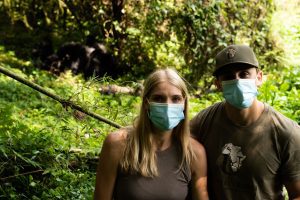 The lodges we visited were both outstanding. Across the board, staff were extremely diligent with health protocols and made us feel completely comfortable during our stay. The One&Only Gorilla's Nest and Singita Kwitonda both offered ultra-luxury accommodations, incredible dining and tons of activity options. 
Gorilla's Nest is really something special. For super active travelers, this is the spot for you. The property is situated in the middle of a towering eucalyptus forest and has the most beautiful grounds covered with vibrant plants and flowers, specifically roses, imported from all over the world. They have incredible mountain biking trails, fully outfitted indoor and outdoor gyms (with access to a personal trainer for customized sessions), a spa and pool area, archery, garden tours, the list goes on and on. We could have easily stayed here for a week and done something new every day. For dining, I've never seen so many options at each meal and so many different venues for private dining. Impeccable service, wonderful staff and a truly stunning property – exactly what you'd expect from the One & Only brand!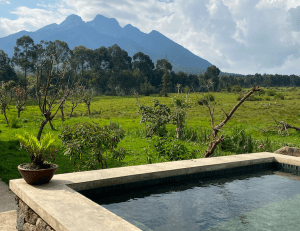 Singita Kwitonda is equally spectacular. Its location in relation to the national park is as good as it gets, which is super helpful on trekking days. Park HQ is only 10 minutes away, so your wake up call isn't quite as early as some properties that are farther away, giving guests the ability to sleep in a bit later and enjoy breakfast at the lodge before leaving to trek. The rooms at Kwitonda are absolutely stunning with multiple fireplaces and a heated jacuzzi with incredible views of Mount Sabyinyo and Gahinga Volcano. The culinary experience at Kwitonda was exceptional. Wonderful flavors, unique offerings with produce from their own gardens, and a beautiful wine cellar with every South African wine imaginable. On Kyle's birthday, we were treated to a really special wine tasting and food pairing with their brilliant sommelier. We loved how luxurious and detailed every inch of the lodge is but at the same time how everything still feels very approachable and casual. As usual, Singita does it just right and we cannot wait to return!
Overall, Rwanda was truly amazing. From a health and safety standpoint, its organization, attention to detail, and execution are phenomenal. For those looking to travel with extra peace of mind, we highly recommend a visit here.
Tanzania
Coming from Rwanda, the vibe is slightly different in Tanzania. Our RwandaAir flight from Kigali to Tanzania was heavily regulated and flight attendants were extremely strict about passengers wearing masks (correctly) for the entirety of the flight. Once we landed in Kilimanjaro, the regulations softened, but we opted to continue wearing masks and to protect ourselves according to our comfort level. The people who work in hospitality (drivers, tour guides, hotel staff, etc.) are highly engaged in COVID safety and new protocols, which is comforting for travelers, but in general, most Tanzanians aren't too concerned about the virus. We wore our masks (as did our driver) during our transfer to our hotel, but along the city streets, they were seldom seen. Interestingly enough, when we asked hotel staff and drivers if they had been impacted by the virus or knew anyone who had been ill, the answer was always no. I'm no doctor – but it was an interesting perspective to be abroad and see such a different view on this pandemic with what appeared to be little damage.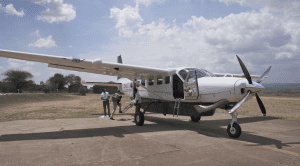 We visited some incredible places in Tanzania. Our overnight stay at Legendary Lodge in Arusha was too quick, as we arrived in the evening and departed early the next morning for the bush. It was clear that we could have spent a few days here, enjoying the sprawling property and wonderful amenities. We will be sure not to miss the coffee tour next time! 
Our bush flight from Arusha was a breeze and we were ready to get our first safari of the trip underway. The pilots and (some) passengers wore masks and explained how the planes had been thoroughly sanitized before boarding. And before we knew it, we were in the Serengeti! Kyle and I were both eager to be visiting Lamai (Northern Serengeti) during this time of the year since the Great Migration was expected to be there at the time. We had seen the migration on previous trips but hadn't been fortunate enough to witness a river crossing or a kill. With safari, every game drive offers something new and exciting, and you can't ever really plan for what you'd LIKE to see. Well, we got super lucky and were able to cross both of those items off our list within the first 30 minutes of our drive from the airstrip to the lodge. Talk about one heck of a start!
Lamai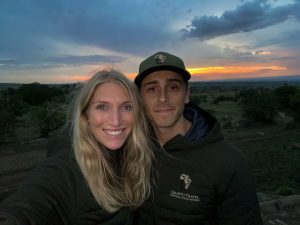 Nomad's Lamai Serengeti camp was lovely. The lodge's location is excellent for game viewing, with plentiful wildlife to enjoy. This part of the Serengeti generally sees fewer tourists than other busier parts of the park, even during non-COVID times. The lodge staff was amazing, clearly outlining all of their new safety measures. They explained the changes that had been made to the rooms and decor to help optimize cleaning, such as the removal or rugs and other pieces that are difficult to sanitize. Handwashing stations were situated at entry points to the main lodge and masks were worn by staff at all times, with the exception of our safari guide. In an open vehicle, we felt comfortable with this arrangement, especially since communication with your safari guide is such a big part of the experience and a mask likely would have inhibited that process. Each room had all of the necessary amenities, plus the most incredible panoramic view of the surrounding plains: the perfect cherry on top of these spacious thatched retreats.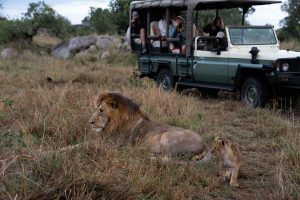 From our first game drive, it was clear to us that safari during COVID was different, but in a good way. Game drives resembled what we can only imagine they felt like back in the 1920's – with little to no other people in sight. Without any distractions or other vehicles around, we were able to watch a female leopard stalk for 90 minutes until she finally surprised and killed a wildebeest. Our compliments to our guide for his patience and understanding of the animal's behavior, which allowed us to watch the entire process from start to finish! What a bucket list moment. The Serengeti can get packed during peak season, with vehicles lined up to catch a glimpse of a river crossing. We were shocked to be the only car around to watch a small herd of wildebeest cross the river and it was a huge thrill! Not for the wildebeest that was snatched by a crocodile… but that's the circle of life in Africa!
Singita Grumeti Serengeti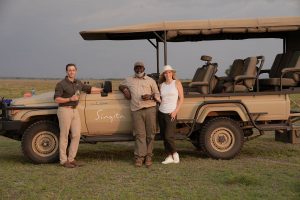 After a wonderful time in Lamai, we continued on to Grumeti Private Game Reserve to visit a few of Singita's Serengeti lodges. Our flight on GrumetiAir was a quick 15 minute hop as we moved to the western portion of the Serengeti. Same story here – pilots and most passengers wore masks, and it was evident that the planes had been cleaned and sanitized between flights. After landing, we met our guide at the lovely arrival area at Sasakwa Airstrip. Here, we were asked to walk through a full-body sanitizer (think x-ray machine at airport security) that lightly misted us, and our luggage, with a disinfectant. Temperature checks and a symptom survey were completed before we hopped in our open safari vehicle and set off towards the lodge with our guide.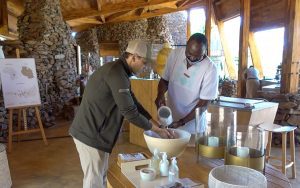 We absolutely fell in love with Grumeti, splitting our time with one night at Singita Faru Faru and two nights at Singita Sabora Tented Camp. Faru Faru is so unique, with tons of natural light, beautiful wood structures, airy decor, and monkeys roaming the property. The rooms are filled with every comfort you could imagine, and an outdoor shower with a stunning view of the park. Lodge staff wore masks at all times and greeted us with a washbasin and hand scrub to clean up each time we entered the main lodge. In contrast to Lamai Serengeti, the safari guides at Singita wore masks, but since we had a private vehicle we were able to sit closer to our guide and communicate clearly with him.
We had been eagerly awaiting a glimpse of the newly renovated Sabora Tented Camp, as we were one of the first groups to see it after its redesign was completed a few weeks prior. Kyle visited the property last October, so it was exciting for him to be able to compare the two designs! Singita definitely hit all the wow-factors with the "new" Sabora. The tented suites feature glass paneling, a private meditation deck, and a luxurious tub overlooking busy water teeming with zebra and wildebeest. Everything about the new lodge was fantastic, but the culinary experience here really blew us away. A common theme on safari is eating, drinking, sitting – on repeat, and if you have my level of self-control (zero), all the rich foods, delicious treats, and flowing cocktails can leave you feeling full and bloated after multiple days of this same schedule. Sabora does it completely differently, which was really refreshing (pun intended). The menu includes much lighter fare, smaller sized (or normal) portions, and is all centered around dining as you please with no set schedule. The camp also features a guest pantry in the main tent, with picnic baskets and a fridge full of healthy snacks prepared for you to grab and go! Some of our favorites were the salads, biltong, veggies and hummus, chia pudding, and fresh fruit. The dining style and menus were easily one of our favorite elements of the property.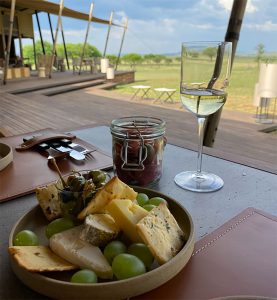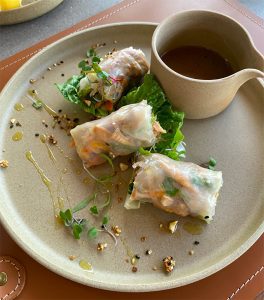 We briefly visited a few other Singita properties while on the reserve, Singita Sasakwa and Singita Explore, and were equally as impressed by the accommodations and offerings, as each lodge caters to a different type of guest experience. From a health and safety standpoint, Singita did an excellent job creating a comfortable environment without compromising an authentic, luxury safari experience.
Little Chem Chem
Saying goodbye to Grumeti was definitely tough, but my spirits were buoyed by the large herds of elephants and massive baobab trees in our future, as we headed off to Tarangire National Park. Here we spent two nights at Little Chem Chem Lodge, situated in the private Chem Chem concession bordering the national park.
Here, we had the most incredible up-close elephant interactions, and could not believe how comfortable the herds were with our vehicle. On our final game drive, we managed to see Omo, a leucistic white giraffe who had not been seen for weeks as she went into hiding at the end of her recent pregnancy. She is named after a local laundry detergent because she appears to be washed of her pigment. We stumbled upon her and her week-old baby, which was such a treat to see!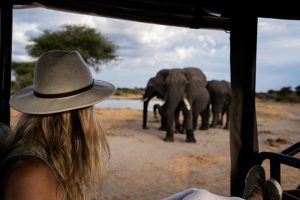 The lodge was immaculate, and the staff went above and beyond to make us feel safe and at ease during our stay. We were really impressed by the quality of the food on property, the lovely tented accommodations, and how wonderful our safari guide and game viewing were during our short stay.
Our experience in Tanzania was fantastic – and we would highly recommend it for any visitors who are not overly fearful of COVID or at higher risk. It is hard to know what the COVID-19 case numbers are like in Tanzania, but from what we observed, the general population is healthy, thriving, and eager for tourism to return. Hotels and lodges are currently prioritizing a safe experience for guests, and we hope that more people will feel comfortable traveling over the coming months.
Should you travel through Covid-19?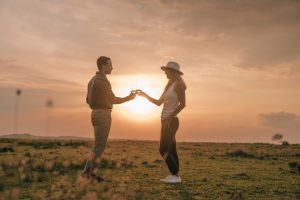 Kyle and I really appreciated this travel experience for many reasons. We felt that it was important for us to pave the way and learn more about what travel looks like with new COVID protocols in place so that we can properly advise our clients with confidence. We thoroughly enjoyed connecting with people again. Whether it was other guests around a campfire or the gracious lodge staff, it was really comforting spending time around others and not feeling so isolated.
The question of whether it was responsible to travel at this time came up, and we personally feel that it is. We aren't high-risk individuals ourselves, so we weighed the risks and benefits, and felt comfortable traveling. Additionally, African countries rely so heavily on tourism and the villages and communities supported by safari lodges are at a huge disadvantage without any travelers. Supporting these communities and seeing the positive impact of our presence first hand was really powerful. We were thanked countless times by staff and other locals for visiting their countries.
We completely understand that not everyone will feel comfortable traveling at this point, but we hope our experience will open the doors of opportunity for any adventurers out there who are eager to put another stamp in their passport. Africa is such a magical destination and we hope that the new year brings new confidence in travel for the year to come.
Start Planning Your Dream Trip
Reach out and let's start talking. We'll listen and begin to tailor an experiential, private, luxury vacation based on exactly how you want to experience Africa. From adventure to relaxation—and everything in between—let us handle every detail of your unforgettable journey.