It's no secret that as of late things have been put on hold within the travel industry to help keep travelers safe and prevent the spread of COVID-19. If you're anything like us, however, you're itching to get back out there once travel restrictions have been lifted and it is, of course, safe to do so. What does that translate to in the interim? Time to create the ultimate travel bucket list! Here's why you should visit Africa in 2021.
Africa is a fantastic destination to visit for a variety of reasons, but now more than ever, a trip to Africa can be largely rewarding for travelers and even more impactful for Africa as a whole. Opportunities to engage in conservation initiatives and support local communities are plentiful in the wake of the COVID-19 pandemic and can be achieved just by partaking in an incredible safari experience with the right operator. Whether you're itching to travel for the first time or looking to make a positive difference in the new year, we highly encourage you to consider traveling to Africa in 2021.
Why visit Africa in 2021
Conservation & Community Support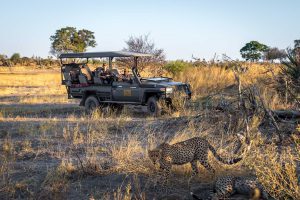 It may not be at the top of news headlines, but COVID-19 related travel bans have had a significant negative impact on communities and wildlife across Africa. The sudden halt in tourism has cut off a significant portion of funds that are typically fed into local communities and programs through wages for tour guides, safari rangers, lodge staff, and other local small businesses.  This has left families with zero income, a narrative shared by many globally.
Without steady income, families struggling to put food on the table will often resort to hunting bushmeat (antelope and other small game) with snares, potentially injuring other wildlife in the process. Some, who are more desperate, may even hunt giraffe or zebra for food or to sell their hides. Additionally, when supply chains are disrupted because of stay-at-home orders and loss of financial resources, goods aren't making their way to communities as frequently as they normally would.  Lions losing limbs in makeshift traps, or giraffe on the dinner table are just a few examples of innocent animals being, quite literally, caught in the middle of this global crisis.
Yet another challenge, exacerbated by COVID-19, is the conservation of wildlife in Africa. Due to a lack of tourist activity,  poaching has increased in regions that have historically had very low poaching rates. When lodges are full and safari vehicles are circulating the parks, safari guides and rangers are able to keep a watchful eye on the land, which deters poachers from visiting the area. Also, when you book a trip with most reputable tour operators, a percentage of your stay goes towards funding conservation projects in those regions, including the training and employment of anti-poaching units, translocation of threatened animals from high-risk poaching areas, and initiatives to increase populations in wilderness areas where species have gone extinct. Without paying guests at lodges and staff numbers drastically reduced,  there are fewer people monitoring poaching activity and virtually no funds pushing conservation projects forward to ensure the safety of Africa's wildlife.
Natural Distancing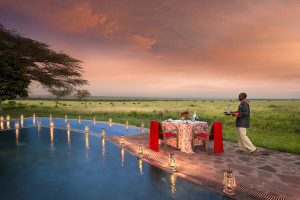 As you start to envision your next travel adventure, a busy city with museums, shops, and packed streets may not be the best destination to continue practicing social distancing. Fortunately, the vast savannas and grasslands of Africa were virtually made for social distancing, and one thing we know to be true is that the African wilderness is therapeutic. With stunning landscapes, wide-open spaces, and fresh air filling your lungs, we simply can't think of a better way to reboot your system (especially after being inside the house for months). So instead of cramming into a crowded street fair or exhibit, seek the thrills and adventure of a safari.
Additionally, safari lodges are different from everyday hotels, with more of an emphasis on an exclusive experience which entails a limited number of rooms and guests on the property. At many safari lodges, suites can be spaced so generously that you can't even see the neighboring rooms! And with an abundance of outdoor activities in open spaces, you're sure to keep your distance from other guests during your stay. Moreover, safari game vehicles are typically limited to six guests, or you can opt for an exclusive-use vehicle for just your group. Either way, an African safari is a perfect trip for those looking for an exciting post-quarantine adventure while still practicing social distancing.
Post-Quarantine Experiences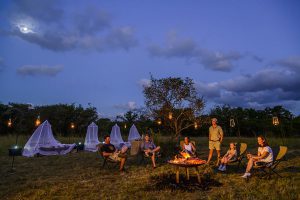 Suffice to say, we're probably all ready for an escape right about now. Whether that means planning or actually embarking on a trip, we encourage you to travel to Africa in the (hopefully) near future. As the world opens back up, the communities and wildlife in Africa are in desperate need of resources and support, which are directly fueled by tourism across the continent. Aside from traveling with purpose to aid these causes, spending time on safari with friends or family is the perfect way to receive the thrill of your life, create treasured memories through shared experiences with your loved ones, and of course, to relax.
Travel Will Continue
In the coming months, restrictions will ultimately be lifted and the world will begin traveling again. While the exact trajectory of reopenings is uncertain at this time, we are optimistic that we will start seeing a rise in travel activity as early as August.
When borders begin opening, we hope that you'll seek adventure in Africa – gifting yourself a post-quarantine bucket list experience that will make a huge difference to the wildlands, communities, and wildlife of the African continent.
See more travel inspiration on Instagram.
Start Planning Your Dream Trip
Reach out and let's start talking. We'll listen and begin to tailor an experiential, private, luxury vacation based on exactly how you want to experience Africa. From adventure to relaxation—and everything in between—let us handle every detail of your unforgettable journey.