If you are planning a honeymoon to Africa, you've come to the right place. Our team of travel experts are always on the lookout for new lodges opening, the best-hidden gems and everything you need to know to book the trip of a lifetime! We've listed the 10 best islands to honeymoon in Africa if a beach getaway is more your style. Or perhaps you'd like to book a traditional safari and follow up your honeymoon with a post-holiday holiday? Whatever your preference, these are the best island to honeymoon in Africa!

The 10 Best Islands to Honeymoon in Africa
1. AndBeyond Mnemba Island, Zanzibar
Mnemba Island is a small island located 3 kilometres off the coast of Zanzibar. And Zanzibar being an island itself, presents a unique opportunity to really go off the grid. Mnemba Island is home to just 12 villa bandas or bungalows as you might better know them. Each banda offers its own privacy and seclusion, but if you ask us, number 12 has the most privacy on the island. You will find this accommodation to offer a type of barefoot luxury you can't find in many other locations. Even the rooms don't have a closing door or window, giving you a really strong connection to the island way of life. So if you ask us, this is certainly one of our top picks for the best islands to honeymoon in Africa!
Read more: These are the best honeymoon lodges in Africa

2. Fregate Island, Seychelles
Fregate Island is one of the most recognisable names in the Seychelles. This private island feels like a floating oasis and has been sensibly developed to ensure sustainability protocols are not just considered, but at the forefront of the operation. If your idea of an African beach honeymoon has an infinity pool in its vision, then look no further. This really is one of the most sought after lodges in all of East Africa and it isn't hard to see why!

3. AndBeyond Benguerra Island, Mozambique
If there's one place in Africa we'd run away to in a heartbeat, it is Benguerra Island. This exclusive oasis is difficult to reach, which makes it even more appealing for travelers who prefer to get off the grid. Benguerra Island is located in Mozambique, one of the most popular destinations in Africa for a post-holiday holiday (you know the one). As part of the AndBeyond group, Benguerra Island focuses not just on the external appeal of the lodge, but the finite details. You can expect a private butler, incredible cuisine and an all-inclusive wine list. Oh, and those pastel-colored sunsets are also included, of course!
Read more: The complete guide: Where to Honeymoon in Africa

4. North Island, Seychelles
If you're the type of traveler who believes only the best will do, then look no further than North Island in the Seychelles. This is without a doubt the most exclusive island paradise on our list, with a price tag to match. North Island has become a favourite getaway for celebrities and discerning travelers alike, who come here for the ultimate seclusion it offers. You will often go an entire day without running into any other guests, as there are so many hidden spots and small beaches to discover around the island.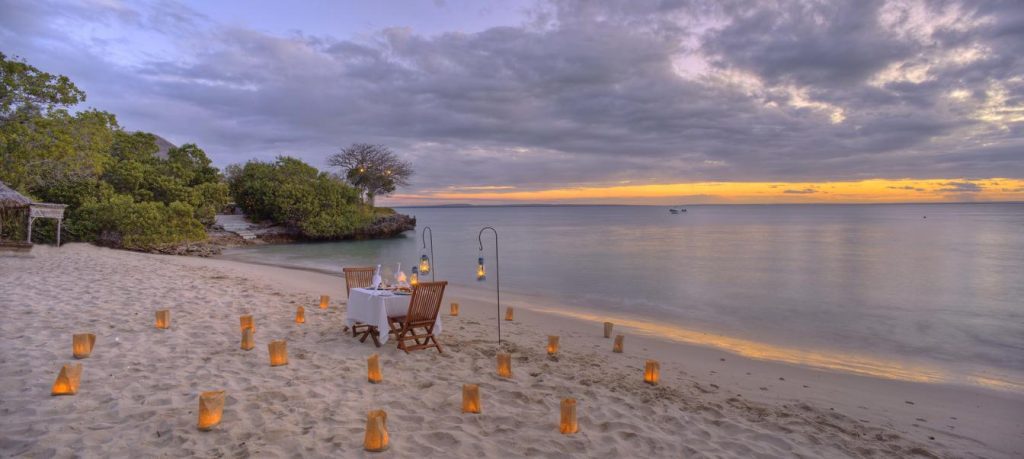 5. Azura Quilalea, Mozambique
Remote and wild, Azura Quilalea in Mozambique is the epitome of barefoot luxury. Idyllically sprinkled with baobab trees and natural flora, this island is the rugged escape you didn't really know a luxury lodge could pull off. You'll find just nine ocean-facing villas on the island, making Azura Quilalea incredibly unique and exclusive. Pathways romantically lead in different directions, with a sense of discovery on offer as you find small inlets and beaches of your own on the island. There's also a reef so close you can squeeze in a morning dip and snorkel back for breakfast as the sun rises.

6. Zuri Zanzibar
Zuri Zanzibar is a personal favourite of ours and our clients, making it a great tried and tested hotel for your island honeymoon escape. This hotel encapsulates everything Zanzibar has to offer travelers. Prepare to be spoiled by the local cuisine, hospitality and island way of living. You will find endless beach chairs waiting just for you, all privately hidden between endless palm trees. This is a great choice for the mainland of Zanzibar to get used to that island attitude.

7. Le Domaine de L'Orangeraie Resort & Spa, Seychelles
Back over in the Seychelles, we would be doing a list of the best islands to honeymoon in Africa an injustice not to include the beautiful Le Domaine de L'Orangeraie. It is one of the larger resorts in the Seychelles, with an impressive 63 villas on offer. This is a great choice for honeymooners who prefer a large resort feel instead of a small private island. You'll be spoiled for choice by way of activities, especially on the water, There are paddleboards and surfboards available at your disposal.
8. Anantara Maia Seychelles Villas, Seychelles
With endless blue skies and ocean to match, Anantara Maia is another great choice for resort lovers who prefer to have more on offer on their honeymoon. There is no shortage of activities to keep you busy here, especially if you take to the water. The premier beach villas are our top choice for honeymooners who prefer to have the best of both worlds. Your pool is just a few steps away, and the ocean isn't much farther.

9. Four Seasons Desroches Island, Seychelles
Chances are you are already familiar with the Four Seasons brand and if not, there is no better time to be introduced than in the Seychelles! This beautiful private island resort encapsulates the best of the Seychelles in every which way. Prepare to be captivated by the nearby corals as you are surrounded by lush waters in the middle of the Indian Ocean. The rustic villas will make you feel like a castaway on your own island journey, with all the luxurious amenities to make it feel like home.

10. The Sands At Chale Island, Kenya
Last but not least, The Sands at Chale Island is Kenya's answer to a luxurious island getaway. Set on Chale Beach along the Indian Ocean, this upscale private island resort surrounded by indigenous forest and feels like an ethereal escape you thought only existed in Hollywood films. Be sure to plan to stay a while as you will never want to leave!