It is a question as old as time – what should you pack for your first safari? Indeed, it was a question I asked myself some seven years ago. I didn't know it then, but I was woefully unprepared. It turns out packing for safari is pretty simple when you know what you're doing. I just didn't know what I was getting myself into back then! So after years of traveling back to Africa and a year spent living in South Africa, I'm excited to share with our Ubuntu Travel Family what to pack for safari. I'll also include a few handy hints and common myths to help you prepare for your trip. Let's dive in!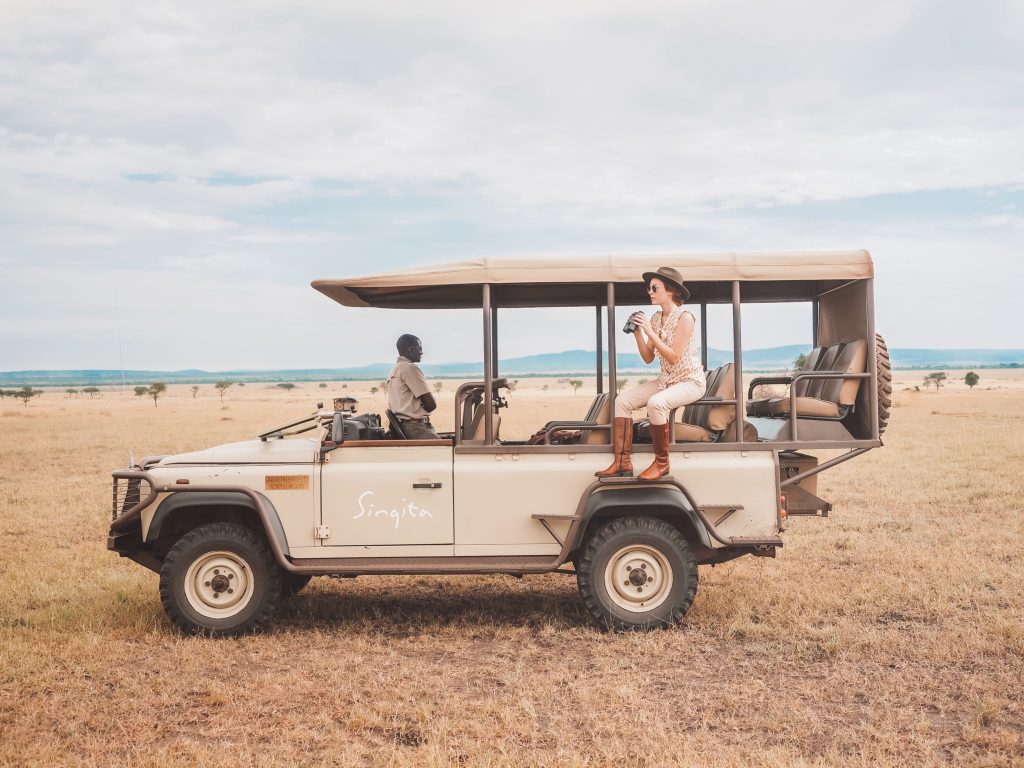 Your first safari: What to expect
Let's begin with a few expectations to have (and those you could go without) leading up to your first safari. This is often a once in a lifetime trip for most travelers, so if you're anything like me you will be filled with excitement and adrenaline. That's great! This is by far one of the most incredible trips you can take in your lifetime, so be prepared to leave part of your heart in Africa.
You've probably already been told to leave your black clothes at home. If not, I'm telling you now! The best safari wardrobe consists of earth tones, neutral hues and cooling fabrics for those hot days in the sun. Biting insects like the tse-tse flies are attracted to striped patterns of royal blue/black, so you'll want to avoid dark colors if possible.
Then there are the obvious essentials like bug spray, binoculars and a pair of good walking shoes. If you're less of a planner and prefer to pack the day before, follow these few quick tips. But if you're anything like me you'll want to plan for weeks in advance. So, read on if you want to know what to pack right down to the right amount of underwear!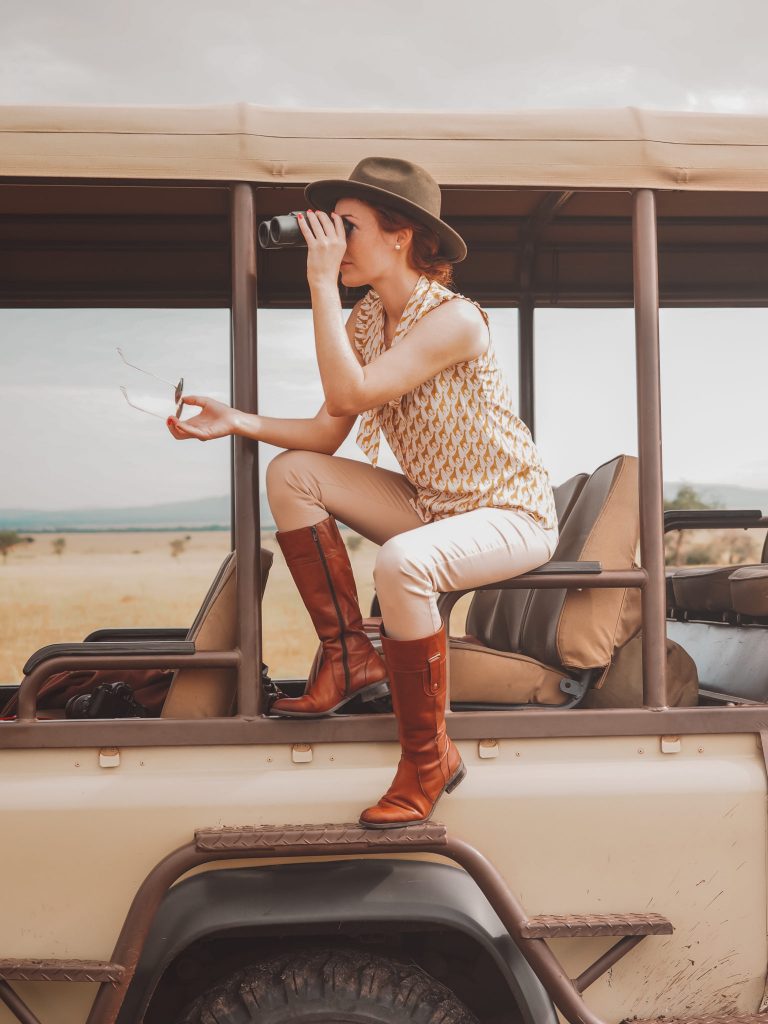 What to pack for Safari: Clothes
For any trip you take clothes are likely to take up the most amount of space in your luggage. You'll want at least a handful of outfits for your days out on safari, but the truth is that less is more when it comes to visiting the bush.
Before we get started on what to pack (and what not to), it is important to note that safari bush flights strictly limit the amount of luggage you can travel with. This is because you will almost always catch a connecting flight from the main international airport you arrive at to reach the bush. These light aircraft have limited space and weight restrictions, meaning that you should only pack a small duffle bag. Instead of packing a suitcase, aim to take a soft bag. That way you won't be asked to repack at your airport of arrival and can take everything with you. Take it from someone who knows, that is never a fun exercise!
We'll start from the bottom and work our way up.
Clothes for Safari
Because you are visiting the bush, you'll want to have one good pair of comfortable walking shoes. These should be closed-toe shoes to ensure you're covered if you step on any surprises. Hiking shoes are not necessary for the leisurely pace of a bush walk, so you might be better off packing a lighter option. One pair of sandals is great for walking around the lodge during the day, especially if you plan to spend some of your time by the pool. A few pairs of socks will keep you ticking over throughout your trip and fortunately most lodges offer a complimentary laundry service to keep the cycle going.
For pants, I would recommend packing one pair of lightweight pants. You may also want a pair of shorts to wear during the day, but be warned your morning and evening game drives can be quite cold. A pair of long pants is always a safe option out in the bush.
Up top, you can't go wrong with three to four different tops, t-shirts or long-sleeved shirts. I prefer to pack one of each so I can dress depending on the weather and my mood. I'll mostly wear a singlet or t-shirt during the day but opt for a shirt on game drives to prepare for the weather cooling off.
A jacket on safari is an absolute must if you ask me. I prefer a light-weight down jacket that both keeps me warm and takes up very little space in my luggage. You'll quickly notice that while your days spent in the bush are hot, mornings and evenings cool off quickly. The good news is you will find blankets on board your vehicle, so be sure to ask if you need to be warmed up!
Don't forget:
A pair of closed-toe walking shoes
A pair of sandals
A few pairs of socks
One pair of lightweight pants
One pair of lightweight shorts
Three to four tops (t-shirts, long sleeve and singlets)
One lightweight jacket
Bathing suit
Undergarments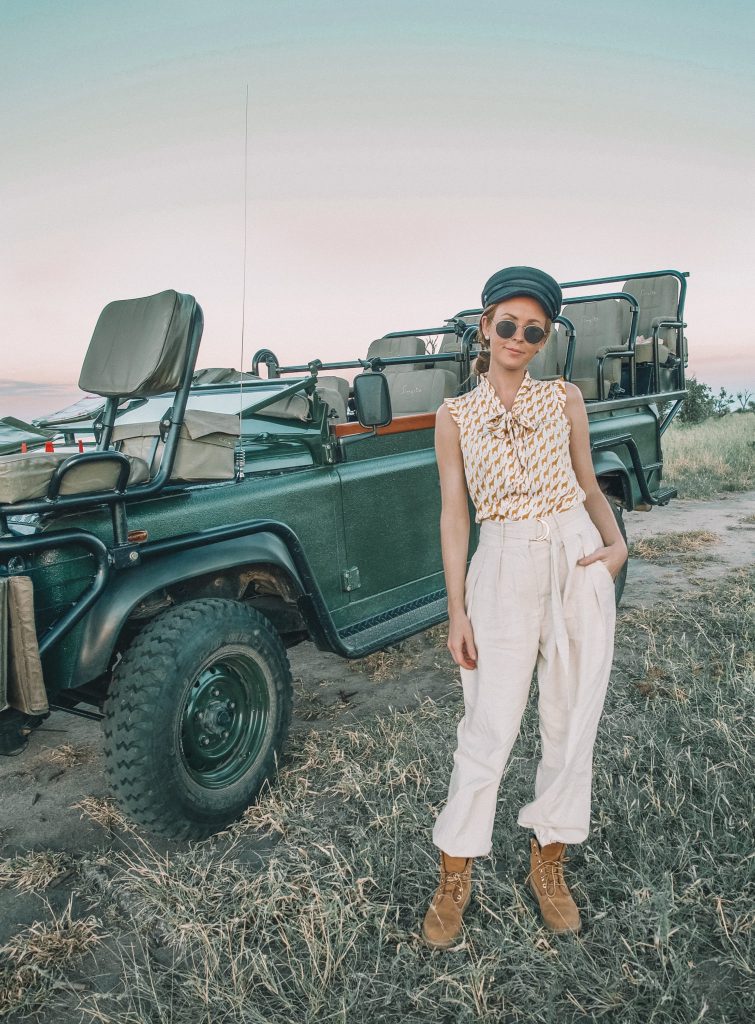 What to Pack for Safari: Accessories
No safari would be complete without sun protection, so let's get down to the nitty gritty! A hat is an absolute must for any trip to the bush. I prefer to pack a couple of options like a baseball cap and a straw hat, but you'll really only need one.
I also like to travel with a shawl as a cover up, both as a way to dress conservatively where the need arises and as a way to quickly get warm without carrying a heavy jacket.
Sunglasses are also a must when traveling to Africa for a safari, as you will spend a lot of time outdoors.
I would also recommend a good book to read during the day time as you will have a lot of free time in between game drives. This time is also a great opportunity for a quick cat nap!
Don't forget:
A hat
A shawl or wrap
Sunglasses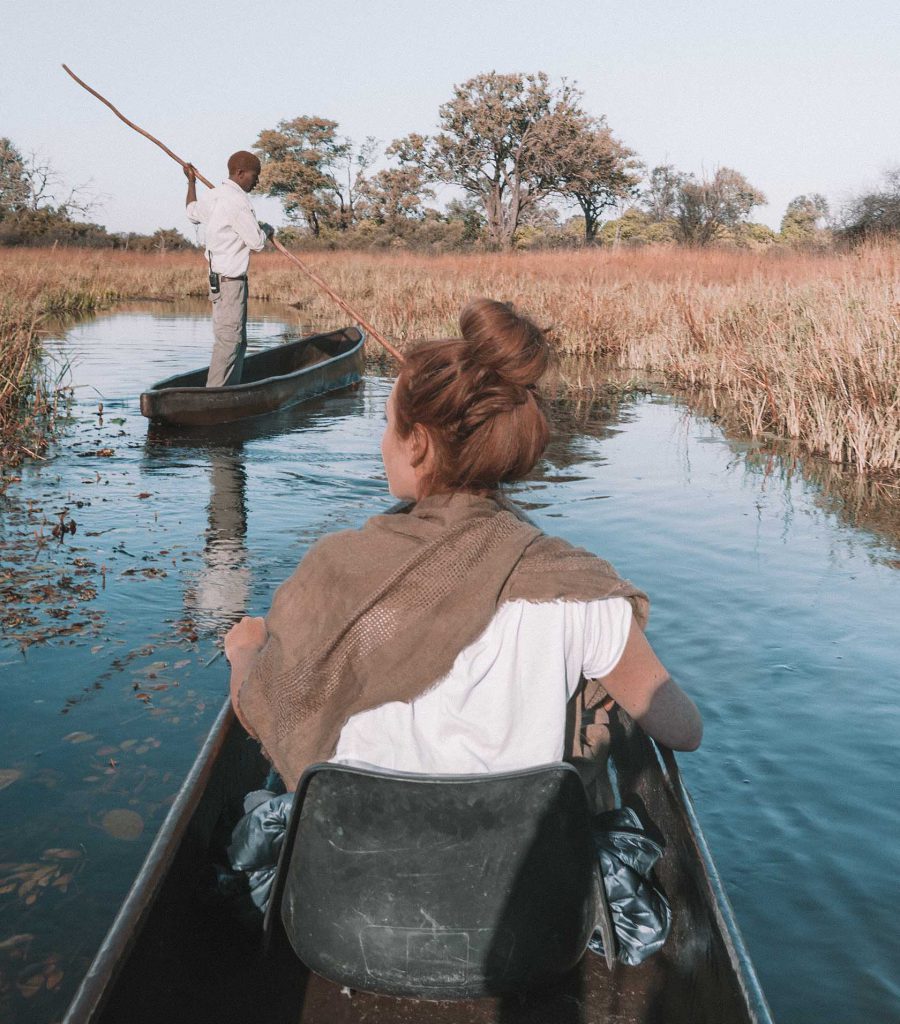 What to pack for safari: Health & Wellness Abroad
When I travel these days I have one thing I put above all else: my health. The more I travel, the more I take my health seriously. There's nothing worse than feeling unwell on the opposite side of the world, so the best advice I can give you is to prepare. The below items are my go-to health and wellness items I won't travel without. Be sure to ask your local doctor for vaccination advice before you go to be on the safe side.
Don't forget:
Sunscreen
Malaria tablets
Antihistamine tablets
Basic medical kit (the lodge will also provide upon request)
Moisturizer
Insect repellent
Tissues/Wet Ones
Toothpaste and toothbrush
Hairbrush
Nail scissors/file/clipper/tweezers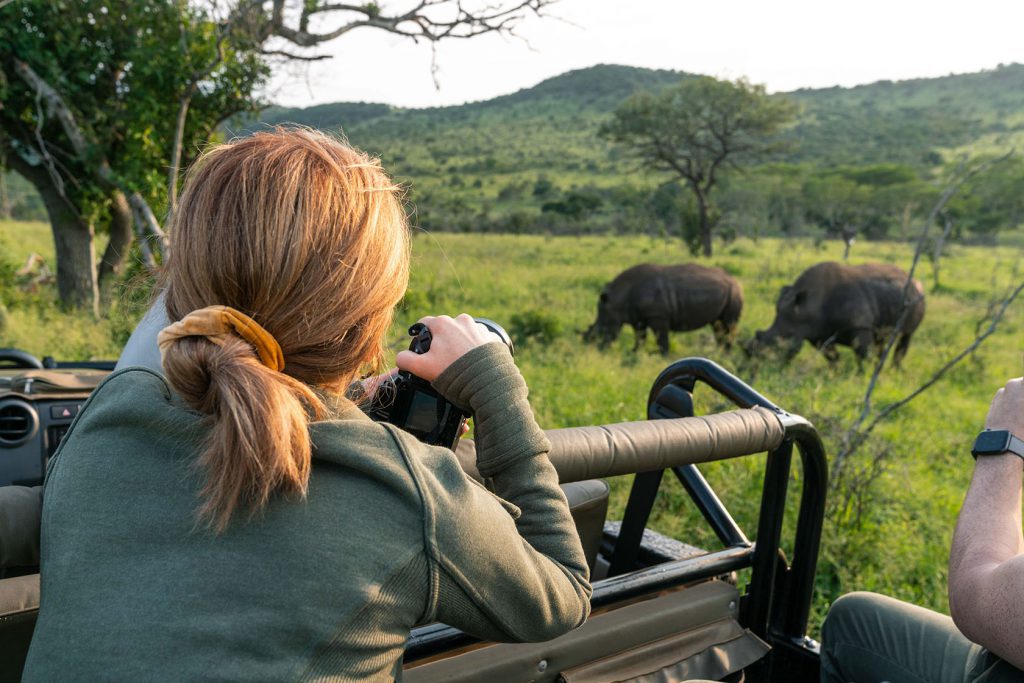 What to pack for safari: Technology
Finally, no trip to Africa would be complete without capturing it! Travel and technology go hand in hand, but when it comes to safari travel, you want to be prepared. There have been a few too many times to count where I have found myself with a flat battery, so I wouldn't travel without a portable charger these days. Another great tip I would recommend is to back up your photos at the end of each day, just to be on the safe side. A simple USB will do the trick or a travel-friendly hard drive is preferred if you are shooting a lot of images.
Don't forget:
Camera and lenses
Phone and charger
Portable charger
USB or Hard drive (to back up your photos)
Headphones (for the journey!)