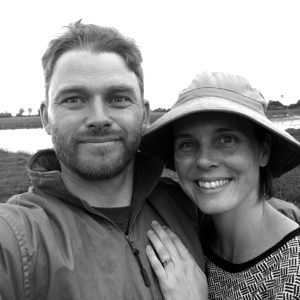 Written by Marketing Manager, Sean Messham
As a local growing up in Muizenberg, a small village in a corner of False Bay, I'm definetly guilty of believing that Cape Town is the best tourist city on the African continent. Besides the multiple international awards it receives year on year, this historic city is culturally rich with its diverse suburbs, each expressing you their own unique story. All of which is anchored by our iconic Table Mountain and beautifully framed with fresh blue oceans on either side. A Cape Peninsula tour is a great opportunity to explore Cape Town's unique cultural and wilderness heritage. As it allows you to experience both multiple bucket-list destinations in a single day, while discovering more activities around this incredible city I call home.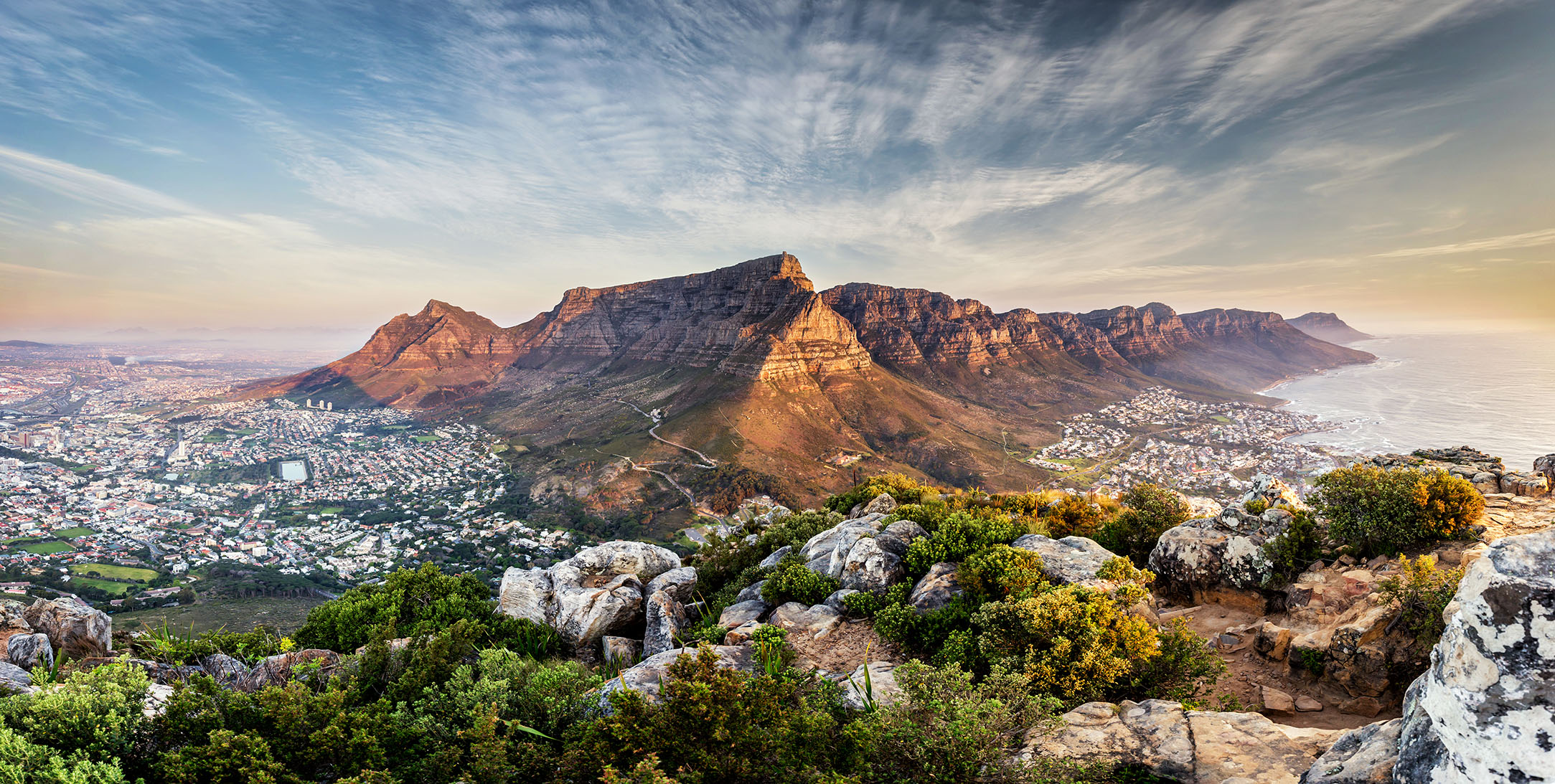 Now of course, like everything at Ubuntu Travel, your Peninsula Tour is private and will be completely tailor-made to your interests and what you would like to achieve during your stay in Cape Town. This will not, however, be a typical travel guide where everything is recommended at once. But rather my honest suggestion to how you can enjoy your exclusive road trip around the Cape's peninsula. And to stay true to our tailor-made commitments, I will mention just a few suggestions or options along the way that might interest you for another day. Ok, so let's get started…
Why should I do a Cape Peninsula Tour?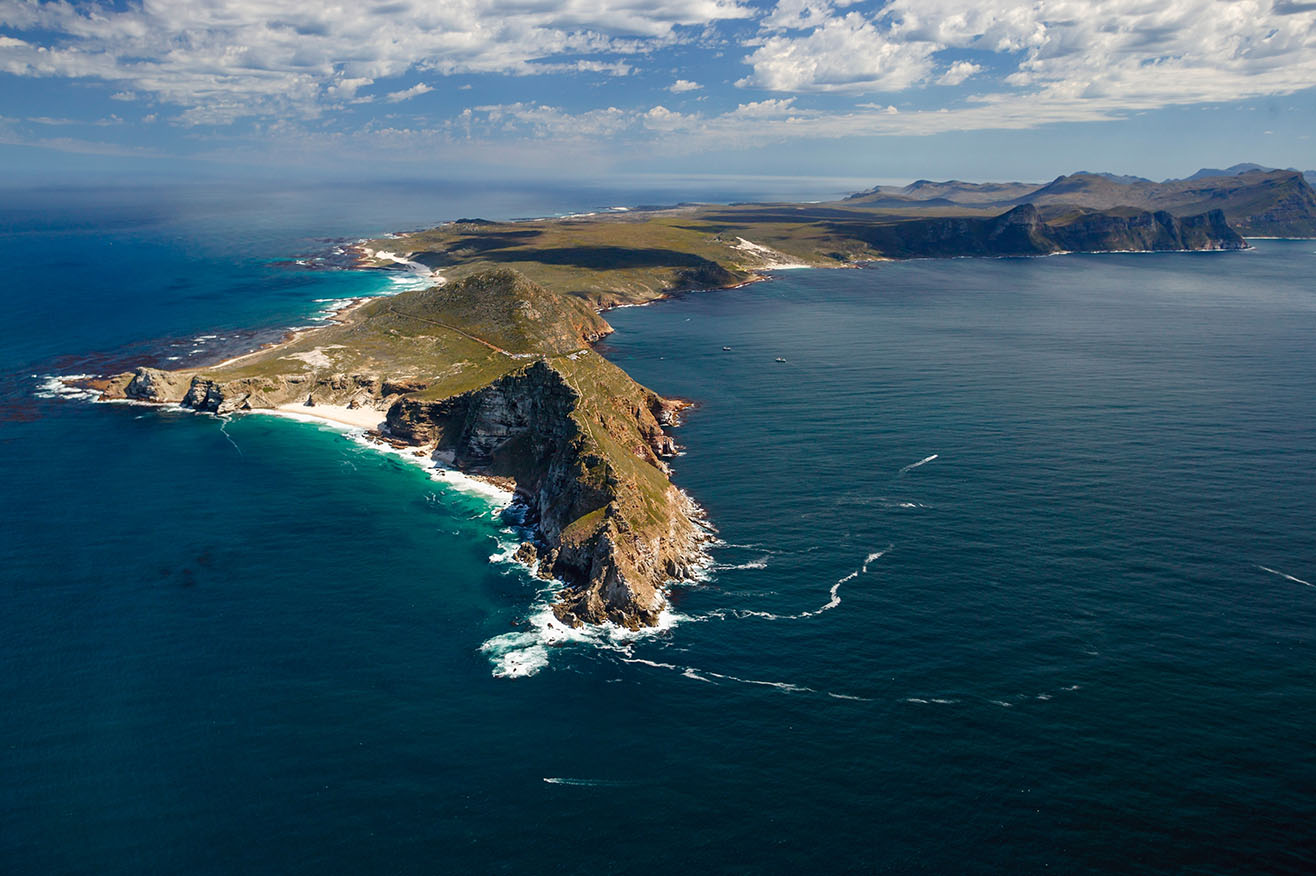 Above image: An aerial view of Cape Point and the Cape of Good Hope.
On a typical trip to Cape Town, you are enjoying between three to six days before heading to the winelands or on a safari. Therefore, a Cape Peninsula tour is not only a fantastic way to appreciate an overview of Cape Town and its trendy suburbs, but also to discover the close proximity everything is to authentic wilderness areas. All while being able to experience multiple Cape Town bucket-list destinations in just one day. 
Insider's Quick Hits: Why do a Peninsula day tour?
Great way to see an overview of Cape Town

Visit bucket-list destinations in one day like Cape Point and Boulders Beach 

Explore options with your personal guide on how best to use your time during you stay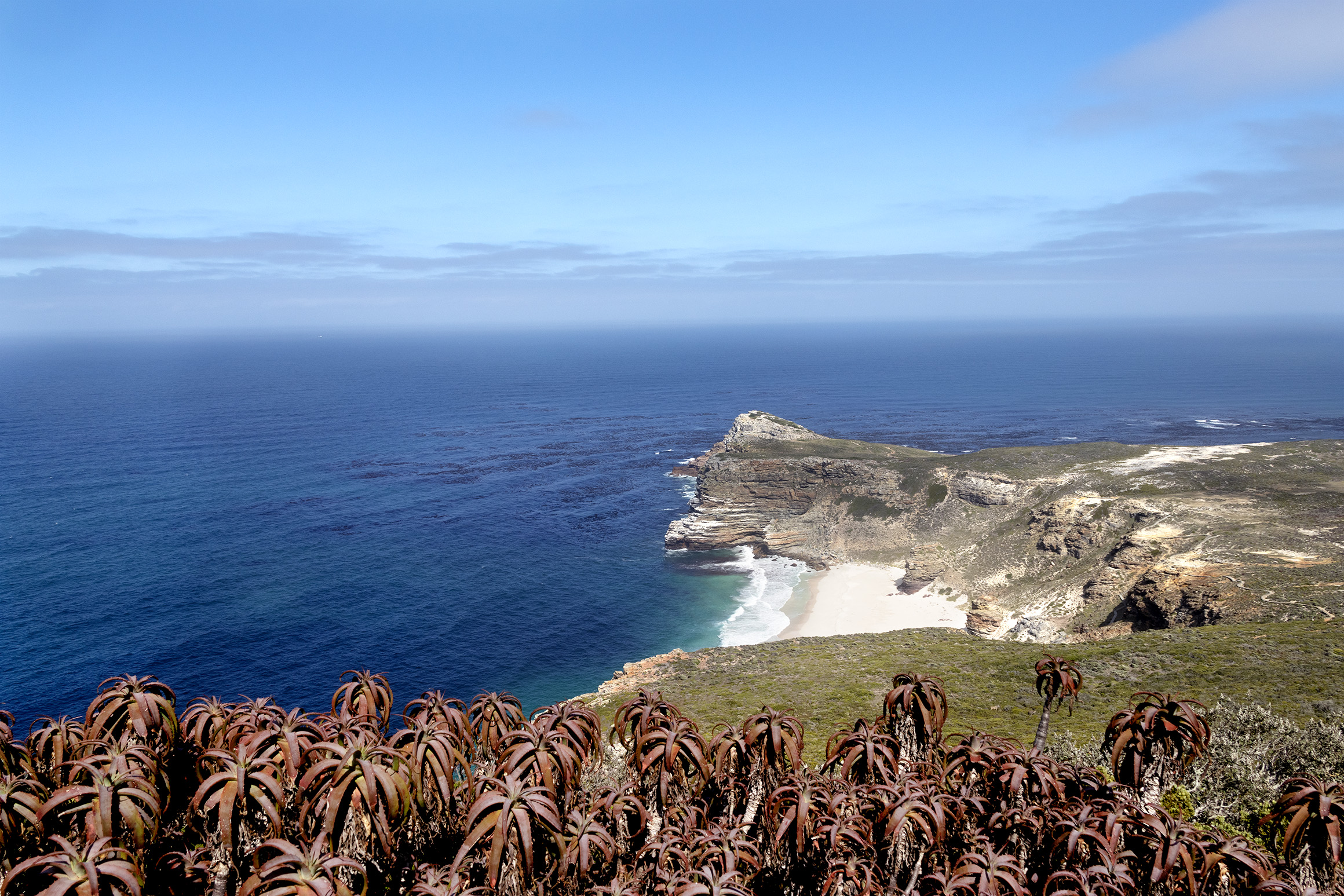 Have a Early Breakfast 
This is a full day Peninsula Tour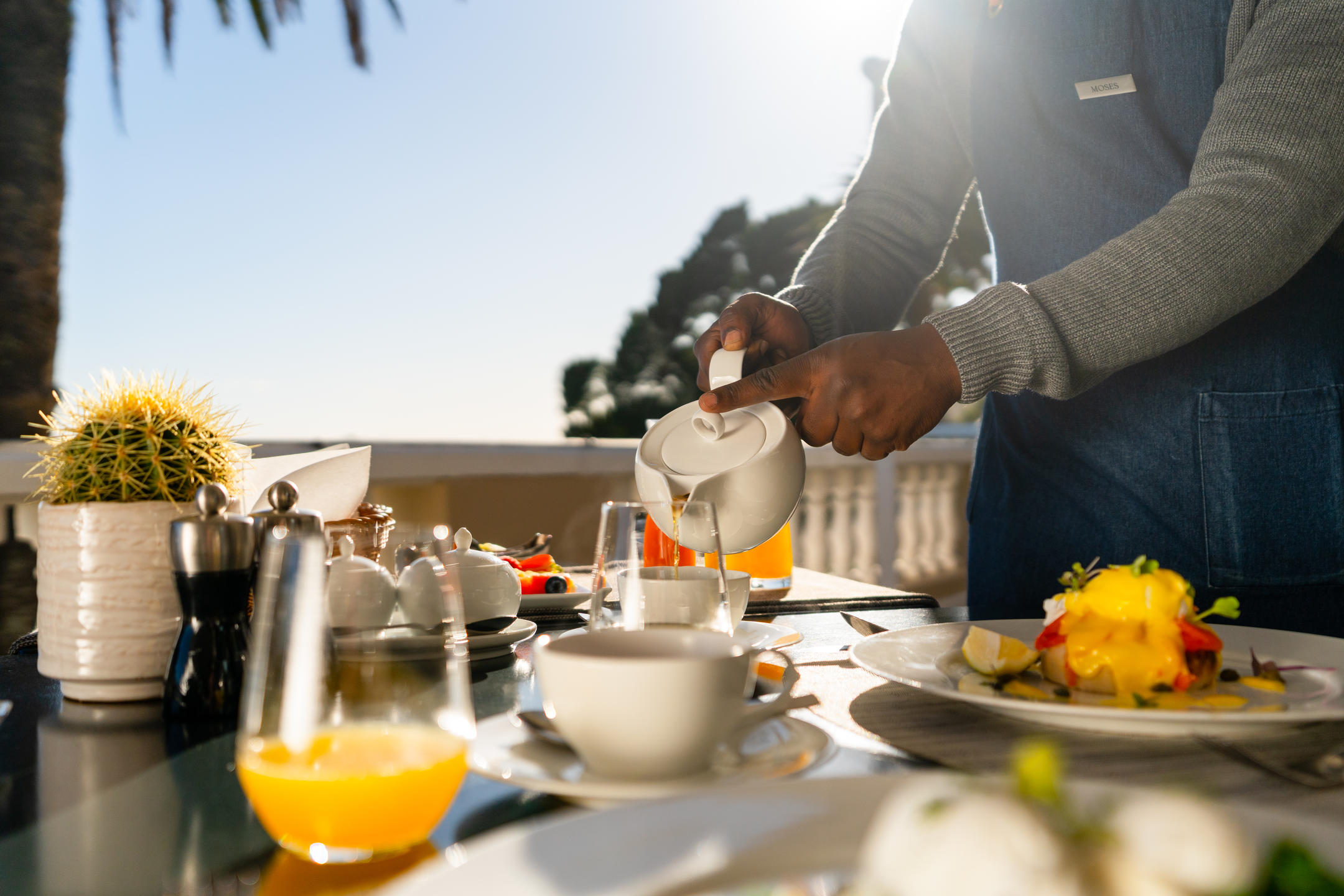 With Ubuntu Travel, your Cape Peninsula tour is completely private and can be tailor-made with your local guide towards how you wish to spend the day. I will, however, strongly suggest you do one thing. Leave early! Perhaps a quick continental breakfast and a freshly brewed coffee or tea is best for this morning, there will be plenty of time for hearty meals later. For those of you who have been caught indulging in South African wines the night before, don't worry, the first section is a leisurely drive. Some paracetamol and water will do the trick.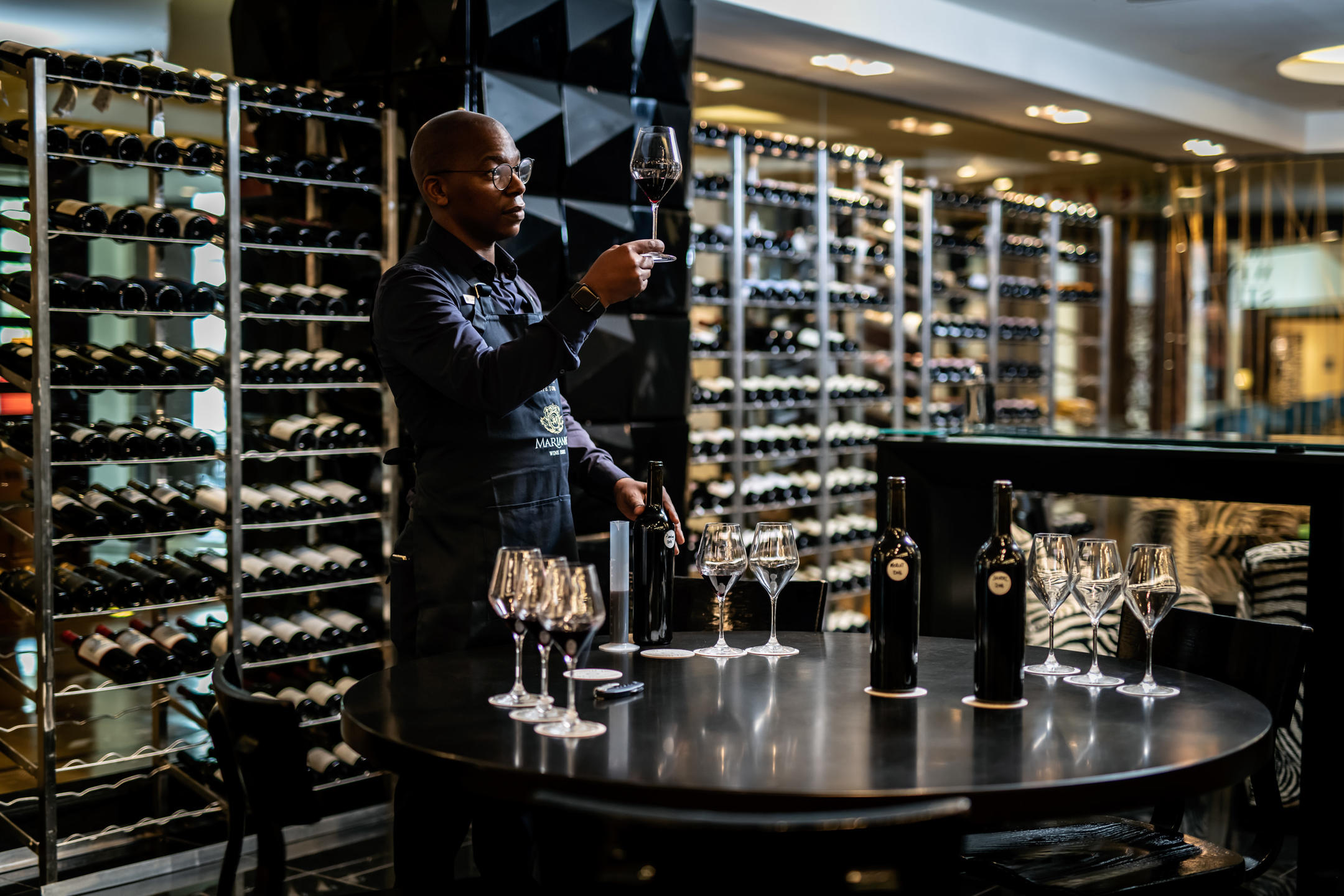 What to pack: there will be plenty of stops and places to purchase fresh beverages, but I would have some items at hand to make your journey more comfortable. We can also make sure this is all organized for you too. 
Bottle of cold water 

Maybe some biltong, dried fruit or nuts

Sunscreen, hat and sunglasses 

Swarovski Optik Binoculars 

Camera for those bucket-list shots 
Insider's Quick Hits:
Leave early to avoid the crowds… and summer winds (Nov to March)

Enjoy an early continental breakfast 

Perhaps ask for a coffee to go…

Not an early eater like me – ask for a packed breakie
Enjoy the Atlantic Seaboard Drive 
From Cape Town to Cape Point 

Assuming you are staying in or around Cape Town's iconic V&A WaterFront. Explore the stunning Atlantic Seaboard southwards towards Cape Point, with the incredible Twelve Apostle mountain range towering above you and the breathtaking coastline. Cruise through Clifton with its pristine beaches, and take notes of the trendy bars and restaurants at Camps Bay. You will want to return.
You might be tempted to stop at Hout Bay before marveling at the engineering and panoramic views of Chapmans Peak drive. But I would suggest leaving this for another time and prioritize getting down to Cape Point as early as possible. I would, however, recommend a brief stop along Chapman's Peak drive to enjoy a few selfies and pictures of the views – they are quite exquisite.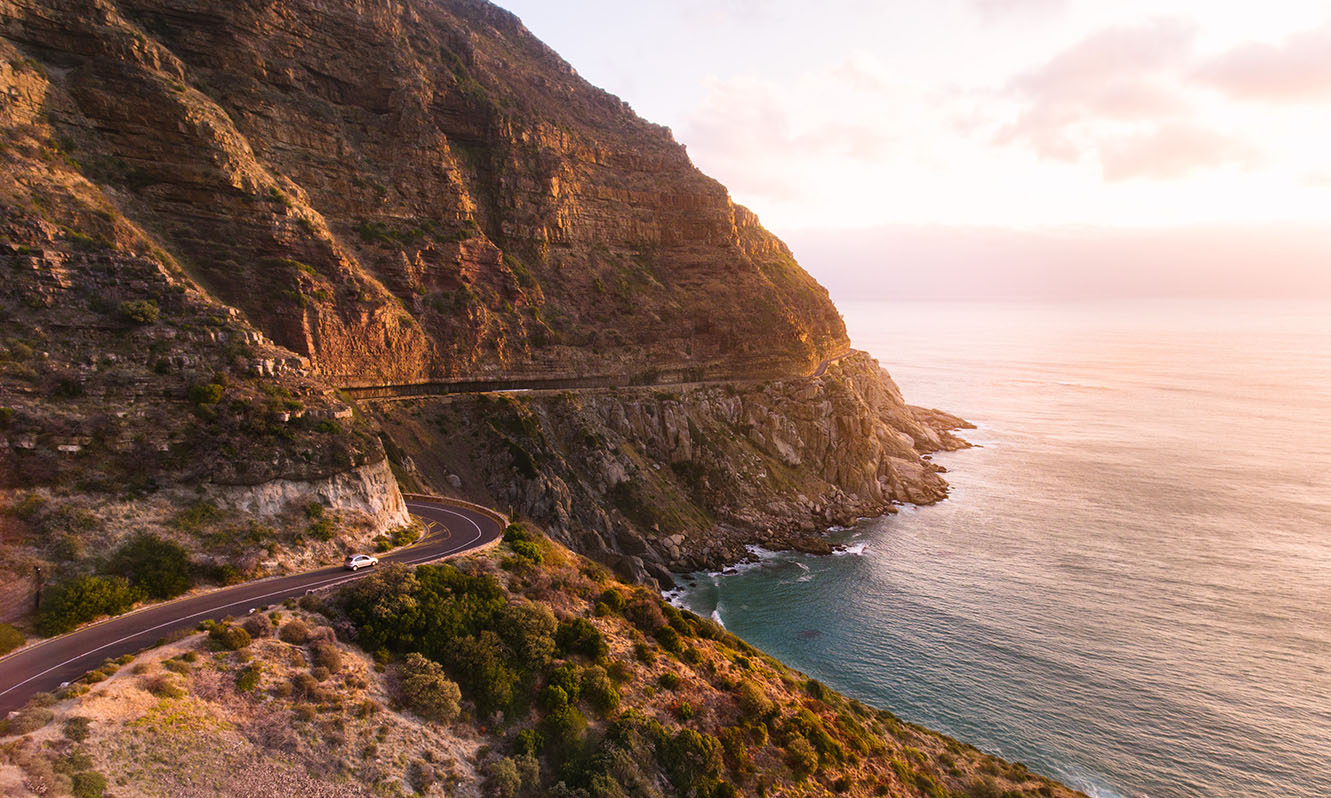 If you have more time in Cape Town:
The beaches at Clifton and Camps Bay are absolutely incredible and deserve a special mention, especially if you are looking for sundowner spots. I will warn you though, the beaches may look inviting, but if you're looking for a comfortable swim… then perhaps the False Bay side is better. The water on the Atlantic Seaboard is cold.. like heart-stopping cold. 
Hout Bay is also a wonderful coastal fishing village with a traditional harbor and extensive craft market to wander through. For the adventurers, you can take a tour to Duiker Island and snorkel with the Cape fur seals or even sea kayak and search for resident heavyside's dolphins. Yip, a marine safari just minutes away… I said Cape Town is great!
The Cape of Good Hope
Take your time… and then a little more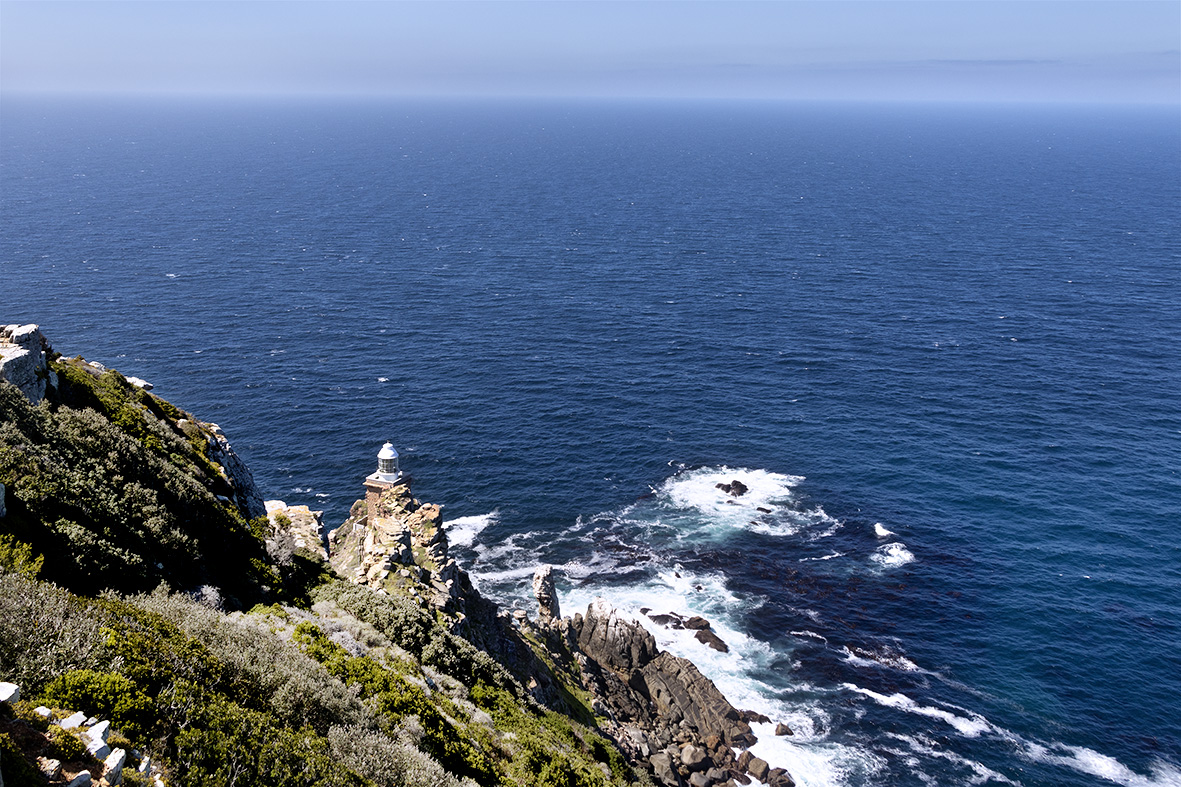 Cape Point is a wonderful introduction to the uniquely diverse Cape Floral Kingdom. A region that boasts more floral diversity than the United Kingdom, and is home to more than 20% of Africa's plant species. All this is complemented by panoramic ocean views, secluded beaches and a variety of wildlife like chacma baboons, eland, Cape mountain zebra and the endemic bontebok. I promise, you will quickly forget that just 30 minutes ago you were in South Africa's second largest city… the magic of Cape Town. Check out this quick video spanning across Cape Point to have an idea…
This incredible wilderness, however, does bring in the crowds. And this is why I suggest that you leave early.  In the peak summer time (Nov to Feb) queues can develop outside the entrance of the park. And the walkways up to the historic lighthouses and incredible viewing spots can become a little overcrowded. Please, avoid this by arriving early…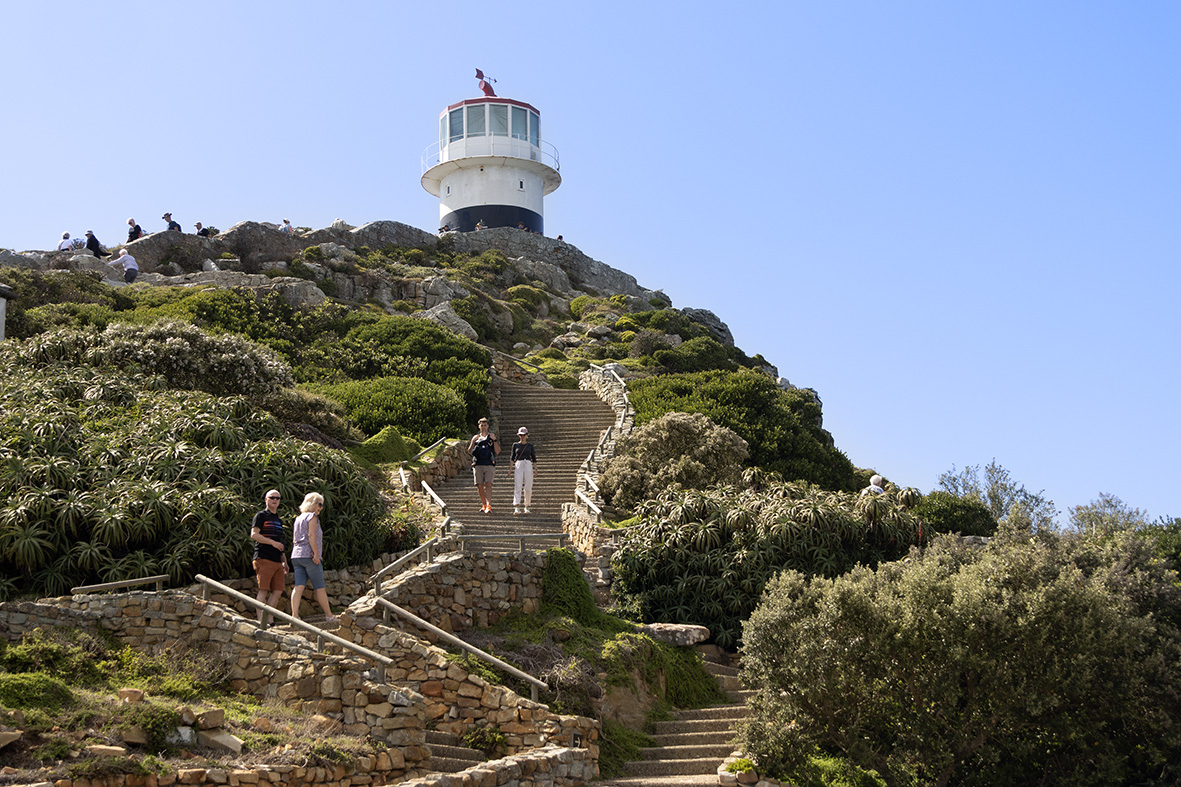 Luckily, after visiting the lighthouses and enjoying the expansive views of False Bay at the point, there is quite a lot more to explore while visiting Cape Point. I would suggest these activities on your way back: 
Go and search for wild ostriches combing the beaches

Lookout for eland and bontebok on the Olifants circular drive

Visit Buffels Bay and the

Bartolomeu Dias

and

Vasco da Gama

monuments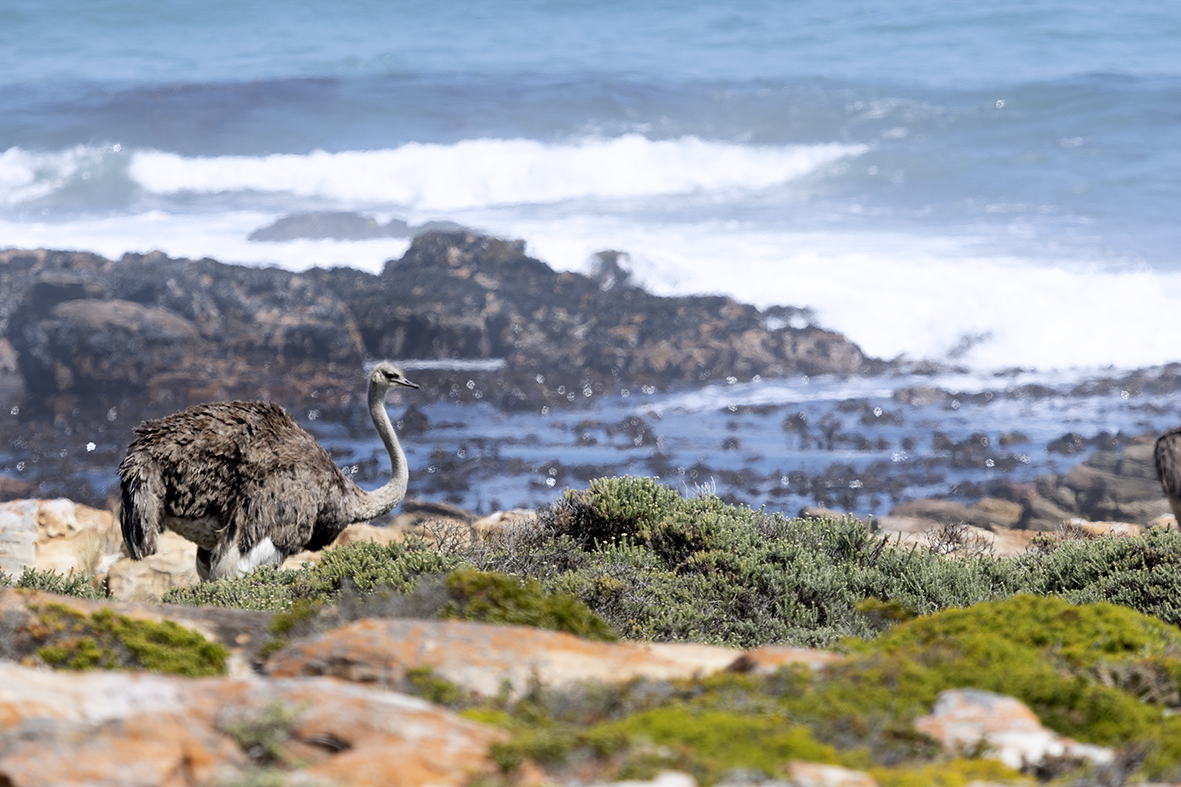 And if you have time: 
Walk from the Cape of Good Hope to Cape Point restaurant (Duration: 45min)

Take the afternoon and do the Shipwreck trail (Duration: 2 hours)
Insider's  tips:
If you have restricted mobility, or small children, take the Funicular to the viewing points. It will make the experience more enjoyable for you. 

Reopened in October 2022, the Two Oceans restaurant is a wonderful option for lunch with its gorgeous panoramic views of False Bay. 
Quick Spoiler Alert – Cape Point is not the most southern tip of Africa. Nor is it where the Atlantic and Indian Ocean meet. Why this continues to be told baffles me, but nevertheless this is a wilderness destination you have to explore!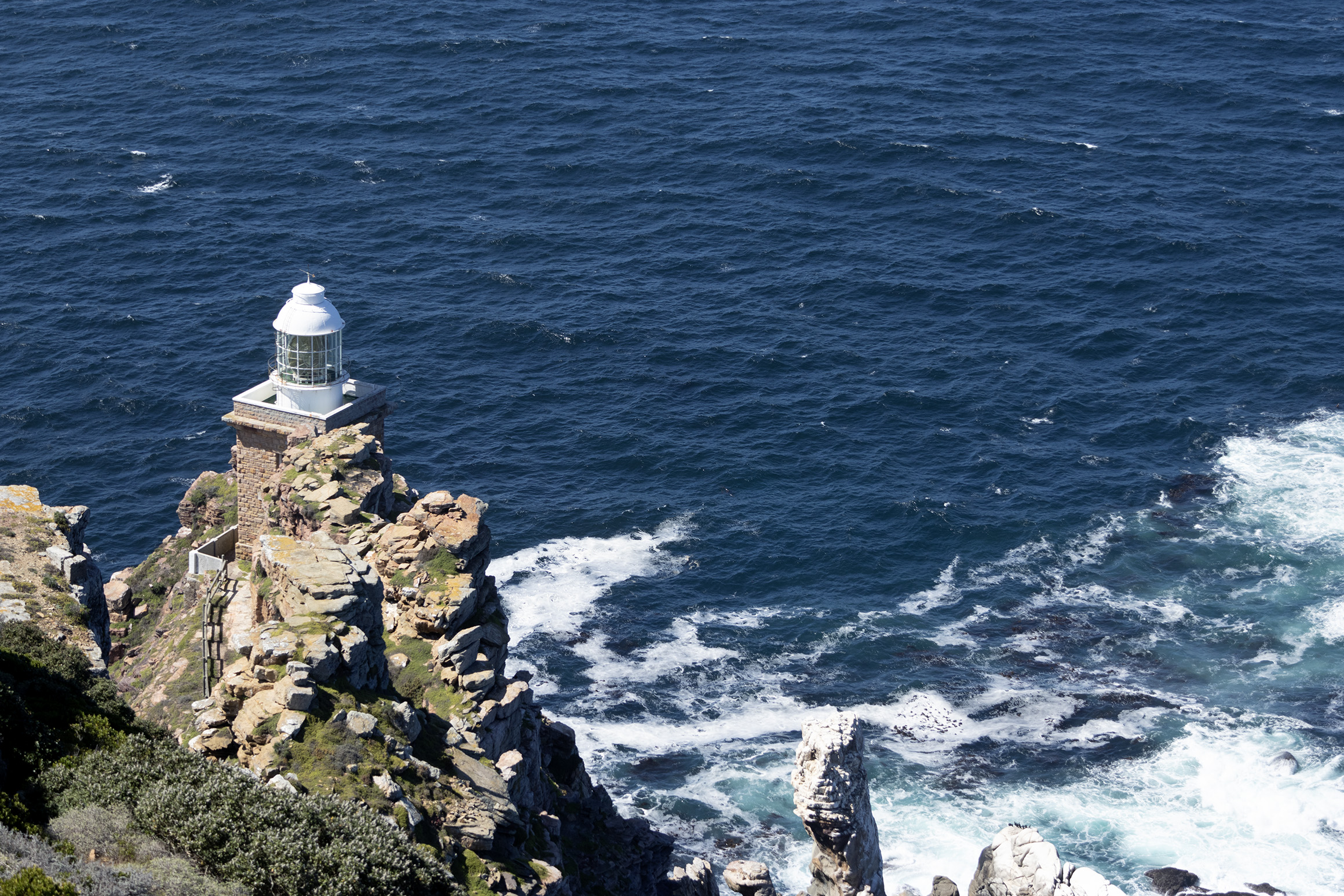 Meet the African Penguins 
Boulders Beach and conservation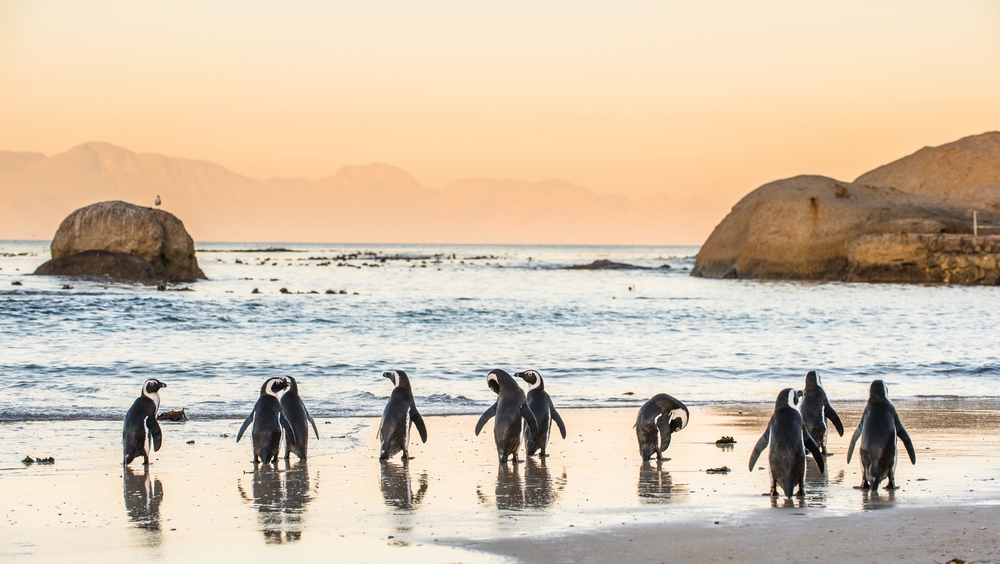 Visiting the African penguins at Boulders Beach is a magical wildlife encounter for children and adults alike. While walking along the dedicated walkways, enjoying heartwarming and openly funny scenes of waddling penguins, one can be forgiven for thinking that these incredible animals are not facing extinction!
The numbers are heartbreaking. In 2021 a census concluded that in just 30 years, the African penguin population in South Africa has declined by 73% from 42,500 breeding pairs to just 10,400. There are now only an estimated 14,700 breeding pairs left on the whole continent – essentially the African penguin has lost nearly 97% of its historical population. So your visit is more important than ever!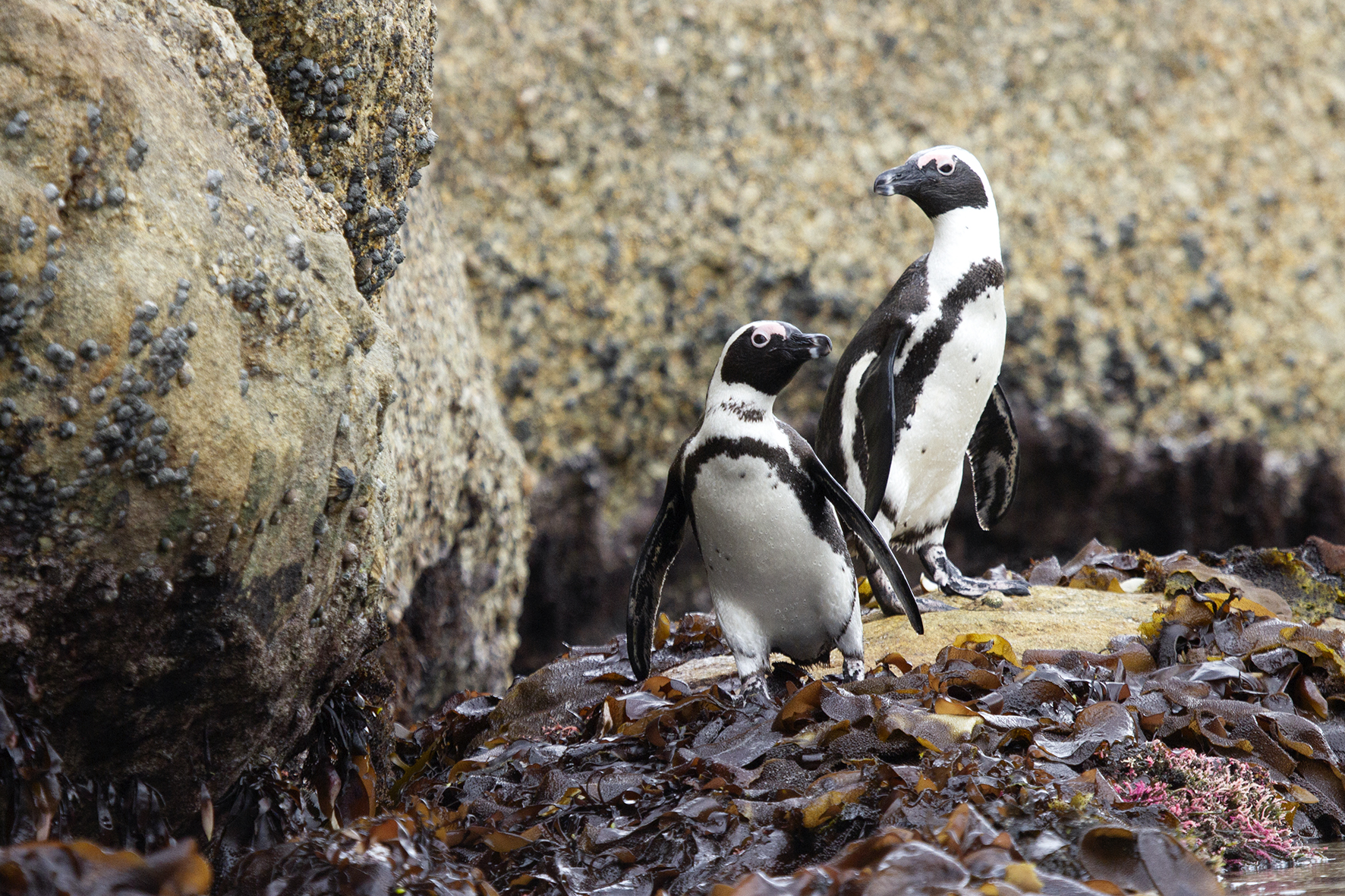 To stem the tide, the breeding colony sits within the Table Mountain National Park, whereby the breeding site is monitored and protected to help increase breeding success.  Please enjoy this authentic wildlife encounter, while knowing that your visit has contributed to their conservation and protection in this area.
If you have more time in Cape Town: 
I would suggest a morning or afternoon swim at the beach right next door. Away from the walking crowds and framed by large granite boulders, this clean and child friendly beach is sheltered from the wind. It also provides a more intimate penguin encounter, as these habituated birds will literally waddle or swim right past you. 

Enjoy a sea kayaking experience from Simon's Town (a Naval town right next door). Navigate yourself around the white granite boulders for a unique perspective of the penguin colony. And keep an eye out for bottlenose dolphins, sea otters, cape fur seals and even whales. 

Snorkel with Cape fur seals at Partridge Point. Or explore the depths of the coastal kelp forests with Pisces, a PADI certified diving center, in Simon's Town. 

Lunch at the Harbour House 
Kalk Bay Harbour 
By now you are getting hungry and lunch is definitely part of the conversation. If you did not choose to eat at the Two Oceans restaurant at Cape Point, don't worry you have many options to choose from. For more "light lunch" options you can easily enjoy the Black Marlin or even Seafourth in Simon's Town. But on this side of the Peninsula, for a more gourmet option, I would recommend the Habour House at Kalk Bay harbor. 
After your meal overlooking this historic harbor. Take a quick walk and watch traditional handline-fishermen bring in their day's catch of yellowtail, cob and snoek. If there is time, there's a rich variety of authentic and unique craft stores to browse through. Take a note of the historical and cultural notice boards on the walkways. This area has an incredible story to tell.
Do you squeeze in Kirstenbosch Gardens?
National Botanical Kirstenbosch Gardens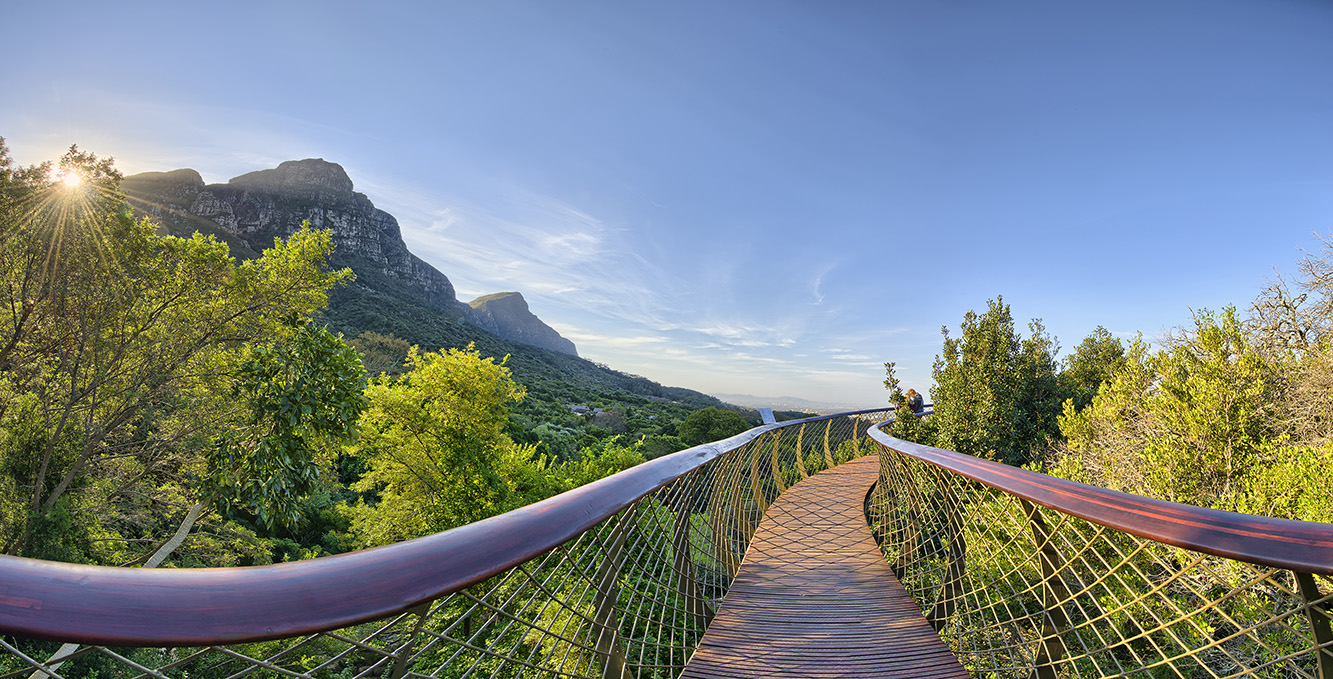 This all depends on how many days you have in Cape Town. For me personally, it all could be a little much for one day. However, the traveler's "curse" is that you are always trying to find the right balance between quantity and quality. If you're worried you will not have another opportunity, and your guide believes you have time, then a quick late afternoon visit is a must. Enjoy a leisurely walk around the 518-hectare estate and wonder over the 7,000 species of plants from southern Africa. You must do the 130m Centenary Tree Canopy walk – affectionately known as the boomslang – that provides gorgeous views of Devils Peak and likely a sunset.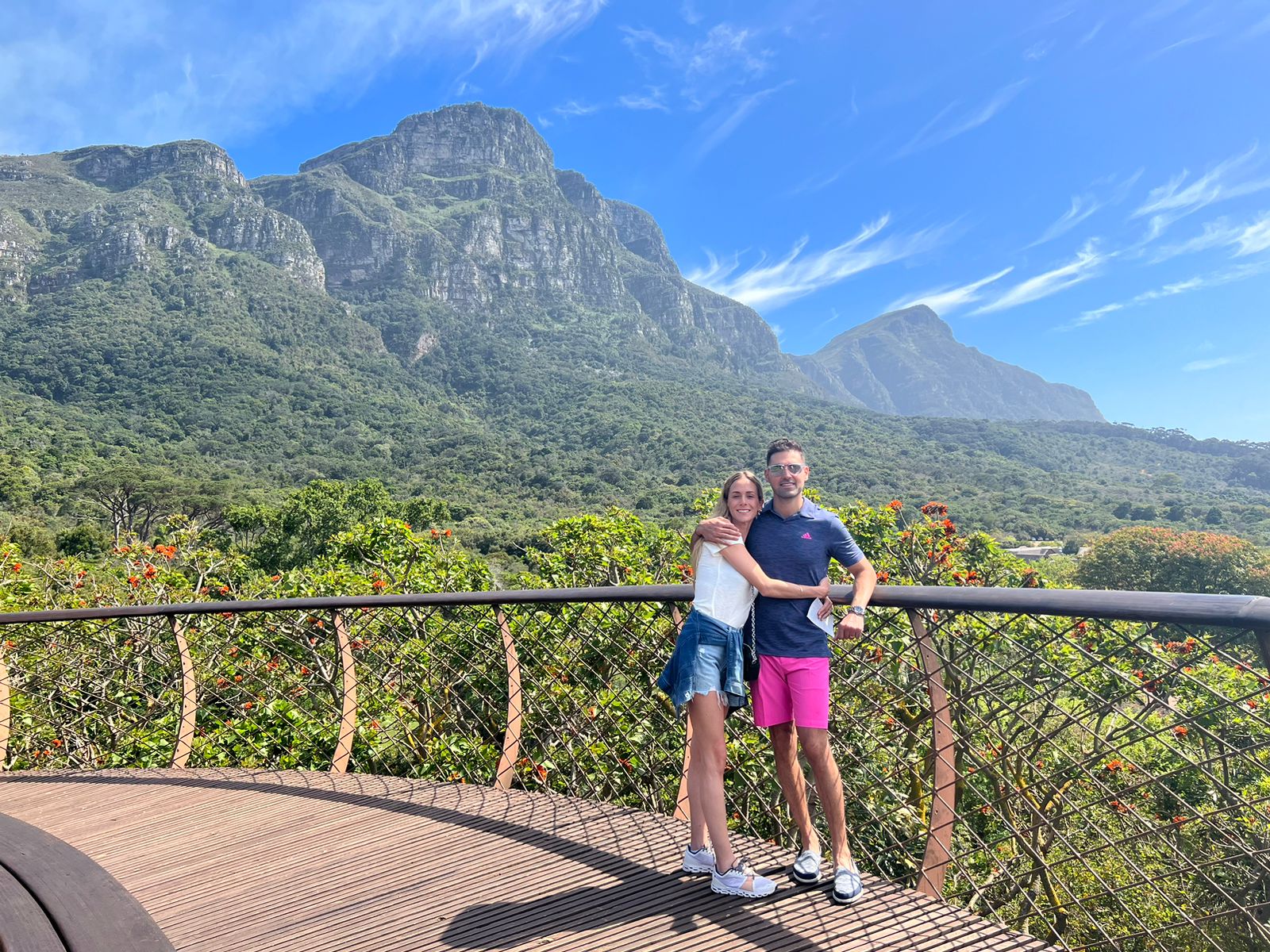 If you have more time in Cape Town : 
There are a variety of hikes and walks you can do from Kirstenbosch Gardens. For the active adventure, I would highly suggest hiking Skeleton Gorge. It is a strenuous 5 hour hike through shaded indigenous forest up the eastern slope of Table Mountain to Maclears Beacon. Think boulders, streams, waterfalls and climbing ladders. 
Afterwards, perhaps via Nursery Ravine, enjoy a much deserved restful picnic on the garden's lawns with a glass (or few) of South African crisp cold rose or sparkles. That's how we locals like to do things in Cape Town! 
Insider's Quick Hits:
You might run out of time to visit – speak to your guide

Enjoy the mountain views from the

Tree Canopy walk

Possible Lunch options at Moyo or the sweet Fynkos Tea Room

A picnic on the lawns is one great way to absorb an afternoon 

Incredible hikes and walks at Kirstenbosch Gardens, chat to us!
Wine Tasting in Constantia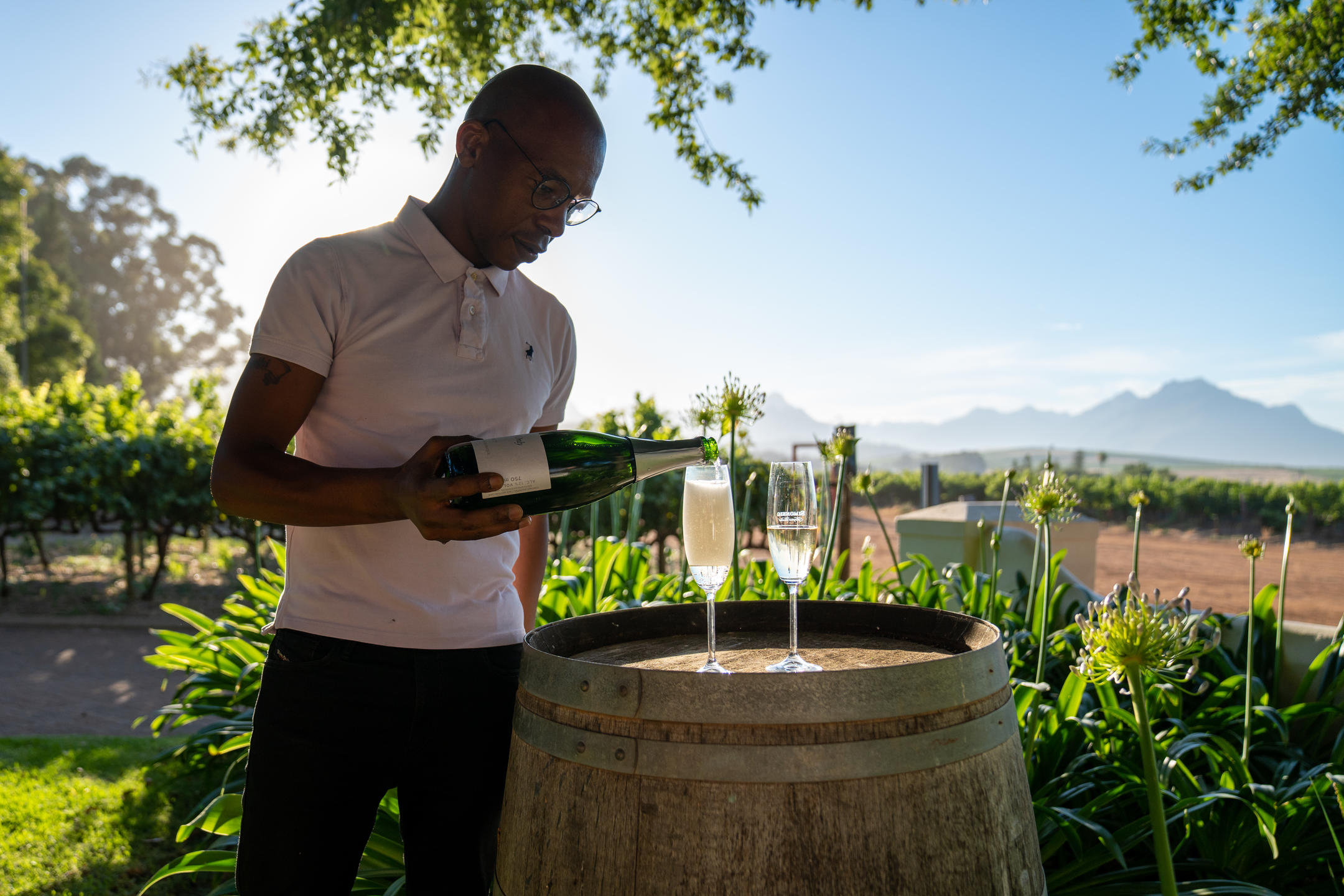 One thing you will quickly realize about Cape Town (and South Africa), you are never far from an opportunity to enjoy a glass of wine…  And of course, after a great day viewing the sights of the Cape Peninsula, sealing it with a wine tasting session is a great way to reflect on your incredible day! Again, the fact that historical vineyards are a mere 15 to 20 minutes from anywhere in Cape Town is astounding and alluring. But… this is Cape Town!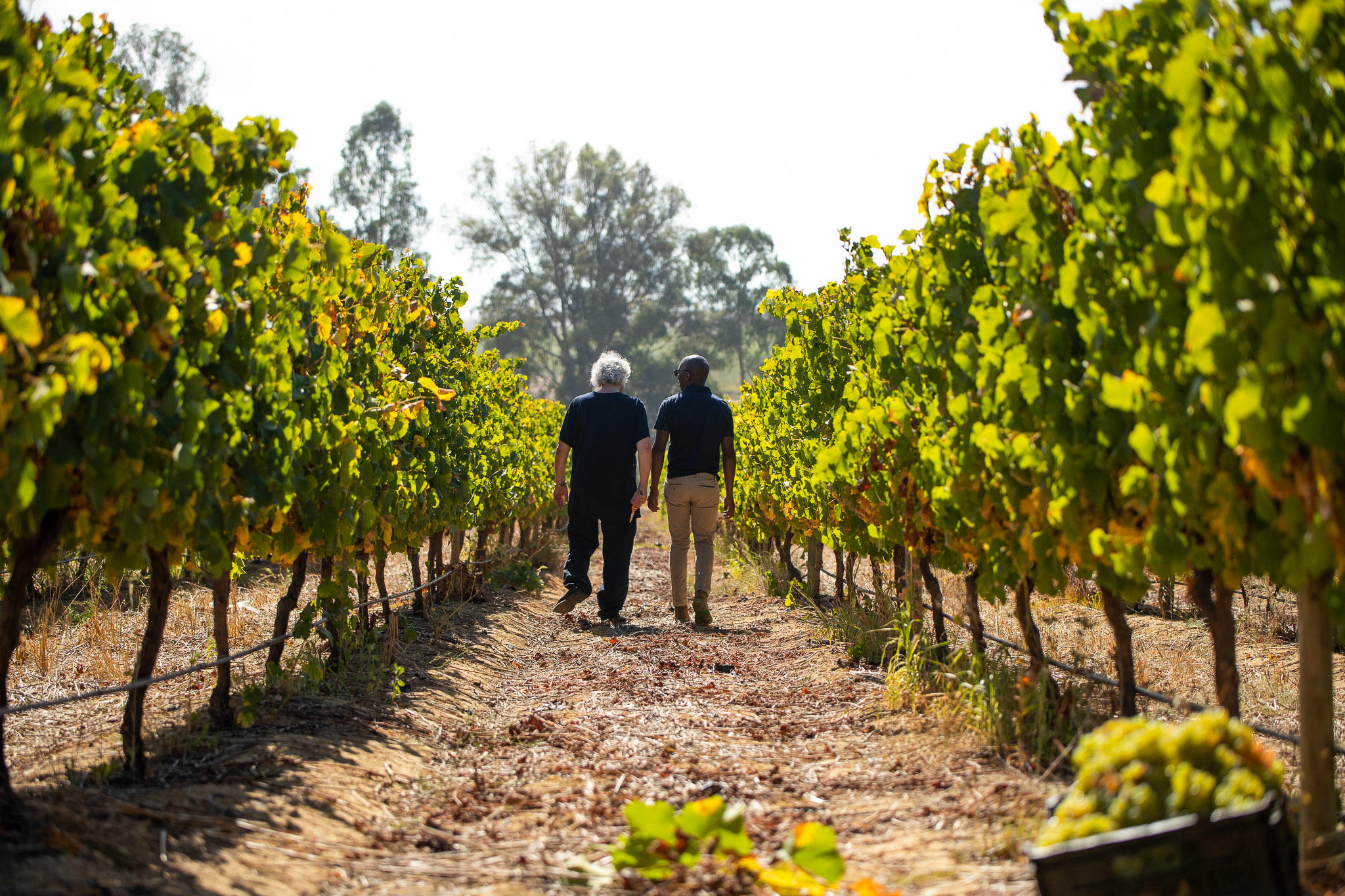 There are a few options to choose from, but I will highlight some of my favorite. For those interested in the cultural history of wine production, then Groot Constantia is for you. Established in 1685, it is the oldest wine estate in the country, and a walk through its grounds provides important insights and conversations around South Africa's colonial history. However, due to its historical legacy, it does bring in the crowds.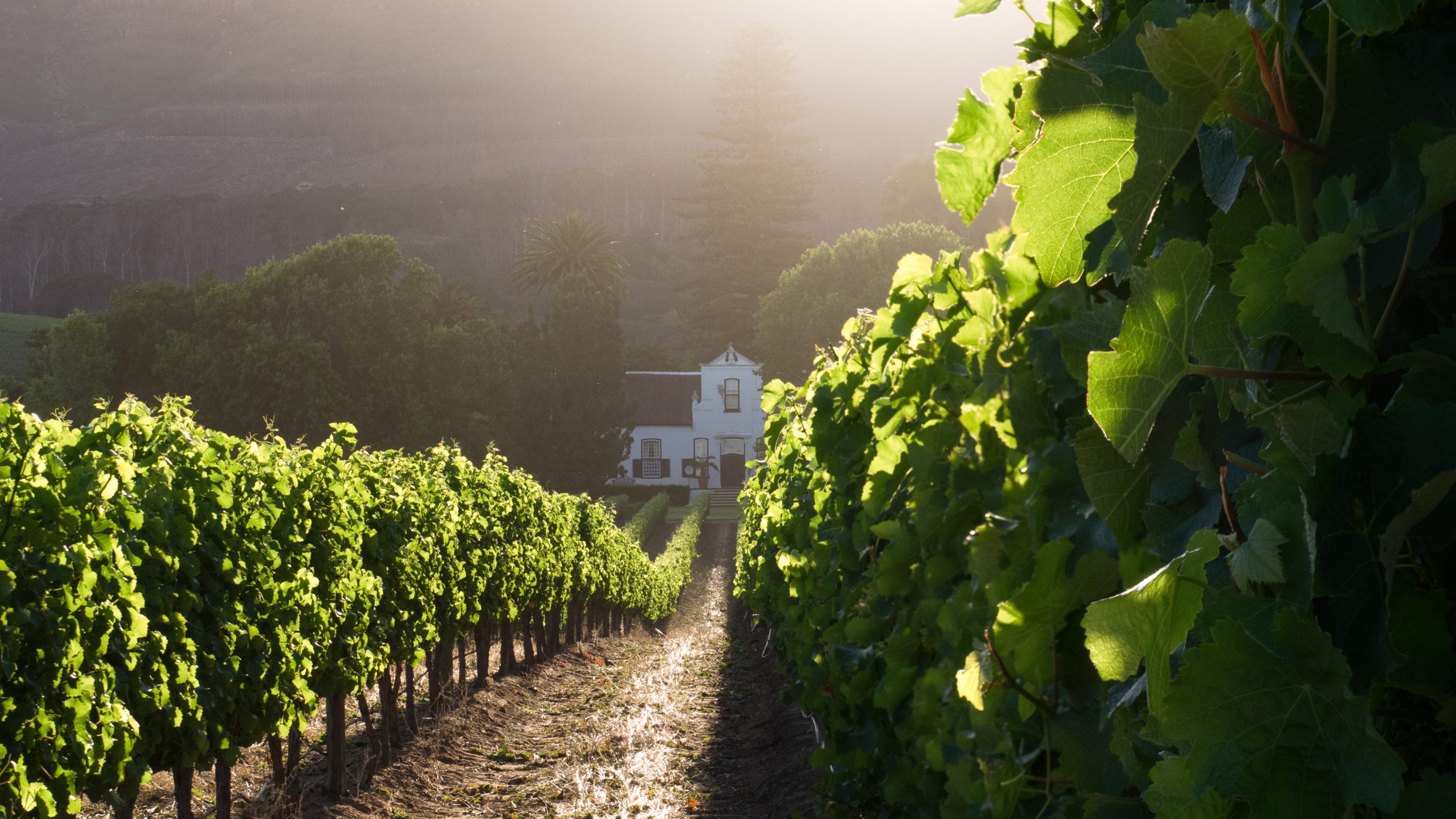 For a more intimate experience, I would visit either Beau Constantia or Constantia Glen. Both wineries are in the same valley, and you can actually see them from either venue. Expect delicious wine tastings, gorgeous views and incredible food to compliment it all. At Beau Constantia, pop your head into the Chefs Warehouse… This is Co-founders Kyle and Leah's favorite restaurant in Cape Town. You will want a dinner reservation here for sure – we can organize. 
Insider's Quick Hits:
Visit Groot Constantia is you want a taste of the history – but there will be crowds

Constantia Glen is an intimate boutique winery – perfect for couples and families alike with their lush lawns and perfect views. Wine tasting late into the evening. 

Beau Constantia is for the romantics! A reservation at Kyle and Leah's favorite restaurant in Cape Town is a must if you have time.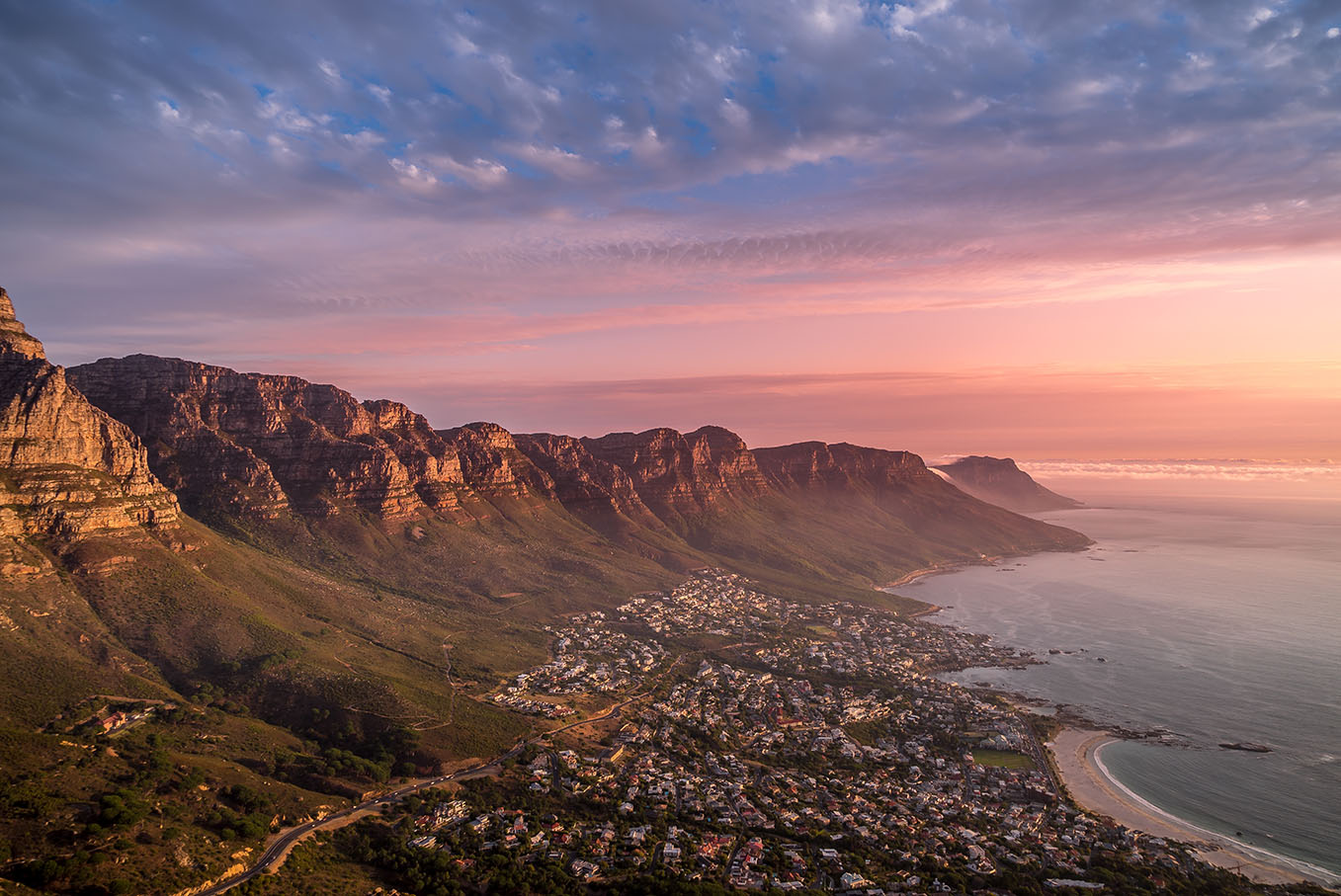 Are you ready for the trip of a lifetime?
If you're thinking of planning a trip, we're here to help! Our team of travel designers will create an itinerary just for you to create memories to last a lifetime and conquer your bucket list. Get in touch with us today to start planning your adventure in Africa.
Follow us on Instagram