Your Trip of a Lifetime Awaits…
Explore verdant jungles and red deserts. Watch elephants wade in rivers, lions stalk their prey, or play a role in the conservation of endangered rhinos. Raft a wild river under one of the world's most breathtaking waterfalls. Meet endangered, giant tortoises on a private island. Immerse yourself in a new culture. And do it all sustainably, with a personal guide, luxury accommodations and world-class dining. Are you ready to have the experience of a lifetime?
What kind of traveler are you?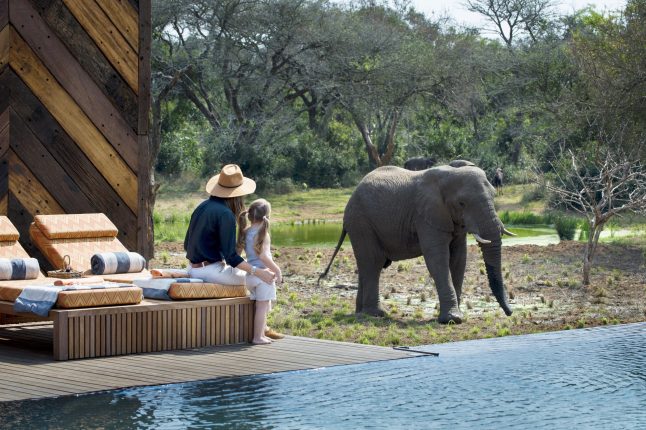 Take your family on an adventure they will never forget. For families of all sizes, ages, and generations, Ubuntu Travel's personalized itineraries will provide you with an outstanding experience and everlasting memories! Custom trips allow us to meet your particular requirements and plan with additional safety precautions in mind, including a Malaria-free experience for young children. Enjoy a safe family getaway in some of the most stunning settings in the world.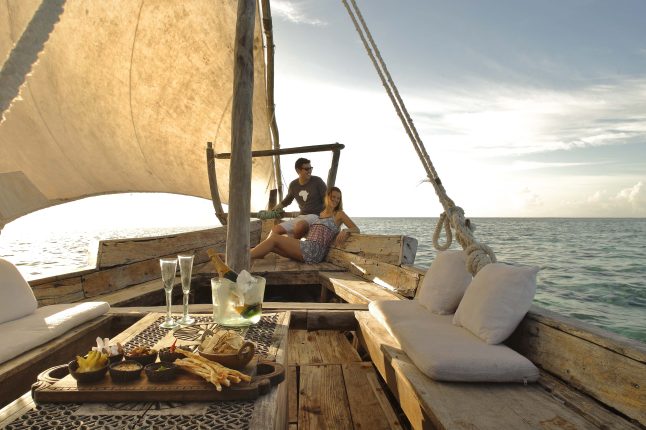 Create memories on a romantic white sand beach paired with a thrilling safari. Visit tropical climates and enjoy the serenity of a private island. Expand your horizons from a tented suite immersed in the wild outdoors. An adventure in Africa is the perfect way to disconnect from the rest of the world and enjoy the beauty of the bush with your special someone. A scenic campfire and your favorite sundowner beverage is the perfect canvas for your next couples getaway.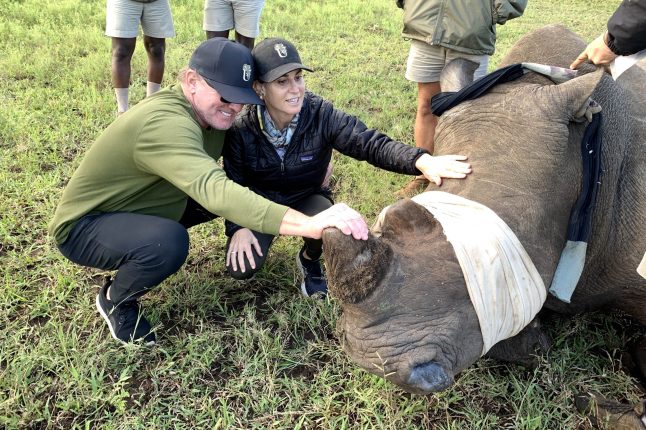 Travel with purpose. Stay in luxury eco-lodges that support a plastic-free environment. Work hands-on with rhino and elephant conservation experts. Team up with our partners to double the wild lion population by 2050. Support local advocacy organizations and engage in local community projects. Getting involved first-hand in the conservation of Africa's wildlife and the upliftment of its communities will be one of the most rewarding things you ever do.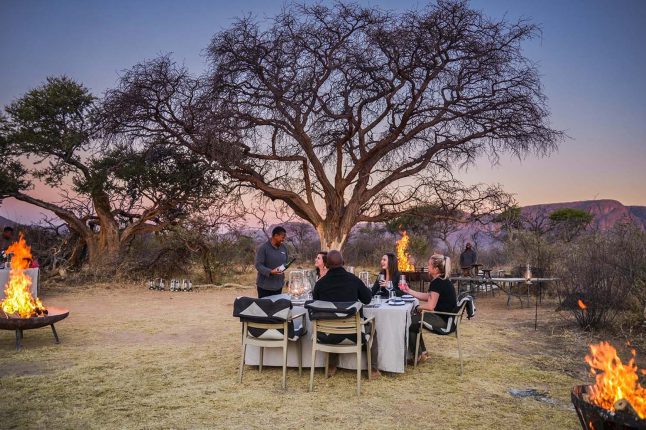 Whether you're organizing a trip for a group or you're adventuring solo and hoping to meet new people, Ubuntu Travel has options for you! Celebrate a milestone birthday with a group of your closest friends. Connect with like minded travelers on an African adventure to create life-long memories. Whatever your group requires, we can custom design an adventure to accommodate experiences of all sizes.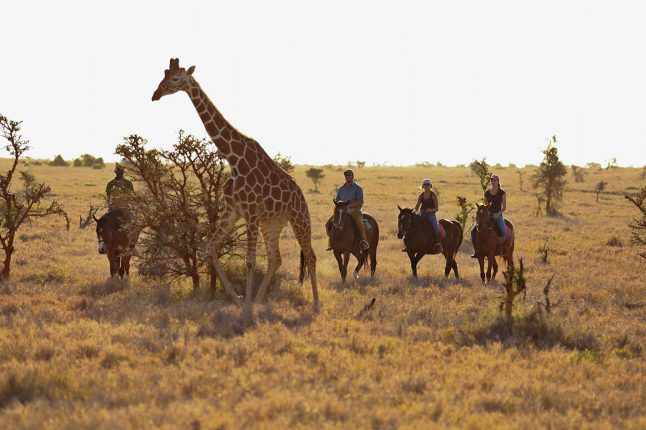 Take your trip to the next level by exploring your special interests while vacationing in Africa. Our personalized adventures can include a variety of exciting activities, tailored around your preferences and interests. Enjoy the finest fare, made with farm-fresh ingredients to nourish your body and soul. Reconnect with nature on a horseback safari or feel inspired from the heights of a hot air balloon. Let us plan the perfect escape that highlights your special interests – whatever they may be!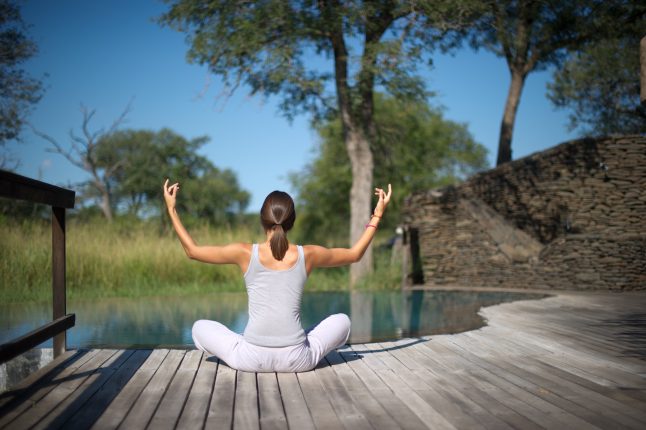 A vacation doesn't have to mean forgetting about your health and wellness. Personalized adventures can include hiking, cycling, running, yoga, meditation and, of course, some well-deserved spa time. Enjoy the finest fare, made with farm-fresh ingredients to nourish your body and soul. Reconnect with yourself by indulging in ultimate relaxation or exercising in the wild outdoors. Let us plan your perfect wellness retreat!
Ubuntu Travel's personalized adventures consist of a mix of experiences that combine luxury and excitement and emphasize safety.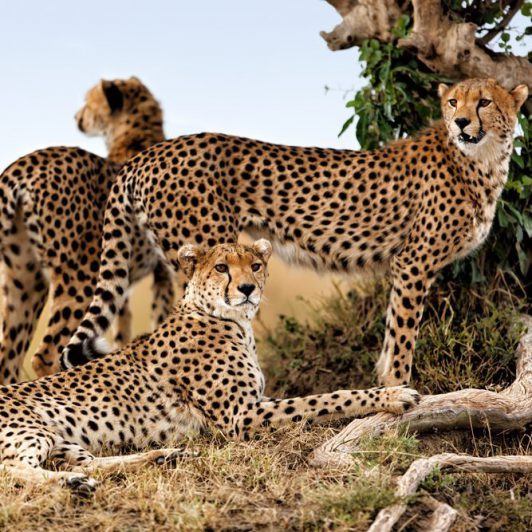 Wildlife
---
A crucial element of any African experience is wildlife viewing on safari. Depending on where you choose to explore, safari can mean a variety of things, but it always means an up-close game viewing experience. In East Africa, witness zebras and wildebeest join in the annual Great Migration across the Serengeti or view a pod of hippos from a hot air balloon over the Mara River. In Southern Africa, dive with great white sharks in Cape Town or view elephants from a dugout canoe in Botswana. Let's not forget the opportunity for face to face encounters with mountain gorillas in Rwanda, or swimming alongside dolphins in the crystal blue waters of the Indian Ocean. The possibilities are endless!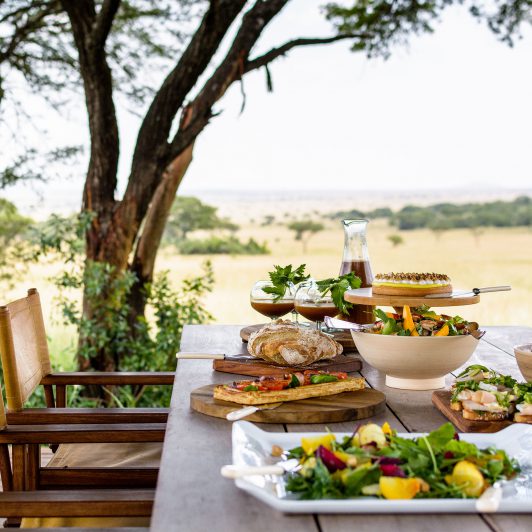 Exceptional Dining
---
Your personal, white glove tour includes dining that is worth the trip on its own. You will indulge in farm-to-table, sustainable meals crafted by world renowned chefs. You will experience traditional boma dinners at safari lodges while joining locals performing their native songs and dance. You will enjoy delicious, local dried fruits, a variety of roasted nuts and traditional biltong beef jerky along your safari game drives. Speciality cocktails and fine wine under the seemingly endless African sky will cap off your daily adventures. And if you have a dietary restriction or preference, we will make sure all of your needs are met.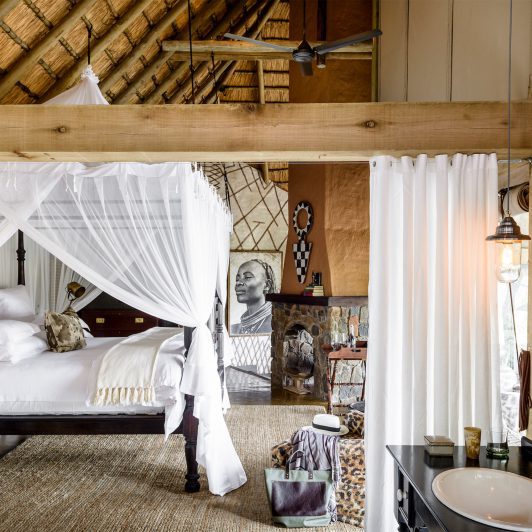 Accommodations
---
Explore the African continent while knowing you will always return to a luxurious room. Being in the bush doesn't mean you can't enjoy extreme comfort or exceptional lodging. Enjoy expansive suites, filled with impeccable artwork and unique design. Sip a morning cup of coffee from your private deck nestled in nature. Take in panoramic views of surrounding wildlife from the privacy of your personal plunge pool. Whether you're dreaming of the ultimate tree house to sleep under the stars, enjoying the breath-taking views from beach-side bungalows, or the rustic charm of a country farmhouse - your accommodations are always world-class.
"Without question our trips to Africa with the Green Family and Ubuntu Travel stand out as highlights in our family's memory of experiences. We enjoyed time with the Greens, and three other couples, in Cape Town and Kruger in 2010 via a well-orchestrated trip that exposed us to an experience beyond our expectations. We then traveled with them again to Zambia and Botswana in 2016, this time on a YPO family experience with over 100 people. During each trip, we were impressed by the exceptional accommodations, gracious hosts and staff, and the overall experience working with the Ubuntu Travel Team. Even while traveling with a large group, all transfers and events were seamless. We are so thankful for all of the memories we will cherish from our adventures in Africa."

Advice Period, Convergent Wealth Advisors, Principal, Founder and Former CEO
Reach out and let's start talking. We'll listen and begin to tailor an experiential, private, luxury vacation based on exactly how you want to experience Africa. From adventure to relaxation—and everything in between—let us handle every detail of your unforgettable journey.