Namibia is a fantastic option for travelers, offering a more unique experience for second time or repeat visitors, and those looking to get lost in wild landscapes. While Namibia doesn't showcase the Big 5 or typical safari game, it boasts incredible scenery, desert adapted wildlife, coastal experiences, and more.
Windhoek
Sitting at a population of roughly 325,000, Windhoek is known as one of the smallest capital cities in the world. Generally, this is recommended as the place to stop over during a traveler's first night in Namibia, and is a good jumping off point before exploring the rest of the country. Should travelers be looking to do sightseeing within Windhoek itself, they can gaze at the town's traditional German architecture, pay a visit to the National Botanical Gardens, and taste the country's delicacies.
The Skeleton Coast
Generally, when people think of going on safari, they imagine a 4×4 vehicle for game drives, or even participating in a walking safari. In Namibia, travelers are presented with a unique opportunity to go on flying safari and view the astounding Skeleton Coast! Spanning a spectacular 250 kilometers, this shoreline offers impressive views of captivating shipwrecks, secret rivers, ever-changing sand dunes, and deep canyons.
While in flight, visitors can also view desert elephants, oryx, kudu, springbok, jackals, and on occasion, the brown hyena, giraffe, zebra, lion, cheetah, and Cape fur seal colonies. There is no shortage of birds in the region, with possible sightings of flamingos, falcons, brown snake eagles, larks, and Sanderlings. Interestingly, this striking strip of land gives way to various sand rivers and thus, some of the most fascinating ecosystems in the world that have supported local wildlife and the Himba people for hundreds of years.
The further north travelers go on the Skeleton Coast, the more inaccessible it becomes. Should travelers desire to see the coast by car, the southern region of the park is accessible until Terrace Bay.
Sossusvlei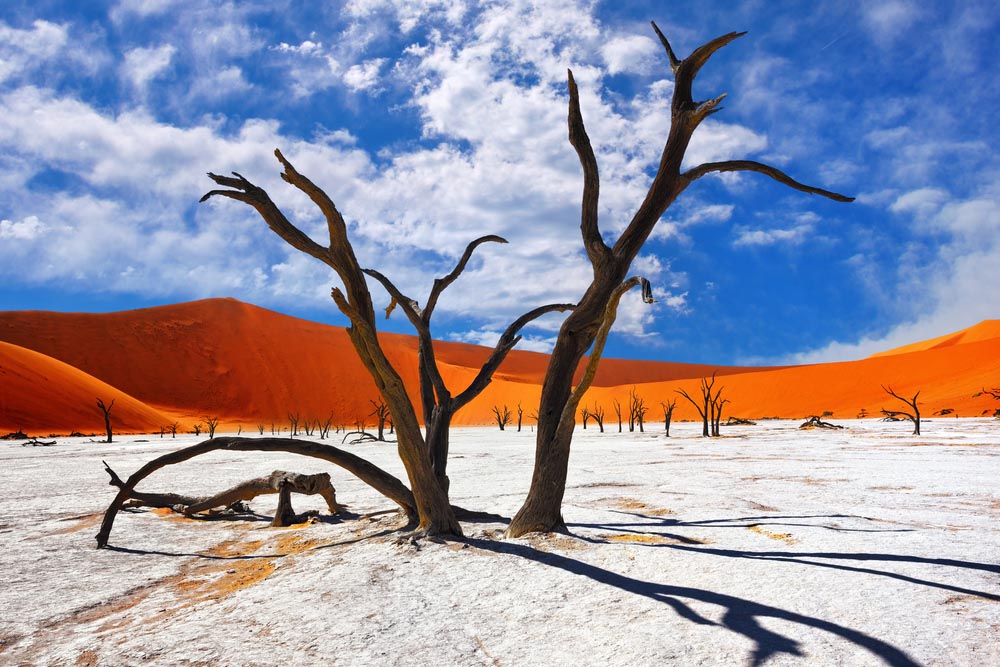 Located in the Namib Desert, Sossusvlei is the nickname given to the surrounding area, which consists of vast salt and clay pans and the world's finest red sand formations. From January to April, the rainfall is relentless, forming lush dunes. May to September cools dramatically, and eventually warms again from October to April. Sossusvlei is a fascinating ecosystem teeming with lilies, dragonflies, birds, yellow devil thorn flowers and various types of trees. Visitors can climb the dunes for towering views, trek through the pans, go for a balloon ride, or go horseback riding.
Etosha National Park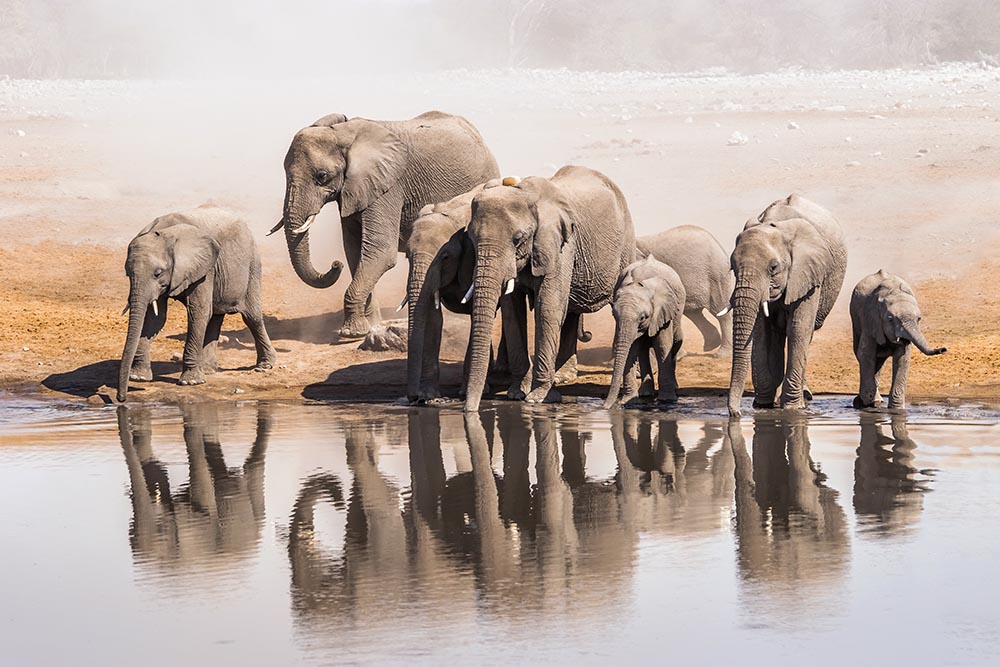 What once covered the park in the form of a humongous salt pan is now a quarter of the park's land, in addition to other mopane woodland, treeless plains, and savannah. Known as the "Place of Mirages", dry season in Etosha is the best time to spot game, wherein visitors can view the desert elephant, giraffe, blue wildebeest, eland, springbok, kudu, gemsbok, zebra, black rhino, lion, leopard, cheetah, and caracal. Once wet season begins, desert flowers bloom and nearly 340 species of bird can be spotted.
Fish River Canyon Park
Fish River is the largest canyon in Africa and the longest interior river in Namibia. Rocks within the canyon date back an impressive 1,800 million years ago, making the park an archaeological wonder. Fish River offers a multitude of activities for the thrillseeker and adventurer alike, including hiking trails, wading through the hot springs or taking a dip in the river, and scenic flights over the gorges and ravines. Spread throughout the canyon's private reserves and national parks are magnificent species of Mountain Zebras, Kudus, Klipspringer Antelope, Baboons, Leopards, and Dassies. Birds aren't always visible, but when they are, the following can be seen: Kingfisher, Black Eagle, Rock Kestrel, Rook Pigeon, Ostrich, Herons and Cormorants, all set against the most gorgeous backdrop.
Swakopmund & Walvis Bay
While Namibia offers thrills in many forms, Swakopmund and Walvis Bay are hotspots for adrenaline junkies and adventure sports. Due to its location near the water, kayaking, kitesurfing and windsurfing are very popular. Additionally, travelers have the chance to go horseback riding, quad biking, dune boarding, bird watching, fishing, and go on balloon flights. Moreover, the Swakop River delta, Walvis Bay Lagoon, and Sandwich Harbour all offer stunning nature and wildlife views, wherein pink flamingos, pelicans, avocets, cormorants, stilts and kestrels are visible.
Damaraland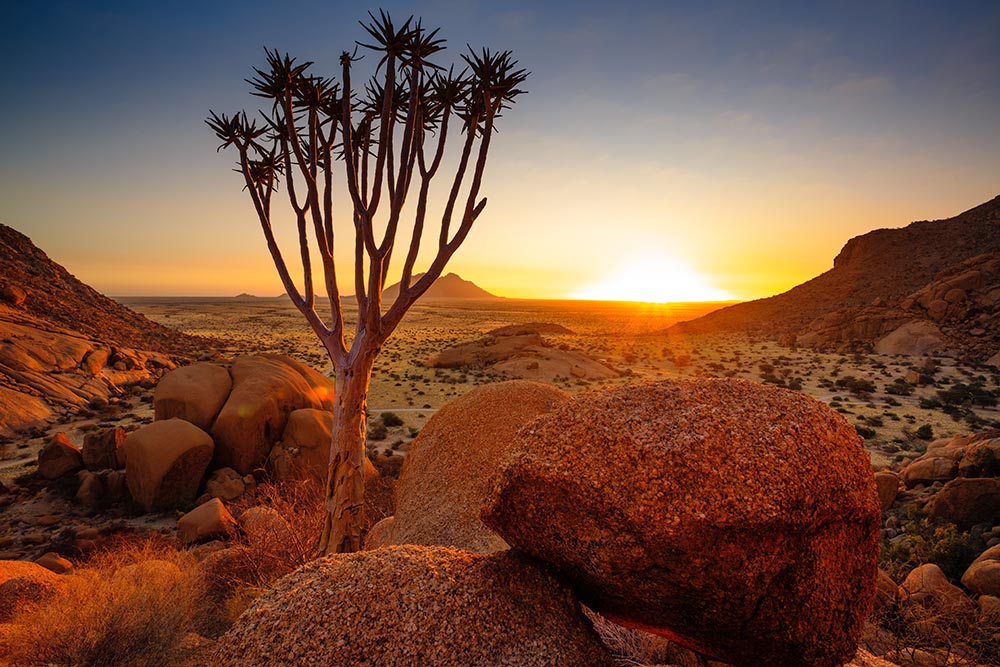 Damaraland is one of the most scenic areas in Namibia and covers the stretch of land between the Skeleton Coast, Kaokoland, and Etosha National Park. Presently inhabited by a small number of Damaras who call it home, various species of wildlife are also visible in this rugged region, such as desert elephants and black rhino. Visitors may also take a journey through petrified forests, Spitzkoppe Mountain, and Namibia's highest mountain: the Brandberg Massif. Additionally, Damaraland offers an array of game reserves, accompanied with remote lodging, with chances to see lions, cheetahs, and giraffes. Other attractions in the incredible Damaraland include visiting the ancient Twyfelfontein rock engravings and art, tracking black rhino, taking scenic flights or balloon safaris, and spotting desert elephants from the months of May to October. Damaraland presents an adventurous challenge for each traveler.
Conclusion
Much of Namibia's appeal speaks for itself: staggering natural landscapes, wonderful wildlife, and adventure galore. There is truly no other place on earth (or in Africa) that boasts such compelling uniqueness, and each traveler is invited to see why.
Start Planning Your Dream Trip
Reach out and let's start talking. We'll listen and begin to tailor an experiential, private, luxury vacation based on exactly how you want to experience Africa. From adventure to relaxation—and everything in between—let us handle every detail of your unforgettable journey.