Best Time to Visit 
The island of Mauritius, situated in the Indian Ocean roughly 2,000 kilometers southeast of the African continent, is a popular year-round destination for both families and couples. This slice of bliss affords its visitors the immense pleasure of rest and relaxation, but also offers a unique spirit of adventure and exploration. 
However, because certain seasons behave differently than others, there are helpful insights to have before visiting. Summer runs from November to April and is most commonly hot and humid, with consistent rainfall. Winter takes place from May to October and is both drier and less hot, creating more pleasant conditions. This makes it a favorable time to visit. Due to its location on the "cyclone belt", Mauritius experiences cyclones and strong winds from January to March. Ultimately, though, this poses no real danger to travelers, and Mauritius is still frequented during this time. 
It's best to pay a visit to the beach from May to December, when temperatures are cooler, rain temporarily ceases, and the sun shines until day's end. Travelers generally opt for snorkeling and reef diving activities, as well as windsurfing, kitesurfing, waterskiing, snorkeling, and kayaking. 
Attractions
1. Port Louis
Port Louis is the capital city of Mauritius and also its largest city. Today, it serves as the main port in Mauritius and a historical and colonial gem, complete with aged architecture, museums, and various attractions, including the Caudan Waterfront, Port Louis Bazaar, Police Barracks, Mauritian Chinatown and the old Port Louis theater. 
2. Black River Gorges National Park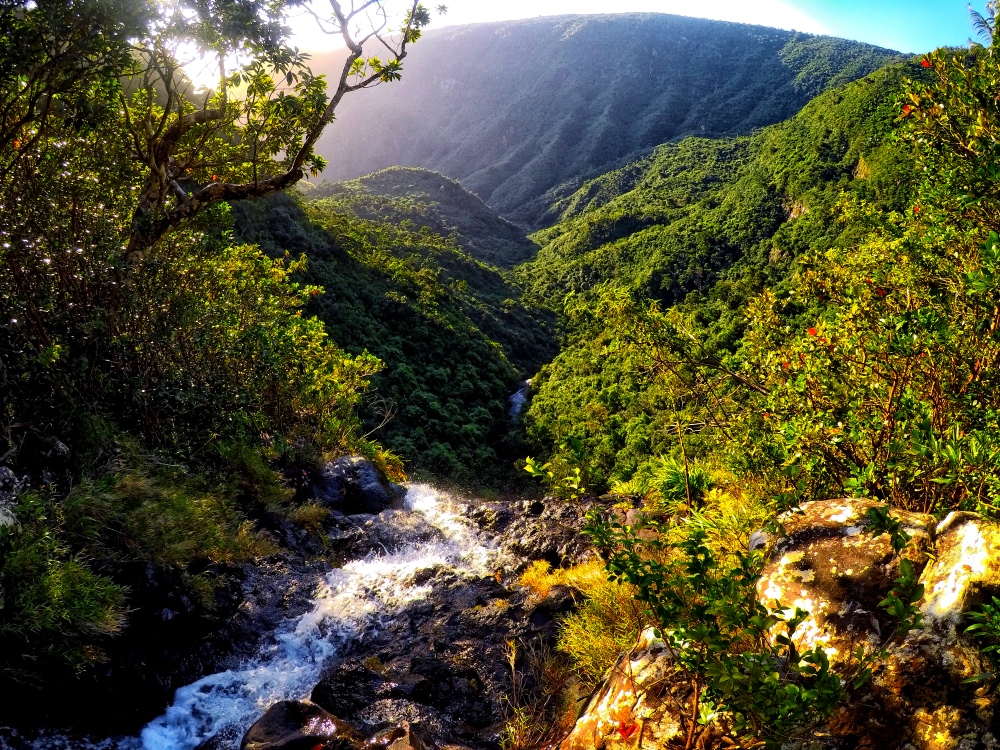 Located in the hills of southwestern Mauritius, Black River Gorges National Park covers nearly 68 square kilometers and consists of upland and lowland forest, as well as several marshes. With over 60 kilometers of trails, the park boasts numerous wild animals and birds, and offers some of the most phenomenal sightseeing on the island.  
3. Île aux Cerfs Island
This spectacular island has made a name for itself as one of the world's finest beaches. Travelers are able to take a dip in the lagoon, play in the sand, enjoy snorkeling, or simply relax. Île aux Cerfs also offers an exciting Adventure Park (ages 4 and up), where guests can try ziplining and Accrobranche, a form of tree climbing. Golf is also available, with astonishingly beautiful ocean views. 
4. Chamarel Park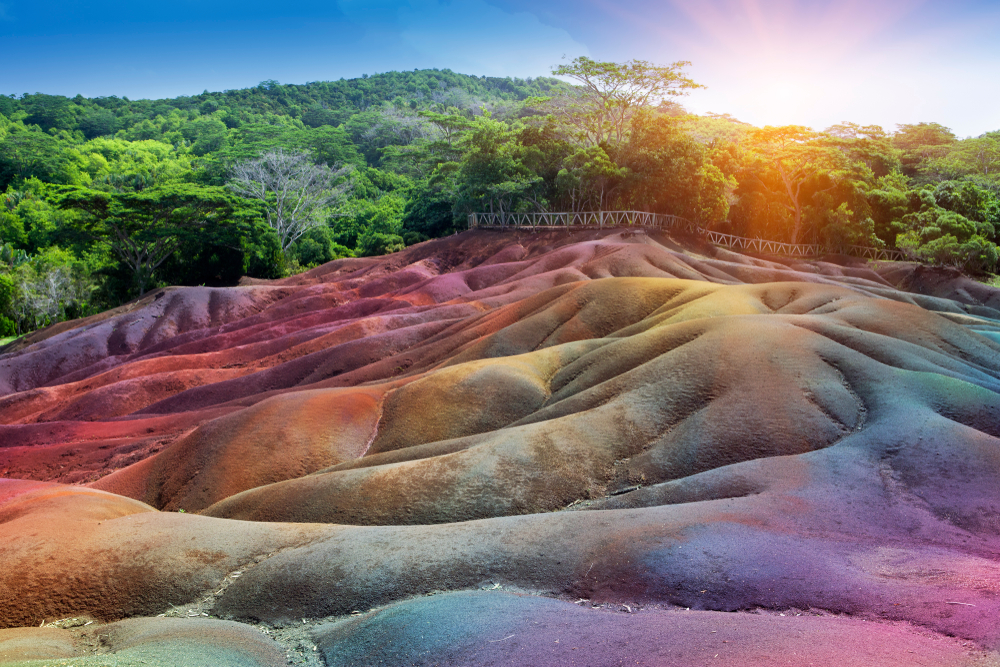 Chamarel's Seven Colored Earth is special in that it is the only location worldwide where 7 colors of clay are visible in one place. These colors include red, brown, violet, green, blue, purple, and yellow, and the clay formations are surrounded by tons of lush vegetation. Another major attraction is nearby Chamarel Falls, towering 100-meters from above, and falling in three streams below. 
5. Botanical Gardens
The Mauritius Botanical Gardens were first constructed in 1767 and are still a delight to this day. It features giant water lilies, spice gardens, and over 85 types of palms from various parts of the world. 
6. Grand Bassin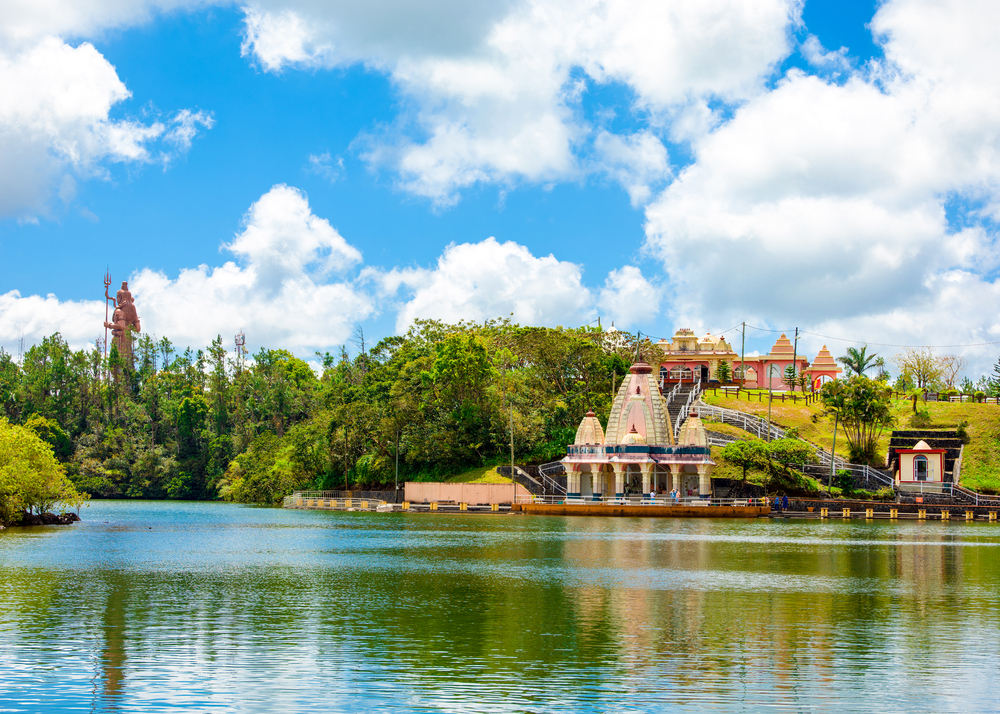 Tucked away in the mountains of Mauritius some 600 meters above sea level, the Grand Bassin is a holy lake for those of Hindu faith. Each year, a pilgrimage is performed to honor Lord Siva. Mauritius' tallest statue and a holy temple are located near the lake, captivating visitors. 
7. Île aux Aigrettes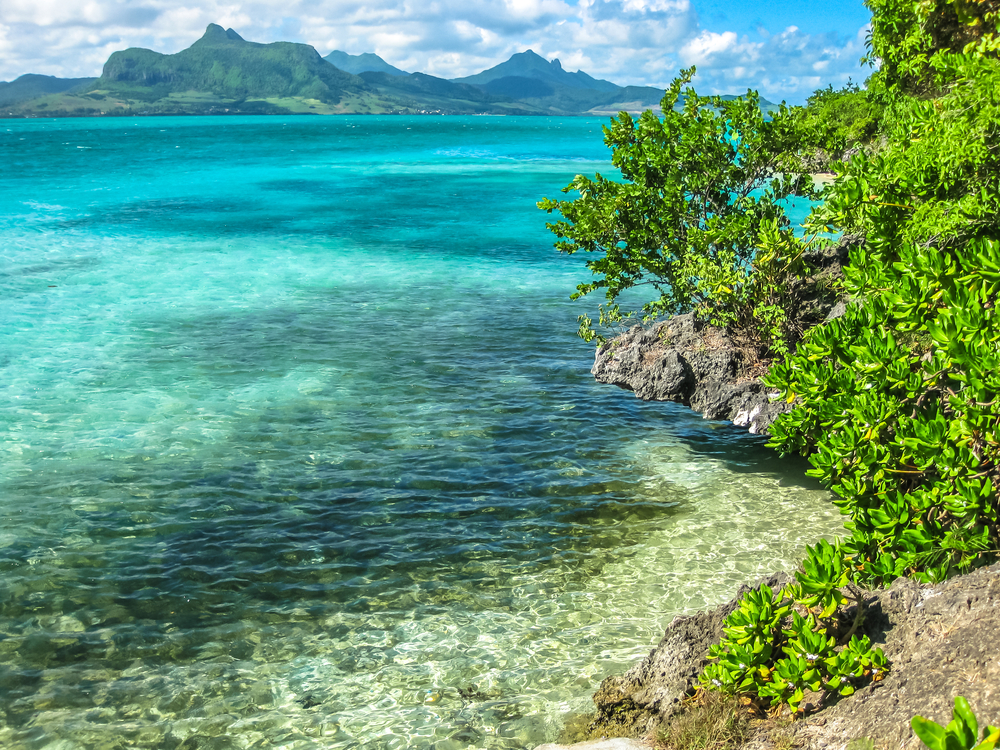 A popular attraction for Mauritians and tourists alike, Île aux Aigrettes is a small island located off the southeast coast of Mauritius, and is an important nature reserve and scientific research station for forest habitat restoration. Some of the world's rarest animals and plant species can be found on the island, including several bird species and skink. 
Travel Recommendations and Accommodations  
Mauritius is truly a destination for everyone: couples, families, honeymooners, groups, and solo travelers. A haven for both fun and relaxation, couples may find themselves in a private boutique hotel setting, while honeymooners can revel in a romantic candlelit dinner or sunset cruise. Groups and families generally opt for staying in resort style properties, where various amenities are available to keep the entire group entertained. 
Conclusion
Mauritius is nicknamed "Paradise Island" and for good reason. With an impressive tropical climate, incredible waterfalls, lush forestation, staggering mountain ranges, and water sports, Mauritius is an island with endless possibilities and the ultimate getaway for all.
Start Planning Your Dream Trip
Reach out and let's start talking. We'll listen and begin to tailor an experiential, private, luxury vacation based on exactly how you want to experience Africa. From adventure to relaxation—and everything in between—let us handle every detail of your unforgettable journey.