Best Time to Visit
Seychelles is an idyllic archipelago of 115 islands located directly east of mainland Africa, and is widely considered to be one of the most extraordinary tropical destinations on the planet. As is true for many destinations, though, there are seasonal quirks that determine the most optimal time to pay a visit.
Unlike its tropical counterparts, the Seychelles region does not experience any extreme weather, with daytime temperatures consistently hovering around 75 to 90 degrees Fahrenheit. Typically, Seychelles' weather is dependent on seasonal trade winds and monsoons, which brings warmer and softer winds from October to March, while May through September sees drier weather and stronger winds. Additionally, this impacts accommodation and which side of the islands visitors choose to stay. Weather can be quite variable from island to island during all times of the year, but generally, rainfall is rare – occurring from November to February, and may only last a few hours at a time.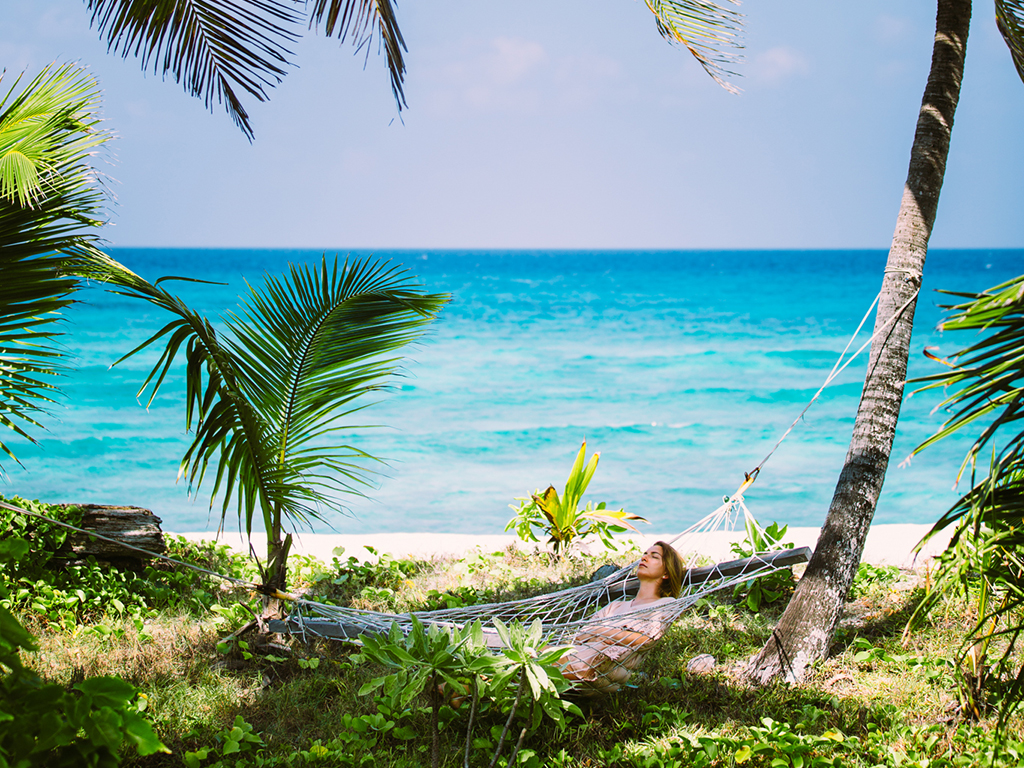 In terms of travel, high season runs from May to August, low season from November to January, and shoulder season from April to October, offering travelers varied pricing seasonally. Should travelers desire a bargain on airfare, it's best to travel during low season, when flights are heavily discounted.
Several important events occur in Seychelles, including one that promotes conservation, celebrates the integration of multiple cultures, and observes Seychelles' Independence Day. These special celebrations take place on June 29th, annually, and feature food, art and photography exhibitions, song recitals, local music, literary readings, film screenings, sports contests, jamborees, parades, and more.
Attractions
1. Mahé
Mahé is a tourist hub and home to the capital city of Seychelles, Victoria. Within this densely populated island, travelers have the choice of excitement, relaxation, or a combination of both. Taking a tour of Victoria on foot allows visitors to drink in the historical sites, streets, markets, shops and cafes. Additionally, travelers can pay a visit to the Botanical Gardens should they desire a break from the city. With over 50 beaches on the island, Mahé is a prime location for water sports and excursions of a wide variety.
2. La Digue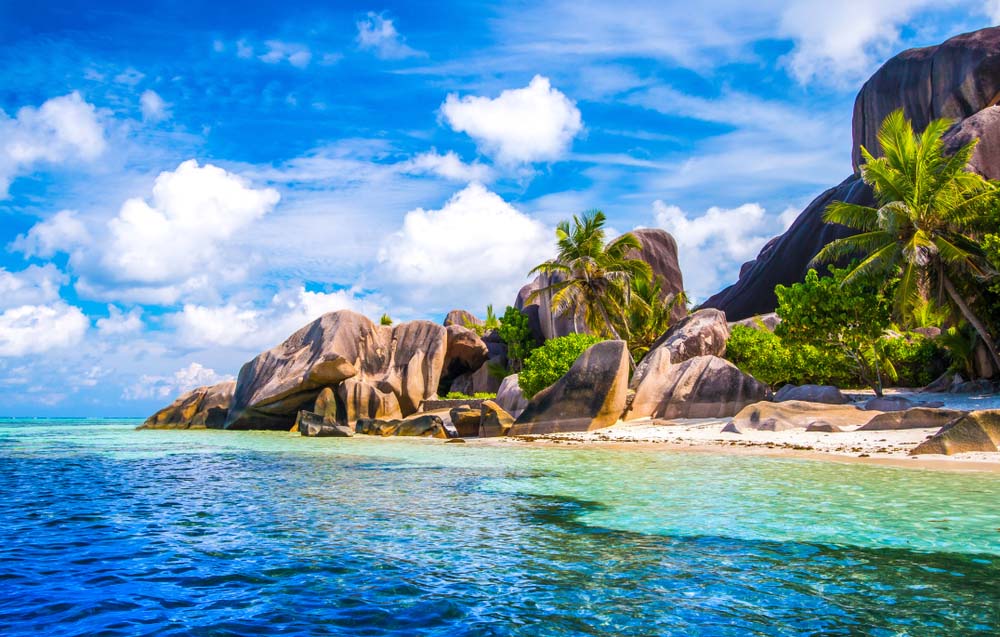 Should travelers yearn for a quiet and private slice of paradise, La Digue is the spot. Its turquoise waters and silky white sands have long enticed travelers and allow them to be immersed in its natural beauty (without the crowds). Located on La Digue is Anse Marron, which offers the most stunning natural pool and beach combination on the planet. Other parts of the island, namely Nid d'Aigle, offers exquisite views that overlook the rest of the island.
3. Praslin
As the second largest island of Seychelles, Praslin has a rich history and offers plenty of exciting options for relaxation and adventure. Praslin's calm beaches are perfect for scuba diving, snorkeling, kayaking and other watersports. Within Praslin National Park, its various gardens, and the island's museums and galleries can keep guests entertained and engaged.
4. Fregate
Fregate Island is a noteworthy destination for active travelers, as they can enjoy swimming, tennis, mountain hiking and biking, and nature walks. Proudly awarded the title of World's Best Beach, Fregate offers a gorgeous backdrop for watersports — including sailing, surfing, windsurfing, kayaking, waterskiing, and powerboat day trips. Additionally, guests can delight in all the local tastes of the island, from fruits, vegetables and herbs to fresh fish.
5. North Island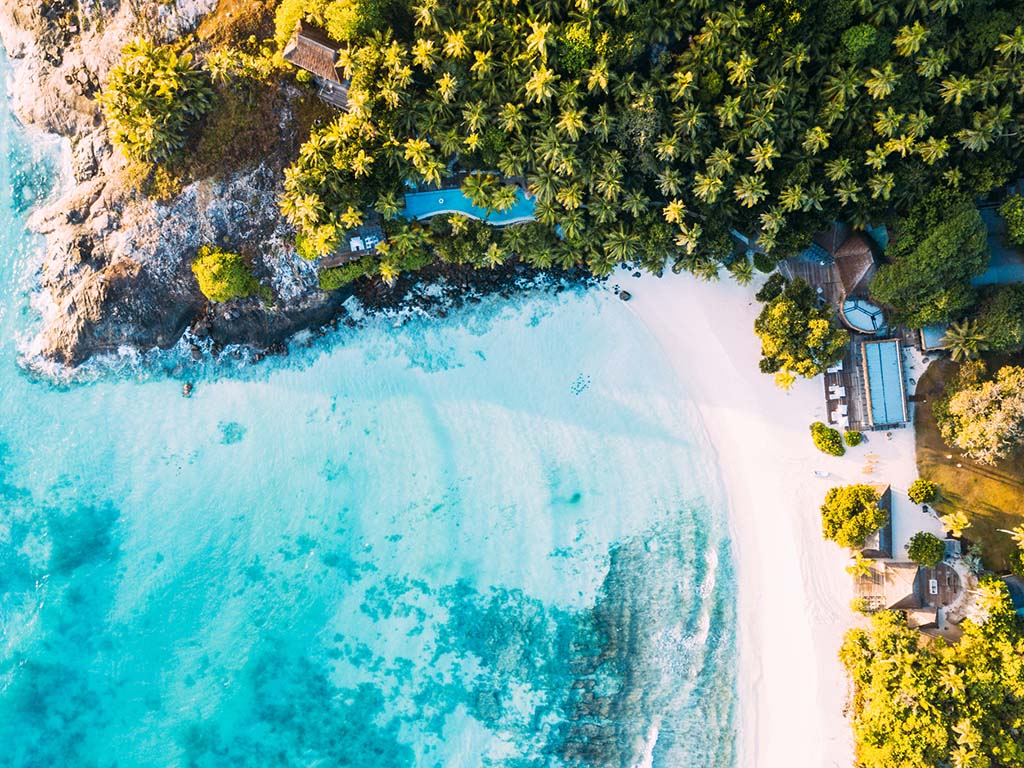 The North Island has some of Seychelles' finest accommodations, proudly showcasing impeccable villas and private facilities. Guests can partake in diving, kayaking, deep sea fishing, mountain biking, and trips to local Silhouette Island. The North Island also boasts exceptional dining experiences, wherein all food is locally sourced and takes influences from French and Indian cuisines.
Travel Recommendations and Accommodations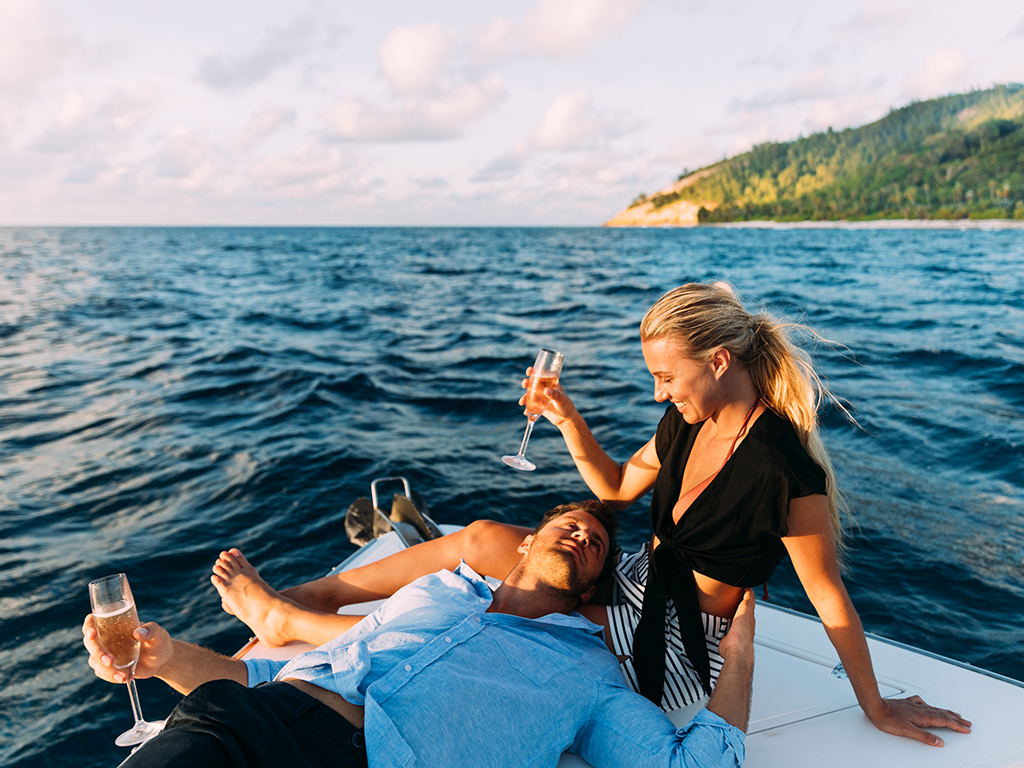 Seychelles are suited for every kind of traveler. Families will find ample activities for all ages, while honeymooners and couples can find peace and relaxation, and enjoy the natural romanticism of the islands. Traveling in groups is also advisable, with wonderful group activities such as tennis, golf, and various water sports available. Traveling solo to Seychelles is also encouraged, and an ideal destination to unwind and relax. Visitors of all varieties can enjoy beautiful beaches, ocean life and viewing the local wildlife – giant tortoises, rare bird species, and marine life.
Conclusion
Not only are Seychelles an undeniably beautiful and charming archipelago in the Indian Ocean, but they are also a destination that offers something for everyone. With a wide variety of islands to choose from, the Seychelles are first in their class for beauty, exploration and relaxation.
Start Planning Your Dream Trip
Reach out and let's start talking. We'll listen and begin to tailor an experiential, private, luxury vacation based on exactly how you want to experience Africa. From adventure to relaxation—and everything in between—let us handle every detail of your unforgettable journey.