If you're planning a trip for the New Year and are looking to be isolated from the rest of the world, look no further than Namibia. Of all the countries you can explore in Southern Africa, Namibia is the most off the grid. So much so that you often don't see another vehicle on the road for hours. So, where are the best isolated lodges in Namibia? Well, we're here to share with you the cream of the crop!
The truth is, we are all looking forward to being able to board a plane again soon. But since the Coronavirus is sure to be a part of our lives for still some time to come, it is important to look at what travel will look like in the wake of the pandemic. We're expecting longer, more meaningful journeys. Not only will we enjoy traveling to reach a destination, but this will make the destination itself even more memorable. And once we get there? We're expecting isolated escapes to be favored over busy city stopovers as we enter a new age of travel. So, what will travel look like post-Covid-19? Here's a look at some of the most trustworthy lodges we have our eyes on in Namibia.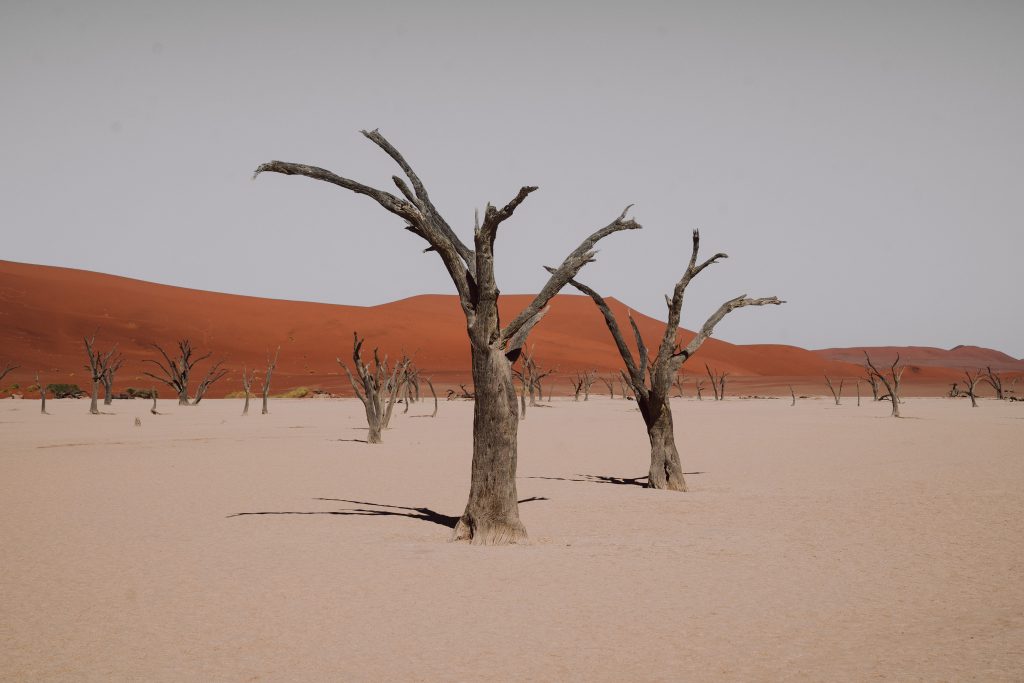 .
The Best Isolated Lodges in Namibia
When you think of Namibia you probably think of sand dunes, orange hues and dry deserts. You've thought right! This part of Africa is characterized by vast empty desert lands, high temperatures, unique wildlife, and sparsely populated country towns. Outside of the capital, Windhoek, is where the real adventure awaits. So let's take a look at our favorite lodges in Namibia for complete isolation.
.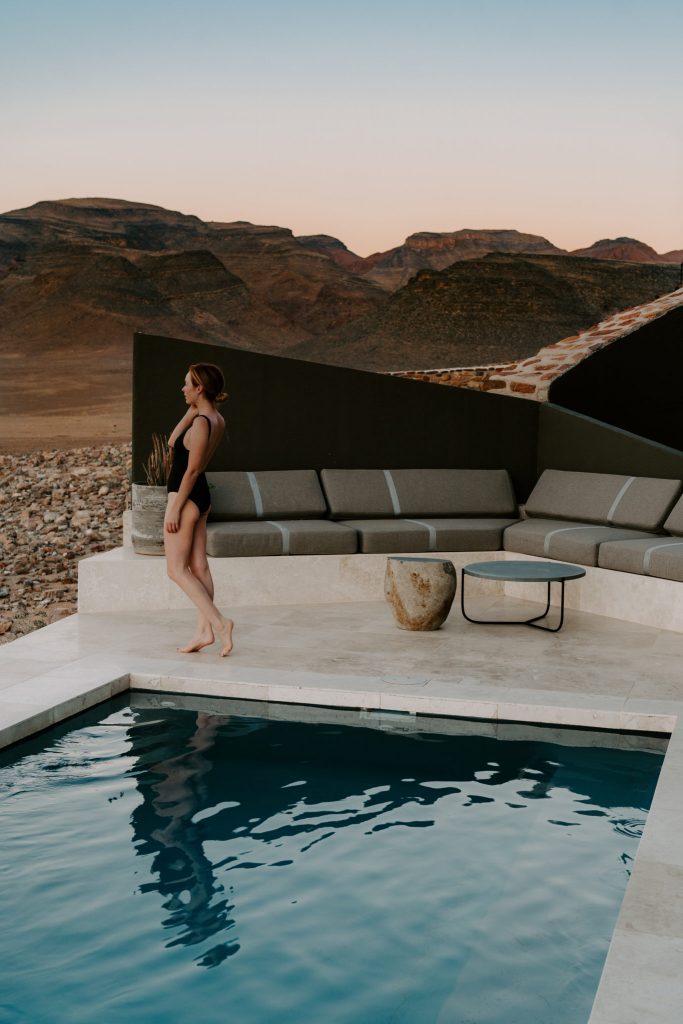 andBeyond Sossusvlei Desert Lodge
Chances are you have heard about Sossusvlei before, but if you haven't, this is a must-visit destination to add to your bucket list. Located in the Southern part of the Namib Desert, Sossusvlei is a dry salt pan surrounded by some of the world's biggest sand dunes. Not only is this one of the most scenic locations in Africa, but it is also one of the most isolated. Out here you will experience complete silence, ample star-gazing opportunities and a level of calm you didn't even know existed. One of the best lodges in this part of the desert is andBeyond Sossusvlei, a fully inclusive lodge that caters to discerning travelers. Think bottomless bar, private pool, desert adventures and so much more.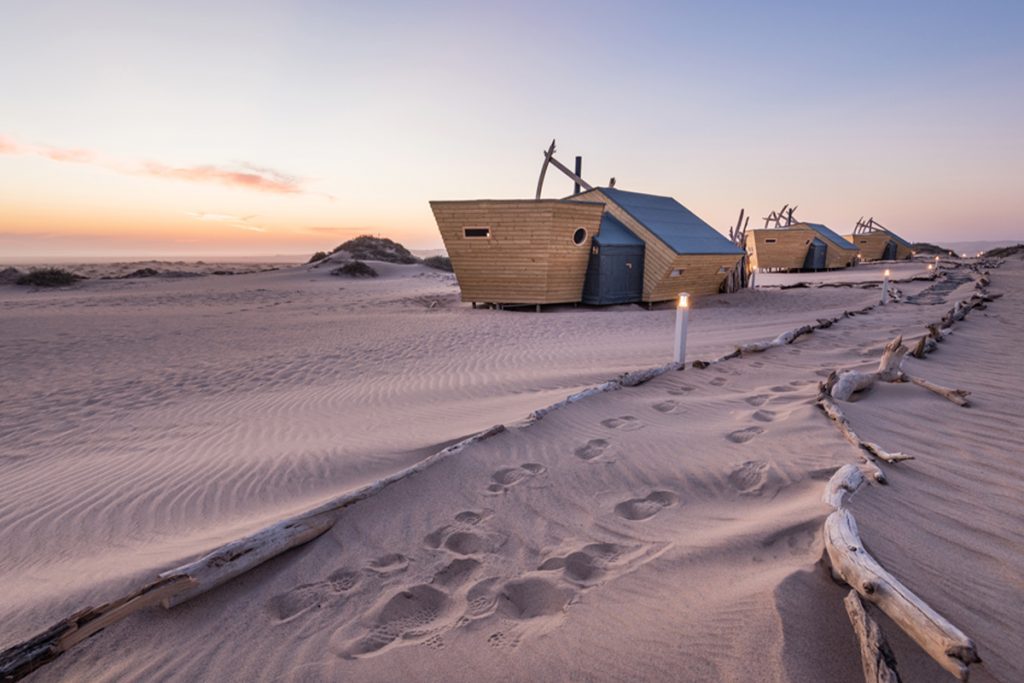 .
Shipwreck Lodge
If you want to get so far away from reality that you won't see another soul, consider making your way to the Skeleton Coast. This part of the country is completely isolated from the rest of Namibia, let alone the world, and you will truly feel as if you have escaped to another world. Shipwreck Lodge is the premium lodging on offer on the Skeleton Coast and it has been designed to leave you feeling a sincere sense of calm. The lodge is located right by the water's edge, which makes for a soothing lullaby to sleep every evening without fail. Better yet, this part of Namibia is not accessible by road. So it will be only you and anyone else who charters a small plane to this location. Now if that's not isolation, we don't know what is.

Hoanib Skeleton Coast
Hoanib Camp in Namibia's Skeleton Coast is another great option in this remote region. The beauty of visiting both of these lodges is that they are accessed by a small private plane, so you can add this lodge to your itinerary with ease. This camp is intimate and isolated, so it makes for the perfect escape in the New Year. Plus, you will get your safari fix here, as you are able to track desert wildlife such as elephants, giraffes, lions, and brown hyenas.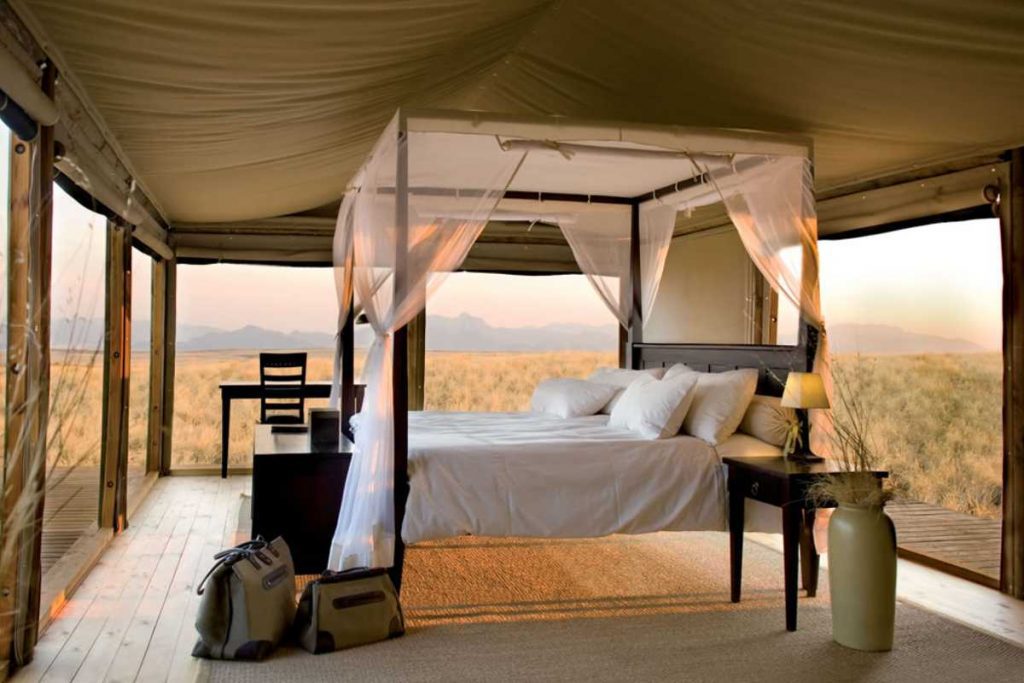 Woldewans Dunes Lodge
Next up is a lodge that has been dubbed one of the best places in the world to view the starry night sky. Woldewans Dunes Lodge sits inside the untouched NamibRand Nature Reserve, an International Dark Sky Reserve. This means it is a recognized area for incredible star-gazing and has earned international acknowledgment for having minimal light pollution. Put simply, you can bet your lucky stars you will have an astronomy lesson or two lined up for your stay! The rooms are situated on top of a dune plateau, giving you uninterrupted views as far as the eye can see. This is a great choice for couples and honeymooners looking for something extra special.
Onguma the Fort
Located in Onguma Game Reserve, the fort is hands down one of the best isolated lodges in Namibia. Not only is it isolated and private, but it also offers ample game viewing. Of course, this can be an important consideration for first time safari-goers. The lodge is Moroccan-inspired, making it a great choice for design lovers. Children are welcome over seven years.
Interested in booking a trip? Sign up here and one of our travel experts will be in touch.
Keep up to date with us on Instagram for inspiration and news.