A quintessential safari experience, Botswana's charm and distinctive disconnect have given it a reputation as being one of the most unique and special destinations on earth. The locals offer exceptional care for the wildlife and their immaculate habitats, and the conservation of the environment is unparalleled, making Botswana a fantastic habitat for so many different species. Fortunately, there is a mixture of ultra-luxury lodges and budget-friendly options, so every type of traveler is accommodated. Most of Botswana is wild and untouched and more than 70% is desert, where animals roam freely and undisturbed. The diversity that Botswana offers guests makes it one of the most highly sought after safari locations in all of Africa.
Okavango Delta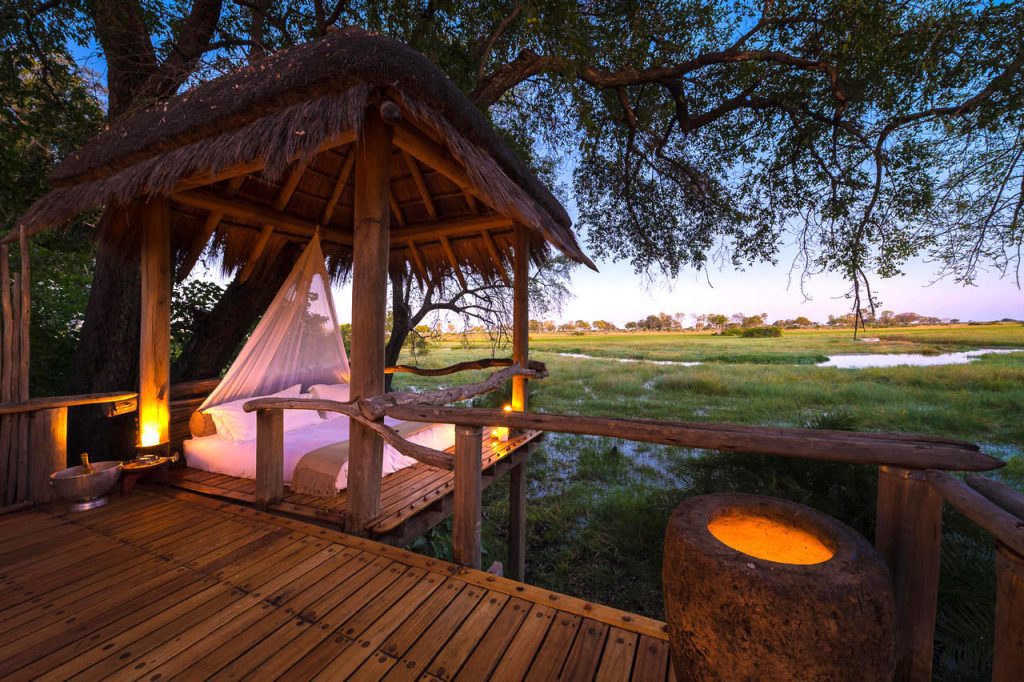 With expansive grassy plains and a lush animal habitat, the Okavango Delta is one of Africa's most remarkable and famous wildlife reserves. Undeniably beautiful, this delta is teeming with activity. Each April, flood waters migrate from Angola and, depending on the amount of water, transforms the dry grasslands into a vast wetland. This allows for both normal road and game safaris, while also offering guests a unique water safari experience. Water safaris via speedboat give visitors a thrilling chance to see elephants, hippos and crocodiles up close in the water. For a more intimate and slower experience, travelers may opt for a Mokoro safari, wherein a tour guide known as a "poler" directs those on the traditional dugout canoe through the water, giving them a chance to see less obvious things from a ground-level eye view.
Moremi Game Reserve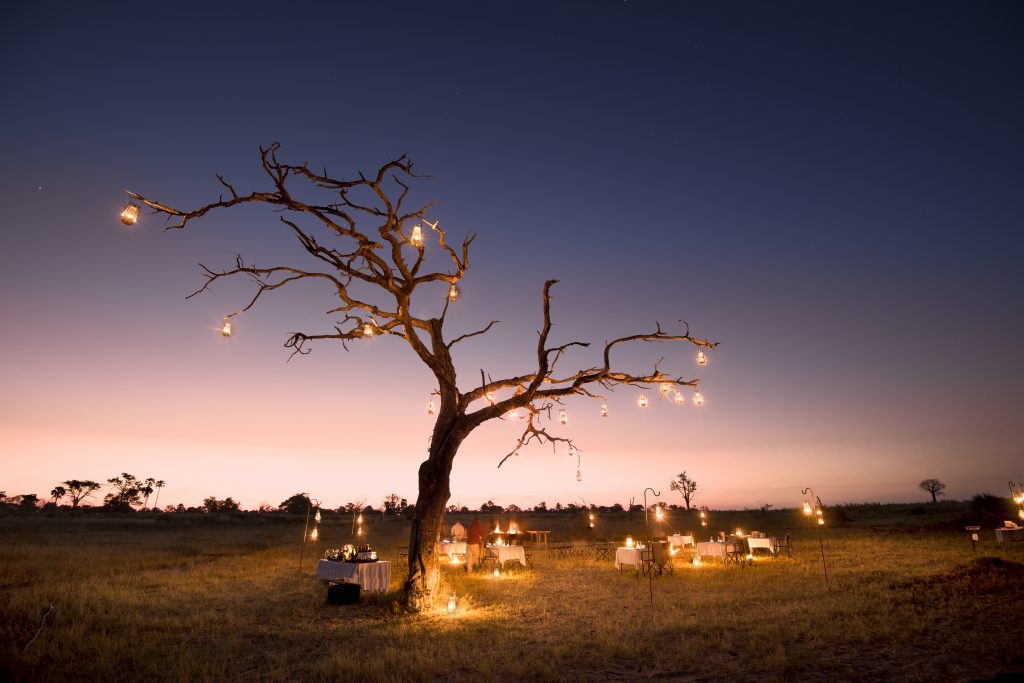 Located in the heart of the Okavango Delta, the Moremi Game Reserve is a protected gem in Botswana, surrounded by flood plains of the Delta. Chief's Island, located in the northwestern region, is the largest island in the Okavango Delta and the centerpiece of all activity, offering arguably the richest concentration of wildlife in all of Botswana. When waters are high, predator activity heightens, giving visitors a chance to see clusters of magnificent lions, leopards, cheetahs, hyenas, wild dogs, and massive herds of elephants. Due to the high volume of water, birding is a very common activity in the region as well. Additionally this region is known for Little Mombo and Mombo Camps, which offer luxury lodging and provides visitors a chance to celebrate the astonishingly marvelous wildlife in the Mombo Concession.
Linyanti Wildlife Reserve
This region consists of three private reserves: Linyanti, Selinda, and Kwando. Due to the constant streams of water, activity is increased and animals congregate near water sources, giving visitors an authentic and wild safari experience. On the Kwando and Linyanti Rivers, both day and night driving safaris are common, as well as walking safaris and numerous boating activities. Most lodging is located in a remote region, making it expensive and exclusive, but pricing can be leveraged out of peak season.
Chobe National Park
World-renowned for its huge concentration of game, herds can be seen in groups as large as 80,000 elephants during the dry season, while large groups of buffalo and big prides of lions also grace the surroundings. The Chobe River is the main artery of the park and offers boating safaris and water activities throughout. Visitors should expect a slightly different safari experience when at Chobe due to stricter rules because of its status as a national park (no night safaris or walking safaris – also vehicles must stay on the paths during game drives). Luckily, travelers can get a great 'bang for their buck' because of lower prices for great safari options, but parks remain very busy during peak season due to its popularity.
Makgadikgadi Pans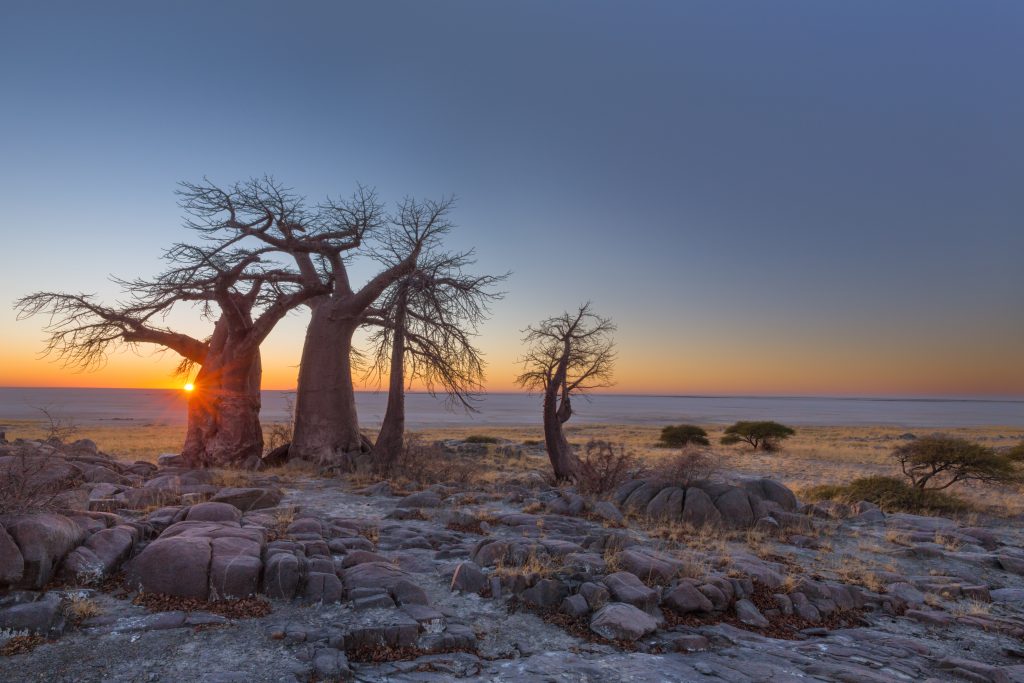 Long ago, the Makgadikgadi Pans area was a huge lake that covered the entire region. Over time, the terrain has been altered and left two large salt pans: the Sua and Ntwetwe pans. A popular destination year-round, these pans are some of the largest on earth and form parts of the Kalahari Desert. Botswana has one of the highest concentrations of San Bushmen in Africa, also known as the San People, which can be found within the Kalahari Desert. While this is not a big game destination, travelers are presented with a unique opportunity to view a massive zebra migration, with over 30,000 other animals. This is the second largest migration in Africa. Day and night driving are permitted in the area, and walking safaris are also an option. Moreover, fly camps, horseback riding and quad bikes are also available as a way of experiencing this part of Botswana.
Central Kalahari Game Reserve
Generally a better option for second time visitors, this reserve is a prime option for those looking to see something other than the Big 5. Kalahari is an ideal fit for those who have been on a traditional safari previously and are seeking a more disconnected and private experience away from other visitors, or to be immersed in Africa's beauty. There are limited accommodations so the park is virtually untouched, but for those who do visit, there may be a chance to see Kalahari lions, cheetahs and leopards.
Conclusion
Botswana offers safari experiences on all ends of the spectrum and has the capacity to accommodate and delight every kind of traveler with its diverse delta and desert landscapes, exceptional animal habitats and vast, open wilderness. With countless and impressive natural wonders, everyone should experience safari in Botswana at least once in their life.
Start Planning Your Dream Trip
Reach out and let's start talking. We'll listen and begin to tailor an experiential, private, luxury vacation based on exactly how you want to experience Africa. From adventure to relaxation—and everything in between—let us handle every detail of your unforgettable journey.