So you've got your heart set on an African safari? You're not the only one! Safari travel in Africa has been popular since the inception of luxury tented safaris back in 1904. Nowadays most of us know someone who has traveled on a safari. You might even be on your second or third yourself! Wherever you are in your safari journey, the chances are high that you will want to capture the moment. So, without years of practice or training, how can you take great photos on safari? We've got the complete guide to help you plan, pack accordingly and take amazing photos while you are on your safari adventure.

Your camera matters
It is no secret that your iPhone has a great camera. But what it doesn't have is a great zoom lens. And if the professionals could swap heavy telephoto lenses with iPhone camera, you bet they would! But the truth is to get great photos, you need a great camera. And more importantly, you need the right lens (more on that later).
As for which camera to take on safari, you've got a few options. The good news is you can rent a camera for the duration of your trip and return it once you're back. That's right: you don't need to invest thousands of dollars on gear! Renting camera equipment is becoming increasingly popular.
I photograph my trips with the Sony A7iii. This has proven to be an excellent investment and although it didn't come cheap, it has not failed me once in the 4+ years I have been using it on my travels.
A more affordable option would be the Olympus OMD series. These are great choices for mirrorless cameras that pack a punch and won't weigh you down too much. 
Then of course there are some great cameras from both the Nikon and Canon family. 

Your lens choice is even more important
While your camera is important, your choice of lens (or lenses) is even more so. It is important to note that when you are on safari, you are on a wild adventure. So while sometimes you will be far away from the animal you are viewing from the vehicle, other times you will be incredibly close! Therefore the best way to approach your lenses is to have a couple of options.
Telephoto lens – a long ranging lens like a 70-200mm, which will allow you to photograph subjects that are far away.
General lens – I won't travel anywhere without my 24-70mm lens. This is my workhorse (as they say) and comes in handy for most photographic situations. I love using this lens when I'm within close range to animals.
Wide angle lens – I personally like to pack a 16-35mm lens to photograph safari rooms/tents, plus find it comes in handy when you are trying to get a lot into the frame. This isn't a necessary lens, but if you're packing lots of options it never hurts to have a wide-angle.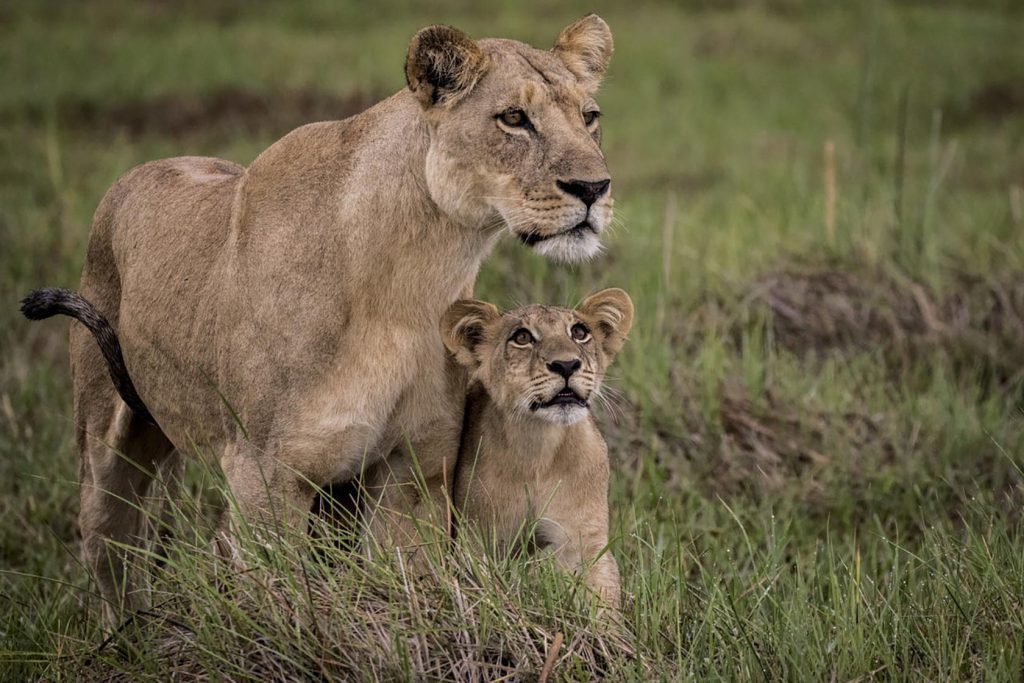 Don't forget to pack the accompaniments 
With all of the big equipment out of the way, it's time to look at the small stuff. After all, a camera is of no use to you if you don't have the necessary equipment to keep it operational!
Batteries – Always take a spare and/or a charger. 
Memory cards – Preferably high speed to allow for little to no downtime. 
Lens cleaning equipment – You'll often opt to leave this out but believe me, it almost always comes in handy! Especially if you are facing changing weather conditions.

Use the burst shooting mode
Also known as "sports mode", this is a great way to ensure you don't miss that perfect shot. Using burst mode will allow you to take more photos quickly and is essential to taking great photos on safari. This is because the animals often move quickly and even more so when interacting with one another, which often makes for the best shots!

Learn to use your camera before you go
There would be no point in learning how your camera works while you are already on safari. It's too late! Be sure to learn how to use your camera before you go and if all else fails, don't be too proud to use auto mode. Even to this day, I use the Auto function quite often on safari as the lighting conditions can change abruptly, and with animals to photograph, you don't want to miss the shot!

Don't forget to experience it with your eyes
While all of these tips will ensure you take better travel photos on your safari, don't forget to enjoy the experience with your eyes! There are no better memories than the ones you witnessed with your own eyes, rather than through a camera lens. Be sure to keep a healthy balance and make memories that last a lifetime.