With plentiful populations of majestic gorillas and chimpanzees, trekking through Rwanda's magnificent mountainsides to catch glimpses of these spectacular creatures is what many deem a once-in-a lifetime experience. Although gorilla trekking can be a bit strenuous for some and has a large price tag, nothing holds more true than "you get what you pay for" when immersed in Rwanda's natural beauty amongst some of the world's most magical creatures. Below, we will outline what travelers need to know before embarking on this incredible outing.
History
Gorilla trekking was introduced in Rwanda and Uganda as a form of sustainable wildlife tourism to support the conservation of these critically endangered primates. After its introduction, both populations of mountain gorillas (in Bwindi and in the Virungas) have seen significant growth in numbers, and gorilla tourism remains an important foundation for much of the conservation and community development in both areas. With efforts to continue the preservation of these creatures, only 96 trekking permits are issued daily – allowing groups of 8 to visit the 12 different habituated gorilla families in this region. The Mountain Gorillas in Rwanda inhabit gentler slopes and more open bush compared to their Ugandan counterparts, which are much more difficult for trekking groups to reach. In fact, it is all but guaranteed that groups will see the gorillas while trekking in Rwanda, whereas in Uganda the risk of not seeing them is slightly higher. The trekking permits in Rwanda, however, are double the cost at $1,500 per person per trek and Uganda sits currently at $600. The altitude in Rwanda is also greater as trekking generally takes place between 8,200-9,800 feet.
Rules and Regulations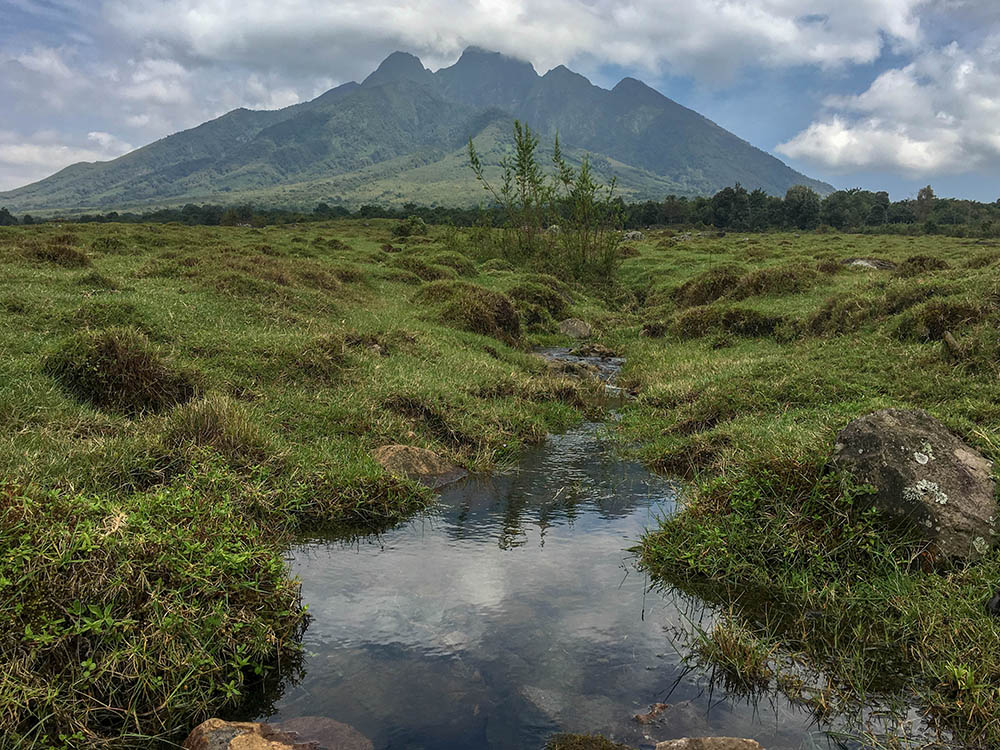 There is a specific approach to gorilla trekking that ensures maximum safety and enjoyment for participants at all times, as well as the safety of the animals. None of the local guides, trackers, or porters are employed by Ubuntu Travel, and therefore, we cannot take responsibility for their modes of operation. It is recommended that travelers closely follow the rules and regulations laid out for them by their local guides.
What to Wear
Regardless of whether you travel in the dry season or wet season in Rwanda, it is crucial to pack for all weather conditions, as they can change rapidly in the forests. Prior to travel, check with your hotel or lodging to see if they provide any complimentary trekking gear, to lessen your packing load. Below is a list of items Ubuntu Travel recommends bringing for a trekking experience:
A small, lightweight, frameless, waterproof back/day pack – for personal items, cameras, jacket layers, etc
Waterproof hiking boots or shoes with treaded soles – high ankle preferred
Hiking socks (wool or polyester, and long enough to tuck your pants into)
For film and digital cameras, bring plenty of high speed film or inform yourself how to alter the speed settings on your equipment (no flash photography is allowed when visiting the animals)
Heavy canvas (gardening-style) gloves – these will be available to borrow from lodges if you do not bring your own
Waterproof or moisture wicking pants – lightweight, but thick enough to avoid stinging nettles or thorny branches
Breathable long sleeves to protect arms from thorns and nettles
Hat for sun protection and coverage from branches
Walking sticks, additional water bottles and packed lunches will be provided
While staying at your lodge: comfortable clothing for meals and relaxation, no dress code requirements
What to Expect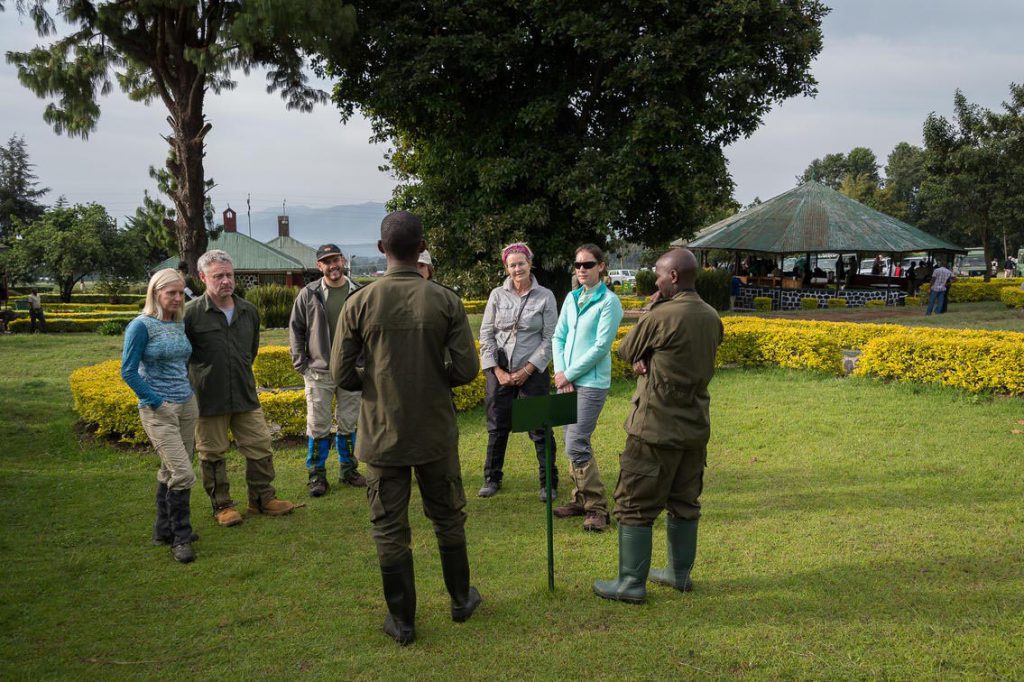 Before your trek, you will meet at the Volcanoes National Park Headquarters for a safety briefing and to meet your group and guides. Your guide will then lead you to the spot where the gorilla family was last seen the previous day. All tracker guides are experienced in looking for signs of the gorillas' location, for example, footprints, dung, chewed bamboo stalks, as well as abandoned nests. Gorillas soil their nests and then abandon them to build new ones each night, and trackers are able to tell the age of the nests, as well as which group made them (though this can be more difficult on rainy days).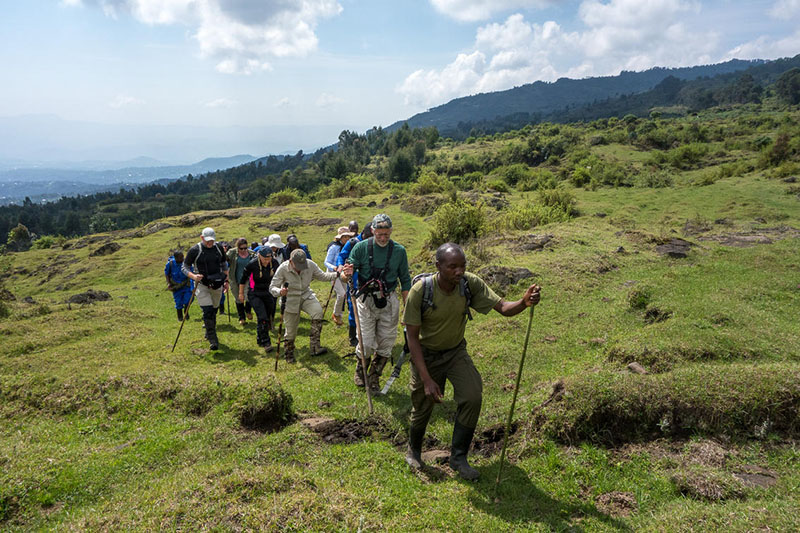 While hiking to your designated gorilla family, guides will generally allow time to stop and rest along the trail. They tend to hike at a steady pace throughout the excursion, for they must be mindful of the time to ensure that you will be able to reach the gorillas, spend a full hour with them, and make it back down the trail in a timely manner. The hour time frame is set to avoid causing the animals any undue stress or getting them overly used to human interactions. For guests with physical limitations or disabilities, there is the option to have porters safely carry guests for the duration of the hike using specialized equipment. Guests will need to inform their tour leader if they require these services ahead of time, to ensure all necessary equipment is onsite for your trek. If for some reason you are unable to complete your excursion to the gorillas, you will either be able to return immediately to the base of the trail with a porter, or you will be asked to remain where you are with a porter until the group returns.
Reaching the Gorillas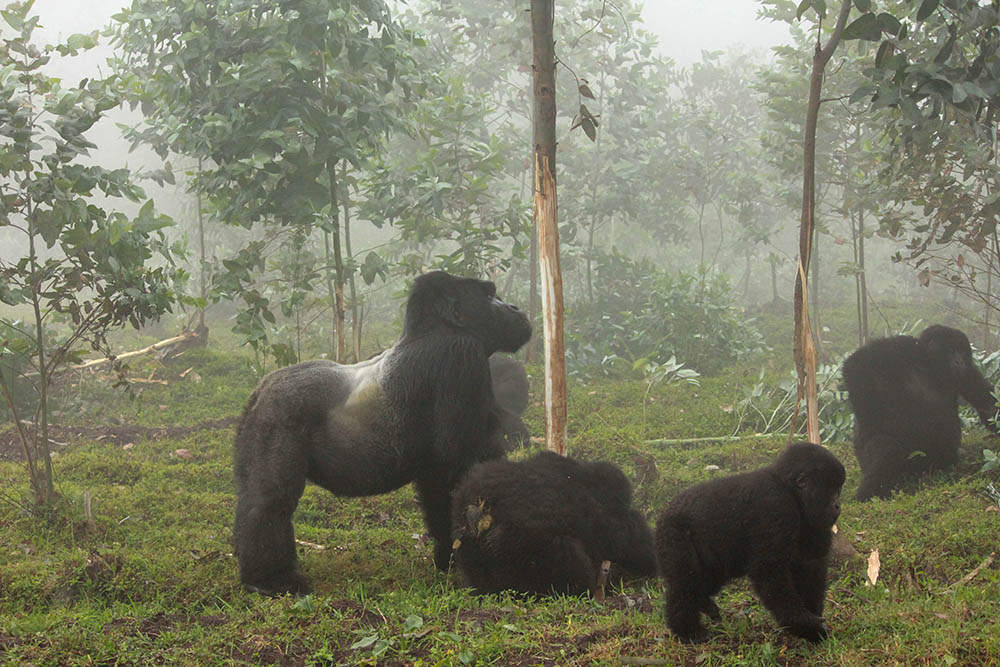 It is common to smell the gorillas before reaching them, and for your guides and trackers to make soft grunting noises to assure the group that friends are approaching (the gorillas' vocalizations are used as reassurance for other family members). It is most likely that you will view the gorillas during their midday lounging period. During this time, the dominant male (usually a silverback) lounges on trees, while youngsters roll around in the vegetation, and females nurse and play with their infants.
Once the group has reached the gorillas, everyone will crouch down while observing, so that the dominant male gorilla can see you at all times. This also ensures that you don't pose a threat to, or overwhelm the gorillas. It cannot be stressed enough that touching gorillas at any point is STRICTLY forbidden, even if one approaches your group. Additionally, a traveler must never stare directly into the eyes of a gorilla, as this is viewed aggressively. Looking sideways and maintaining a subservient stance is key, especially if a gorilla comes charging (often a release of tension or display for the rest of the group).
Trekking Guidelines
It is imperative that all travelers abide by the instructions of their guide for the entirety of their gorilla trekking trip. This includes remaining in a quiet, compact group behind the guide at all times and avoiding excessive photography (flash photography is prohibited). Only those in good health at the time of their excursion are permitted to track gorillas, as the primates are highly susceptible to illnesses transmitted by humans. If you fall ill during your time in Rwanda and are not able to trek, you will be refunded 50% of the cost of your permit to protect the health of the animals. Each gorilla family may be visited only once each day, and all gorilla visits are limited to a maximum of eight persons per gorilla family for a maximum length of one hour. Moreover, smoking, eating, and/or drinking are not permitted within 200 meters of a gorilla family. All visitors must carry their own litter with them out of the park or reserve. Leave NOTHING behind.
Porters and Tipping Guidelines
For Porters:
Should you wish to, you will have the opportunity to hire a porter for the duration of your trek. We recommend hiring a porter, regardless of your fitness levels, as they offer valuable assistance and their payment provides an important stream of income to communities living around the park.
If you choose to hire a porter, the minimum recommended payment is $20 per traveler per trek. Porters are drawn from local communities and often times were poachers previously in their lives. This payment serves as their wages and teaches locals that they can earn more by protecting the gorillas than they can if poaching them.
Please note that your porter can only carry one bag; any additional items must be carried by you or a second porter (on a one bag per porter basis).
For Gorilla-Trekking Guides:
Guides (1 per group), Trackers (2-3 per group) and Security personnel (2-4 per group) do earn salaries. A recommended tip is $25 per day of trekking per traveller. This may be given to the guide in view of the trackers once out of the park such that he can distribute amongst the trackers and himself.
A tip of $7-15 per traveler is appropriate when you receive a guiding service from a park employed guide.
Guest Relations Officer: $5-10 per person per meeting depending on group size.
Driver Guides:
A tip of $5 per traveler per day for larger groups and $10 per traveler per day for singles and couples.
Tips may be given in Rwanda Francs or US Dollars (other currencies such as Euros and Sterling are much less welcome), with Rwanda Francs being the preferred option. Please note that if you are tipping in US Dollars, only notes issued in or after the year 2006 are accepted in Rwanda. Also, notes smaller than USD $50 attract a far lower exchange rate, especially outside of Kigali. Travelers checks are not really accepted mode of payment in Rwanda. Dollars should be converted into Rwandese Francs at the prevailing exchange rate.
Other:
Transfer Driver in Kigali: $5-10 per traveler depending on group size (if someone other than dedicated guide).
Lodge/Camp Staff: $10 per traveler per day.
Hotel Staff (Waiter): 10-15% service charge per meal, irrespective of group size, and if not already included in the bill.
Conclusion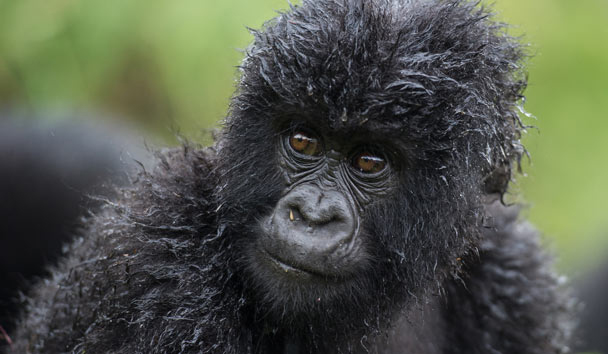 Gorilla trekking is a remarkable experience, and even more so if travelers heed all rules, regulations, and guidelines in advance. This way, travelers can experience firsthand the exhilaration and emotion of one of the most electrifying wildlife encounters on earth.
Start Planning Your Dream Trip
Reach out and let's start talking. We'll listen and begin to tailor an experiential, private, luxury vacation based on exactly how you want to experience Africa. From adventure to relaxation—and everything in between—let us handle every detail of your unforgettable journey.