Written by: Sean Messham 
If you are looking for a destination to begin or end your African Safari adventure in Southern Africa, Thorntree River Lodge is the place for you! Just 20 minutes from the majestic Victoria Falls, the lodge provides an incredible base to view this Natural Wonder of the world. 
Away from the bucket-list destination of Victoria Falls, the lodge also has a variety of activities and ways to relax (or recover) – all with inspiring views of the mighty Zambezi River. Perfect for a couples escape, adventurers and families of all generations!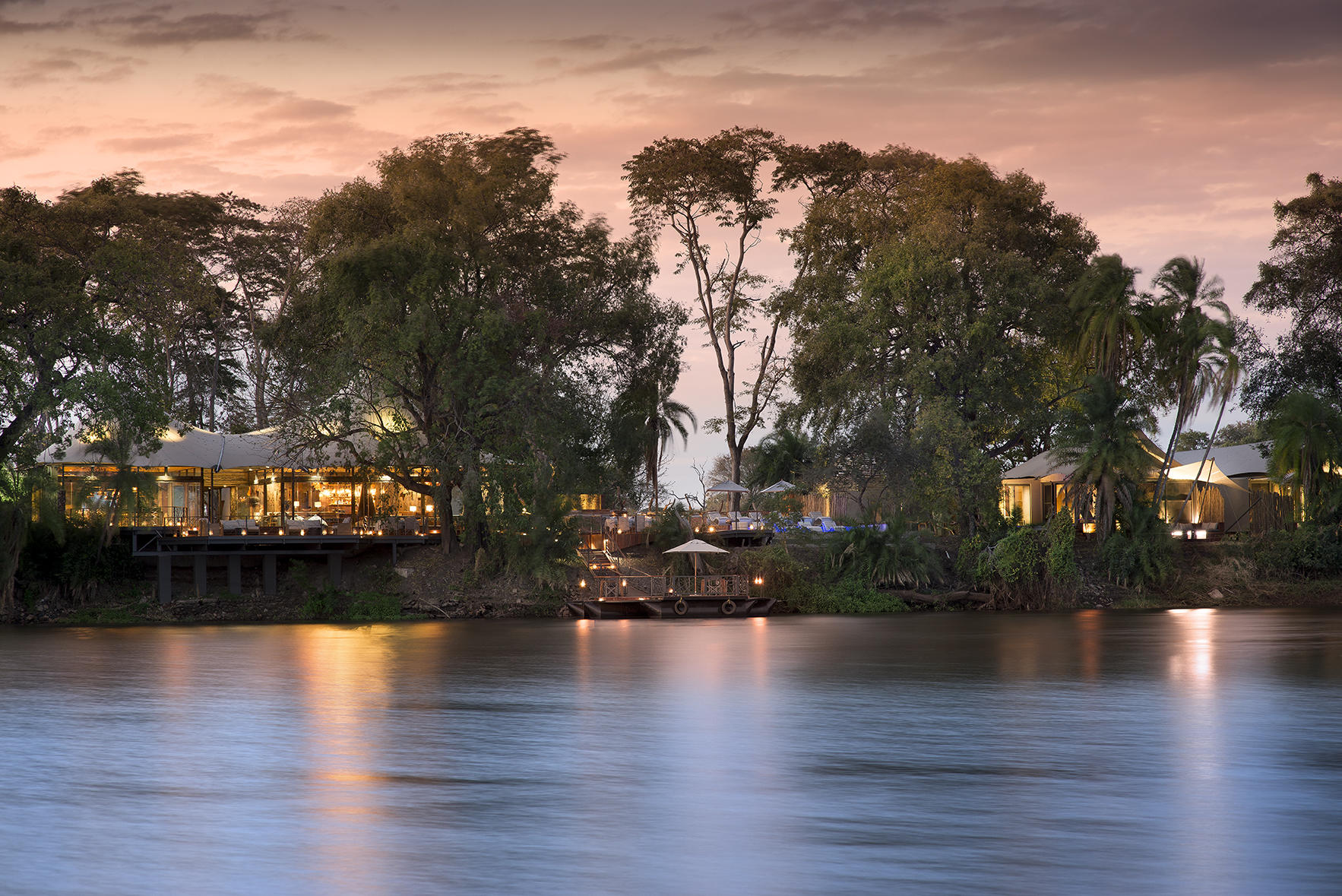 Ok, so where are we…
Thorntree River Lodge is situated on the banks of the Zambezi River in the  Mosi-Oa-Tunya National Park. Although the park is the smallest in Zambia, it provides an essential conservation corridor for elephants to migrate through safely. The lodge is beautifully positioned with panoramic views of the river, and yes, just 20 minutes from the bucket list destination, Victoria Falls! One of the seven Natural Wonders of the world!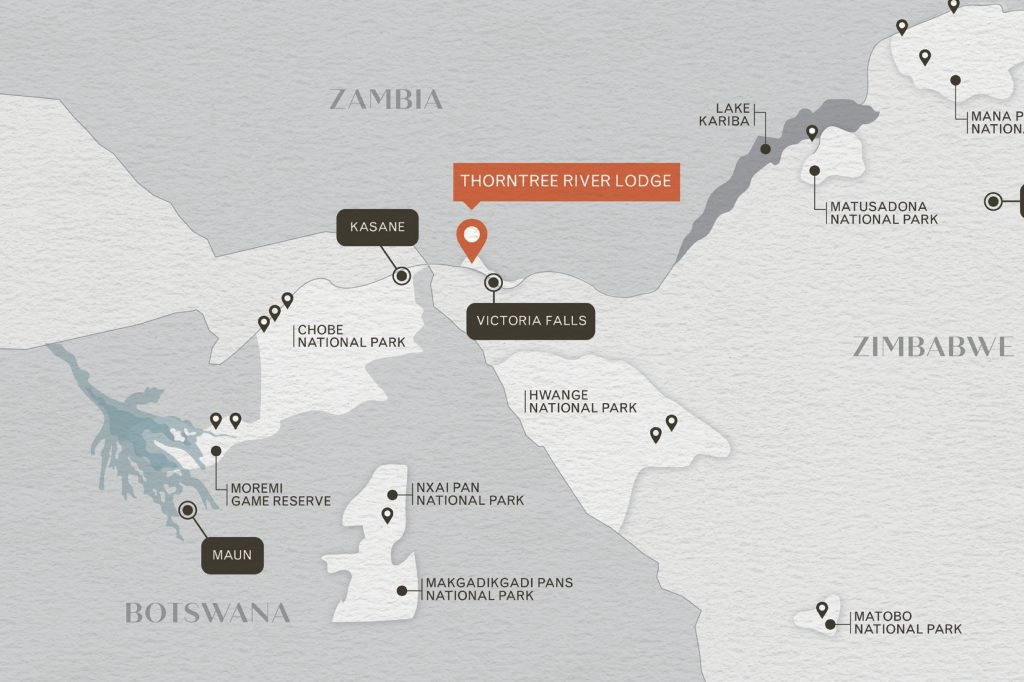 Looks and Feels: take a peek at the rooms and guest area
Personally, I am someone who is impressed by views! Landscapes with distinctive and contrasting colors. It's for this reason that I was just flooded with emotions when I first walked onto the general deck area at Thorntree River Lodge – there is an inspiring view of the Zambezi no matter where you are! And for me, sundowner drinks and morning coffees (just) taste better with a view. And what a view it is! Take a look and you will see what I mean!
For the romantics, these rooms are tough to leave! Each room is wonderfully positioned with your own exclusive view of the river, complete with your private plunge pool. The inside area flows wonderfully, giving you a feeling of space and intimate privacy at the same time. You can honestly spend a day here… and it won't be wasted.
For the more active traveler, there is a great gym to work off those guilty calories if you wish. And plenty of adventure activities to choose from like canoeing, horseback riding, guided rainforest walks, catch and release fishing. From Victoria Falls, there are a number of adrenaline activities like bungee jumping, gorge swing and white water river rafting (personally, this is a must if you have time).
Taste and aromas: the meals at the lodge
As I mentioned in the previous 'A Quick Ubuntu Travel Visit' post on Khwai Leadwood Tented Camp, I am not a food connoisseur. I enjoy good, fresh and hearty food with enough variety to indulge whatever mood I'm in.  And when you're in a beautiful destination – an atmosphere with uninterrupted views is essential! 
Thorntree River Lodge provides a fine dining experience, with a separate menu for breakfast, lunch and dinner. So it follows a more classic restaurant-like experience versus a set course menu like you might have at selected safari lodges.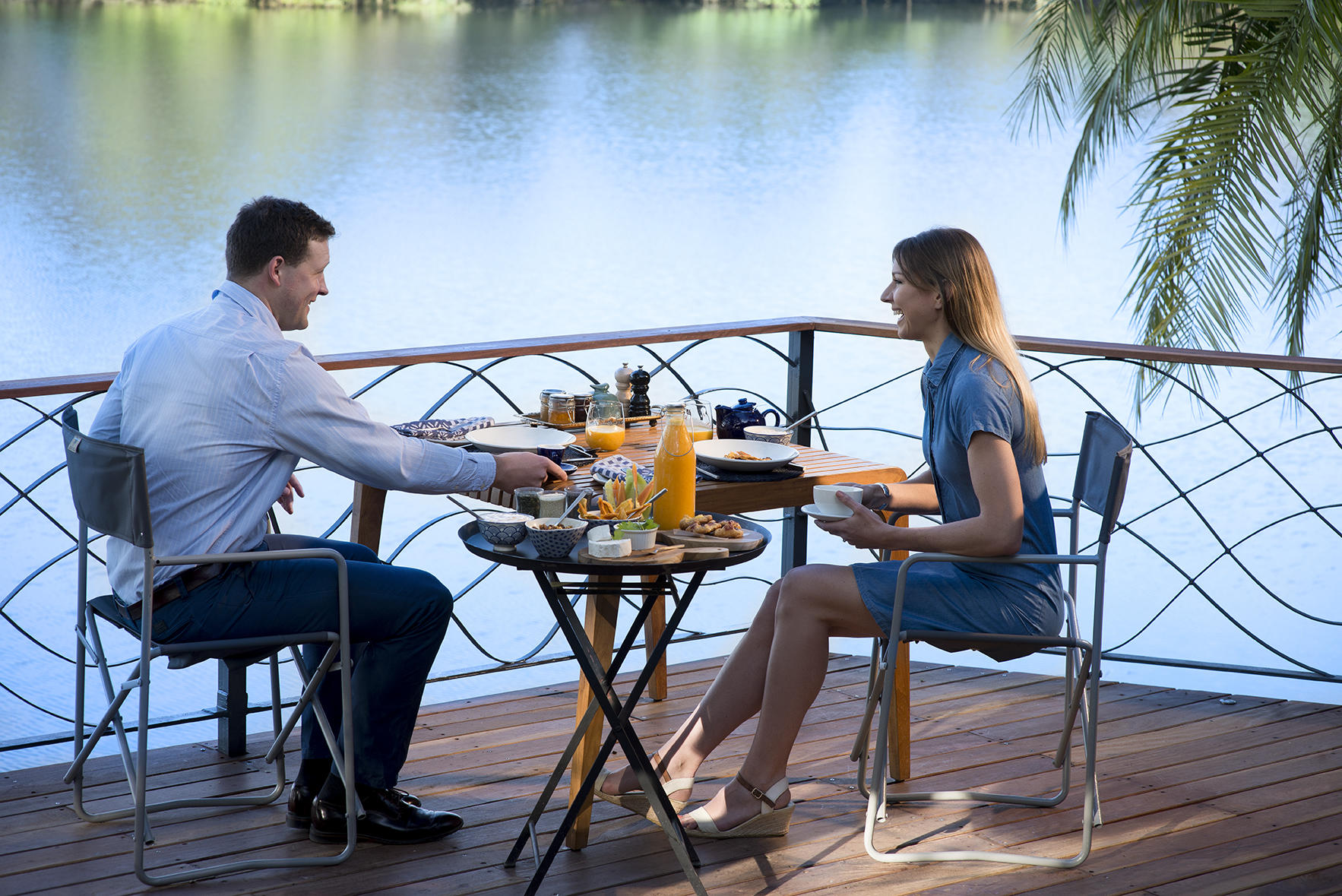 There is a communal deck set on the river, providing wonderful panoramic views of the river! If the weather doesn't suit you, or perhaps you have a family, the indoor dining area is warm (and safe). What I enjoyed seeing during my stay was a very concerned effort by the private butlers to have their guest seated exactly where they wanted to be! Keeping in mind their needs, but also accommodating everyone staying at the lodge. 
Next to the infinity pool, there is also a sunken boma area! With roaring fire pots to pull you into the warm and fiery atmosphere, a night enjoying the boma with a glass of red wine (or two..) is a great way to seal-off your extraordinary day!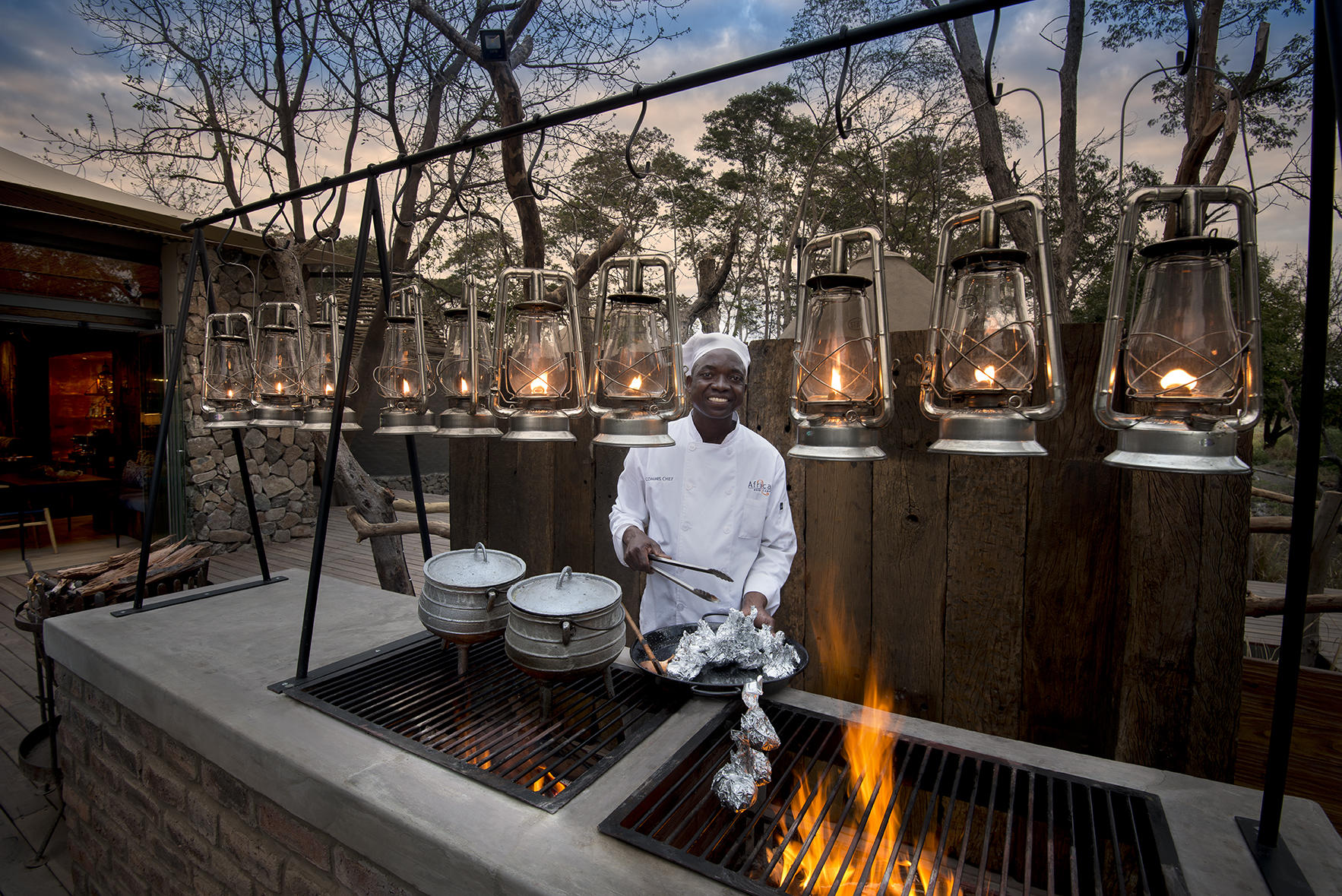 Rainbows and Waterfalls – visiting The Falls
This is obviously the main event! We viewed Victoria Falls at full flood, which meant one thing, we were getting wet… very wet. So the lodge, with cheeky smiles, supplied us with ponchos, and we waterproofed our cameras and phones! After a leisurely 20 minute drive to the falls, our guide sorted out the permits at the gate and off we went.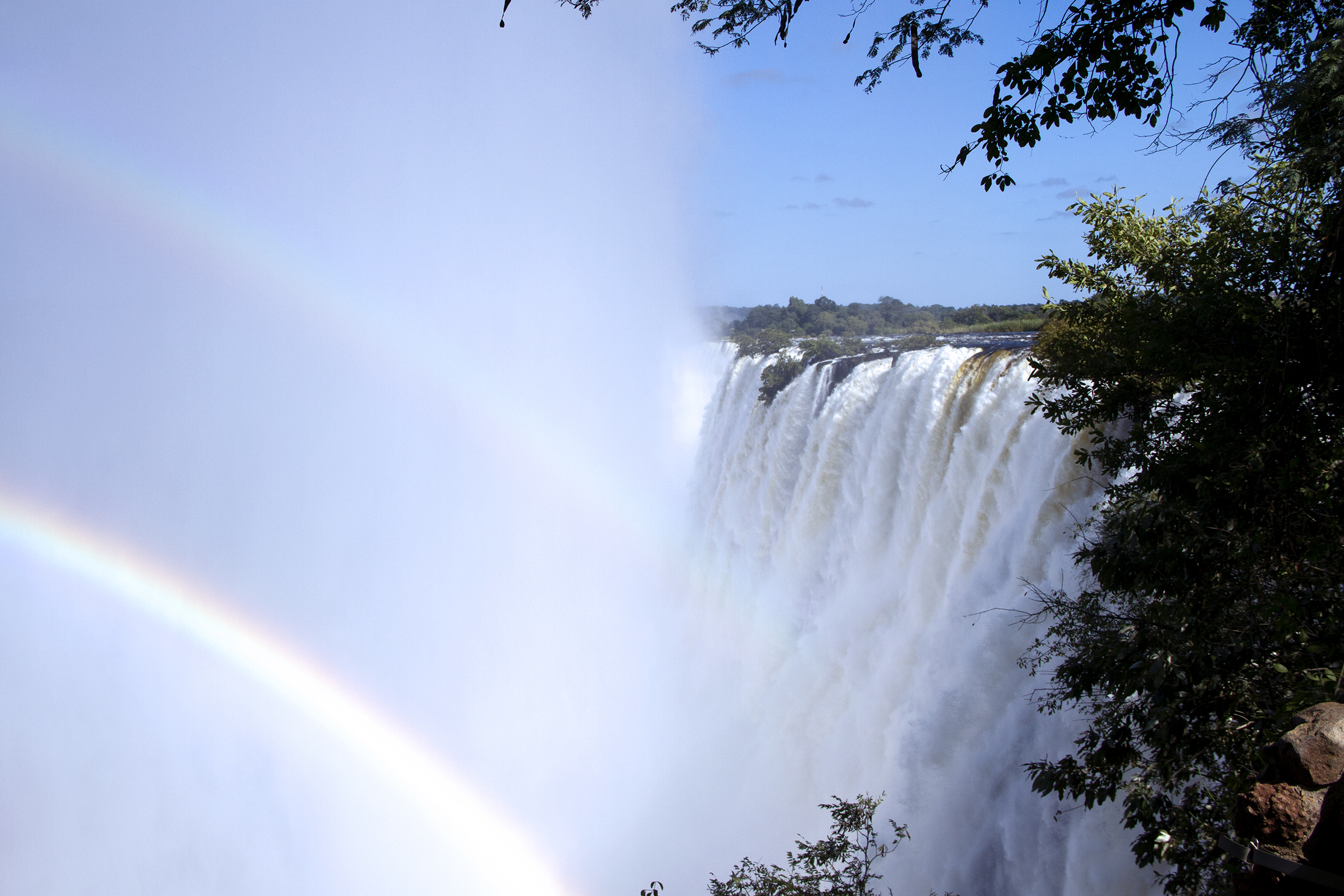 There is a dedicated walkway that allows you to leisurely enjoy your experience at your own pace, accompanied by the constant roar of the river. Each viewing platform provides you with a unique persecutive of the falls. Take a moment to view and listen to Victoria Falls with my short video below.
I had never seen the falls from the Zambian side, so I was quite excited to see the difference in viewing points, and compare them to my memory from the Zimbabwean side. Naturally the falls is awe-inspiring and the views from either side are extraordinary, I do not feel like either side is better than the other. That being said, if you have the time, I would recommend looking at the falls from both the Zambian and Zimbabwean side. After all, when will you be returning to such a majestic Natural Wonder like this again?  Luckily, this can be easily arranged by your guide at Thorntree River Lodge, so it's completely up to what you would like to achieve during your stay. 
For families, is it safe? In short, absolutely! It can get slippery, however,  so I would recommend taking it slow with the younger ones (or for the more vintaged members of the family). 
Crossing the Knife Edge in Full Flood 
This is wild! I loved it! Victoria Falls is known locally as Mosi-Oa-Tunya, "The Smoke that Thunders". Due to the topography the water from the Zambezi River falls between 80m to 100m (233ft – 360ft) into a vertical chasm, across an area over 1.5km (5,604ft), creating the largest curtain of falling water in the world! 
In full flood, the volume of water creates a huge updraft after hitting the ground with such force… which then rains down on you! You will get an idea of this from multiple viewing points, however, it's while crossing the Knife Edge whereby you fully appreciate it! Check out the video I precariously took while crossing!
Tranquil Sunset Cruises 
Who doesn't like a sunset cruise? Hop onto your own motor boat, with your private guide, and enjoy a river cruise up and down the different channels of the Zambezi River. In the winter month, you also have an increased chance of seeing herds of elephant and buffalo coming down to drink from the Zimbabwean side. 
I will be honest, I envied the couple doing some catch-and-release fishing on their sunset cruise. For those who would like to try something, perhaps ask to pull these two activities together… 
There is a sunrise option too, with a sneaky champagne delight to start your day, but I will be fair and say the sunset cruise suited me more… 

Why we love Thorntree River Lodge 
Thorntree River Lodge is a wonderful option to either kick-off the start of your journey, or perhaps finish up with something a little different after your safari experience. The positioning on the river is fantastic, and the lodge staff are wonderful, attending to your every need. Its accessibility to Victoria Falls, complemented with being inside the Mosi-Oa-Tunya National Park, is a win for sure! 
Whether you are a family, group or romantic couple, this lodge is perfect! And with the amount of activities on offer, I would say 3 days would be the perfect duration to take full advantage of such a beautiful area in Southern Africa!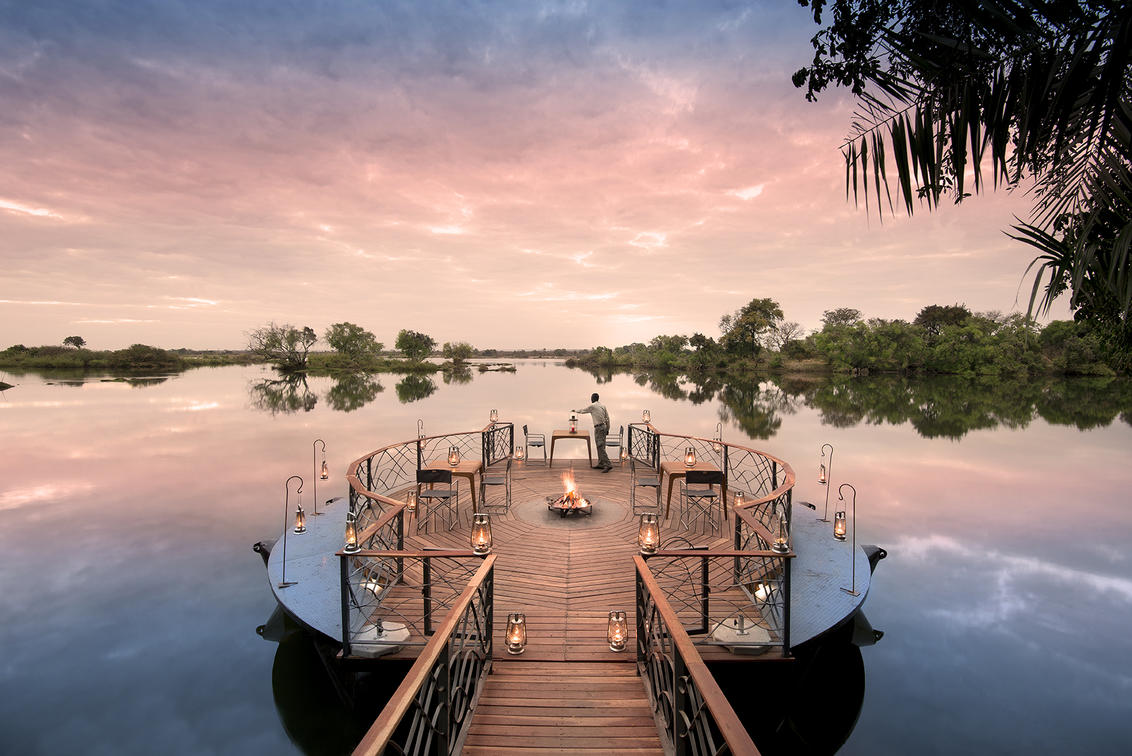 Down to the lodge basics
Country: Zambia 
Location: Mosi-Oa-Tunya National Park
Lodge Facilities: Swimming pool; lounge and dining area; panoramic views; library; gym and spa 
Number of Rooms: 8 standard suites with 2 family suites 
Room facilities: Indoor/outdoor bathroom; private plunge pool; private deck; mini bar and air-condition
Family Friendly: Yes with a dedicated child Ngwana Club program 
Wifi: Yes – reliable in the library 
Inclusive Activities: Victoria Falls tour; game drives; sunrise & sunset cruises; canoeing; catch and release fishing; rhino walks; village tours 
Game Viewing:  Elephant; buffalo; hippos; giraffe; antelopes; crocodiles and birds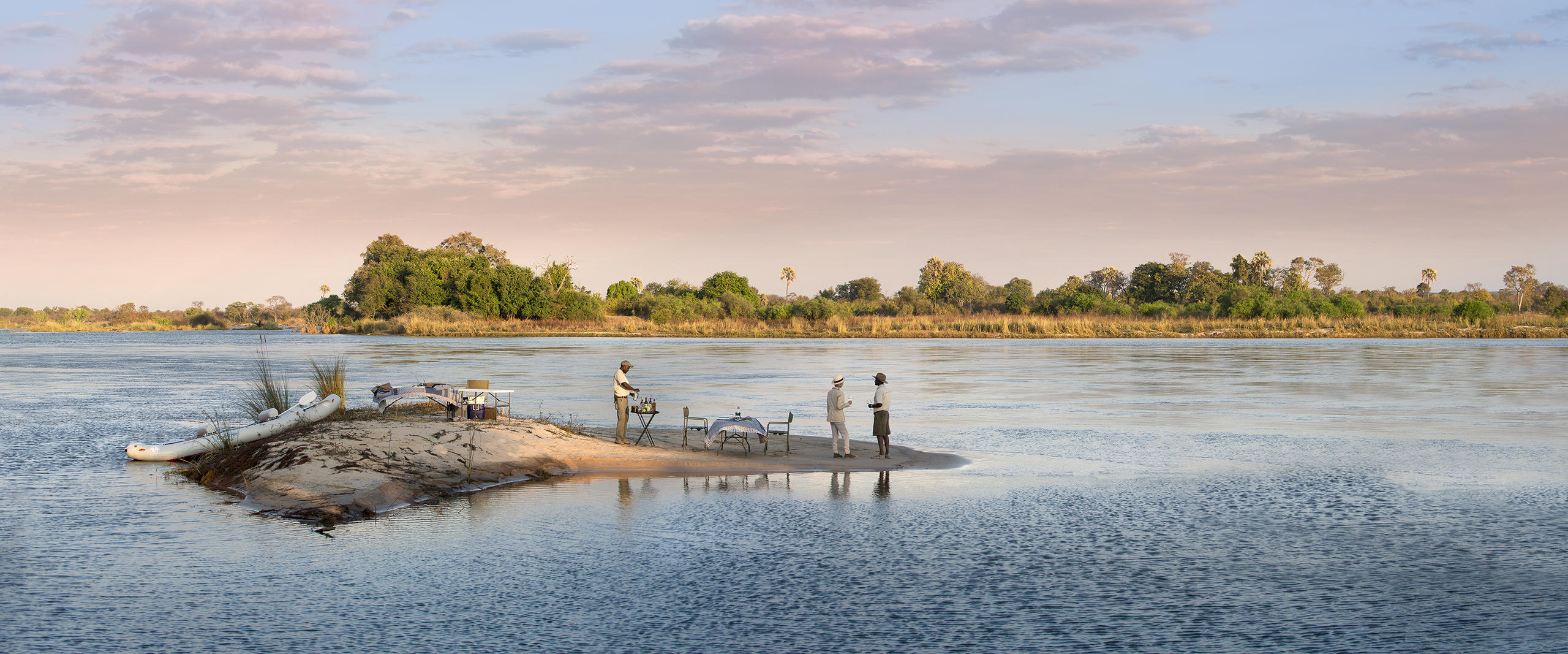 Are you ready for the trip of a lifetime?
If you're thinking of planning a trip, we're here to help! Our team of travel designers will create an itinerary just for you to create memories to last a lifetime and conquer your bucket list. Get in touch with us today to start planning your adventure in Africa.
*Please understand that although the malaria risk statuses were taken from the respective sites. Please consult your local doctor on what they believe will be best for your family at the time of travel.*
Follow us on Instagram