Written by: Sean Messham 
Unlike many of my friends and colleagues, growing up in Cape Town I don't have childhood memories of visiting the Kruger National Park. Rather, my family would drive north, exploring the southern Kalahari region. Before crossing the border into Namibia and moving up its spine to witness the majestic elephant herds and secretive black rhinos at Etosha National Park. (Yes – I was incredibly lucky)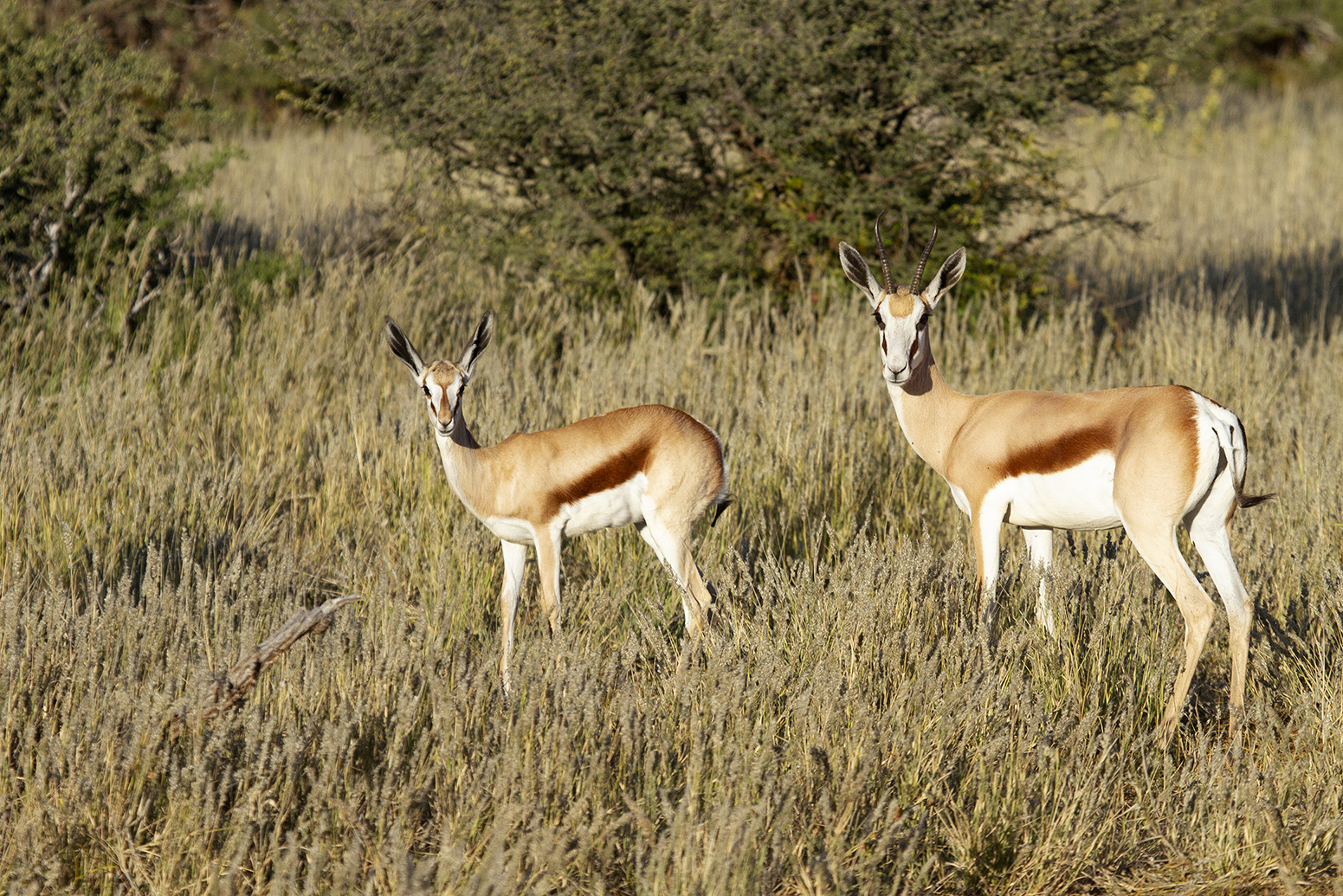 Above Image: Two springboks, South Africa's National animal, looking at us on our way to the lodge. (c) Sean Messham, Ubuntu Travel Marketing Manager
As a result there is a lot of childhood nostalgia with the ancient and mesmerizing landscape of South Africa's Northern Cape. So when I learnt I would have an opportunity to spend two days visiting Tswalu, the largest private Game Reserve in South Africa, I was beyond excited (perhaps even a little emotional). Both because I knew what I potentially would see, but also because of the reputation Tswalu has as an outstanding and unique wilderness experience. 
And with just a brief two day visit, let me try to explain how they didn't disappoint!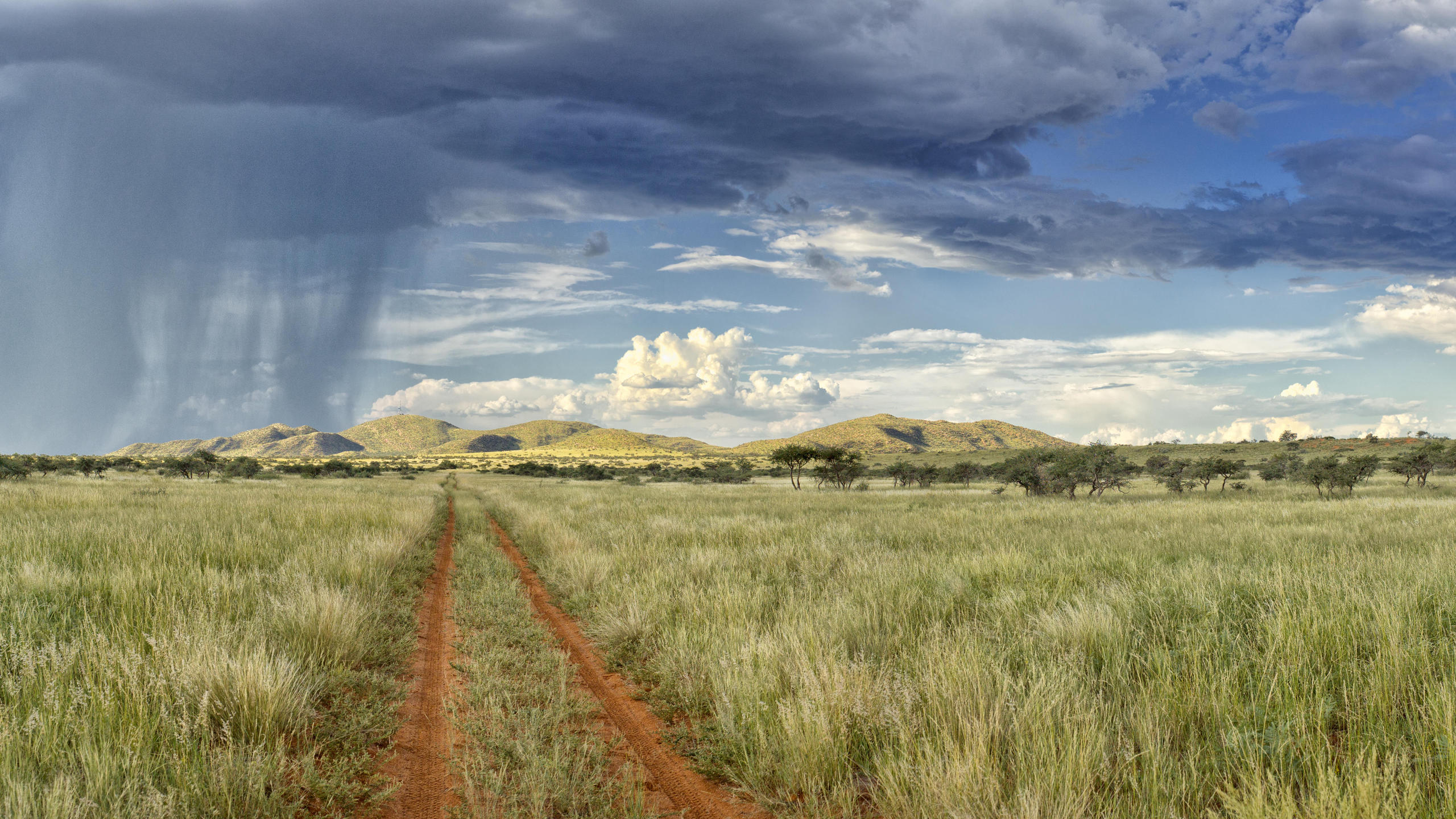 Image above: the southern Kalahari landscape. Courtesy of Tswalu Kalahari 
Ok, so where are we…
Situated in the southern Kalahari of South Africa's Northern Cape, Tswalu is a more isolated and remote destination. However, with daily flights from both Cape Town and Johannesburg, one can easily make it part of the more "traditional" South African safari circuit. 
Co-founder, Kyle Green, and I had just finished a trip to Tengile River Lodge in the Sabi Sand Game Reserve. And after a revitalizing night at the Saxon Hotel in Johannesburg, we enjoyed an easy transfer to the Fireblade Aviation hangar, next to Oliver Tambo International Airport. 
Above Images: the Saxon Hotel, a wonderful and secure spot to rejuvenate after a long flight, or between safari destinations, in Johanneburg. 
Tswalu wasted no time providing their unique service, and we were automatically upgraded to the exclusive lounge. Where there is a gym, washroom, sitting areas, complimentary drinks and a dedicated staff looking to impress. While Kyle caught-up on some emails, I took a video. Have a look here…
Upon Arrival 
When you land at Tswalu, you are greeted by your private guide and tracker, who escort you to a thatched hangar. Here, while standing under an impressive sociable weavers nest, you can enjoy some refreshments and perhaps a bathroom break if required. 
A wonderful aspect of Tswalu is that you are guaranteed a private vehicle with a guide and tracker. As a previous guide, I cannot express how liberating this is, as your guide can now tailor make your entire stay just for you! Exclusivity where you truly want it!  
After you have refreshed yourself from the flight, you will enjoy a 40min picturesque game drive back to the lodge. This gives your guide a fantastic opportunity to appreciate what you hope to see and what might interest you.
Looks and Feels: take a peek at the rooms and guest area
Tswalu accommodates just 40 guests in three lodges scattered across the entire 271,815 acre private game reserve. This is the largest game reserve in South Africa, and with this amount of space, Tswalu offers the lowest guest to wilderness ration in the country!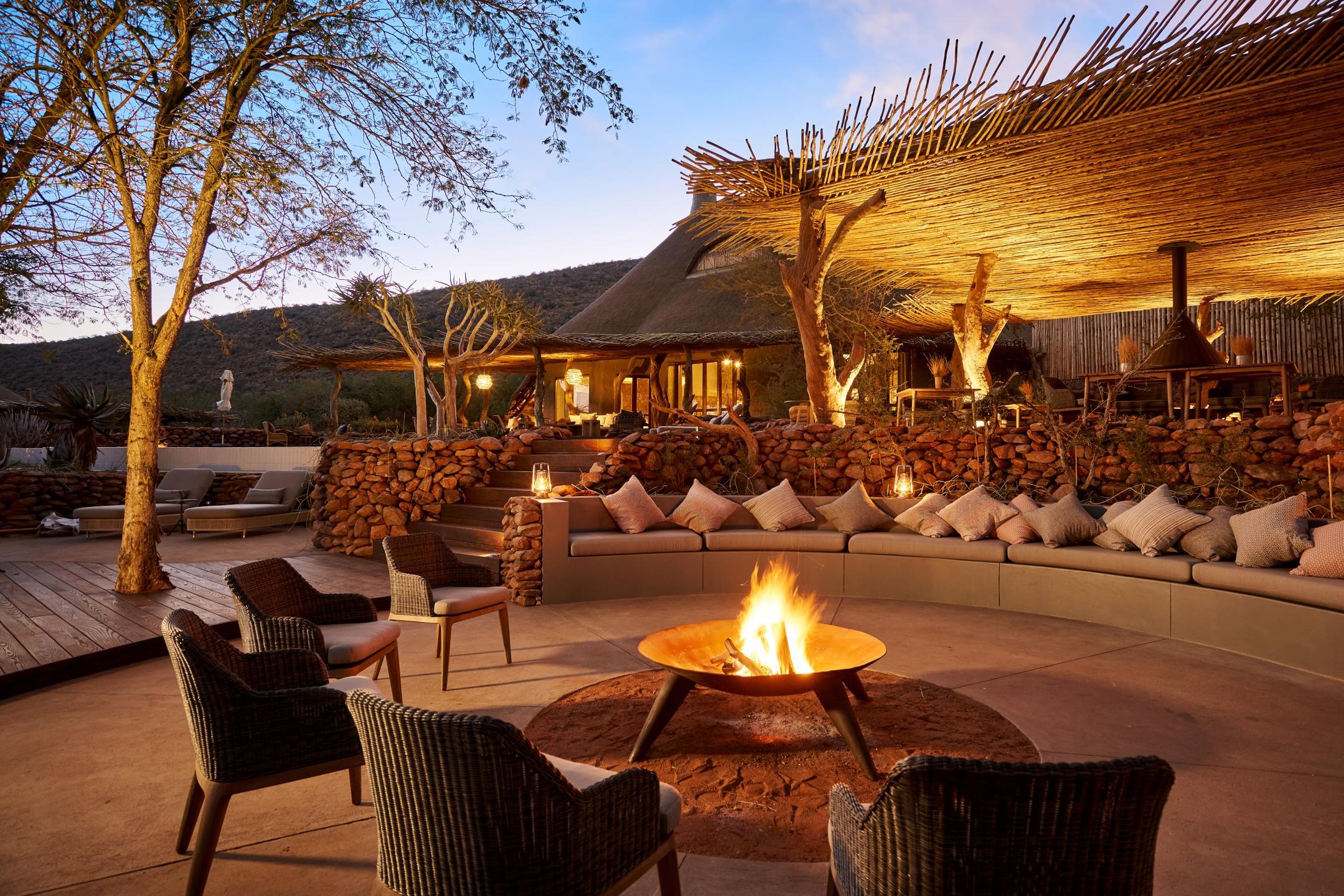 As you walk into Tswalu's Motse Lodge guest area, the earthy tones and textures of the lodge reflect quite harmoniously with the landscape. The inside main area enjoys towering communal fireplaces,  with the outside looking over the pool towards a waterhole and a panoramic view of the Kalahari. Even here, some of the unique desert adapted antelopes, like oryx (gemsbok), sable and roan, can be seen. 
Your room reflects a similar design and organic feel to the lodge's main area. With a wonderful private outside space looking out into the Kalahari. If the outside is too hot or chilly, there is a wonderful sitting area inside too (with wifi if you choose to use it).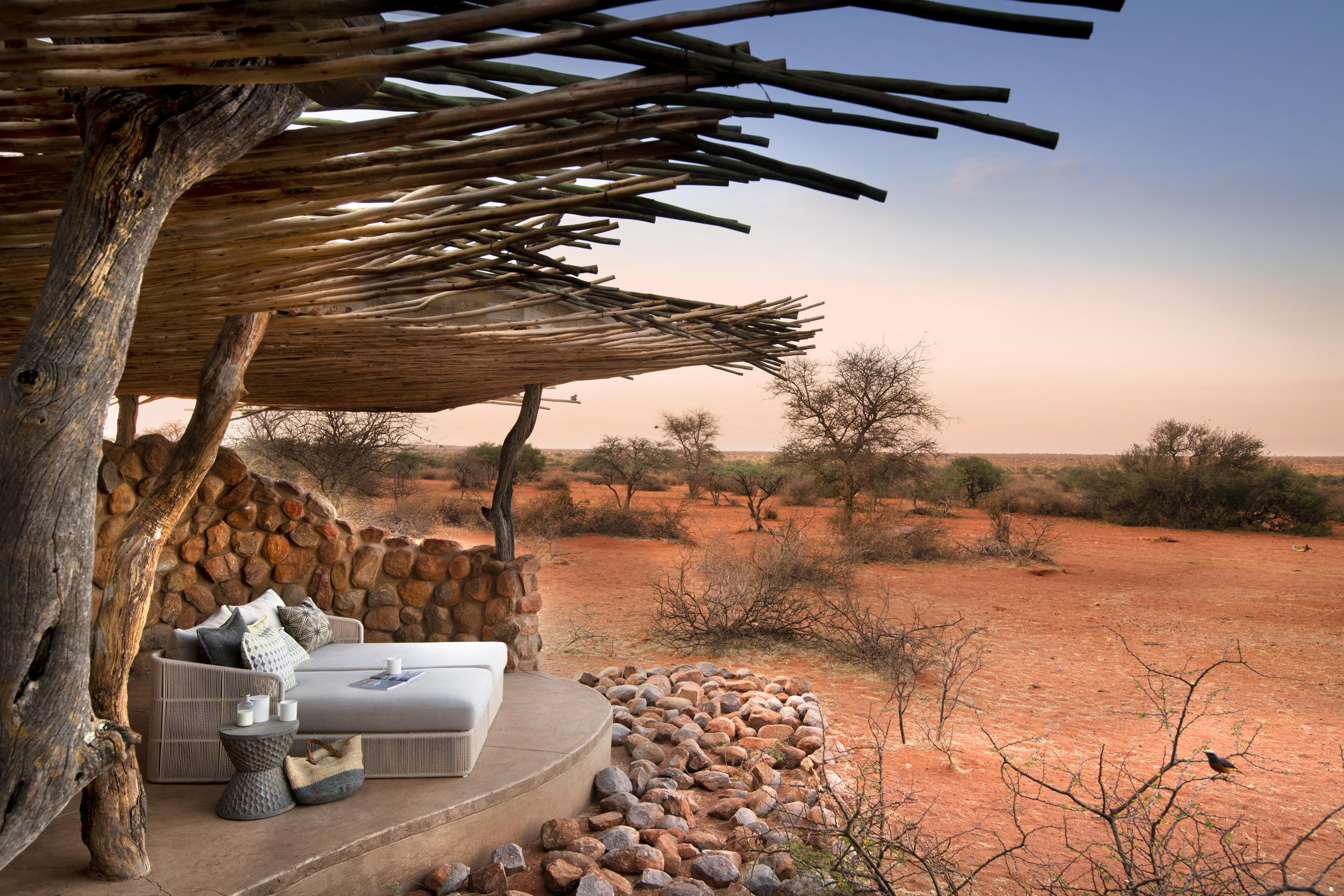 The bathroom is quite lovely with a large bath and indoor shower. For those who like the liberty of a little more "natural freedom", there is an outdoor shower too! 
Have a look here!
Game Drives
With sweeping sand dunes, expansive grasslands, rocky outcrops and the spectacular Korannaberg mountain range, the arid landscape of Tswalu is quite something! Not only does it provide captivating game viewing, but a canvas to photograph it all on! The light, contrasting colors, textures and distinctive lines is a photographer's dream.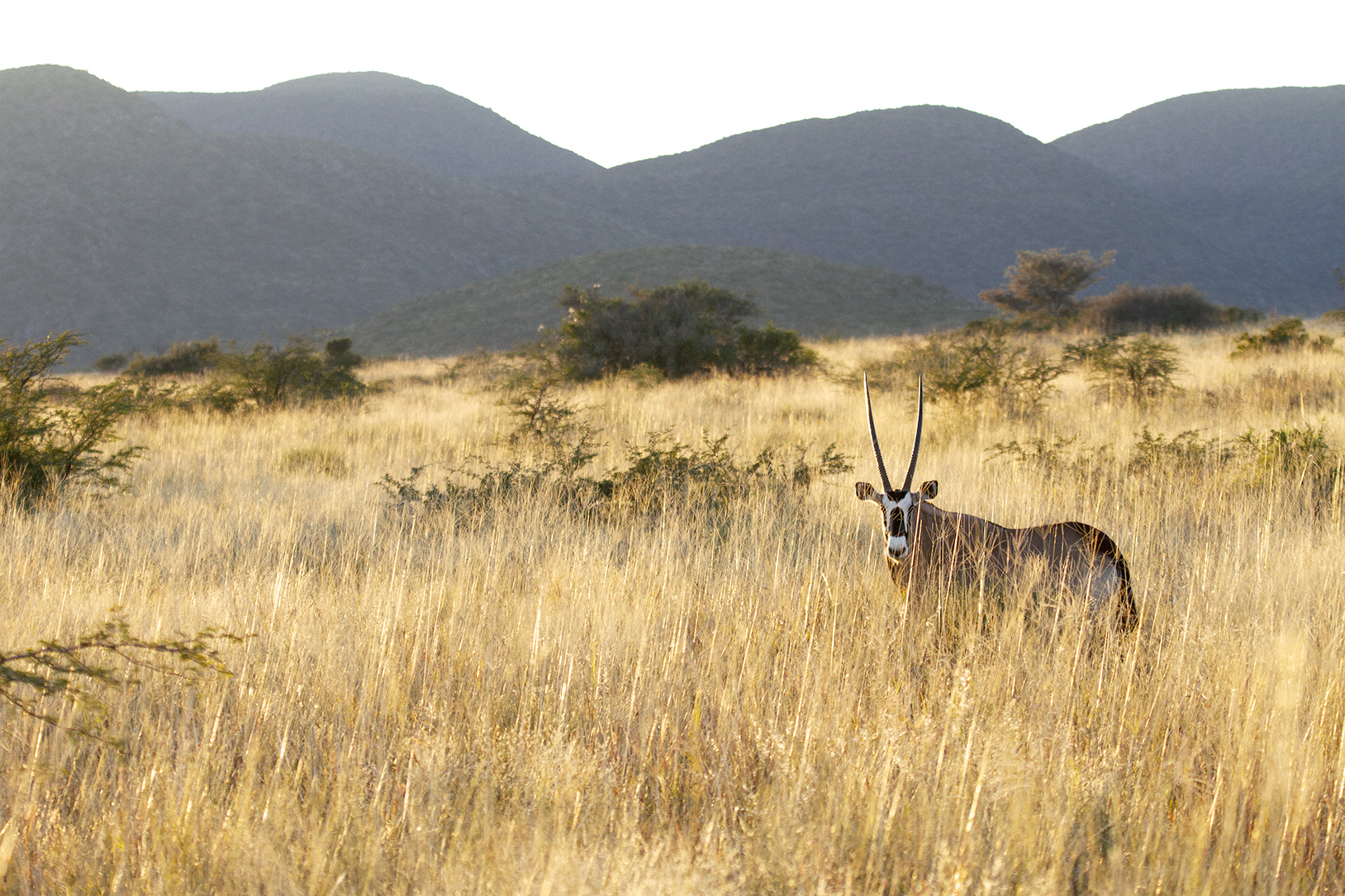 Most travel writers will speak to the expansive nature of Tswalu, explaining how you need to invest time to find and enjoy sightings. I am going to agree, but add that you also will want to stop at every oryx, roan, sable, zebra and springbok to capture how the light sits on them. The green desert has an uncanny ability to help you slow your eyes down, allow your mind to breathe and for your body to feel space…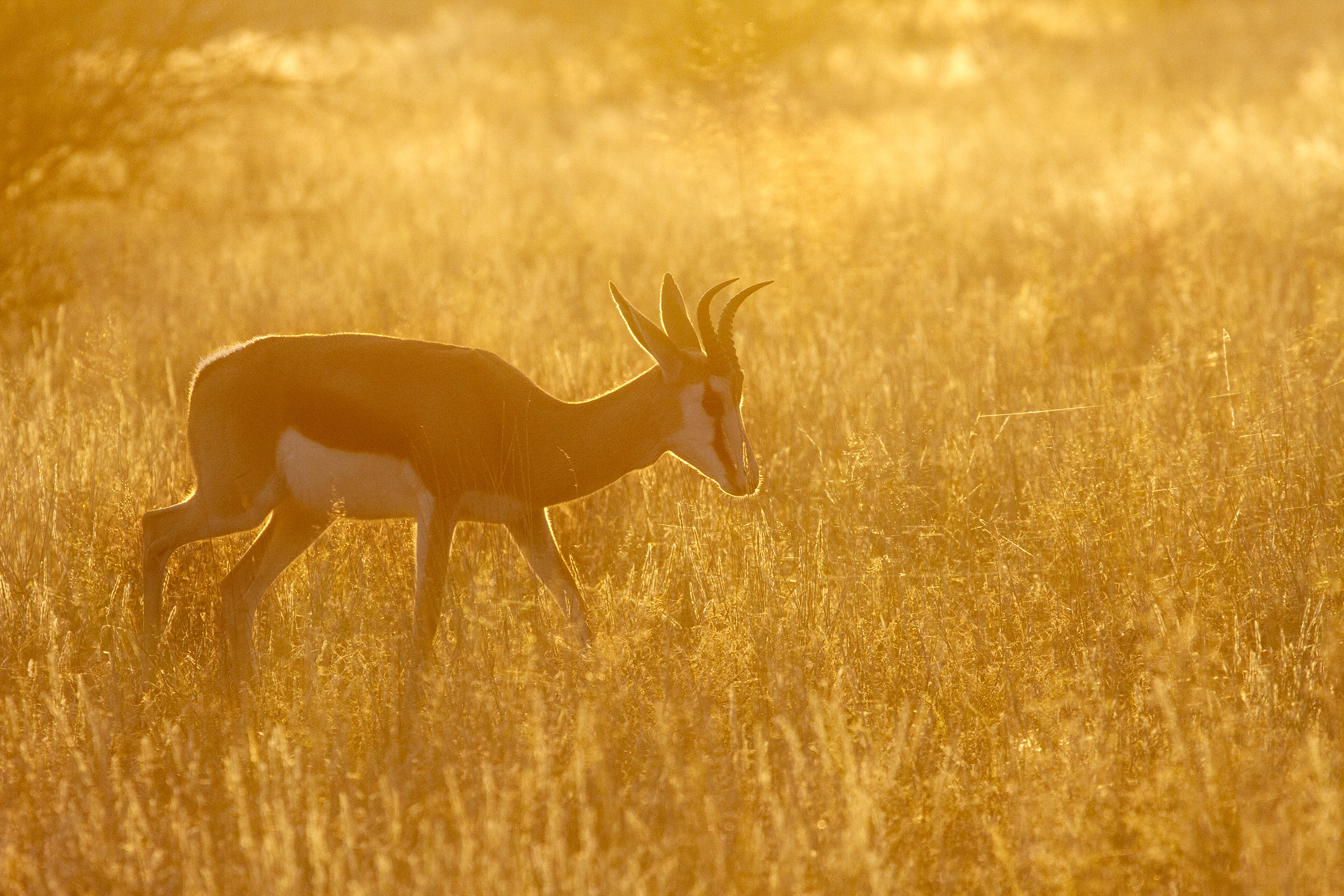 Our private guide, Barry Peiser, was brilliant here. His momentum on game drives was beautifully balanced. With appropriate time being spent on general game as the morning light framed them, to us getting into gears while following tracks of lions or cheetah! 
We were also exceptionally lucky!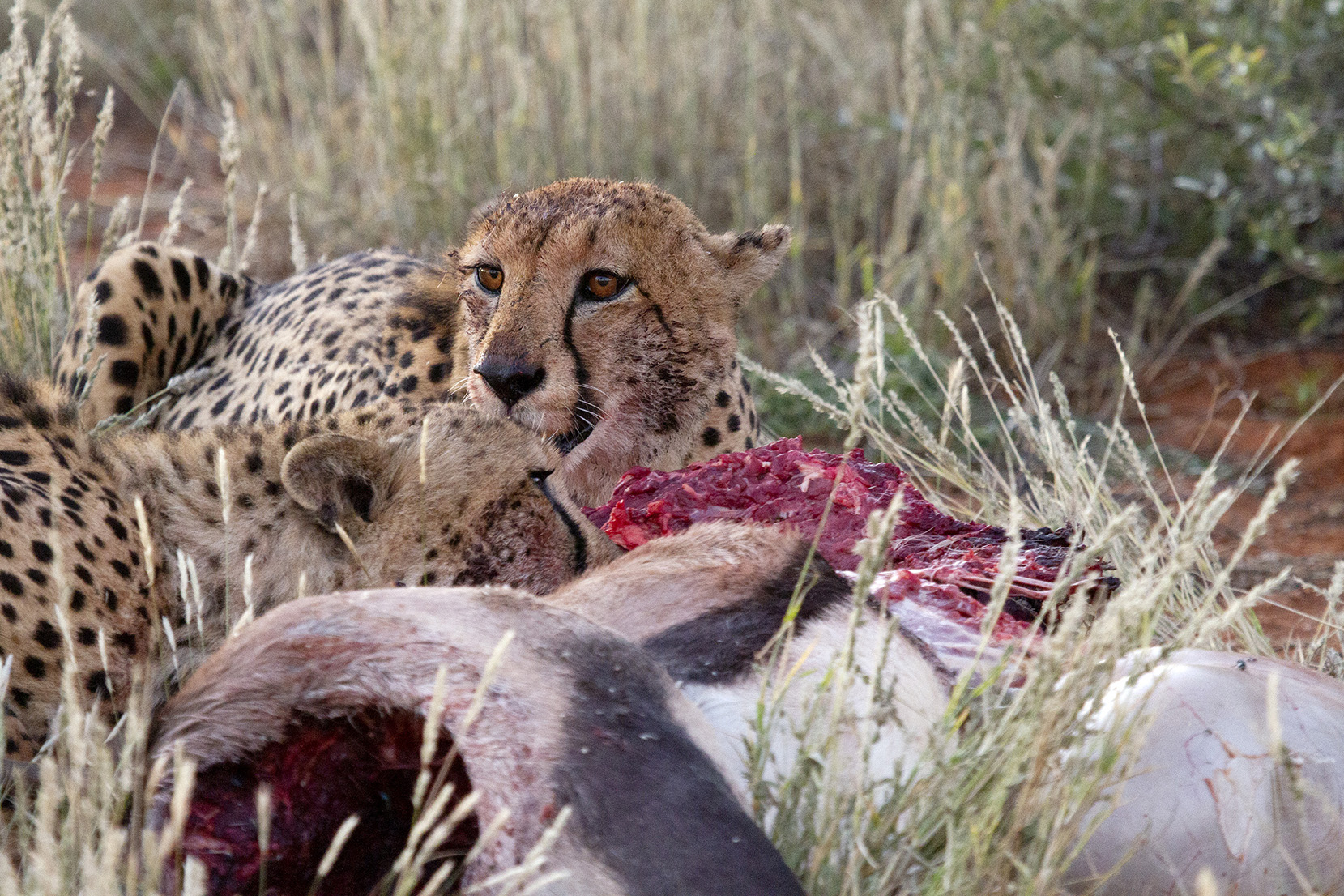 On our first evening drive, after our meerkat experience, we saw a cheetah coalition on an oryx carcass. On our first morning, we found a pride of desert adapted lions while watching a crash of rhino. On our final morning, our tracker Ben, bought out his skills and tracked blacked-maned lions! All while Barry pulled us into the ecosystem of the Kalahari, highlighting  details we would have obviously missed. Enriching the entire experience in-between the magnificent sightings!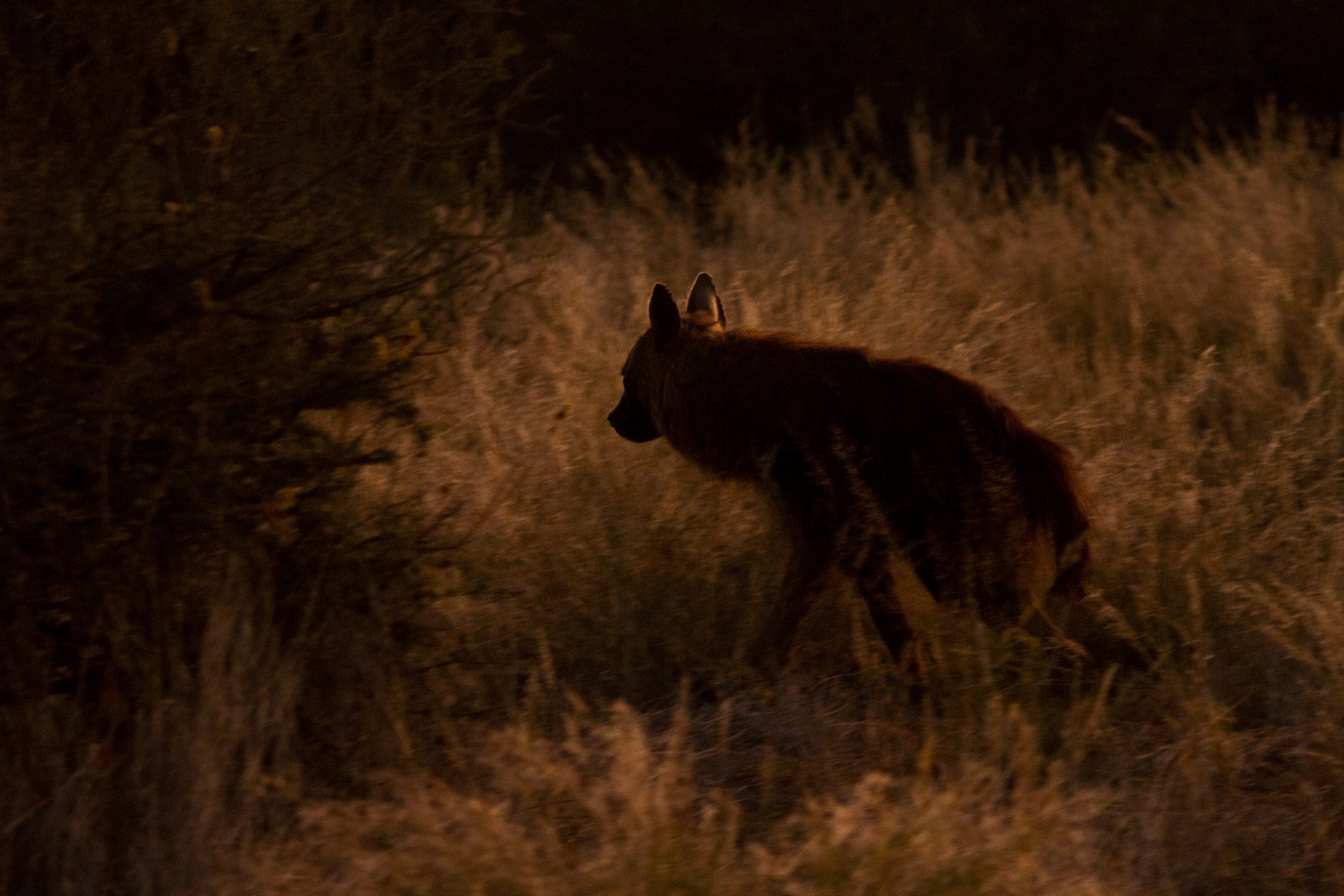 Above image: one of the rare and unique species you can find at Tswalu! A brown hyena busy making its way to the cheetah coalition on the oryx (gemsbok) carcass. 
I must address the elephant in the room briefly though! This is not a Big Five reserve, with you unable to see elephants during your stay… However, in terms of large predators, there is a unique chance of tracking down black-maned lions or a coalition of cheetahs! Wild dogs, although a small population, can also be seen!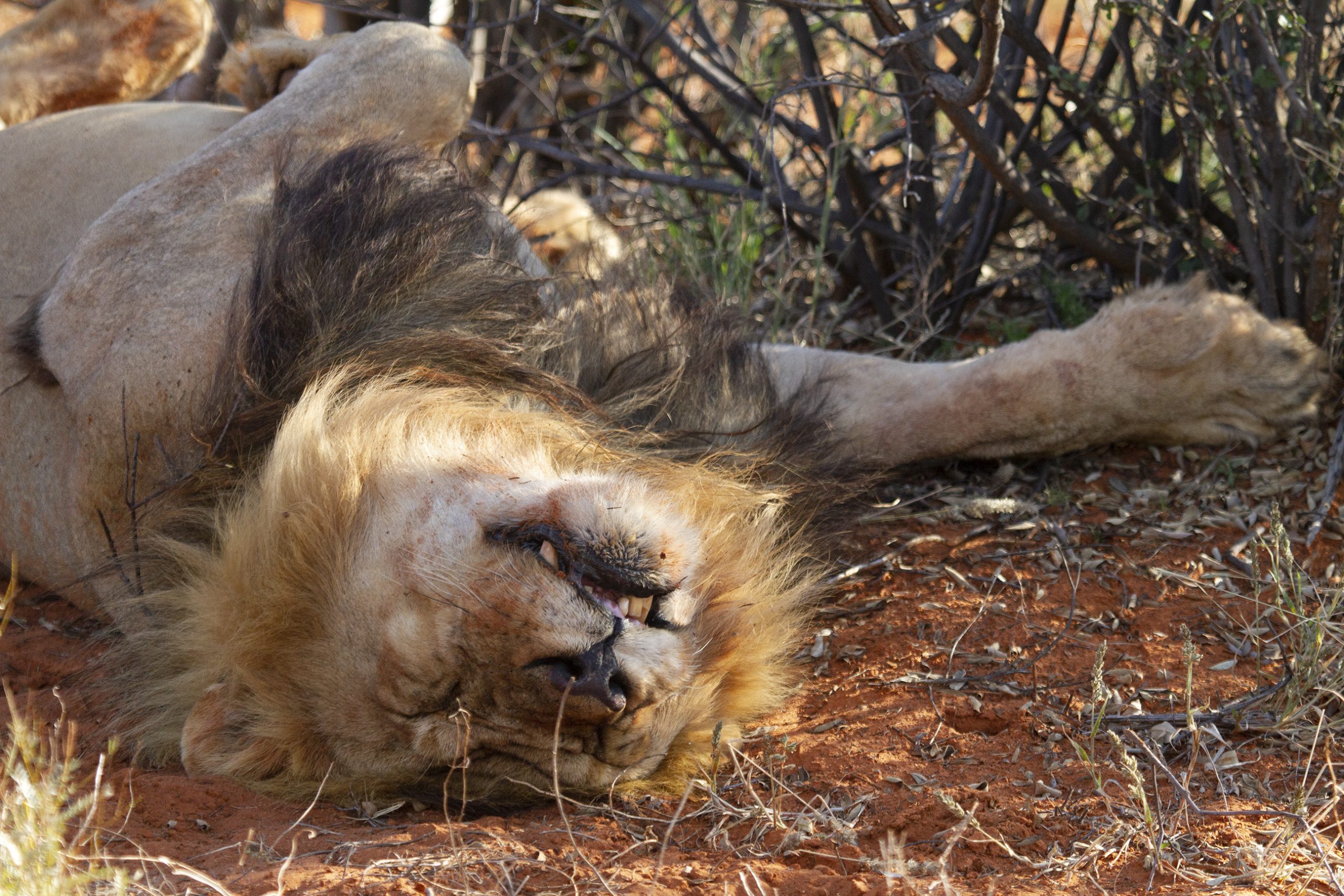 Above Image: after tracking them for the entire morning, we found two black-maned lions taking a deserved rest. The rest of the pride was near by. 
If you are seasoned safari-goer, this information won't discourage you. However, if this is your first time, I will suggest you combine Tswalu with another safari destination to give you a chance of seeing the largest land mammal on earth!
Luckily, we have just the safari journey for you – check out our new "Get Closer to Nature: Coast to the Big Five" itinerary. 
Meeting the "Rock Stars"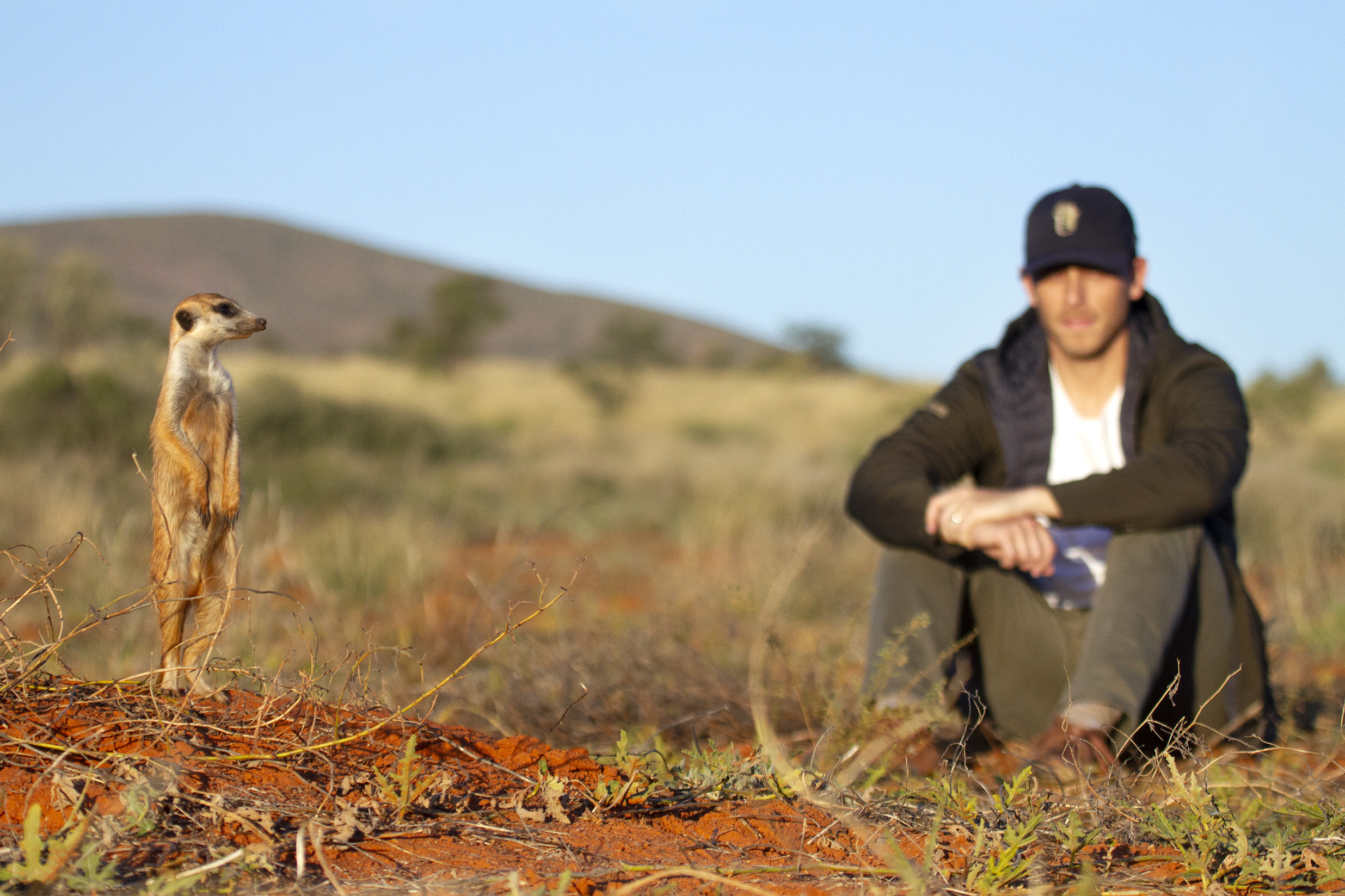 Above Image: Co-founder, Kyle Green, enjoying a moment with the "Rock Stars". 
I must be honest, I wasn't really looking forward to the meerkat encounter… I felt like it had the potential to be quite staged and come across a little like a "Lion King Disney" theme park experience…
Thankfully, I was wrong!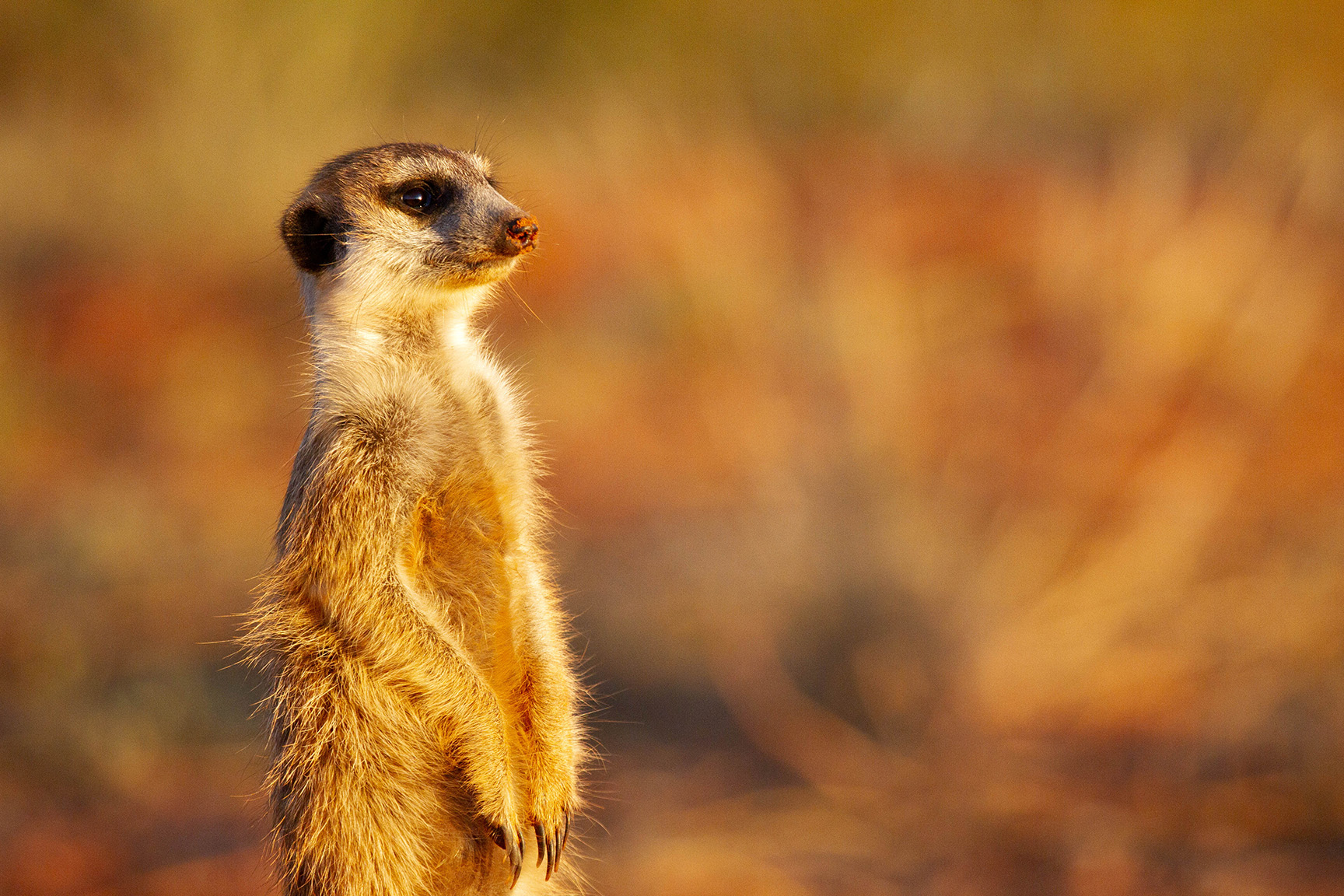 The meerkat experience was a wonderfully authentic encounter, whereby the utmost care for the "Rock Star" meerkat family was taken. Barry first briefed us on what to expect, and how we can move around the family with respect, before we walked calmly towards the family from a distance.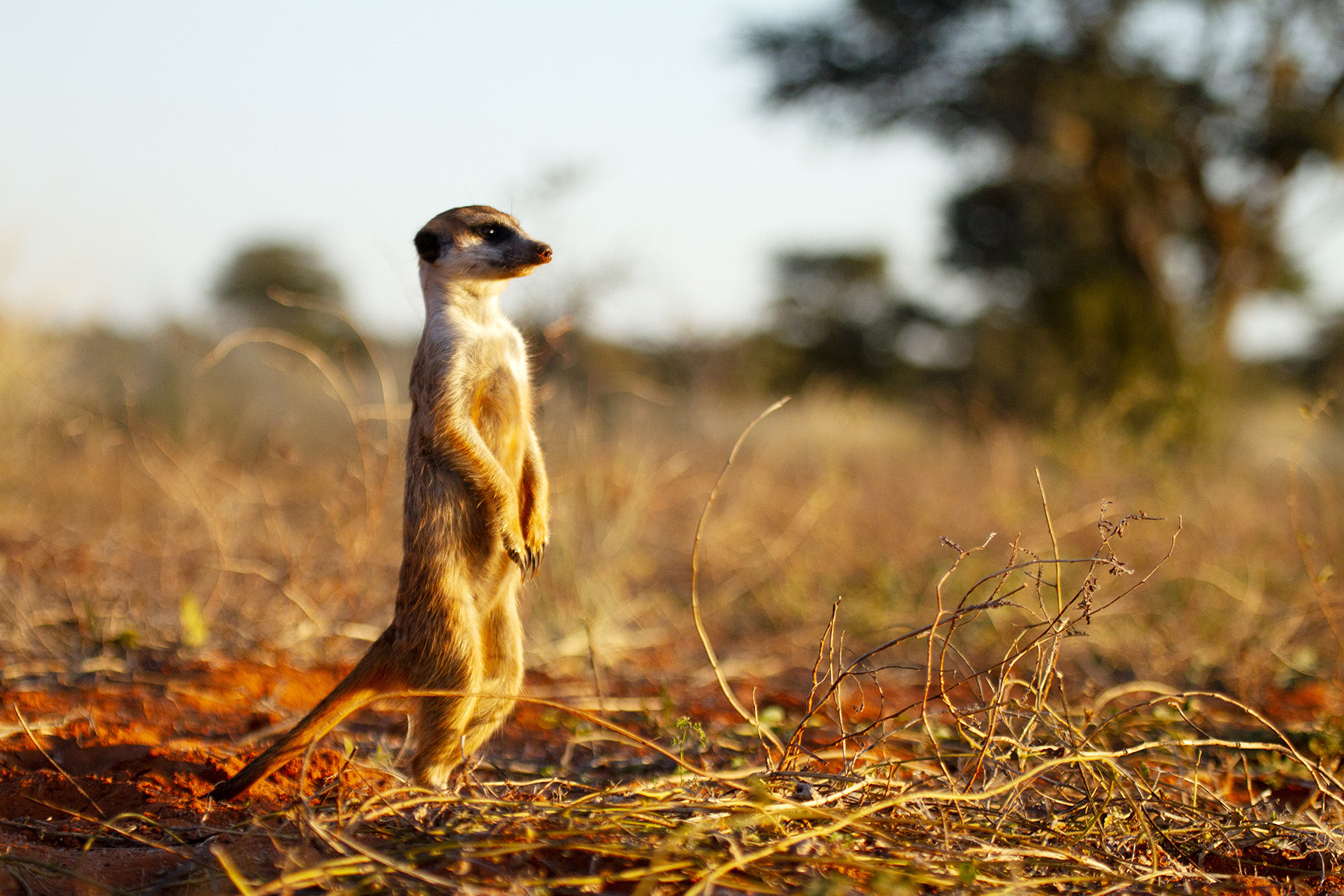 Once settled, the family completely ignored us, and went along with their business. Barry provided an interpreted experience by explaining their behavior and brought other elements, like birds and reptiles,  into context for us. A truly wild and ethical encounter. Not what I was expecting. 
We were there for perhaps 45min, before Barry interrupted us… as a coalition of cheetahs were found on an oryx kill! So we left promptly to get to the sighting before the sun set!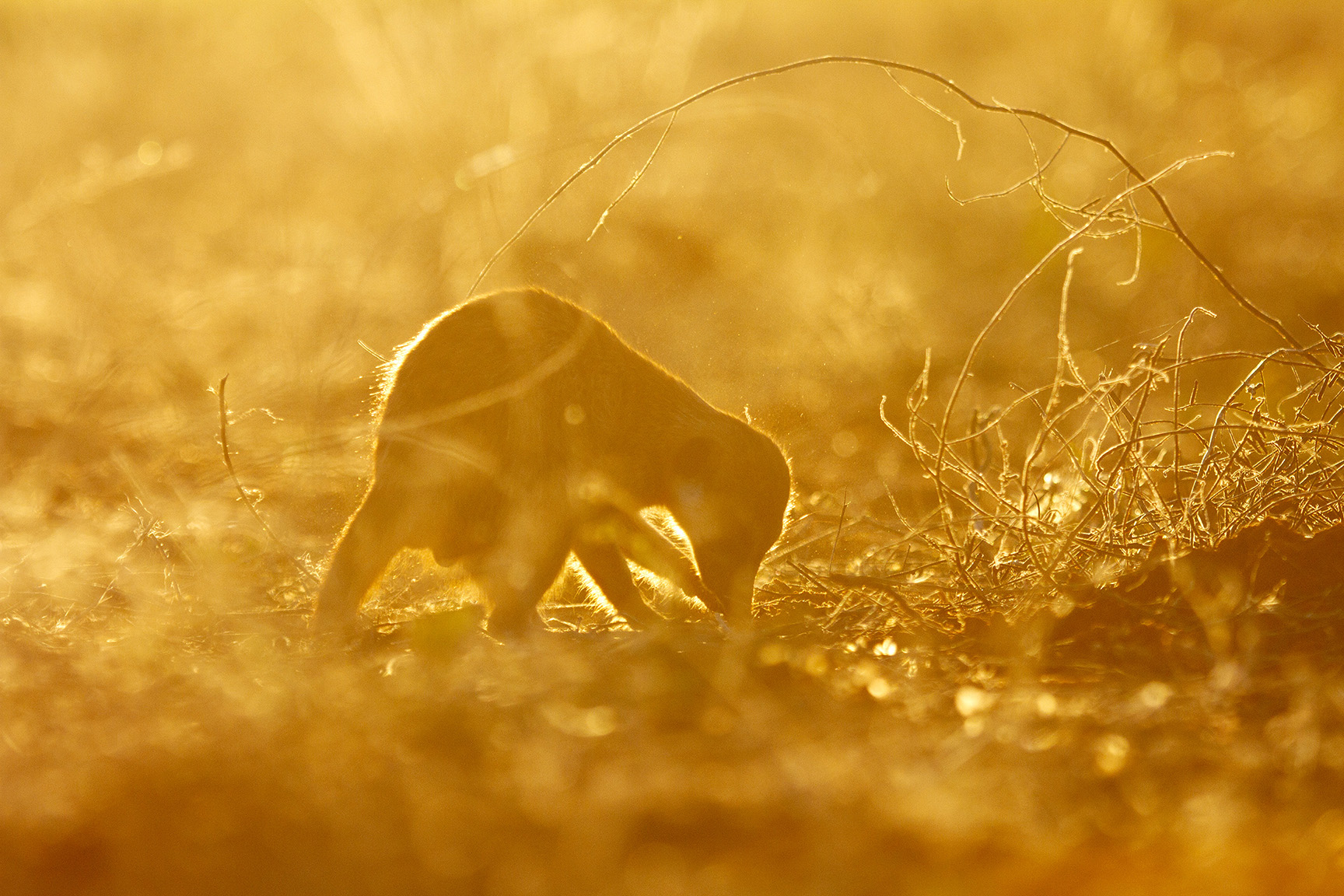 Klein Jan Restaurant
This is one of those strange moments, whereby I want to tell you everything. But I don't want to ruin the surprises, as they make half the experience at Klein Jan restaurant… let's hope I get the balance right. 
Firstly, Klein Jan is a collaboration between South African born Michelin chef, Jan Hendrik van der Westhuizen, and the Oppenheimer family. And with Tswalus's Executive chef, Marnus Scholly, Jan worked on creating a dining journey that fuses local flavors, heritage and culture into a unique culinary experience.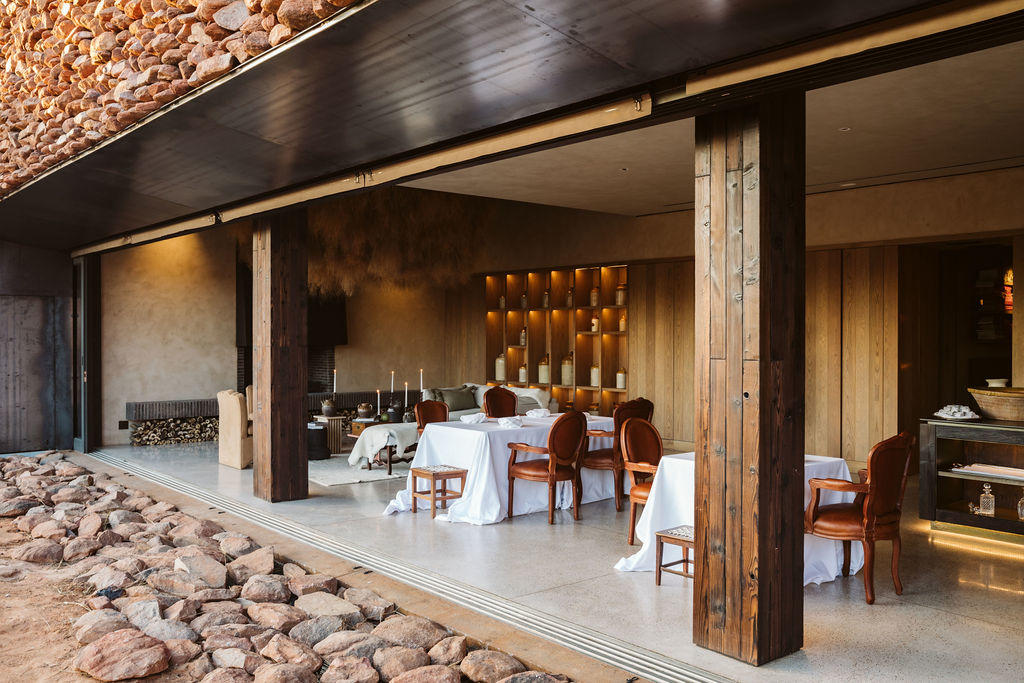 This was as much as Kyle and I knew about Klein Jan restaurant when we arrived at Boscia House, a 100-year-old homestead on Tswalu. Looking out to the Kalahari and appreciating the blanket of stars, we were offered a selection of imaginative drinks to enjoy on the stoep (verandah) of this historic homestead. 
Every aspect, from your water, drinks, to the individual meals quite naturally pull in the smells, aromas and flavors of the region and culture. The wonderful stories behind each course brings context to the palette, and you quite literally taste the natural heritage of the Kalahari… 
Above image: Kyle enjoying a detailed explanation of each delicate delight, before we were lead to the main dining area. 
But there is more, you don't just simply sit and wait for individual courses… It's a journey after all, and you move around. That is the one secret I will provide. And in an effort to not ruin your culinary journey, I have merely shown and described to you briefly what is happening… how it comes together, is for when you arrive! 
* All in-house guests at Tswalu are invited to enjoy this culinary journey – there is no need to book it – as your reservation secures your spot.  For non-Tswalu residents, you are able to enjoy lunch, but will need to book 3 months in advance!
Above video: a selection of cheeses from both the Kalahari and Karoo! Check it out… at the end Kyle is confirming the etiquette before diving in! 
Photography Studio – Beyond Instagram
Photographers, when did you last go beyond instagram and print your photographs? At Tswalu, they provide an earthy warm studio, whereby you can do just that, all in the morning or evening of your game drive!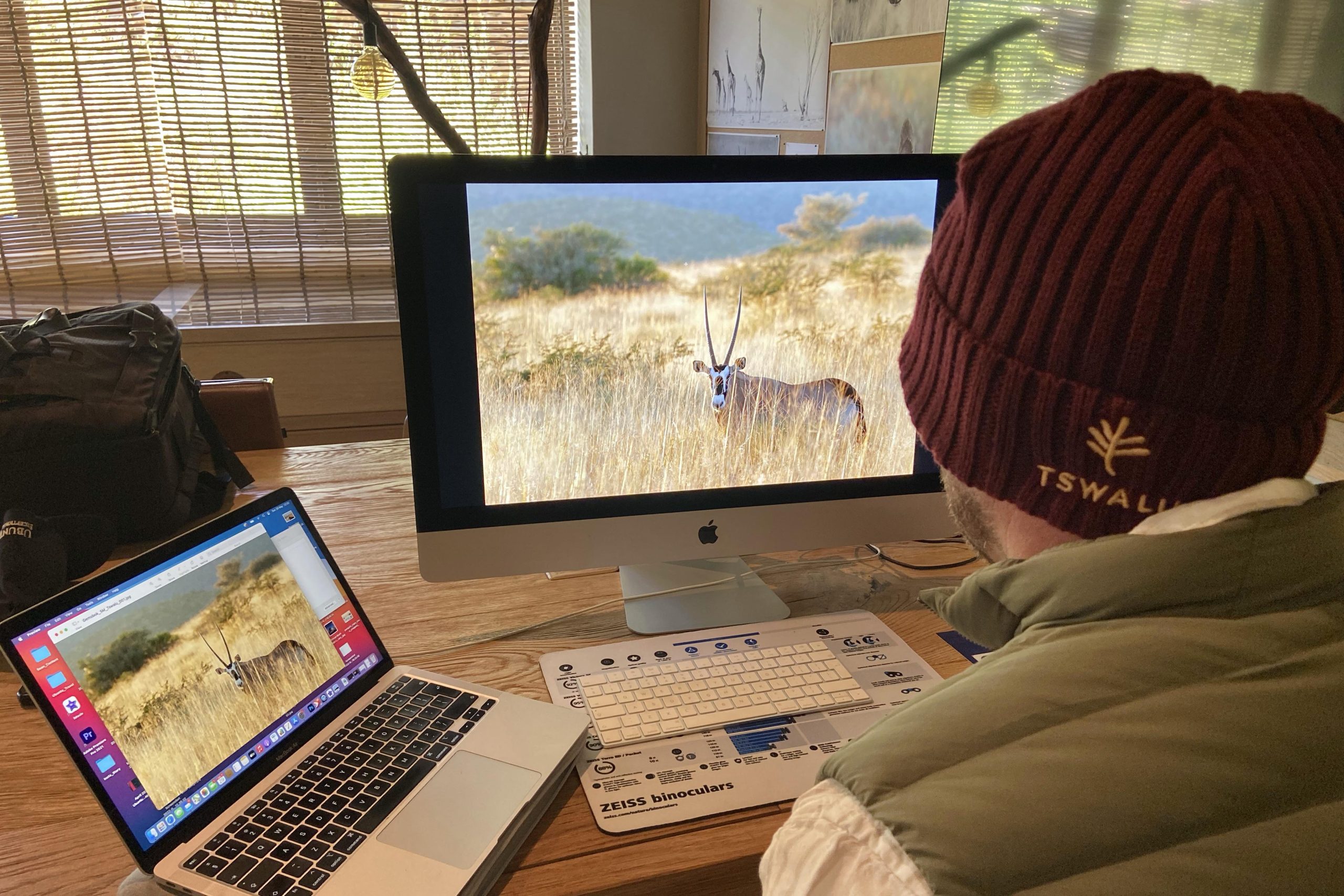 Above Image: Ubuntu Travel Marketing Manager, Sean Messham, setting up his image to be printed in the Tswalu studio.
Like all artists, we photographers hold emotions towards our work. And there is no greater feeling than to print your image, while the emotions behind the photo are still quite raw with you! It is a wonderful facility Tswalu provides, and yes, not at a huge cost or inconvenience either, as you can roll them up and safely store them for travel.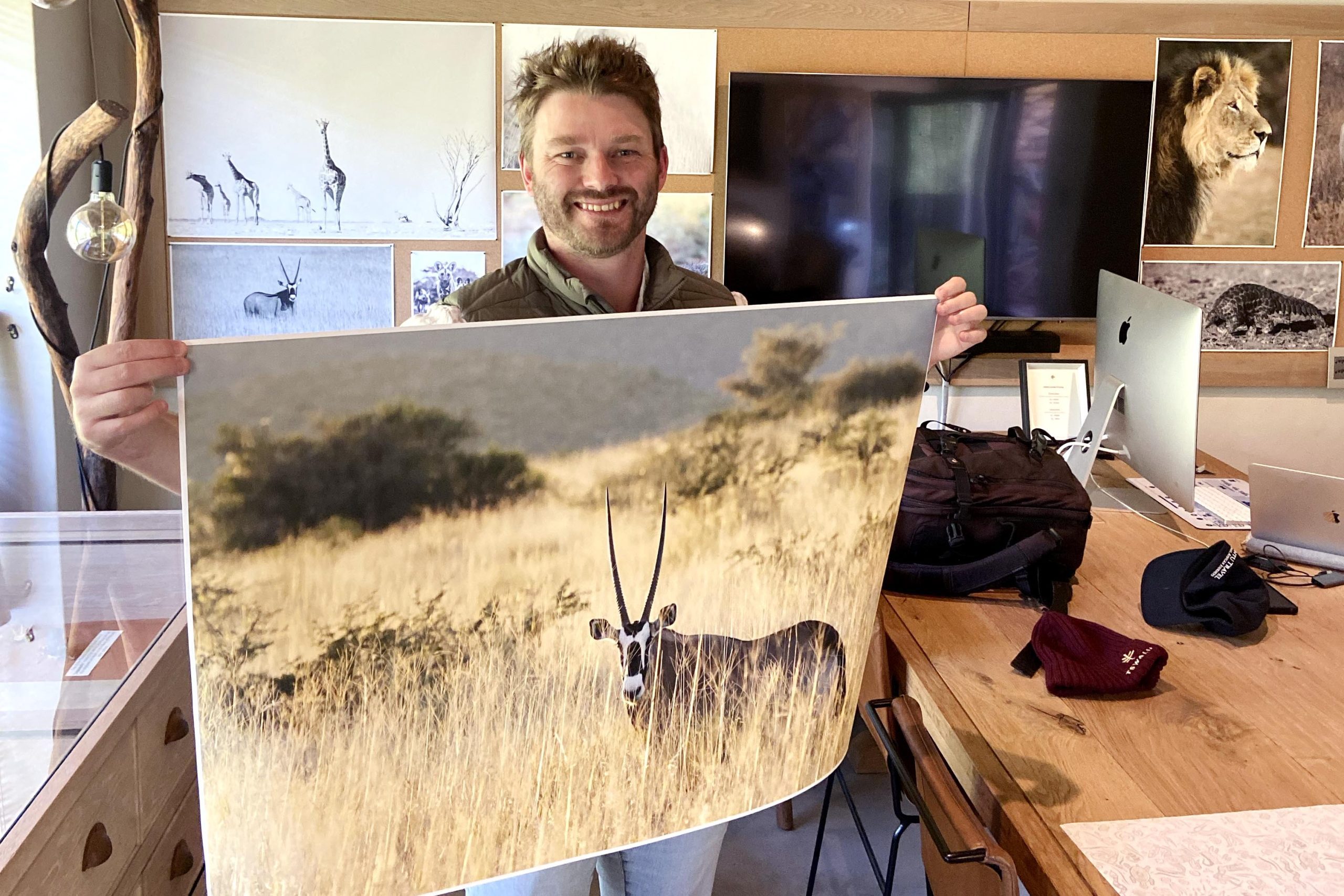 I printed an image of an oryx (gemsbok) standing in a grassy open area. Honestly, it's a technically simple image with no clutter or extravagance. A classic Kalahari portrait, that now holds a sentimental value for me (only). No likes, comments or traffic, just an image on my wall, waiting to start a conversation with those close to me. Classic photography at its best.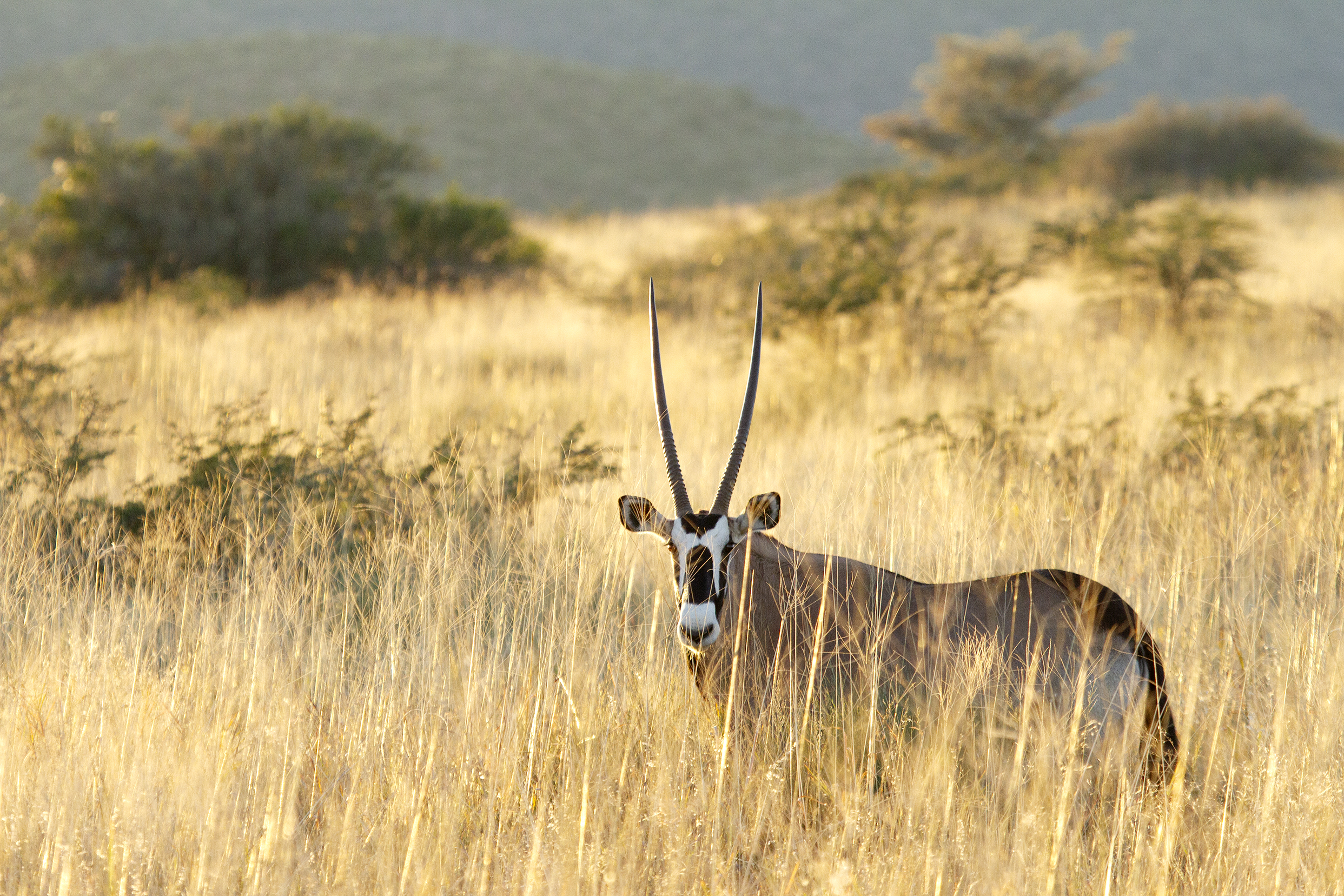 Why we love Tswalu 
The word "unique" is thrown around a lot in the travel industry (I am guilty of it too). But the Tswalu Kalahari experience seems to bring back an authentic meaning to the word or even phrase "unique experience". 
Yes. It is the largest private reserve in South Africa, set within one of the most intriguing ancient landscapes of the southern Kalahari!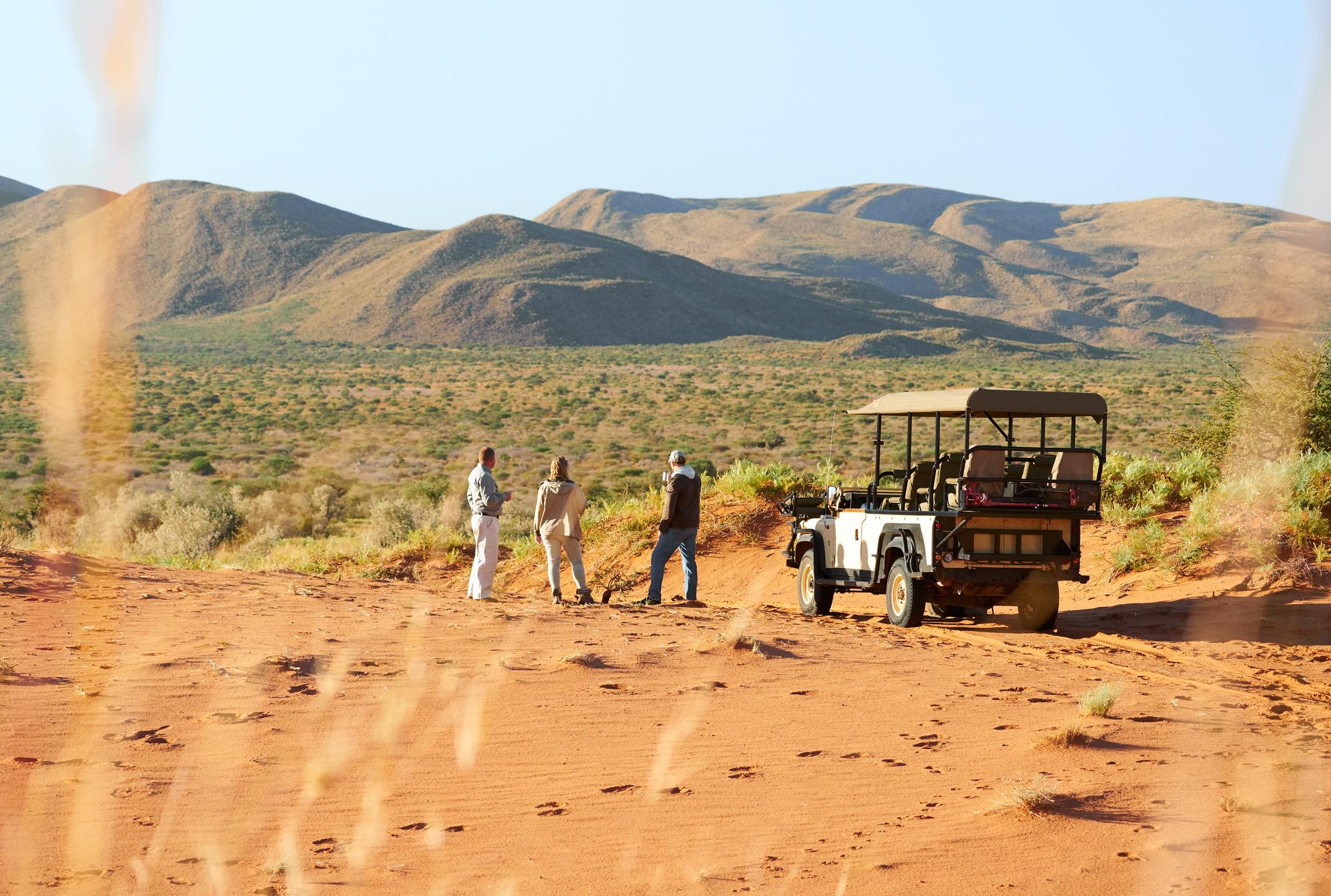 Yes. It has a unique wildlife experience with desert adapted lions, cheetah and rhino. And provides authentic wildlife encounters like the meerkat experience and even possibly witnessing aardvark or pangolin on foot!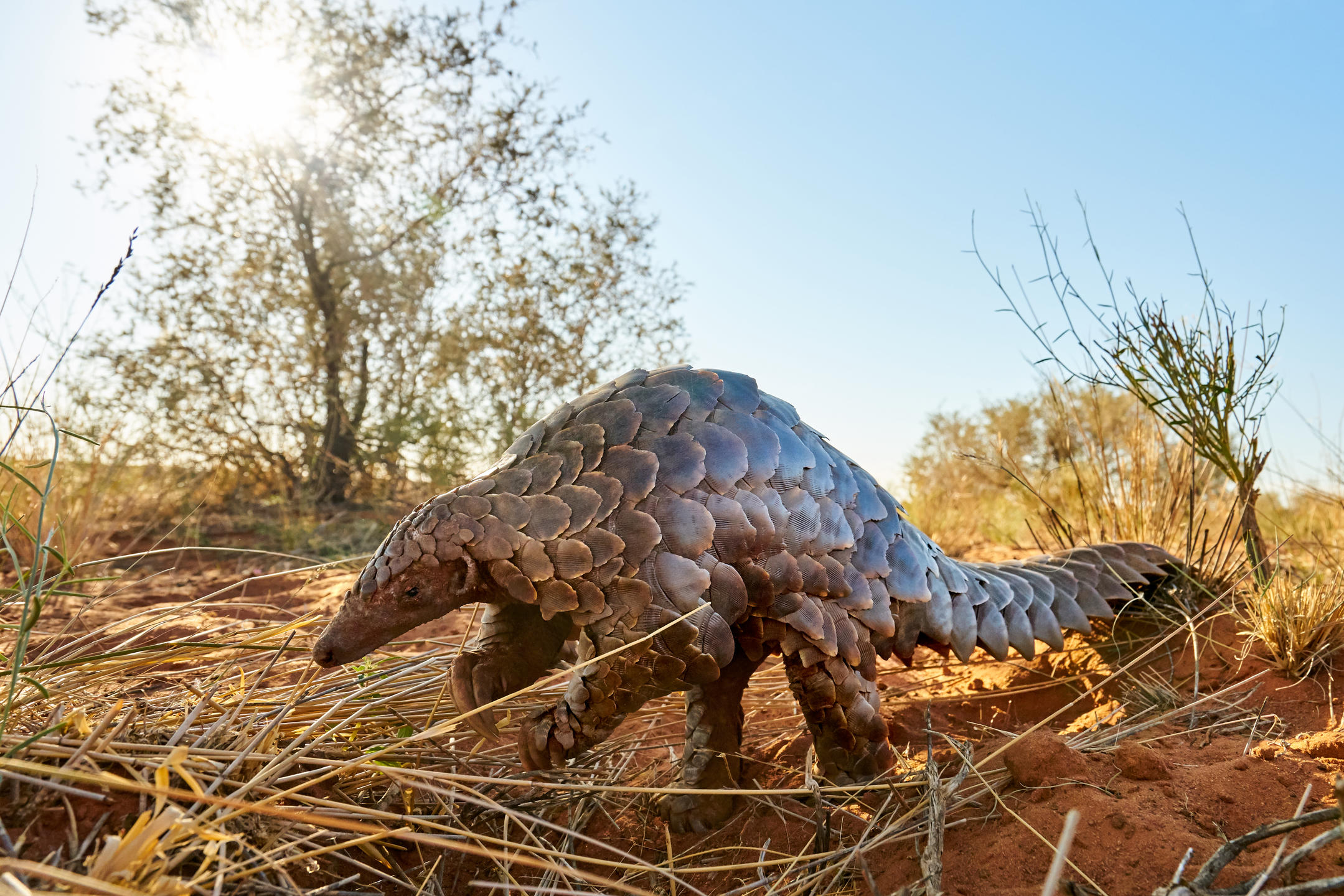 Yes. It has an array of activities to assist your adventurous heart. Like horseback safaris, guided walks to see ancient rock arts and a culinary experience to pull in the tastes and heritage of the region!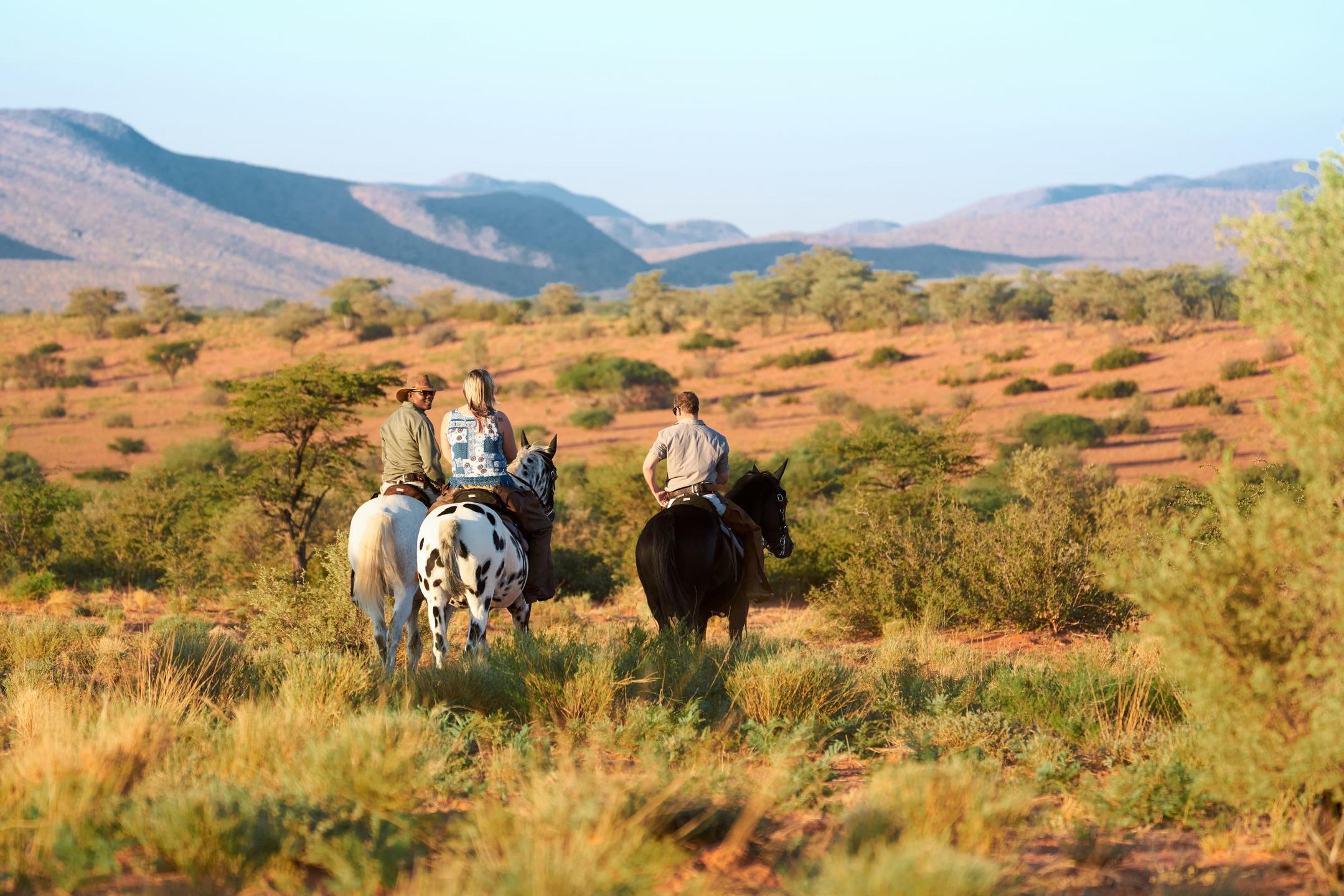 Yes. Its conservation projects are pioneering. And how the Tswalu Foundation  reversed an overgrazed area back to the astonishing landscape we see today is inspiring!  Especially when you know, that by merely visiting,  you have played a role in this too!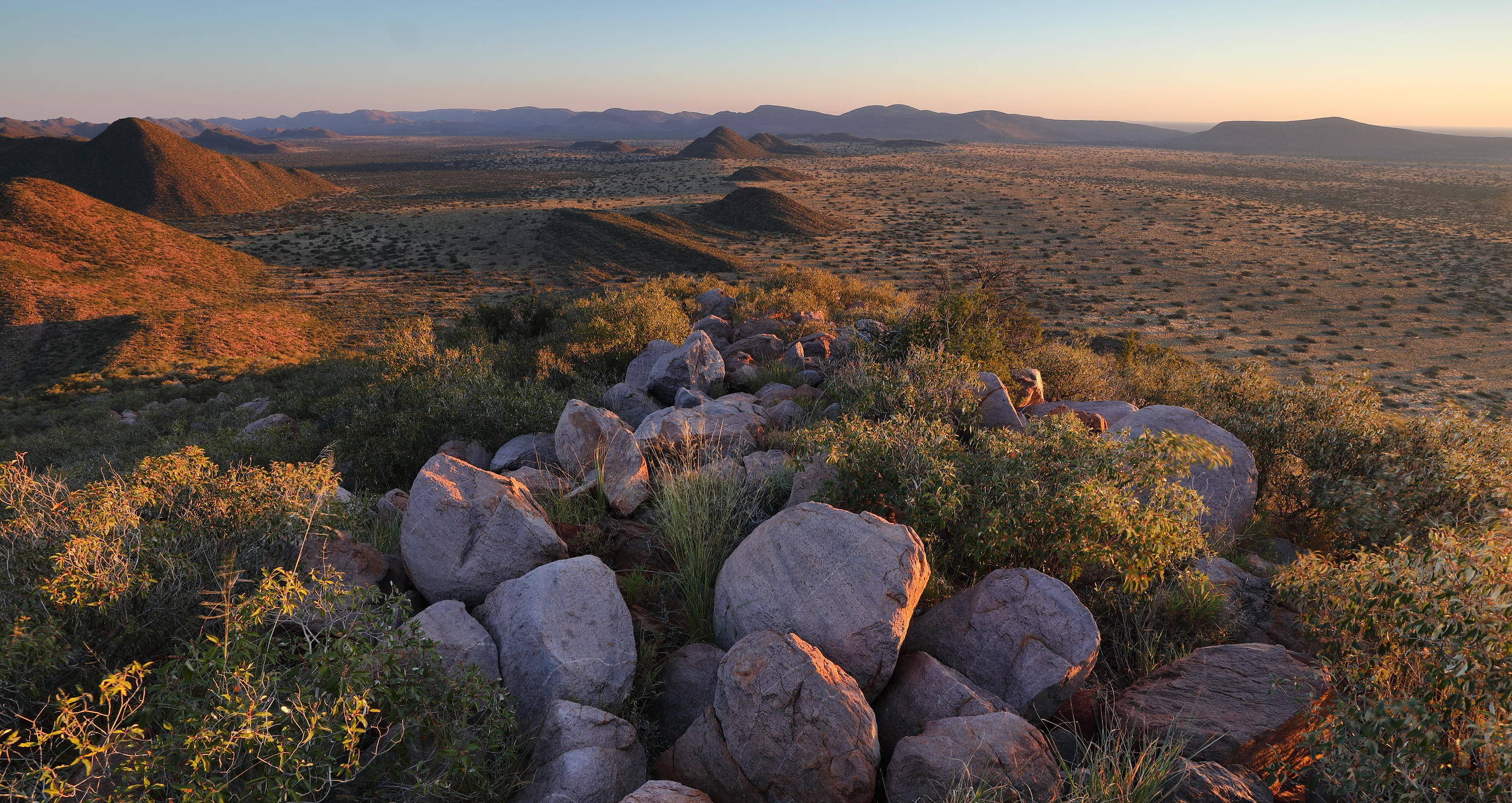 However, it is the organic combination of these factors. How the staff effortlessly tie it together and wear their commitments on their sleeves that impressed me most. Today, when I learn that someone is visiting Tswalu Kalahari, I have that "nod of approval" and a  "smirk of happiness". As I know you're about to experience something quite authentically unique!
Enjoy it!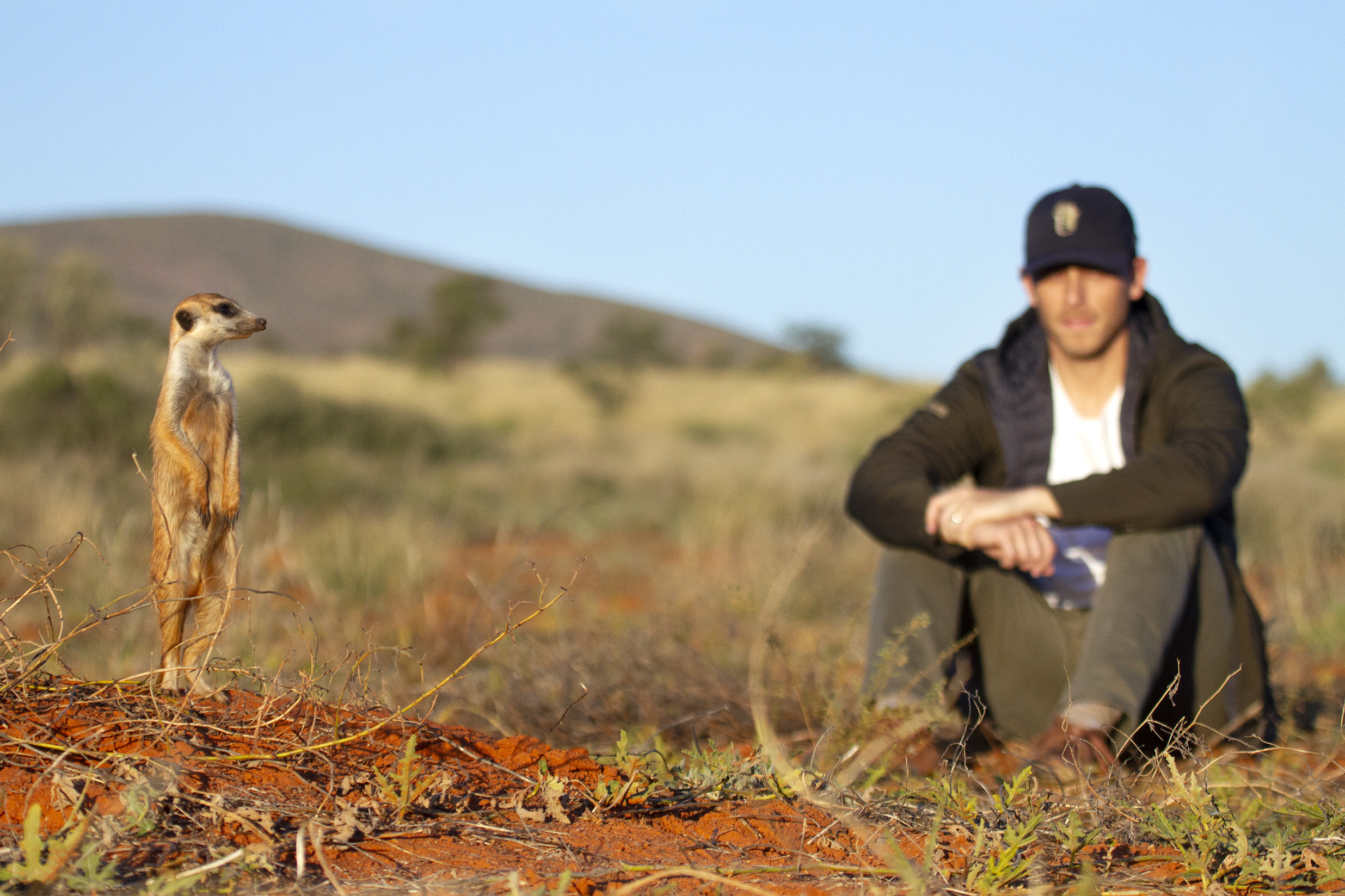 Down to the lodge basics
Country: South Africa 
Location: southern Kalahari 
Motse Lodge Facilities: swimming pool; lounge and dining area; printing studio; gym; gallery 
Motse Number of Rooms: 9 luxury suites with one family room  
Room facilities: ensuite bathroom; indoor and outdoor showers; private deck; coffee and bar station
Family Friendly: Yes with a dedicated child program 
Wifi: Yes – reliable in rooms and guest area 
Activities: game drives; night drives; walking safaris; meerkat encounter; horseback riding; scenic helicopter rides; rock art; star gazing; fine dining 
Game Viewing: lion; cheetah; wild dogs; cheetah; buffalo; giraffe; oryx; sable; roan; pangolin; aardvark; black rhino; birds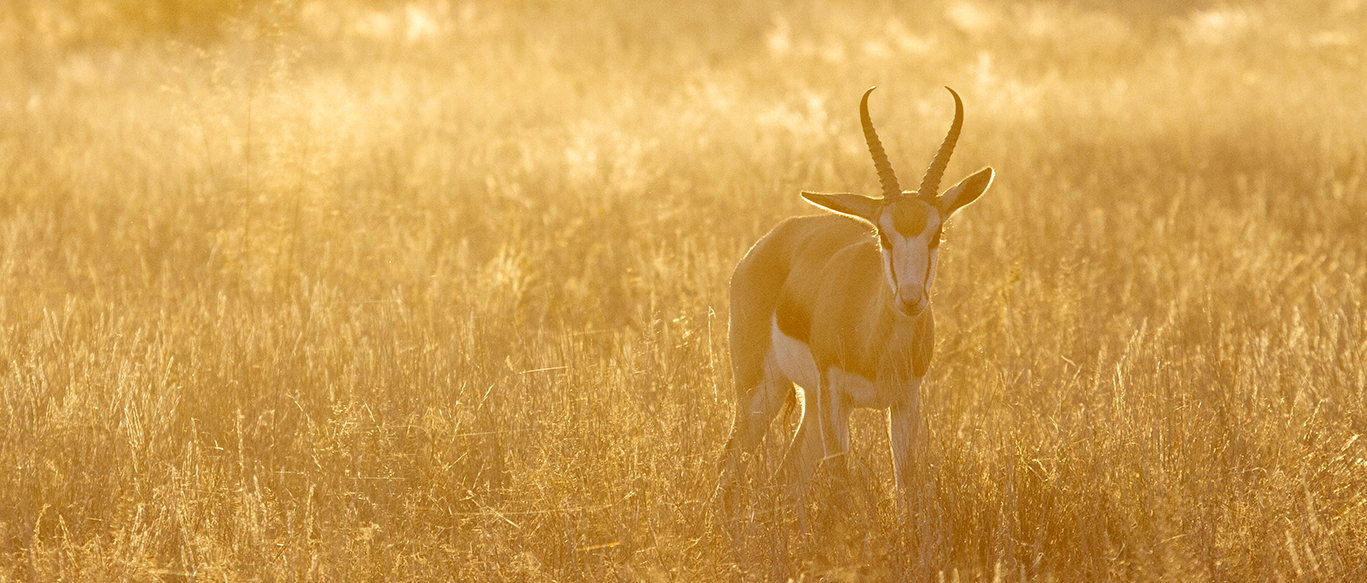 Are you ready for the trip of a lifetime?
If you're thinking of planning a trip, we're here to help! Our team of travel designers will create an itinerary just for you to create memories to last a lifetime and conquer your bucket list. Get in touch with us today to start planning your adventure in Africa.
*Please understand that although the malaria risk statuses were taken from the respective sites. Please consult your local doctor on what they believe will be best for your family at the time of travel.*
Follow us on Instagram