As Africa's most sparsely populated country, Namibia's human to wildlife ratio is unique and awe-inspiring. This pocket of paradise features sprawling deserts, diversified wildlife, and opportunities aplenty to explore its undeniable, natural beauty. Fortunately, Namibia is not crowded or touristy, and is both drier and more pleasant compared to its more eastern counterparts, receiving only a fraction of the rainfall.
January
January falls in the middle of the summer season in Namibia and as such, is characterized by sunny and clear mornings, hot daytime temperatures, and a chance of afternoon rainfall or thunderstorms. During this period, clusters of flamingos form around lagoons near Swakopmund and calving season begins, wherein many herbivores, such as zebra and springbok, give birth. Wildlife viewing is more difficult on vehicle safaris because of how they scatter across the reserves and parks. Moreover, mosquitoes can be a bit pesky during this period, so be sure to bring repellant.
February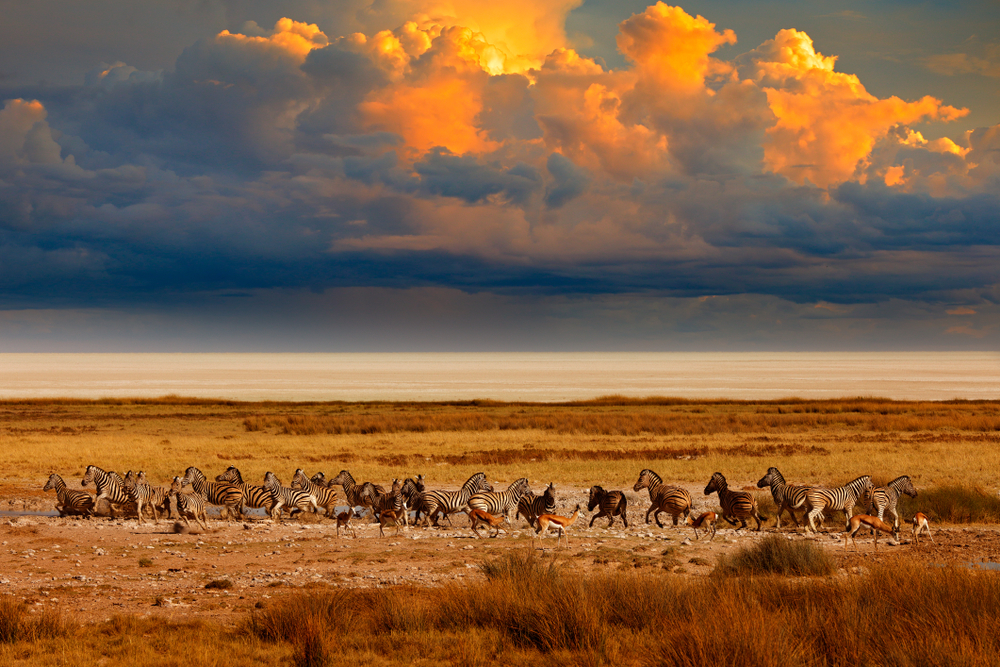 Although it is very often Namibia's wettest month, February proves to be a grand opportunity for the brave traveler. The availability at properties is generally good and rates can be a bit lower. In one of Namibia's most iconic and strikingly beautiful dune regions, known as Sossusvlei, Cape fox and meerkats can be spotted. Moreover, bird lovers can delight at the impressive migration that unfolds before them, and admire the 450 bird species located in the Caprivi Strip. Due to abundant rainfall, boating safaris are available on the Kunene River when water levels rise dramatically each year. Average temperatures range from 61 degrees Fahrenheit at night and 86 degrees Fahrenheit during the day, so with ample waterproof gear, February can be an ideal time to visit Namibia.
Transition Period: May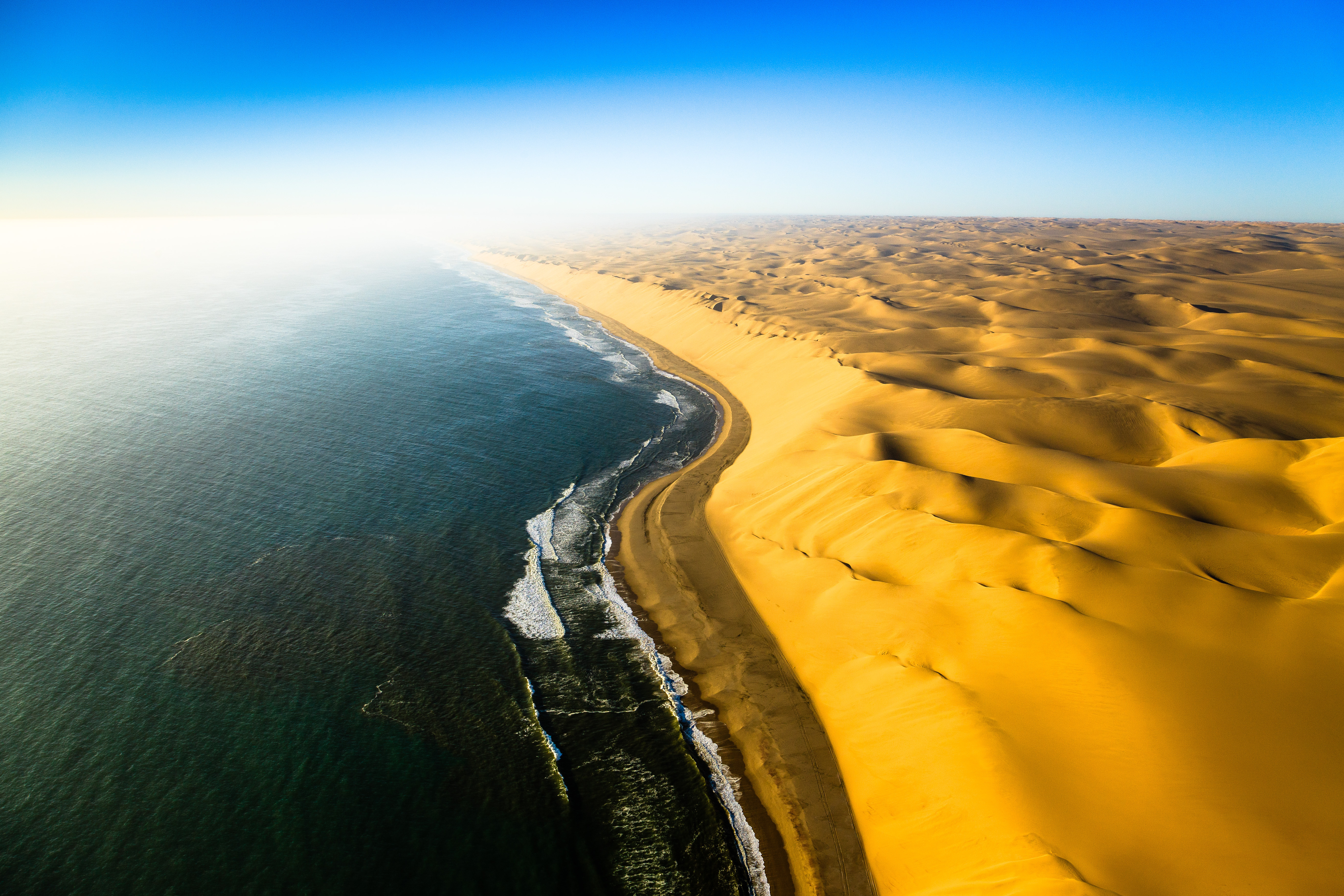 Characterized by lush landscapes after heavy summer rainfall, May lies on the cusp of the transition into dry season in Namibia, and as water sources and parks dry up, chances to view wildlife increase tenfold. It is a popular time to visit the Skeleton Coast, with the chance to see huge dune fields, seal colonies and shipwrecks that dot the coastline. Daytime temperatures hover at a pleasant 77 degrees Fahrenheit, while nighttime gets chilly, averaging 48 degrees Fahrenheit. Because it's shoulder season, generally rates and availability are both good.
Peak Season: June through October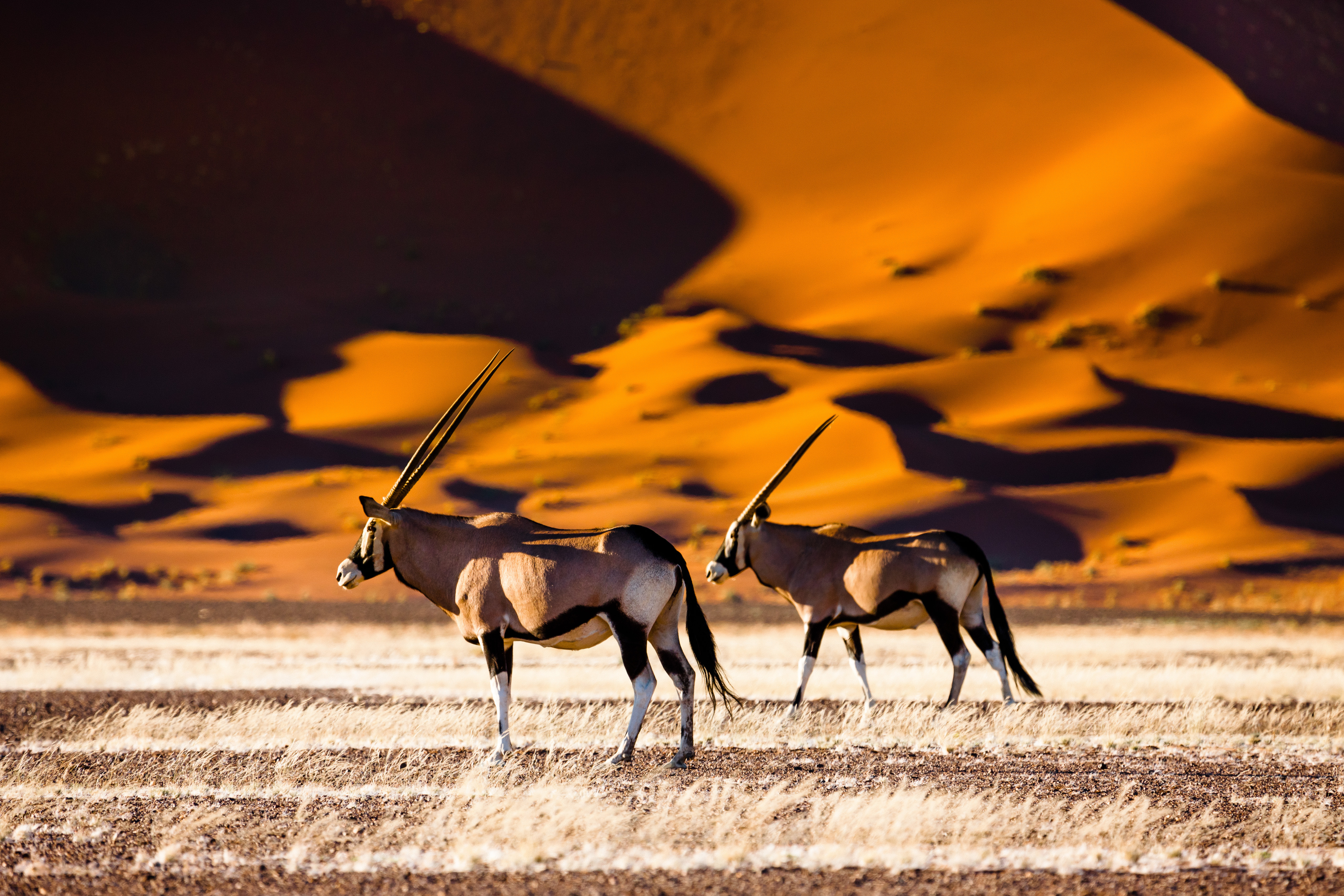 June through October is most ideal for visiting and going on safari in Namibia. With clear blue skies and pleasant temperatures, June is the official start of the dry season. As wildlife begins to congregate around sparse water sources, there are many opportunities to photograph them in their natural habitat. Additionally, stargazing is exceptional in Namibia in particular, and is home to one of two dark sky reserves worldwide.
With a significant lack of rainfall in July and August, animals continue to congregate around dying plant life, creating incredible visibility for both vehicle and walking safaris. Etosha National Park is a top safari destination in July, with a chance to see elephant, rhino, giraffe, wildebeest, zebra, ostrich, and more. Although daytime temperatures are comfortable, desert regions can drop below freezing at night, so it's recommended that travelers bring layers.
Come October, conditions are ideal for trips to the coast, wherein travelers may partake in whale watching and dolphin cruises. Moreover, lions are frequently seen during this time and visitors have access to all regions due to pristine and favorable weather.
Shoulder Season: November and December
As Namibia transitions back into wet season, November's weather can be somewhat variable. However, there is no shortage of wildlife viewing, presenting visitors with a chance to see desert elephant and rhino in riverbeds throughout Damaraland and Twyfelfontein, and flocks of flamingo in Walvis Bay.
Conclusion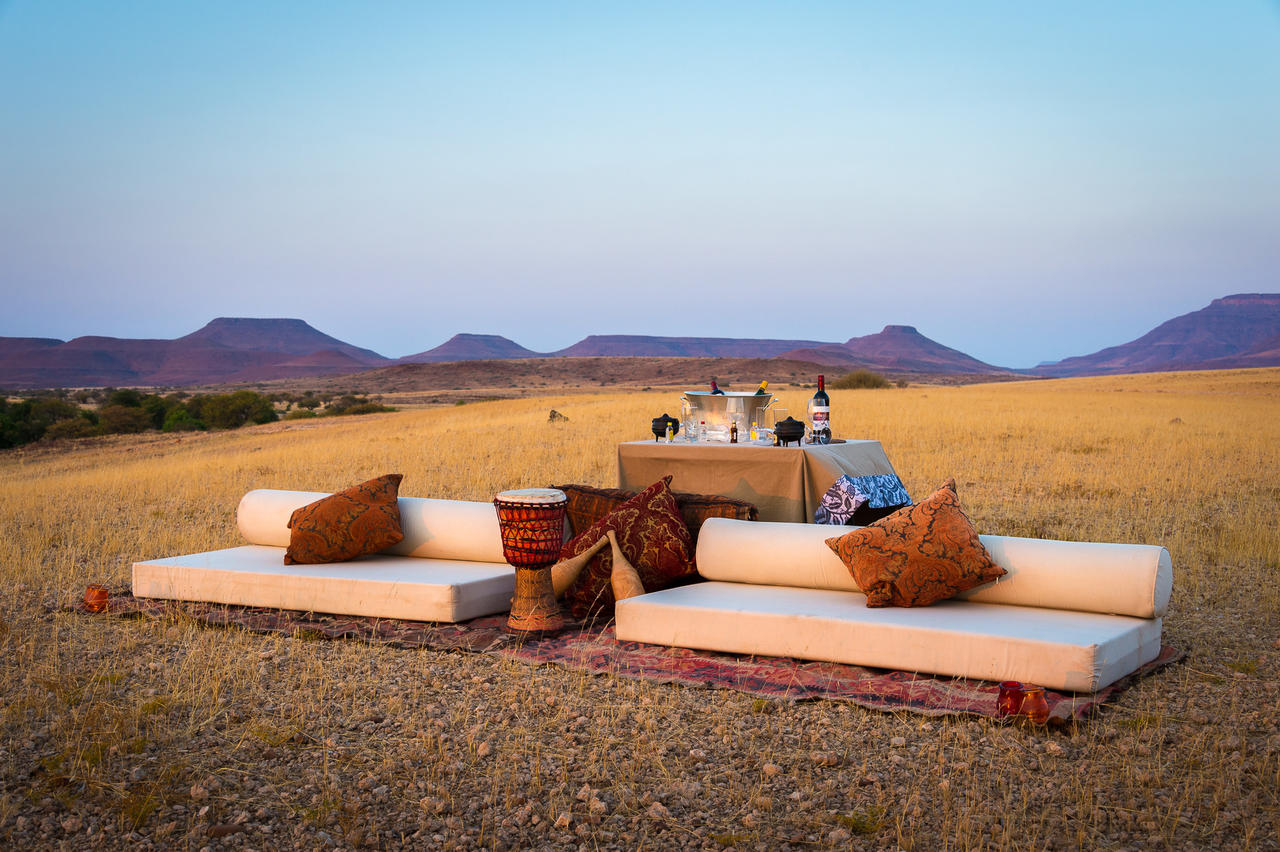 Home to some of the world's most spectacular landscapes, Namibia should be on every traveler's radar. This special destination boasts handsome shorelines, staggering dunes, and expansive salt pans, not to mention several impressive species of wildlife. In addition to a pleasant climate and favorable temperatures, Namibia is a year-round destination and offers travelers a thrilling adventure in many forms.
Start Planning Your Dream Trip
Reach out and let's start talking. We'll listen and begin to tailor an experiential, private, luxury vacation based on exactly how you want to experience Africa. From adventure to relaxation—and everything in between—let us handle every detail of your unforgettable journey.