Welcome back to the Ubuntu Travel blog for a new and exciting series! With borders in Africa open and leisure travel now declared safe for vaccinated travelers by the CDC, we're excited to see more clients boarding their flight to Africa this month. And what better way to kick off this new "real travel safari stories" series than with the greatest news of all: our first engagement for 2021!
We sat down with Fatih and Jorien, clients who made their way to Tanzania last month. But of course this wasn't just any adventure – it was the trip of a lifetime. Especially for Jorien who was about to receive a marriage proposal (and was totally unaware!) Here's more about their trip.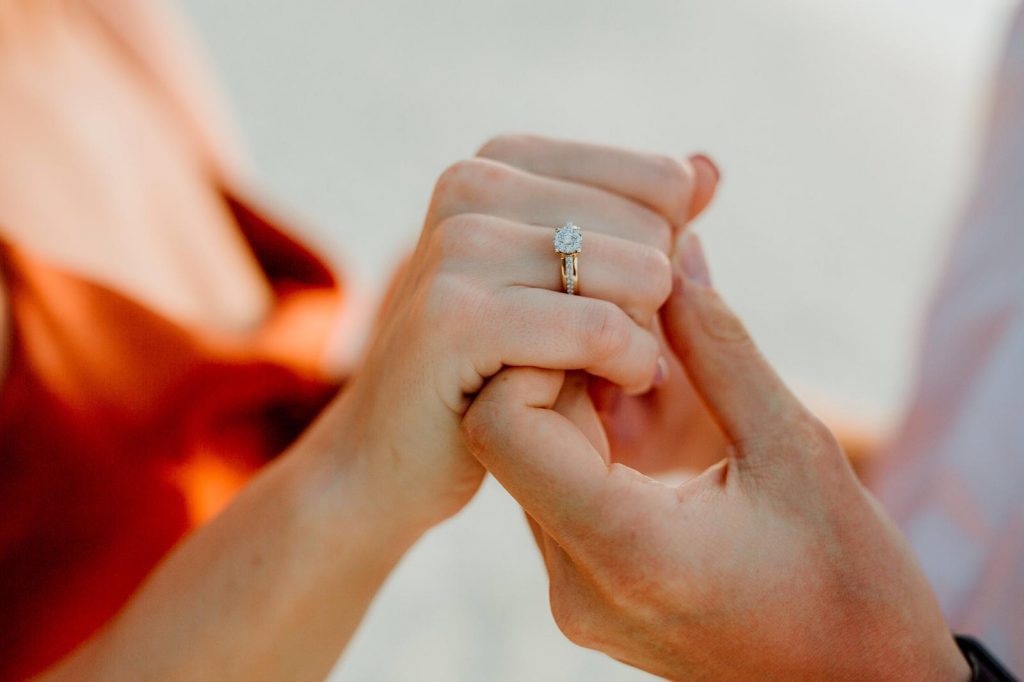 1. Firstly, congratulations! We'd love to know if Jorien had any clue the engagement would take place on this trip?
Thank you so much! She was absolutely clueless. We had talked about marriage before our trip, but we wanted to be able to hug and dance with everyone at our wedding, which would not be possible with the pandemic going on. She thought it was going to be a long long while before he'd even think to pop the question. In hindsight, there were many many clues (mainly because Fatih was so very nervous), but Jorien did not connect the dots until Fatih got on one knee!
2. When you think back to the proposal, what is that memory like? Were there any sounds, smells or sights that really stand out? Describe the setting for us!
The proposal was perfectly planned! A day before, we got a text from the co-founder of Ubuntu Travel, Leah. She said they had coordinated a sundowner happy hour and dinner on the beach for us the next night, to thank us for letting them plan our trip. Little did Jorien know, this was all part of Fatih's plan and Leah was in on it! That evening, Fatih told Jorien to put on her best dress so "they could take some nice pictures to send to Leah and Kyle". Jorien believed every word, so she did! When we arrived at the beach, the sun was just starting to go down. Still, you could feel the sun warm your skin and the sand still felt warm to your feet. It was a bit windy, so you could hear the DJ playing some relaxed tunes further down the beach. A path of candles and pink flowers in the sand led us to a private area. A white curtain roofed a set dinner table for two, underneath the palm trees on the beach. There, a waiter led us to a bohemian carpet with cushions by the sea. A perfect romantic set up for just the two of us. Then "by coincidence" a photographer came up to us and asked if he could take pictures of us for the hotel. Jorien was unsure since she's not usually into that. But Fatih knew very well if he was up for it, she would follow along. And so they got up to pose, and the photographer took a few pictures and then asked Jorien to come forward a bit. While she moved forward to pose, Fatih walked behind as if he were going to stand with her. She waited, still clueless. The photographer asked her to turn around. When she did, she saw Fatih was down on one knee, with a ring in his hand, struggling to find the words. Need tissues yet? Of course, she said yes!
3. After your engagement, what was your dinner like that evening, or was it completely a blur in all of the excitement!?
It was perfect! Romantic lighting, great wine, the best food (plus a big shiny ring on Jorien's finger)… Couldn't ask for more. We had seven courses, with a variety of dishes. Usually, seafood is not much of our liking, but this was amazing! We do have to admit that it seemed our bellies were already filled with butterflies and excitement, so we couldn't eat it all…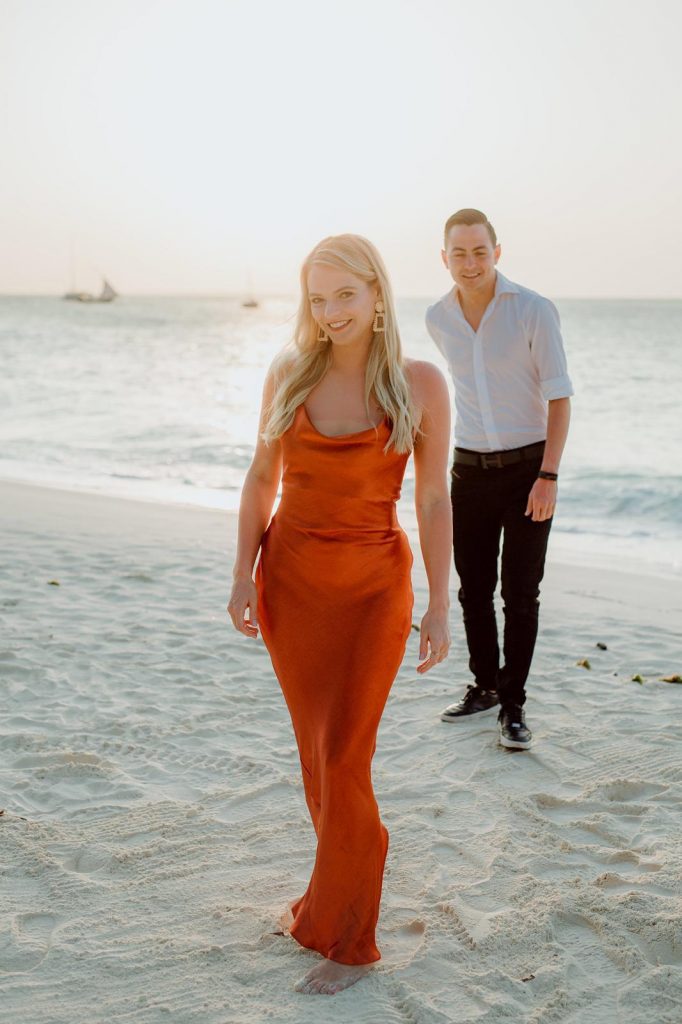 4. For the rest of your trip, what was your preferred lodge? Was there one that stood out that you will tell all your friends about?
Asilia Olakira
and
Zuri at Zanzibar
were perfect. We thought it couldn't get any better, but then we went to
Mnemba Island
. Mnemba is straight out of a dream. Loved the peace and quiet, the privacy, the whitest beach and most amazing reefs we've ever seen… We will definitely go back to that paradise, no doubt about that!
5. What was your favorite activity at Mnemba Island? Did you go on the kayaks, stand-up paddleboards, snorkel or just enjoy island life?
Our favorite activity by far was the diving. Our guide really took his time for us, to make sure we were relaxed and having fun. We have never seen such beautiful reefs and that many fish before! As a lover of the Finding Nemo movie, Jorien was thrilled to see actual clownfish popping in and out of an anemone. Also, the sundown on a traditional Tanzanian sailboat was amazing. Sadly we were only on the island for two days, so we didn't get to experience everything the island had to offer. We would definitely like to explore more of the reefs around the island, go on kayaks or paddleboards, see the sea turtles and enjoy the island life a bit more!
6. Were you nervous about traveling during covid-19? What made you feel safe?
As a healthcare worker, Jorien had her doubts. What made us feel safe was the info the Ubuntu Travel team gave us upfront about the safety measures that would be taken. We had to get tested a few times too. When we arrived in Tanzania, all the guides, drivers, hotel staff, etc. took all the measures necessary (face masks, hand sanitizers, social distancing, and measuring our temperature upon entering). That made us feel safe. Plus, we were outside in fresh air practically all of the time.
7. What are your best tips for travelers going away during covid-19? Was there a helpful tip for what to pack on the plane or any way to settle the nerves?
Our best tip would be to check and plan upfront what the airports (you're flying to and from) and airlines demand when it comes to the measures. We needed proof of several tests to go back with KLM to Schiphol Airport, that same rule applied for travelers who only had a layover at Schiphol. So make sure you know what you need, as well as when and where to get tests beforehand. Working with Ubuntu Travel made this very easy, and we were prepared in advance. To pack on the plane: if you're in for a long flight, bring multiple face masks! You're gonna want to switch to a fresh one.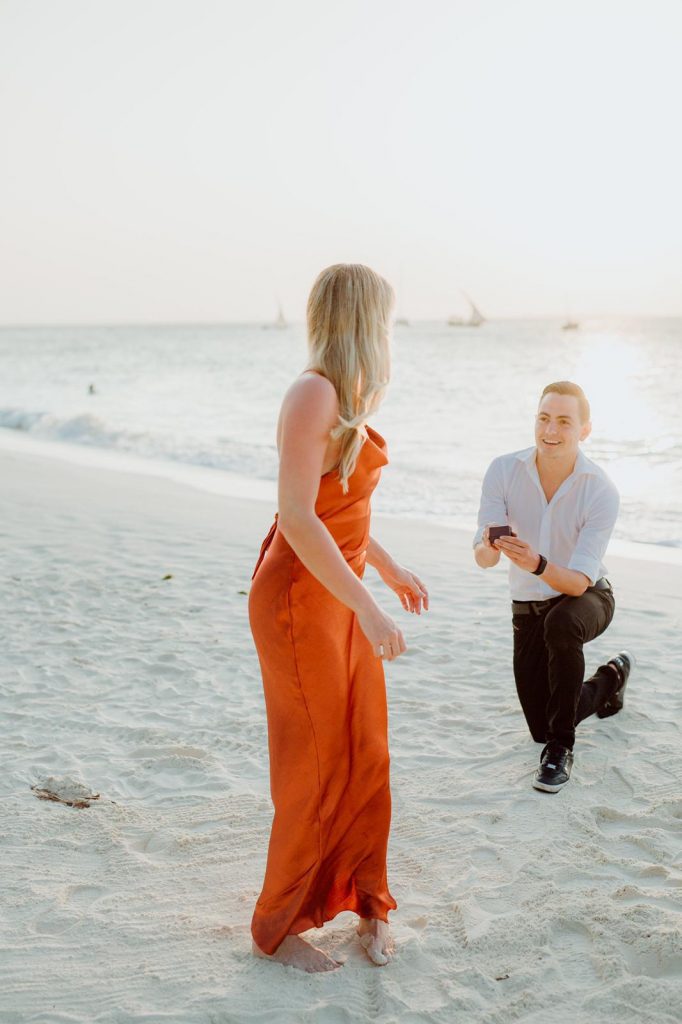 8. Before traveling to Africa, what were you most excited to see on your safari (which animal)?
This was actually our first safari ever, and our first trip to Africa! So, we were excited about any animal we saw! But we definitely wanted to see some lions. We both love big cats and couldn't believe how close you got to them in the wild. Safari was more exciting than we could have imagined!
9. Which animal was *actually* most exciting to see in real life?
For Fatih, the most exciting animal to see was a shy leopard. Every time a car came near, she'd run and hide. We were lucky to spot her while she climbed out of a tree she was sleeping in. It was such a beautiful sight and we took some great pictures. To Jorien, it was the cheetah looking for food. We followed her for some time and she was very interesting to watch her hunt. Sadly, it was not her lucky day. Since she had no nearby targets, she had to give up and sleep to save up strength for the next hunt. But for us, we got some beautiful pictures and learned a lot by observing her.
10. When you slept under the stars, what was going through your mind? Were you nervous or excited?
When we were told we could sleep under the stars, we were both very excited. It was a full moon so we didn't see many stars, but that beautiful moonlight made up for it. The sounds of the African birds and crickets were really soothing! While Fatih slept like a baby, Jorien had some trouble the first night. At every new sound, she thought: "Oh dear, is that a hyena?" Not the most helpful thought when you try to sleep! Early the next morning, there was a soft sound, it sounded like it had started raining. When we looked up, we realized there was a giant giraffe eating from the tree right beside our tent! Now there's an alarm clock you don't get every day!
11. If you go to a dinner party now and are asked about your trip, what are the three memories from your trip that stand out the most?
Can we only name three?! First, that perfectly planned proposal, of course. We owe Leah and Kyle from Ubuntu Travel a major thanks for helping out with that! That ring on Jorien's finger is not only a symbol of our love, it's also a beautiful reminder of our epic African adventure.
Secondly, to see all the beautiful wildlife at Ngorongoro National Park. Our great guide and friend from Asilia Africa, Gerald, went out of his way to give us the best experience. We were lucky to see all the wildlife we wanted to see, but that was also because of his efforts! We can't wait to go on safari again!
Thirdly the dive at Mnemba where we got to swim with thousands of fish, followed by the super romantic dinner in the sand!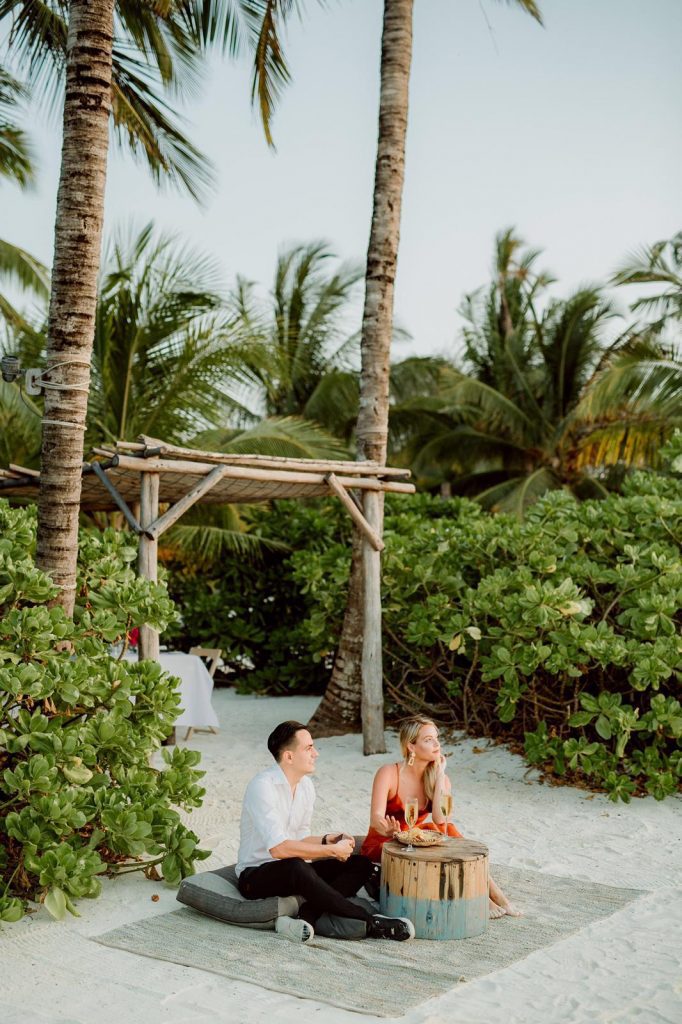 12. What are your friends/family reactions to your epic adventure in Africa?
Our friends and family are amazed. "It's straight out of a movie" and "Wow, I had no idea you could get so close to the wildlife!" are much-heard reactions. Some admit they were jealous, too! All the more reasons they should go on an African Adventure themselves!
13. If you go back to Africa, which countries/experiences are on your bucketlist?
You mean WHEN we go back? Glad you asked! So many things we want to see and do! And since we had the best first experience, we will definitely turn to Ubuntu Travel again for planning our trip. Gorilla tracking in Rwanda, seeing the elephants and rhinos in Tanzania, sharing food at Giraffe Manor in Kenya, South Africa, spot the lemurs in Madagascar… All on our bucket list. Africa, you have not seen the last of Mr and Mrs-to-be Tura!
Are you ready for the trip of a lifetime?
If you're thinking of planning a trip, we're here to help! Our team of travel designers will create an itinerary just for you to create memories to last a lifetime and conquer your bucket list. Get in touch with us today to start planning your adventure in Africa.
Follow us on Instagram