Welcome back to the Ubuntu Travel blog for our real travel safari stories. Today we're sharing with you the adventures of Trish and Grant, a couple who recently traveled with us to a number of lodges in East Africa for their honeymoon. We're excited to highlight some of our clients' trips to help inspire your own adventures, and keep you informed on what to expect for your first time on safari.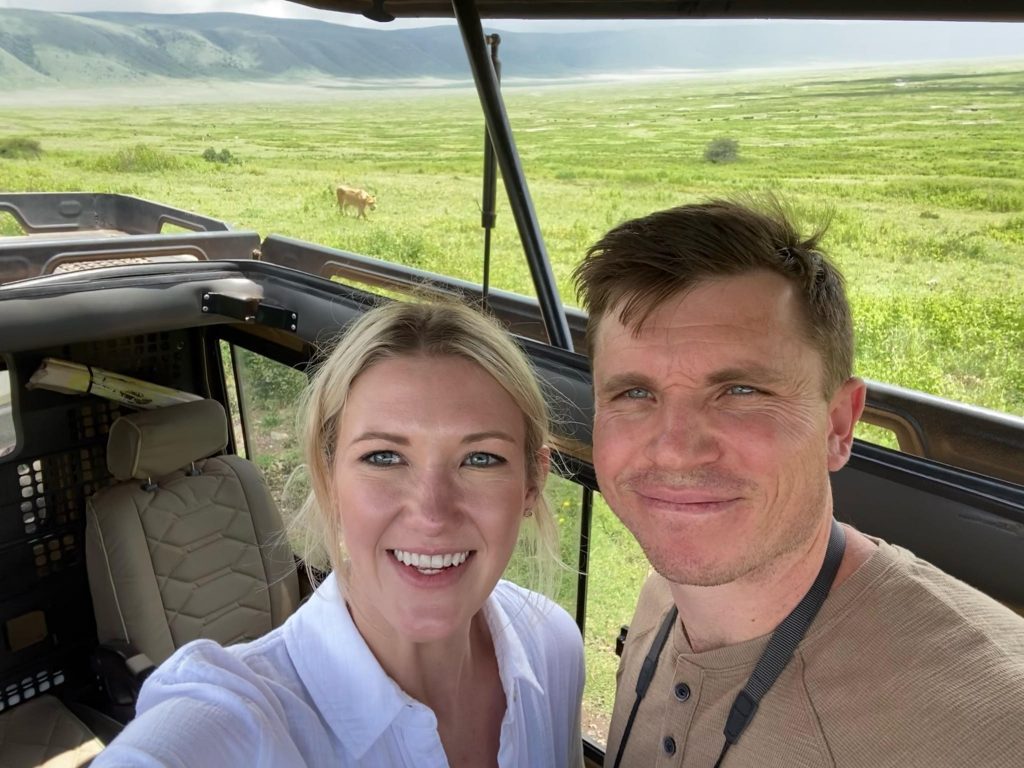 1. What was your initial gut reaction when you decided to take the plunge and travel to Africa?
T: We'd always tossed around Africa as a dream vacation spot, like many people. Over the years it had become our consistent answer to the conversation topic about where you would go, "if you could go anywhere in the world…"
With the demands of our careers, we recognized that our Honeymoon would be a rare opportunity for us to take an extended amount of time off work so we were adamant that we make it count. Of all the places we've dreamed of visiting, it was clear that Africa offered the perfect balance of adventure and relaxation, with the added touch of dreamy luxury that's essential to a honeymoon or special occasion trip!
We were still concerned that we might not be able pull off planning this trip in a way that would meet our ridiculously-high expectations …. While managing completely full plates between our jobs, moving into a new house, and wedding planning (and re-planning … #covid).
After our discovery call with Ubuntu, we were relieved, encouraged, and ecstatic to realize that, not only would it be financially feasible to hire these experts to help us, but that we could essentially be as involved or uninvolved in itinerary development as we wanted.
As a planner and detail-lover myself, I at first would task the Ubuntu team with taking us through all the options, describing all the little details, possible add-ons, etc. As the wedding planning became more chaotic, we quickly found ourselves stretched to the max and at times practically punted all decision making to Ubuntu. During this time, it was beyond invaluable to know that our trip was in such good hands, being perfectly custom-crafted to meet our budget and dream expectations, at no additional stress to us!
2. When you paid the deposit and locked it in, what was running through your mind?
G: A lot of excitement as we were going to embark on an adventure of a lifetime
T: Like many people, I've always been fascinated by the breathtaking pictures of luxurious destinations I stumble upon in my social media feeds. But for me, this feeling was typically accompanied by a tinge of bitterness, having discovered yet another paradise that I would probably never get to visit.
Once we officially booked, I allowed myself to indulge in internet rabbit holes; following @Ubuntu and a variety of other African travel-inspired accounts.
Suddenly, an adventure like this wasn't just attainable, it was actually happening! I was no longer conflicted about dreamy travel content. I was excited, inspired, and curious!
3. How long before our trip did you start packing your bag(s)?
G: About 7 days for me.
T: It's funny how early you start shopping and packing for a trip when you're so excited about it!
We'd been collecting things here and there for a couple of months– like a backpack, wide-brimmed hat, light rain coat, etc. About 3 weeks before the trip was the first time we laid out everything we had and took inventory of what we still needed.
We'd make a couple of trips throughout the week, after work, to Target or REI, etc., but were most productive with packing on the weekends.
The trip gave us a great excuse to have facetime catch-up dates with a few friends that had been to Africa in recent years. Knowing that we were going to be taking a similar trip, it was so much fun hearing their stories and their recommendations for what to take!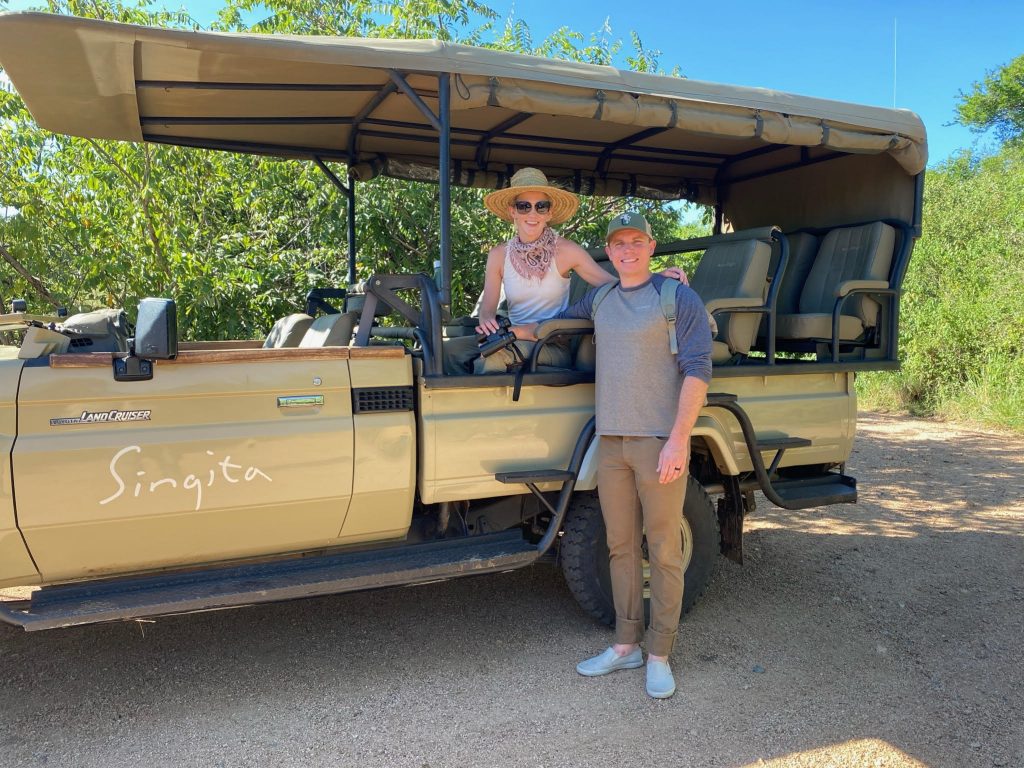 4. Is there anything you forgot to take on your safari?
G: A specific bug spray for the tsetse flies
T: Nope! The packing recommendations from Ubuntu were spot on. The only thing I wish I'd done sooner was double check my iphone storage before we arrived.
We underestimated how great our iPhone camera's quality actually would prove to be. Our guide showed us a little trick for pairing our iPhone lens to a set of binoculars, which resulted in using our iPhones much more than even our big camera.
One day on Safari I suddenly got a notification that I'd run out of space so I found myself scrambling to delete old videos and pictures to quickly get back to capturing the incredible safari experience! Next time, I'll be sure to check the memory space available on my phone well before the trip!
5. When you landed in Africa for the first moment, what was running through your minds?
G: We landed in Nairobi with the sun coming up in the east. It was surreal to know we were seeing a sunrise for the first time in Africa, the place where humanity started 300,000 years ago. The monotony of our day-to-day can make life feel so small and us; inconsequential. Landing in Africa brought a sensation I hadn't felt before. I felt this connectedness in knowing that we all share the same ancestors. And we had just landed in this place that gave us our beginning.
6. When you arrived at your first lodge what was the welcome reception like?
T: Immediately upon driving into the gated property of Arusha Coffee Lodge, we felt like we were being transported into someplace other-worldly.
Because of some unexpected flight delays, we got to the lodge a few hours later than originally planned and were pretty exhausted. Our spirits instantly lifted as we pulled up to this beautifully ornate garden where staff greeted us with friendly, smiling faces; eager to assist with our luggage as we unloaded from the SUV.
We were served delicious iced coffee from the grounds while checking in with a delightful woman, whose name literally translated to Happiness in English!
Afterwards we were escorted through the property to our lodge – all the while exchanging subtle looks of awe and disbelief to each other as we took in the exquisite beauty of the property and the architecture of the lodges.
We were shocked to learn that both the chef and waiter had stayed after hours to serve us and despite sitting down at 10pm to start eating, they insisted we not rush through dinner. It was exactly the kind of thoughtful customer service we needed after two long travel days and we were so appreciative of their flexibility!
7. What was the most exciting part of the days for you?
Definitely game drives, but after the first couple of full-day drives, we started making a concerted effort to spend time enjoying the lodge amenities when we could break up the day; often indulging in reading by the pool, afternoon chess, a bubble bath, or even scheduling a massage.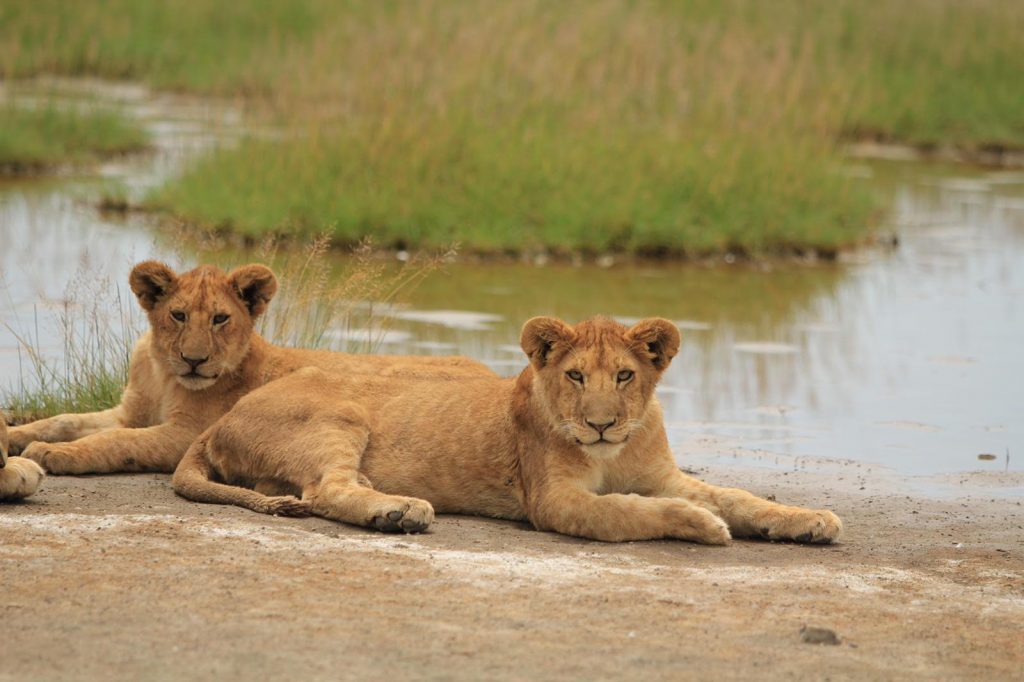 8. Did you prefer morning game drives or evening drives?
G: Each offer a slightly different experience. I am a morning person and love the feeling of being outside as the run rises and everything is so quiet. But the majority of our drives concluded at the evening which I absolutely loved. Big fan of the sunset cocktail hours.
T: Morning game drive, a mid-day nap and pool session, followed by a quickie sunset game drive and cocktail became my ideal recipe for the day!
9. What was the most memorable meal of your trip?
G: Really, really tough to pick just one. I'd have to say our last dinner at Singita Faru Faru was the best food we had. But the most memorable is a two way tie: (1) a dinner we had at Gibb's Farm where we sat at isolated table surrounded by the lush trees and plants and (2) was our last dinner at &Beyond Under Canvas where we had a private dinner in a tent
10. Did you have any special safari drinks you'll try to recreate back at home?
G: Will definitely get on the gin & tonic wagon now
T: We made it a point to try any and all signature drinks we stumbled upon. I was pleasantly surprised by my newly discovered taste for the gin-based cocktails, but my favorite drinks were ones where they blended locally grown fruits like rhubarb and pear.
11. What was your favourite lodge (and you must pick one!)
G: &Beyond Under Canvas; such an incredible experience
T: Based on our discovery conversations, Ubuntu crafted an itinerary of five different locations throughout the trip; each with an enchanting charm that was unique from one to the next. While my husband and I generally share the same travel preferences, we each find delight in different specifics when it comes to accommodations: I tended to gush over the places with outdoor showers, delicious coffee and stellar views. My husband's approval came with the best food, most comfortable beds and a location convenient to any planned activities.
Recounting the exquisite details that stood out to us about each place became an ongoing topic of discussion throughout the trip. One thing they all had in common was excellent customer service, going above and beyond with things like cleanliness, turn-down service and daily laundering. Neither of us anticipated we'd leave tented camp with shoes that were cleaner than when we'd arrived!
In terms of the Best All-around, I would say the & Beyond Tented camp was the lodge that left biggest impact on us. In just two short days we had our most thrilling game drives and built relationships with the staff that left us feeling much more like old friends than guests. They made each moment of our time at the property exceptional: from romantic dinner setups, to late night stargazing tours, and event performing a Swahili song and dance for Grants Birthday! It was also during this stay where we did the Balloon Safari on a hot air balloon at sunrise; a birthday gift Ubuntu helped me setup as a secret surprise for Grant for his birthday! And wow, that was absolutely incredible.
At the end of one of our game drives through the Serengeti plains, we pulled over in the gorge to watch the sunset. I suddenly became overwhelmed by the profoundness of this moment; realizing that we were the only people for miles, yet we were completely surrounded by an abundance of life in all its forms. I felt connected to our world more than ever before … or maybe even for the first time. It was heavy and beautiful and life-changing.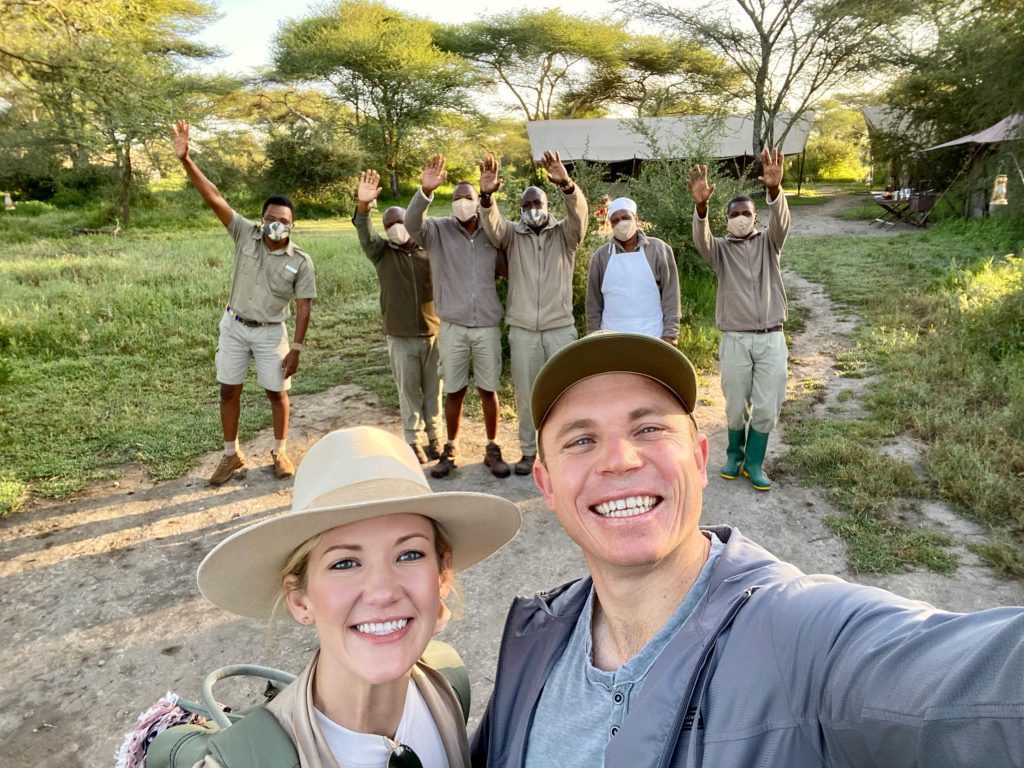 12. Was it hard saying goodbye to the staff? Anyone in particular who really made your trip?
G: There might had been a few tears shed as we left the &Beyond Camp. People talk about a "priceless" experience. Our stay at the &Beyond Under Canvas was one of the greatest experiences of our lives. We cannot begin to describe how appreciative we are for the people we met at the camp. And we cannot put a dollar amount on the experience and how much it meant to us. We were only there for two nights, but in that time we felt connected to the people. Andrew, John, Nuru, Ivan & everyone made us feel like family while on the other side of the planet. The setting, the scenery, the animals are all incredible. And we are beyond lucky to have spent that time in the Serengeti. The personal connection with the people is what made it an experience we will cherish forever. We can only hope we can meet our friends again in Tanzania.
T: Yes. Tearing up just thinking about it.
13. If you traveled back to Africa, would you return to the same countries or go somewhere new?
G: As much as we'd love to go to Tanzania again, we'd like to explore new countries. South Africa is at the top of the list. Followed by Kenya, Rwanda & Botswana
T: We often toss around the idea of returning to these lodges one day, perhaps with family or friends, as they were truly exquisite and the staff will forever hold a special place in our hearts!