Written by Co-Founder: Leah Green
Botswana has always been one of my favorite places to visit in Africa. The unique experiences from our trip this past July reinforced exactly why it is a must-see destination for anyone looking for adventure in the bush. When I think of Botswana, I think of remote untouched wilderness, off-the-beaten-path luxury, and exciting wildlife encounters at every turn. If you're interested in learning what makes Botswana such a special place, here are 7 highlights from our recent trip that'll have you ready to book your next visit!
1. Authentic Moments with the Zu/'hoasi 
Outside of the wildlife and beautiful landscapes, what truly makes Africa so special are the people who live there. I'll jump at any opportunity to authentically connect with local Africans, as my fondest travel memories are made up of these moments. At Jack's Camp in the Kalahari, we had the opportunity to spend the morning walking with a local tribe of Zu/'hoasi Bushmen. July is the peak of winter, and we all shared a chuckle as Kyle and I joined the group bundled up with layers of clothes and mittens, and the Bushmen proudly met us in their traditional attire made of animal hides. We shared even more laughs while attempting to participate in their version of 'Rock-Paper-Scissors' and truly enjoyed eachothers company. Learning about their daily lives, the natural resources they rely on, and how they sustain themselves was truly enlightening.
2. Denning Wild Dogs 
If you've been on safari, you'll know that some animals live a slower lifestyle and are easier to view. Some are not. The African wild dog is always on the move, and can be tough to track and keep up with. These fast paced predators are fascinating to watch if you catch them before a hunt, or while they are at rest. As highly endangered as they are, their numbers are very strong in Botswana, while they are virtually non-existent in East Africa. Lucky for us, many packs in the area were denning with litters of young puppies, so the animals hunted and remained in a certain area over an extended period of time. What a gift it is to know where a wild dog's den is – for nothing is sweeter than a pack of playful pups. Throughout our trip, we had the chance to see three different dens and view these magnificent animals up close.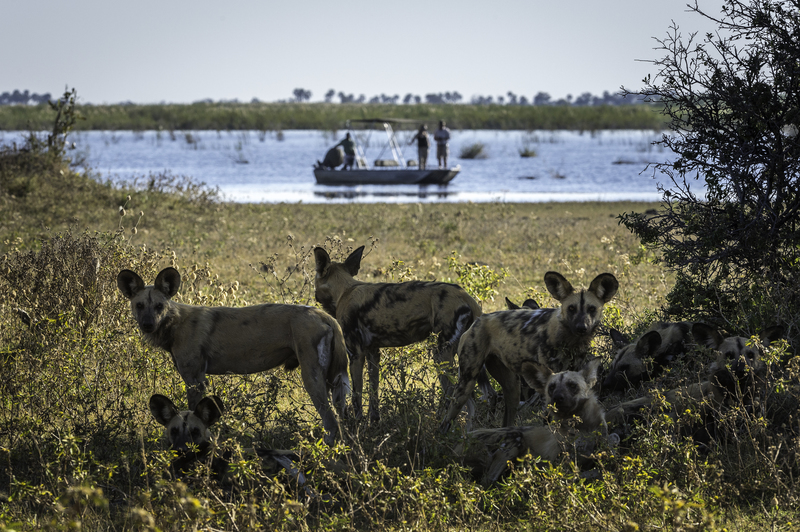 3. Delta Views from the Sky
When you think of the Okavango Delta, stunning water ways are what immediately come to mind. We had the chance to skip our bush flight and travel by helicopter from one lodge to the next, and it was truly something special. The sheer size of the Delta and its meandering waterways is hard to comprehend until you see it from the sky. The aerial views allowed us to see the big picture, as well as the small details that make it such a unique ecosystem. A highlight for me was watching a distant lagoon speckled with grey dots become a herd of 30 elephants, splashing and playing in the water. It is easy to get caught up while you're on vacation, and this special experience allowed us to slow down and appreciate the beauty of the Botswana. 
4. Fine Dining in the Bush
A safari schedule is full of food. Don't get me wrong – I NEVER miss a meal on safari.  Lodges always provide delicious snacks for every occasion, incredible menus with traditional flavors and plenty of cocktails to wash them all down. In recent years, we've seen some of the more luxurious lodges shifting away from their heavier menu items to lighter options. After a recent refurb, Duma Tau's lodge is not the only showstopper in town. The chef's fresh take on farm-to-table and sustainable dining was absolutely exquisite. Traveling while pregnant, it was no question that my 'healthy appetite' would follow me around, but I was truly wowed by the unique pairings and delicate flavors on the menu. The use of locally sourced produce, and superfoods like baobab and Kalahari truffles, were special additions to the menu. When you're still thinking about a meal three months later, that means something. 
5. Swimming Elephants and Snorkels
If you haven't seen it before, picturing an elephant swimming can be hard to do. I've been on safari more times than I can count, but until our recent visit to Linyanti, I had never actually seen elephants swimming. During this time of the year, elephants will cross back and forth in the deep channels, and it is not something you want to miss! As we jumped in our boat for an evening sundowner, we had the pleasure of watching a small herd of elephants cross. As they quickly reached the deeper water, their trunks went straight up in the air, until all you could see was a group of trunk-snorkels making their way to the other side of the channel. A young elephant was seen bouncing up and down, as neighboring adults gave it a generous push to help it along the way. This was such a special sighting and one that I will never forget. 
6. Face to Face with a Giant
During this same boating excursion, while I was still coming down from my swimming-elephant high, we took our time slowly cruising through the channels and taking in the scenic beauty. As the sun was setting, we came across a young male elephant, fully submerged and dining on the softened roots of water lilies. We were able to get within feet of this incredible animal, watching him twist and twirl the stems like spaghetti, vigorously shaking and rinsing the dirt from the roots before enjoying each bite. With eye contact at such close proximity, it really feels as if you're connecting with the wildlife. The quiet moments spent here were some of the most treasured of our entire trip.
7. Mokoros at Sunset
The thrill of an ongoing safari is so exciting, while moving from sighting to sighting to see Africa's incredible wildlife and large game. After a few weeks of zooming through the bush, we thoroughly enjoyed slowing things down for a change. A mokoro experience in the Delta is unique, in that your expectations are different when compared to what you typically hope to see in a safari vehicle. At water level in a traditional dugout canoe, time almost stands still. The shallow waterways are calm and peaceful, as your poler helps you glide along to the soundtrack of surrounding birds and frogs. There are so many tiny details of the bush that are often missed on a game drive, so taking time to observe and appreciate them is almost restorative. That afternoon we had the pleasure of Disco's company, the local poler who assisted in our mokoro experience, and handcrafted for us the most beautiful bouquet made from the Delta's finest florals.
8. Leopard in Camp
If you've read our last blog, you'll know all about Tladi the leopard, and his repeat appearances at Mombo Camp during our stay. I think it is safe to assume that you'll have some up-close animal viewing on any safari excursion, but having Tladi in camp on multiple occasions was the closest we've ever been to a big cat in the wild! For those who haven't read about our experience at Mombo, here are the cliff-notes: a curious male leopard, who called an empty camp his home during COVID lockdowns, met our safari vehicle as we pulled up to reception post-morning drive, as if he was greeting us from the main lobby. He casually strolled down the lodge entry, right passed our vehicle. He also made time to say goodbye our final morning, as he cruised through the dining room and out through the firepit in front of camp. Safari is all about Africa's magnificent wildlife, and this was an incredible reminder of how special the wild truly is.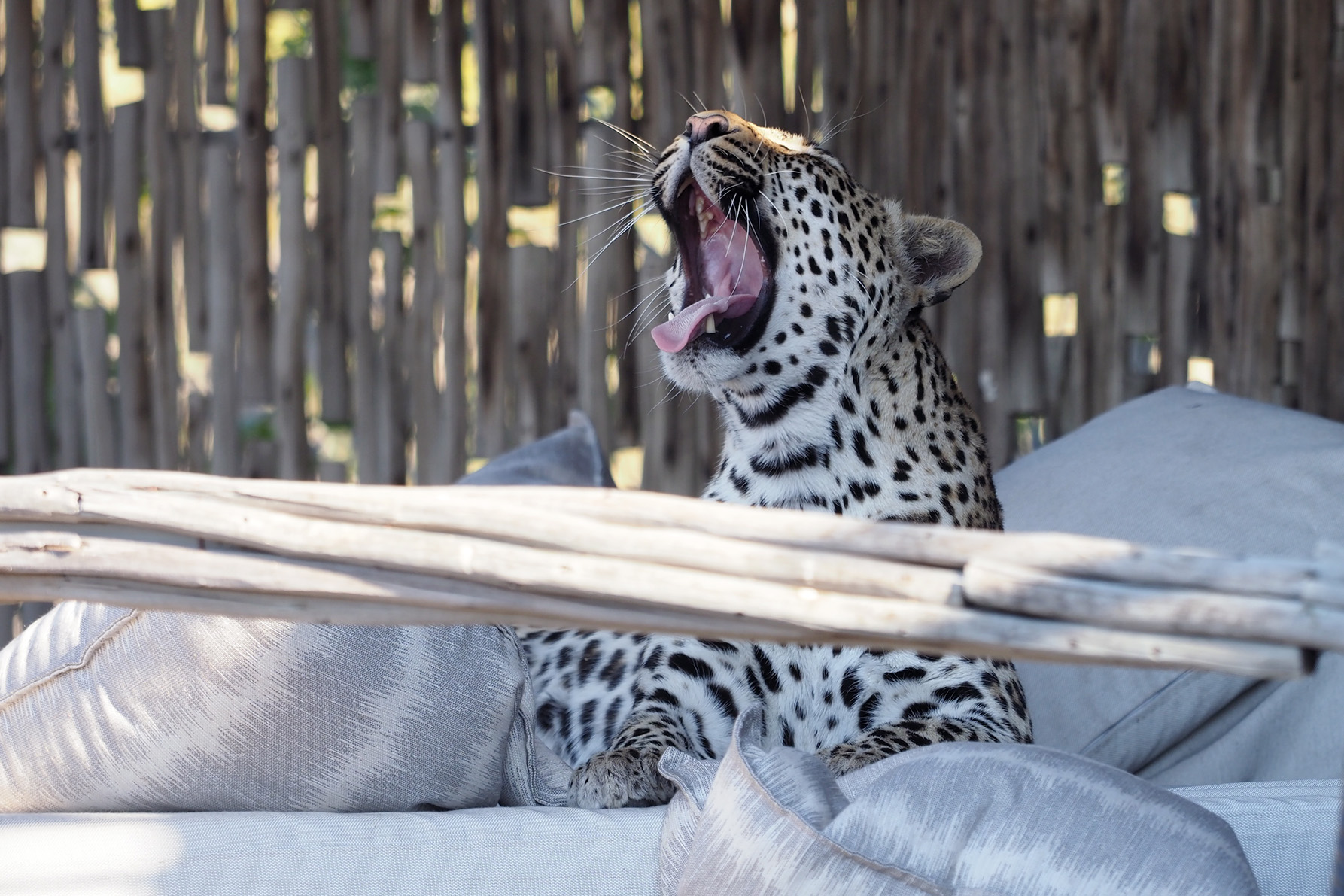 No two safari experiences are the same. And while we can't promise you'll have a leopard in camp during your next trip to Botswana, we can guarantee that you'll experience the best of Africa and will leave the continent with treasured memories to last a lifetime.
If you're thinking of planning a trip, we're here to help! Our team of travel designers will create an itinerary just for you to create memories to last a lifetime and conquer your bucket list. Get in touch with us today to start planning your adventure in Africa.
Follow us on Instagram