Africa is a very popular destination for honeymooners but not just for thrilling safari game drives and wildlife. There are several ways to experience an extraordinary honeymoon in the coastal islands of Africa. The perfect honeymoon combines adventure, unforgettable memories and relaxation, where worries melt away. We recommend an action-packed safari exploration to start, and a white sand beach coupled with clear blue seas to finish. Africa can bring you undeniable magic and memories with your new spouse, as some of the world's most stunning islands are located just off the African continent. 

1.  Mozambique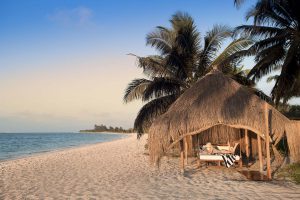 Although not a typical contender for many tourists, Mozambique is home to dazzling beaches, lavish islands, and features the breathtaking Bazaruto Archipelago.
Of its many attractions are world class-diving, Portuguese cuisine, and a lively night scene, making it a fun spot for those seeking an exceptional vacation. Other highlights include swimming with dolphins, whale sharks, turtles, and manta rays, peering out at humpbacks along the coast, or riding horses on the beach. Without a doubt, Mozambique is truly a special location and worthy of securing a spot on any newlywed's itinerary.
2.  Mauritius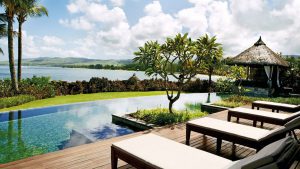 Mauritius is a year-round destination due to its impeccable warm and welcoming climate, and is often referred to as the "Pearl of the Indian Ocean". It features white sand beaches, beautiful lagoons, lush green landscapes and plant life, rich culture and numerous water and land-based activities. 
Visitors are invited to bring their appetites, as the cuisine is both diverse and delicious. For honeymooners seeking more action, Mauritius is a prime location for kitesurfing, scuba diving, windsurfing, or a romantic catamaran tour. Luxury and relaxation seamlessly blend into the culture of this island Eden. 
3.  Madagascar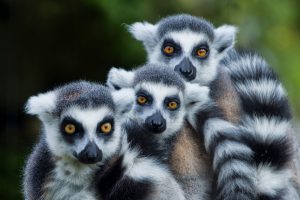 A remote island boasting beautiful Indian Ocean coastlines, Madagascar is a remarkable blend of Austronesian, African, Arab, and European culture and an important wildlife destination, especially for those looking to see lemurs. Sustainable luxury lodges and camps dot the land, while a whopping 200,000 species of flora and fauna populate the mountainside. 
Lemurs attract many visitors each year, and tourists commonly pay a visit to the mountainous and biodiverse rainforest of the Andasibe-Mantadia National Park, as well as the protected area of Anjajavy Reserve, where many of the leading efforts in sustainability take place. 
Madagascar presents the perfect opportunity to learn and be immersed in the culture, as well as be active within the local community. 
4.  Zanzibar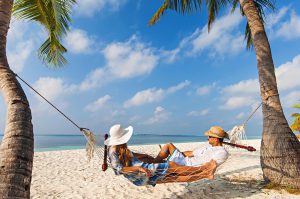 Zanzibar has climbed its way to the top of the ranks as a favorite island destination off the coast of Tanzania, especially paired with an exciting safari adventure. Its idyllic crystal blue waters and white powdered sands stretch for miles, making it a perfect destination for those wanting to get 'off the grid'.  
Touring the local Stone Town is a must-see, as well as tasting in the variety of magnificent flavors the local food scene offers. Snorkeling is a popular activity, as is scuba diving,  swimming with dolphins, watching sea turtles hatch on the beach, and other watersports like jet skiing and paragliding. Stunning private islands surround mainland Zanzibar, which can bring honeymooners an even more remote escape, as it can take less than an hour to walk the perimeter of some of these islands.
Warmly referred to as a beach paradise, Zanzibar is the perfect destination to experience as newlyweds, with just the right amount of adventure, quality and comfort. 
5.  São Tomé & Príncipe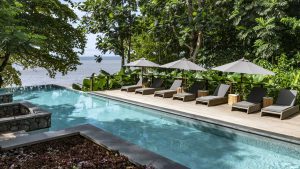 These islands off the west coast of Africa are two untouched — and virtually undiscovered — gems. With warm and welcoming locals, a brand new luxury eco-lodge, lush jungles and unspoiled beaches, the magic of these islands speak for itself. Birds chirp in the distance, while whales and turtles are visible from many secluded beaches. Definitely worth adding to any itinerary! 
6.  Seychelles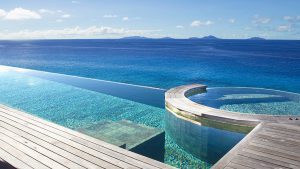 Seychelles is a blissful archipelago of over 100 coral and granite islands located directly east of mainland Africa. This stunning country has positioned itself as one of the best and most sought-after honeymoon destinations in the world.  
With a pleasant climate year-round, Praslin National Park located on Praslin Island is a popular spot, as well as Mahe Island, which hosts most of the population and features extensive cuisine and luxury accommodations. These private islands are quiet, peaceful, and oozing with romance. 
7.  Maldives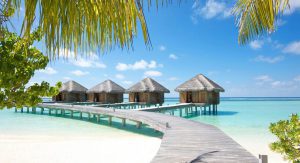 A relatively newer tourist spot, the Maldives have gained immense popularity as a top honeymoon spot in recent years, and for good reason. 
The islands offer incredible experiences to see glowing beaches beneath one's feet and is the perfect romantic backdrop for dinner and drinks on the beach. The Maldives underwater bungalows are also a hit, and there are opportunities aplenty for a relaxing spa experience with your spouse, all from the privacy of the numerous luxury accommodations guests have to choose from. For those seeking an adventurous twist, scuba diving and island-hopping are also available.  
While a bit farther away than most, it's well worth the trip and an absolute slice of paradise for newlyweds. 
Conclusion
There are ample opportunities to experience adventure and immense relaxation in the numerous island destinations Africa offers, and to simply unwind and enjoy life as a newlywed couple. Although each location boasts unique and memorable traits, all pair nicely with safari, and regardless of the location you pick, it is sure to be one of the best trips you'll ever embark on as a married couple.
Start Planning Your Dream Trip
Reach out and let's start talking. We'll listen and begin to tailor an experiential, private, luxury vacation based on exactly how you want to experience Africa. From adventure to relaxation—and everything in between—let us handle every detail of your unforgettable journey.