The term "glamping" is derived from the concept of Glamorous Camping: a form of camping involving accommodation and facilities more luxurious than those usually associated with traditional camping. It ensures optimal comfort and an incredible, fully-immersed outdoor experience.   
In Africa, there are many safari experiences and overnight accommodations available to travelers, ranging from ultra luxury permanent camps to treehouses to rustic camps and more. However, a tented camp affords travelers a traditional safari experience and doesn't necessarily translate to "roughing it" in the wilderness; comfortable and awe-inspiring places to stay are available in this realm. Some of our favorites below range from complete luxury to rustic, or even camps on-the-go. 
andBeyond's Mobile Camping Expeditions in Botswana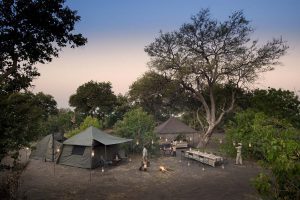 Explore all Botswana has to offer with &Beyond's Mobile Camping Expeditions, best suited for those craving adventure. This light-footprint mobile camp offers private and exclusive game viewing in some of Botswana's most iconic locations, and is an excellent excursion for photographers, wildlife enthusiasts, small groups or families, and solo travelers alike. Guests will be placed in one of three spacious expedition dome tents, featuring an ensuite bathroom and hot bucket shower. 
With an all-inclusive program, guests can choose from six different safari expeditions, ranging in length from six to eight nights, giving guests the chance to see Chobe National Park, the stunning Savute, the vast Okavango Delta, and incredible Nxai Pan National Park. This particular camp is mobile and moves every few days: it is typical for guests to enjoy safari in a specific park and then while out on game drives, the camp staff will pack up the camp and move it to the next destination. This provides guests with a great way to see a lot of the country and explore on the go. 
Within these parks, guests can gaze out at magnificent herds of lion, buffalo and sable antelope, as well as African wild dogs, elephants, hippos, giraffes, bat colonies, and so much more. Given the location, there are a variety of land and water-based adventures available, from which guests can customize their experience. As is true with any andBeyond experience, included with one's stay is a butler, housekeeper, private chef and safari vehicle.
Singita Mara River Tented Camp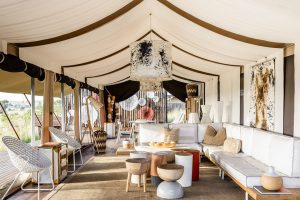 Singita Mara River Tented Camp joins a lineup of luxury camping experiences that seek to leave a lighter footprint and encourage an even deeper authentic connection with nature and surrounding wildlife and communities. An impressive eco-lodge, Singita Mara River Tented Camp is built from mainly natural and recycled materials and operates entirely off solar power. 
Located on the riverbend in the Lamai triangle in Tanzania, this permanent tented camp embodies laidback luxury and showcases neutral tones and fantastic African art. Singita Mara River Tented Camp is known for having a front row seat to the annual Wildebeest Migration and provides guests with some of the most treasured views in their expansive 98,000 acres of northern Tanzania, Grumeti Private Reserve. 
With one and two-bedroom options, each space offers an inside and outside bath and shower, minibar, tea/coffee station, and game-viewing deck. Guests may also take a dip in the onsite plunge pool. Additionally, daily game drives and wine tasting activities are available.
Cottar's 1920s Camp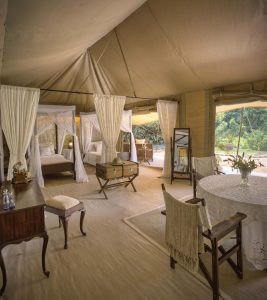 Cottar's 1920s Camp is located on its own 7,608 acre private conservancy near a remote region of the extraordinary Masai Mara. The camp was first constructed in the 1990s and was designed to reflect the 1920s era, with sepia photos adorning each wall and a distinct "Out of Africa" theme throughout. 
The camp naturally fosters community with two mass tents, furnished with armchairs, coffee tables and sofas, perfect for reading, relaxing, dining and drinking. It is also common for guests to enjoy each other's company near their dazzling blue pool, surrounded by nature. With nine tents total, including an exclusive honeymoon suite, four double tents and four family suites, guestrooms are entirely private, safe and quiet. 
Of special interest in the area is the Big 5, birding, fishing, hiking, star-gazing and wildlife viewing. Guests may arrange a day or night game drive, safari walk, village visit, or bush meal. Additionally, river swimming and fishing, as well as complimentary massage through the spa is available to guests.
Governor's Il Moran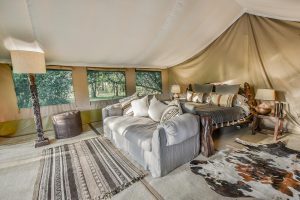 The focus when creating Governor's II Moran was to design a property that was quiet, secluded and peaceful. Today, guests seek out Governor's II Moran for the exceptional game drives led by professional and deeply knowledgeable guides who take groups of 4 out to the Masai Mara twice per day. Sunrise Hot Air Balloon rides are also an option and feature impressive views of plains, forests and rivers. Other attractions included guided bush walks, cultural visits and trips to see community and conservation projects.
The camp boasts ten expansive and luxurious tents, each of which offer super king size beds and bathrooms with Victorian influences. It is best suited for honeymooners and couples seeking a unique safari experience.
Ngorongoro Highlands Camp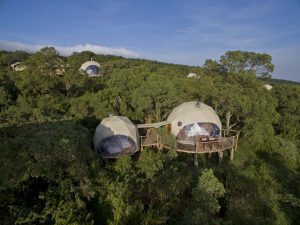 The Ngorongoro Highlands Camp is perfect for those seeking an active, romantic, or classic safari experience. Perched on the edge of mountain forest terrain near the Olmoti Volcano, north of the Ngorongoro Crater, the Highlands Camp offers staggering views, outstanding wilderness experiences and modern accommodations from an entirely exclusive and remote location.
The eight canvas geodesic-domed suites that line the property take inspiration from nearby traditional Maasai bomas. This positions the camp as the prime location to discover the pristine Crater Highlands. Top-tier attractions and activities include seeing The Great Migration, Chimpanzee and Gorilla Trekking, climbing Mount Kilimanjaro, partaking in rich cultural experiences and visiting tropical beaches.
Kapama Buffalo Camp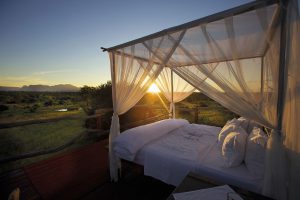 Tucked away in the trees of Kapama Private Game Reserve, near Kruger National Park, is the unique Kapama Buffalo Camp. The ambiance that engulfs the property comes at the hands of the communal lounge, elevated rim-flow pool, or one of the 10 luxury tents, complete with dark wood, leather finishes and oil lanterns. The serene Wellness Center gives guests a chance to unwind and relax at one of the finest safari spas in all of Africa.
Included with each stay are two daily game drives, wherein guests can encounter various animal and bird species. Moreover, Big 5 sightings are very common. Bush walks are a popular choice for visitors, as are Elephant Interactions, trips to the Hoedspruit Centre for Endangered Species, and photography workshops.
Conclusion
There is perhaps no place more special to embark on a glamping adventure than in Africa. Surrounded by raw wilderness, beauty and numerous wildlife experiences within reach, luxury tented camps have become a favorite for visitors seeking an authentic experience while also prioritizing sustainability and comfort in the wild outdoors. Talk to us to learn more about our sustainable luxury African safari tours. 
Start Planning Your Dream Trip
Reach out and let's start talking. We'll listen and begin to tailor an experiential, private, luxury vacation based on exactly how you want to experience Africa. From adventure to relaxation—and everything in between—let us handle every detail of your unforgettable journey.