Looking for unique things to do in Cape Town? We've got you covered.
The scenic hike up to Table Mountain.  A visit to the enchanting Kirstenbosch Botanical Gardens or historic Robben Island. A day relishing the luxuries of the Cape Winelands.
While no trip to 'The Mother City' is complete without these essential activities, some of our favorites below are what make Cape Town in South Africa stand out among so many delightful destinations in the world.
The Old Biscuit Mill in Cape Town
In the heart of Woodstock, a visit to The Old Biscuit Mill is a great opportunity to immerse yourself in Cape Town culture. The Biscuit Mill houses markets, office space, workshops, retail stores and incredible restaurants. On Saturday morning, the indoor/outdoor space is transformed for the Neighbour Goods Market where locals come together to share their innovative designs, art, photography, a wide variety of culinary creations. Within the boundaries of the Mill, you can find just about every variety of food & beverage, including some authentic African delicacies. Come grab a fresh craft cocktail and wander the market for snacks and souvenirs to the sounds of live music playing.

For the Art Enthusiast in us all…
Cape Town is home to a variety of excellent art museums, exhibitions and galleries. While some are very well known to the public, others you might just stumble upon while walking to your next destination.
After your visit to the Old Biscuit Mill in Woodstock, enjoy the unique murals and street art found between Victoria Road and Albert Road. These street art displays have aided in the transformation of the area, adding to its community and character, drawing more business for home-grown vendors and an element of safety for local residents.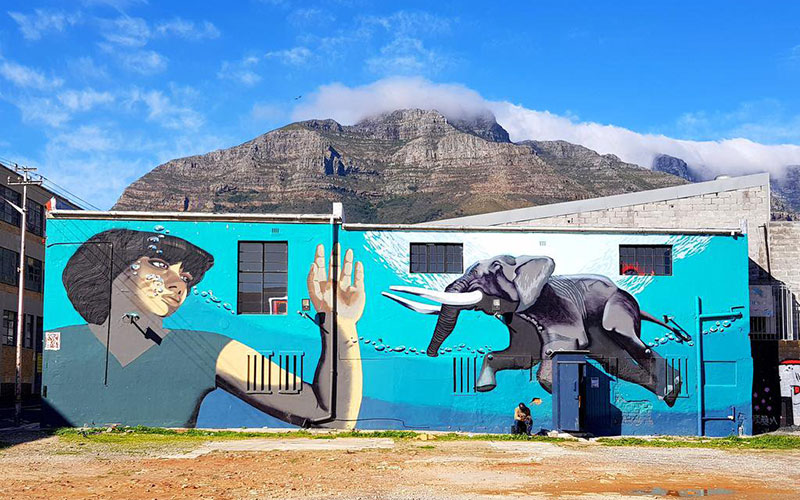 Take a stroll down by the V & A Waterfront and stop in the Zeitz Museum of Contemporary Art Africa (Zeitz-MOCAA). The Zeitz MOCAA is the largest museum of its kind in Africa, housed in an enormous repurposed grain silo and boasts over 100 galleries spread throughout 9 floors. Atop the towering structure is the modern boutique hotel, The Silo, with a rooftop lounge and swimming pool. Color, complexity and Africa-inspired pieces wait beyond every turn.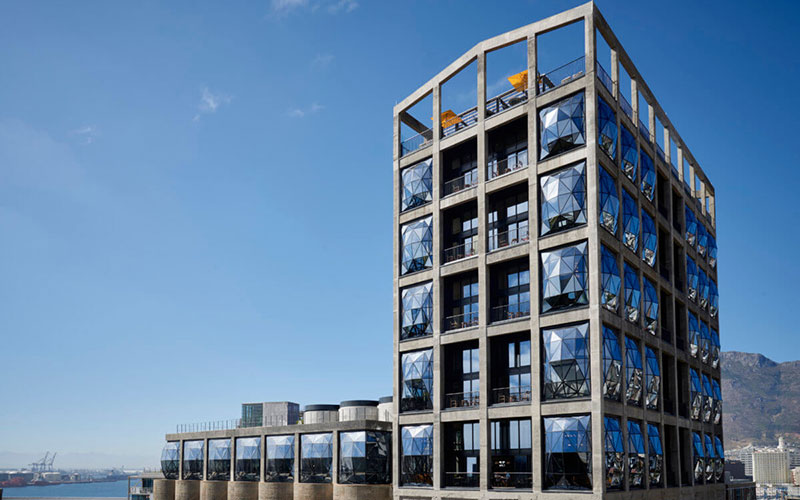 Between a scenic vineyard tour and wine tastings in Stellenbosch, amble through the serenity of the Dylan Lewis Sculpture Gardens. Set with a stunning backdrop of the mountains, every aspect and detail of the gardens was strategically placed with purpose, to illustrate the story presented by Lewis. His vision explores the concept of wilderness in us all, and the boundary between animals and mankind. You will notice his work scattered throughout wineries and hotels in the area, however the gardens are an impressive showcase of his artistic intentions.

High Tea at the Nelly
Allow yourself to be transported with Cape Town's Colonial heritage by enjoying 'high tea' at the prestigious Belmond Mount Nelson Hotel. Guests can sip on a wide variety of creative tea infusions or coffee and indulge in the most delicious spread of desserts and savory delights. Here you will find no shortage of delicate finger sandwiches, freshly baked scones, canapes, macaroons and more. In addition to the delicious offerings, the magnificent views of the garden from the terrace or lounge make for a picture-perfect afternoon.

Dinner at Luke Dale Roberts' Test Kitchen or Pot Luck Club
Fine dining can be found around every corner in Cape Town, however, award-winning chef Luke Dale-Roberts has set the bar high with two truly outstanding culinary outlets, The Test Kitchen and the Pot Luck Club. These are two of the best restaurants in Cape Town (in our opinion).
The Test Kitchen is rated as one of the top restaurants in the world, so it is no wonder that reservations need to be made months in advance. Guests can enjoy a 10-course tasting menu and wine pairings, without a pretentious feel that often comes with elite dining experiences. For those who prefer something a little more casual, try the Pot Luck Club.
On top of the silo in The Old Biscuit Mill in Woodstock, the Pot Luck Club features tapas style dining highlighting 5 basic tastes; salty, sour, sweet, umami and bitter. This variety allows guests to experience each individual flavor on its own, and the opportunity to enjoy all flavors throughout your meal.
Both restaurants offer exciting flavors, progressive pairings and an exquisite atmosphere for an unforgettable dining experience.
Start Planning Your Dream Trip
Reach out and let's start talking. We'll listen and begin to tailor an experiential, private, luxury vacation based on exactly how you want to experience Africa. From adventure to relaxation—and everything in between—let us handle every detail of your unforgettable journey.