Most countries in Africa are committed to conservation in one way or another, but Botswana sets itself apart from the rest with its true devotion to the preservation of the wildlife and wildlands in the region. Aside from being one of the most stunning landscapes in the world, safari lodges in Botswana are changing the game by implementing some of the most unique and creative tactics to stay green. From solar-powered lodges to immense local community support, Botswana is the best in class when it comes to being eco-friendly.
Private Concessions & Fewer Visitors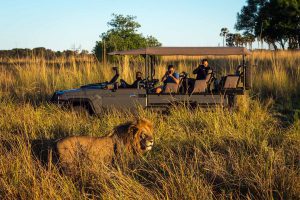 A visit to Botswana will typically come with a higher price tag – but for good reason. The government intentionally decided to limit the number of visitors within the country and in turn charge higher accommodation rates to support their conservation mission. Several larger private concessions with strict regulations limit the number of guests and vehicles in the parks, which means that fewer travelers pay more but get an exceptional experience that is free of crowds (and for those of you who have been on safari, you can truly appreciate what it feels like to be the only vehicle at a sighting). In other parts of Africa, you may have 20 vehicles surrounding a pride of lions on a game drive, but in Botswana your game viewing experiences will be far more intimate. Fewer guests and vehicles, means less imposition on the natural environment and wildlife in the area. Camps are spaced out very well, limiting impact on the land and offering guests some of the purest game viewing in the most pristine conditions anywhere in the world. Additionally, properties are typically unfenced, as well, allowing animals to wander freely, creating a true 'wild' and immersive atmosphere.
Leave No Trace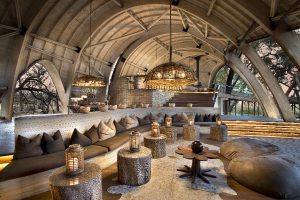 Botswana has some of the strictest conservation regulations in all of Africa, one being that all lodges must be able to be deconstructed within 24 hours with no trace left behind. Because of this, lodges and camps are specifically configured to cause the least amount of impact to the natural environment, while still providing ultra-luxury accommodation options for guests. No concrete, mortar or bricks are permitted. As such, lodge operators have gotten extremely creative by utilizing natural resources and exquisite designs to keep high paying travelers in awe of their luxurious properties and amenities. You would not believe the opulent accommodations that have been constructed under this criteria – it is truly astonishing!
Solar Power & Low Emissions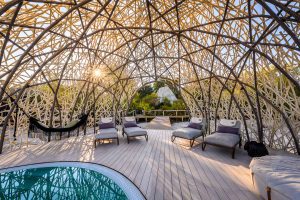 It's hard to fathom while out in the middle of nowhere that everything you're doing is being fueled by natural resources, but many lodges in Botswana now operate fully on solar power. Not only are lodges running on sunshine, but some safari vehicles have even been designed to run on blend consisting of mostly vegetable oil and a small percentage of diesel. 'Out of vehicle' activities such as cycling, walking, water safaris, and other eco-conscious activities are also an option to help reduce CO2 emissions and the overall impact on the environment.
Recycling and Plastic Reduction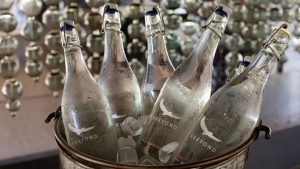 To contribute to the reduction of single-use plastics, many lodges have implemented rainwater harvesting systems, UV filtration for drinking water, and reusable glass bottles to eliminate the need for plastic. By cutting out things such as plastic wrap, straws, and plastic bags, lodges are playing a major role in the declining use of plastic in the country. More environmentally friendly items such as beeswax fabric wraps (for covering food) and reusable coffee cups made of natural materials are now lodge staples.
Community Empowerment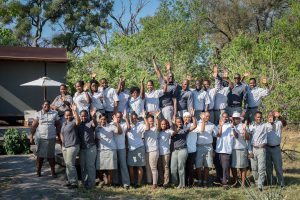 In an effort to support the local communities, lodges often source materials from small businesses and local tribes – for example, ornate furniture and decor carved and curated by local woodworkers or pillows and cushions crafted by local artists. Procuring crafts and goods for the lodges from the nearby communities allows the income generated by tourism to flow back into the local communities. Additionally, in some cases, over 60% of the lodge staff are locals, creating jobs and additional opportunities for earning. Lodge operators also understand the importance of educating locals on the importance of wildlife conservation – teaching them how they can generate more income for their families through sustainability than they would be able to as poachers. These tremendous efforts help empower local communities and protect the flora and fauna of Botswana. 
As one of the most dazzling places on earth, Botswana is an easy selection for travelers looking to experience the serenity and beauty of the African wilderness. For those also looking to travel with purpose, the country is a leader in providing a sustainable safari experience to all that visit. It is such a gift that lodge operators in Botswana prioritize earth-friendly practices as much as they do jaw-dropping safaris so that the wildlands and creatures of this region will be preserved for future generations to enjoy. There is nothing quite like a safari in Botswana, and we hope that you'll have the chance to experience it for yourself!
Start Planning Your Dream Trip
Reach out and let's start talking. We'll listen and begin to tailor an experiential, private, luxury vacation based on exactly how you want to experience Africa. From adventure to relaxation—and everything in between—let us handle every detail of your unforgettable journey.