When picturing your dream safari in Africa, a dip in the pool isn't the first thing that comes to mind, but a scenic swim surrounded by elephants would definitely have the ability to enhance your adventure! Safari lodges and hotels all across Africa are equipped with some of the finest and most unique pools, perfect for relaxing between game drives or even for viewing animals. Here are some of our favorites (or you can always see more inspiration on our Instagram page!)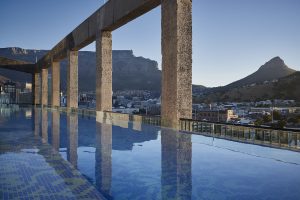 The Silo Hotel – Cape Town, South Africa
Perched at the top of The Silo Hotel, this exclusive-access infinity pool and rooftop is framed by impressive square pillars and overlooks several iconic landmarks such as Table Mountain, Lion's Head, The V&A Waterfront and the Atlantic Ocean. Having earned a reputation as one of the most sophisticated spots in Cape Town, the terrace comes equipped with lounge sofas and a decadent menu complete with classic sharing plates, salads, sandwiches, snacks, and an extensive wine menu. Here, guests can melt into a peaceful ambience and refuel.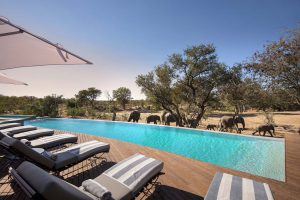 andBeyond Ngala Safari Lodge – South Africa
Located in South Africa's Timbavati Game Reserve, this lodge is ideal for families or large groups who desire access to a swimming pool with unbelievable views. The pool sparkles in the sunlight, with an accompanying deck that overlooks the river bank and surrounding woodlands. It's particularly special for elephant enthusiasts; the pool often sees herds of elephants coming by to drink from the pool. Guests are given the opportunity to lay and watch them at close proximity, which is perhaps one of the greatest draws of this lodge and its first-class accommodations.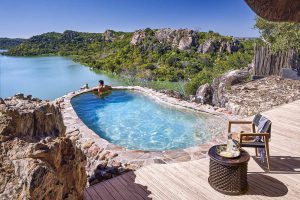 Singita Pamushana – Zimbabwe
Easily one of the most sought-after views in all of Africa, the two-bedroom suite at Singita Pamushana in Zimbabwe features a pool overlooking the Malilangwe Lake. This beautifully vibrant lodge features a splash of colour at every turn, giving it a really unique style compared to other lodges. The interior design vibrance is also matched by a really fun and energetic team of staff who will go above and beyond to make you feel at home.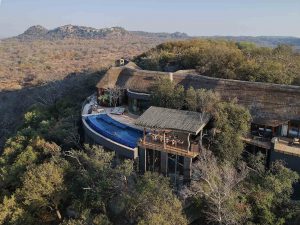 Malilangwe House, the exclusive use family villa at Pamushana, also features staggering views of the lake from the comfort of its private infinity pool. The lake has earned a reputation as one of the top spots in Zimbabwe for fishing and is home to hippos, crocodiles and an array of beautiful water birds. Few sites offer a more spectacular spot for sun-downer cruises, and the pool is the perfect way to unwind after a long day of game drives and adventuring.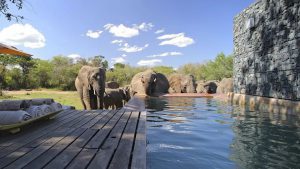 andBeyond Phinda Homestead – South Africa
This incredible exclusive-use property located in the north of the Phinda Private Game Reserve is wonderful for large families or couples traveling together. Designed as a sole-use villa, four private bedrooms, and spacious bathrooms blend together in unmatched elegance. The dazzling rim-flow pool frequently sees lots of wild visitors and herds of elephants. Guests are sure to feel warmly accommodated, as safari experiences are completely tailored and personalized to fit guest preferences. Coupled with an inviting atmosphere, this homestead is a favorite spot for many first-time and returning guests.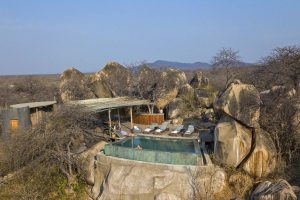 Jabali Ridge Lodge – Tanzania
Bliss is always within reach at the Jabali Ridge Lodge in Tanzania, which overlooks a Baobab forest and Ruaha National Park's majestic 7,800 square miles. The camp's infinity pool makes for the perfect afternoon refresher after game drives and walking safaris, complete with snacks, beverages, and spa treatments, if you so choose. While this destination is not as popular as Tanzania's more northern regions, it prides itself on spectacular game viewing and fewer visitors than the ever-popular Serengeti and Ngorongoro Crater. As one of the least busy places for tourism in Tanzania, life at the Jabali Ridge Lodge truly feels remote, exclusive, and private.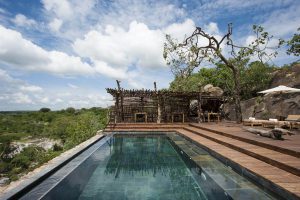 Spectacular Pools Everywhere
Africa is certainly not lacking when it comes to natural beauty and landscapes. Between ornate accommodations and thrilling wildlife viewing, your days are full of incredible experiences that will have you desiring to visit Africa over and over.
When you're planning your next trip, you'll find ample opportunities for adventure around every corner and are sure to strike a balance between excitement and tranquility at any of the pools mentioned above.
See more of Tanzania.
Start Planning Your Dream Trip
Reach out and let's start talking. We'll listen and begin to tailor an experiential, private, luxury vacation based on exactly how you want to experience Africa. From adventure to relaxation—and everything in between—let us handle every detail of your unforgettable journey.