Written by: Sean Messham 
Welcome to our new blog series 'A Quick Ubuntu Travel Visit'. As part of our commitment to design the perfect safari experience for you, Ubuntu Travel tries to get our team into as many destinations and lodges as we can. Not only to quench our thirst for safari, but also to collect first-hand knowledge on what the atmosphere and experiences are like at each destination. 
Over the next few weeks, we will be visiting a few lodges in four southern African countries, Botswana, Zambia, Zimbabwe and South Africa. Through this series we aim to bring you a little insight on each experience and destination as we go! 
Enjoy our first 'Quick Ubuntu Travel Visit' to African Bush Camp Khwai Leadwood, Botswana.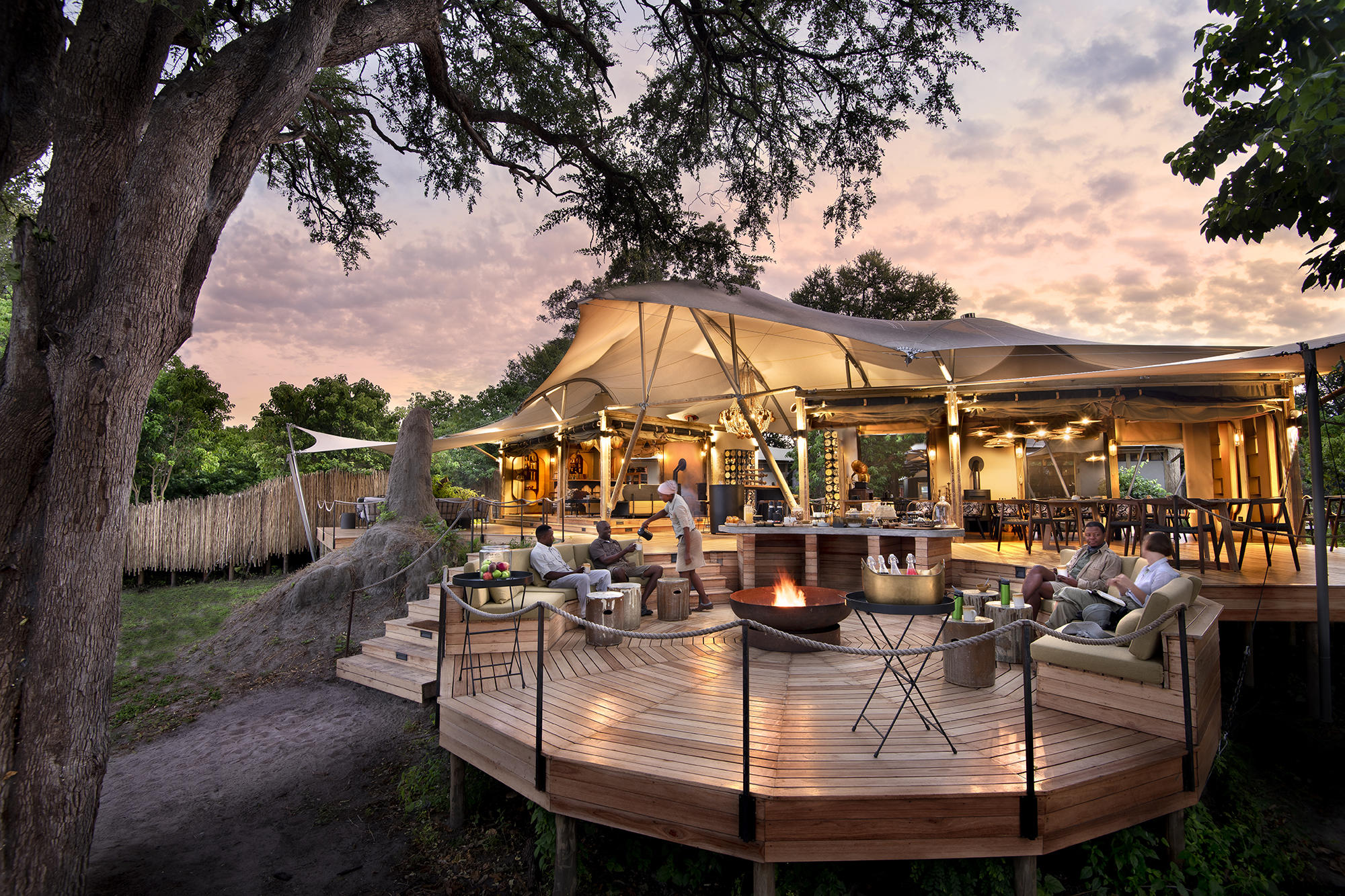 Ok, so where are we…
Khwai Leadwood Tented Camp is situated inside the Okavango Delta, Botswana. The luxurious tented camp is positioned perfectly to overlook the Khwai River, within the community-lead Khwai concession. The river is also the natural boundary between the concession and the iconic Moremi Game Reserve. So you can see where this is all going… ready to jump on a game drive?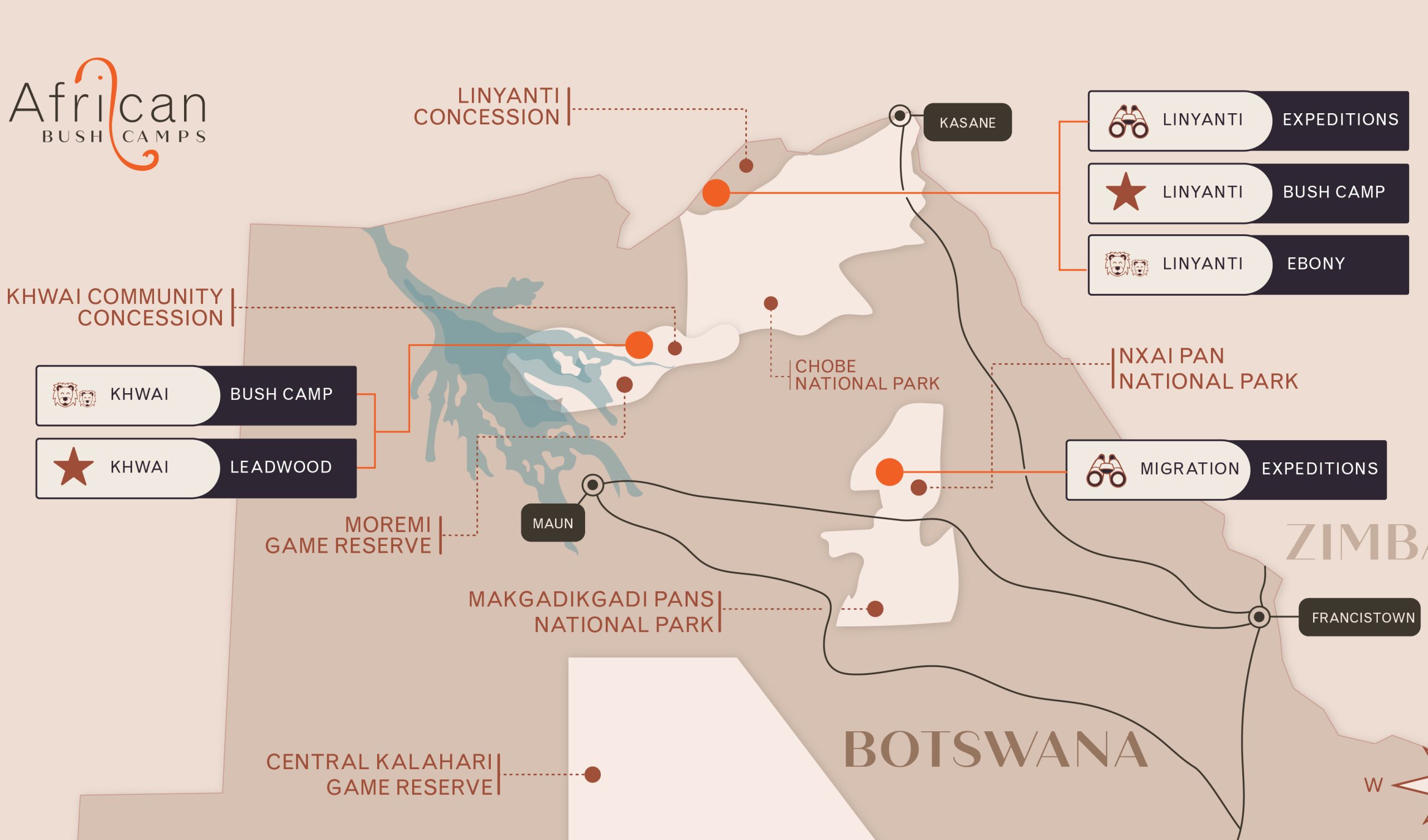 Looks and Feels: take a peek at the rooms and guest area
The tented camp, with its sustainable design woven into the landscape, has a naturally light feel to it. There is an elegant and soft atmosphere throughout the lodge that is complemented by the local woven baskets and beaded decor. The guest dining area and bar is open planned, providing panoramic views of the Khwai River. Enjoy a sneak peek below. 
Your room is neatly tucked away to give you an exclusive view of the Okavango Delta from your private deck. Naturally the lodge wants you to immerse yourself in the natural beauty of the Delta, so of course there is an outdoor shower… again with your own view of the Delta. Take a quick walk through. 
Taste and aromas: the meals at the lodge
I am not a food connoisseur, I will leave that to Jenna and Leah, so I will have to improve on this section as I learn to be more attentive to meals… Besides my admission of guilt here, the meals were wonderful, with a beautiful selection of fresh produce and deliciously prepared meats at lunch and dinner. 
The meals followed a similar schedule to other lodges in the Okavango Delta. A continental breakfast was served before the morning game drive. On your return, a brunch is ready and waiting with freshly baked quiches (vegetarien); cold meats; wonderful breads, fruits etc. With a more "hearty meal" for dinner, always accompanied with a wonderful wine presentation to compliment your choice of dish. 
Jump on game drive
Let's be honest, this is why we are here! I encourage you to read our "Seasonal Guide to Botswana" as it will help you to understand what opportunities the different seasons bring to your safari experience in the Delta.
Our guide, Banda Kutlwano, had me in hysterics as he navigated the concession reading tracks, bird and alarm calls to help enrich our game viewing experience. A hugely charismatic and entertaining character, Banda is definitely a guide you want! His momentum on game drives was perfect for every situation, sometimes slow to listen and wait, other times fast to get in areas and maximize our game viewing opportunities. He also took a large amount of time to explain animal behavior and movements during this time of the year, which helped us all on the drive to fully appreciate the unique wilderness of the Delta. Check out some of his images on instagram at @banda.on.safari
Banda's efforts rewarded us with an active lion sighting, many elephant bulls and a female leopard with her cub on the final morning! For the birders, we spotted over 80 bird species in our short time together.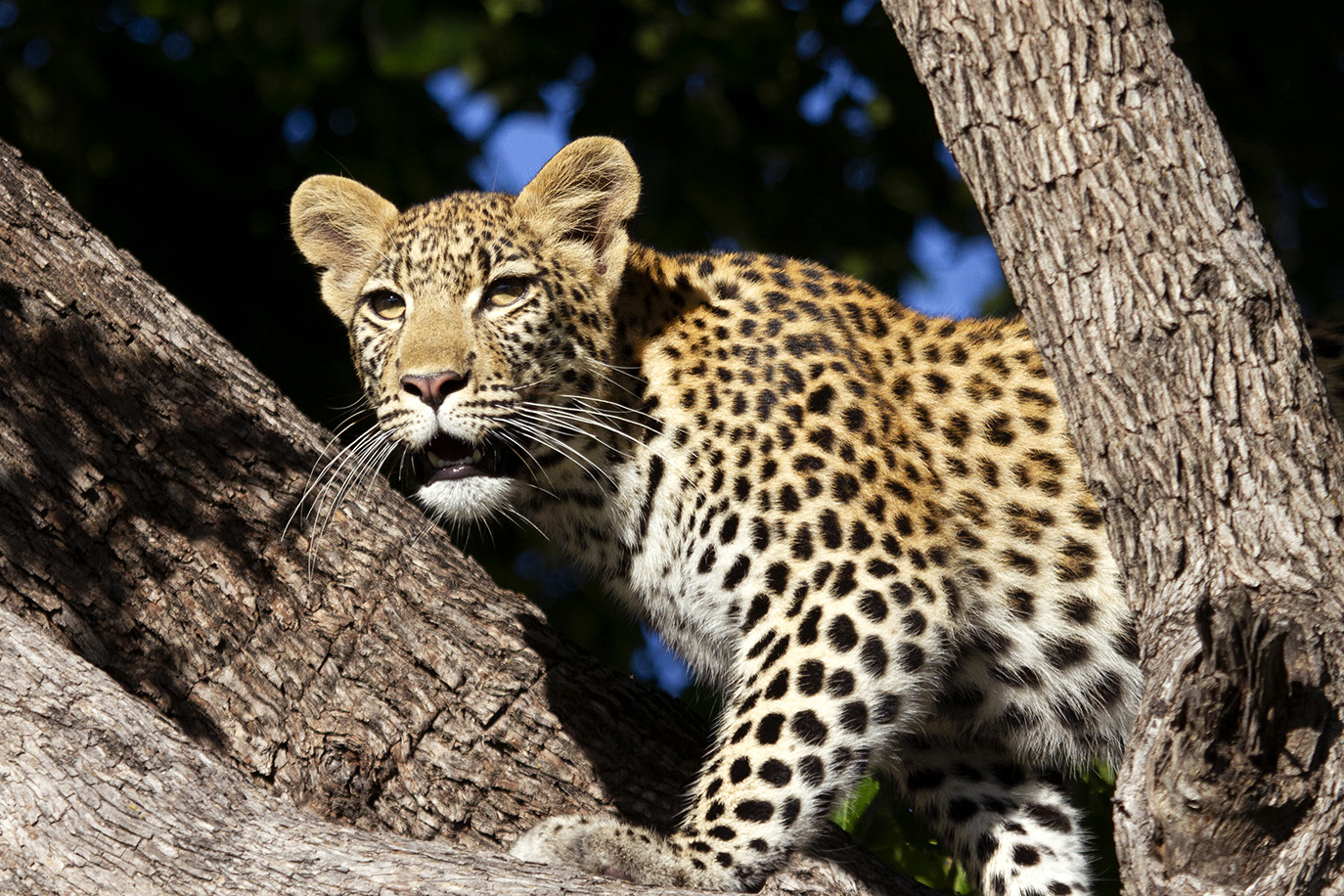 Other activities
Mokoro excursion
Rediscover the (true) meaning of tranquility on a mokoro excursion. The mokoro ride provides such a wonderful opportunity to take a deep breath and slow down to a water ripple pace. If the water levels allow, this is a must-do activity while in the Delta!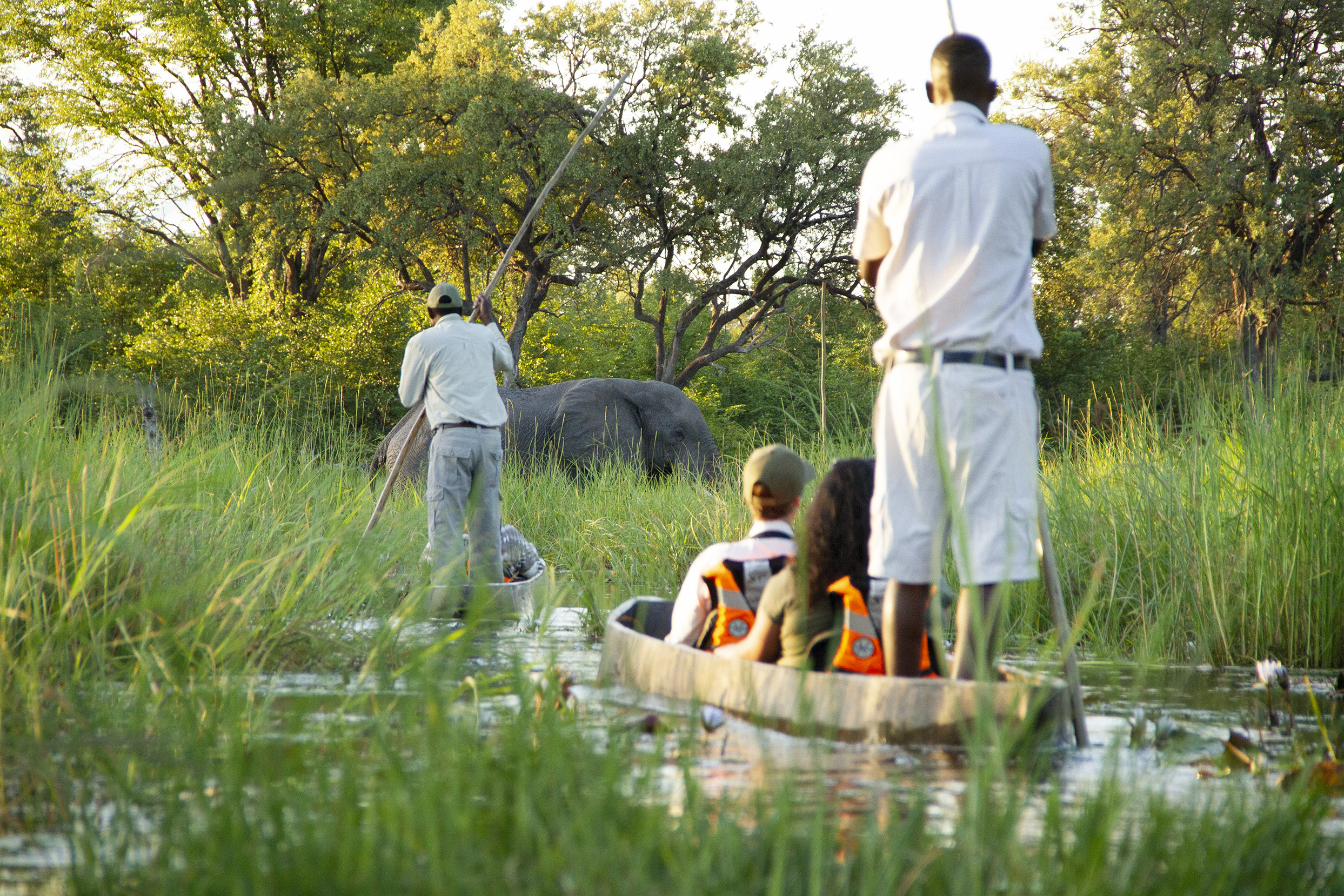 We were lucky enough to enjoy an afternoon mokoro ride on our second day. Just a 40min game drive from the lodge, we met a wonderful African Bush Camp mokoro guiding team. The highlight was definitely when we safely passed an elephant bull feeding on the water lily roots. However, you can generally expect wonderful birdlife, reed frogs, and perhaps even a herd of red lechwe crossing the channels. 
Scenic Helicopter Ride
This was without a doubt the highlight of my stay! The scenic helicopter ride provides an unrivaled opportunity to see and appreciate the wilderness and space of the Okavango Delta. With the doors removed, you will enjoy unrestricted views and photographic opportunities. Once in the air, it only took us a few moments before we started spotting breeding herds of elephants at watering holes, wading red lechwes and pods of hippos in the water channels. 
I thoroughly enjoyed the ethical approach of the Helicopter Horizon pilot. If we spotted an elephant herd, the pilot would approach cautiously and if there was any sign of distress, the pilot immediately informed us and left the area. There was a definite practice by Helicopter Horizons to make the experience ethical and with the animals being put first at all times.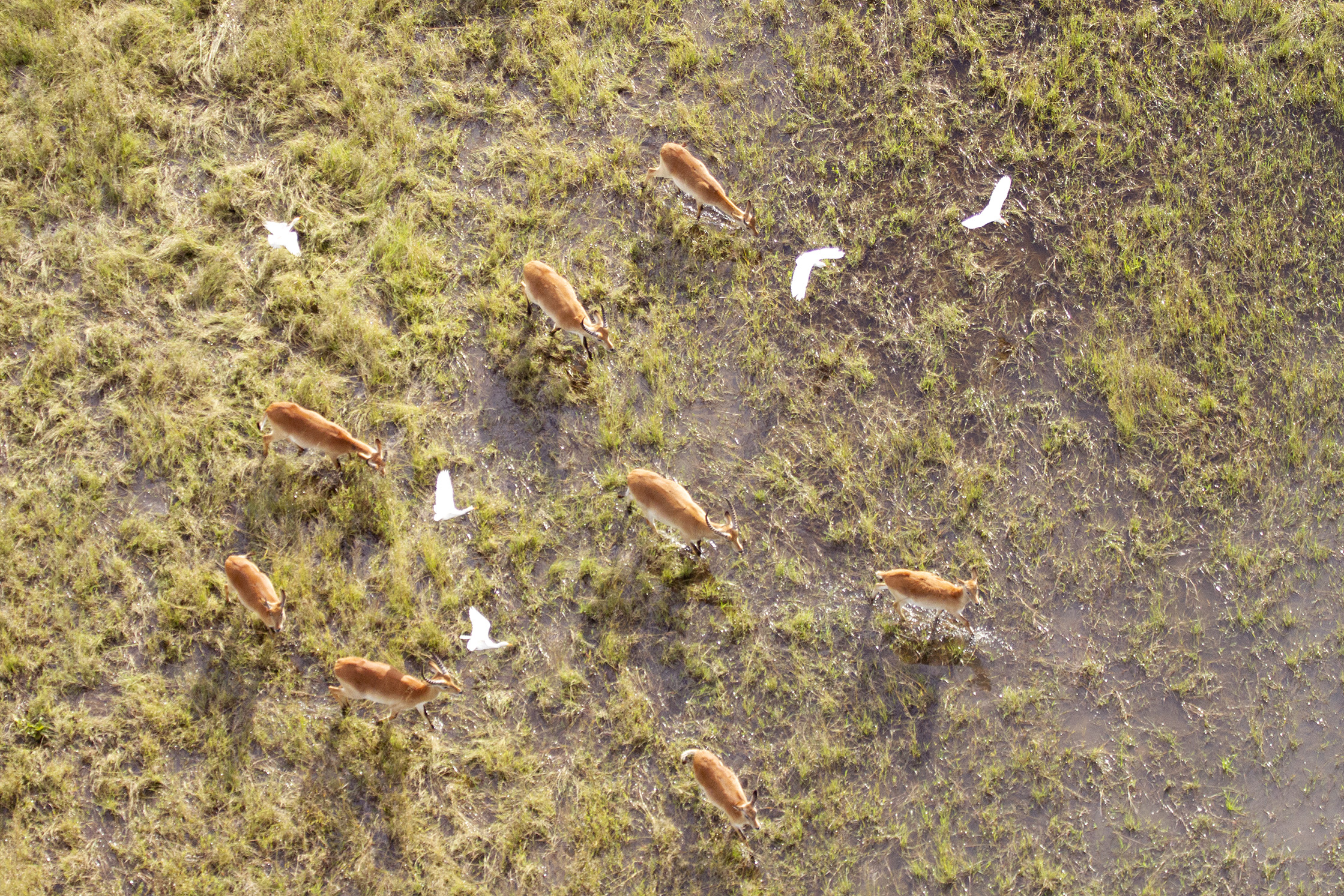 Why we love Khwai Leadwood 
The lodge is just a year old, so it's fresh and outstandingly beautiful in both its local decor and exclusive positioning on the Khwai River. 
But for me it was the fact that this luxurious lodge is on a community-run concession, a community that is only a 30min game drive away. The partnership with the African Bush Camp Foundation and the community is evident both within the lodge, and when you visit the village. It serves as a wonderful example of how tourism can help to both conserve a wilderness area, while simultaneously providing meaningful and self-sustaining community development.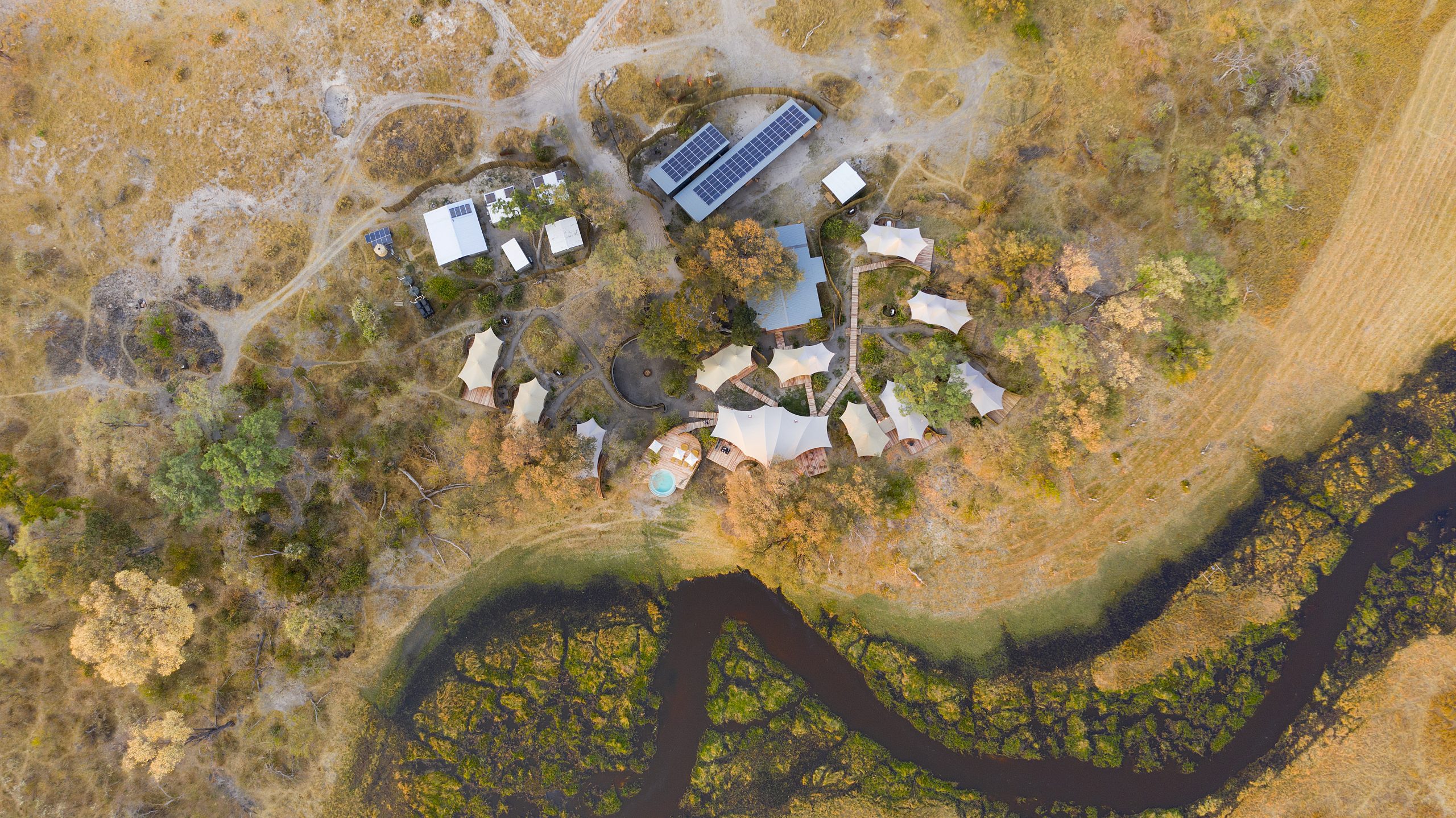 Down to the lodge basics
Country: Botswana 
Location: Okavango Delta 
Lodge Facilities: swimming pool; lounge and dining area; panoramic views
Number of Rooms: 6 luxury tents with one family tent 
Room facilities: ensuite bathroom; indoor and outdoor showers; private deck; private deck and Delta views; coffee and bar station
Family Friendly: Yes with a dedicated child Ngwana Club program 
Wifi: Yes – reliable in the reception area 
Activities: big-five game drives; night drives; mokoro rides (seasonal); walking safaris; community visit; scenic and helicopter transfers 
Game Viewing: lion; leopard; elephant; wild dogs; cheetah; buffalo; hippos; giraffe; antelopes and birds
Are you ready for the trip of a lifetime?
If you're thinking of planning a trip, we're here to help! Our team of travel designers will create an itinerary just for you to create memories to last a lifetime and conquer your bucket list. Get in touch with us today to start planning your adventure in Africa.
*Please understand that although the malaria risk statuses were taken from the respective sites. Please consult your local doctor on what they believe will be best for your family at the time of travel.*
Follow us on Instagram