Ok, let's quickly hit some of the basics. The Mana Pools National Park is situated in the remote Northern region of Zimbabwe, on the southern banks of the iconic Zambezi River. It's a UNESCO World Heritage Site that encompasses over 542,000 acres of some of Africa's most wild wilderness. The name "Mana" comes from the Shona word for "four", referencing the four largest ox-bow lakes in the area (Main/Mane, Chine, Chisambuk and Long). These large pools and smaller seasonal pools hold water for most of the year, attracting an array of wildlife during the dry season (May to October).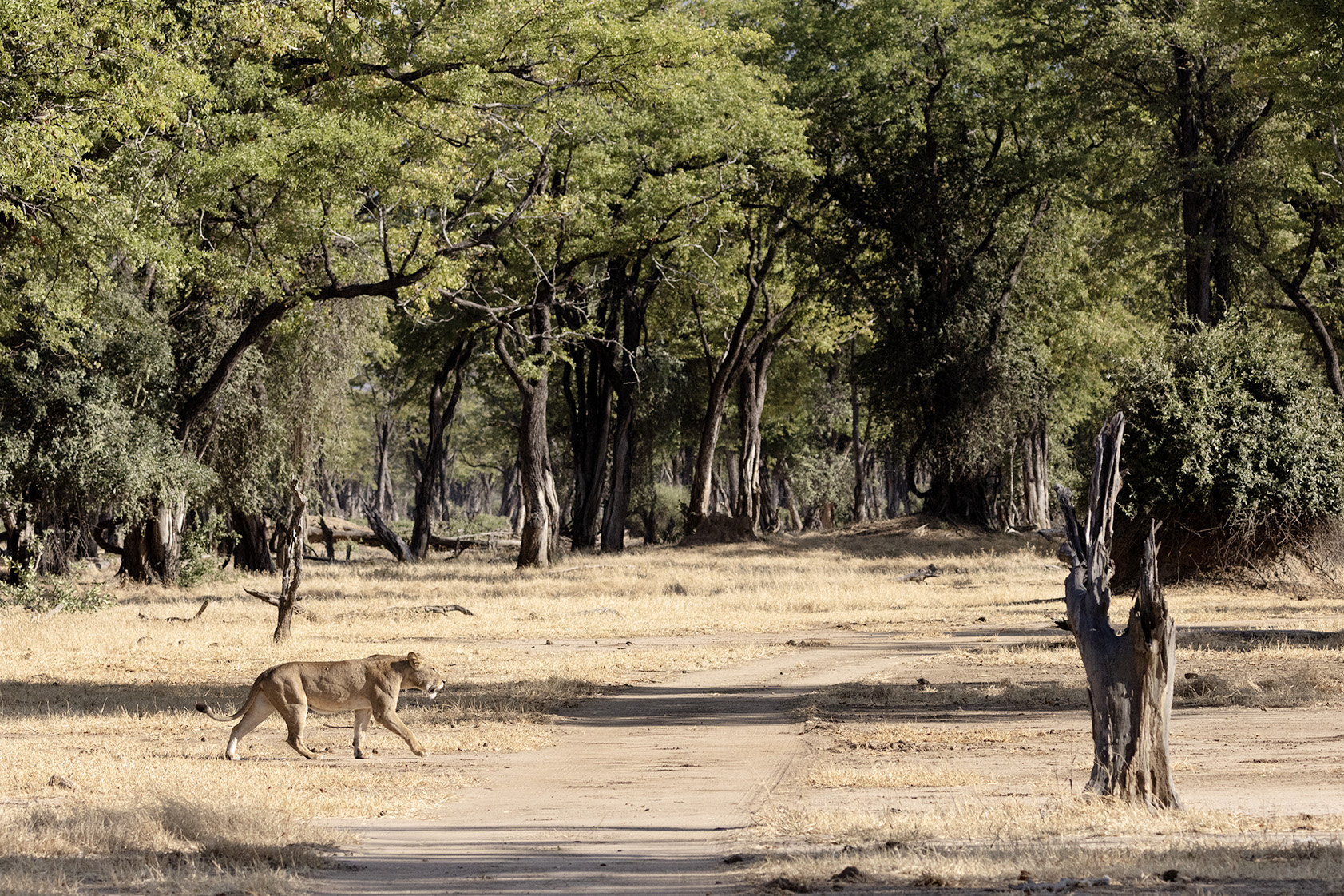 Mana Pools is perhaps most well- known for its reputation for dramatic wildlife encounters and grounding walking safaris. With elephant bulls reaching up high for the pods of the Ana tree; wild dog packs running across the open woodlands; lions and leopards patrolling the Zambezi River and hippos populating the water channels. The region definitely has an atmosphere of wild authenticity and a unique 'magic' that transcends one's wilderness expectations. And when Co-Founder, Kyle Green, and I touched down on a dusty airstrip surrounded by ancient baobab and large Mopane trees – we certainly felt an increased air of anticipation. With a lucky four day visit across three of our favorite luxury lodges in the area – we discovered our 6 Reasons to Visit Zimbabwe's Mana Pools. Have a look! 
6 Reasons to visit Mana Pools
1) Prolific and Dramatic Game Viewing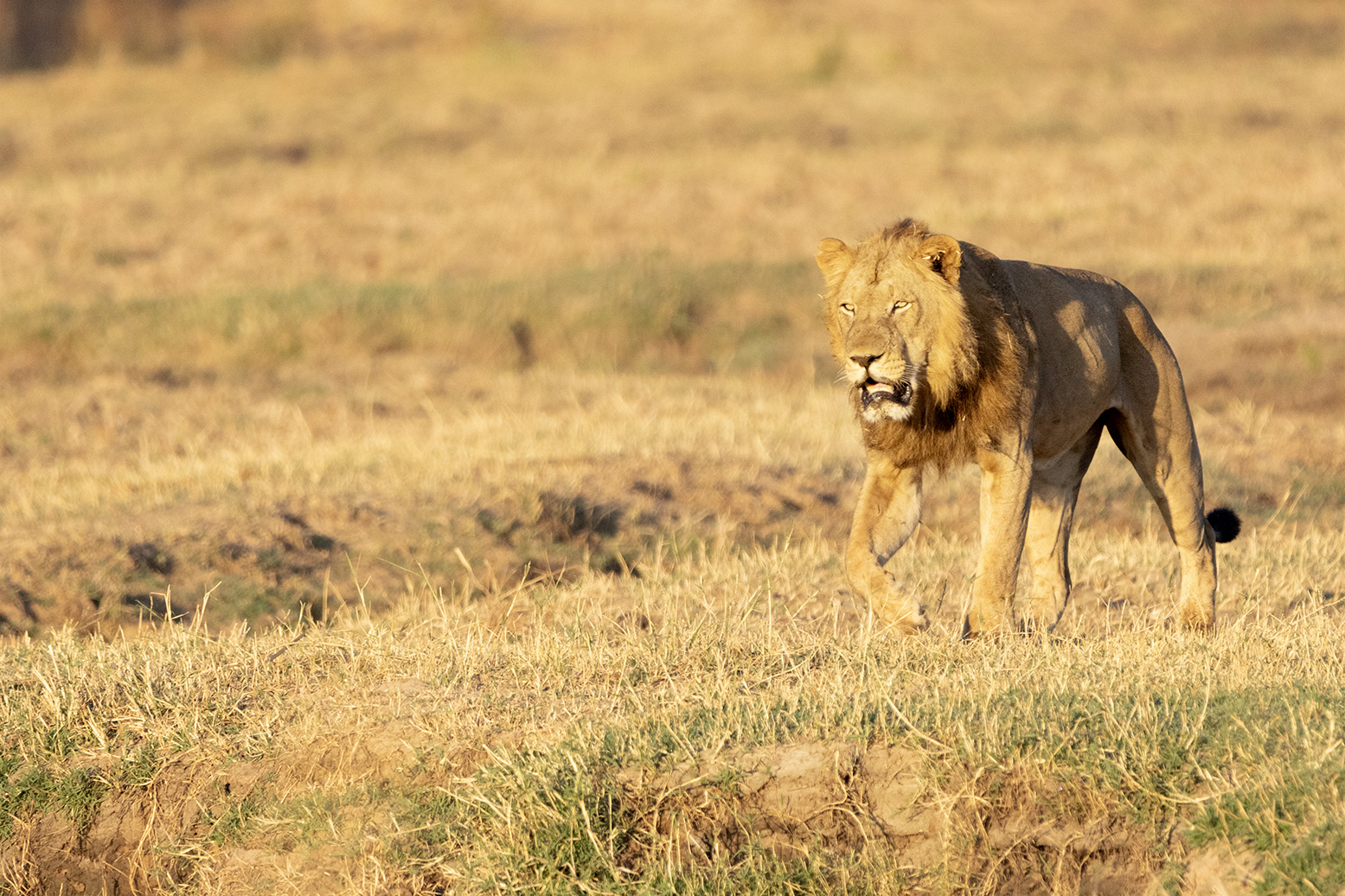 Above Image: a male lion patrolling the bank of the Zambezi River after chasing another male out. Mana Pools, Zimbabwe. 
As I alluded to above – there is always something happening in the magical and dramatic landscapes of Mana Pool. And I believe it's this unique air of anticipation that brings more and more people to Mana Pools – something (wild) is going to happen. And if you ask anyone who has visited – I promise you that they will have a wild story to tell.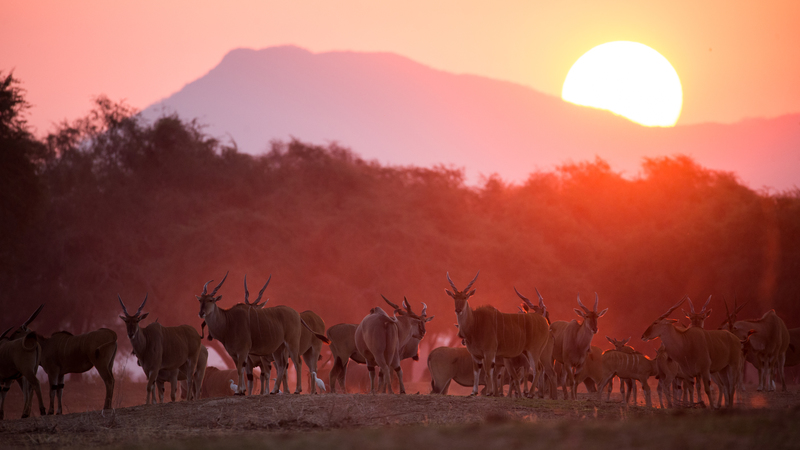 Along the mighty Zambezi, expect to see large pods of hippopotamus, Nile crocodile, waterbuck crisscrossing herds of elephant. With the water channels and sand islands being patrolled by lion prides and coalitions. Inland, the ancient woodlands deserve a special mention. The trees are simply just impressive, providing shade for a variety of antelope and perches for many attractive bird species (over 350 species are recorded in the area). These enchanting forests also provide some stories of history and culture – which I invite you to ask about when you visit.  
From a predator's perspective, there's the opportunity to see lion, leopard, cheetah and spotted hyena. But it is the anticipation of watching wild dogs run through this ancient landscape that draws in most of the safari enthusiasts. And Co-founder, Kyle Green, was no different. We did manage to find them at Wilderness Chikwenya in the east of Mana Pools, but it was late in the morning so they were resting in the shade away from the anticipated heat. It was still special however, as we were the only ones in the there watching these endangered carnivores.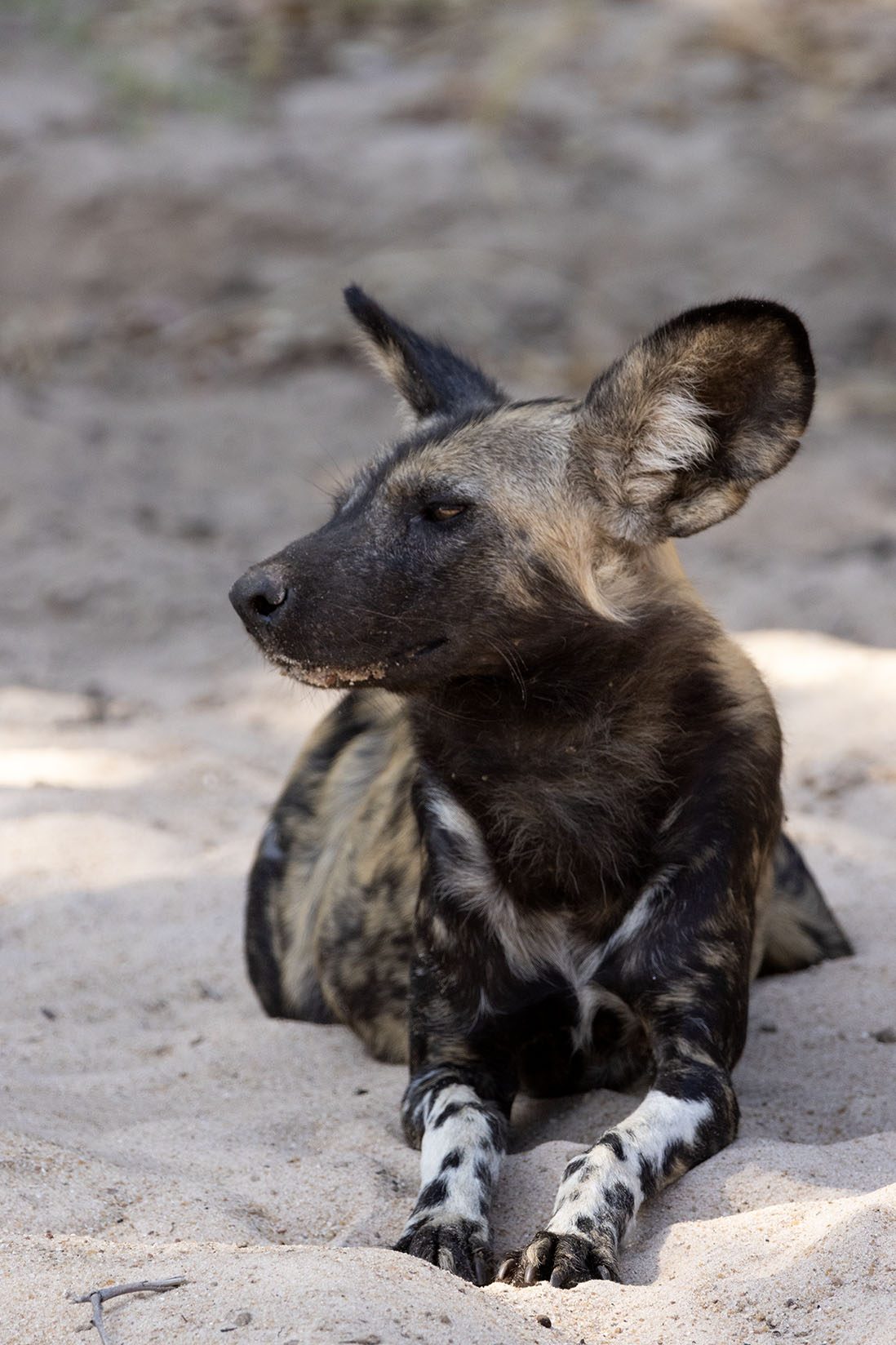 Ok, but what was our "wild story" to come out of Mana Pools? I think Kyle will agree, our moment was definitely when a coalition of male lions ran through the Wilderness Ruckomechi guest area over what we interpreted as a territorial dispute of some sort. It happened just before our morning game drive, while we were watching the sun rise and drinking far too much filter coffee.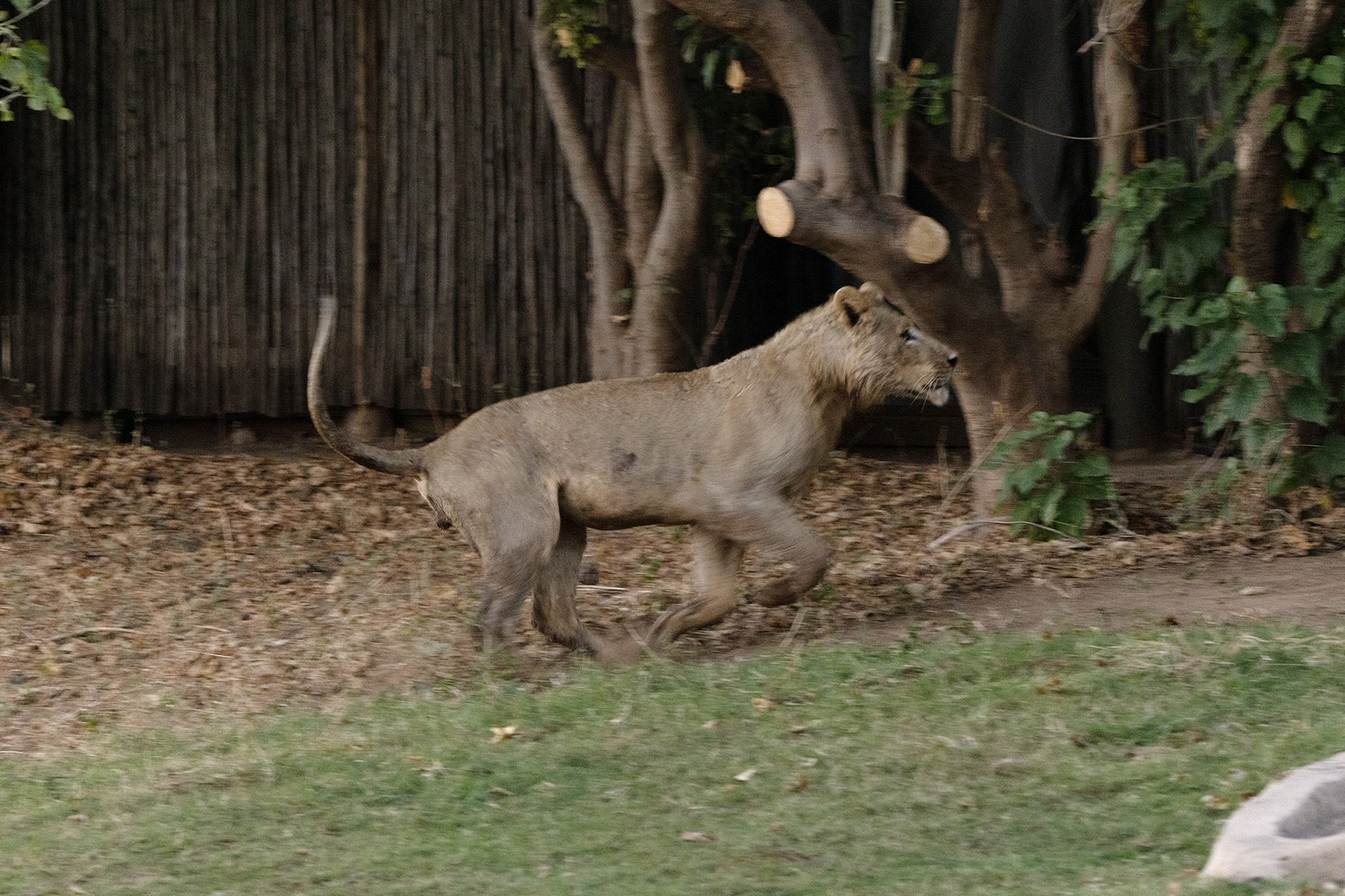 We heard lions roaring along the banks of the Zambezi, so we curiously moved to look down the river. Within minutes a battle ensued across the deck, as a younger male was chased away by a more dominant male lion, just meters away from us. Our guides could only tell us to "stand still" . Incredible, dramatic and powerful way to start the morning for sure. When you consider we had viewed buffalo, bull elephants and even lions on foot the morning and afternoon before – you can begin to understand the magic of this wild wilderness.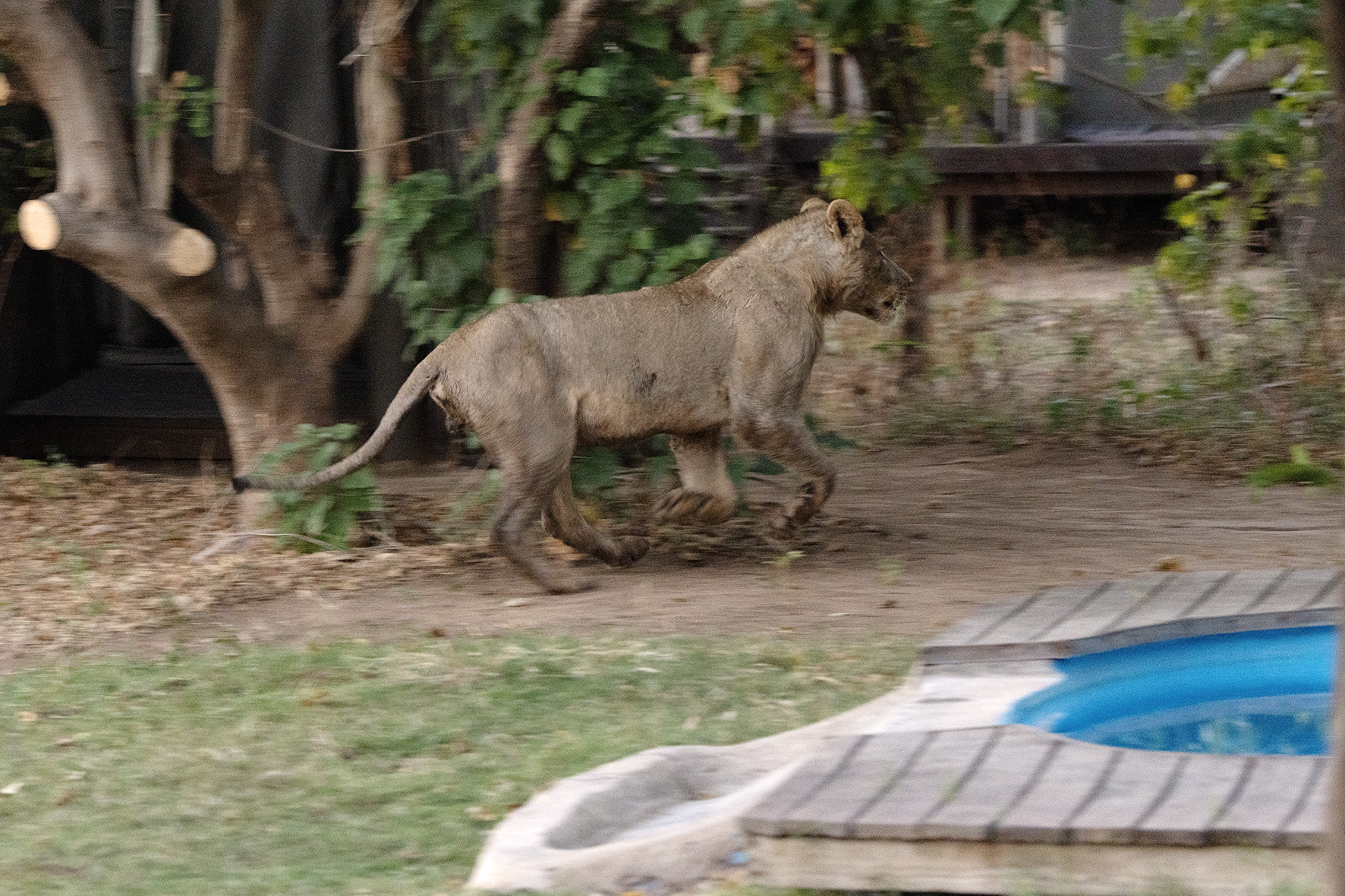 Above images: I managed to shoot a few snaps of the male running through camp. 
2) Grounding Walking Safaris  
In my humble opinion, the grounding nature of the unique walking safari experience in Mana Pools is what makes this place so magical. Yes, walking safaris can be done at most safari destinations, but due to many years of animals seeing people on foot here (since 1963 when the park opened), the wildlife in Mana Pools is seemingly uniquely accustomed to seeing us inapt primates on foot. And when the walks are done in the respectful and safe manner like our guides did – you can enjoy some wonderful and humbling sightings. Watch a quick video of us viewing an elephant bull feeding on the bank of the Zambezi River below.. 
We did a few walking safaris during our quick stay at African Bush Camps Nyamatusi. And in a recent blog post 'Untamed Zimbabwe: why should it be your next safari', I described Kyle Green's first experience of tracking lions on foot – which we saw briefly before they moved into an area that was not safe for us to follow. One morning, we experienced a wonderful two hour long walk through woodland forest. We first viewed a small herd of about 50 buffalo, before enjoying two separate elephant bull sightings. 
Away from the big game sightings, we spent quality time understanding the "stories" of the bush through investigating tracks and signs. And what I loved is just how "full" the walks were with constant views of zebras, waterbuck, impalas, baboons, and remarkable birds like a pair of nesting Verreaux's Eagle-Owls. Oh and let me mention the trees again! The landscape is truly just absorbing to walk through.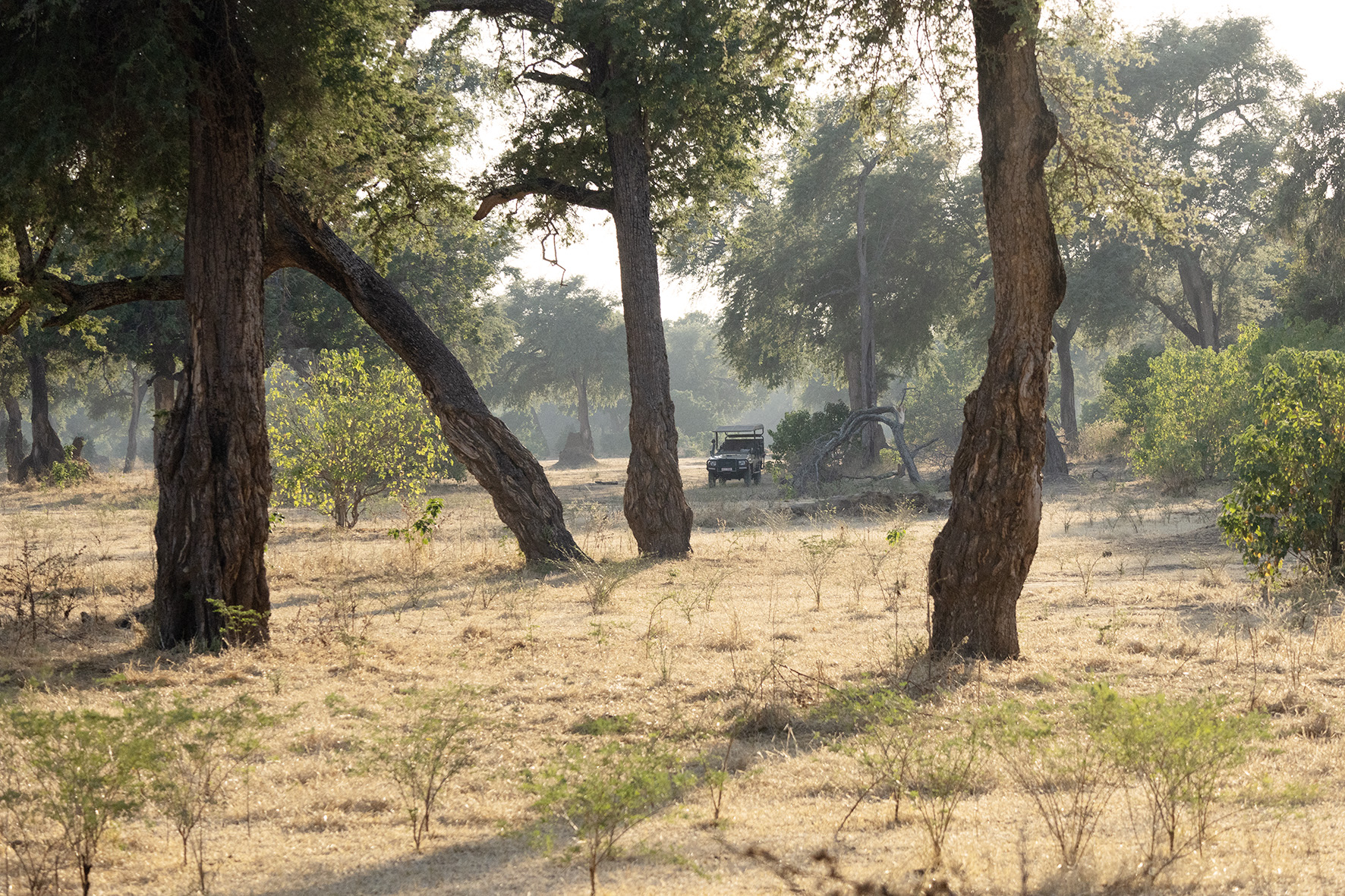 A Quick Ubuntu Travel Note on Walking Safaris: 
These walking safaris are done with an experienced guide who has specially trained to conduct this safari experience. It must be noted, however, that although these animals are accustomed to your presence, please always respect their space. And listen to your guide at all times. As these animals remain potentially dangerous. Learn more about walking safaris by clicking below.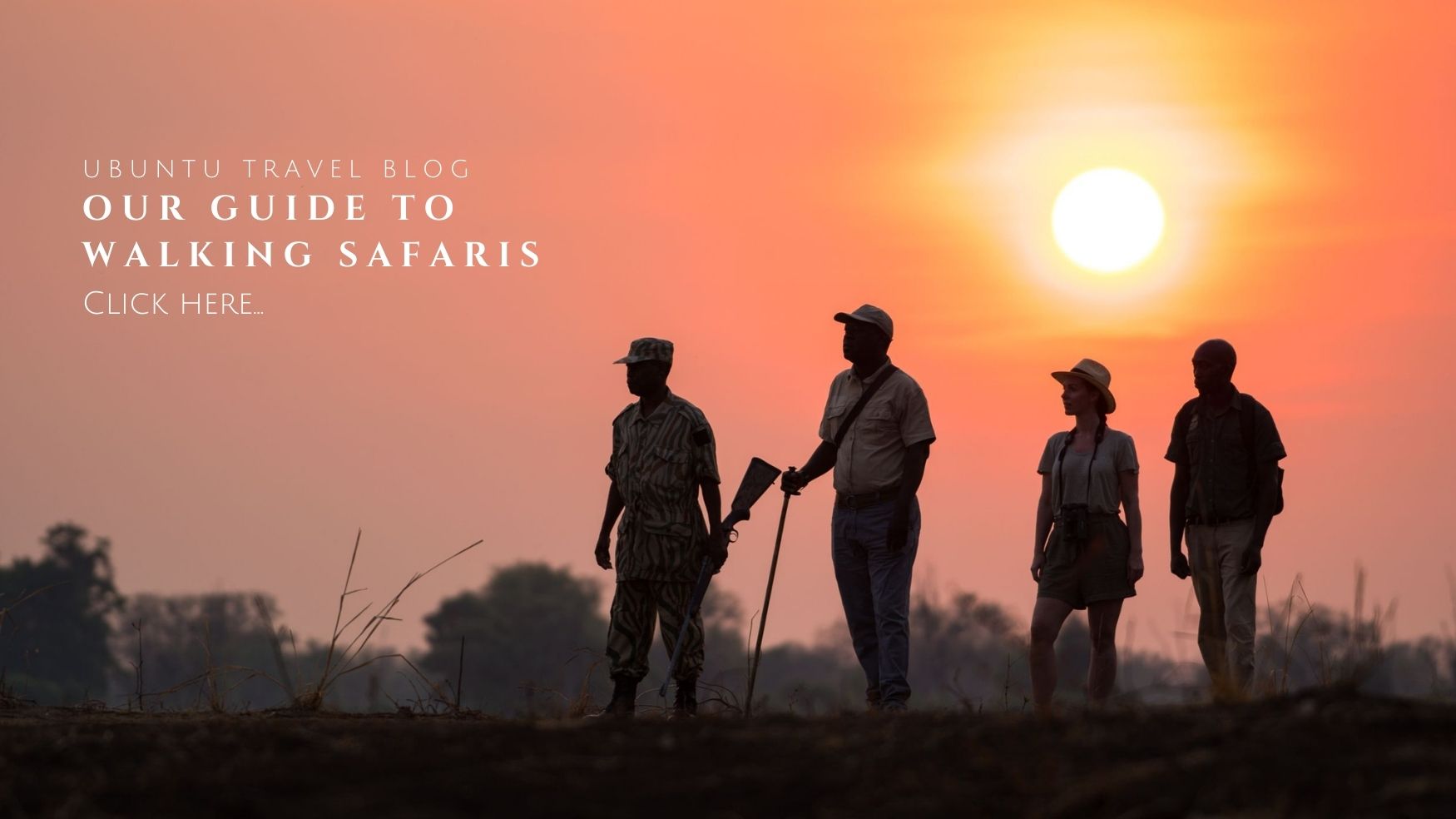 3) Wildlife Photography
Given the unique walking safari experience at Mana Pools; photographers are provided with a wonderful opportunity to take dramatic low-angled shots of wildlife. With the more "relaxed" nature of the animals, I found that I was able to move around and adjust my angle a little more than usual too. Of course, after always asking my guide where I could safely stand or crouch down. 
Remember, when you are on foot, you won't get as close to animals as you might on the vehicle. And you need to be prepared for that reality with a suitable long lens. When we did a walk to view an elephant bull,  I walked with a 100-400mm lens, as I thought I wanted to capture portrait shots. However, I quickly changed it to a more versatile 18-150mm lens, as I realized I wanted the context of proximity too. So like all photography, the equipment you use does depend on what you are trying to achieve.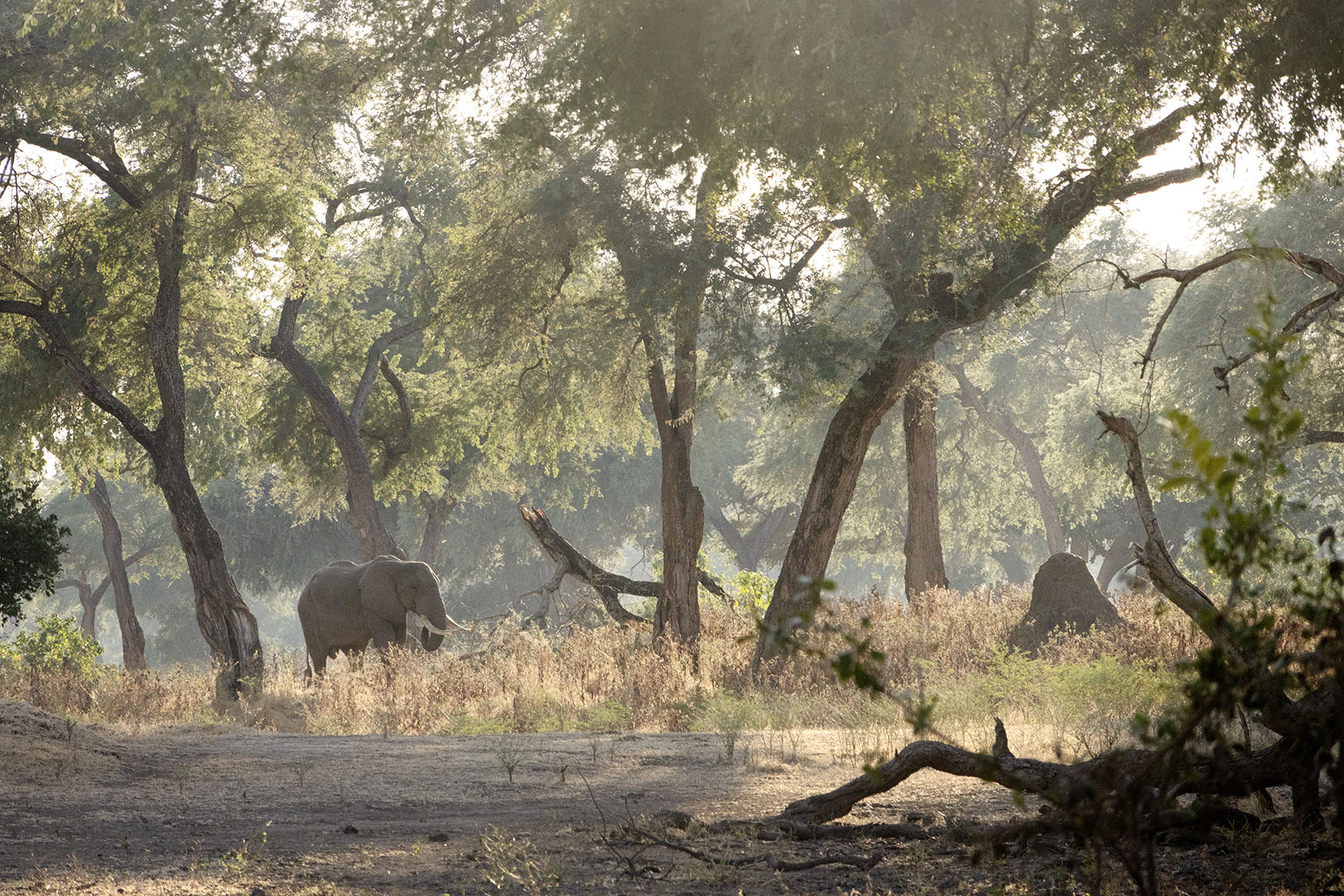 From a light perspective, the enchanting woodland forest provides wonderful dappled light that changes throughout the day, giving you a few opportunities try to capture that mystical element of Mana Pools landscape. And of course you have the open banks of the Zambezi River and flood plains where you can capture iconic shots of hippos, sunset drinks and possibly lions drinking from the bank!
My Camera Equipment
Canon EOS R7 – loved the eye tracking capabilities here! Huge help!

100–400mm focal lens 

150-600mm focal lens (Game drives in National Parks) 

18–150mm focal lens (Mostly for walks and video)

10-22mm wide angle (Forest landscapes and lodge images)

Spare (charged) battery

Spare 128MB Memory card
4) Zambezi River Cruise and Tiger Fishing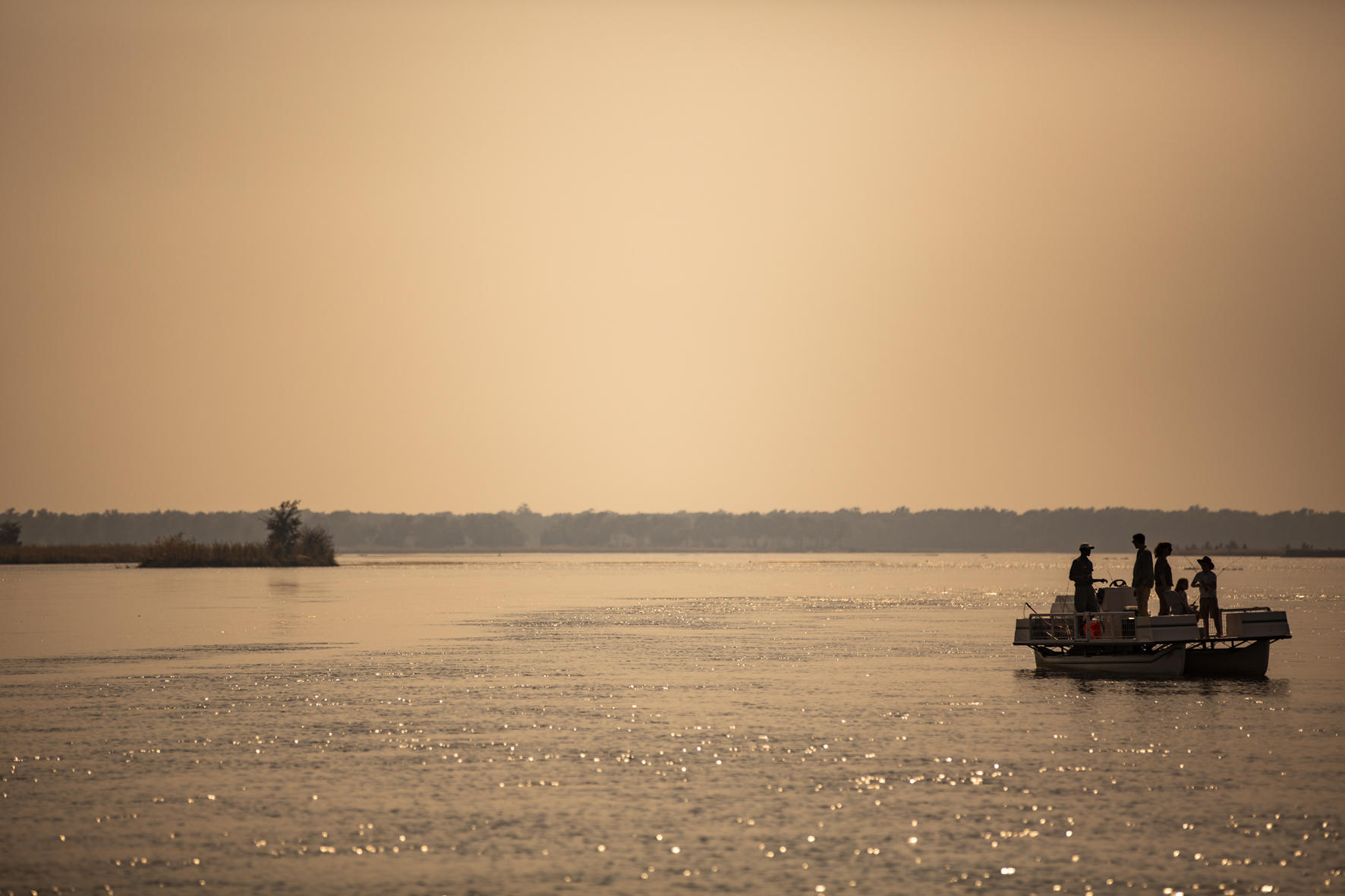 During our one-night stay at Wilderness Chikwenya, on the eastern side of Mana Pools, we opted for a slower afternoon cruising on the Zambezi River. We were persuaded to try a little catch-and-release tiger fishing to complement the afternoon, while watching game coming down to the Zambezi River to drink. Of course with a few cold beverages in hand… After our afternoon tea, the cream cheese salmon was ridiculously good, Kyle and I jumped on the vehicle and drove to the launch spot. Our guide, Rueben, briefed us on how the afternoon was going to go and of course a few safety reminders. Rueben navigated the river, past a few pods of hippos and crocodiles basking on the banks to position us to first catch a little bait fish. After about an hour, we had enough bait, so we repositioned to try to catch some tiger fish.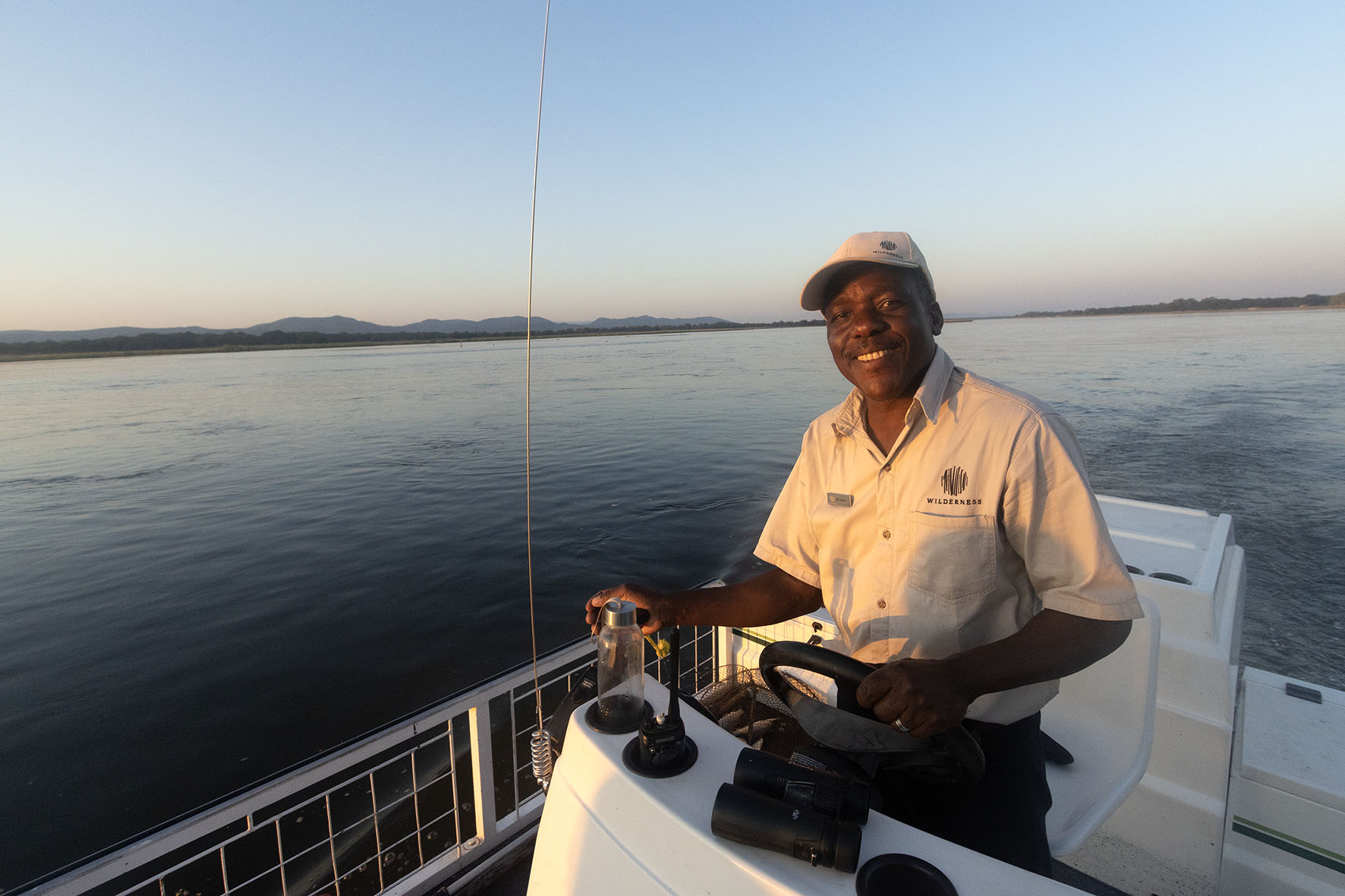 Above image: our awesome Wilderness guide, Rueben, navigating the Zambezi and a rather inexperienced crew. 
The rest of the afternoon was spent drifting down the tranquil Zambezi, casting and with little experience hoping we would catch our first tiger fish. We were not successful… However, spending the afternoon in the rhythm of the Zambezi and allowing sightings to come to us was definitely a tranquil safari experience. And we enjoyed every minute of it – especially the sundowner gin & tonics!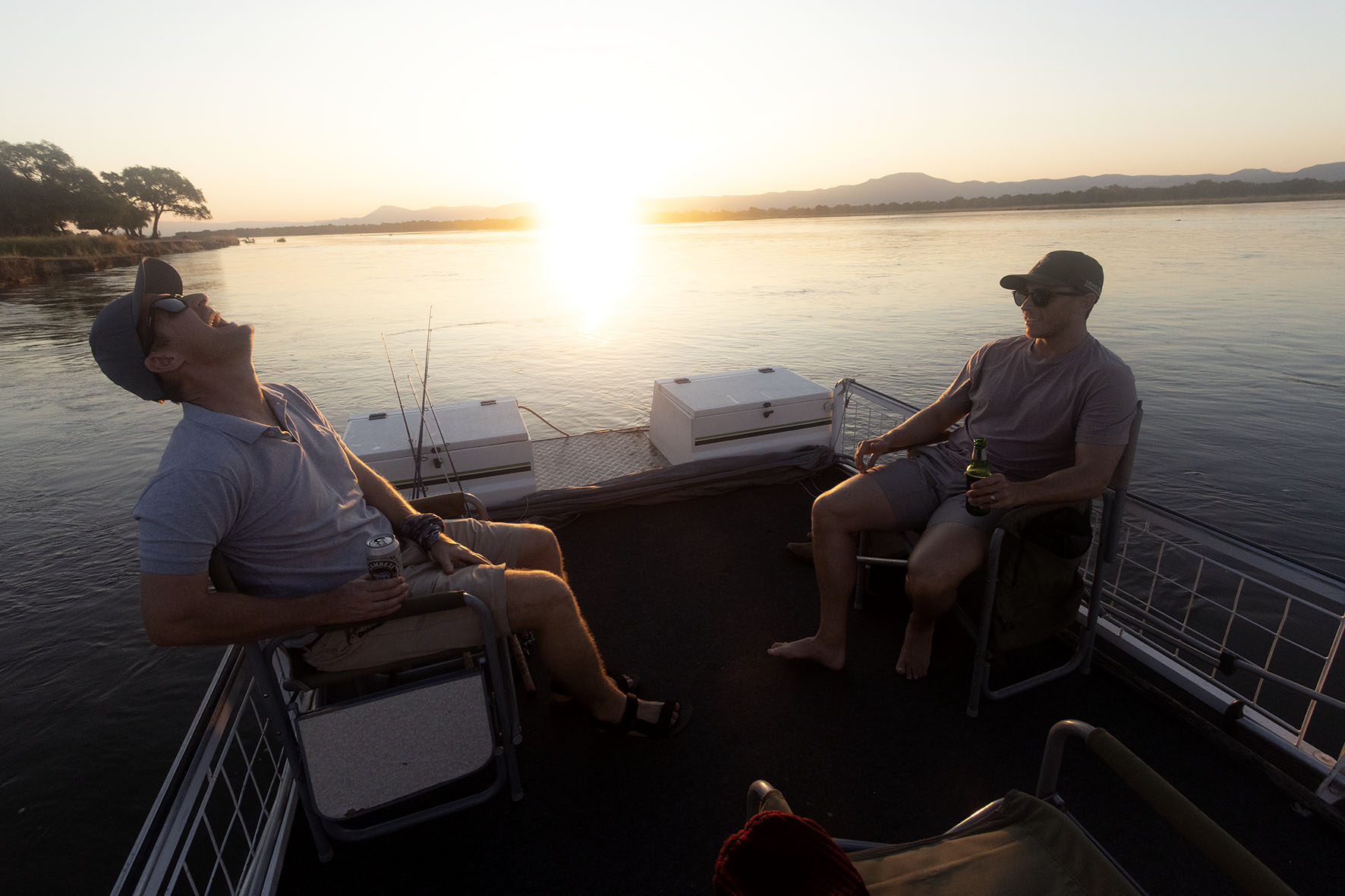 5) Tranquil Canoe Safaris 
Unfortunately, due to the length of our stay, Kyle and I did not find the time to enjoy this iconic Mana Pools experience. I still, however, would like to add it to our list of reasons to visit Mana Pools. As we know it will bring another fresh perspective to the safari experience, with wild encounters at eye-level with some of Africa's iconic animals. Watch elephants and buffalo drinking from the banks of the Zambezi. Gently and safely paddle past bobbing hippos and even find yourself at eye-level with sleeping crocodiles.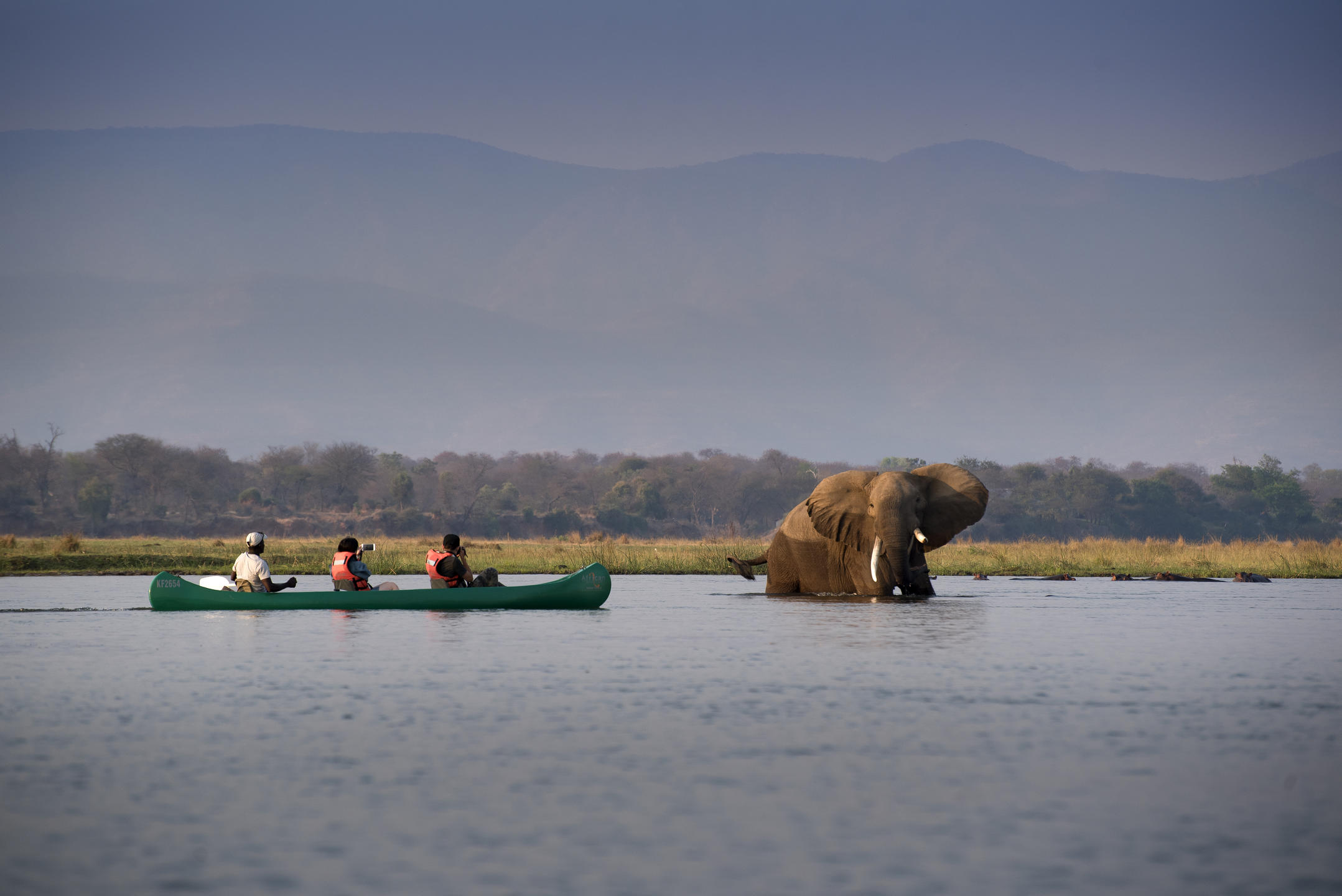 With over 350 species of birds in the area. A quiet safari experience will also allow you to get a little closer to the aquatic bird species with your Swarovski Optik binoculars in hand. Between August and November, don't forget to ask to see the Carmine Bee-eaters nesting on the sandy banks. When is the best time of day to canoe? I would definitely leave this to your guide, as they will know the weather predictions and also what is possibly about along the banks of the Zambezi River and further inland. My suggestion is to tell your guide that you would like to do a canoe safari – and let your guide decide the best time.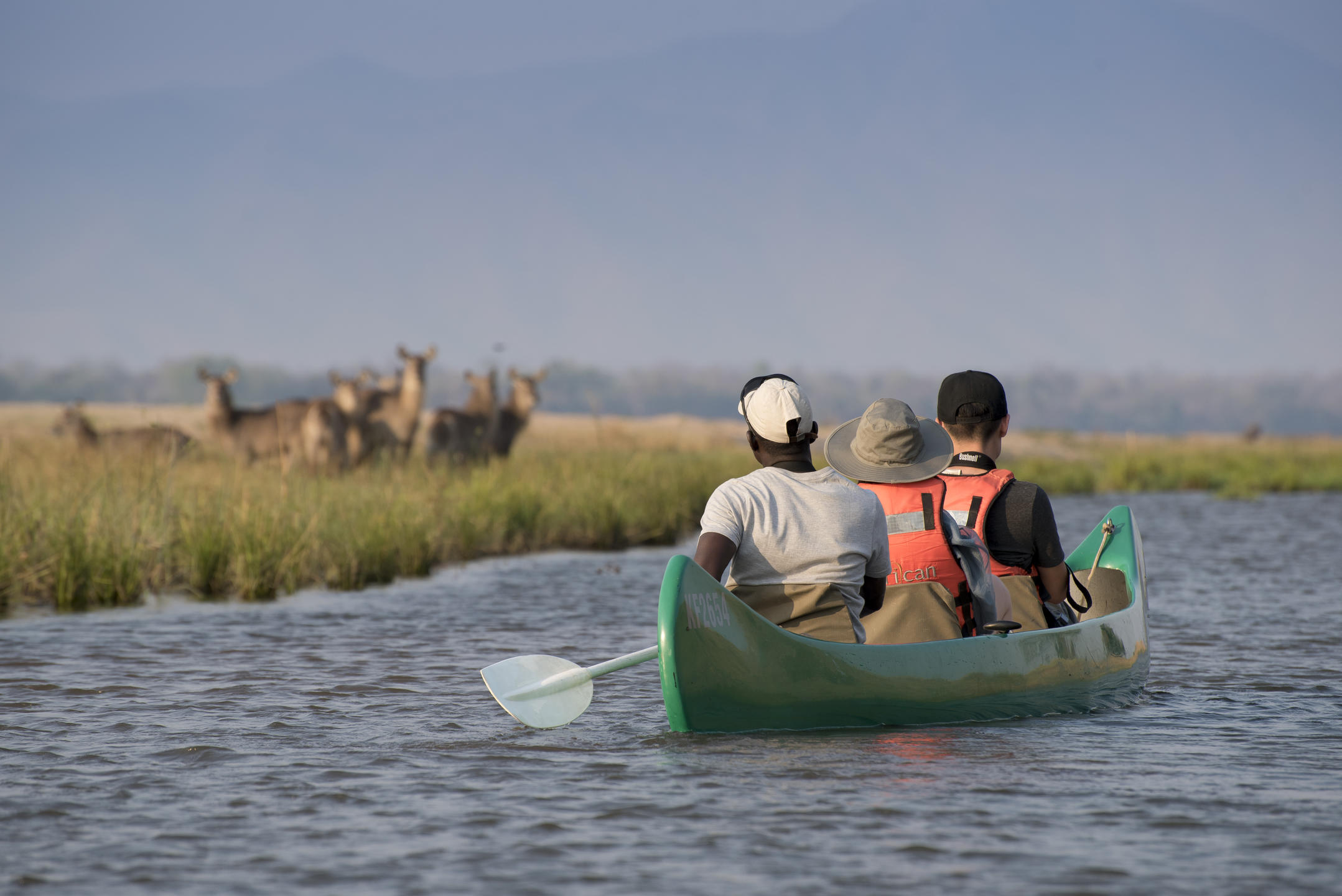 6) Wholesome Luxury Accommodation 
And of course, the remote and magical wilderness of Mana Pools is not without its eco-friendly luxury accommodation options. Co-Founder, Kyle Green, and I were lucky enough to visit a few of our favorite Wilderness and African Bush Camps in the area. Here is where we stayed: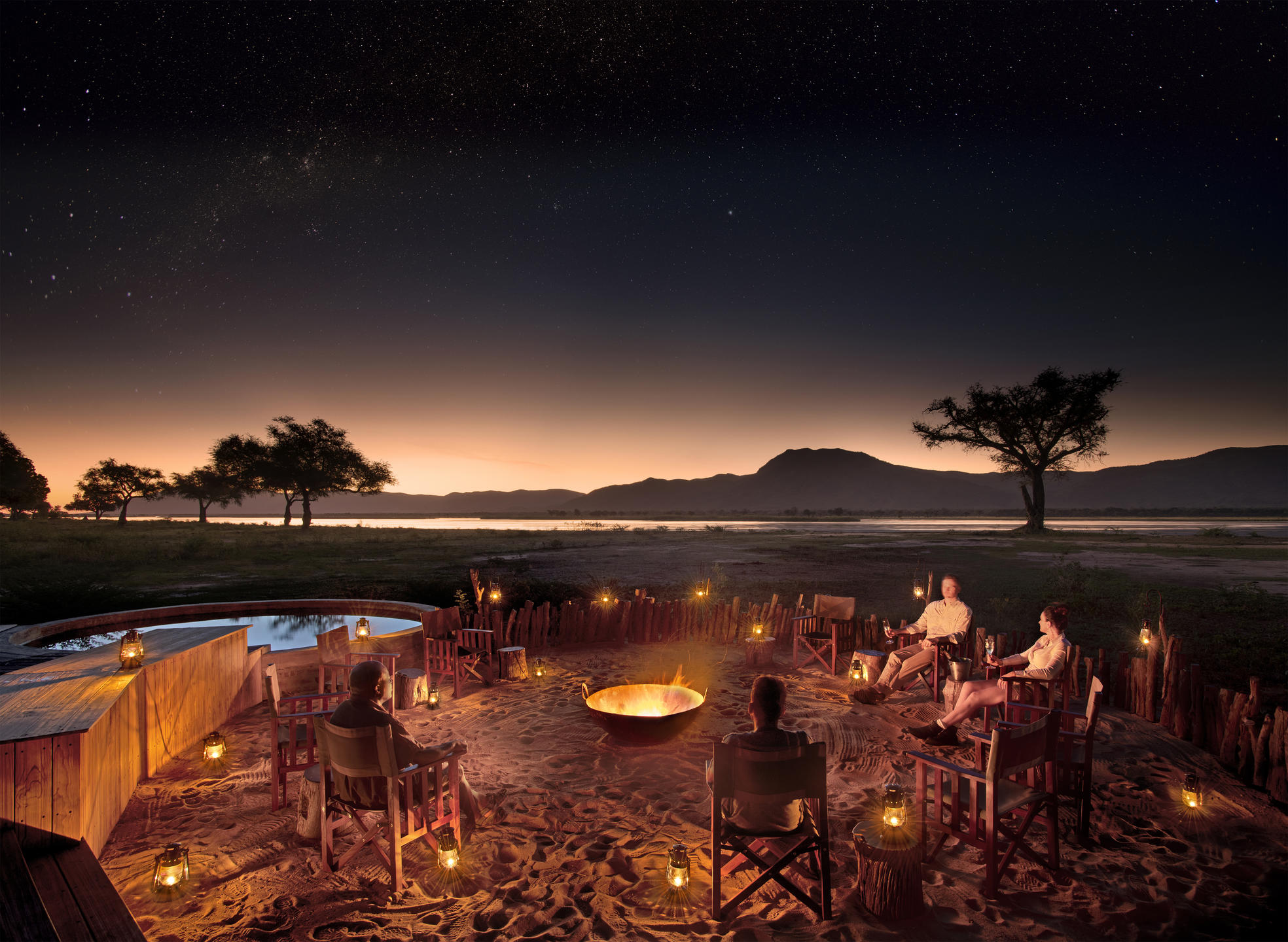 African Bush Camps Nyamatusi   
With only 12 guests allowed in camp at any given time, you're guaranteed an exclusive stay. Unwind in one of six luxurious tented suites which boast uninterrupted views of the Zambezi River. Your tent features air-conditioning, a mini-bar, an indoor and outdoor shower, a private viewing deck, and a plunge pool – what more could you ask for. Read more…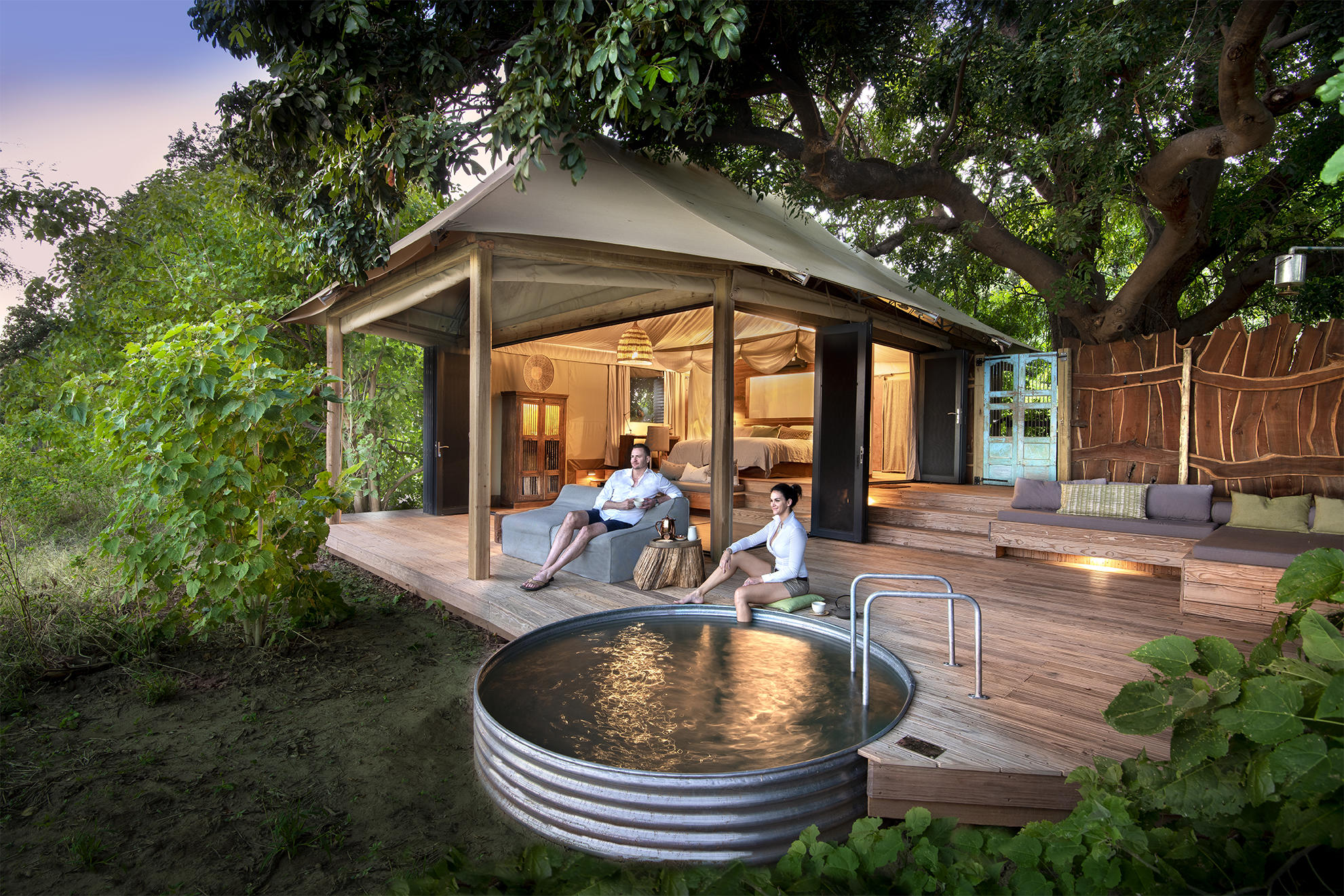 Highlights during our stay:
We enjoyed incredible big game walking safaris during our stay. With incredible sightings of bull elephants and buffalo herds on foot.
Tracking a pride of lions on foot – and finding them! 
The evening dinner on the banks of the Zambezi River
Wilderness Chikwenya 
Here, just seven tented suites await. Spacious and elegant in their light shades of white, cream and beige, you will have the opportunity to unwind on plush beds, refresh in your private pool, and enjoy a range of luxurious amenities. The lodge also offers family rooms, making it ideal for the young and young at heart. Read more…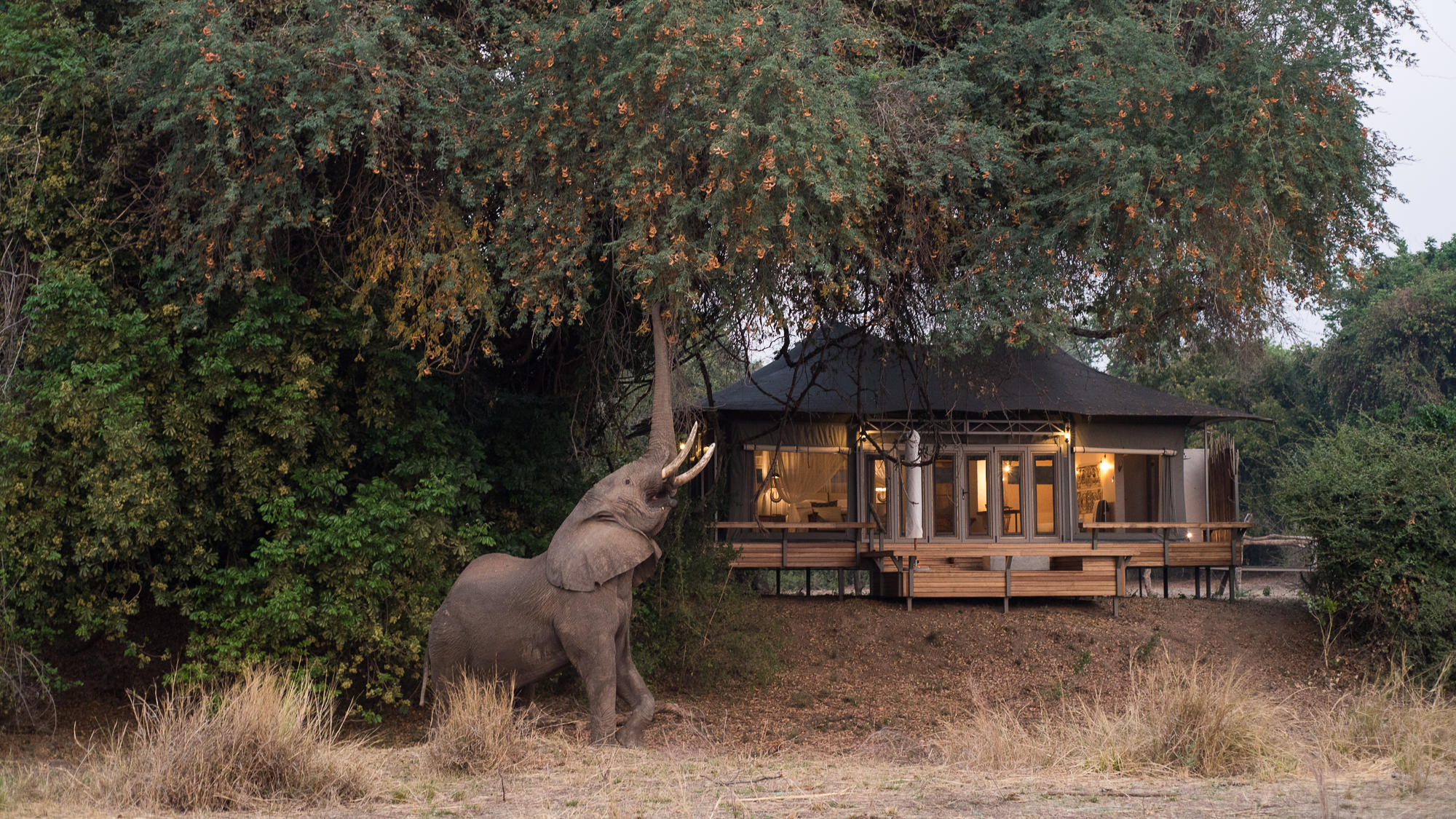 Highlights during our stay:
Sunset cruise and tiger fishing brought a wonderful change of pace to the safari. With some beautiful wildlife sightings from the river. 
Bull elephants almost constantly moving through camp 
Wild dogs on our final morning drive! 
Wilderness Ruckomechi 
There are 10 spacious suites including two family suites that have been thoughtfully designed to cater for all your needs. Mealtimes are a convivial affair with hearty menus ensuring you never go hungry – the pancake breakfast in the bush is one of our favorite occasions. Read more…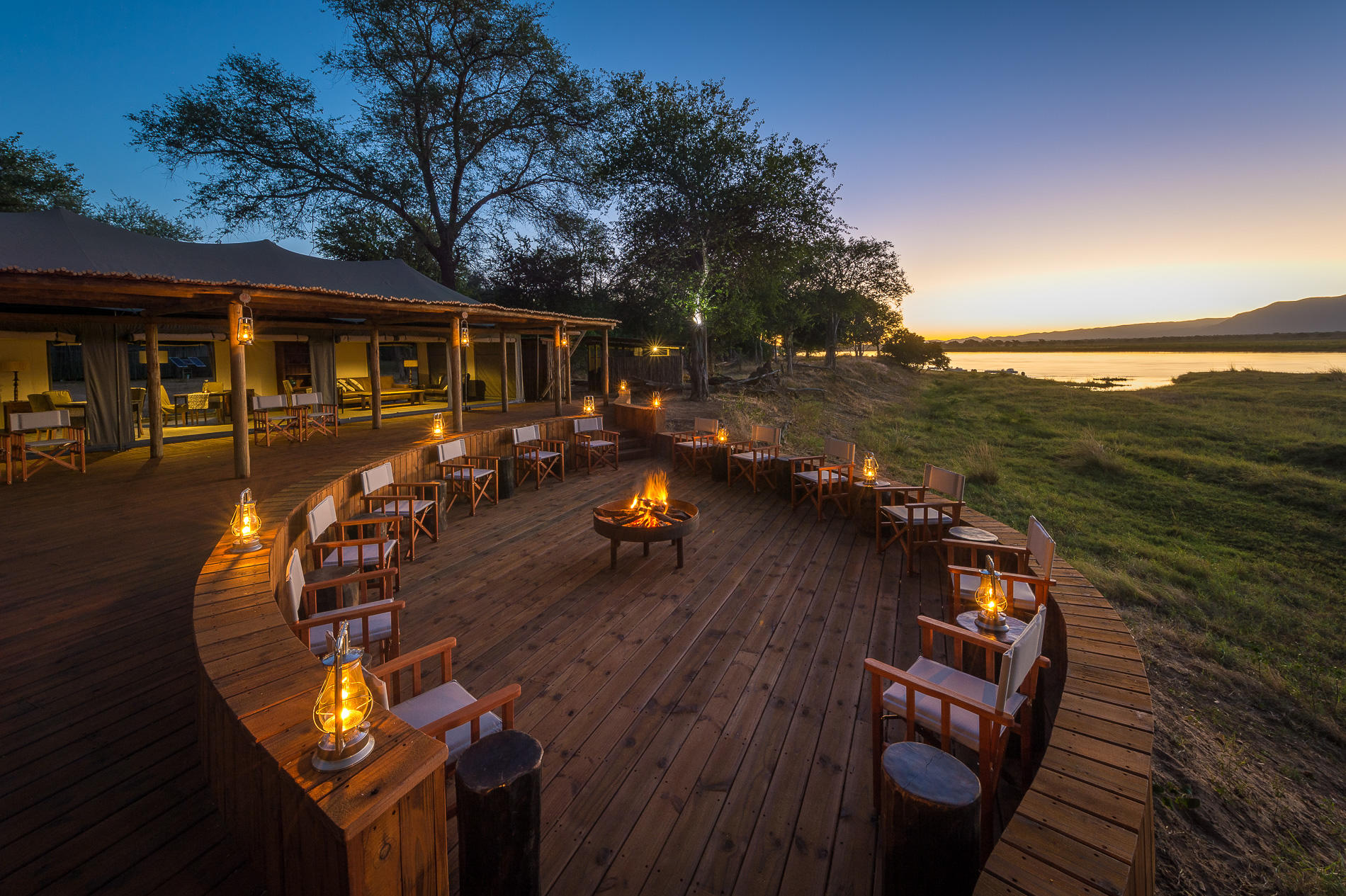 Highlights during our stay:
Incredible lion sightings. Including a coalition running through camp
Wonderful herds of elephants along the Zambezi River
Special sundowner on our final afternoon in Mana Pools – magical
Are you ready for the trip of a lifetime?
If you're thinking of planning a trip, we're here to help! Our team of travel designers will create an itinerary just for you to create memories to last a lifetime and conquer your bucket list. Get in touch with us today to start planning your adventure in Africa.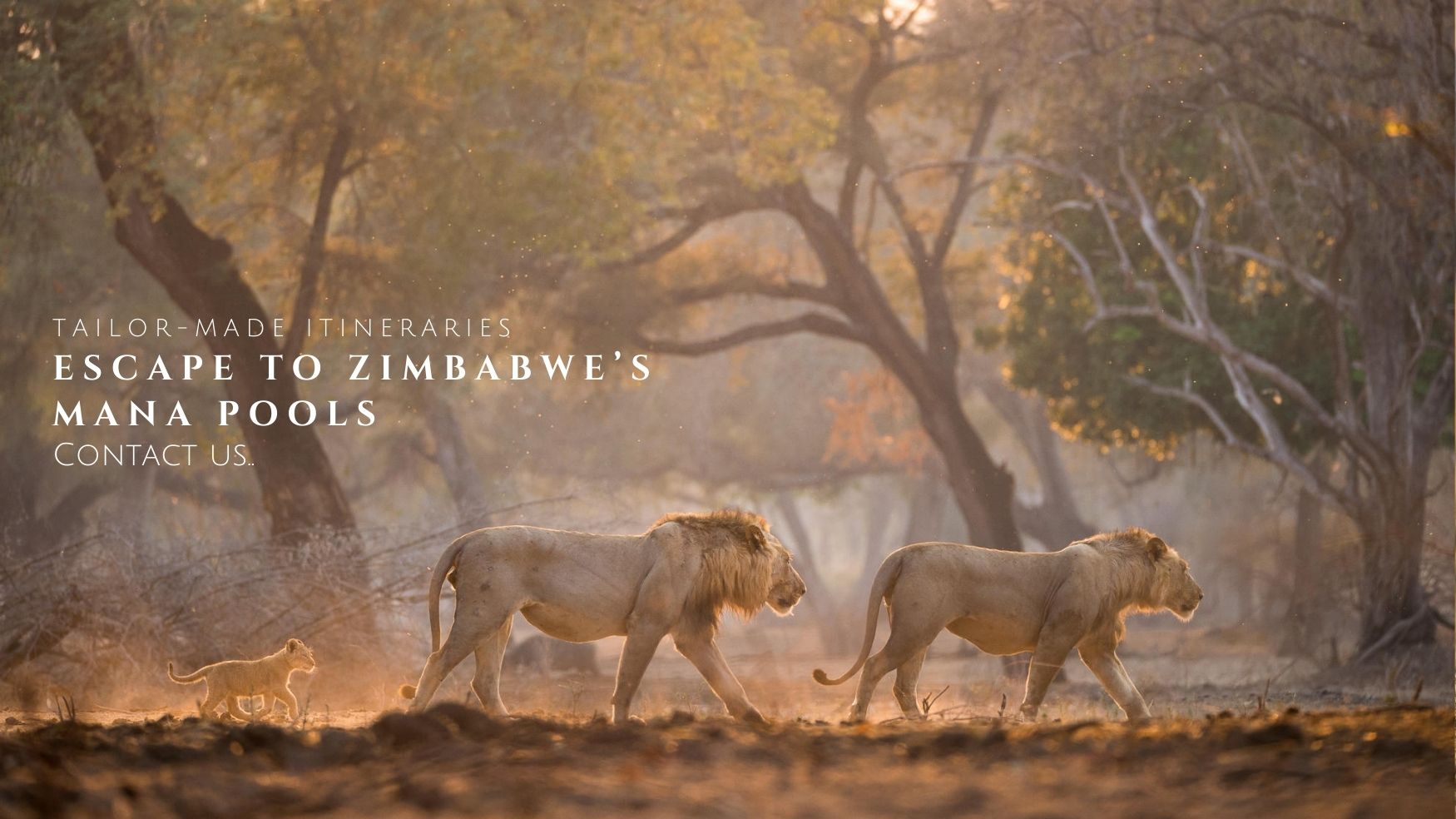 Follow us on Instagram