Written by: Sean Messham 
As a previous guide in the iconic  Sabi Sand Game Reserve and later on within a private concession of the world-renowned Kruger National Park, I was bewildered by how many guests would arrive to go on safari without their own pair of binoculars… However, what I came to realize was that many of them simply just didn't know better, as they didn't fully appreciate what they were potentially missing out on! 
And this is why I am so happy you're here! 
As it means I get the opportunity to guide you through 7 reasons why you cannot leave for an African safari without a pair of binoculars!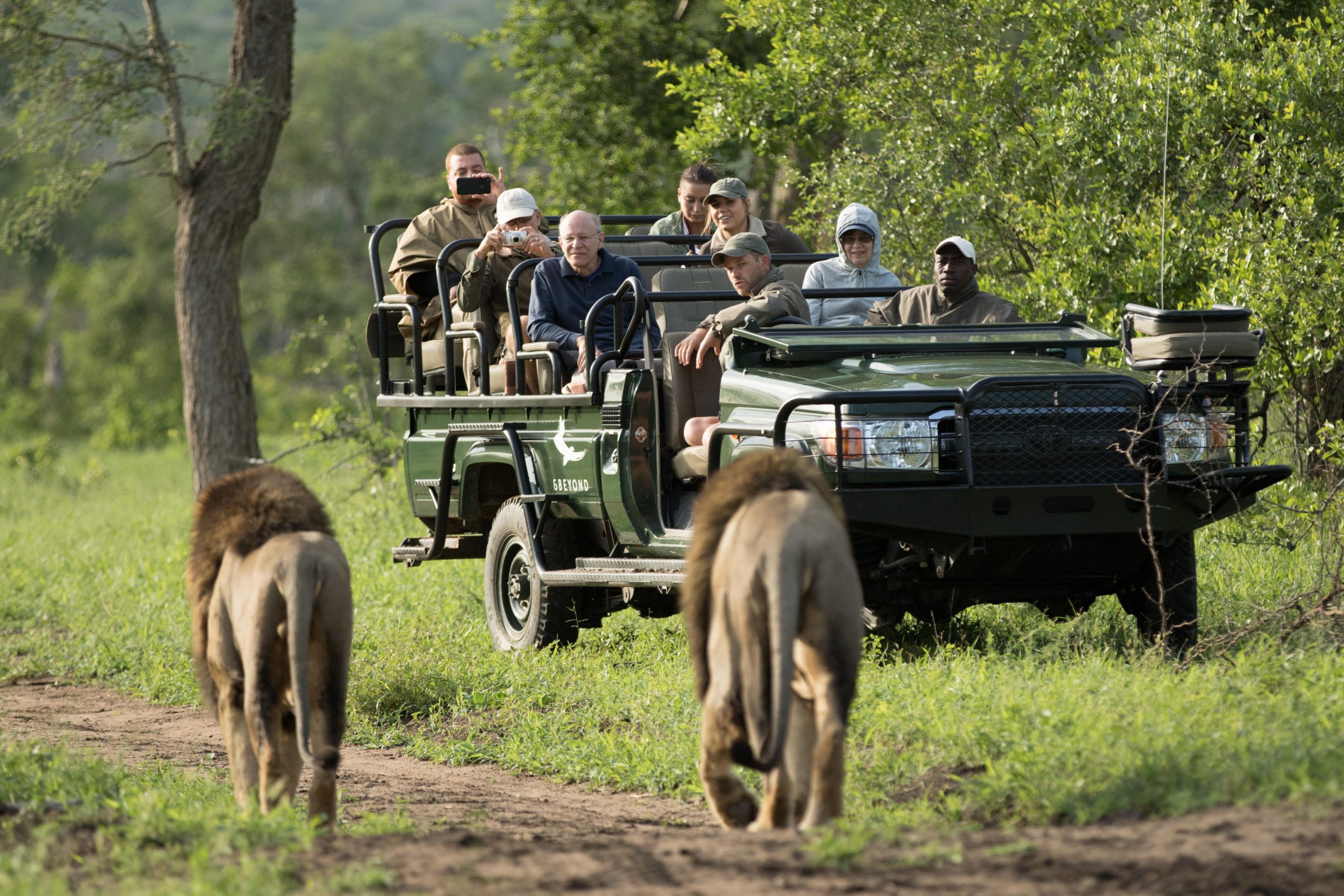 Above image: Marketing Manager, Sean Messham, guiding a few years ago at andBeyond Kirkman's Kamp, Sabi Sand Game Reserve, South Africa. No need for binoculars here, while a coalition of lions walk past the vehicle, but explore why you need them below. Photo (c) Matthew Poole  
1) Focus on the Details 
Lions sleep! I am going to break this expectation for you, lions sleep close to 21 hours a day! Which means you are more likely to view a sleeping lion, before you are lucky enough to watch them yawn, stretch and start moving! Do not get me wrong, you will never forget it and yes sleeping lions is still an impressive life-changing sighting!
But while you wait, listen to your guide pointing out the smaller details. The black tips of their tails, and what are "follow-me" signs? Focus 8 to 10 times closer onto their whiskers, paws and protractable claws (perhaps still with some fur from its recent kill). Watch the cubs playing and learning their hunting skills even more closely, with defying details that will help you appreciate them even further. Now that's a way to look at lions!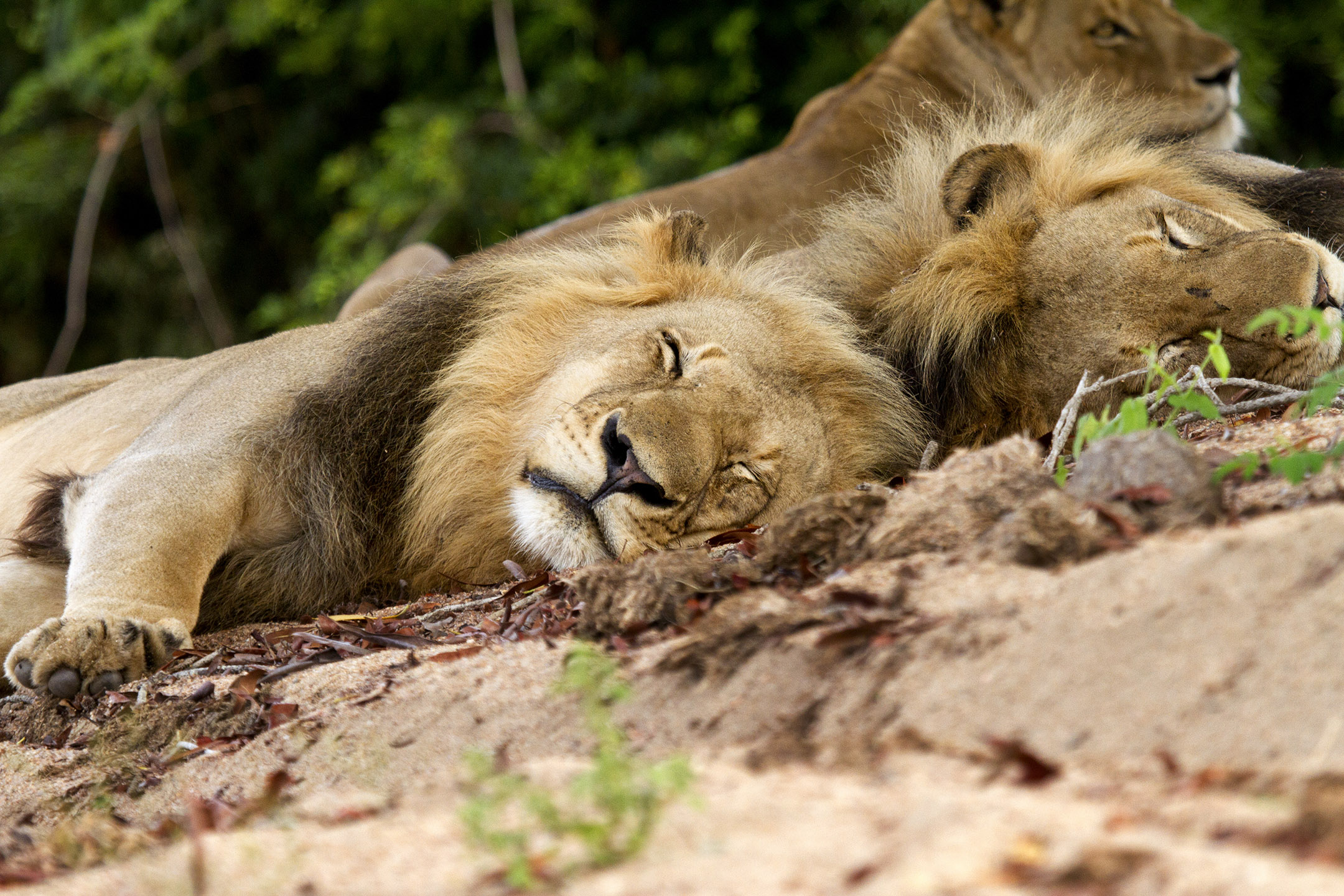 Swarovski Optik binoculars are of  exceptional quality. Not only the physical feel of the binoculars, but the Swarovision optik technology guarantees superior crystal clear images with incredible color fidelity. Essentially, they will enhance your game viewing experience! 
Video below: Discover what Co-founder, Kyle Green, is watching with his Swarovski Optik CL Companions at andBeyond Tengile River Lodge, Sabi Sand Game Reserve, South Africa. 
Quick Recap:
Bring Nature Closer by 8 or 10 times

Focus into details of larger animals 

Observe your guides interpretations 
Explore our new Swarovski Optik Inspired Itineraries: Get Closer to Nature
2) Yes. Birding… explore why! 
This is likely the most obvious reason for why you need a pair of binoculars on an African Safari. Ironically, however, it perhaps also contributes to why so many don't bother to invest in a pair, as they (you) are not interested in seeing birds. But to the non-birder, consider this… 
Birds have exceptional eyesight, raptors in particular have over 1 million visual cells inside their fovea (a part of the eyeball) compared to our 200 000. Which gives them superior vision and allows them to see in greater detail, they can also see a wider range of colours than us. By observing them, learning to identify different birds of prey and their behaviours, you might get an eagle eye (pun intended) on something you quite literally would not have seen!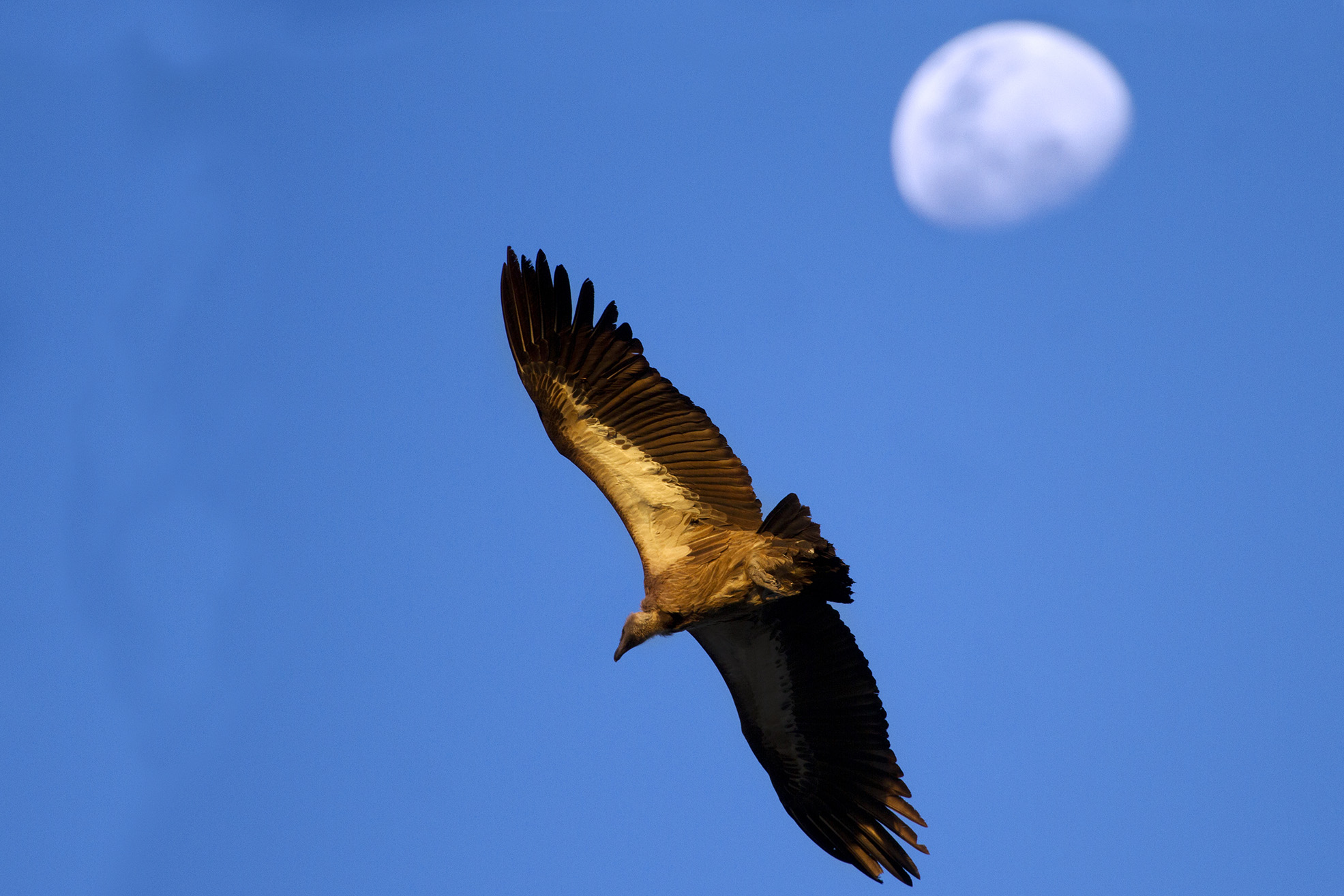 Above image: A white-backed vulture soaring over a wild dog kill in the Sand River, Sabi Sand Game Reserve, South Africa 
Birds' alarm calls are also exceptionally important and trackers will always investigate an alarm call, as again, they might have seen something you haven't. Trust me, slow down, enjoy a few bird sightings… they are not only beautiful, but they can lead you to something you may have missed or driven just past!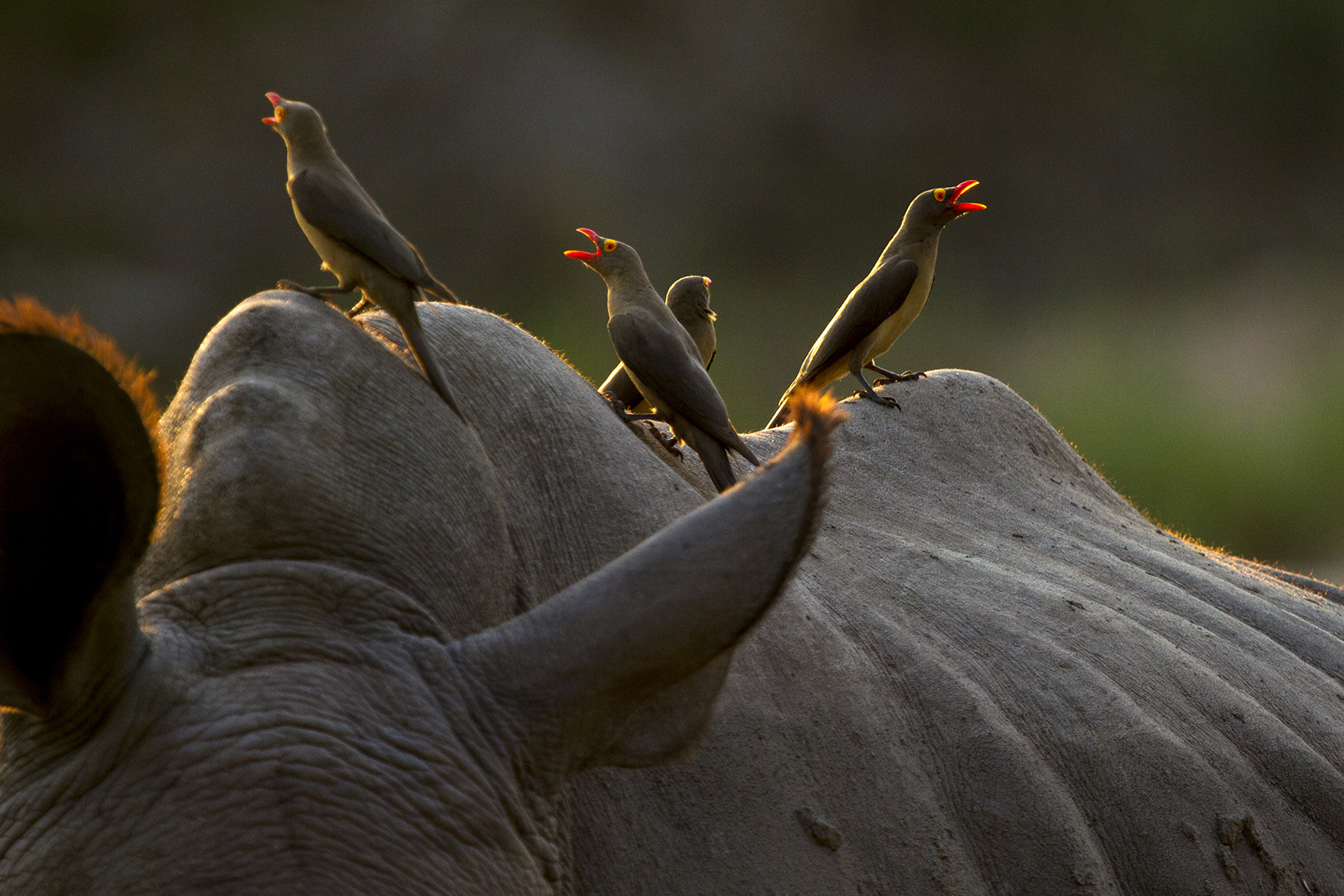 3) Discover what's beyond the thicket!
Sometimes… you just need to check what's rustling in the bushes! Our recent visit to andBeyond Tengile River Lodge was just such an occasion. We were looking for a female leopard and her two cubs in an area where they were last seen, unfortunately with no luck…
But then, as Chris (our guide), was reversing I caught a little movement in the bushes. I honestly thought it was just a crested francolin (a small ground bird), and I almost left it as we could hear a male leopard vocalizing in the distance, so time was precious! But something said to me "just check", so I asked Chris to stop and give me a second to have a look.  I picked up my Swarovskis and focused past the branches and leaves in the thicket in front of me… focusing on the movement that I thought would be a silly ground bird…
It wasn't! Among the thicket I could make out two small leopard cubs rumbling and tumbling where their mom had obviously left them! I took a few minutes before I said anything out loud, as they were so well camouflaged and hidden. But yes, eventually, I said "yip, those are two leopard cubs"!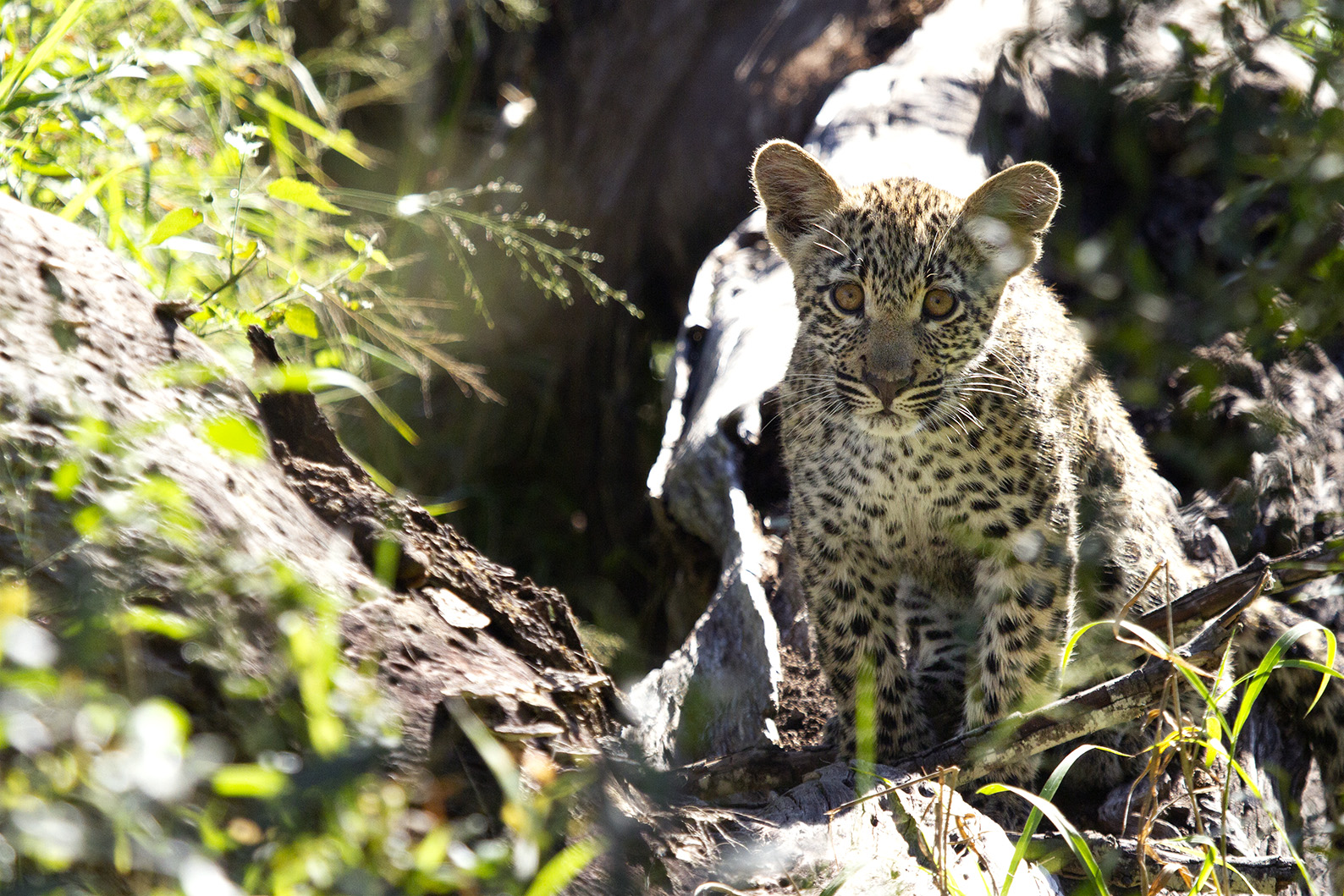 Our Co-Founder, Kyle Green, immediately got his pair focused on the thicket I was looking at. And there we were, watching the precious and secret lives of two leopard cubs playing! What a privilege! A privilege that, even now, gives me goosebumps while writing! 
It turned out to be an insane morning! And we were fortunate enough to see six leopards in one morning game drive… Yes, six! An absolutely incredible morning at andBeyond Tengile River Lodge!! Look out for our next blog " A Morning of Leopards" that's coming soon!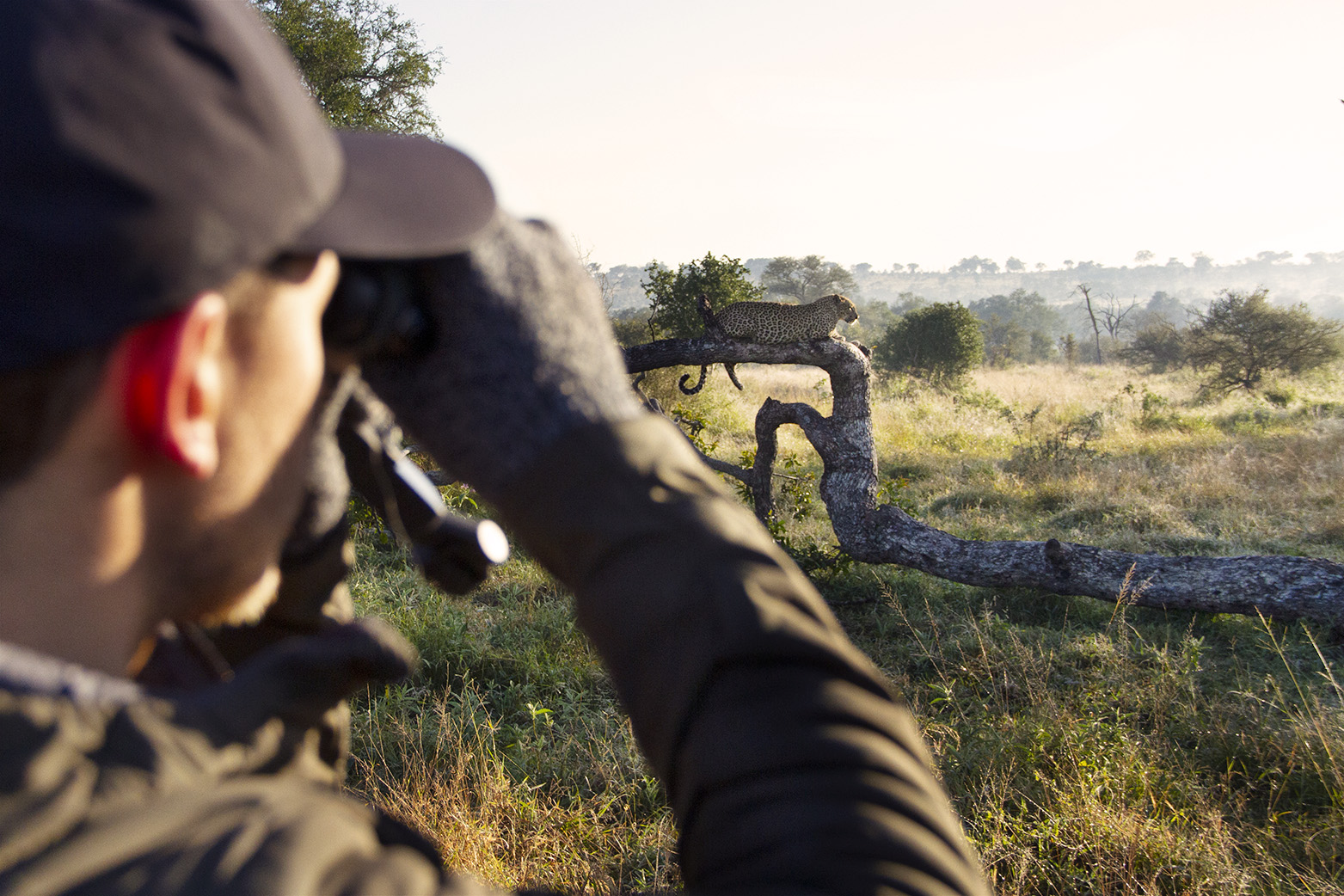 4) Participate in the Drive – Don't just be a Passenger 
Having a pair of binoculars allows you to participate in every aspect of the game drive. From pointing out and asking more detailed questions about a lion while sleeping, observing a bird of prey or scanning the bushes for a secret life of leopards. They allow you to investigate sights, signs and sounds. Bringing you closer to the game drive experience like you never imagined!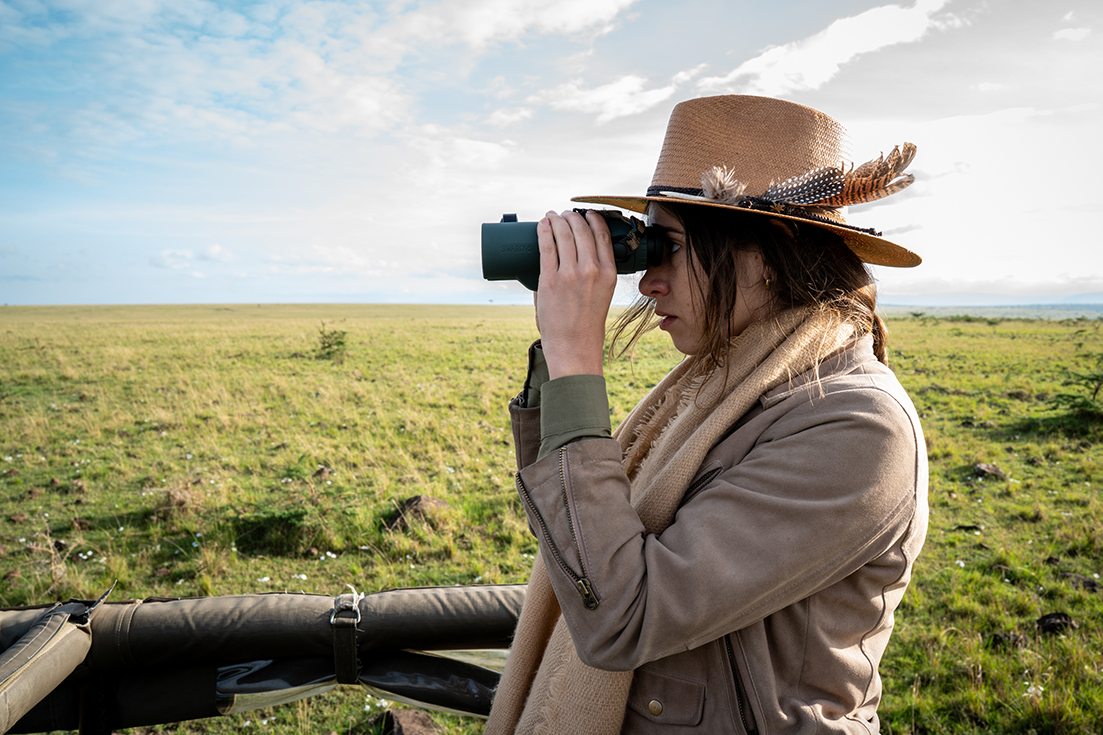 Focus on where a vervet monkey is looking while its alarm calling, is there a leopard beneath it? Or is it a snake moving towards a bird's nest? "Get eyes" on the black spectacled spot on the horizon, could that be your first glimpse of the Great Wildebeest Migration? Or is it a cheetah scanning the open plains for a hunting opportunity. 
Binoculars will pull you in closer, making you a part of your own safari experience! Rather than just a passive passenger.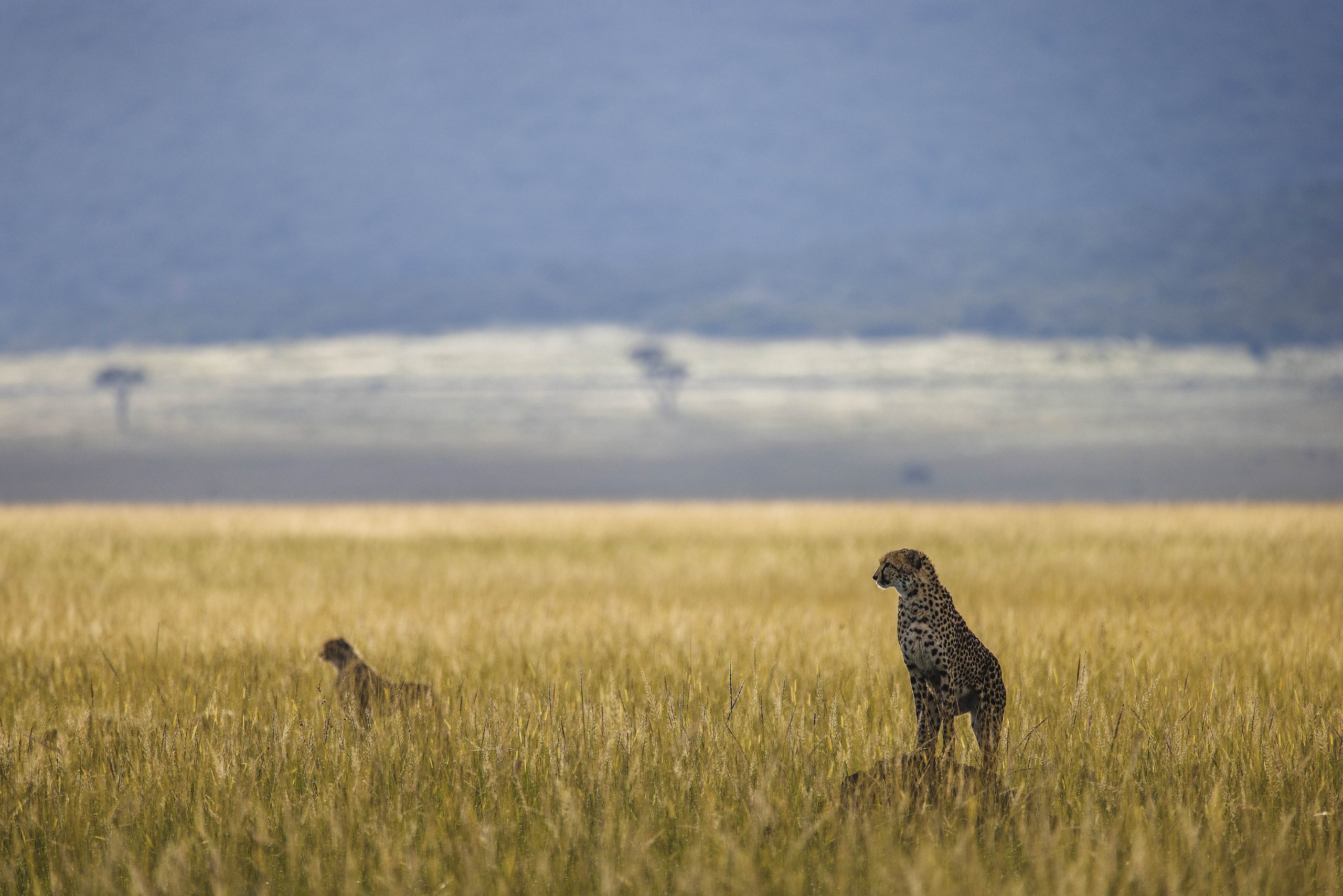 5) More Light at Dawn and Dusk 
I have mentioned this in our "What to Consider when Buying Binoculars" blog, but I do believe it's worth repeating here too. Due to the Swarovision optik technology, your binoculars can help you see better in low light situations. Which is perfect for the early morning sightings right outside the lodge, or perhaps a lion walking in the road in the evening!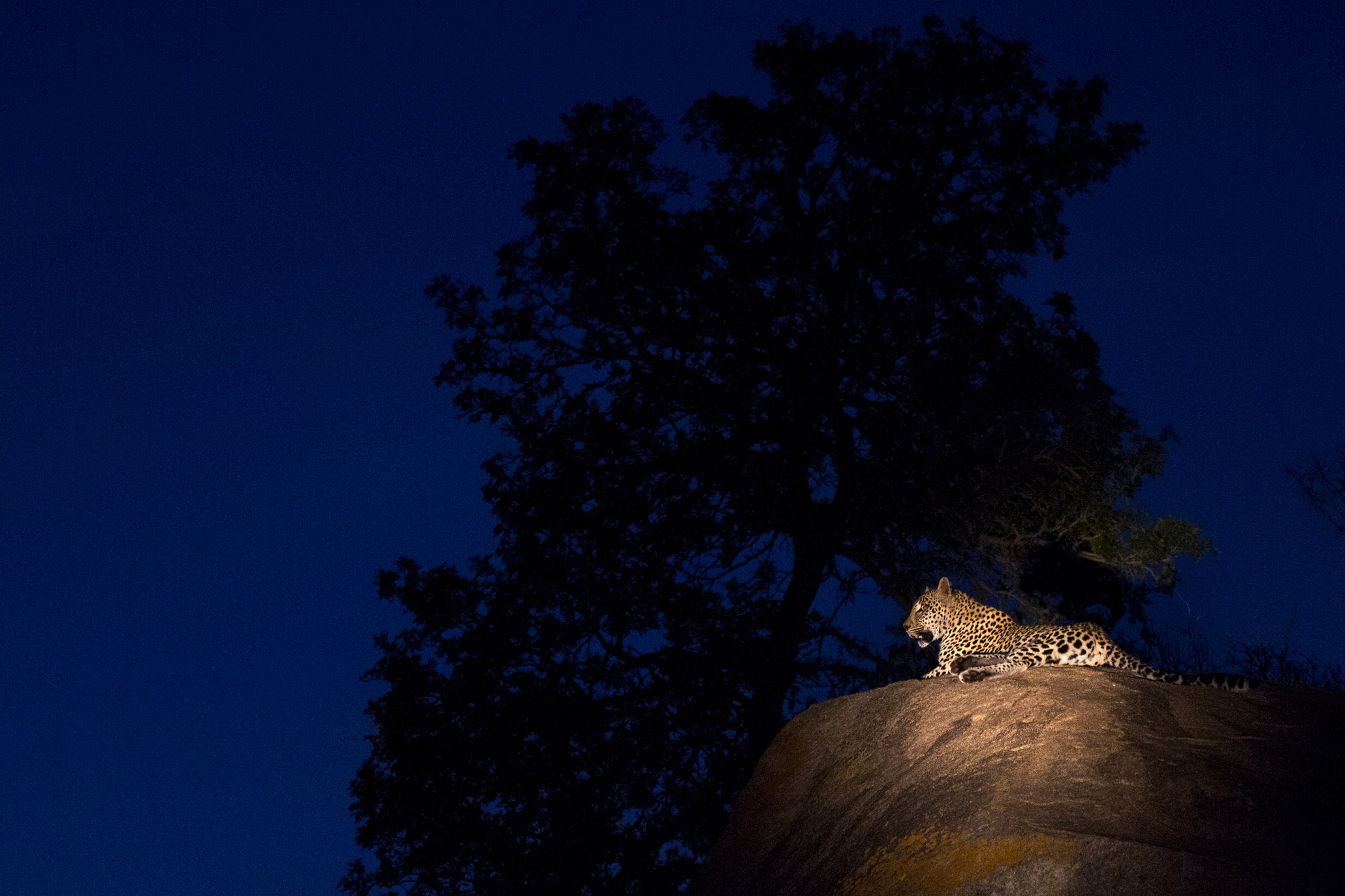 Some lodges might even use a red light to view animals at night, as the light will not harm the nocturnal animals eyesight. Your binoculars will help you view them with slightly more clarity. 
All of this will just help to contribute to the quality of your safari experience! No matter what time it is.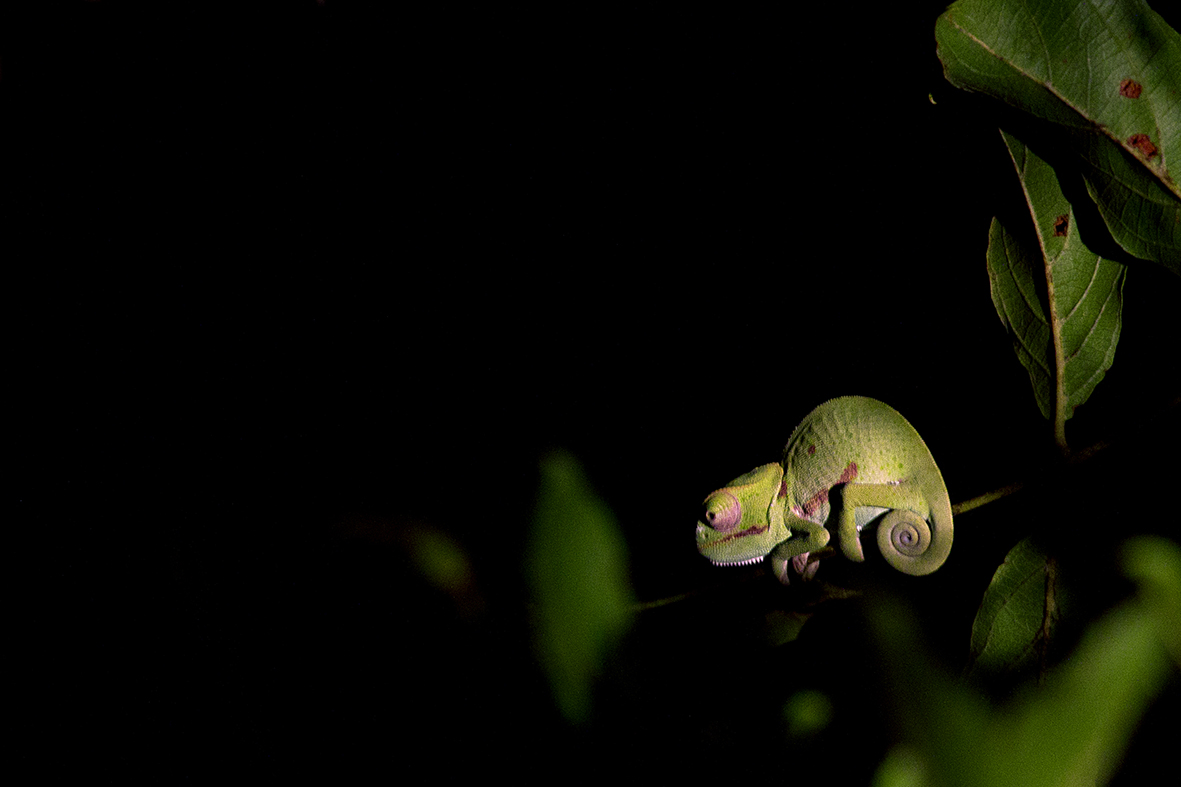 6) Walking Safaris 
If you have the time, I would encourage you to do a walking safari! It provides a wonderful opportunity to get on foot and learn more about the finer details. Details that one might drive past while on a game drive. From dung beetles to the complex social structures of termites, and how they both quite literally construct the perfect conditions for life to thrive! 
Animals, however, are often more cautious of a thin-wired framed animal standing tall on two legs. Therefore, they could move away from you more readily. Having a pair of binoculars allows you to view them at a distance they, and perhaps you, are more comfortable with.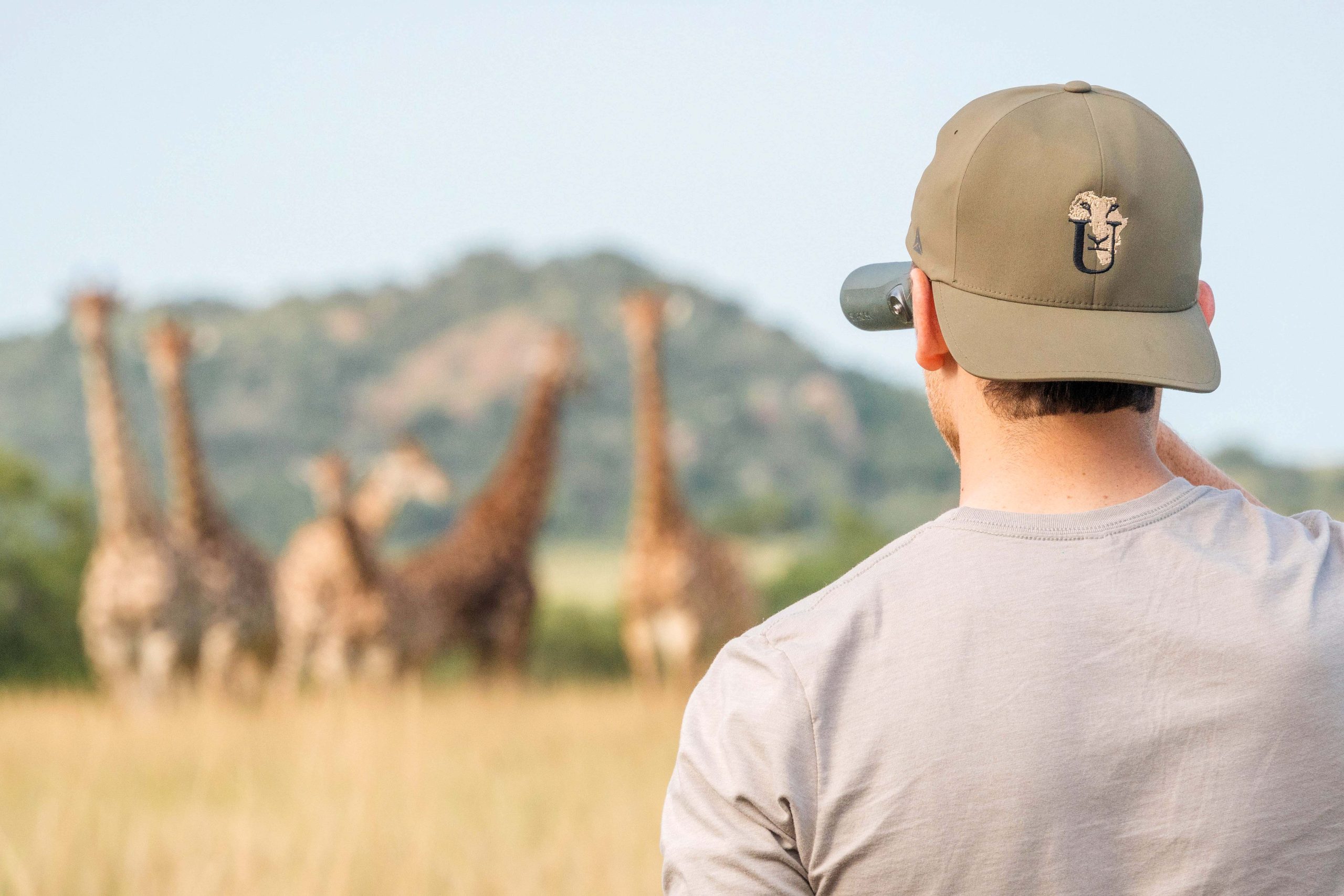 For those who want to track and view elephants, rhino or even buffalo on foot. This is a great way to view their behavior from a safe distance. For you, but more importantly for the animals you are hoping to see. Not to mention, you can participate during the walk and scan the landscape every time your guide and tracker stops to view what's ahead. You never know, you could see something they don't'!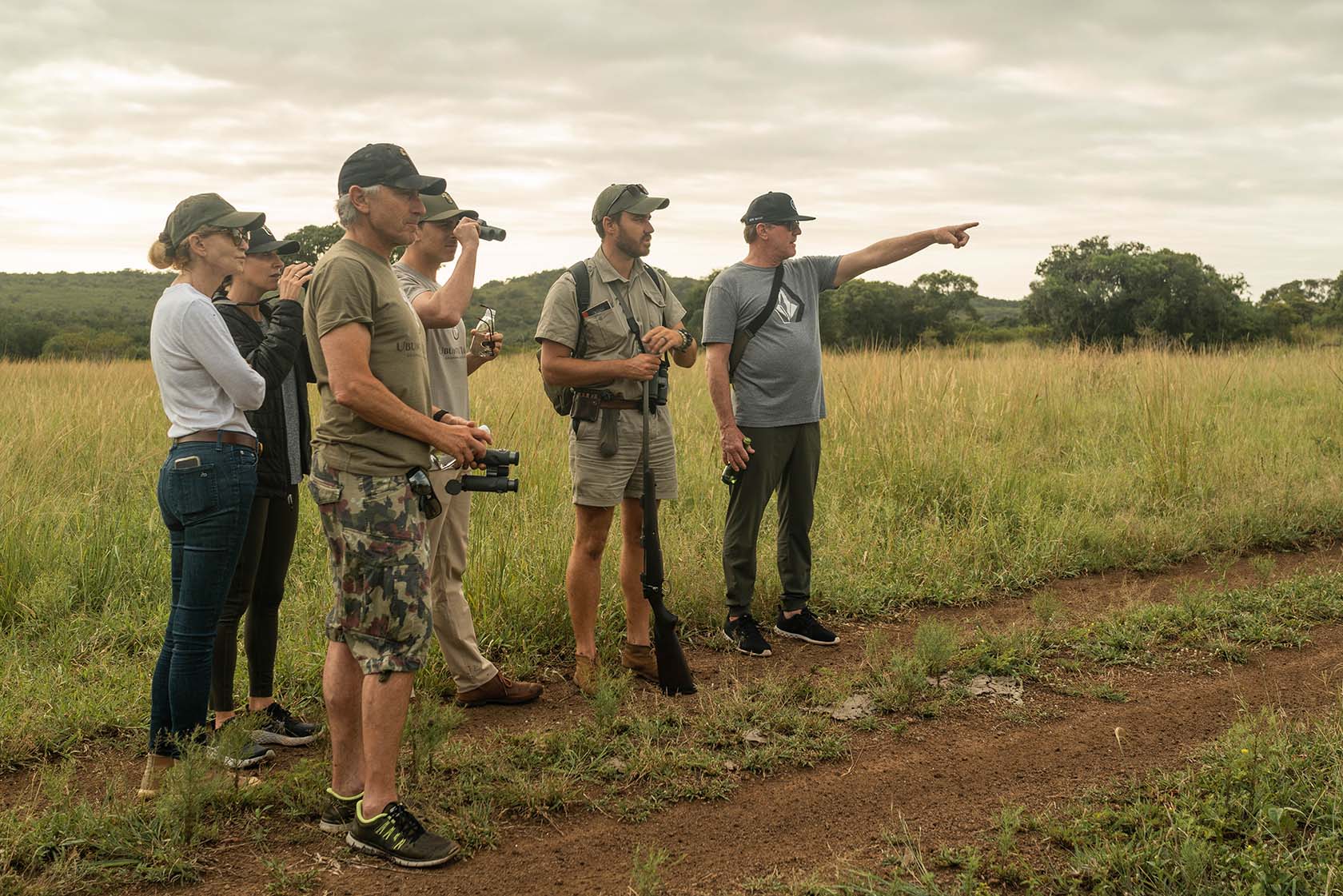 7 ) Game Viewing at the Lodge
Many lodges will "sell" their location with descriptions of fantastic views of the river, or exclusive panoramic views of open plains of the Masai Mara and Serengeti! What about the "active waterhole with a variety of visitors"… I am sure you have read or heard of these descriptions before? And it's absolutely accurate and potentially perfect! 
What an incredible view you have… but with no binoculars to scan and investigate what potentially is right in front of you…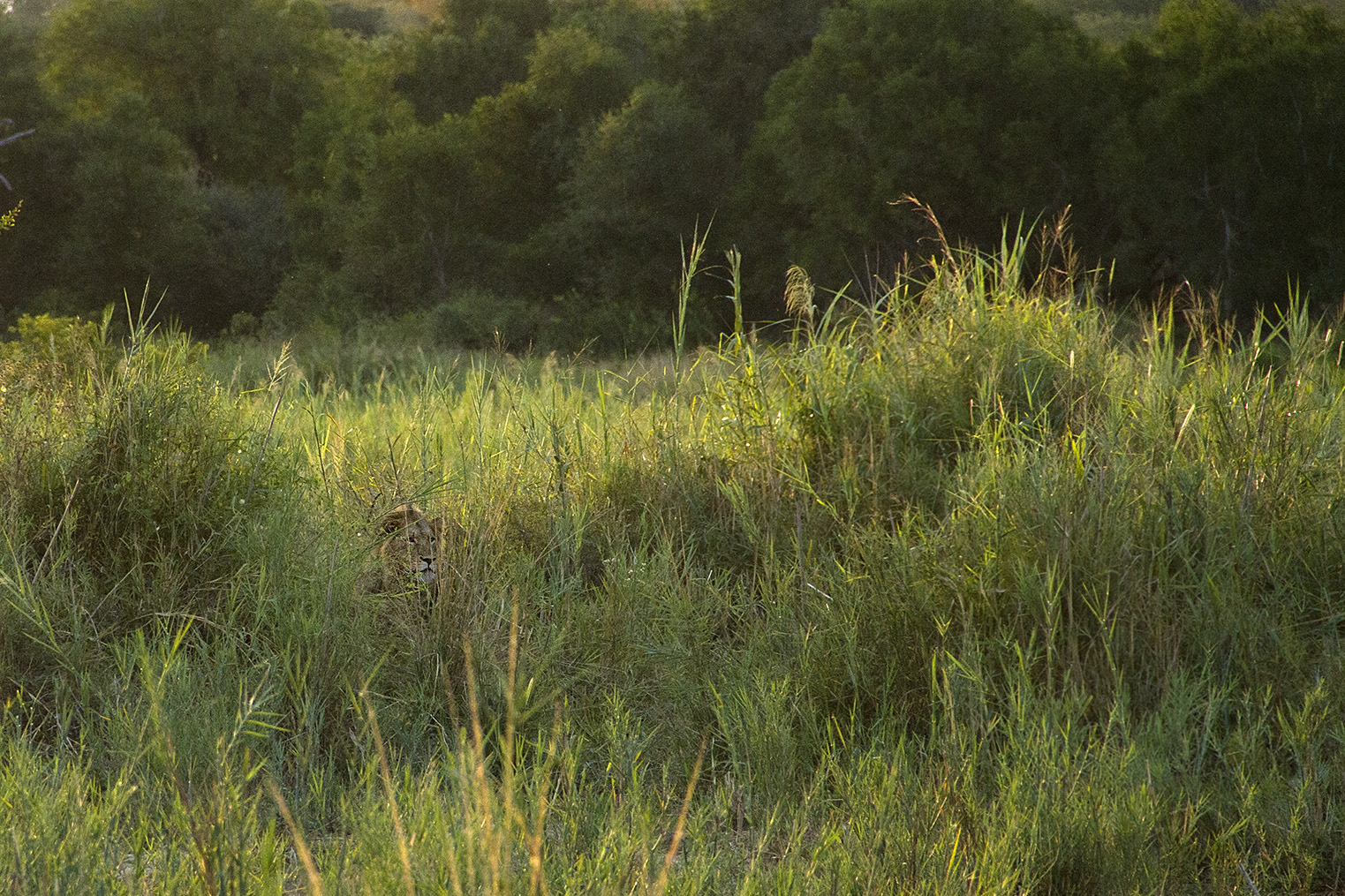 Having your own pair of Swarovski Optik binoculars allows you to scan and observe at any time during your stay! Between your sneaky early afternoon nap; the pages of a book on your exclusive verandah; or while drinking cocktails at the lodge overflow rim pool! Having your own binoculars allows you to investigate any suspicious movement or shape. Again, giving you the tools to participate and enjoy every inch, second and detail of your stay! 

It's clear I am one who believes in having a pair of quality binoculars! And I wouldn't suggest any set of circumstances that remove me from this view. I just think you will miss out if you don't. 
A pair of Swarovski Optik binoculars is a lifelong investment, especially if you plan to return or continue your wilderness adventure back home! And for the above reasons, we can guarantee it will definitely enhance your African safari experience! Read about "What to Consider when Buying a Pair of Binoculars" or even speak to Leah and Jenna when they design your safari to see what is possible!
And if you are still not convinced, message me on Instagram @ubuntu_travel and I will happily answer your questions!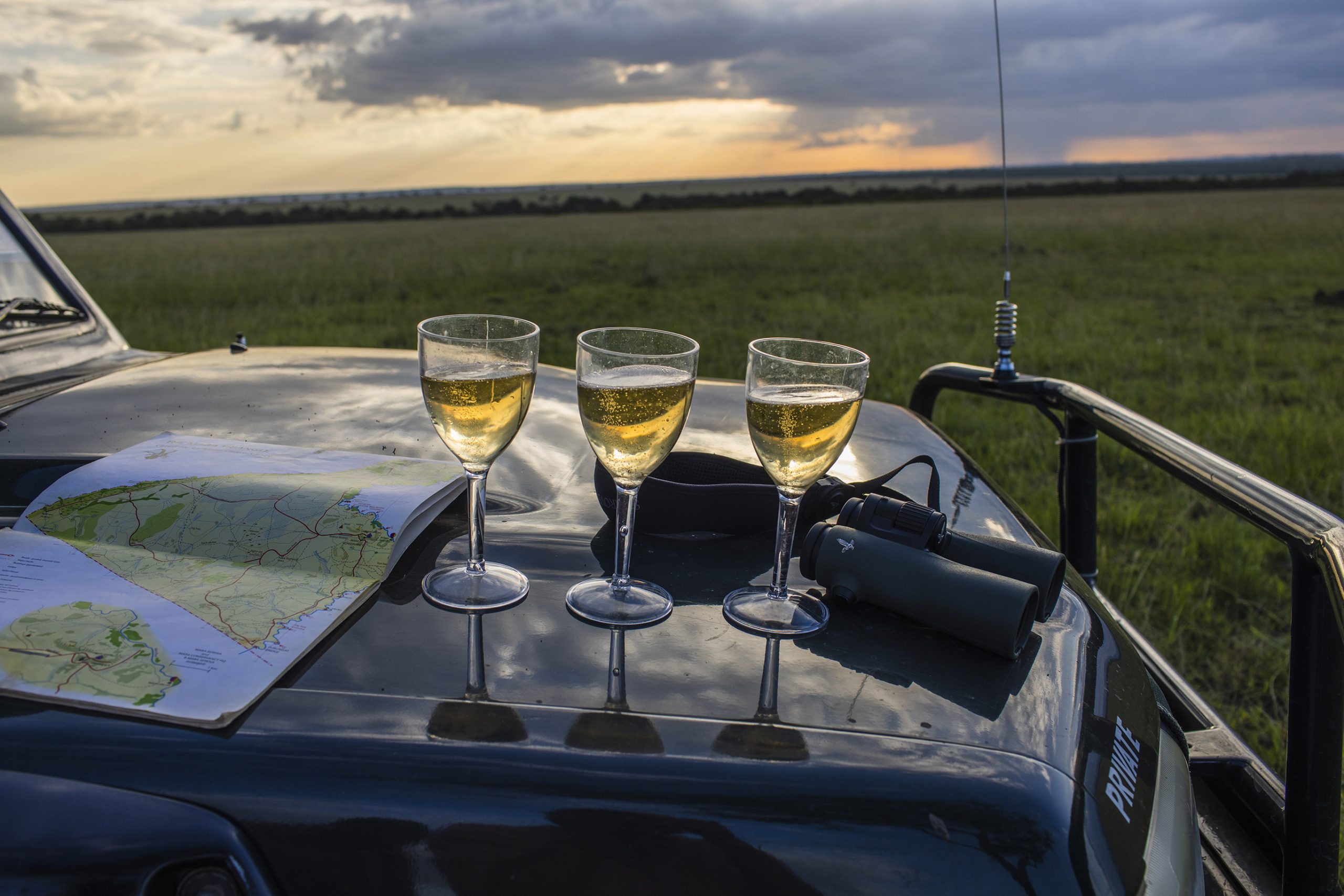 Are you ready for the trip of a lifetime?
If you're thinking of planning a trip, we're here to help! Our team of travel designers will create an itinerary just for you to create memories to last a lifetime and conquer your bucket list. Get in touch with us today to start planning your adventure in Africa.
Follow us on Instagram