If you are thinking about visiting Africa, you might be wondering what you will experience once on safari. The wide expanse of Africa can feel overwhelming, and that is why so many people turn to us to help them plan out an African adventure.
To give you an idea of the types of experience we can provide, here is a typical synopsis of the daily game drives our guests can enjoy while staying at a lodge.
Your African Safari Adventure Begins
The first part of your adventure starts with one of the most important rituals of the day – coffee! You will be greeted with an early morning wake-up call followed by coffee and small bites before being met by your ranger who will prep and inform you for the morning game drive.
As you set off into the wild in a state of the art land rover, you will have the opportunity to get up close and personal to the stunning game including leopard, lion, rhino, buffalo, elephant, and hippopotamus, just to name a few. The game drives tend to last about three hours at a time, depending on the animal sightings along the way. Taking in the wildlife at such a close distance is an awe-inspiring experience and one that will surely be a trip you will never forget.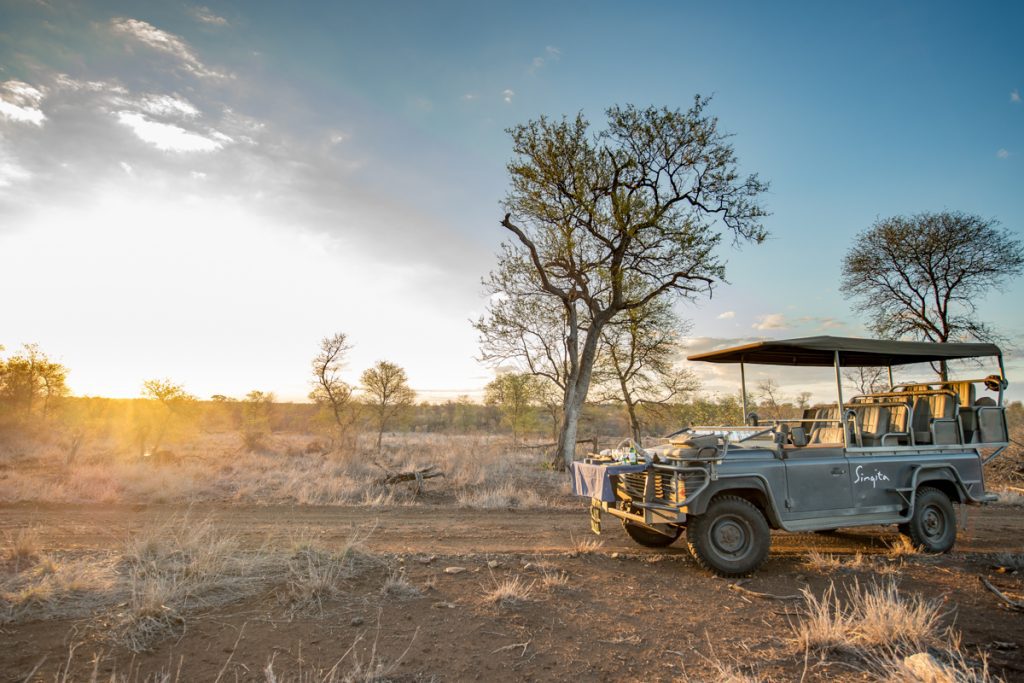 As you make your way through the reserve, your ranger will make a mid-drive stop for coffee and snacks so you can take a rest and soak in the scenery.
Upon returning to the lodge, breakfast will be served, and the group will have the day and early afternoon at leisure.
Around 4:00 pm, guests will meet for late afternoon tea before venturing out on their second game drive where another stop will be made for sundowner drinks to enjoy the magnificent African sunset. The game drive then continues into the dark, using spotlights to view the animals in their nocturnal environment. A fascinating sight to see!
You will return back to the lodge in time for dinner and have the rest of the evening at leisure to look through photos or meet for a cocktail and recap on the amazing stories from the day.
If you would like to experience the sights of Africa in more unique ways, you can also consider guided walking tours or hot air balloon rides in East Africa over the Serengeti, or River Safaris in Botswana.
At Ubuntu Travel, we aim to make every African experience a lifetime memory. We have been conducting African safari tours for over 20 years, and provide a unique bespoke experience unlike any other. If you are interested in booking an African vacation, let us help you plan your ultimate adventure!
Start Planning Your Dream Trip
Reach out and let's start talking. We'll listen and begin to tailor an experiential, private, luxury vacation based on exactly how you want to experience Africa. From adventure to relaxation—and everything in between—let us handle every detail of your unforgettable journey.