Written by Marketing Manager, Sean Messham
One of nature's most epic spectacles, the Great Wildebeest Migration is the largest overland mammal migration on earth. The numbers are astounding, with an estimated 1.5 million wildebeest, 400,000 zebra, 300,000 Grant's and Thomson's gazelle and 12,000 eland participating in this year-round breathtaking journey.  
The Great Migration moves annually over 500 miles in a relatively predictable pattern based on rainfall. From the calving pastures of the southern Serengeti and Ngorongoro Conservation area in Tanzania. The herds splinter north through the centre, turning  west towards the Western Corridor and Grumeti, a stronghold for lion prides and a treacherous Grumeti River Crossing. Before moving into the Masai Mara, Kenya, crossing the iconic Mara River multiple times in search of grazing. This ancient journey is as old as time itself, and to witness it is (or should be) on every wildlife enthusiast bucket-list.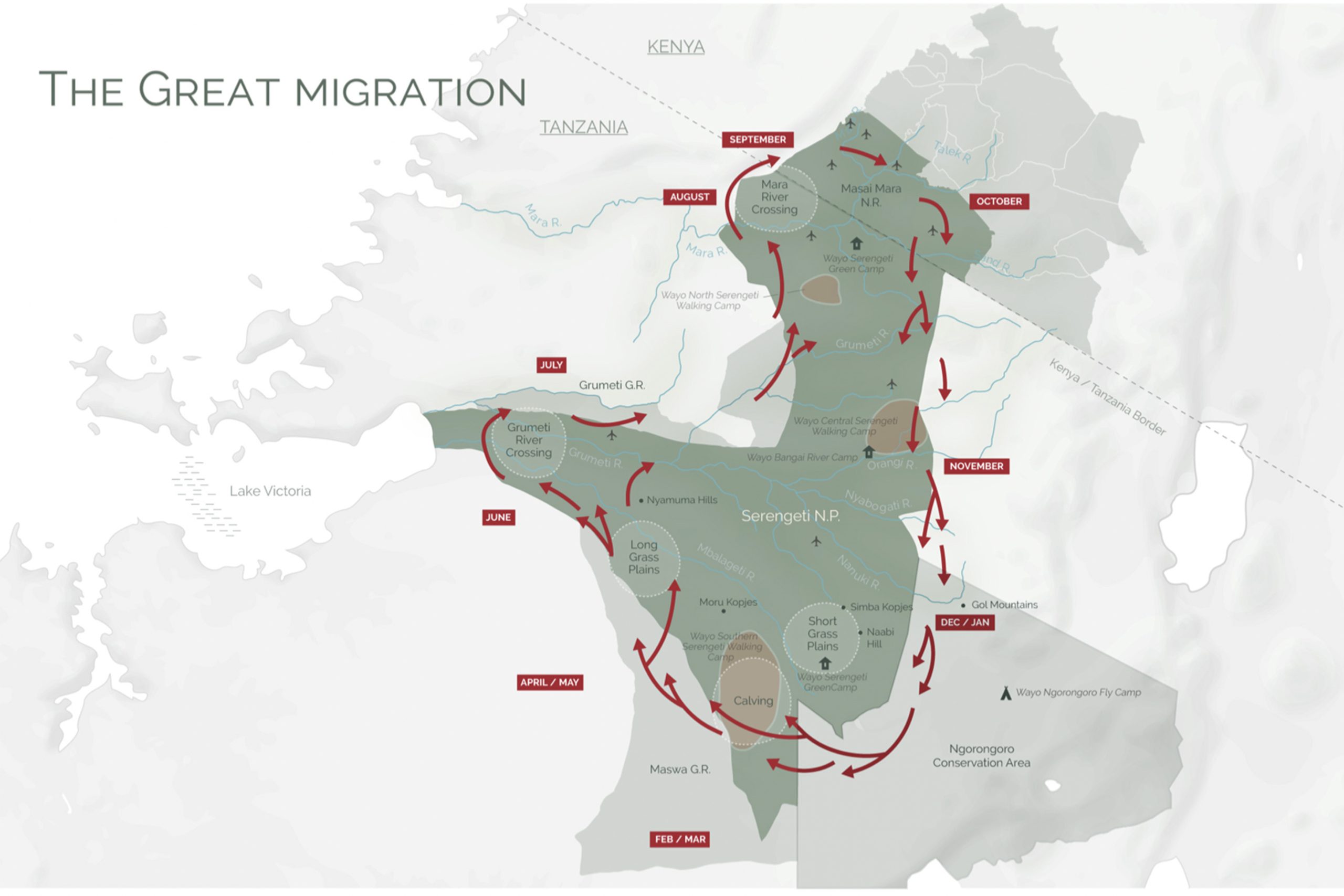 Map courtesy of Africa Hub (C)
But how does one guarantee that you will find it?  The migration is largely predictable, but the herds movements are based on rainfall, and due to our changing climate, this is becoming more of a challenge. Luxury mobile camps, however, anticipate and strategically move with the herds throughout the year, providing you with the best opportunities to be in the right place to view this incredible wildlife phenomenon. But be assured, this is not just a mere glamping expedition. Think natural luxury in absolute style! Let me show you our favorite luxury mobile camps that will get you closer to the Great Wildebeest Migration!

Nomad Serengeti Safari Camp
The pioneers of this luxury tented adventure, Nomad Serengeti Safari Camp's "sole obsession" is getting you as close to the Great Migration as possible. Moving four to five times a year, Serengeti Safari Camp has just six open planned Meru-styled camps, with "trimmings of a classic safari" to keep that pioneering atmosphere. And yes, warm water, bush dining, fine wines and cold beers are available. And, because we know someone is wondering, flushing eco toilets too!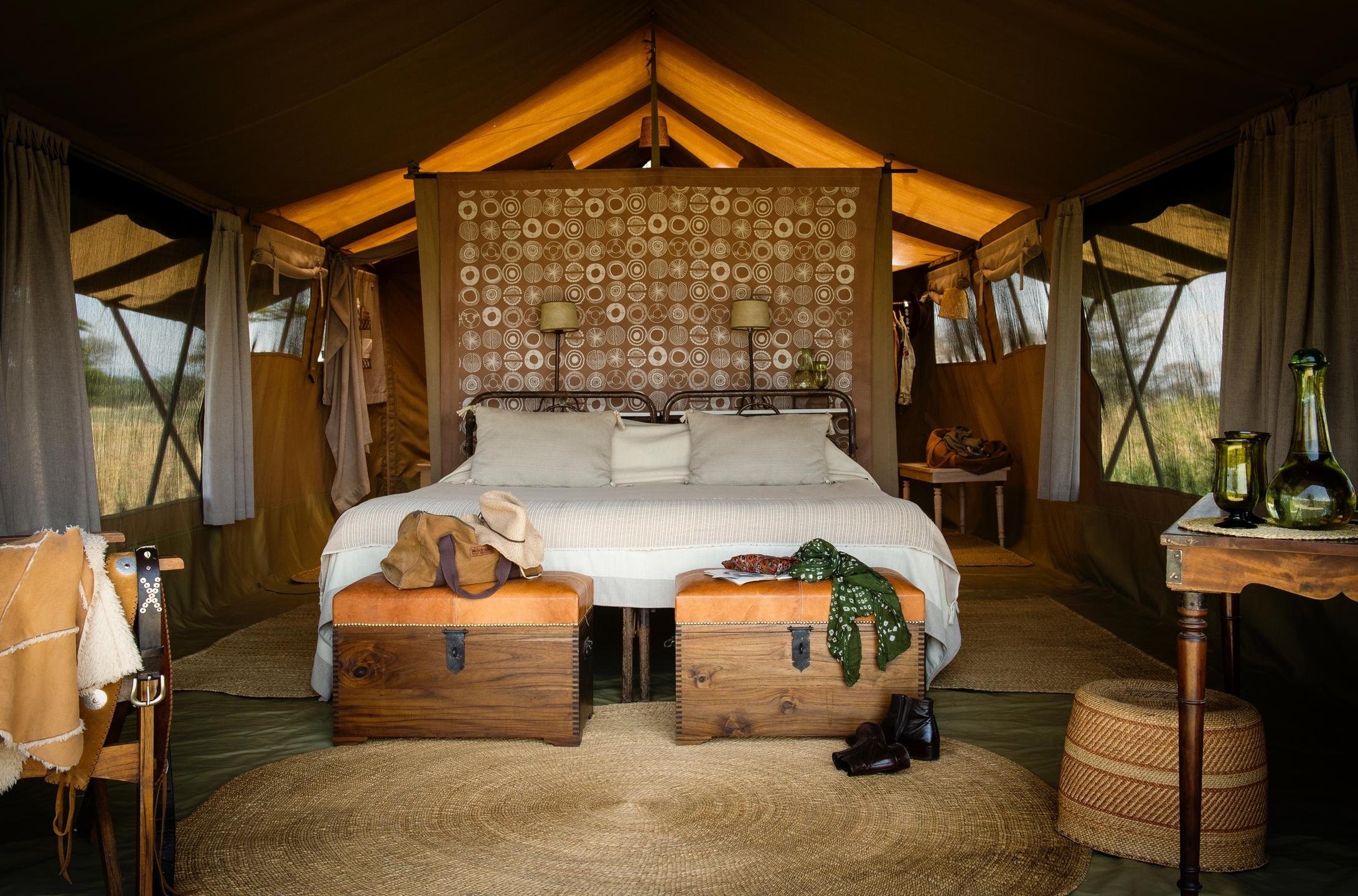 Is it family friendly?
Absolutely! For ages eight and older, the camp has one dual en-suite family tent with an adjoining lounge to laze in. 
Why we love Serengeti Safari Camp!  
That pioneering classic safari feel is hard to beat – adventure abounds 

A conscious balance between luxury and authenticity – a canvas home-from-home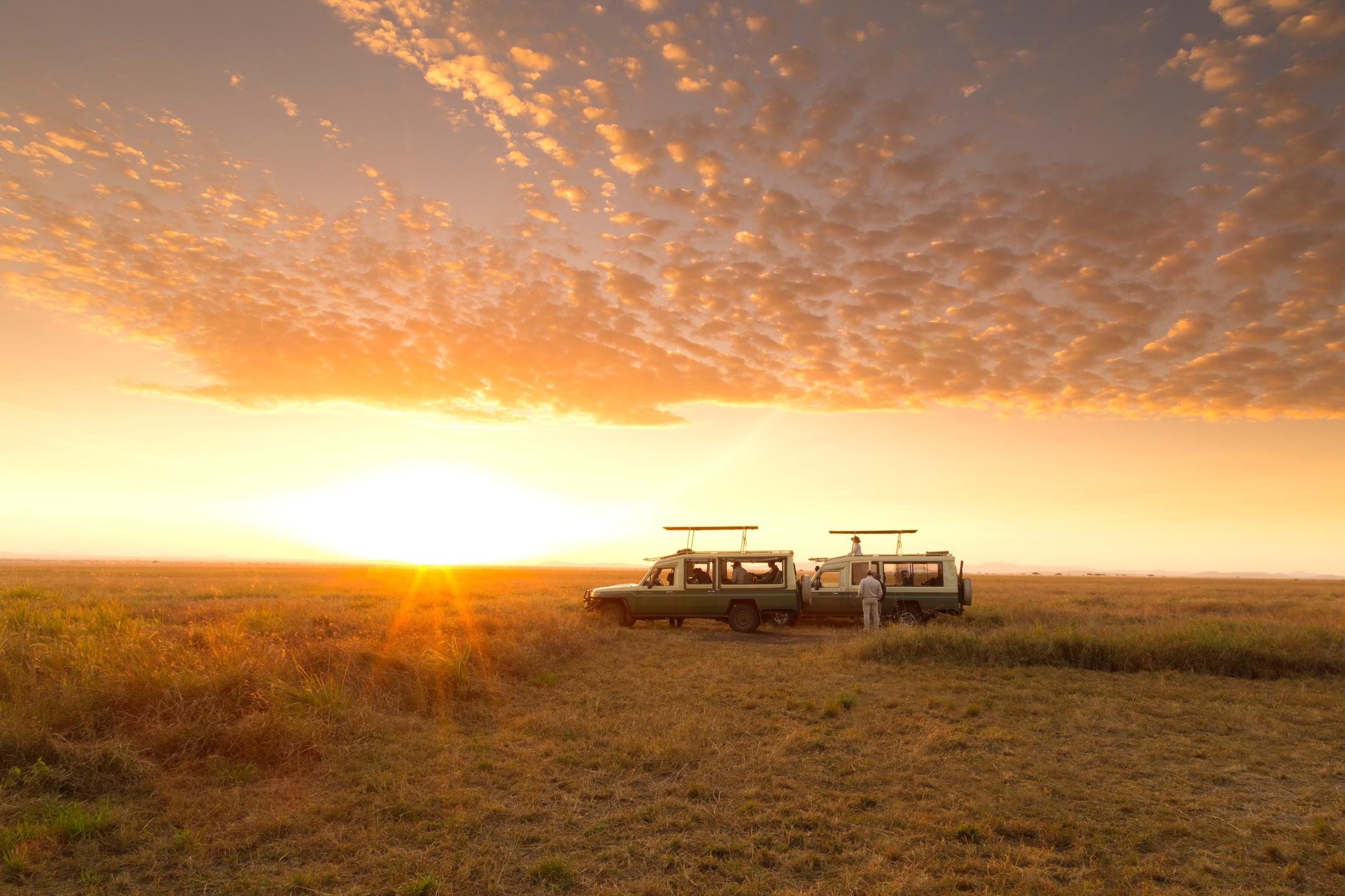 andBeyond Serengeti Under Canvas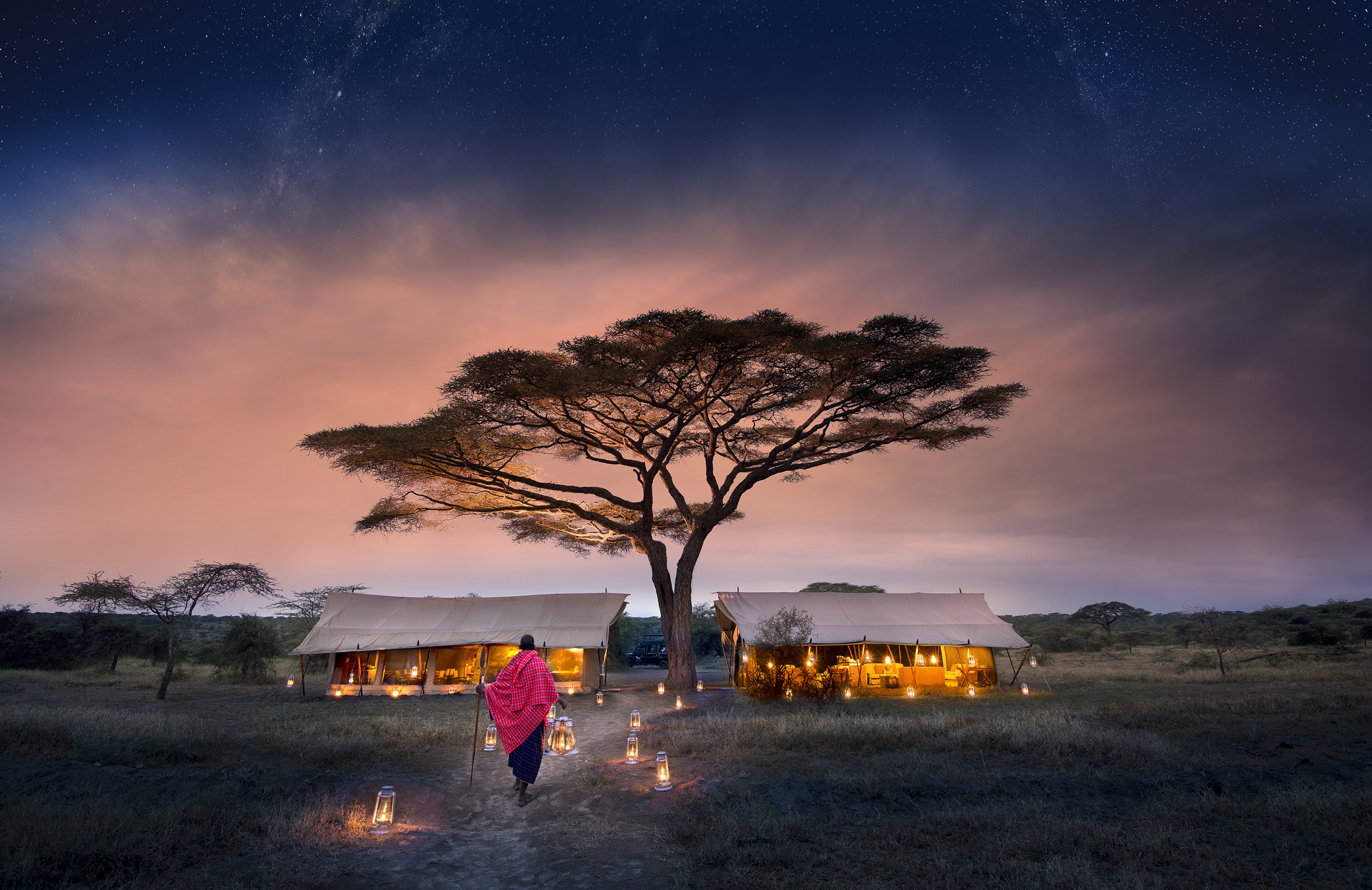 This is no rustic camping experience at andBeyond Serengeti Under Canvas. Enjoy a private butler service, chandeliers, silverware, crystal, ensuite bathrooms with outdoor, heated bucket-style showers and comfortable beds with fluffy duvets. This luxury camp strategically moves five times a year (before you arrive of course) to get you as close to the wildebeest action as possible. But just check out this video!
Is it family friendly?
All ages are welcome at andBeyond Serengeti Under Canvas. The camp also offers a family tent and its own WILDChild Program.
Why we love Serengeti Under Canvas!  
During your stay, get closer to nature with a complimentary pair of Swarovski Optik binoculars for the duration of your stay. 

Drinking out of crystalware in the Serengeti! Now that's unexpected!

Legendary Expeditions Nyasi Migrational Camp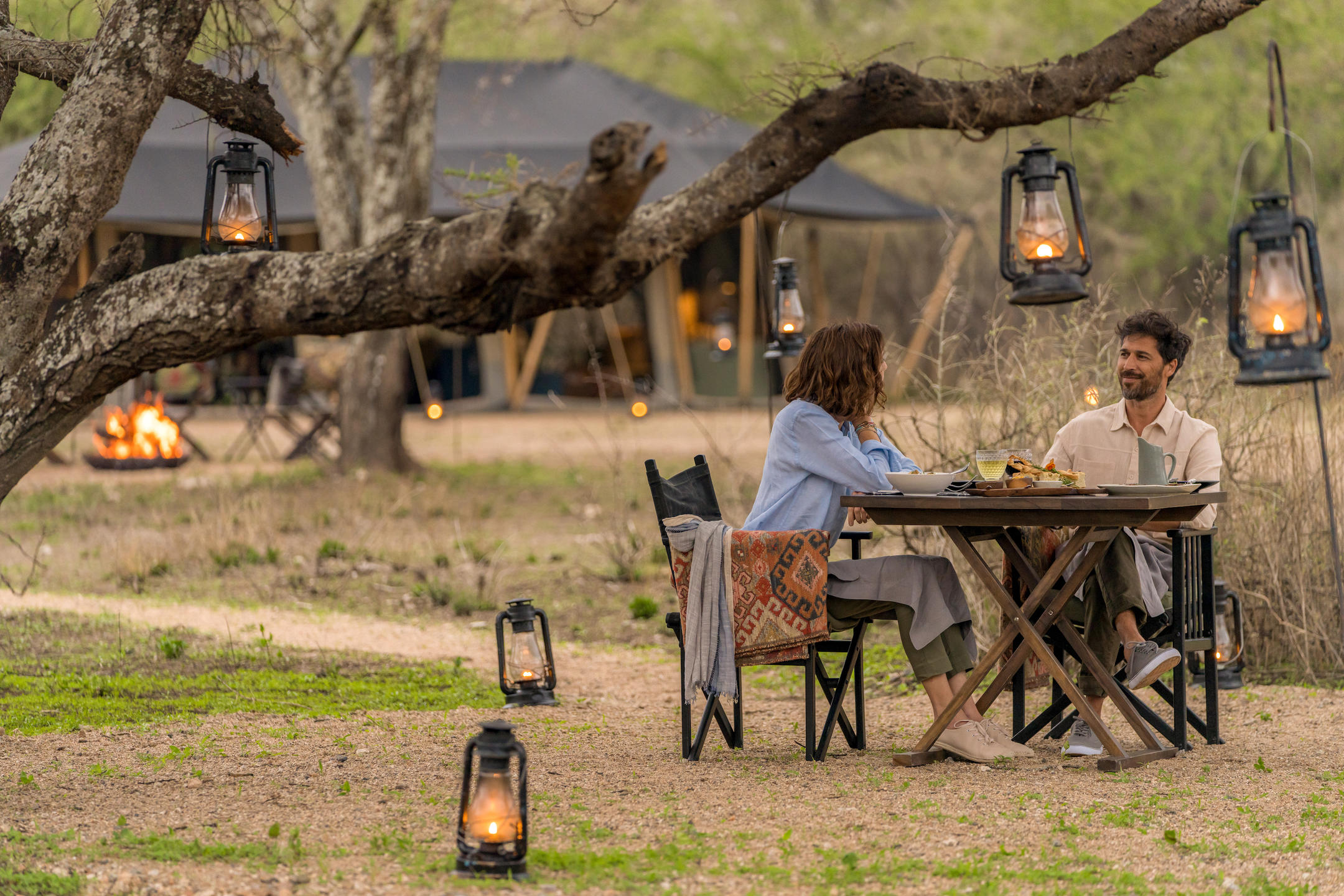 With its organic, warm and natural decor, Nyasi Migrational Camp is one of our heartfelt favorites for sure. Migrating across two private camp destinations in the Serengeti, this seasonal camp has eight en-suite tents with one family tent. We love that the South camp also provides a variety of safari experiences like walking safaris, night drives and an authentic cultural experience with the local Datoga people.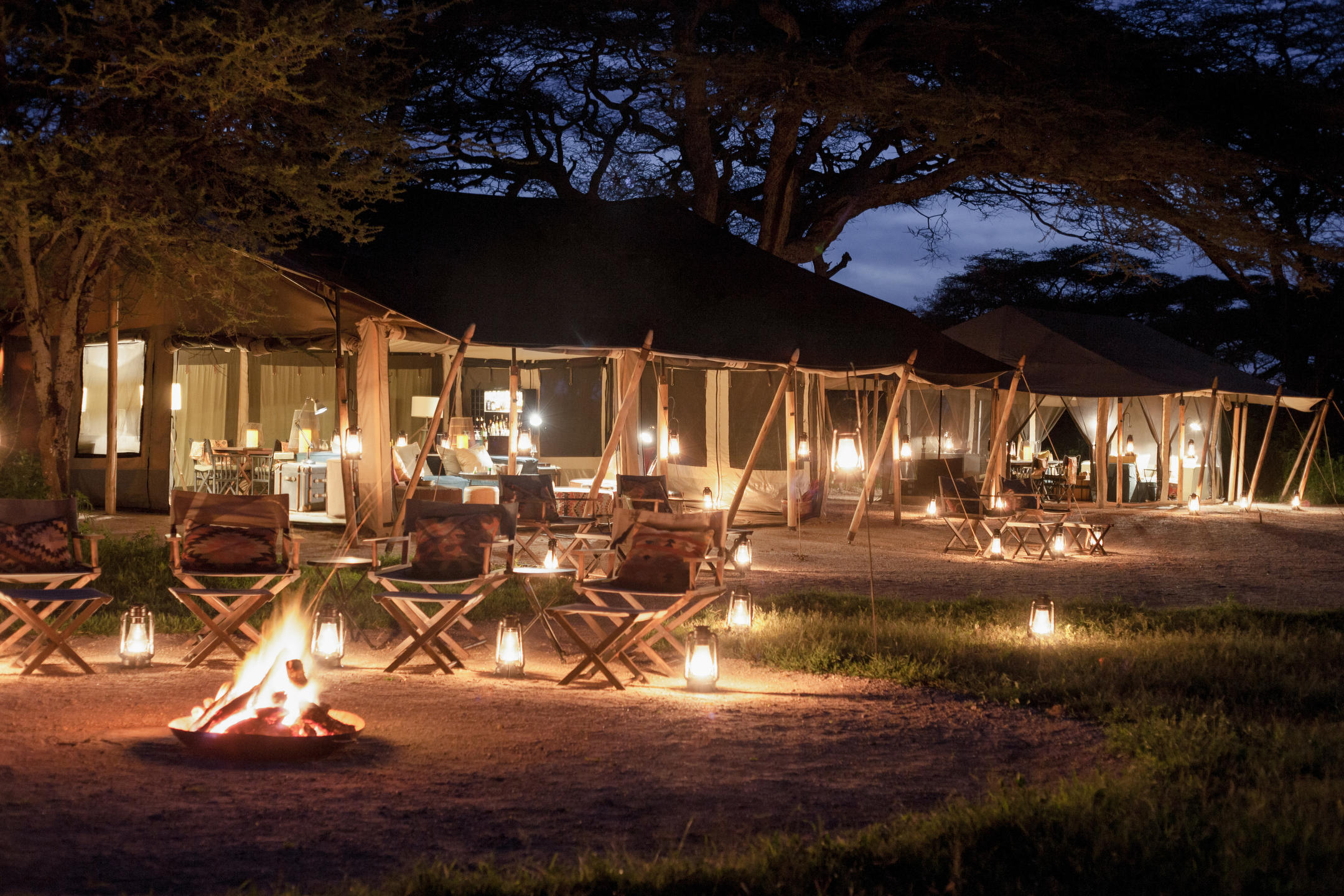 Is it family friendly?
Oh yes! With an incredibly cozy family tent that has shared lounge area between the rooms. 
Why we love Nyasai Migrational Camp! 
Its warm earth decor just has a wonderful natural luxury feel – perfectly suited in our opinion  
Their variety of safari activities in the South camp like safari walks, hot air balloon safaris and an authentic cultural visit 
Asilia Ubuntu Migration Camp
This camp truly holds up to its  "ubuntu"   name with its ten tented suites that are designed to leave no trace. Moving twice a year, Ubuntu Migration Camp, is perfectly positioned to watch the dramatic river crossing (North Camp) and the calving season (South Camp), where some 8,000 calves are born everyday over two to three weeks… That's 400,000 calves born in the period! 
Is it family friendly?
With a name like "ubuntu" – of course! Children older than five are welcome. And they also provide a specialized designed family tent. 
Why we love Ubuntu Migration Camp!  
Photographers! Specialized photographic vehicles to get those low angles! 

In the north camp, enjoy fresh fruit and veggies from the local community.

Roving Bushtops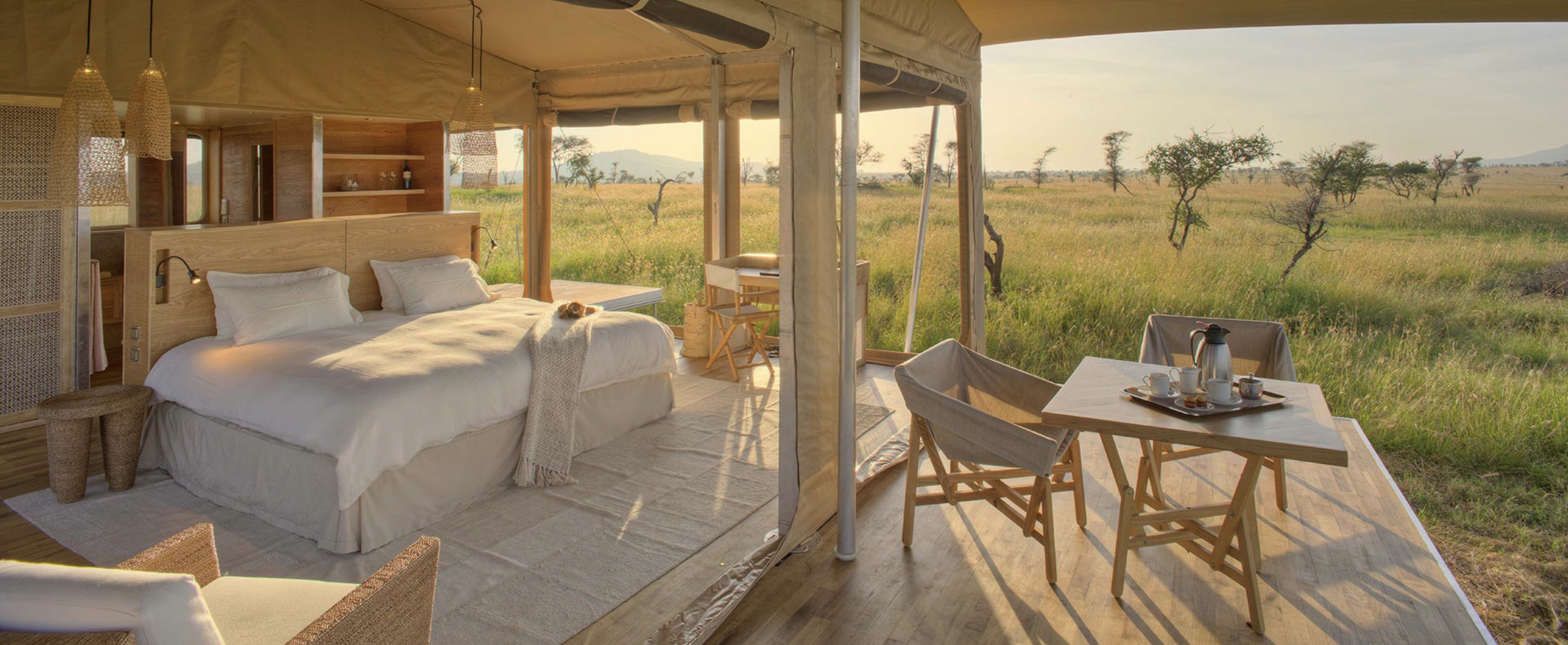 A luxury mobile safari in a box – literally! Arguably the most unique of all the migrational camps for sure. Moving twice a year to put you in the best position to view the Great Migration. Each of their eight luxury tents is unpacked onto a raised wooden deck, providing private panoramic views of the Serengeti. And get this – you have your own sunken hot tub! But it's not just the luxury that makes this mobile camp unique – they also offer an exclusive rhino experience at both camps. Ask us, this is one inspiring conservation story for sure!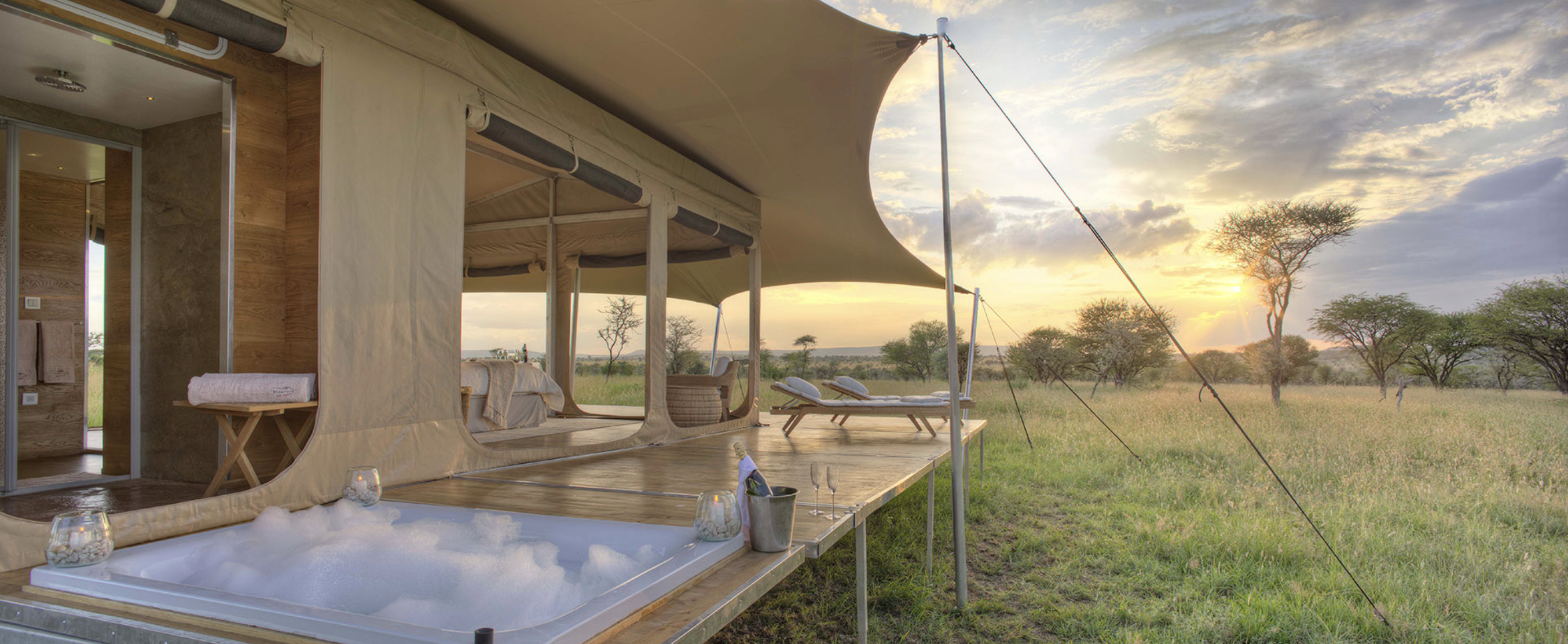 Is it family friendly?
Oh yes! Because Roving Bushtops is on wheels, the unique tents can be combined. They are equally as flexible with bed arrangements.  
Why we love Roving Bushtops !  
The private hot tub is just remarkable with 24hr butler service 

The black rhino conservation experience is a must-do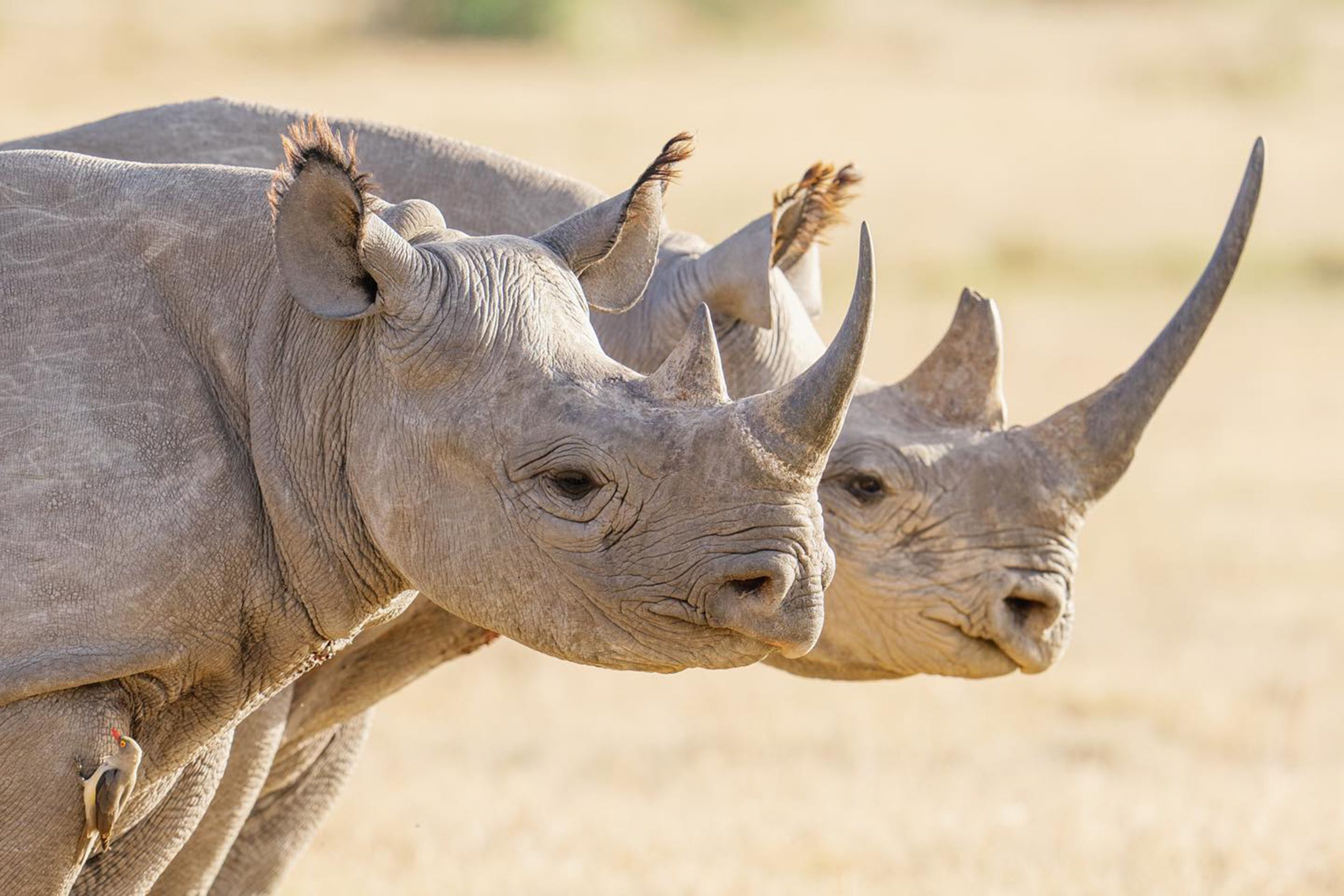 Singita Explore Camp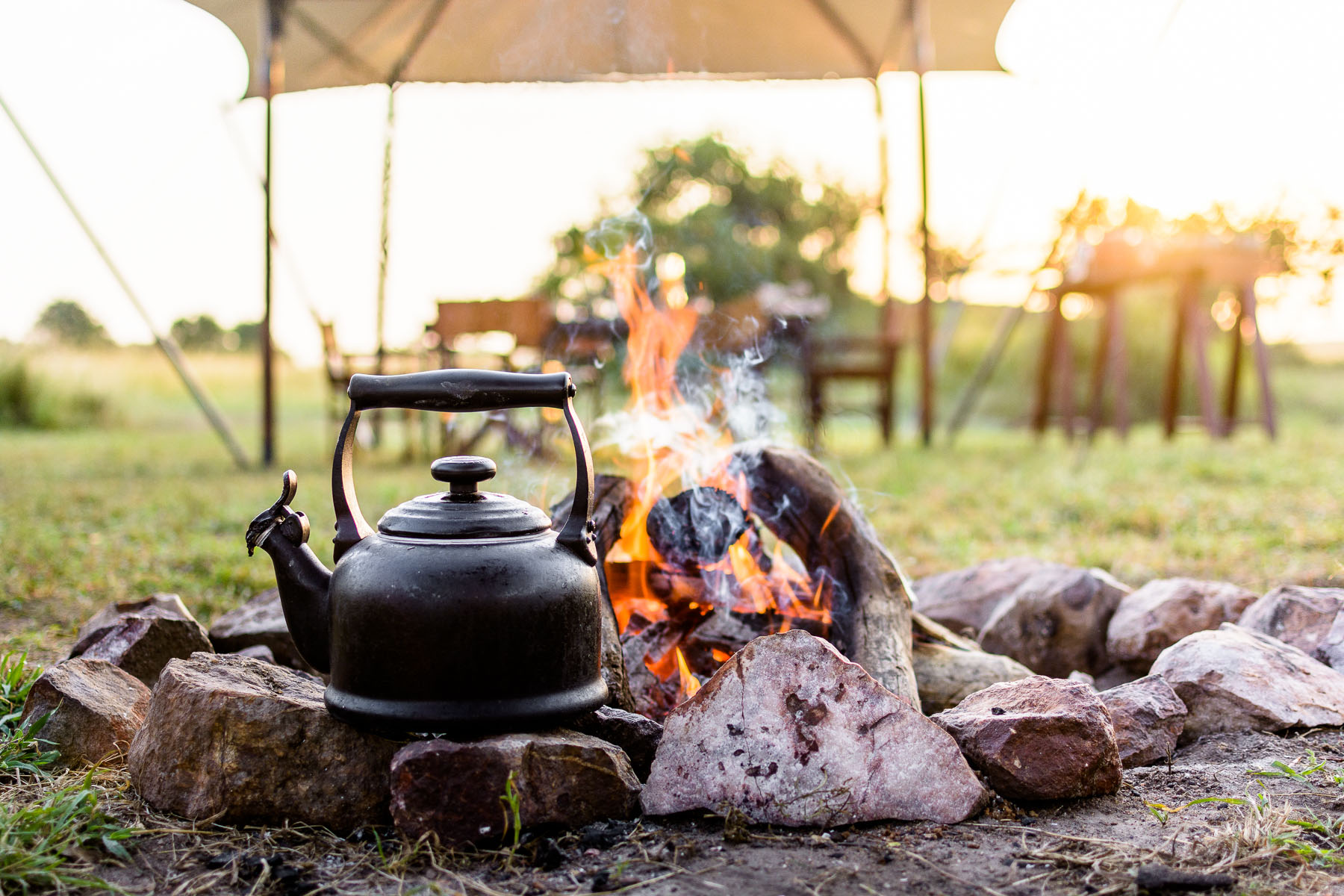 Ok. Strictly speaking Singita Explore Camp is not a mobile camp. But with it situated in its own 350,000 private Grumeti concession within the Serengeti-Mara ecosystem, offering a fully exclusive private luxury camping experience, one needs to add this option to the list. 
For exclusive use only, Singita Explore takes its 1-bedroom tents and configures the layout to suit your private group or family. And of course with all of Singita luxury touches like a plunge pool, pre-arranged wellness treatments, mouth-watering menus and exceptional service. You will need to time the Great Migration though – typically in June and July. Your private view of the largest overland migration in the world! Now that's something! 
Is it family friendly?
It's a resounding yes! Children of all ages are welcome as this is an exclusive-use experience. Do note that children's participation in game activities is at the discretion of your guide.
Why we love Singita Explore!  
Exclusive traversing rights over 350,000 acres of Singita Grumeti 

Completely private and exclusive luxury camping experience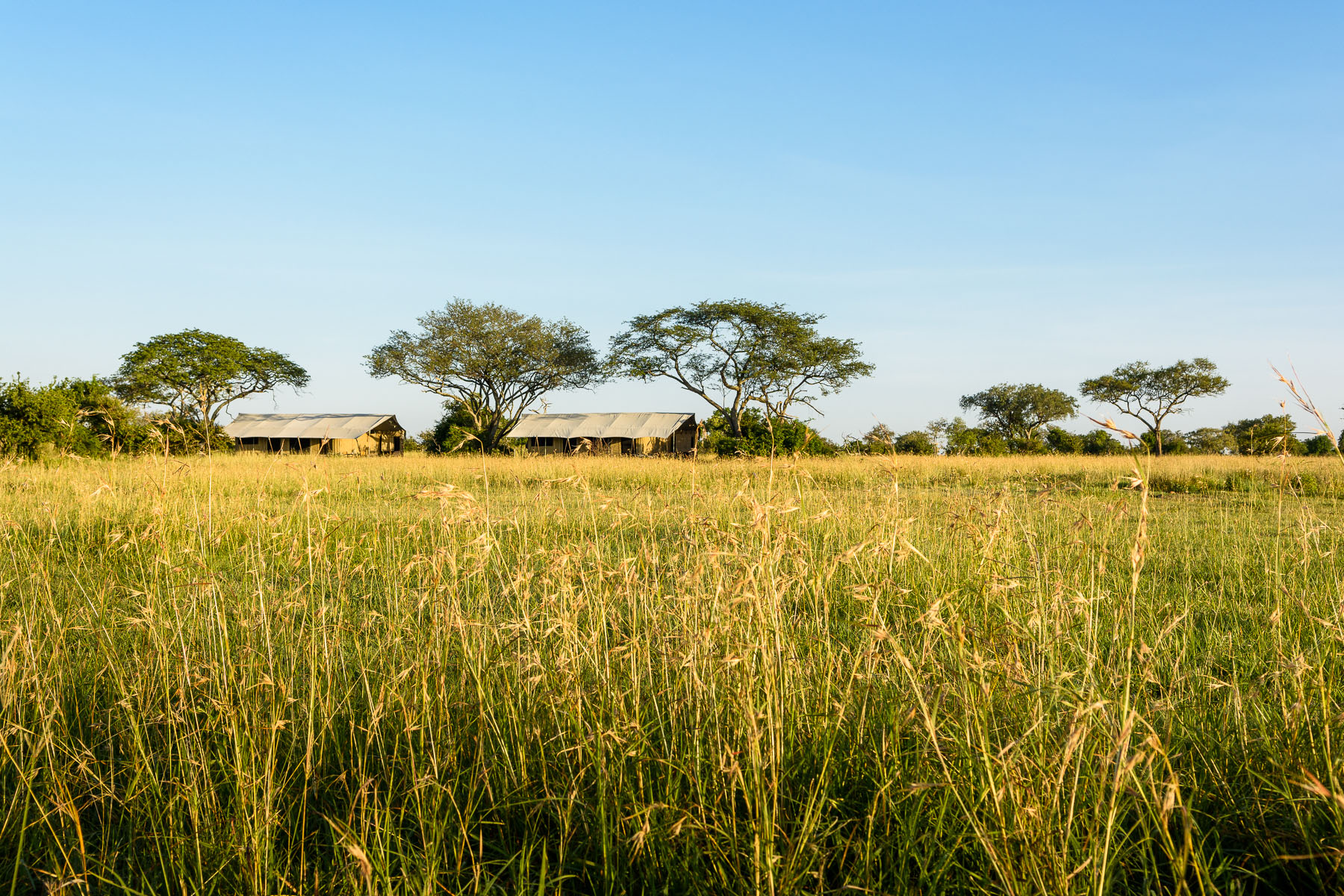 Understanding the Migration: a quick cheat sheet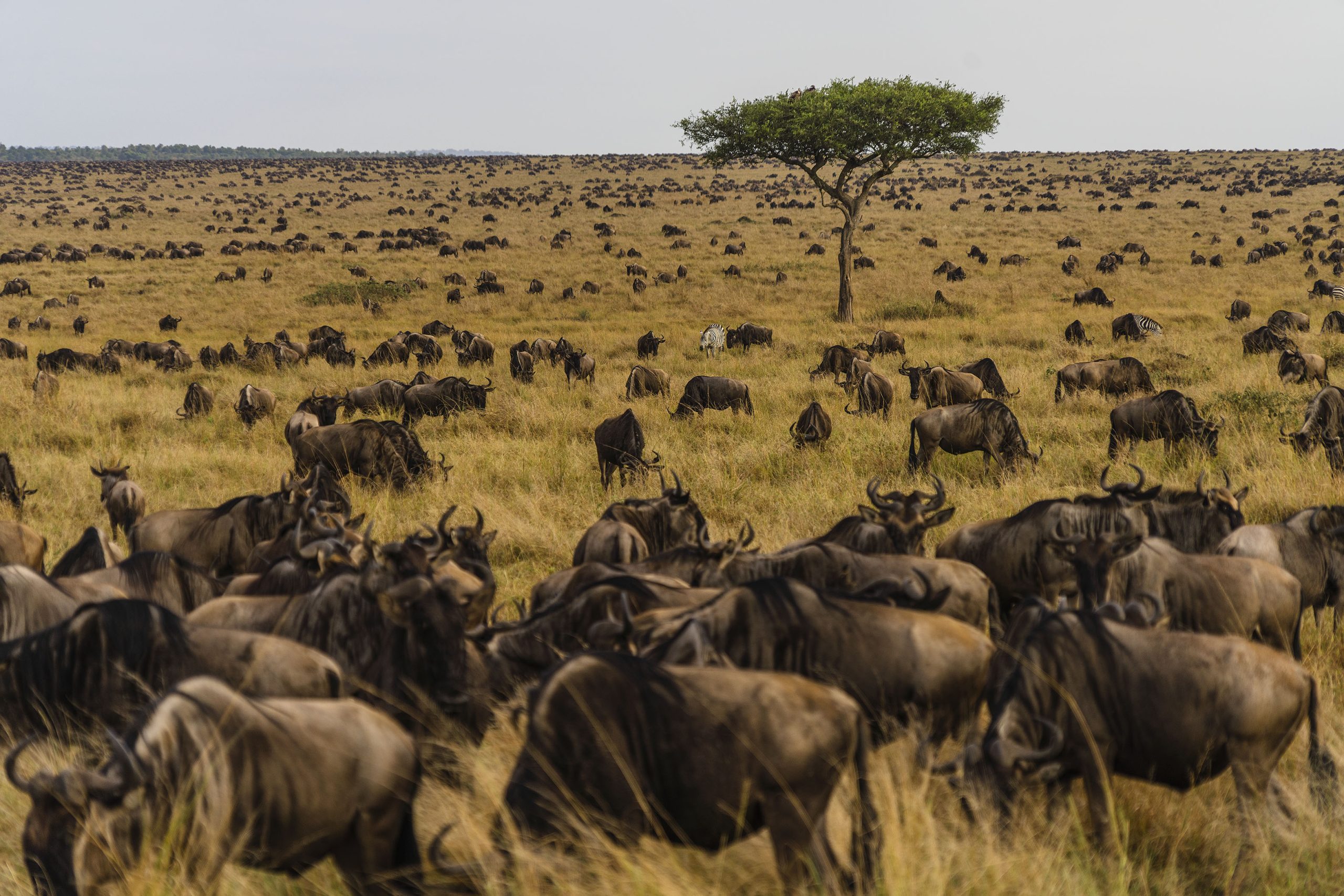 As we mentioned above, the Great Wildebeest Migration is a year round event. With highlights and natural behaviors to observe at each leg of the journey. When is the best time to see the migration? It all depends on what you want to see. In my opinion though, go when you can is the simplest answer. Checkout Our Great Migration Guide for more details. But here is a quick guide to what  generally is happening throughout the annual migration. 
January – March 
The herds are calving in the Southern parts of the Serengeti and Ngorongoro Conservation Area. Here, it's estimated over 400,000 calves are born. Best for offroading and watching cheetahs moving in to take advantage of this opportunity. 
April – May
Following the rains, the herds splinter towards the central parts of the Serengeti. Many camps will close during this time. However, it's the perfect time to few the mass herds without the crowds! Think lions, leopard viewing and bush breakfast and lunches out in the wilderness!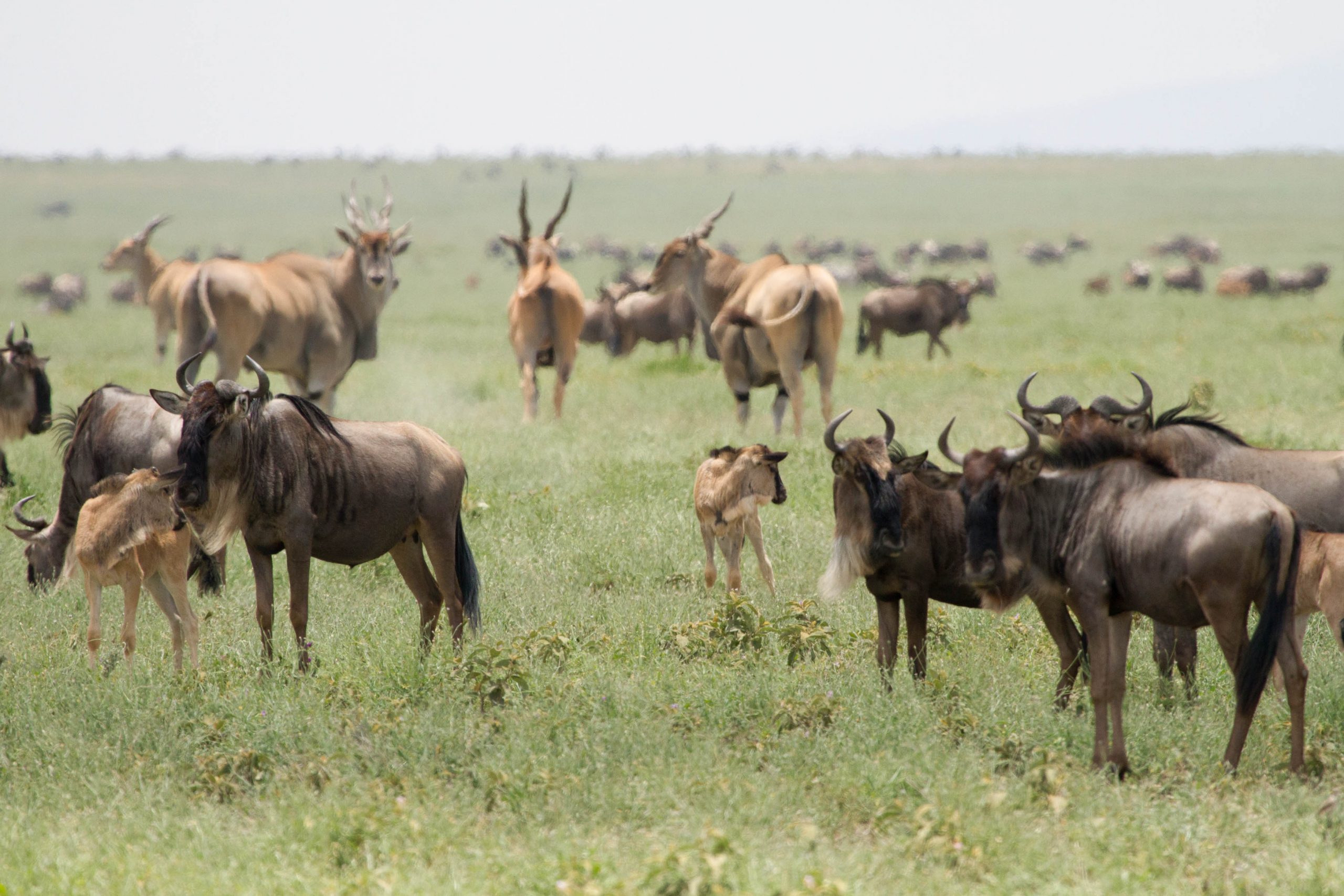 June – July 
Mating season is in full swing. Splinter herds begin to congregate and move into the Western Corridor. As they make their way through to the Western Corridor and Grumeti region, the herds prepare for the most difficult part of their journey – crossing the Grumeti River. It is here when you can take advantage of Singita Explore Camp. 
August – October 
From the Grumeti region, the herds move north into the Masai Mara, crossing the Mara River back and forth to take advantage of the abundant grass on either side.  This is quite naturally peak season though, so expect a few more vehicles at the crossing points. Check out Jenna Chase's video from her trip in 2021! 
November – December 
After grazing on the lush green plains of the Masai Mara, the herds prepare to move back south through the Loliondo area towards the Ndutu plains, as the grasses will have regenerated since the herd was there a year ago. And so the cycle continues.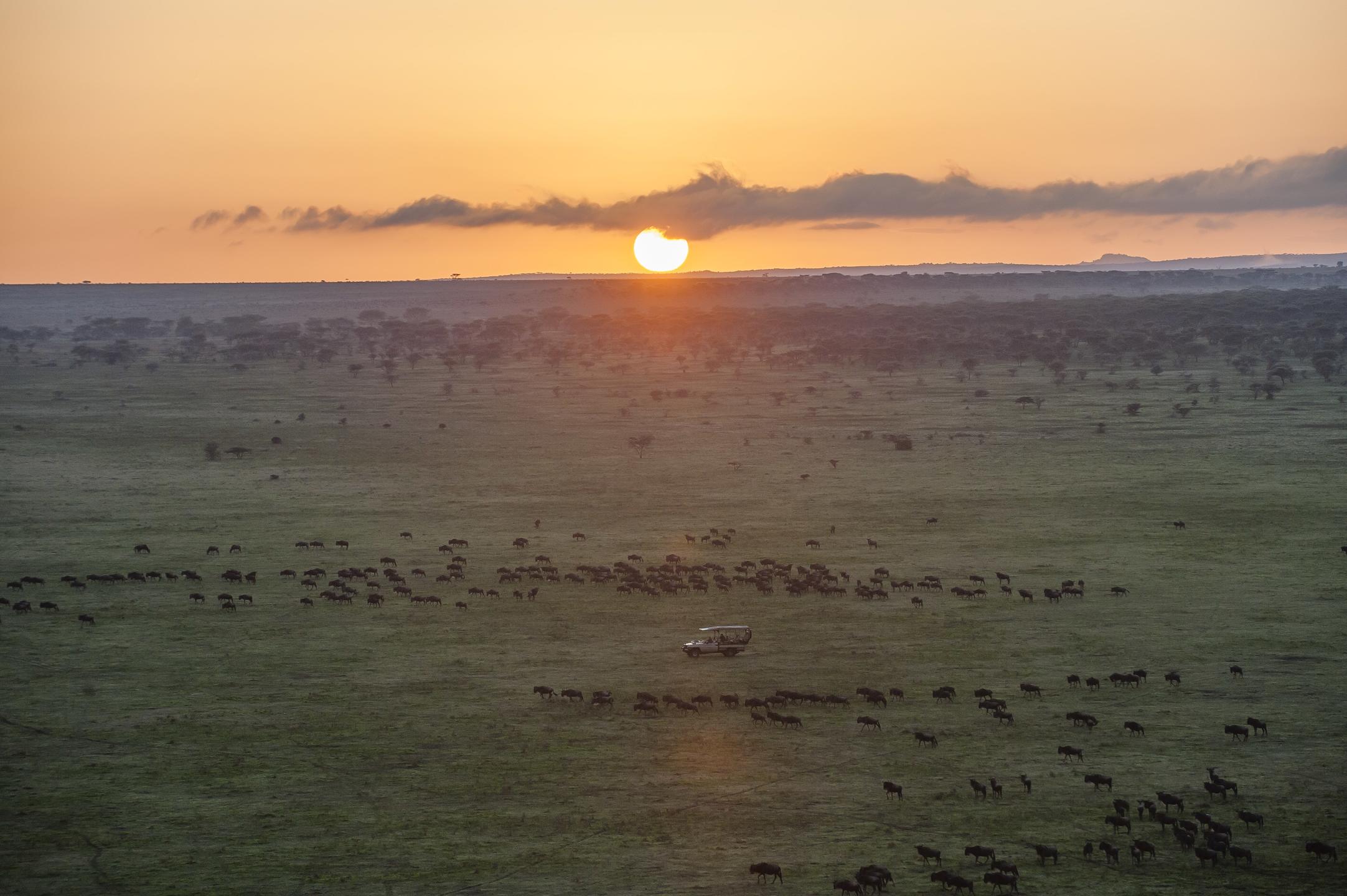 Are you ready for the trip of a lifetime?
If you're thinking of planning a trip, we're here to help! Our team of travel designers will create an itinerary just for you to create memories to last a lifetime and conquer your bucket list. Get in touch with us today to start planning your adventure in Africa.
Follow us on Instagram