When planning a vacation, most people prefer to do a bit of pre-trip research to determine their desired destinations and what they hope to see and experience, even if they plan to use a travel designer. At Ubuntu Travel, we delight at the opportunity to make recommendations and develop a customized itinerary for our clients, but understand that every traveler is different when it comes to how involved they want to be in this process.
Inspiration for travel is everywhere, and we recommend scrolling through your Instagram feed or flipping through travel blogs to start generating ideas about your trip, with one of the biggest considerations being your accommodations. Beautiful photos and destinations aside, there are a few key things to consider when planning your next African safari and selecting which lodges you would like to visit.
The Role of a Travel Designer in Planning Your Trip
As travel designers, we pride ourselves on getting to know the wants and needs of our clients and delivering an itinerary that checks all the boxes on our client's bucket list. During the early stages of planning, a travel designer may ask, "What type of accommodations are you interested in?" or "Are there any 'must-sees' for your trip?" These questions help you and your travel partners select the safari lodges and destinations best suited for you, as there is a wide variety to select from. Unless you're open to giving your travel consultant full creative control for planning your trip (this happens more often than you would think and is so much fun for us a safari tour agency), be sure to give plenty of thought to the points below before making any decisions.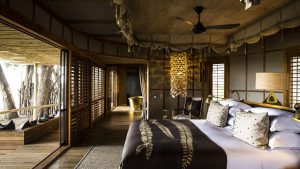 Types of Lodging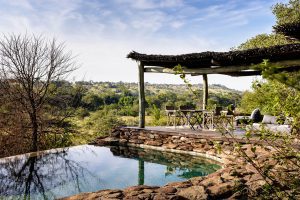 Something to consider when selecting your accommodations is your desired aesthetic. What is your style? What makes you feel most comfortable? Where do you want to sit back and relax after a day of exciting safari game drives? Do you enjoy certain artwork, decor, or types of architecture? Safari lodges come in many shapes and sizes: traditional/classic, canvas tented, ultra luxury, and modern – so many varieties it can often be difficult to decide!  And although it's certainly a personal preference, we recommend selecting something that best suits your needs (and travel dreams), as you will be spending a fair amount of downtime in the lodge.
Amenities
Amenities also come down to personal preference, but when you're planning your bucket-list trip, you should be sure that your lodging offers all the amenities that will make your trip as enjoyable as possible! Based on the type of camp you select, certain amenities may or may not be available, so be sure to make that another point of consideration when planning your trip. Things to consider when planning your next trip to Africa:
Is WIFI a necessity for you? Or are you happy getting 'off the grid'? We often hear clients wanting to take a digital detox while in Africa, but many lodges have fantastic internet connections in case you need to stay in touch.
Are you open to outdoor showers and tubs? Though both are beautiful and offer a really special experience, some guests simply prefer bathing indoors.

What is the purpose of your trip? If you require a family friendly suite or an otherwise age-appropriate accommodation, both of those are available but not at all safari properties. For honeymooners or couples seeking privacy and/or a romantic atmosphere, there are camps centered around that experience.
Photography enthusiast? Photographic hides are partially underground and camouflaged rooms/bunkers where guests can 'hideout' and get incredible ground-level photos of wildlife. These bring a valuable experience for photo enthusiasts.

How important is having a pool on property? Many lodges feature personal plunge pools or infinity pools overlooking breathtaking scenery, while some more traditional or mobile camps aren't set up for those facilities.
Sky beds and treehouses are an exciting way to experience Africa and feel at one with nature (for a night or two)! This is usually an add on experience and not offered at many properties.

Game Viewing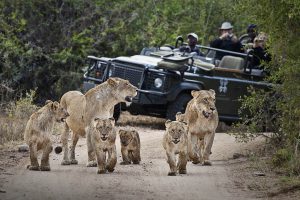 It is difficult to pinpoint exactly what you'll see at each lodge, as wild animals freely roam throughout the African continent. However, if you're interested in seeing certain types of animals or landscapes, you'll want to look at lodges within specific parts of the continent and understand what each lodge offers in terms of game-viewing experiences. Some parks show guests a higher chance of seeing the Big 5, while others are known for showcasing some of the more elusive animal species. And if you're looking for a more diverse safari excursion, some parts of Africa offer special experiences like water-based safaris if your lodge is located along a river or lake, or sand dune surfing in some of the most unique desert lodges in the world. If you're a first time visitor or looking to explore Africa deeper, your game viewing interests may differ so knowing what you're interested in seeing is key!
Eco-Friendly & Sustainability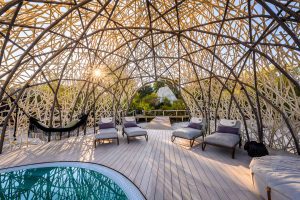 This aspect of travel is something that we take seriously and not all lodges are created equal in this regard. More and more we see travelers who feel a responsibility to ensure that their tourism dollars contribute to environmental conservation and community development, and we are here for it! Many lodges in Africa offer extraordinary travel experiences, as well as opportunities to make a real difference to the wildlife and local communities by providing considerable funding for conservation efforts and projects across the continent. Should you seek out eco-conscious lodging, make sure the lodge operators and properties have these efforts in mind so that you can travel with purpose. Additionally, so many properties are able to bring guests a true farm-to-table experience with their own gardens, supplying the freshest produce and cuisine for travelers.
Something for Everyone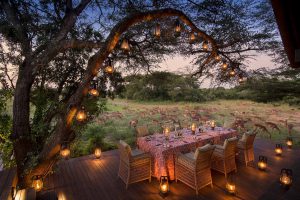 When it comes to safari lodges, there is something out there for everyone. Whether you're a traveling couple, a large family, or a solo traveler, your dream destination is out there. Understanding your travel criteria and what's most important to you when traversing the wonderful African continent is key, and we're here to help make your dream vacation a reality!

Start Planning Your Dream Trip
Reach out and let's start talking. We'll listen and begin to tailor an experiential, private, luxury vacation based on exactly how you want to experience Africa. From adventure to relaxation—and everything in between—let us handle every detail of your unforgettable journey.