It's time to get moving! Compared to a gorilla trekking experience, encountering and observing a community of chimpanzees is a loud, action-packed and exhilarating adventure through the tropical rainforest of Uganda's Kibale National Park. An experience uniquely balanced by intimate and immersive moments, allowing you to appreciate and reflect on our closest living relative. 
Marketing Manager, Sean Messham, recently enjoyed his first chimpanzee trekking experience in the Kibale National Park, Uganda. Quickly check out his authentic video of him moving through the rainforest witnessing the Kanyantale chimpanzee community. 
Thinking of adding this wild encounter to your primate safari in Uganda? Here's a personal guide to everything Sean learned from his first chimpanzee trekking experience…
Where are we: Kibale National Park, Uganda
Uganda's Kibale National Park is known as "Africa's Primate Capital" with 13 different primate species found inside the 191,700 acre protected reserve. To name just a few, these include the red-tailed monkey, red and white colobus monkey, blue monkey, L'Hoest's monkey, olive baboon and galago species (bush babies).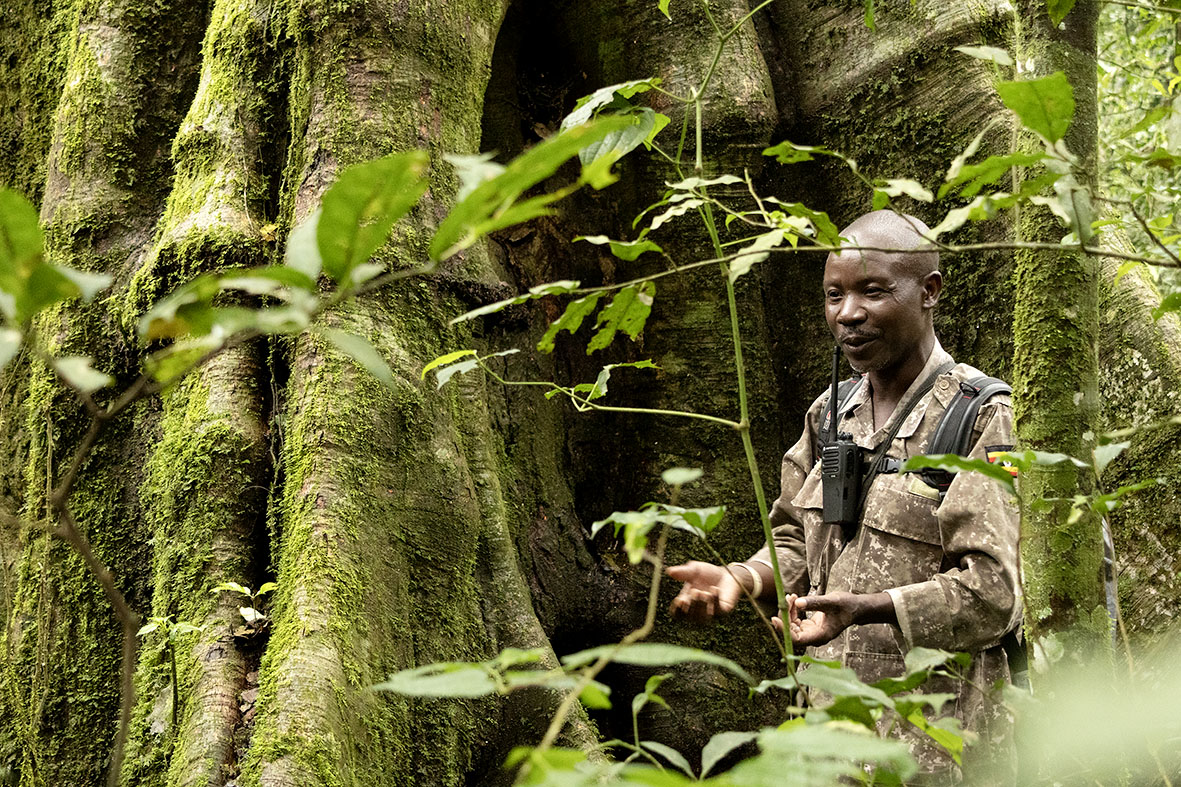 Image above: our UWA Ranger, Tobin, telling us more about the forest and chimpanzee communication. 
Kibale is also Uganda's premier chimpanzee trekking destination with over 30 years of trekking history. And it's estimated that over 1,500 chimpanzees live in this area that's approximately the same size as New York City. Away from primates, this tropical rainforest is home to 375 bird species and 250 incredible butterfly species. You can also expect to see evidence of elephants and buffalo as they wander the forest floor, crossing over from the Queen Elizabeth National Park. Being a rainforest, expect a dense forest with over 300 species of trees including mahoganies, rare hardwoods and fig trees.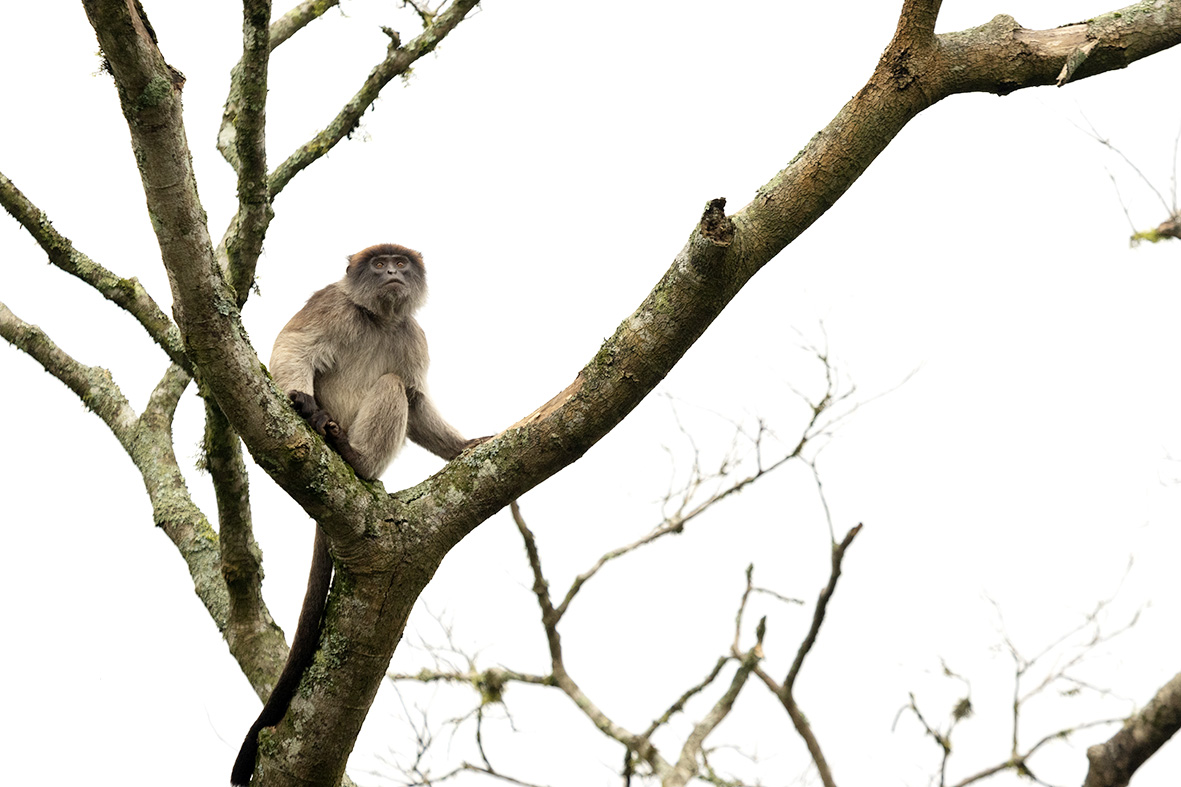 What's the Best Time of Year

Kibale National Park is a tropical rainforest just north of the equator – so you can expect rain pretty much anytime of the year. Therefore, it is more about the temperature and of course the crowds in the "High Season." The "High Season" is typically between June and August, during this time it can be hot and busy with possibly limited accommodation options. You can expect more rain during April and May, which makes the trails muddy and slippery, but it is less busy. We would recommend September through to November, although rain is more of a factor this time of year, it is not as hot (humid) and it will likely be less busy too. 
Basic Guide:
June to August – High Season.  Avoid, it's busy, hot and crowded
September to November – Recommended. Possible rain, but not as hot or over crowded
April to May – Rain, but also less busy.
Perhaps catch the Great Wildebeest Migration in the Masai Mara afterwards?  Have a look at our Great Migration Guide.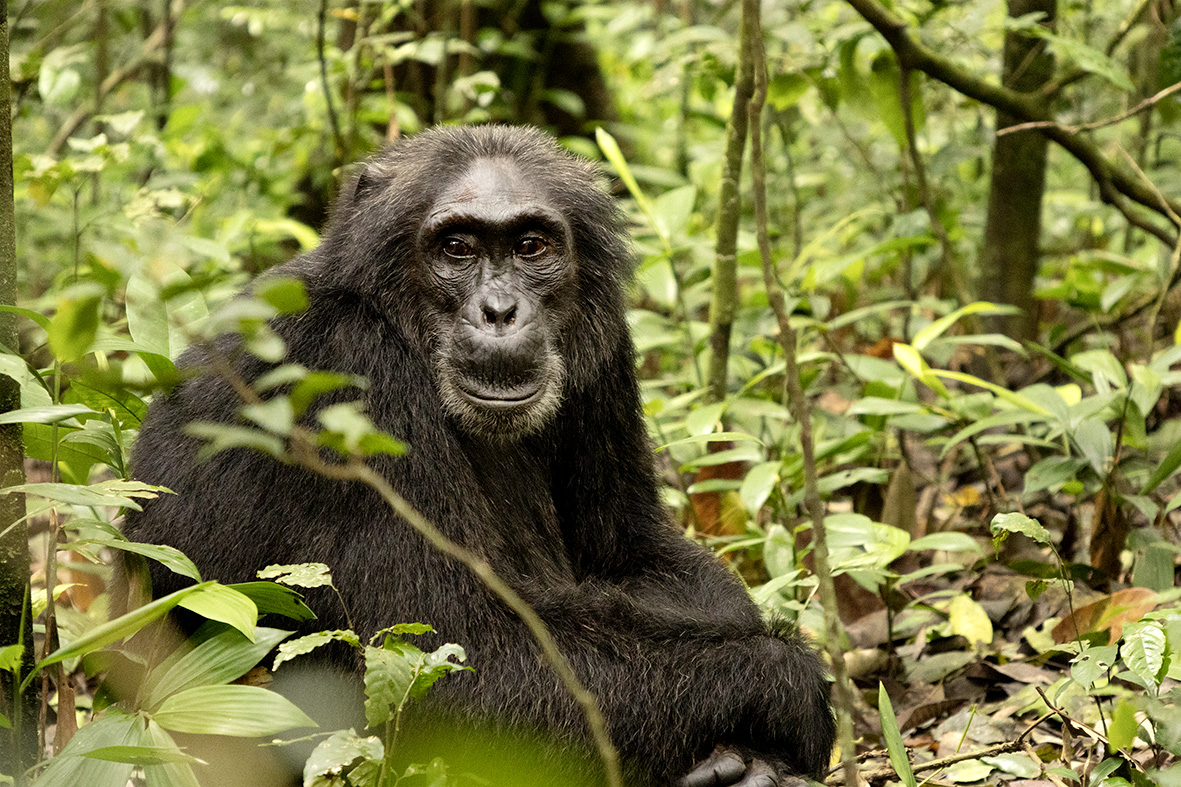 What to Expect: The Basics of Chimpanzee Trekking
As mentioned above, it's estimated that there are over 1,500 chimpanzees living in community groups within the protected Kibale National Park. Out of these, about four communities are habituated. This means that these chimpanzee communities, although wild, have become accustomed to human's visiting and behaving in a predictable manner. There is also a limit to the number of people for each chimpanzee trek. Therefore, it is important to book your permit in advance. Obviously though, our Ubuntu Travel design team will take care of this for you.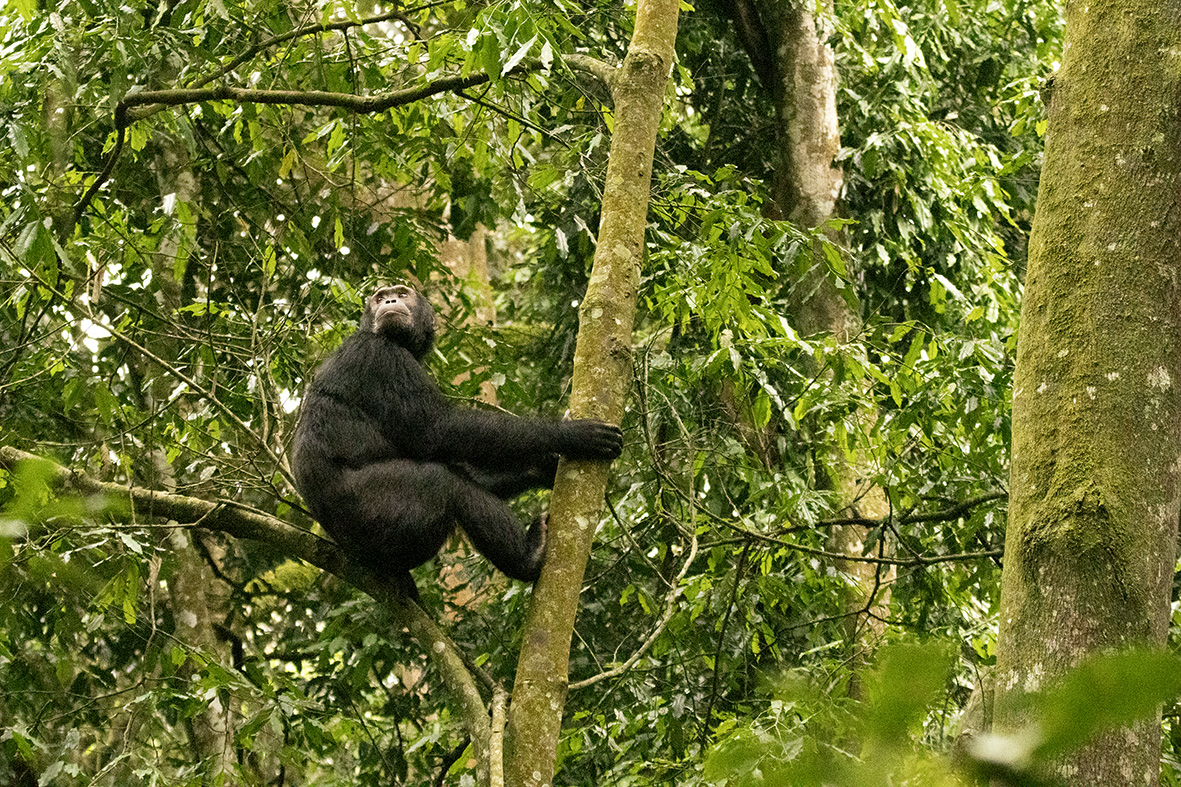 The structure of the Chimpanzee Trekking Experience 
Depending on how many days you decide to stay in Kibale, you are able to choose between a morning or afternoon chimpanzee trekking experience. Which one provides the better viewing experience? When I asked Abiaz Rwamwiri from Africa Wild Explorations for the potential differences between the two, he simply told me it depends on many environmental, social and even political factors. So it is not as easy to predict as some guides might suggest. 
However, both treks will follow a similar structure or timeline. You will first meet at the briefing area approximately an hour before your trek is due to start. Here you will be briefed by one of the Uganda Wildlife Authority park rangers, who will provide a little more information on Kibale and guide you through the rules and regulations of the trek. After the briefing by the park UWA ranger, you will be broken up into small groups and introduced to your assigned official park ranger for the duration of your chimpanzee trek in the Kibale National Park.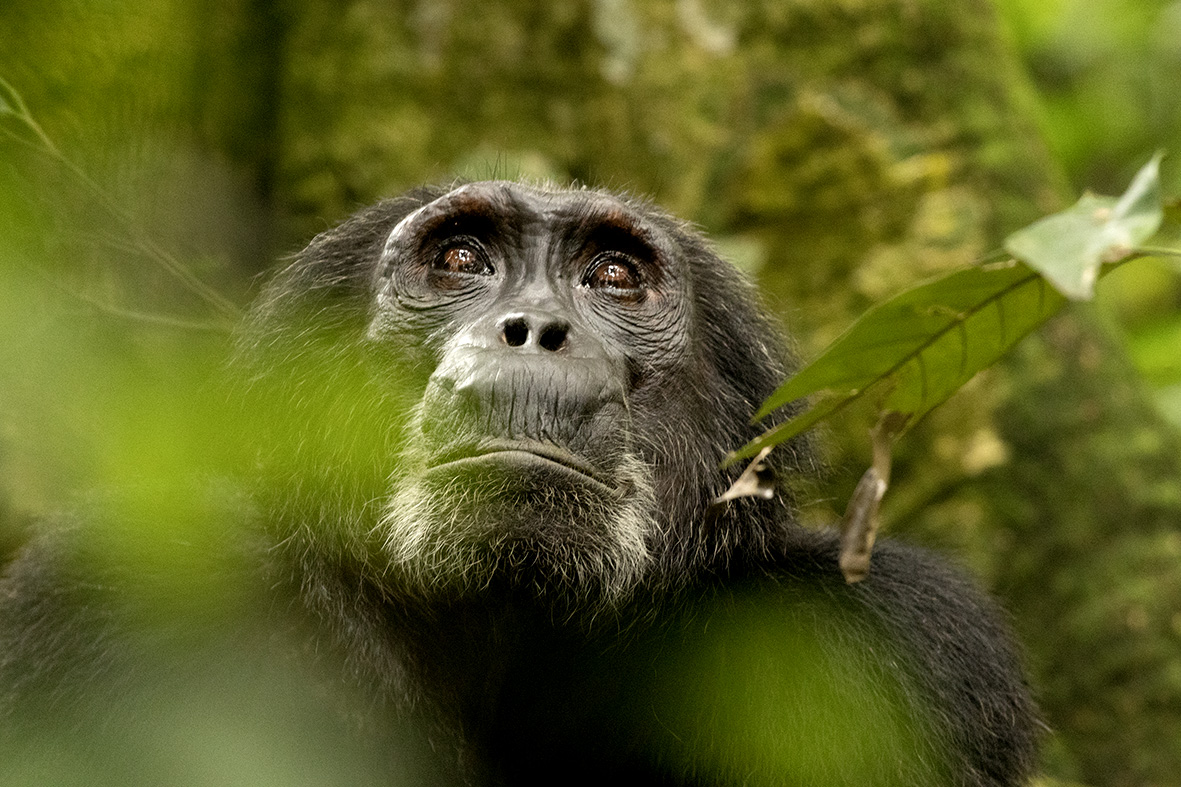 At the start of your trek, your ranger will brief you on what to expect during the entire experience. It is here when I learnt an essential difference between gorilla and chimpanzee trekking. I have explained it in more detail further down the post, as I believe it's an important difference to be made aware of. 
Tracking team out in front 
No time is wasted tracking these chimpanzee communities. While you are being briefed at the Briefing Center, there is a UWA tracking team out in front trying to relocate the community from their last known position. Your dedicated ranger is also in communication with the teams throughout the trekking experience, so they have a good idea of what is happening. 
How long does the trek take?
It is estimated that the entire trek can take between three to four hours depending on the movements of the chimpanzees. You then have an hour to move with the community and observe their behaviour and interactions. Like all wild encounters, it is fairly difficult to predict what kind of sighting you will have, however, it will be uniquely special for sure! 
Estimated duration of trek: three to four hours depending on movements.

Time with chimpanzee community: 1 hour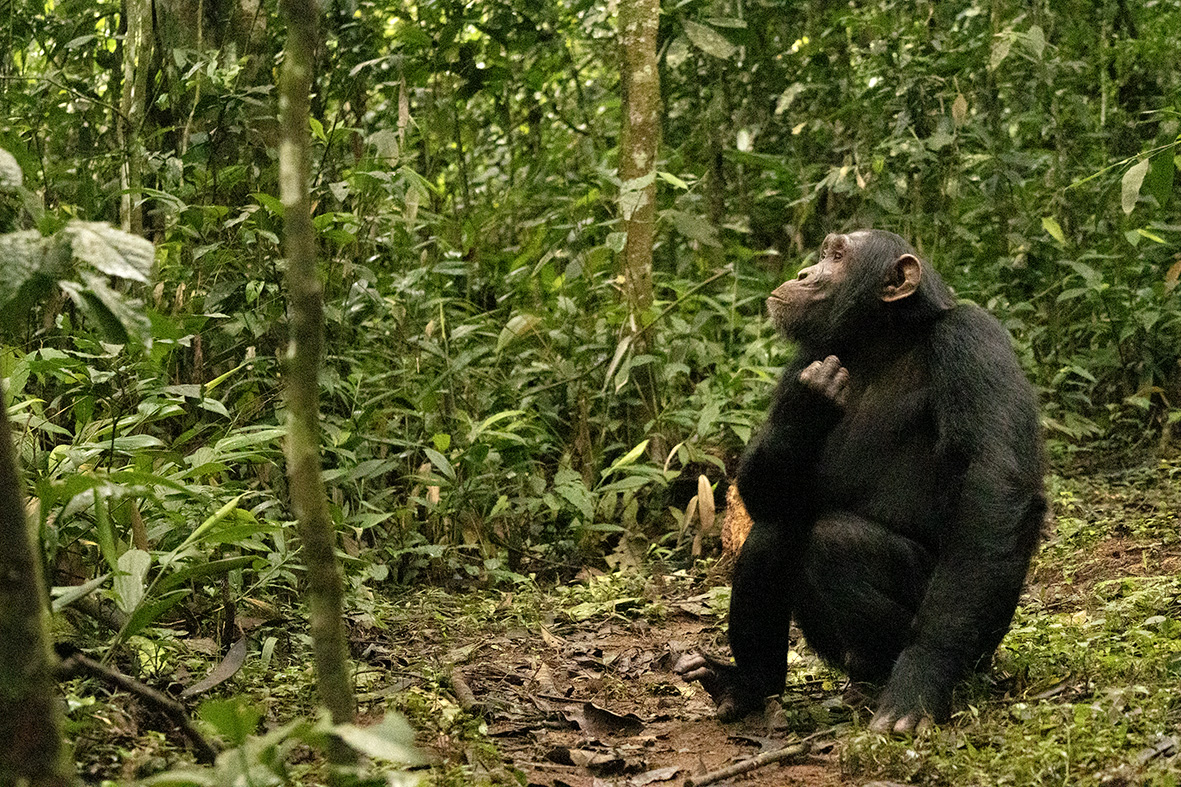 How fit do I need to be?
It's not a walk in the park by any stretch, but you definitely do not need to be a trail runner or advanced hiker to enjoy a chimpanzee trekking experience. The descriptions of slippery and muddy terrain is just that and with the correct shoes you will be fine. This being said, I would suggest a medium to moderate fitness is recommended, as you do have to move quick enough to follow the chimpanzees if they are on the move. As you can see in my video, the terrain can get thick while moving with the group. So be prepared to push through a few areas.  
Please Note Age Restriction – Minimum age for chimpanzees tracking in the Kibale National Park is 12 years.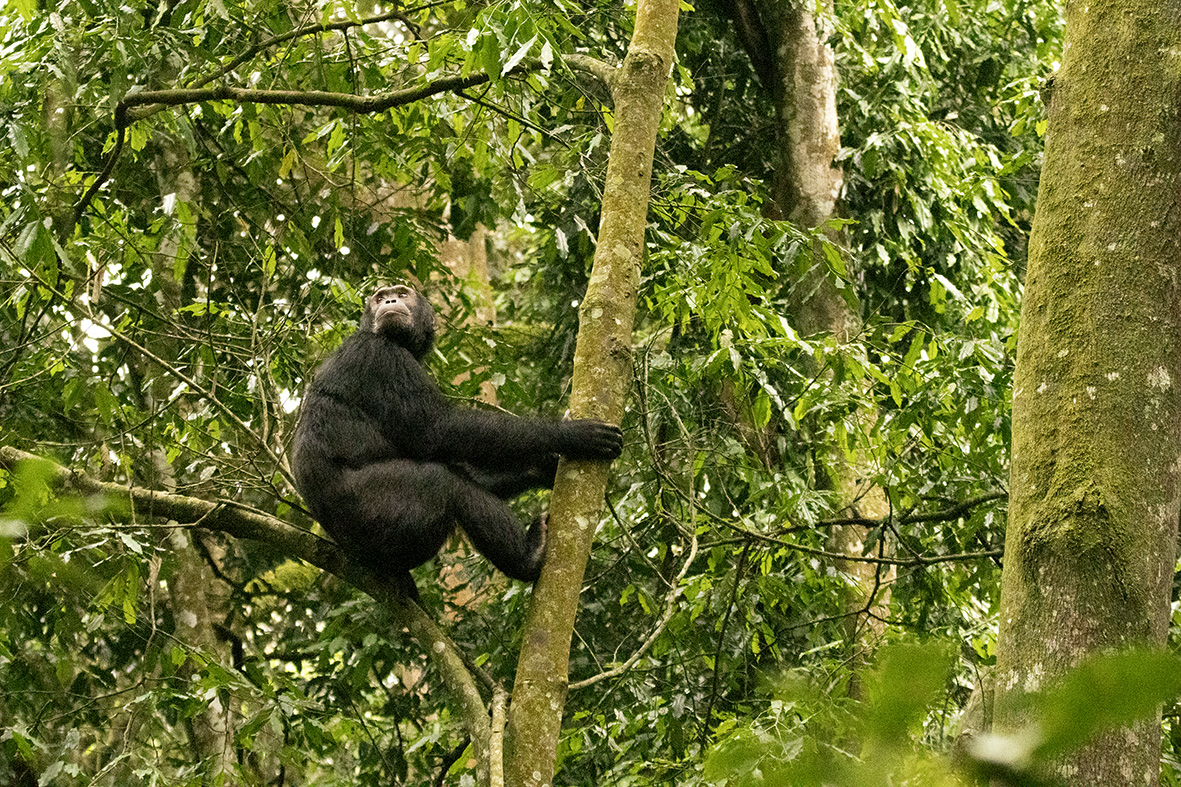 Will I be safe during the trek?
Simply put, yes. It is important to remember that you are visiting wild primates, but they have been habituated for many years. Therefore, they are comfortable with you and your predictable behavior. Unhabituated chimpanzees would rather avoid confrontations, therefore they tend to move away from you. This all being said, like all safaris, it is important to listen to your guide and keep to the etiquette described to you during the briefing, as these are wild animals. Keep a respectful distance where possible and don't eat, smoke, mock or mimic their behavior. You do not know what they are saying, so don't repeat them by imitating their behavior or vocalizations. Personally, I think it is more important to worry about correct footwear and clothes to prevent slipping on the muddy trails or stinging nettles.
What to bring on your trek
A small backpack (rucksack)
Water resistant rain jacket
Water bottle and snacks (supplied by the lodge)
Gratuities for UWA Ranger (speak to us for guidance)
For the birders – Swarovski binoculars 
What to wear on your trek
Water-resistant hiking boots with grip (not trail running shoes)
Long sleeve shirt (prickly foliage)
Thin quick drying long pants (ants bite)
Gaiters (don't be a hero, you need them)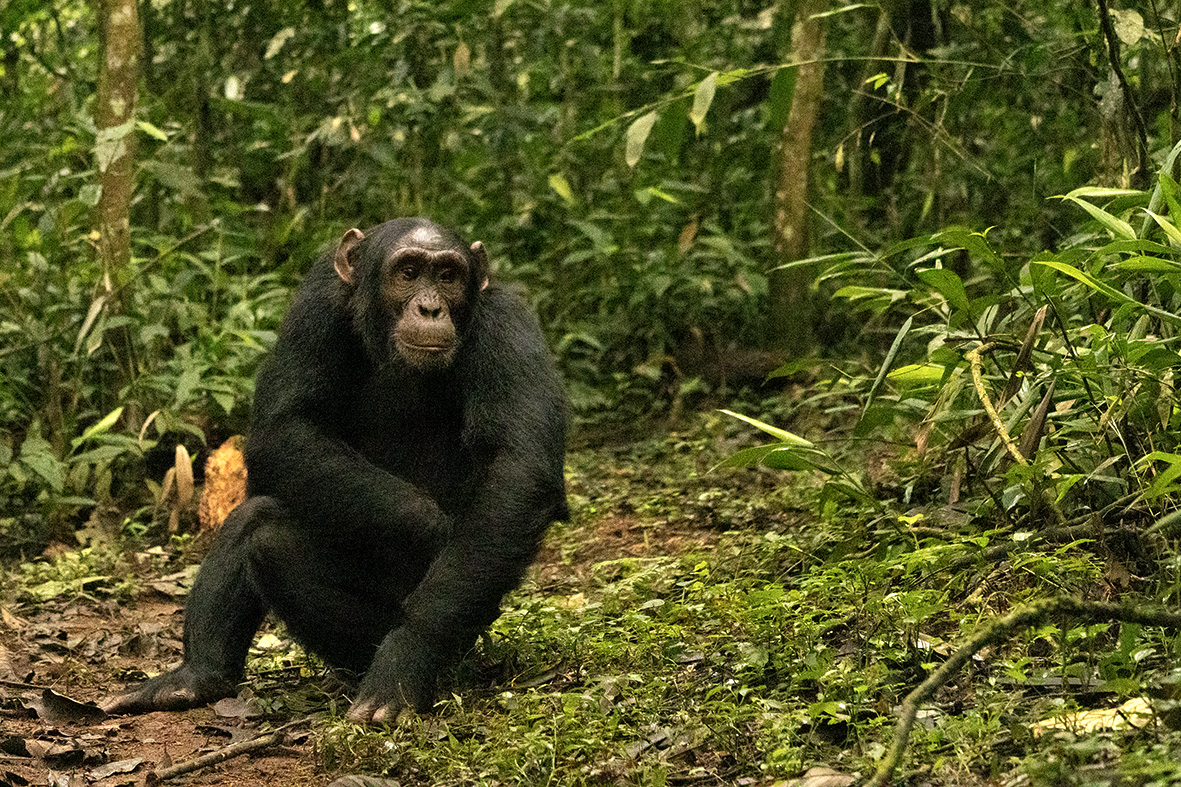 Trekking Etiquette: The Dos and Don'ts 
As a previous guide, I can tell you plenty of stories about what people have done, or not done, to disrespect these fragile wilderness areas while on safari. And it honestly upsets me how disrespectful the few can be, both to the other people sharing the experience and the wildlife who have trusted you to appreciate their space. 
The golden rule: show respect to where you are and what you are doing. Below are a few official regulations to help make your experience is safe and as authentic as possible. 
Listen to your guide (It's not a debate)

Chimpanzees can contract our diseases. Please do not do the trek if you are sick

Wear a mask while viewing the chimpanzees

Maintain your distance where possible. If they approach you, listen to your guide's instructions. And yes, sometimes it is best to stay still and let them pass

Keep quiet and speak with a lowered voice. (It is not Disneyland)

Do not mimic the chimpanzees in any way, both vocalizations or physical movements. You do not know what you might be saying. 

Do not chase the chimpanzees 

Do not eat or smoke near the chimpanzees 

No flash photography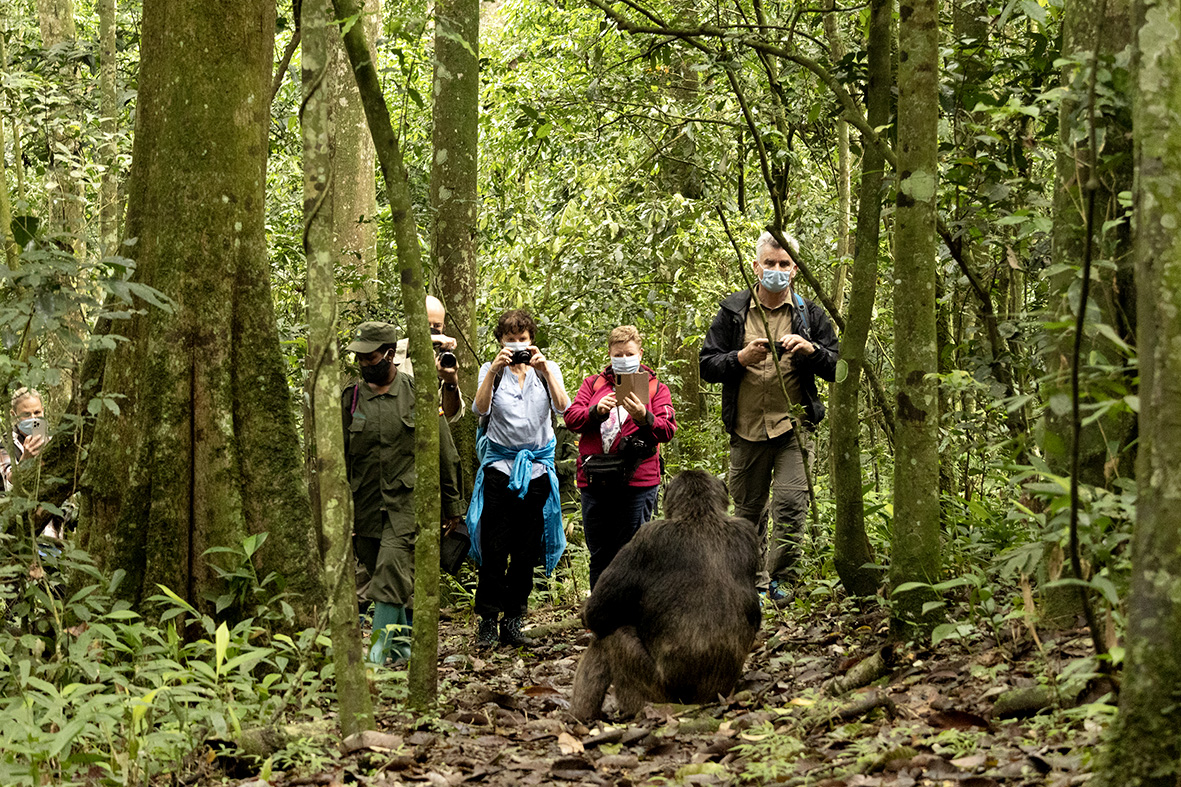 Away from the more obvious and official regulations. I want to highlight a few of my suggestions to help enhance your experience through the forest. 
Enjoy the hike – it is not just about the chimpanzees. Our guide provided us with an amazing interpretive experience by showing and explaining tracks and signs of the chimpanzees and other animals. Ask questions and be inquisitive. 

Don't listen to the radio and ask "how much further". Enjoy the journey, look up into the towering canopies; stop for birds and other animals; listen to the sounds of the forest. 

Photographers – get your camera settings ready. Practice a little – the light is tricky.  

Drink plenty of water and eat snacks. It is humid and you are sweating. I would even suggest having one water bottle with hydrates mixed in. 

Listen to your guide's instructions. They know these animals and will put you in the best positions possible to view them respectfully and safely. 

Wear good hiking boots with additional gaiters (not trainers or running shoes). Tuck your pants into your shoe to avoid biting ants. Why be uncomfortable during the trek? 

When viewing the chimpanzees, speak softly and respectfully. This is their space.
The Difference Between Gorilla and Chimpanzee Trekking
The pace of the chimpanzee trekking experience is much faster compared to the gorilla treks I have been on. When you view a gorilla family, they tend to move predictably slower, feeding on the ground and resting. Whereby chimpanzees are in the trees, feeding and swinging through the canopies. While on the ground, they move reasonably quickly through the dense forest. The chimpanzees, because they live and interact in communities, can erupt with movement, vocalizations and social disputes at any time. Whereby the gorilla families tend to be more subdued.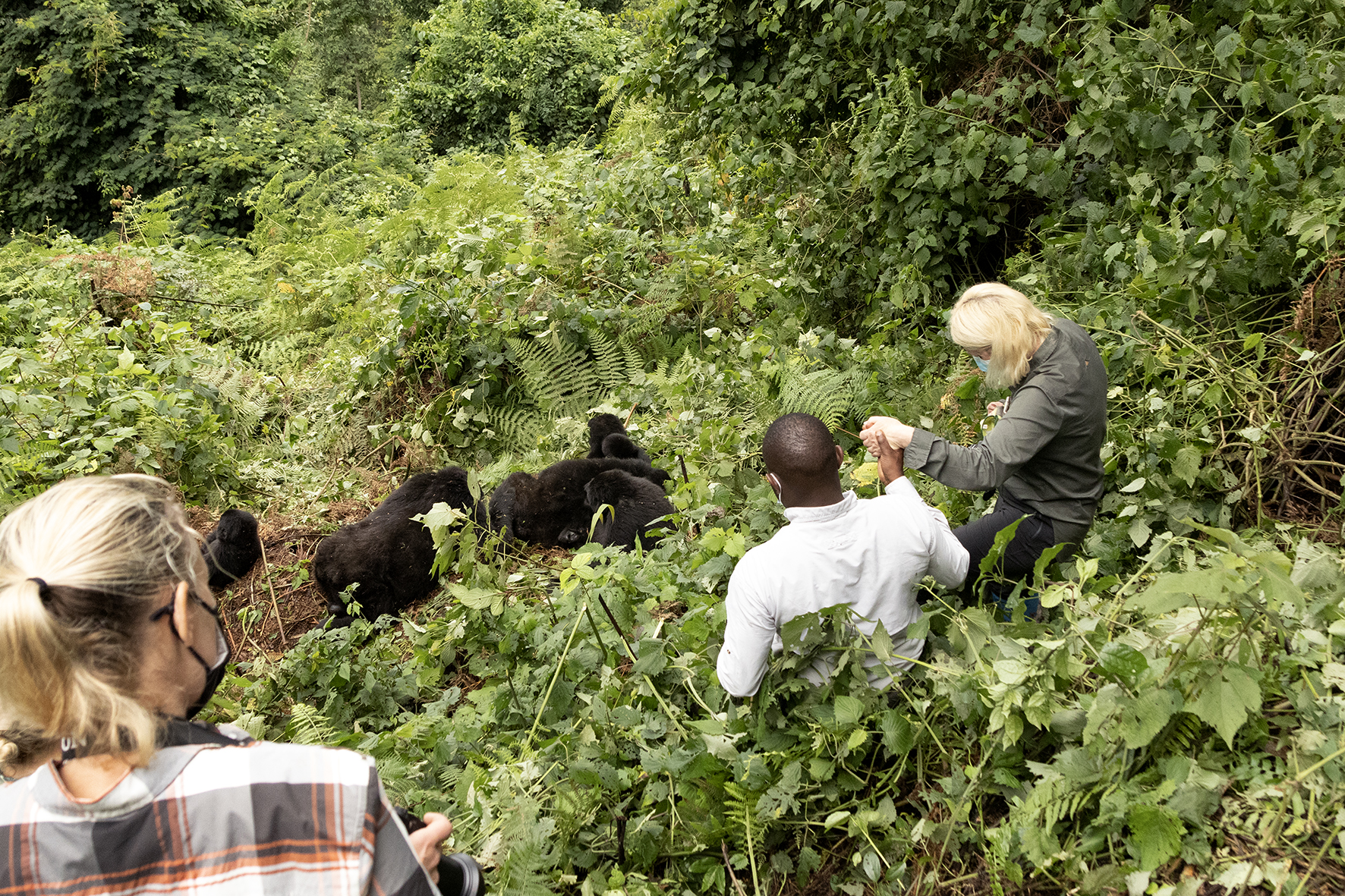 Due to the different social structures of chimpanzees and gorillas, the treks are also structured differently to accommodate this. I think it's important to understand the difference to manage your expectations. With gorilla treks, you are assigned a specific gorilla family to visit. As a result, there are just eight people visiting one particular gorilla family. And it is rare that two families will merge together. Chimpanzees, however, live in communities of many different social groups. This means that while following one member or group, you can join other trekking parties viewing the same chimpanzee community. As a result, you can find yourself watching a chimpanzee community with a lot more people than the original party number you started your trek with.
Watch our UWA Ranger, Tobin, explaining this to our group before we started. 
Photographing the Chimps: What I learned
I honestly could write another whole blog post on this topic. But, let me keep it snappy and if you have any additional questions, please feel free to contact me! I also wanted to add my favorite image taken on the chimpanzee trek below. I have the settings I used to capture this image of an old male chimpanzee gazing into a fig tree in the caption.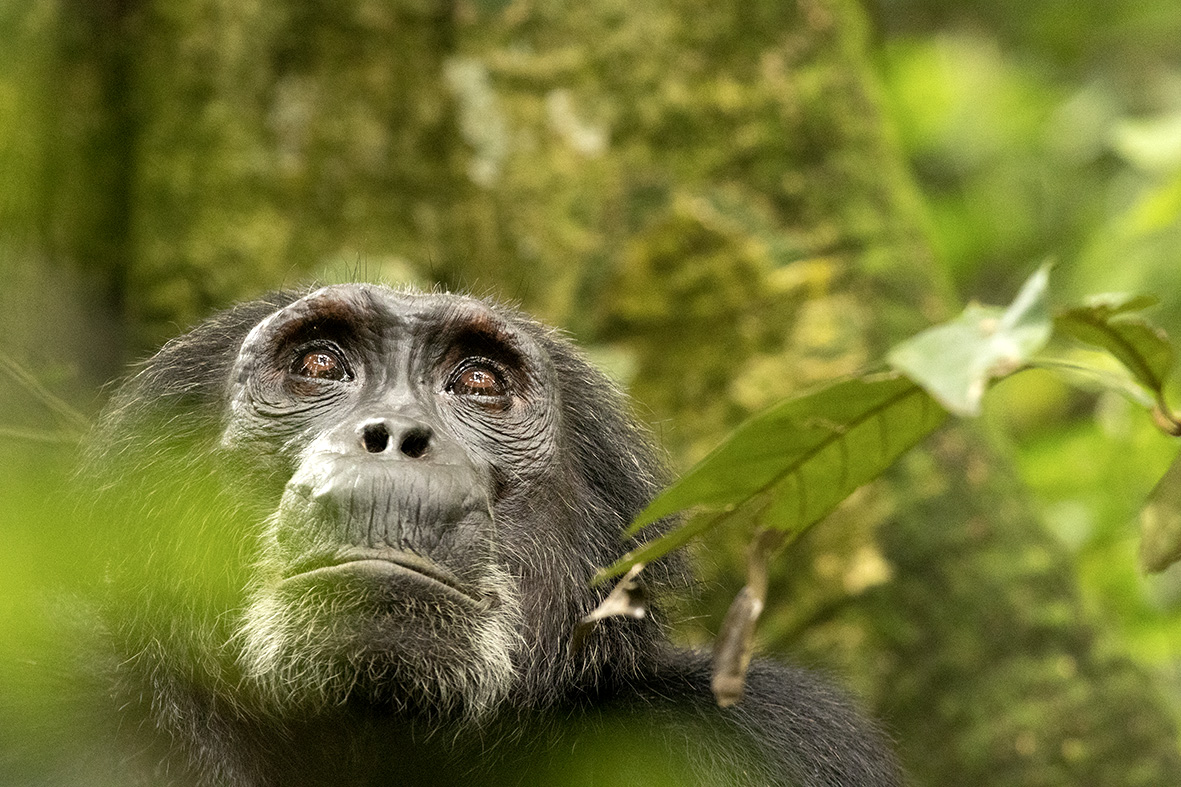 Above Image: Canon EOS R7 with an ISO 6400  |  Aperture 6.3 | Shutter Speed 1/160
Be prepared to capture your first glimpse
Unlike gorilla trekking, where you get a chance to put your things down and adjust yourself before viewing the gorilla family. Things happen fast with chimpanzees and before you know it, you could find yourself viewing your first individual within moments. So have your camera ready, preferably in a sling rather than wrapped around your neck. I would suggest just testing out the light situations and have your ISO, Aperture and Shutter settings ready.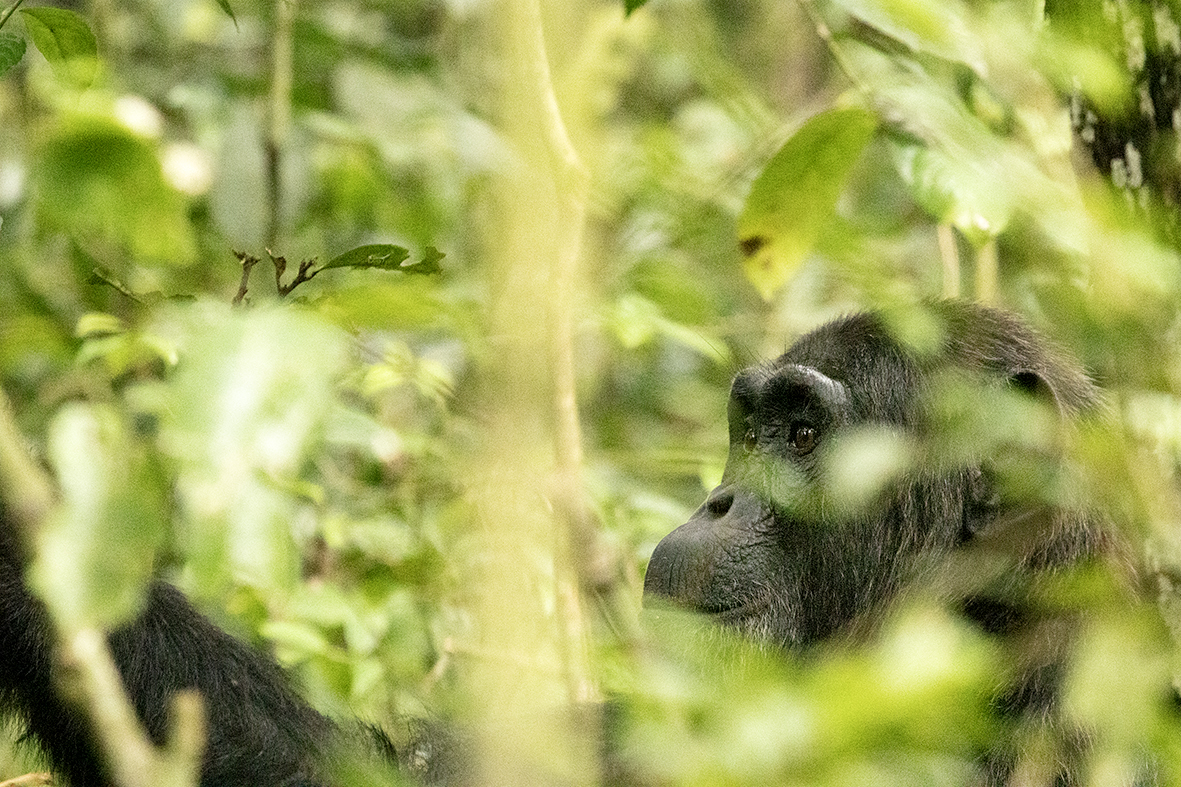 Settings: What's the light like?
All photographers have their preferences but, Kibale National Park is predominantly a rainforest, expect the light to be low with rays of sunlight peeling through the canopies. I had my camera setting on a relatively high ISO, ranging from 1600 to as high as 6400. 
I like to shoot on the manual setting. Conversely, however, I always suggest that people should shoot on Aperture Priority. This will allow your camera to adjust the camera's shutter setting as you move through different light conditions automatically, giving you more time to focus. Remember to be as still and sturdy as possible to reduce camera movement when taking your photographs. Watch your footing, have your camera cradled close to you in a fixed position and snap away.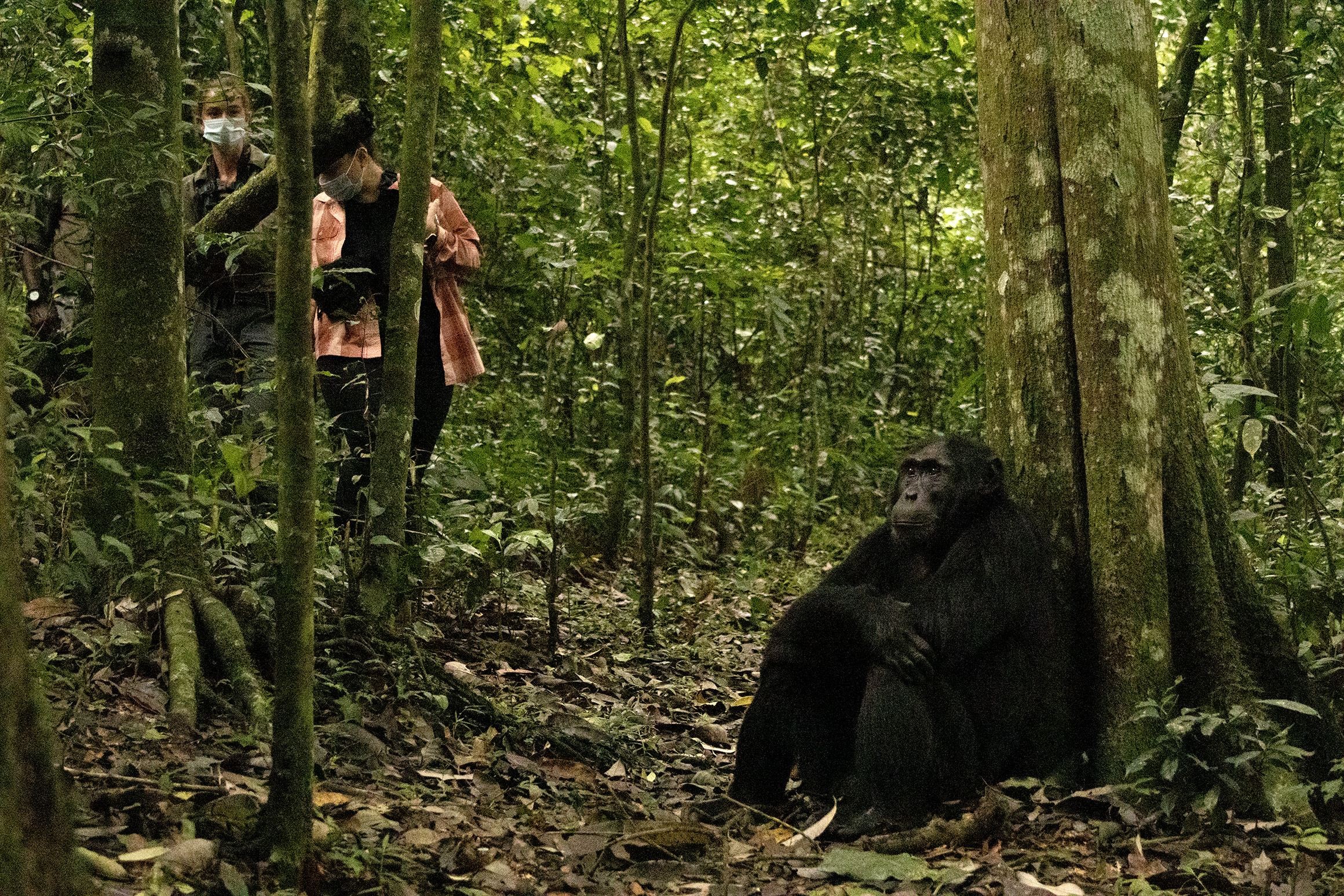 Above image: I thought it was worth showing you how dark it can get. Here I pumped my ISO up to 32000 to try get a decent shutter speed. You can see the grain is quite bad. Not Ideal. 
What about a tripod?
I didn't take mine during the trek, as I wanted to be able to move quickly and get into positions easily. I was also in a group of non photographers, so I felt uncomfortable and wanted to respect the group's time and priorities here. For those keen on taking long exposure forest shots – I would suggest utilizing another opportunity for this.
What Focal Lens did I use?
A standard 18mm to 150mm. This was great for the more contextual shots and when I wanted to show the environment surrounding the chimpanzees (video too). 

Zoom lens 100-400 allowed me to get closer for the portrait shots I was looking for. I reckon I also used this lens the most, as it allowed me to take shots from a respectable distance. 

I didn't use my wide angle 10-22mm on the trek, but I would have it just in case. 
NO FLASH PHOTOGRAPHY 
For obvious reasons, flash photography is not allowed, as it can cause distress for individual chimpanzees. So for those who like to meter for the background and let the flash "pop" the subject out of the foliage – not on this safari I'm afraid. 
Is my smartphone enough?
If you are not looking for the gorgeous reflective portrait shot for your wall, and you are just looking to have a memory, then yes. The proximity we got to the chimpanzees allowed me to take a few selfies and videos from my phone. Can one guarantee this though, I am not sure.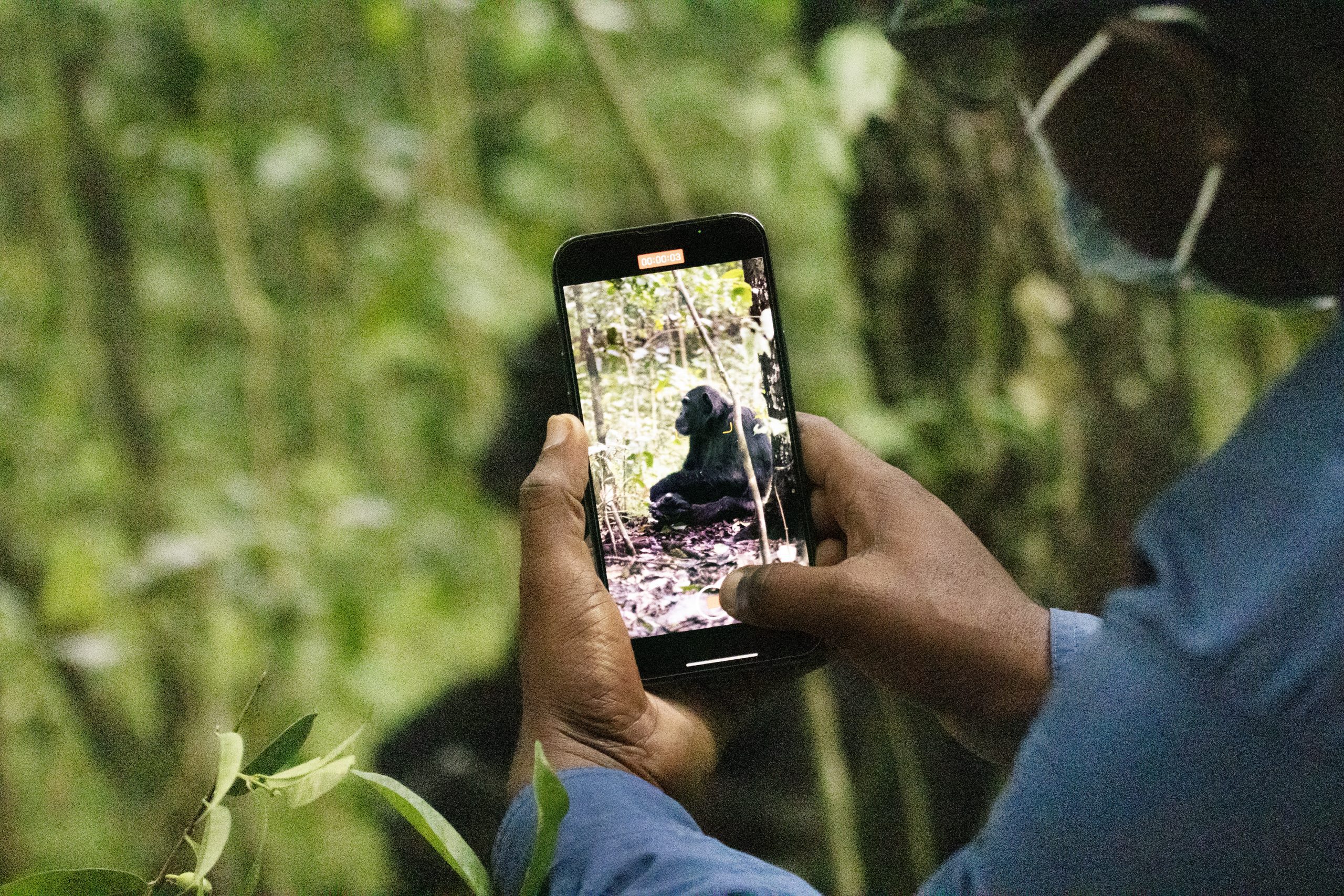 My Camera Equipment
Canon EOS R7

– loved the eye tracking capabilities here! Huge help!

100 – 400 zoom lens

18 – 150 focal lens

Protective camera bag

Spare (charged) battery

Spare 128MB Memory card

NB – a plastic bag to protect camera and lens from rain

Where did we stay? 
There are plenty of wonderful places to stay surrounding the Kibale National Park. And our travel design specialist can help you find the perfect one for you. However, I would recommend you stay at Primate Lodge – Kibale. Simply because it is the only lodge inside the Kibale National Park!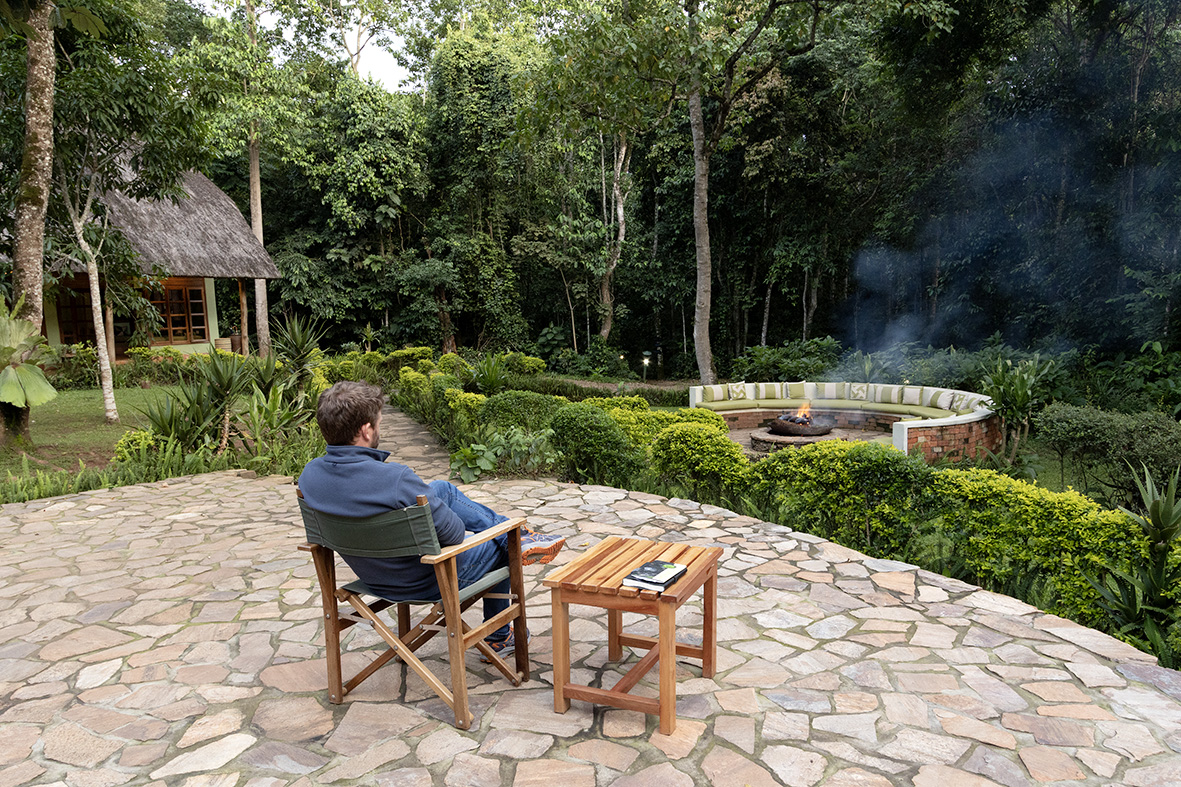 Natural luxury at its best! Imagine waking up to the calls of wild chimpanzees and going on a recovery or warm-up walk through the forest, learning more about the 13 primates you can see while staying here? For me, natural luxury at its best. Enjoy a quick room walkthrough to give you an idea of the accommodation.
Are you ready for the trip of a lifetime?
If you're thinking of planning a trip, we're here to help! Our team of travel designers will create an itinerary just for you to create memories to last a lifetime and conquer your bucket list. Get in touch with us today to start planning your adventure in Africa.
Follow us on Instagram