When planning a trip to Africa, there are many unique and enchanting destinations to consider. The open grasslands of the Maasai Mara to witness the spectacle of the Great Migration, Botswana for mokoro rides along the serene marshlands in the Okavango Delta, or Rwanda to ascend into the forested volcanoes in search of endangered mountain gorillas. Each country is known for (at least one) regional highlight that makes people want to travel around the world to experience it for themselves.
With Rwanda, trekking to see the mountain gorillas is the first thing that comes to mind. The experience of hiking through the lush mountain terrain and coming face to face these animals has found its way to the top of numerous bucket lists and is a thrilling event for those who have the privilege to experience it for themselves. As endangered species, these magnificent creatures are protected and the length of time that humans are permitted to interact with them is limited. So… what next?
For those looking to dive a little deeper and immerse themselves in all that Rwanda has to offer, take a peek at some of our favorite Rwandan gems…
Conquer Volcanoes by hiking Mount Bisoke
Measuring 3,711 meters in elevation, this dormant volcano in the Virunga Mountains is covered by lush rainforests and a variety of vegetation and animals. This excursion does not read 'one size fits all', as the steep climb, mud-covered trails and stinging nettles are not for the faint of heart. Fear not! Each group hikes with a park ranger guide who (more than likely) has spent most of their life in these forests and will assist guests of all fitness levels. Upon reaching the top of the volcano, the breathtaking views of the crater Lake Ngezi are well worth the 5+ hours of hiking. We recommend taking a mid-hike break at Dian Fossey's grave site to learn more about the history of gorillas in the region and her impact on primatology and conservation.

Get up close and personal with chimpanzees in Nyungwe Forest
Long before you actually see the chimpanzees, you will be able to hear them chanting and calling in the distance. Chimpanzee trekking offers visiting guests adventure, as you will more than likely find yourself off-path as you search for the animals in the dense forest. Although these primates are closely related and have human-like behavior, please keep in mind — no flash photography! Chimps can scare easily from the unfamiliar bright lights. Save your paparazzi moments for our more portrait-friendly golden monkeys…

Hike through the bamboo forests for Golden Monkeys
As an add-on tour while visiting the mountain gorillas, golden monkey expeditions are a great way to see more of the forest and primate relatives. These tours are perfect for all guests and fitness levels since it usually takes less than an hour to find them. By following the trails of freshly eaten bamboo, you will find troupes at the base of the Virunga mountains, jumping from tree to tree with their brothers and sisters. These primates are fascinated by human interaction and are not shy to pose for a photo or two.

Coffee plantation tours
This 'From Crop to Cup' experience allows guests to pick their own coffee fruits from the plantation and observe the entire process from washing, roasting to finally making its way to your mouth. Your java-journey takes place on an island along the shores of Lake Kivu with picturesque views and the wonderful company of the Rwandan families that run the plantation.

Lake Kivu
The country's largest body of water and one of Africa's Great Lakes, Lake Kivu is the perfect spot for some R&R after breaking a sweat while searching for primates. Since you won't find crocodiles or hippos in these waters, feel free to splash in the crystal blue waters or enjoy a tranquil kayak ride along the coast. Watching sunset aboard a sundowner cruise is the perfect way to end your day on the lake.

Genocide Memorial in Kigali
As a visitor in a foreign country, it is always important to get perspective on the nation's history and its people. The Kigali Genocide Memorial explains how an estimated one million Tutsis were systematically slaughtered by the Interahamwe army in just a matter of months back in 1994. The story is told through videos, devastating images, personal accounts and testimonials on display – and is an emotional experience for anyone who visits. Through this experience, guests are able to reflect and acknowledge the incredible growth and rebuilding Rwanda has done over the last 24 years. We recommend visiting on your way to or from the airport during your Rwandan travels.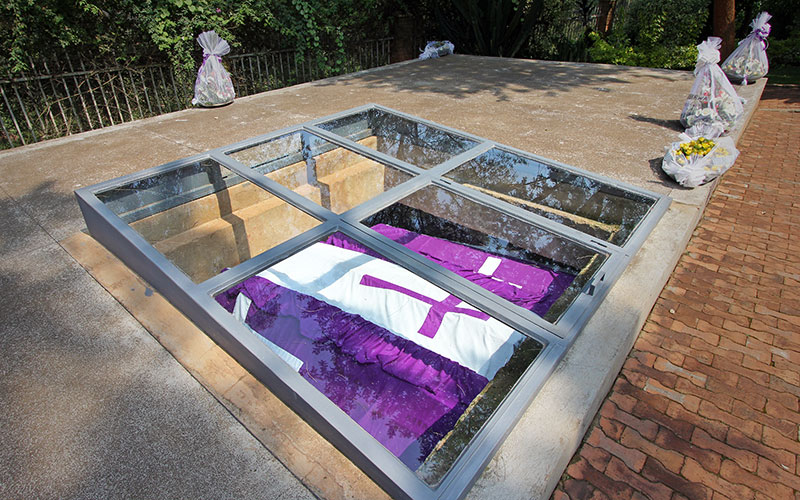 Start Planning Your Dream Trip
Reach out and let's start talking. We'll listen and begin to tailor an experiential, private, luxury vacation based on exactly how you want to experience Africa. From adventure to relaxation—and everything in between—let us handle every detail of your unforgettable journey.