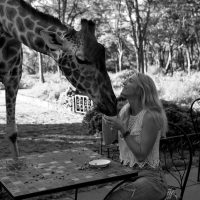 Co-Founder & Travel Designer
Leah's childhood was filled with adventure, sports, and anything active. After electing to attend the University of Michigan to play water polo, she became involved with a group called Student Athletes Leading Social Change. As the chair of a campus wide fundraiser, the organization's passion project during Leah's senior year was to fundraise and build a school for a small village in Kenya. Chosen as part of the team to travel to Kenya and assist in the construction of the school, Africa's magic instantly captured Leah's heart. 
As the Co-Founder and Travel Designer at Ubuntu Travel, Leah believes the word Ubuntu encapsulates and reflects the way we should view the rest of the world and how we are all somehow connected, no matter where we are or how different we are. While the world is enormous, Leah finds comfort in knowing that there are always opportunities to connect with others around the world, which brings her back to the first time she visited Kenya in college: spending time with local Africans who had a completely different upbringing, way of life, and even language, yet she still was welcomed with open arms and felt completely at home.
At present, Leah is dreaming of returning to BotswanaSeasonal Guide to Botswana  and hopes to catch her first glimpse of a Pangolin while on her next safari. Leah is also eager for the day when she and her husband, Kyle, can introduce their daughter, Charlie Mara, to Africa for the first time. Returning to East Africa, where they learned that they were expecting their first child, will be a very special moment for the family. Leah and Kyle live in Newport Beach and enjoy working together daily to share their love of Africa with others.