It is widely agreed that solo travel is a deeply transformative and life-changing experience, affording the traveler incredible opportunities for adventure, growth, exploration, self-discovery, and more. We highly recommend traveling solo at least once in your life, as this type of experience can be so rewarding. And it is no secret that your first time on safari gives you a similar experience of fulfilment and leaves you feeling more grateful than ever. So when it comes to safari tips for solo travelers, we believe the two are a perfect combination!
Traveling solo in Africa, especially when on safari, requires preparation to ensure a safe and enjoyable adventure. Some properties and destinations in Africa are better suited for solo travelers than others, so it's crucial to conduct your own research and work with a trusted travel designer to build the perfect itinerary for you. If you plan to travel alone, here are some tips and considerations to help guarantee your personal safety and fulfillment: 
Safari tips for solo travelers
Seamless Travel

: First and foremost, prioritize seamless travel between destinations: Work with a safari agency or travel designer ahead of time to be sure all transfers and transportation are prepaid and booked so there are no questions about where you need to go or be.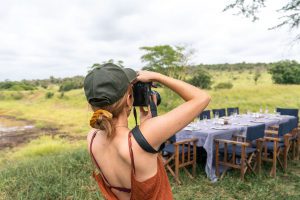 Safety First

: Make sure you're visiting safe destinations. Not all places are created equal when it comes to safety and accessibility for tourists, and it is important to understand which locations are safe for solo travelers. Southern and East African countries are wonderful to visit, but we recommend knowing which parts of town are best for guests traveling on their own. For specifics on areas to visit or avoid, we're here to help!
Transportation

: When in cities, make sure you're informed on the safety of public transportation, or if you should coordinate private transfers instead. In some parts of Africa, Uber is perfectly fine and an easy way to get around. In others, a private driver is a much safer option.
Socialize: Get outside your comfort zone and be social. At safari lodges, the experience can be as private or social as you make it. Shared safari vehicles give you the unique opportunity to safely interact with people from all over the world. You may make lifelong friendships with those who share your safari experience with, or maybe even guests you meet sitting around the lodge bar or sundowner on safari. The possibilities are endless!
(Photo:  Owner & Founder, Kyle Green)


Avoid extra fees

: Try utilizing safari lodges that don't include single supplement charges for solo guests. At some all-inclusive properties, rooms are priced 'per person' with the assumption that there will be two guests sharing the accommodation. Because of this, solo travelers are sometimes charged an additional fee because the lodge or hotel is missing out on the assumed second guest. You can significantly cut your cost by finding lodges that don't operate this way, and you may even cross paths with more solo travelers, which is one of the highlights of traveling to Africa, in our opinion. You never know what friendships will be made around a campfire!
Travel Insurance

: While we hope you don't endure any struggles abroad, it's wise to secure travel insurance to fall back on in case you have any challenges abroad or need medical help while traveling. This will help you save a ton in the event you need it!
Traveling solo can be a transformative experience and one you won't soon forget! When visiting Africa solo, we recommend planning ahead to be sure your itinerary is safe, suitable for the experience you're after and will leave you with life long memories. We invite you to see for yourself and enjoy one of our favorite parts of the world for your first solo travel adventure!
Start Planning Your Dream Trip
Reach out and let's start talking. We'll listen and begin to tailor an experiential, private, luxury vacation based on exactly how you want to experience Africa. From adventure to relaxation—and everything in between—let us handle every detail of your unforgettable journey.