Like most travel experiences, an incredible African safari can be achieved at many different price points; it just depends on the type of experience you are seeking. In order to help you make your dream trip a reality, we've compiled a list below of things you'll need to account for when budgeting for your trip.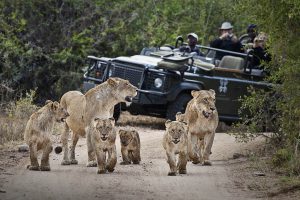 The step that precedes budgeting is planning, which begins with considering the questions below:
How long do you want to travel for?

Consider

travel days

as well as how many days you would like to be on safari. Do you want to visit multiple regions or places? The number of days you want to travel will impact the cost of your trip.

When do you want to travel?

Peak season pricing can be much higher than shoulder or off-season rates, so knowing which months you want to travel is key. If you are looking to see a specific event, such as the

Great Migration

, understanding the difference in rates during those times of the year is also important. If you are flexible, picking shoulder season months with reduced rates and good weather is a great way to maximize your money when traveling.

Where do you want to visit?

Which specific countries do you want to visit? Do you know where you want to go and why? Do you have a desire to visit private game reserves or public parks? Do you want the ability to have night drives and/or open or closed vehicles for game viewing? Rules and regulations for

safari game viewing

differ between private and public parks and vary in cost, so knowing if these regulations fit within your ideal safari experience is helpful. Also, larger parks will often have lower prices, but generally attract large groups of people. If you visit a private concession, you'll see way fewer tourists and have a quieter experience, but it does come at a higher price.

What does your dream accommodation look like?

There is a large variety of lodge offerings in Africa: tented camps, modern design,

ultra-luxury

, mobile expeditions, etc., and the prices differ within these varieties, so knowing which types of properties you are interested in is important. Do you want the white glove service,  or something more rustic? Perhaps a combination? Lodges in the 4-5 star range can start at approximately $500 per night per person, all the way up to $3,000+ per night per person.

What type of experience are you looking for?

Do you desire an intimate camp with only a few other guests or larger hotel-style properties? Is having a private experience a priority for you? If so, you can pay extra to take over a camp exclusively, depending on your group size, or pay extra for your own safari vehicle. Some guests like to share vehicles with other travelers to meet new people and socialize (especially since the vehicles only fit 6 guests), while others desire more privacy.
Pre-Travel Logistics: Flights, Visas, and Vaccines
International flights

– This depends on your departure city and preferred flight path. Like other flight plans, there are several ways to get to Africa, either with multiple stops and layovers or a more direct route. Occasionally, travelers opt for a stopover in Europe or another country to break up the trip, which can also add cost. It's also important to consider variables like using frequent flyer miles or points, and flying coach or business class, all of which influence cost as well. 

Visas

– You do not need a visa to visit every country in Africa, so this may or may not be something you have to factor into your budget. In some countries, you'll only need your passport without additional documentation or a visa. If you know exactly where you're looking to visit, you'll be able to determine if you'll need a visa and how much it will cost. They can range from $50-$100 per person per entry.

Vaccines

– Vaccines may be required to visit some countries in Africa, but you'll want to consult with your doctor or visit a travel clinic prior to your trip to be sure you're medically covered for the areas you are visiting. Malaria is widespread and it's recommended to take anti-malarial medication, but this is generally accessible at a minimal fee.

Travel Insurance

– Although optional, it is never a bad idea to have travel insurance to be sure you're covered in the case of travel delays or unforeseen circumstances that require trip cancellation. Policies differ based on the individual's age, as well as: 

By state – each state has its own rules/conditions

There are different levels to many travel insurance plans (basic, premium, etc.)

Price ranges from $120 up to $2,000+ per person (

Minors traveling with parents are usually included at no additional cost if they are under the age of 18.)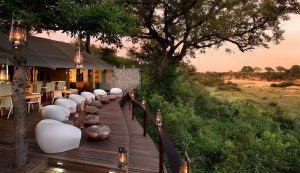 Costs While On Your Trip
Accommodations & Entertainment

– This is going to be the bulk of your budget. For safari lodges, there is a huge variety of prices based on types of accommodations, service level, if it is all-inclusive, etc. If you want to experience other types of entertainment outside of the normally-scheduled safari game drives, such as hot air balloon rides, horseback safaris,

primate trekking

, spa treatments, etc., there are additional costs for permits and such.

Gratuity and Tipping

– Although tipping is not mandatory and these are purely guidelines, in our experience, the service and hospitality provided at most safari lodges exceed expectations and you will want to show your appreciation through gratuity. Some lodges will allow you to tip at reception using your credit card, although cash is usually recommended. Using the suggestions below, and your desired number of days traveling, you can put together an estimate of what you'll need to budget for tipping during your trip:

In cities: 10% of the bill at restaurants, tour groups or drivers

Ranger/Guide: $20 per couple per day

Tracker: $15 per couple per day

Butler: $15 per couple per day

Camp Staff: $15 per couple per day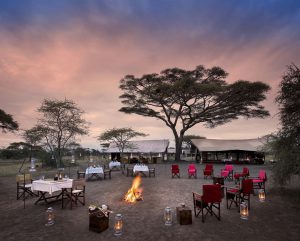 Planning is key – and we are here to help!
There's a myriad of ways to approach travel in Africa, and understanding your preferences helps to shape your budget in a way that truly creates the trip of your dreams. As always, our team at Ubuntu Travel is eager to help you plan your African adventures while accounting for your budget.
Start Planning Your Dream Trip
Reach out and let's start talking. We'll listen and begin to tailor an experiential, private, luxury vacation based on exactly how you want to experience Africa. From adventure to relaxation—and everything in between—let us handle every detail of your unforgettable journey.