Written by: Sean Messham 
There is a lot to experience when one goes on an African safari. At every moment from your arrival, there will be a new sensation, romance, or "oh my gosh" moment. But not many people will think about the bathroom, or more specifically the bathtub during their stay… 
However, you have clicked or tapped yourself here, so obviously you have thought about indulging in a very specific detail while on your safari. One that either includes a significant other or perhaps a solo moment with a bottle of bubbles as the company only. 
So please let me not keep you. Bathe into our list of our favorite luxury bathtubs for 2022! 
Somalisa Camp
Hwange National Park, Zimbabwe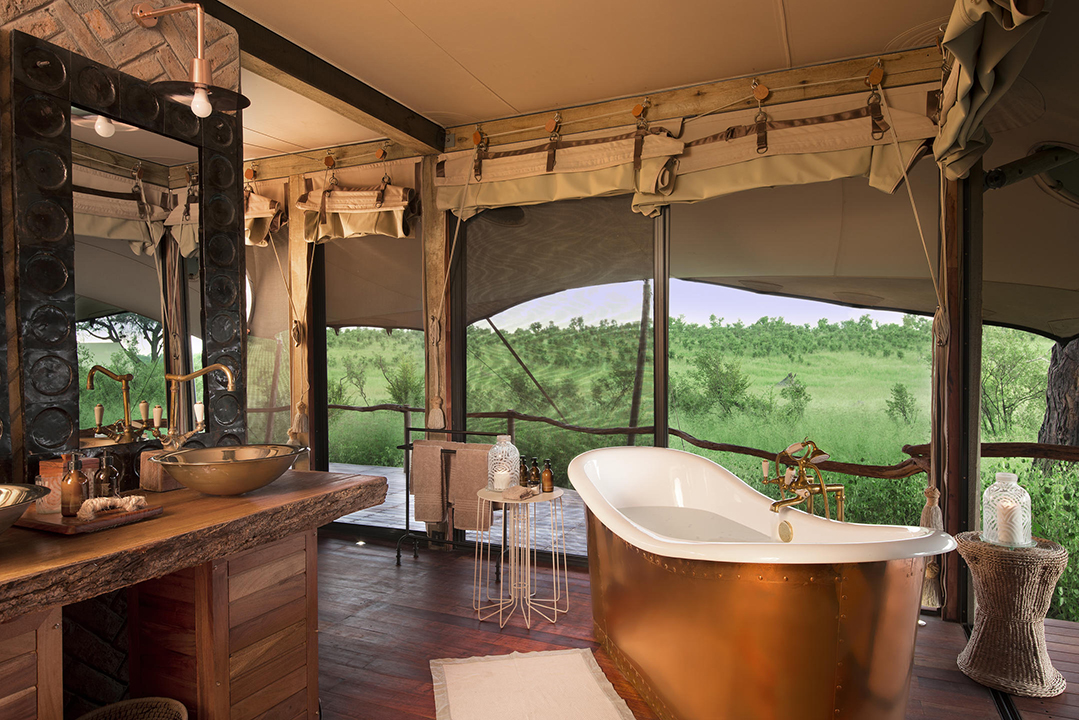 Slide into a copper slipper-style bathtub in the heart of the Hwange National Park, Zimbabwe. Depending on when you decide to indulge in your bath, perhaps you will get a chance to see herds of elephants grazing on the open savannah. For the conscious traveler, the camp is a leading example of eco-friendly safari accommodation and recycles 80% of its water used with a full solar-panel farm and water purity system on site.
Suggested Itinerary – Waterfalls and Wildlife
Royal Chundu Zambezi Island Lodge 
Victoria Falls, Zambia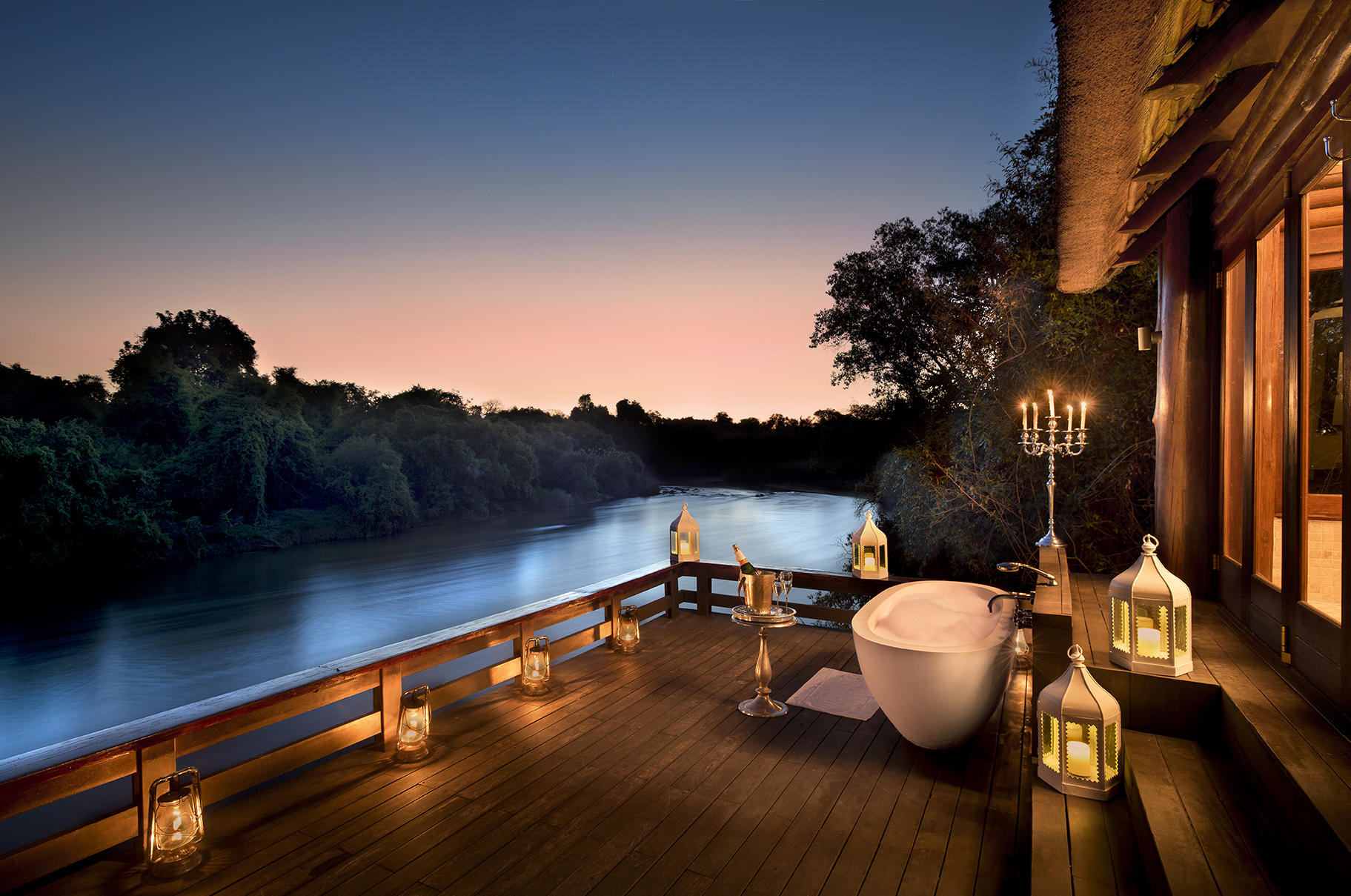 We at Ubuntu Travel are falling more and more in love with Royal Chundu Zambezi Island Lodge. This lodge has also made it onto this year's list for "Our Favourite Lodges for Romantic Couples". We simply can't get enough of it. And this image shows you why! 
Set on the banks of the Zambezi River, the Royal Chundu Island Lodge has only four spacious villas on the private Katombora Island. Just 30km upstream from the majestic Victoria Falls!
Suggested Itinerary – Waterfalls and Wildlife
Londolozi Granite Suite
Sabi Sand Game Reserve, South Africa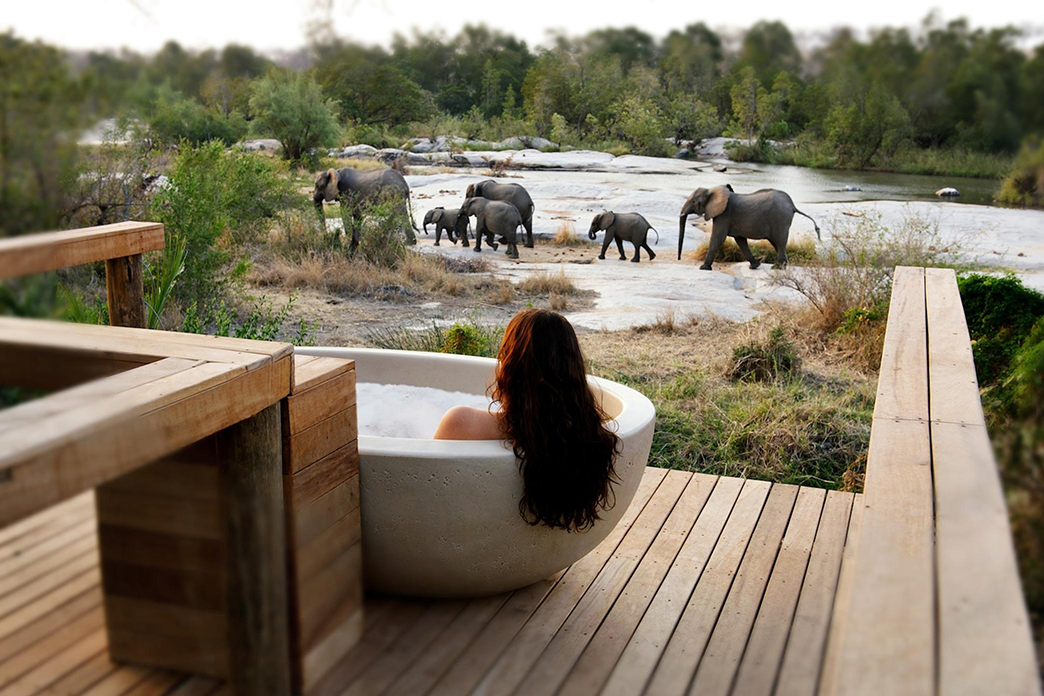 Framed by beautiful granite boulders and with your own private view of the picturesque Sand River, it won't take much for you to indulge in a moment here. Described by Londolozi as "mediative luxury" these three suites blend the boundaries of nature, inviting you to immerse yourself in natural luxury like no other room can. Dare we say it – but one might need to skip a game drive for an afternoon here… 
Suggested Itinerary – The Best of South Africa 
Sabora Tented Camp 
Grumeti Game Reserve, Tanzania
An adventure under a canvas of luxury! Singita's Sabora Tented Camp is all about space and an exclusive front-row seat to some of the best game viewing in the region. The bathtub is beautifully positioned for you to enjoy the open savannah views, while the songs of the birds breeze in to serenade your relaxed mind. Take a walk through this room with Co-founder, Leah Green.
Suggested Itinerary – The Best Summer Safari: East Africa
Lake Manyara Tree Lodge 
Lake Manyara National Park, Tanzania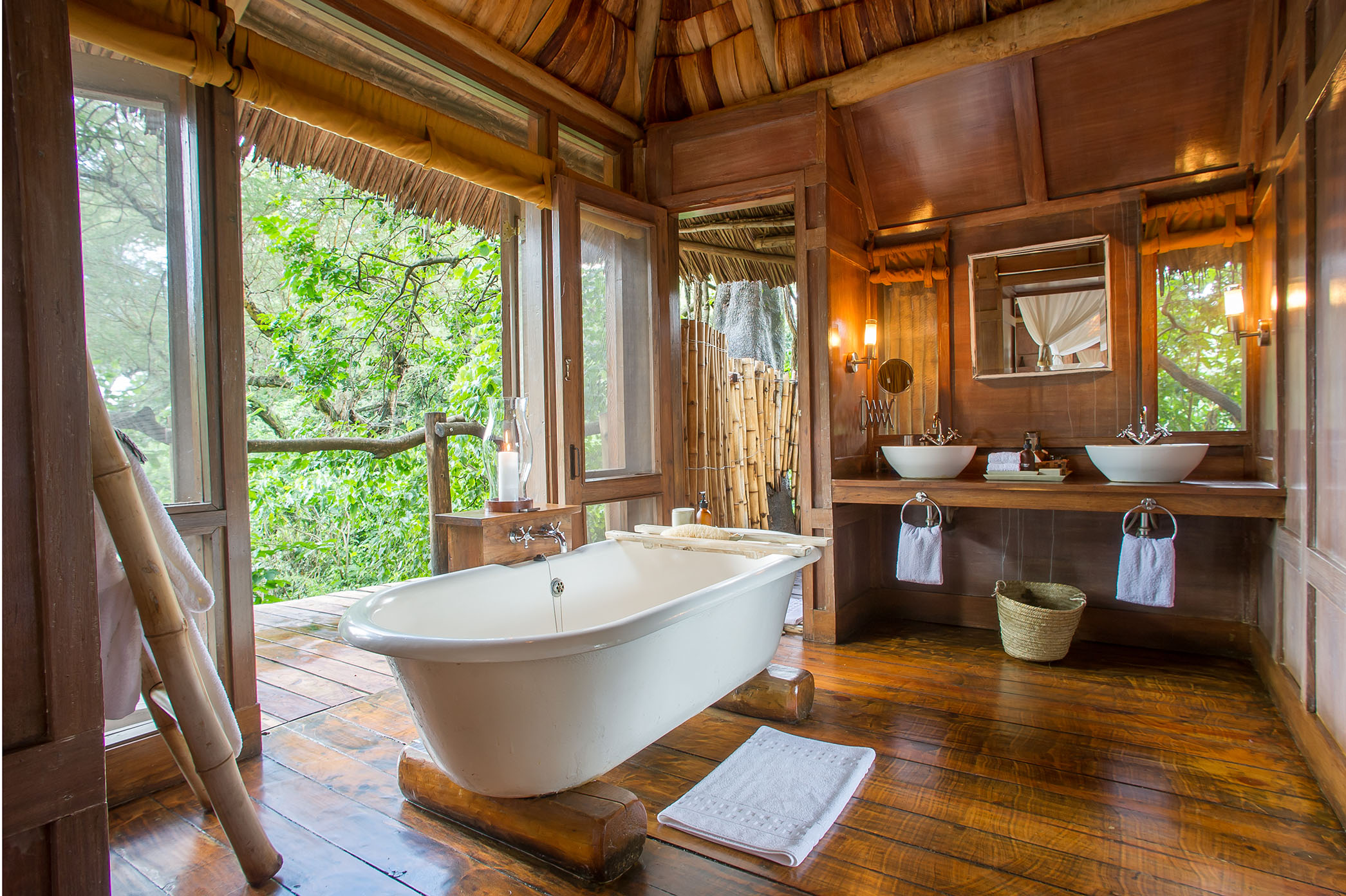 A bathtub within a stilted treehouse suite that sits cradled in the canopy of an ancient mahogany forest. The nine suites have been crafted by local timber and makuti palm, which provides an atmosphere of one almost being woven into the environment. Pure tranquility! andBeyond's Lake Manyara Treehouse has recently had a soft refurb, which basically means things are looking fresher than ever for 2022!
Being the only permanent lodge inside the Lake Manyara National Park, you are also given a unique opportunity to enjoy the more remote corners of the reserve. 
Suggested Itinerary – Tanzania and Zanzibar
Cottars 1920's Camp 
Masai Mara, Kenya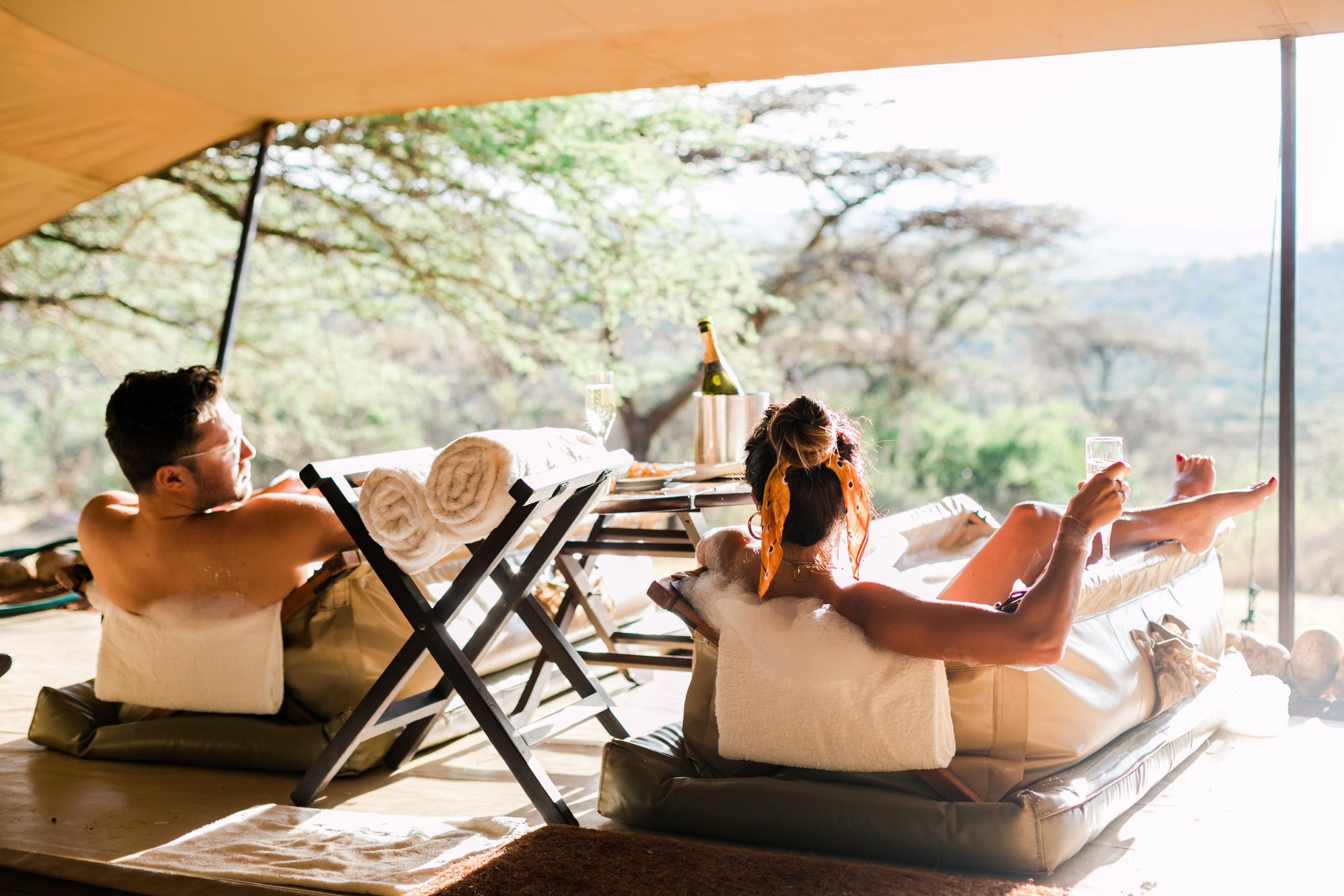 Take a step back into the 1920's under a canvas of romance, and enjoy a style from a bygone era at Cottars 1920's Camp. Experience a traditional canvas bath, which is set up outside your luxury tent for you and your partner, and enjoy the panoramic views of the Masai Mara. 
Let's just be honest, this just looks like too much fun and a good laugh!
Suggested Itinerary – Ultimate Kenya Safari
Kwitonda Lodge
Volcanoes National Park, Rwanda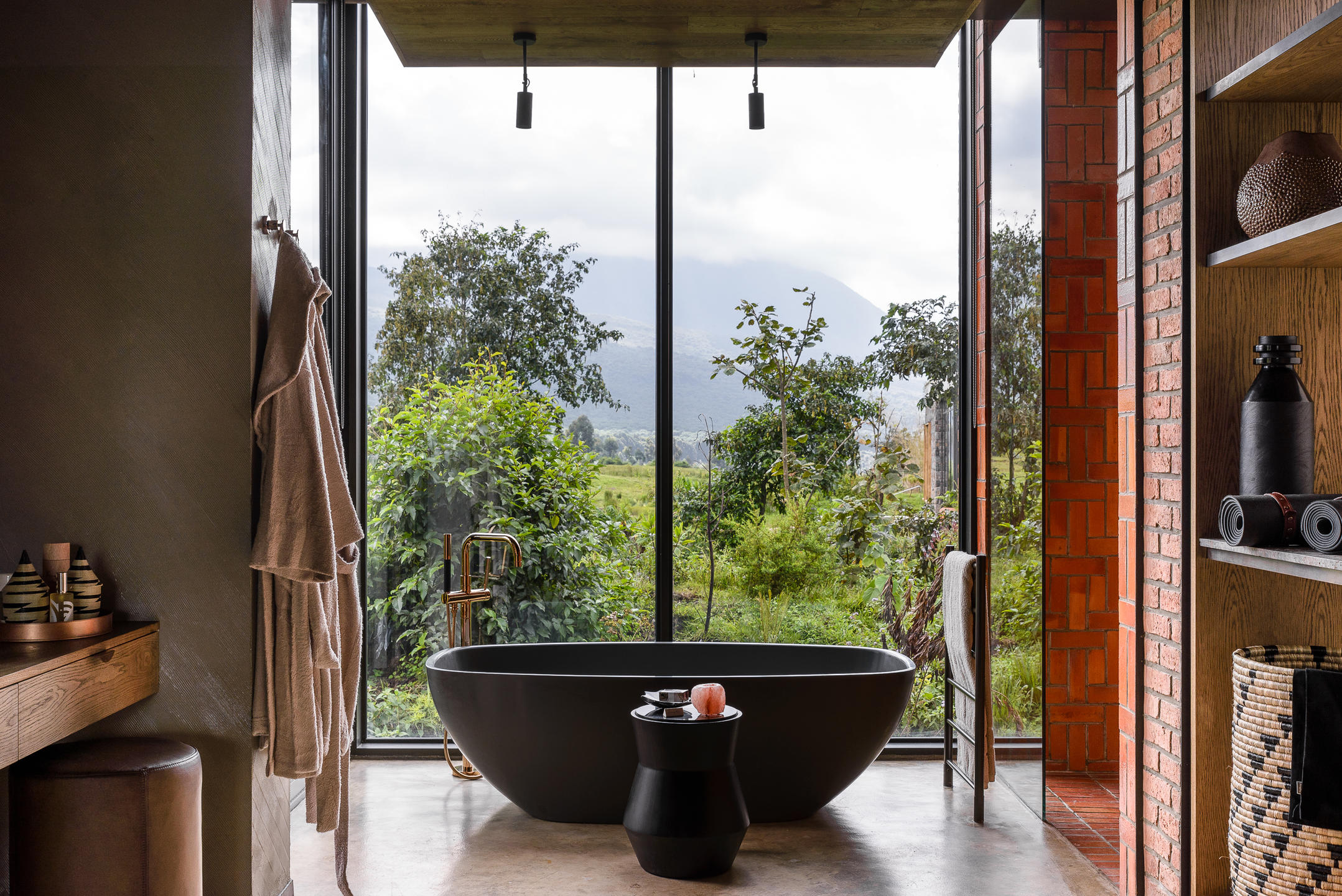 What more can we say… Take a bath with views of surrounding volcanoes on the edge of the Volcanoes National Park, where a third of the last remaining mountain gorillas roam wild and protected. Singita's Kwitonda Lodge is breathtaking from every angle, and after a life-changing gorilla trekking experience, the bathtub in its glass cocoon is the perfect space to relax and reflect.
Suggested Itinerary – Rwanda Gorilla Trekking
Are you ready for the trip of a lifetime?
If you're thinking of planning a trip, we're here to help! Our team of travel designers will create an itinerary just for you to create memories to last a lifetime and conquer your bucket list. Get in touch with us today to start planning your adventure in Africa.
*Please understand that although the malaria risk statuses were taken from the respective sites. Please consult your local doctor on what they believe will be best for your family at the time of travel.*
Follow us on Instagram