Written by: Sean Messham 
I have been fortunate enough to have seen wild dogs in three countries, South Africa, Botswana and Tanzania. And having guided in the Kruger National Park and Sabi Sand Game Reserve, I have had the pleasure of introducing these remarkable and exhilarating animals to guests from all over the world. 
After the Ethiopian wolf, the African Wild Dog (Lycaon pictus) is officially the second rarest carnivore in Africa! It is estimated that there are only 6600 individuals left, with just 600 to 1000 breeding pairs remaining. 
Given these numbers, and their massive home ranges, to see these animals in the wild is nothing short of incredible! In addition, once you understand their social structures, which have been described as almost democratic by some, you will find yourself admiring them. 
They are truly remarkable, and it's an extreme privilege to see them in the wild! Join me on a quick dash through five of the best places to try and view these amazing hunters.
Sabi Sand Game Reserve
South Africa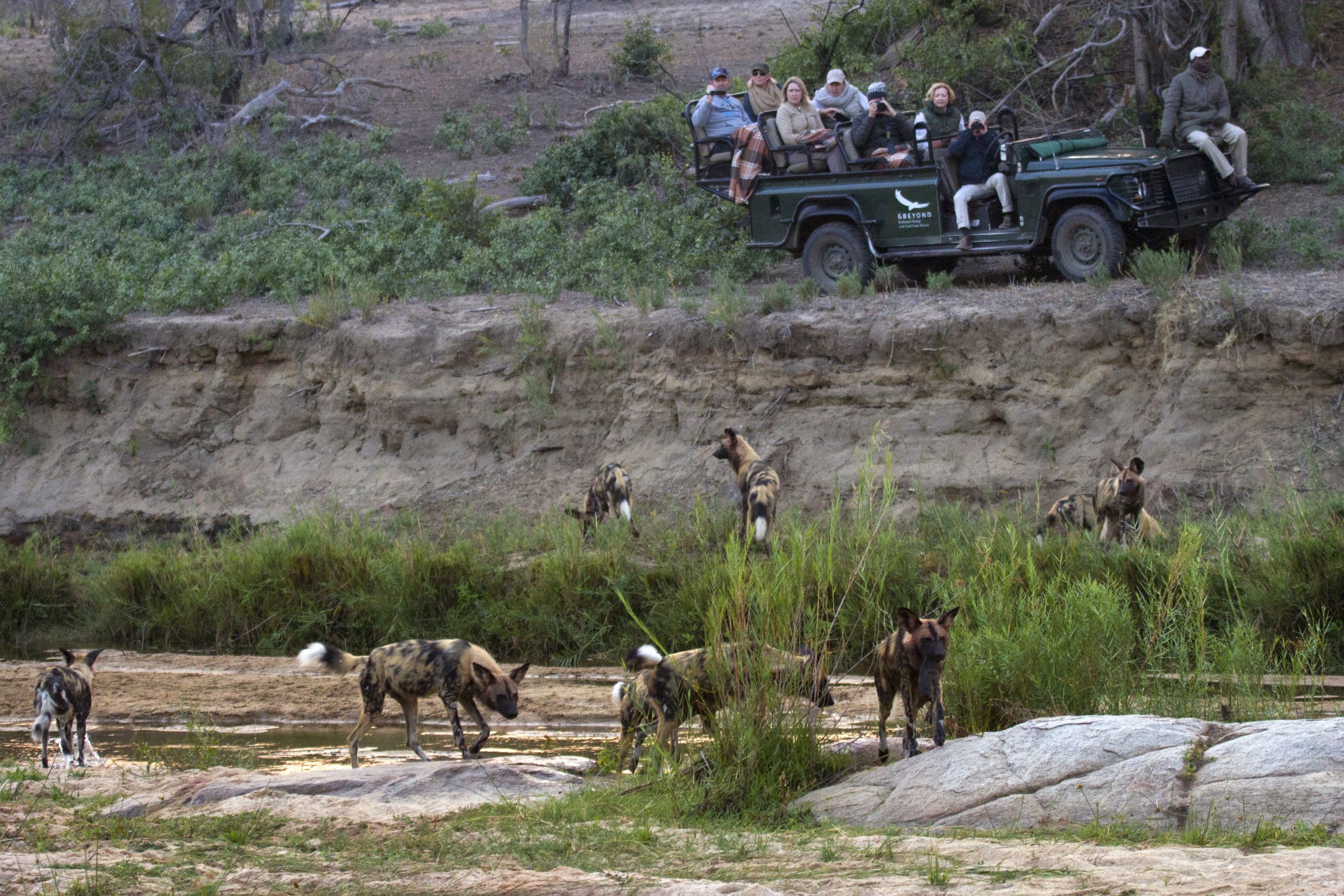 If you go on safari in the Sabi Sand Game Reserve and you hear the word "madach" over the radio, pack away your binoculars; finish your drink; secure your belongings and hold-on! Wild dogs are on the move! And they are moving quickly! 
Wild dogs are cooperative hunters and can reach speeds up to 56km over a long distance to chase and wear down their prey, providing you with an adrenaline filled experience as your guide tries to keep up with them (the speed limit is 40km… so you can see the guide's problem…)
If you are lucky to be at a lodge while wild dogs are denning, between May to July, you are in for a treat! While the pack is bringing up their pups, the pack is anchored to their denning sites where they keep their young safe from other predators like lions, hyena and leopards. Witnessing the pups at the den site is a special experience to say the least! In addition, with more mouths to feed, the frequency of hunts goes up, providing more predictable opportunities to see the pack hunting.
Suggested Itinerary – Best of South Africa 
Okavango Delta
Botswana 
Home to one of the highest concentrations of wild dogs, the Okavango Delta is considered to be a strong hold for this endangered species. The UNESCO World Heritage Site also neighbors Moremi and Linyanti, two fantastic places to consider trying to catch a glimpse of these exceptional hunters. 
I have been lucky enough to visit the Okavango Delta a few times, and remarkably I have been fortunate enough to see wild dogs each time. Ironically, due to their massive home ranges, you always have a chance of them just magically appearing, seemingly out of nowhere. 
On my last visit, my wife and I were enjoying a walking safari when we heard their distinctive contact call, it goes a little like a high pitched "hoo, hoo, hoo". Before we knew it, we saw an entire pack running in the distance. So we briskly got back to our vehicle, and after working with the other guides, managed to relocate them on a red lechwe kill. Incredible!
Suggested Itinerary – Explore the Best of Botswana 
Kruger National Park
 South Africa
Wild Dogs have massive home ranges! In the Kruger National Park, it is estimated to be between 400 – 1000 km². So I am going to get specific here. Ngala Private Game Reserve,  the first private game reserve to be incorporated into the Kruger, has exceptional fortune when it comes to wild dogs sightings.
The exclusive 36 324 acre reserve also has only two andBeyond lodges, which means the guides can work together, over large distances, to provide everyone with an opportunity to view these animals. The reserve, with the dry Timbavati River running through its center, seems to be perfectly positioned for multiple packs to run through it.  I don't want to "jinks" the andBeyond guides, but they are also exceptionally fortunate with dogs denning on the reserve over the years!
Of course there are other luxury lodges in the area, and the neighboring Timbavati Game Reserve also enjoys wild dog sightings – but I cannot ignore my intimate experience on this reserve!
Suggested Itinerary – The Best of South Africa 
South Luangwa National Park
Zambia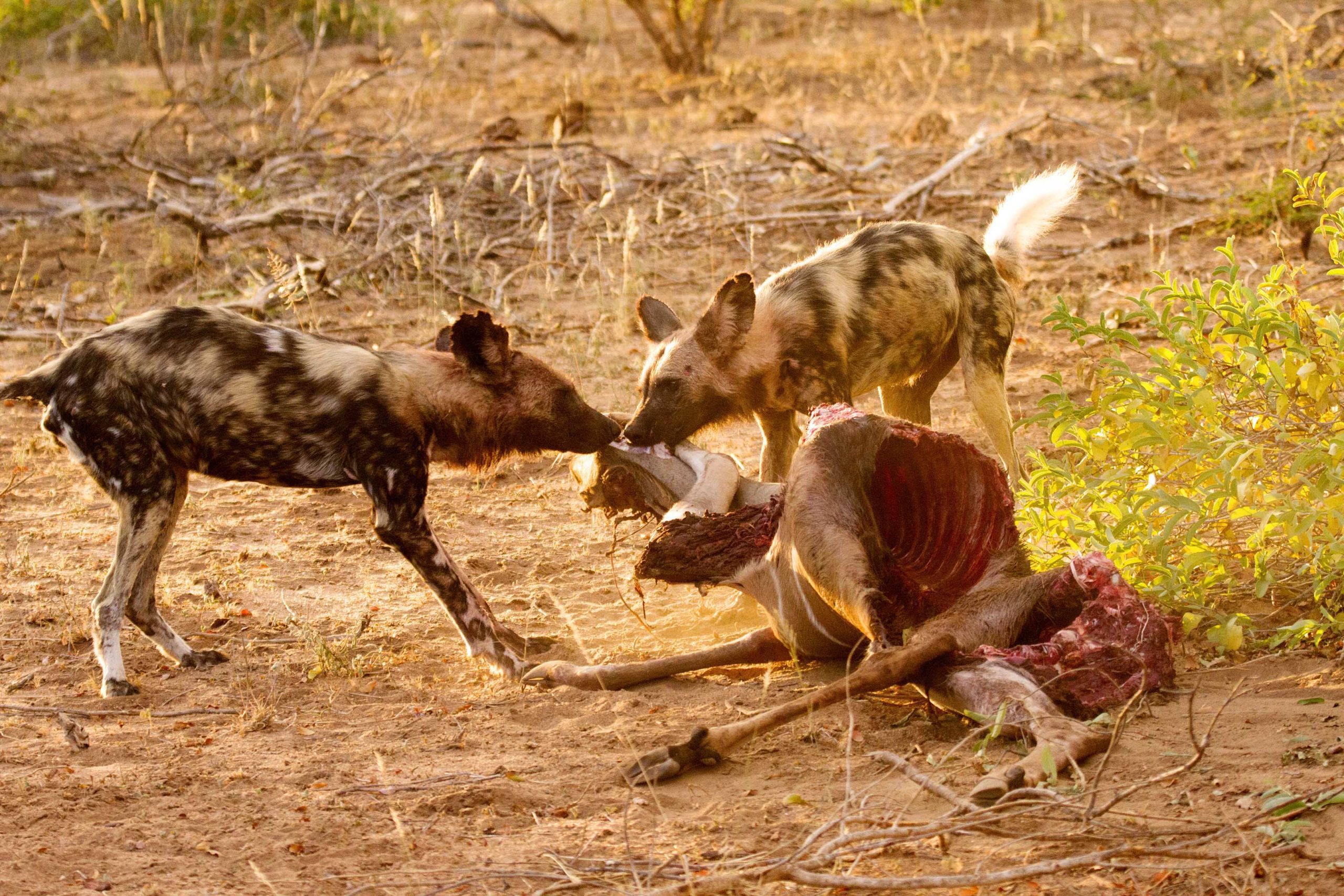 As one of the greatest wildlife sanctuaries in the world, South Luangwa brings ample opportunities to see a high concentration of African wildlife in and around the Luangwa River. 
Encouragingly, the wild dog population in South Luangwe National Park is increasing, providing more frequent wild dog sightings for the lesser known area. In 2018 it was estimated that there were more than 350 adults, making it the largest population of wild dogs in Zambia. This is thanks to the collaborative efforts of the Department of National Parks; the Zambian Carnivore Programe (ZCP) and Conservation South Luangwe (CSL). 
Suggested Itinerary – Waterfalls and Wildlife
Mana Pools
Zimbabwe 
Unfortunately I have never been to Mana Pools, but the thought of going makes my fingers tingle with excitement. Located in the far north of Zimbabwe, the park is known for its wild dog viewing. Sadly, in recent years the population has been put under increasing pressure. I believe, however, the park deserves to remain on this list, as it still has a great reputation for exciting and regular sightings of these endangered animals. 
I recently spoke to a friend of mine, Gareth Poole, who had come back from visiting the conservation park. He described his wild dog sighting as, "one of the most insane wild dog sightings ever". He continued to tell me how they watched this pack on foot, mere meters away, as they were walking through the park with their guide. It must have been magical to witness a pack playing in one spot like that! Below is an image he took while on foot with the pack!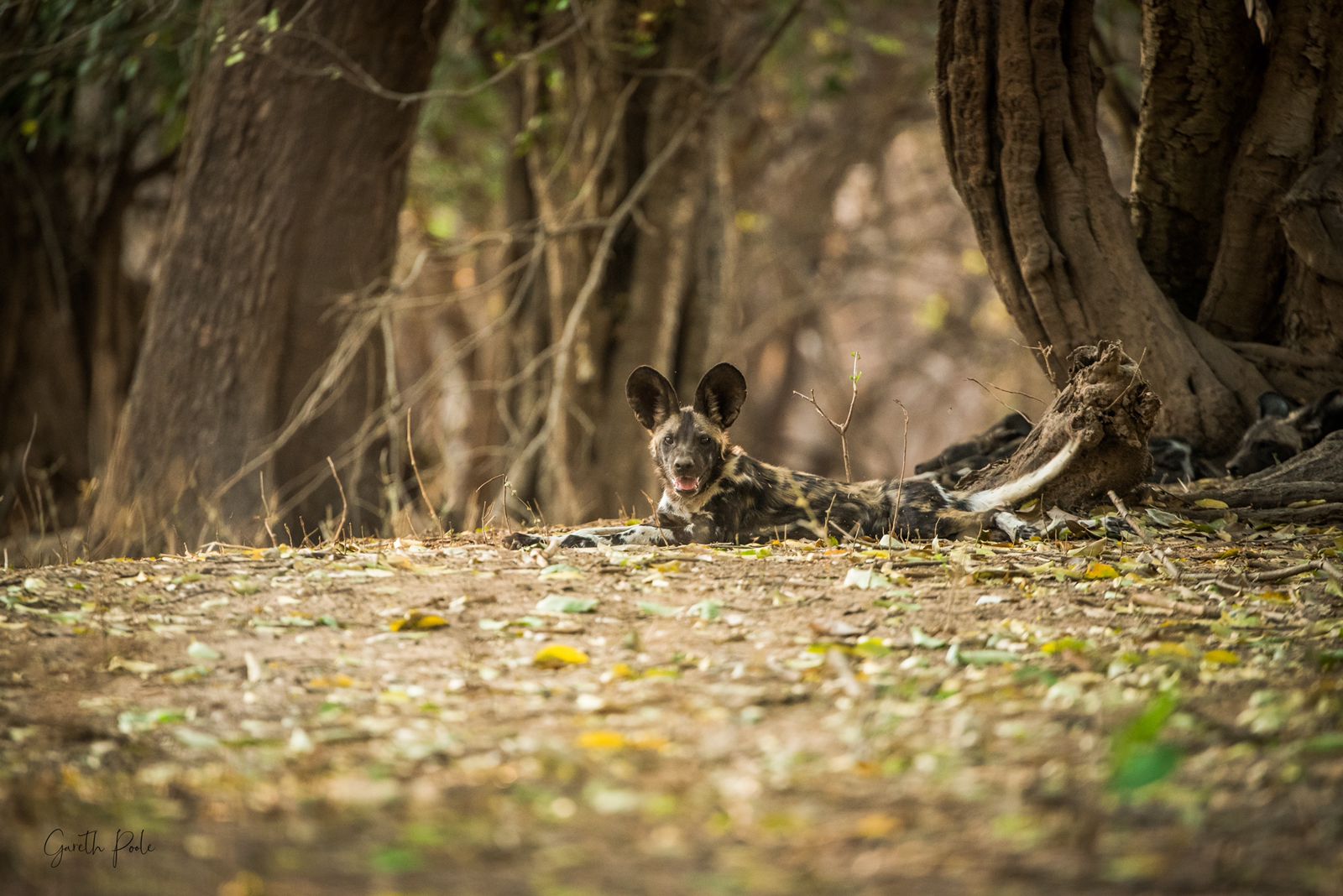 Image by freelance guide, Gareth Poole Safaris
If you would like, watch Sir David Attenborough's 2018 documentary series "Dynasties". In one episode they follow a pack of wild dogs in the park, providing great context to why these dogs are just so special.
Are you ready for the trip of a lifetime?
If you're thinking of planning a trip, we're here to help! Our team of travel designers will create an itinerary just for you to create memories to last a lifetime and conquer your bucket list. Get in touch with us today to start planning your adventure in Africa.
*Please understand that although the malaria risk statuses were taken from the respective sites. Please consult your local doctor on what they believe will be best for your family at the time of travel.*
Follow us on Instagram