Hiking Mount Kilimanjaro is not a standard bucket list item, but for active adventure lovers, it is a feat worth writing home about. Its reputation as the world's highest free-standing mountain attracts upwards of 40,000 people each year who are bold enough to attempt the near 20,000-foot climb. For those who have made the trek, they readily describe it as one of the most spectacular experiences of their life. So if you're looking for a guide to hiking Mount Kilimanjaro, this post has everything you need to know.
Below we've compiled a list of reasons you should consider the adventure for yourself.
A Beginner's Guide to Hiking Mount Kilimanjaro
Climbing Mount Kilimanjaro can be quite a thrill, but it doesn't come without its challenges. Although people of all ages are encouraged to climb (and potentially summit) Mount Kilimanjaro, it shouldn't be attempted without taking necessary precautions and fully preparing both your body and mind. This includes choosing the most suitable route for you and those you're traveling with, identifying the best time of year to climb, keeping yourself fit beforehand, and acclimating your body to high altitude to prevent altitude sickness. First, however, it's important to familiarize yourself with the mountain itself.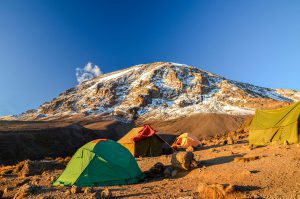 Mount Kilimanjaro Facts and FAQs
The first step of logistical planning is educating yourself about Mount Kilimanjaro. After all, it's important to know the beast you'll be climbing.
Located in Tanzania, Mount Kilimanjaro is technically a dormant volcano composed of three volcanic cones, named Kibo, Mawenzi, and Shira.
As the highest peak in Africa, Kilimanjaro is one of the world's Seven Summits, which refers to the tallest mountains on each continent.
Kilimanjaro features several ecosystems, which is hugely appealing for visitors seeking a taste of everything. On the mountain, you'll experience the rainforest, arctic, alpine deserts, and more.
Mount Kilimanjaro is not a technical climb; it's a hike. There's no need for mountaineering equipment (harnesses, ice picks, ropes, etc), and there are no extreme measures needed to climb it. You will simply walk up the mountain. This is why it's earned the title "Everyman's Everest".
The average price for a climbing trek on Kilimanjaro ranges from $2,000 to $6,000, most of which depend on the variables of your trip: the level of comfortability and professional service you desire, which route you choose, the time of year you make your climb, overnight accommodations i.e. camping, food, and more.
Kilimanjaro is unique in that it is both remote and accessible. The mountain itself is easy to reach, with its own international airport and all necessary resources (hotels, outfitters, ground transportation, gear rental, etc) available in nearby Arusha, which is the town that services many Kilimanjaro outings. However, when you're climbing, you will undoubtedly feel like you're on another planet entirely; that's the pure magic of Kilimanjaro.
Best Time to Visit
Although it's possible to climb Mount Kilimanjaro all times of the year, some months see greater rainfall, snow, and overall more difficult trekking conditions. Like other experiences in Africa, planning your visit to Mount Kilimanjaro depends on what you'd like to get out of it. That being said, peak visiting time is December to March and June to October due to warm and overall more favorable conditions, and that the later month grouping coincides with the Great Migration in East Africa. Pairing your Kilimanjaro hike with a safari in East Africa is a winning combination and an excellent way to experience the natural wonders of Africa.
Choosing a Climbing Route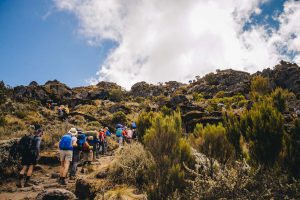 There are a total of 8 routes to choose from: Marangu, Machame, Rongai, Shira, Lemosho, Northern Circuit, Umbwe, and The Western Breach. The Machame and Lemosho routes are great for beginners due to their beautiful remote location, low traffic, and high summit success rates. Each route offers different advantages while also presenting unique challenges, so you should consult with a specialist to help you make the best possible decision for you and those you will be climbing with.
Packing Essentials
Although Africa is usually hot, the mountain itself can be very cold and visitors should pack with this — and other factors — in mind. Important things to pack include:
Waterproof hiking shoes and thick socks
A pack and hydration sack
Thermals for cooler temperatures
Waterproof and windproof pants and shell
Fleece/down jackets
Beanie and gloves
Sunscreen and sunglasses for warmer and sunnier days
Headlamp
Small medical kit
Basic toiletries
All other equipment is provided and carried for you by your guides and porters, such as tents, sleeping bags, lamps, etc.
Why Climb Mount Kilimanjaro?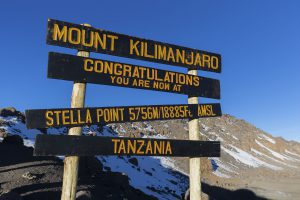 Aside from being one of greatest natural wonders the world has to offer, climbing Mount Kilimanjaro is rewarding for a number of reasons: it can make a significant personal achievement for those who have trained long and hard for the hike, your tourist dollars heavily contribute to the local economy in Africa, and the experience is sure to be one of the best memories you'll ever make!
Start Planning Your Dream Trip
Reach out and let's start talking. We'll listen and begin to tailor an experiential, private, luxury vacation based on exactly how you want to experience Africa. From adventure to relaxation—and everything in between—let us handle every detail of your unforgettable journey.