You may have guessed this by now, but here at Ubuntu Travel we take designing unique and bespoke African safari quite seriously. Our process, as some of you know, is in-depth with one-on-one conversations, itinerary reviews and a much anticipated chat on your return. We love creating them! And we love hearing about them!
A small confession. We also tend to get somewhat emotionally attached to the journey. We truly believe that "people don't take trips, but trips take people".  So this year we decided to showcase some of our favorite tailor-made journeys in 2022. Perhaps one of these trips will inspire your next (or first) safari with us… 
A Family Safari in Southern Africa 
With the Keefe and Demetrops Family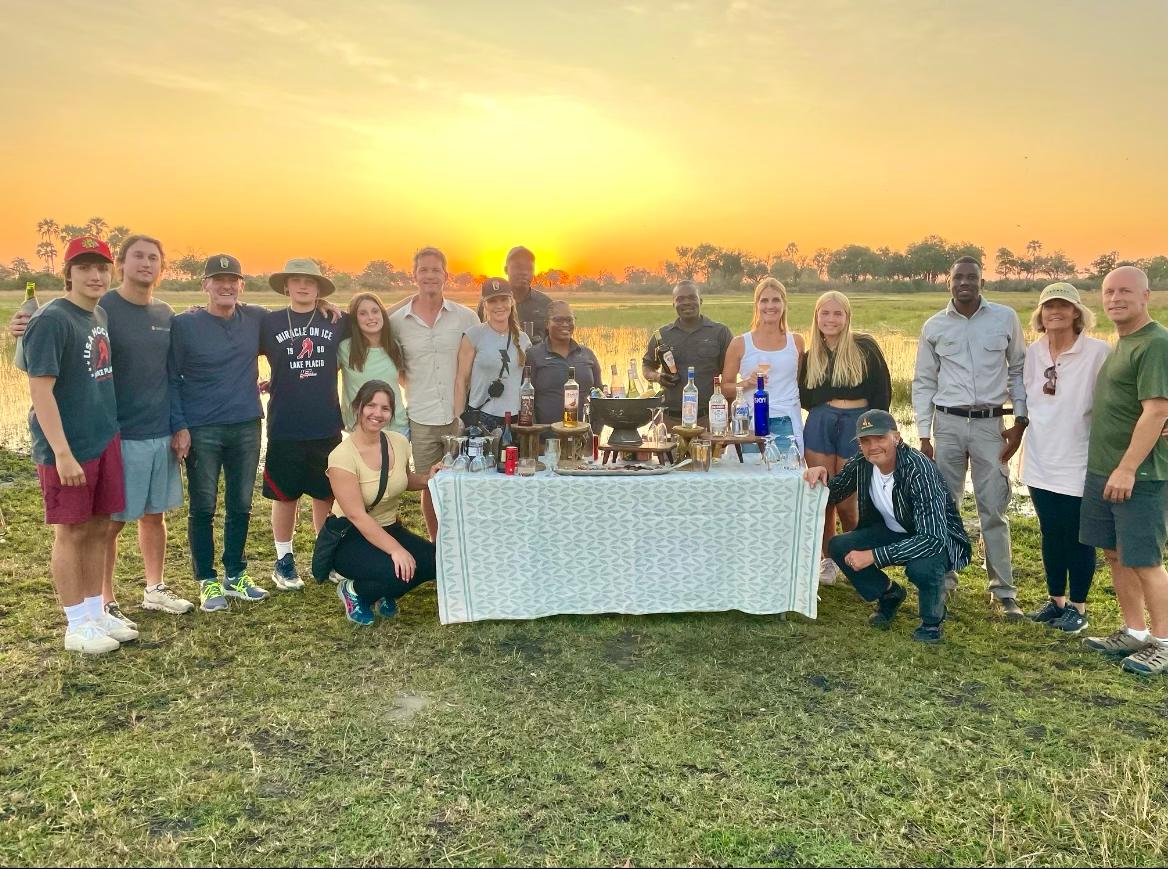 Ubuntu Travel is a family, so we understand that traveling with family can potentially be tricky. You have different personalities, ages, interests and of course… you want to relax too right! The Keefe and Demetrops family didn't need to worry about any of that on this 10-day family safari. 
They started in Cape Town, the "Mother City" of South Africa. Family is quite literally what it's built on with its crystal clean beaches, mountain trails, penguins… and did we mention the wine?  They then scooted off to the Timbavati Game Reserve, home to the Big Five and bordering the world-famous Kruger National Park. A safari without the crowds. Perfect!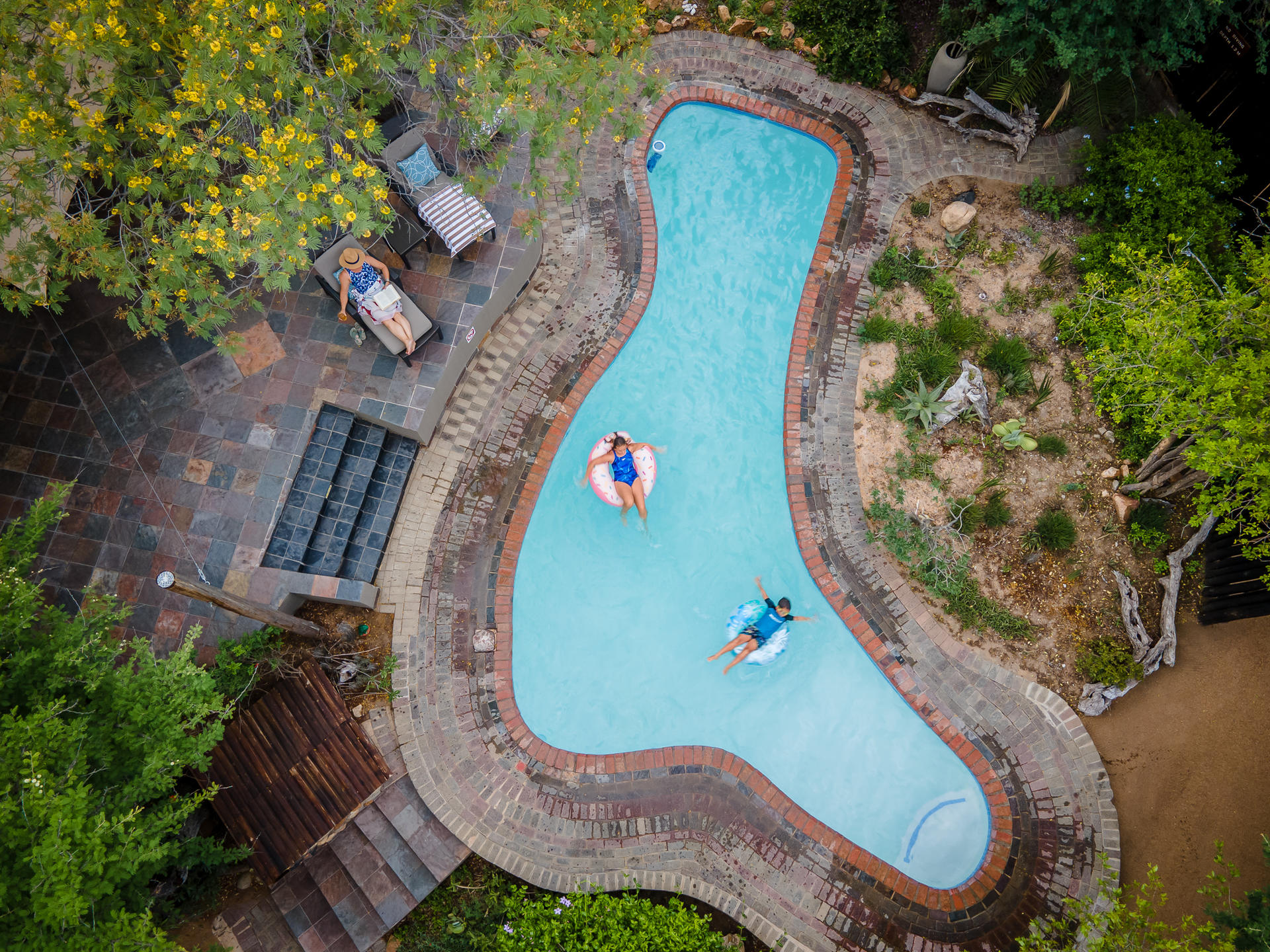 Two nights at Victoria Falls kept the adrenaline up at the right levels! With bungee jumping, white water rafting, gorge swings, horse riding, fishing and microlight flights over the majestic falls. Afterwards we slowed the pace down at Wilderness Destination Seba Camp in the Okavango Delta, Botswana!  The perfect way to allow the family to absorb and reflect on their Ultimate Family Safari.
What the families Experienced:
3 Nights | Victoria & Alfred Hotel  | Cape Town | South Africa 
3 Nights | Kambaku Safari Lodge |  Timbavati Game Reserve | South Africa 
2 Nights | Stanley & Livingstone | Victoria Falls | Zimbabwe 
3 Nights | Wilderness Destinations Seba Camp | Okavango Delta | Botswana
Why we loved it: unique mix of land and water safari experiences; private vehicles for intimate family safari; remote destinations to get off the grid and create memories with family.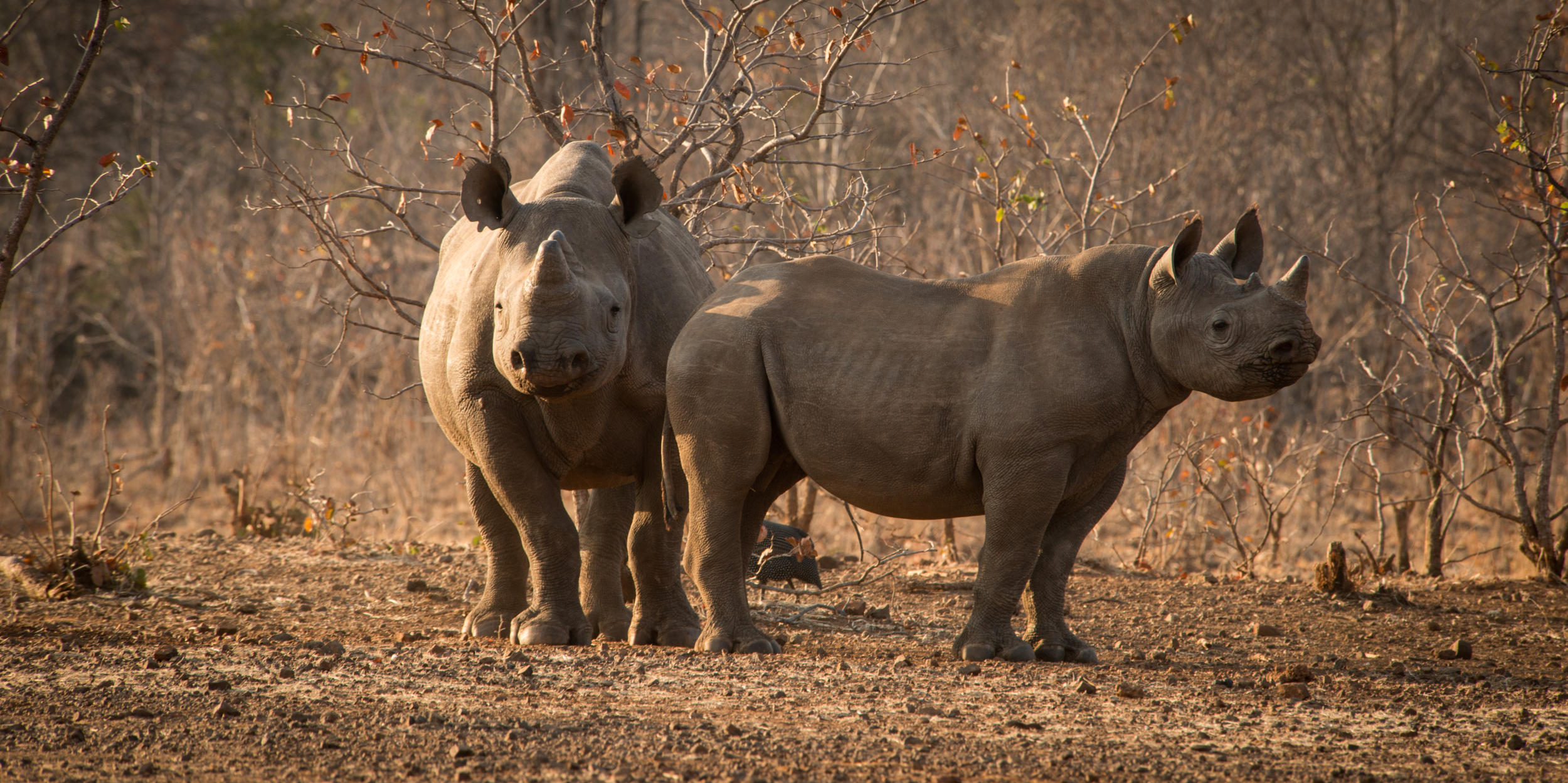 A Wedding and Honeymoon in East Africa 
With Francesca and Leon Capers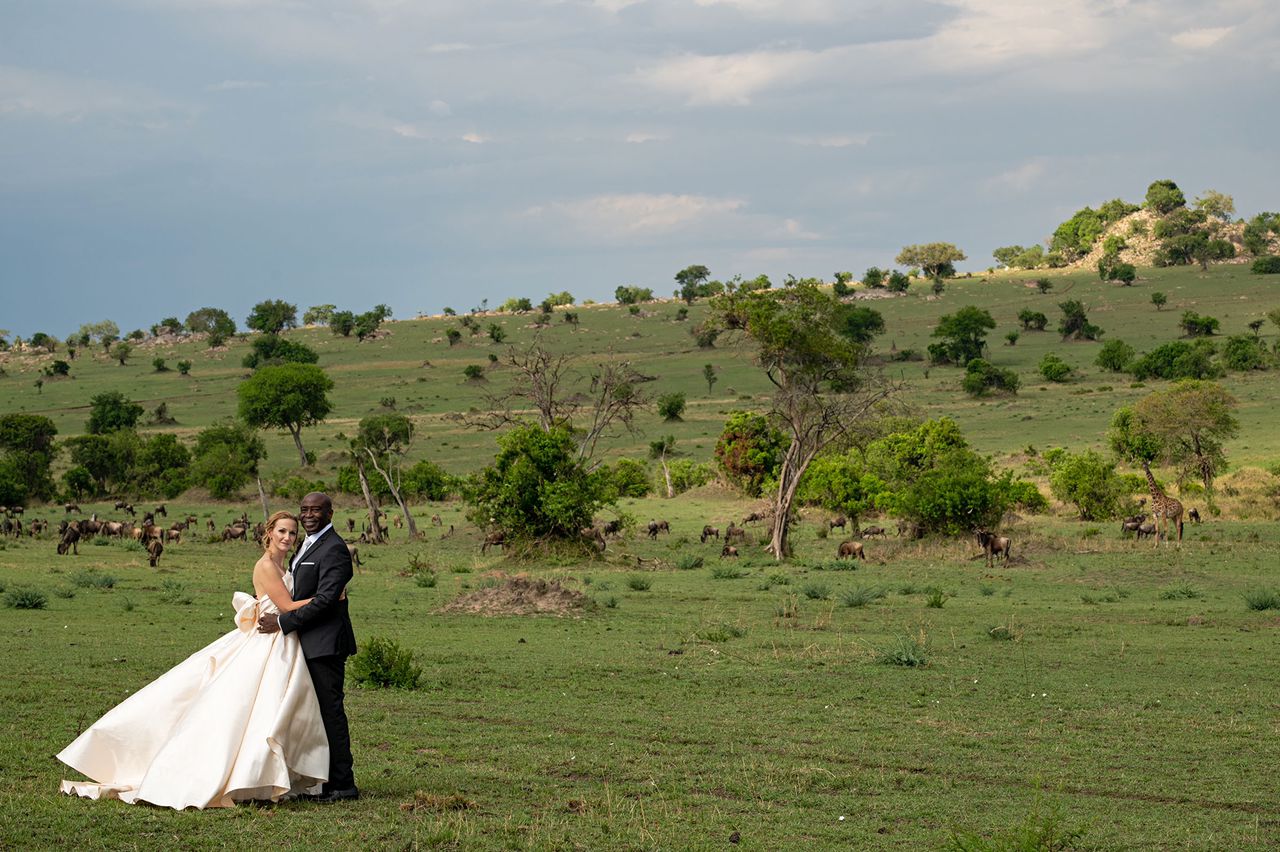 We couldn't resist showing off Francesca and Leon's destination wedding in the Serengeti National Park, Tanzania (again). I mean just look at this beautiful couple! Thank you for sharing your memories with us! 
The wedding quickly migrated to their honeymoon under a canvas of luxury. andBeyond's Serengeti Under Canvas moves to anticipate the Great Wildebeest Migration, putting these newlyweds as close to the wildebeest action as possible. Then of course… A splash in the warm Indian Ocean on a romantic island is a must for any honeymoon. Who could resist a few nights in Zanzibar…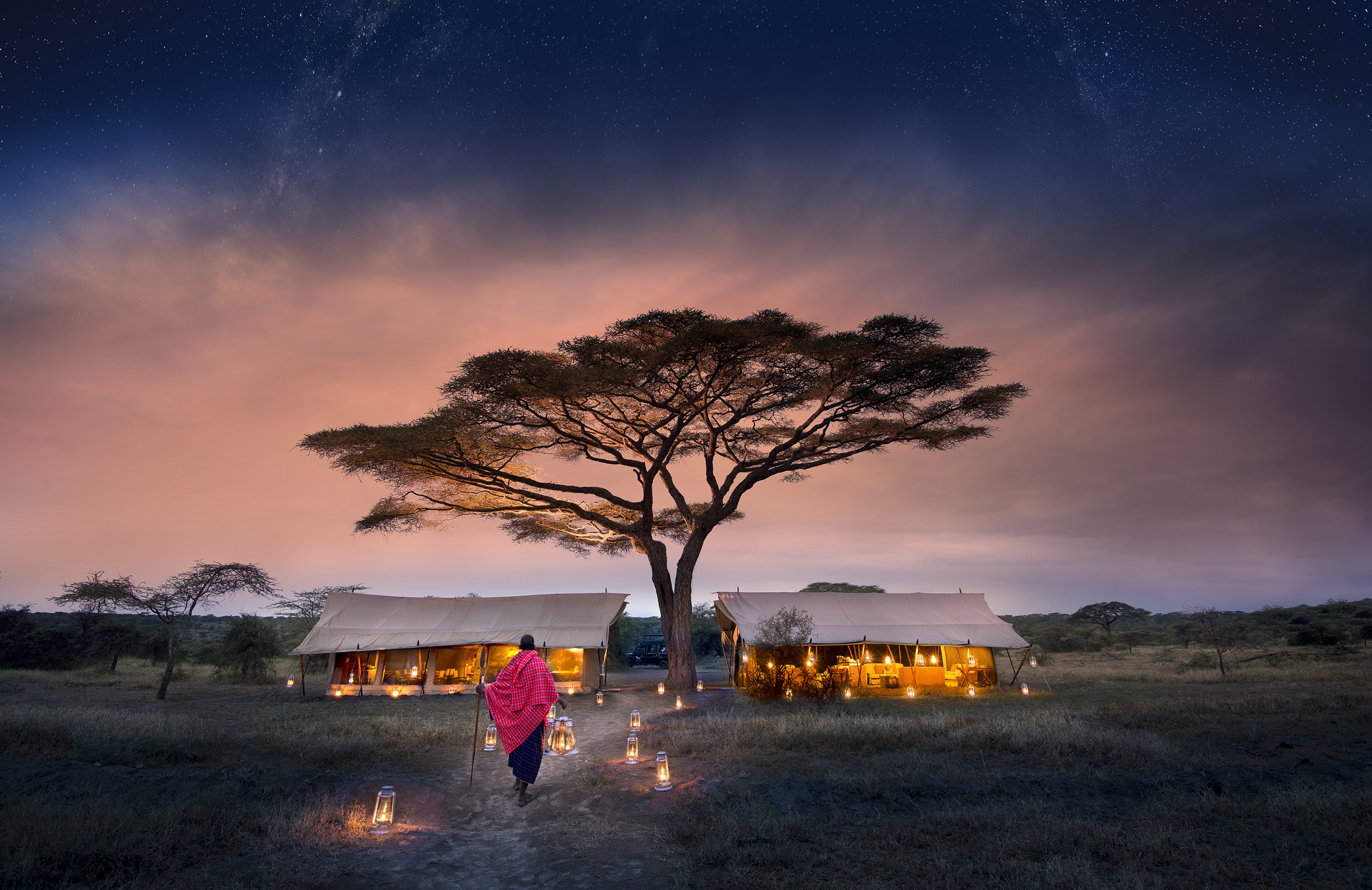 What Francesca and Leon Capers Experienced:
1 Night | Gran Melia Arusha | Arusha | Tanzania 
4 Nights | Lemala Kuria Hills | Northern Serengeti | Tanzania 
2 Nights | andBeyond Serengeti Under Canvas | Tanzania 
3 Nights | Breeze Beach Club and Spa  | Zanzibar 
Why we loved it: a unique setting for an intimate destination wedding; memorable ceremony with authentic African traditions and blessings; wedding and honeymoon built into one trip; mix of adventure; romance and relaxation in one trip.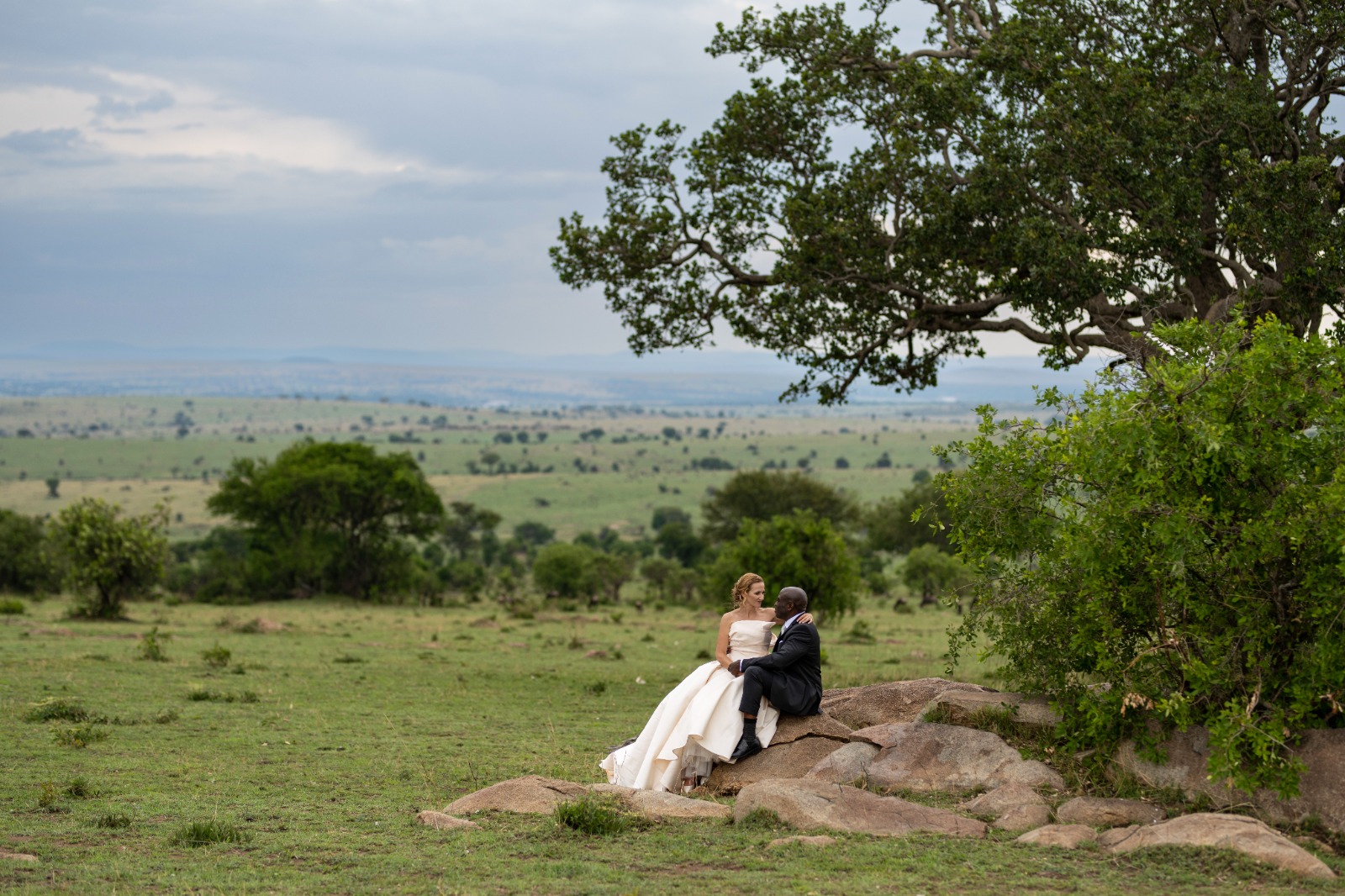 Mount Kilimanjaro and Gorilla Trekking
With Kali and Olivia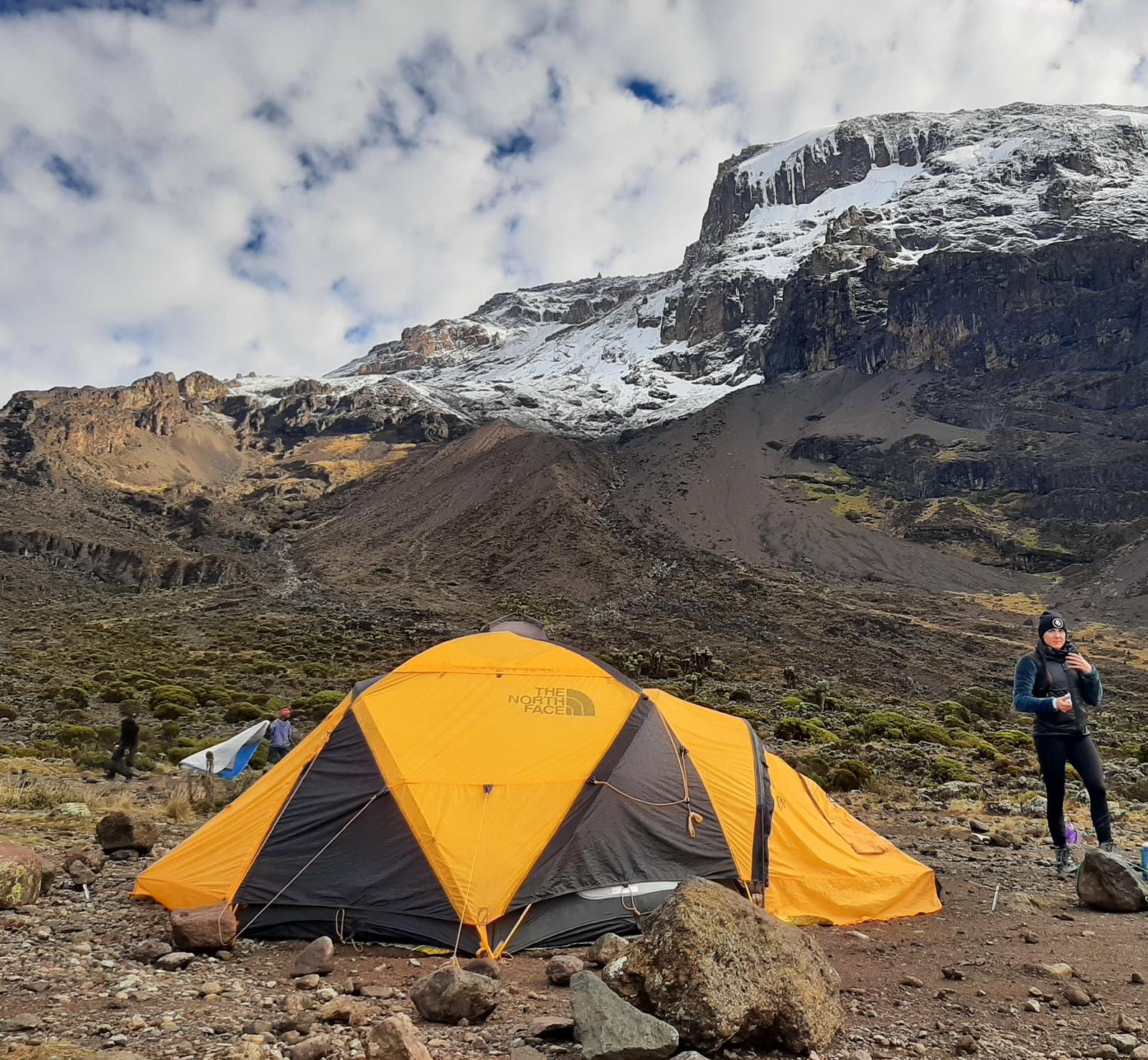 Now how is this for an unique adventure in Africa? Kali and Olivia, you two have inspired the entire Ubuntu Travel team to summit the highest peak in Africa!  Congratulations on such an achievement, we hope you enjoyed the breathtaking panoramic views from the summit of Mount Kilimanjaro in Tanzania. Thank you for sharing these images! Just an incredible experience. 
They didn't stop there. After relaxing and likely indulging in locally grown coffee at Legendary Lodge in Arusha. Kali and Olivia were off again trekking for mountain gorillas in the Volcanoes National Park. They stayed at Singita Kwitonda, possibly Kyle and Leah's favorite gorilla trekking lodge in Rwanda!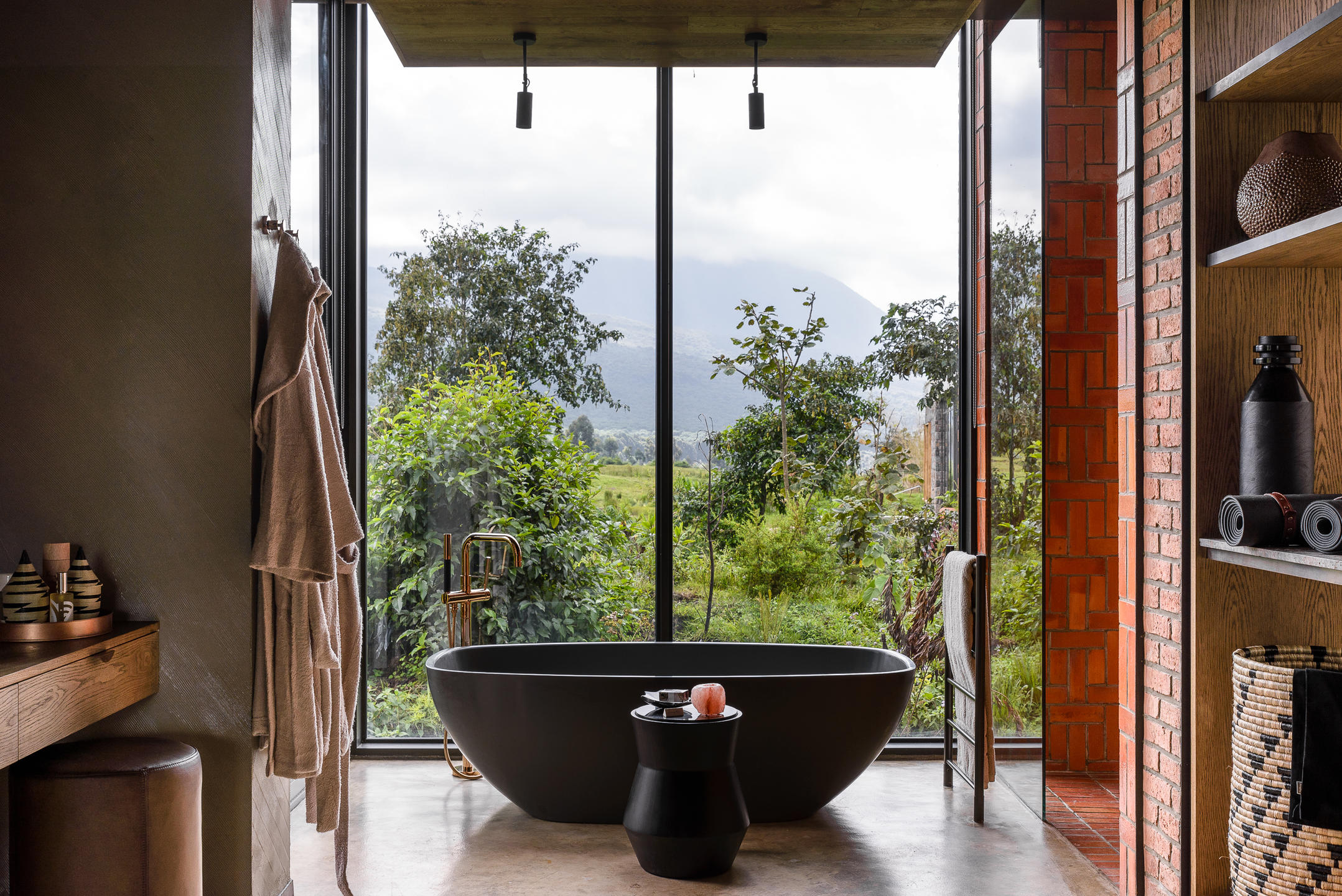 What the Kali and Olivia Experienced:
1 Night | Lake Duluti Lodge | Arusha | Tanzania 
6 Nights | Machame Trail  | Mount Kilimanjaro | Tanzania 
2 Nights | Legendary Lodge | Arusha | Tanzania 
1 Night | Kigali Serena Hotel  | Kigali 
3 Nights | Singita Kwitonda Hotel | Volcanoes National Park 
Why we loved it: incredible bucket-list adventure, difficult trekking mixed with stunning landscapes and views.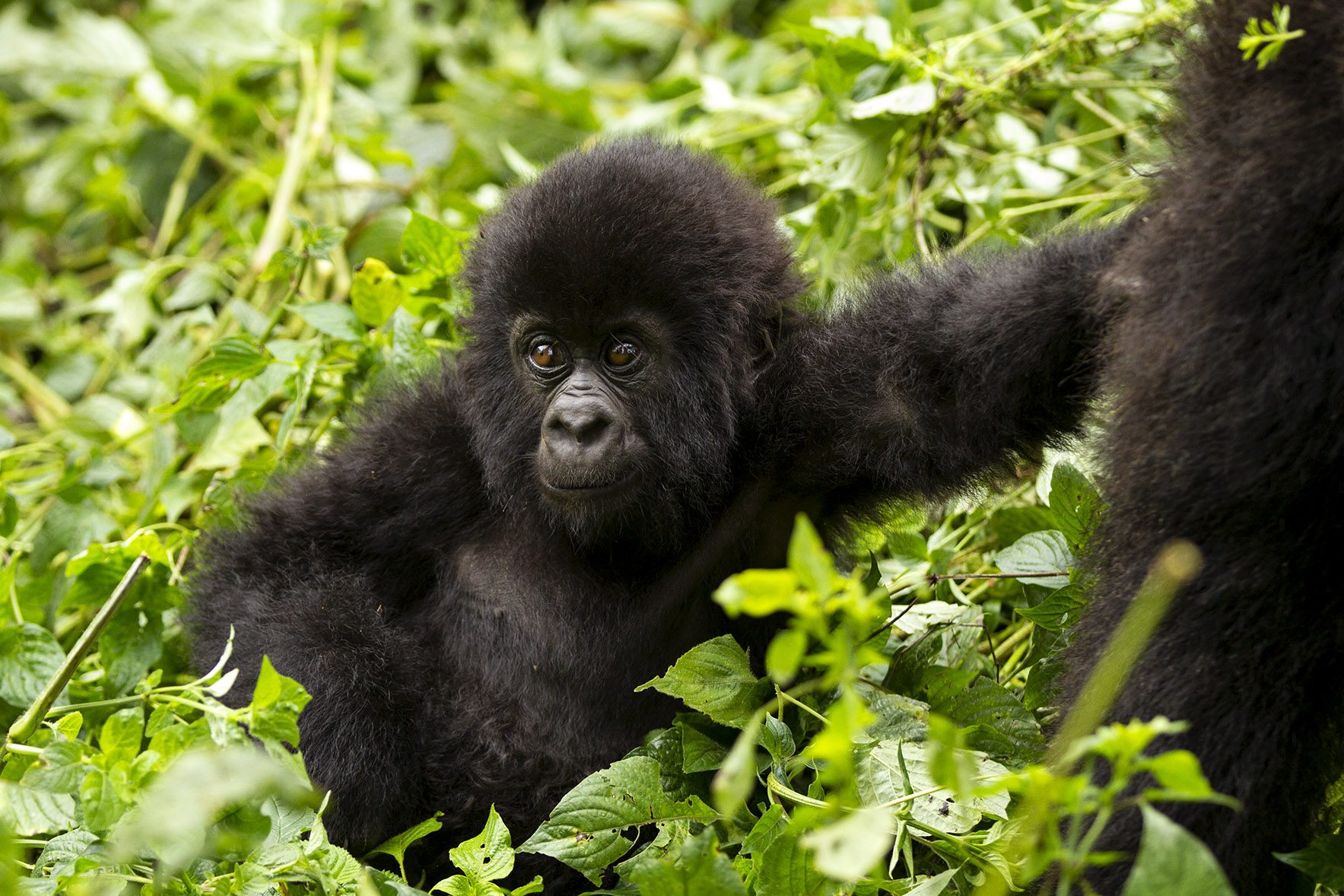 The Ultimate Honeymoon in Africa 
With Joe & Chelsea Valickus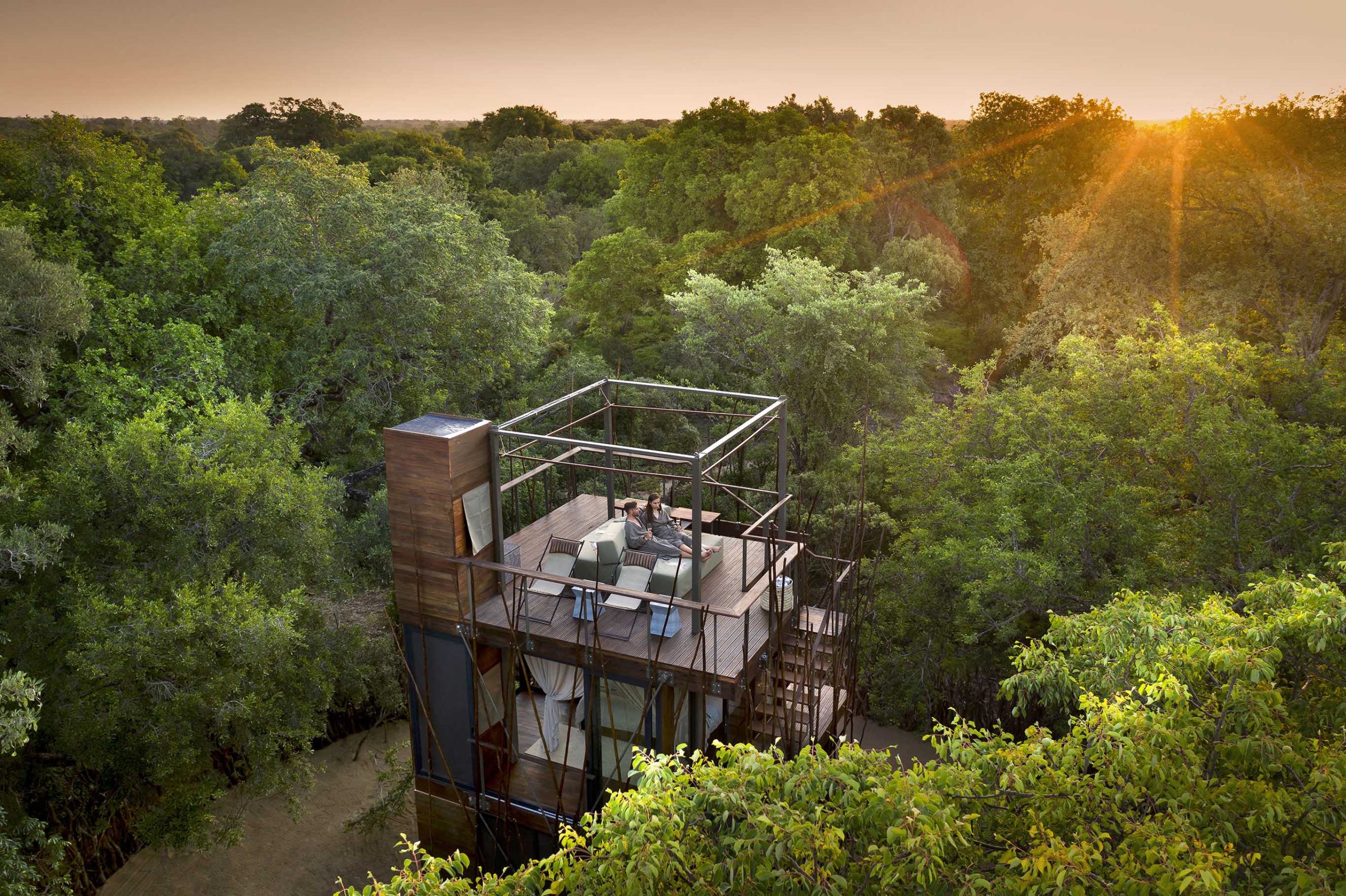 Joe and Chelsea took the "Ultimate Couples Escape" to a whole new level with over three weeks of safaris in three different countries! Their remarkable honeymoon started in Cape Town. Think pristine beaches, champagne with glorious views and historic vineyards. Joe and Chelsea's safari adventure began at Ngala Private Game Reserve in the Greater Kruger National Park, before they headed south to the prestigious Tengile River Lodge in the Sabi Sand Game Reserve.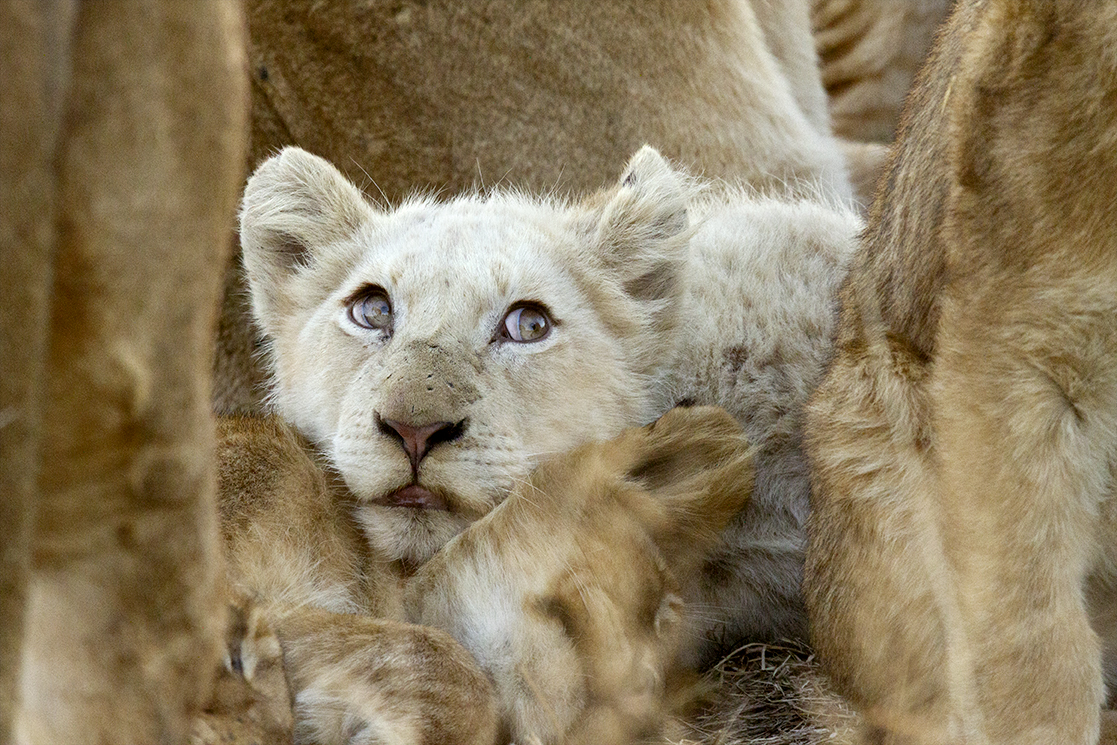 Part One: South Africa 
3 Nights | Cape Grace Hotel | Cape Town | South Africa 
2 Nights | Babylonstoren | Franschhoek |

South Africa 
3 Nights | andBeyond Ngala Tented Camp | Kruger National Park | South Africa 
3 Nights | andBeyond Tengile River Lodge | Sabi Sand Game Reserve | South Africa 
Part Two: East Africa 
4 Nights | Angama Mara | Masai Mara | Kenya 
3 Nights | andBeyond Serengeti Under Canvas | Tanzania 
3 Nights | Zuri Zanzibar | Zanzibar | Tanzania 
After a night's rest. The honeymoon couple flew into the wildlife rich Masai Mara in Kenya! Before migrating south to search beyond the horizons for the Great Wildebeest Migration. And of course, we have said it before, a honeymoon like this deserves a splash of island life on the tropical island of Zanzibar! This was definitely a safari worth toasting!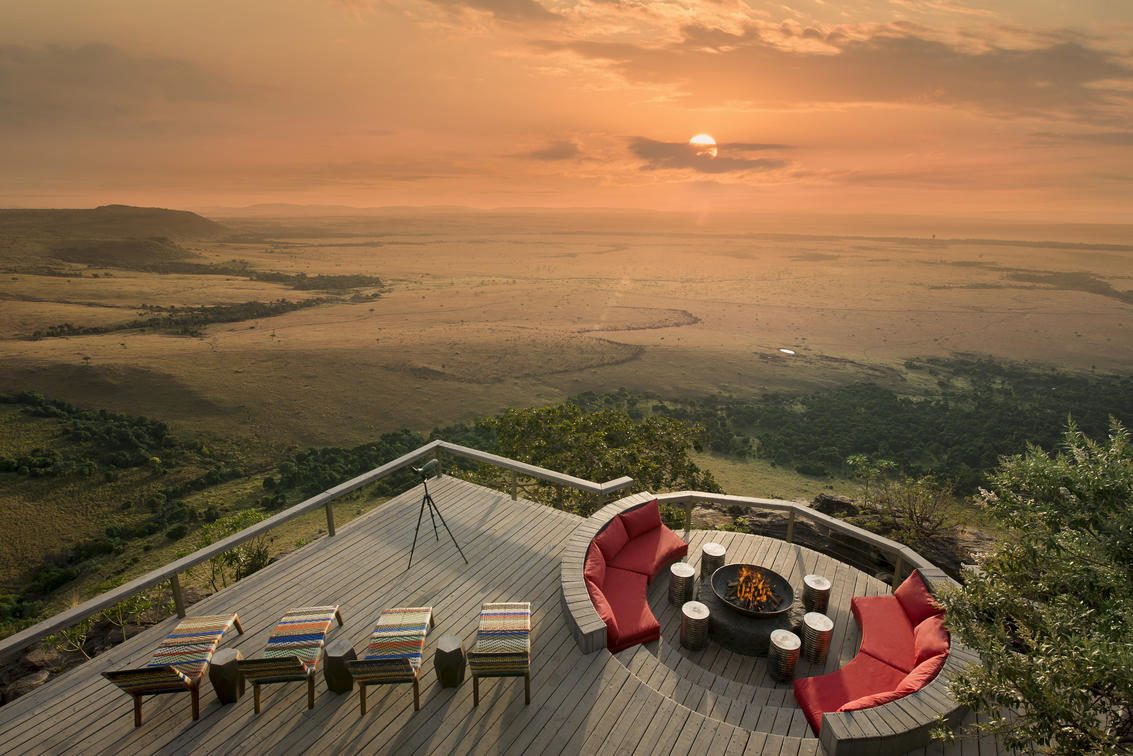 Why we loved it: this trip truly does it all, big five safaris, Great Migration, island romance, culture, cuisines and city life. The ultimate highlights of both Southern and East Africa with a complimentary mix of authentic luxury lodges across the continent.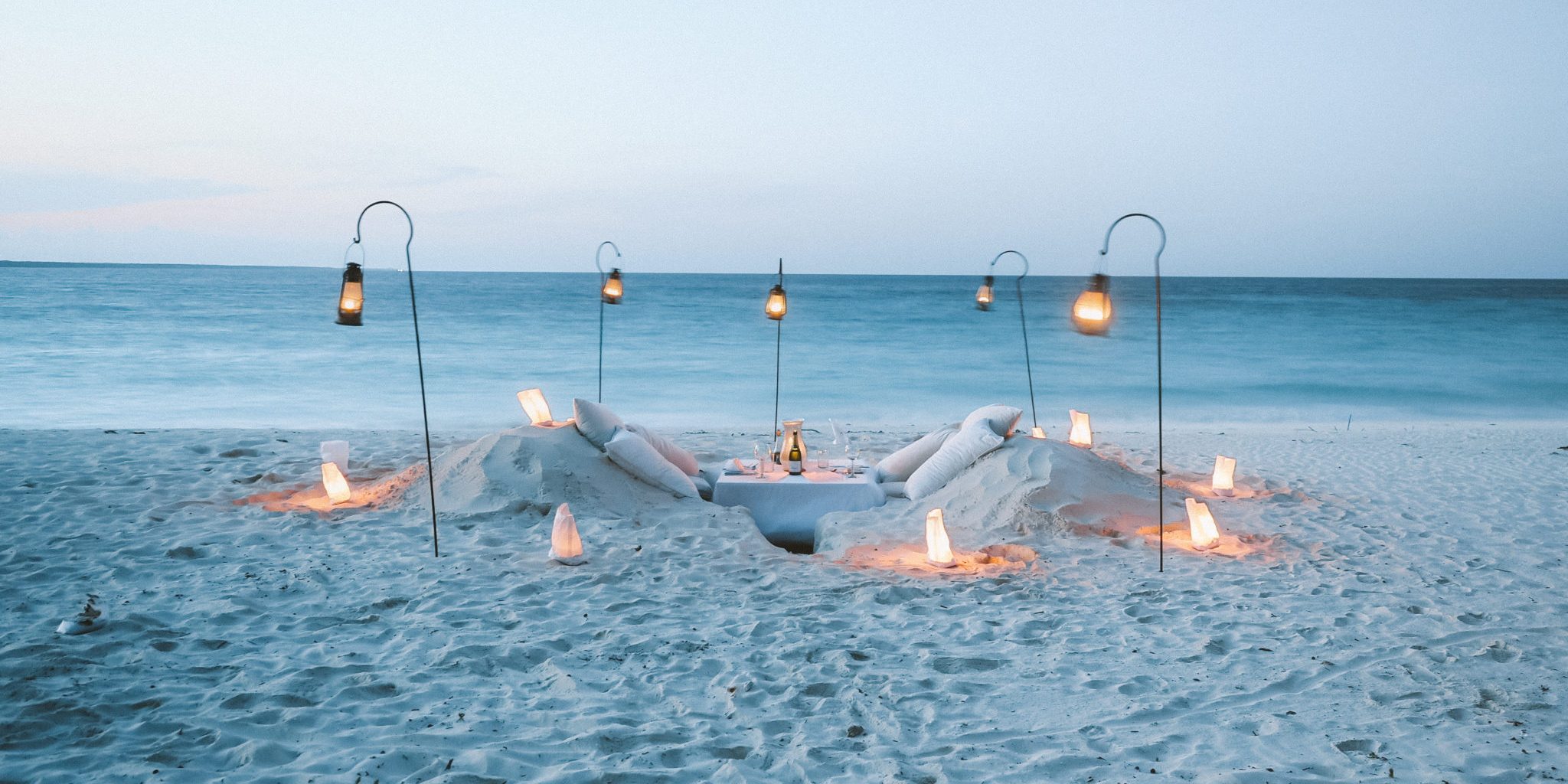 Giraffe Kisses to an Island Paradise
With Ben Roy and Jordyn Zucker 
Admittedly… we are very good at creating honeymoons and Couple Escapes! So we had to share one more honeymoon in East Africa with you! We absolutely loved creating Ben and Jordyn's two week honeymoon through Kenya and the Seychelles. Just look at their photos! Incredible!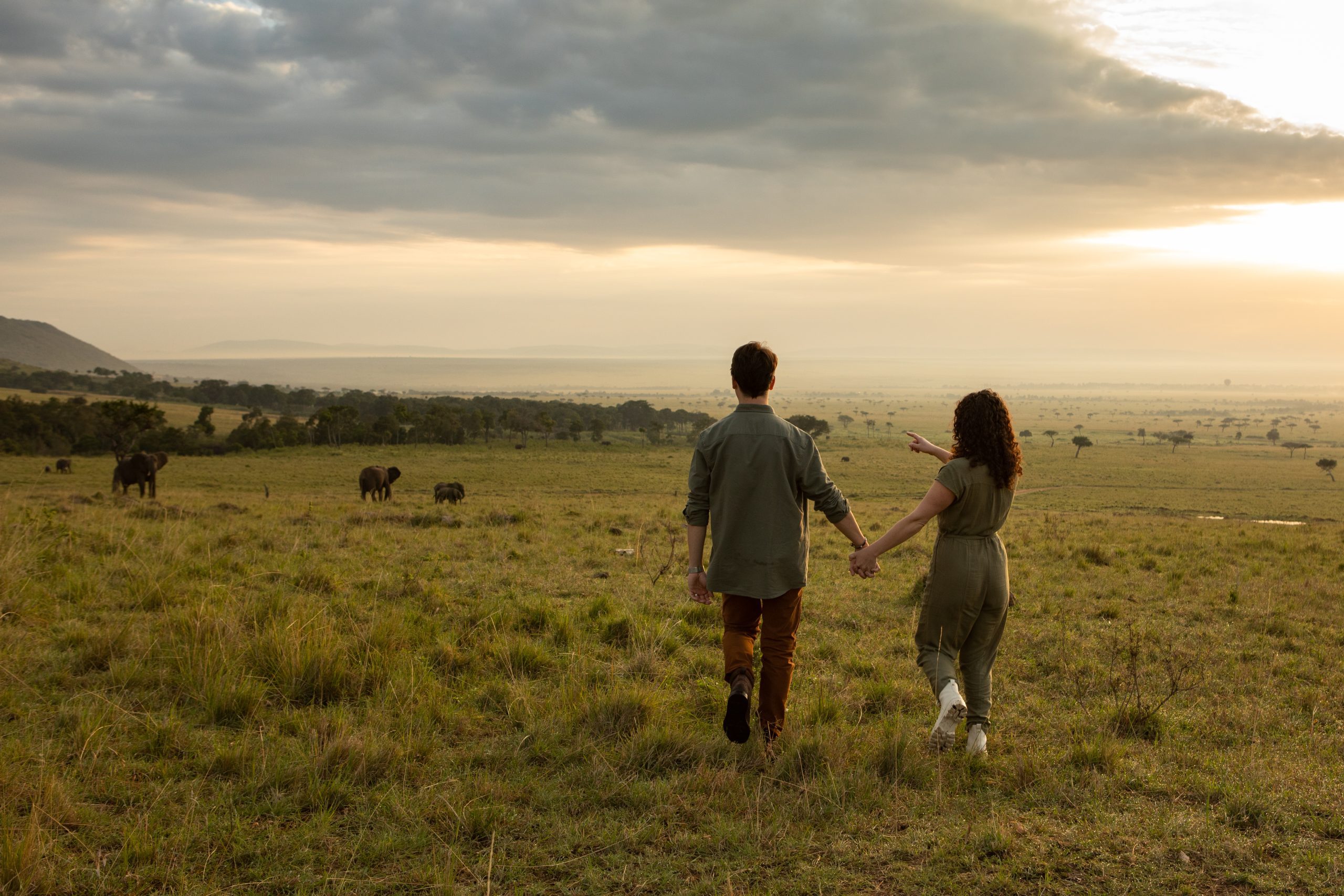 They started off with having breakfast with giraffes at the famous Giraffe Manor in Nairobi, Kenya. Too much fun! The newlywed's safari adventure had a beautiful mixture of a classic Kenyan safari in the Masai Mara, with the arguably lesser-known Loisaba Conservancy set in Northern Laikipia, Kenya! One of Kenya's last remaining strongholds for the endangered black rhino. And do we need to mention their 5 days in the Seychelles… Just look at that view from their private pool! 
What they Experienced:
1 Night | Ole Sereni Hotel | Nairobi  | Kenya 
1 Night | Giraffe Manor | Nairobi  | Kenya 
3 Nights | Angama Mara | Masia Mara | Kenya
3 Nights | Elewana Loisaba Tented Camp  | Loisaba Conservancy | Kenya 
1 Night | Ole Sereni Hotel | Nairobi  | Kenya 
5 Nights | Anantara Maia Seychelles Villas  | Mahe Island Seychelles 
Why we loved it: exclusive stay at Giraffe Manor in Nairobi (our favorite room on property – Daisy Room), scenic views from the top of the Angama Mara escarpment , amazing honeymoon special at Angama includes private vehicle, photoshoot and more, beach-side bliss in Seychelles for relaxation before the trip home.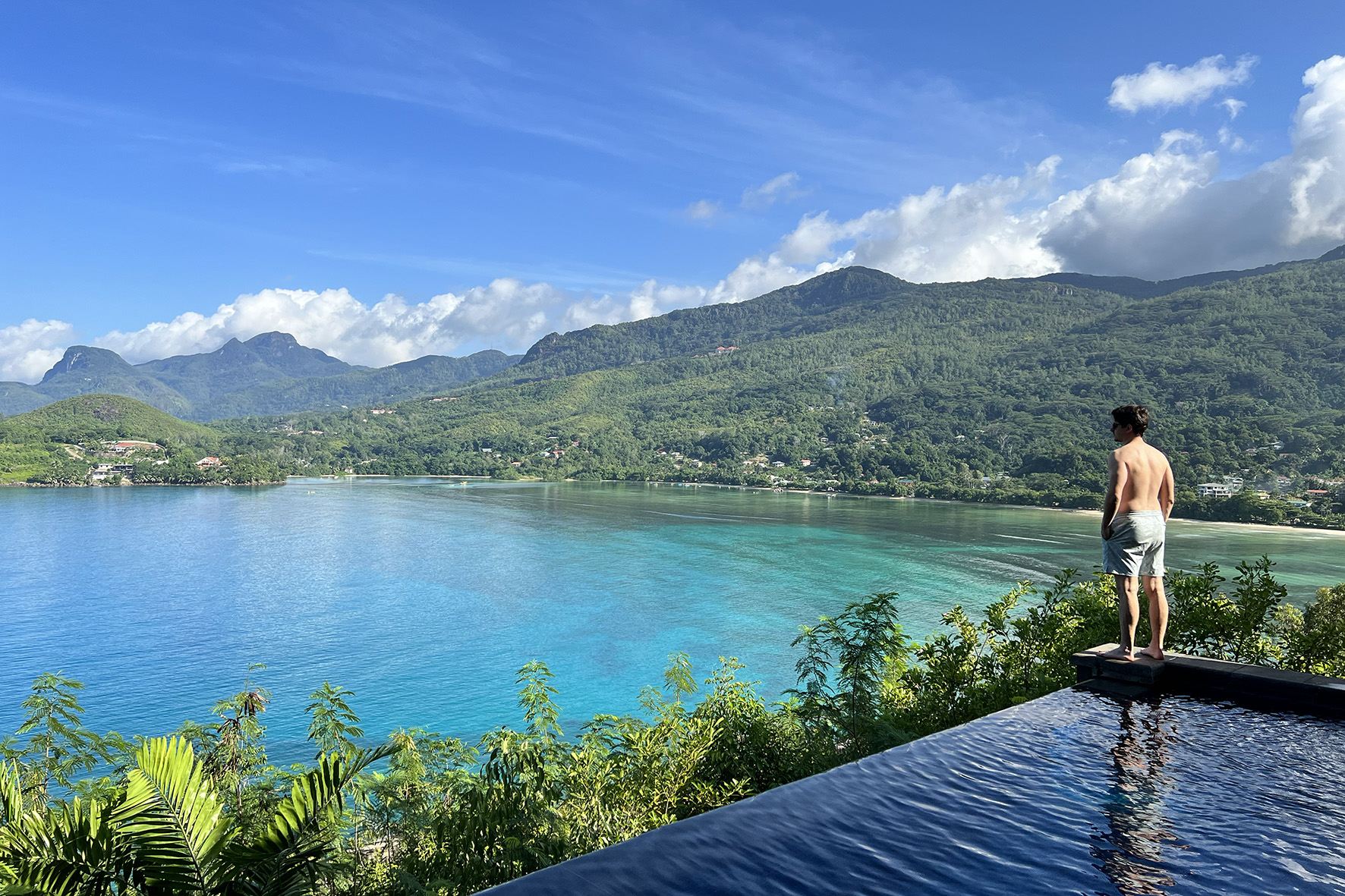 Are you ready for the trip of a lifetime?
If you're thinking of planning a trip, we're here to help! Our team of travel designers will create an itinerary just for you to create memories to last a lifetime and conquer your bucket list. Get in touch with us today to start planning your adventure in Africa.
Follow us on Instagram