Glamping in Africa takes luxury camping to a whole other level. If you're planning a safari, you might have already seen an abundance of luxury lodges to choose from. It's hard to pick just 10 of the best lodges for glamping in Africa, but if there's anyone who is willing to sit and do it, we are!
For years we have been traveling in and out of Africa and planning adventures for our clients. This part of the world is truly something else and we know you will love it as much as we do. So if you're planning a romantic getaway or a family vacation to view wild animals up close, these are our favourite places to go glamping in Africa.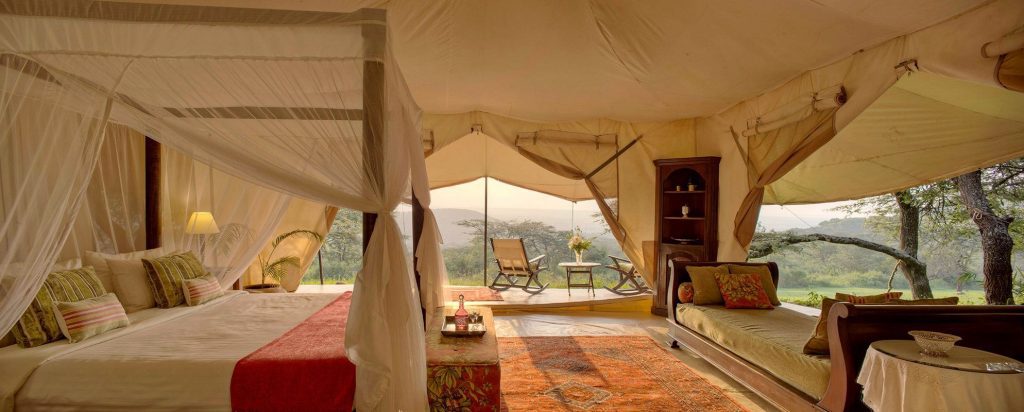 Our top picks for Glamping in Africa
1. Cottar's 1920's Camp in Kenya
Cottar's safari camp is located on the edge of the Maasai Mara and if you ever want to feel like you've stepped back in time, this is the place to do so. The camp has been a destination for a number of safari photoshoots, with the likes of Brad Pitt and Angelina Jolie being previous guests. So, what makes this camp so special? We're so glad you asked! The entire camp is setup as if it were the 1920's. Every detail down to the wine carafes are thought of, giving you an ethereal escape of stepping back in time. Be sure to try the bush bath, a unique experience to this lodge. Your butler will set up an outside bath for you, complete with a bottle of bubbles to drink in the tub!
Read more: These are the best lodges in Kenya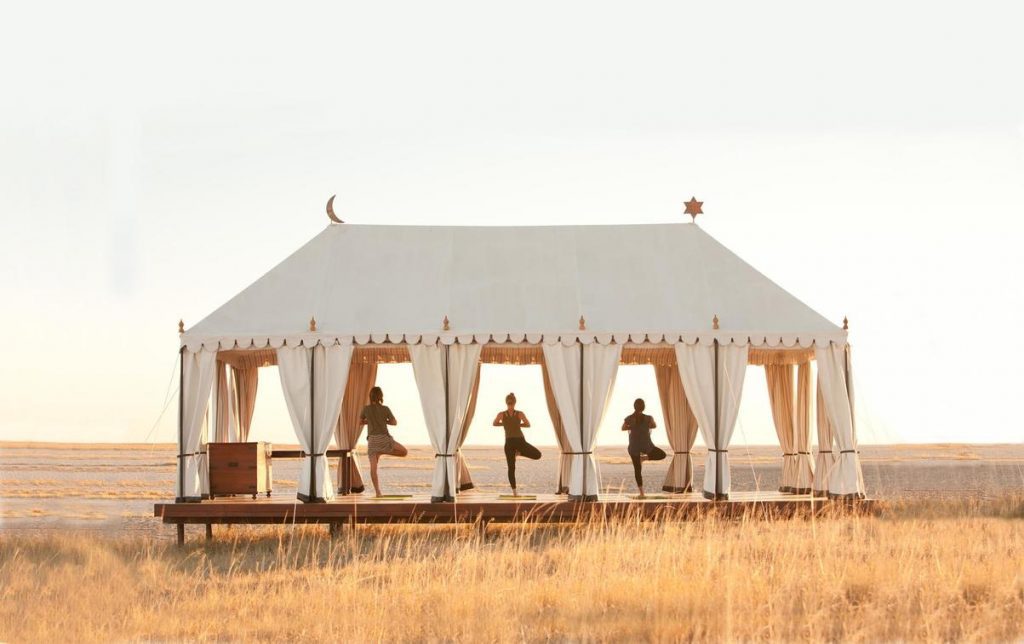 2. San Camp in the Kalahari, Botswana
San Camp is one of those special glamping experiences you can't put words to. Given the remoteness of the camp, you will feel completely off the grid. In fact, the camp changes location every season. There will be no wifi or cell service here, giving you the ultimate excuse to switch off and enjoy a digital detox. Be sure to drop by the wellness tent, where you can enjoy a yoga class or swim in the pool. You will find San Camp in the Kalahari Desert, which makes for a great excuse to visit the local meerkat colonies. They're a real hoot!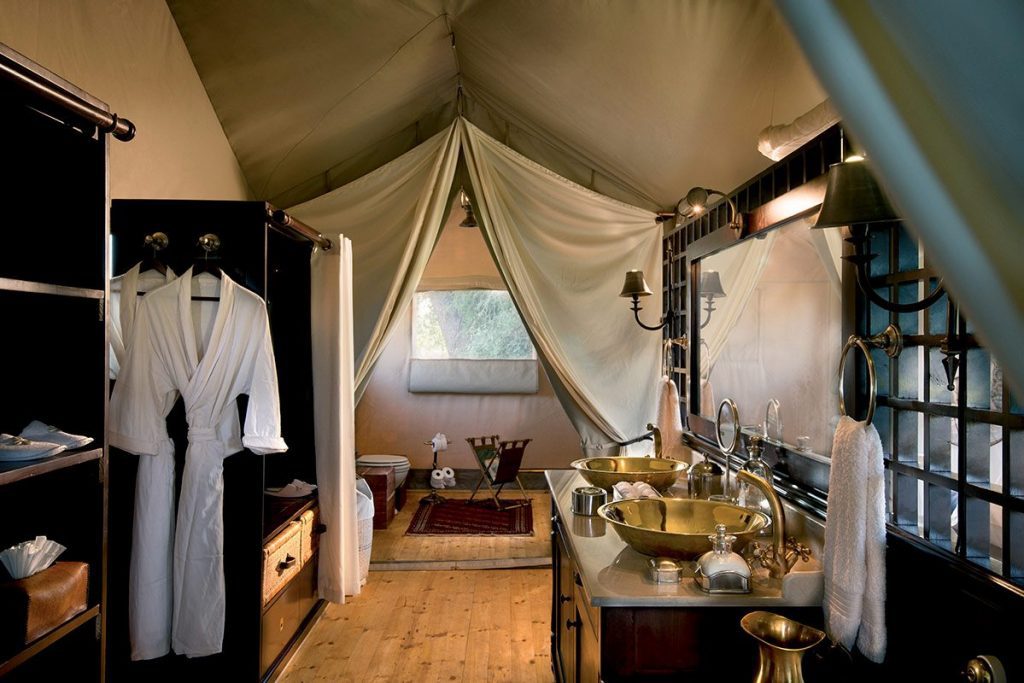 3. Duba Plains Camp Botswana
Duba Plains Camp in Botswana offers the ultimate glamping in Africa experience. Situated in the heart of the Okavango Delta, this camp is the perfect choice for travelers wishing to see as much wildlife as possible. The camp is often surrounded by wildlife given its location in the flood plains, especially if you time your visit with the Delta's wet season. Then, you can also enjoy a water safari and experience what life is like for locals in this fascinating area of Botswana.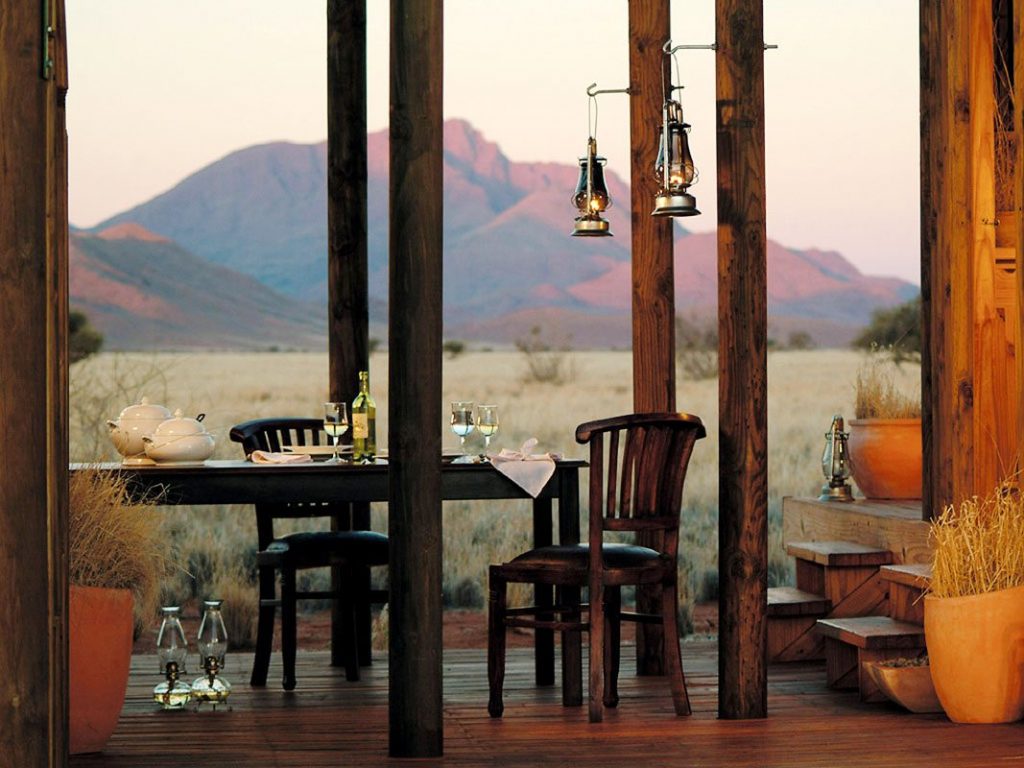 4. Wolwedans Private Camp, Namibia
Namibia is a haven for glamping experiences and Wolwedans Private Camp is the epitome of what it means to be glamping in Namibia. This camp is perfectly situated for stargazing, as it is situated in the middle of an idyllic valley, meaning no light or sound pollution. If you're traveling as part of a group this is a great exclusive-use lodge to choose in Namibia, as it sleeps up to 6 guests.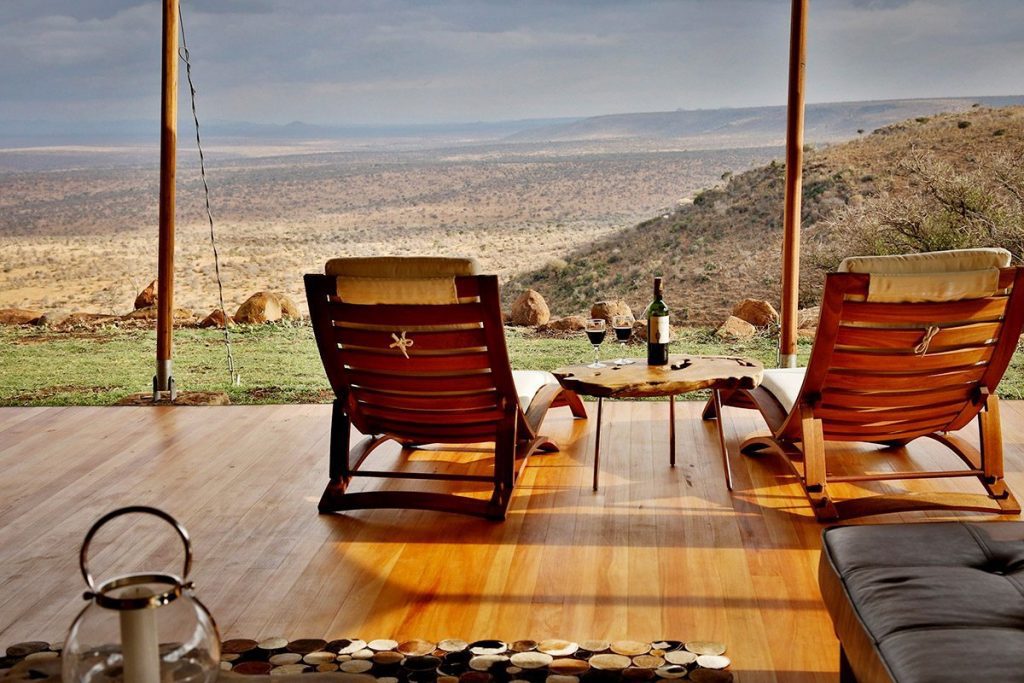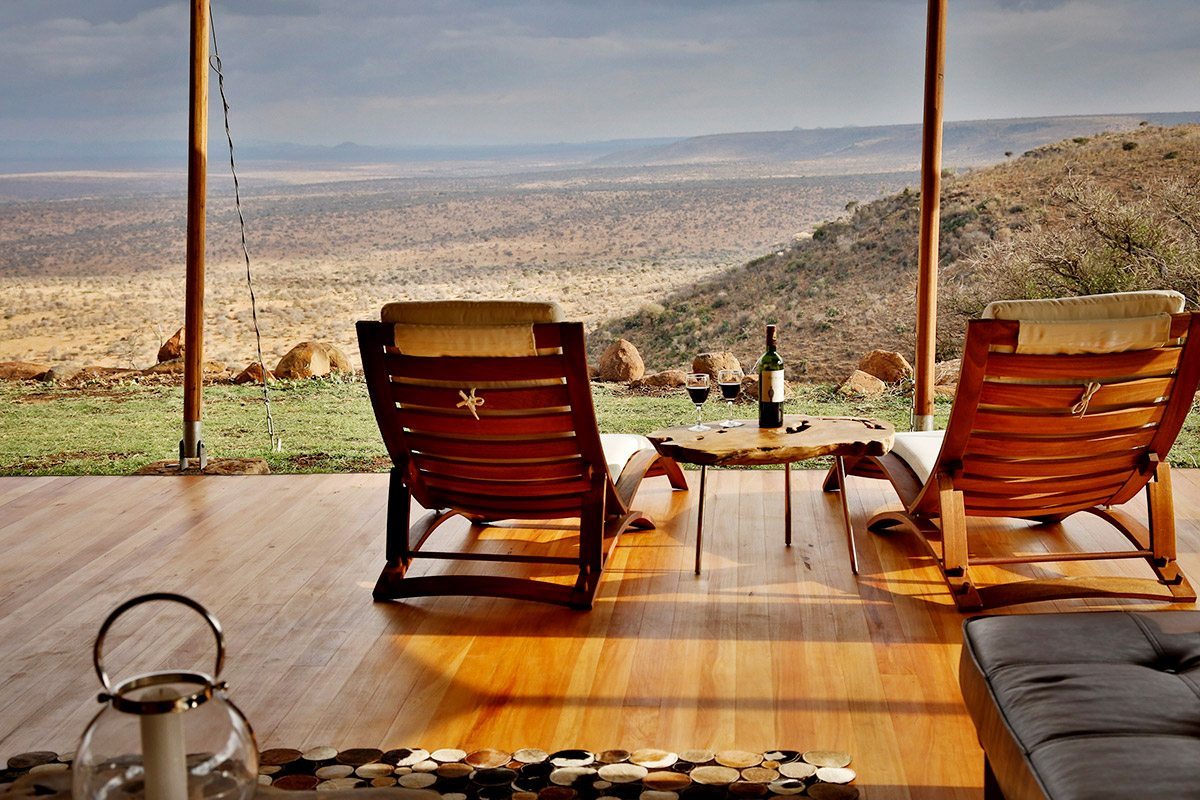 5. Loisaba Tented Camp, Kenya
With incredible views facing toward Mount Kenya, Loisaba Tented Camp is perched high on the edge of an escarpment. There is a waterhole nearby that attracts an abundance of wildlife, plus large verandas for each guest to enjoy panoramic views. It doesn't get more luxurious than this!

6. Singita Sabora Tented Camp, Tanzania
Singita Sabora Tented Camp is set in 350,000 acres of protected wilderness in Singita Grumeti. The concession is located adjacent to the Serengeti, meaning guests can enjoy front row seats to the best nature show on offer – The Great Migration. Not only is this one of Africa's most prized possessions, but it is also a wildlife lovers dream. Join your fellow travelers as you watch 1.5 million wildebeest and hundreds of thousands of zebra and gazelle travel North.

7. AndBeyond Nxabega Okavango Tented Camp, Botswana
Ideally positioned in the Okavango Delta, Nxabega tented camp is one of the most popular choices for travelers in the region. Being an AndBeyond camp, you can expect a high level of attention to detail, despite the rustic impression of the tents at first. There is a level of service on offer here like no other, from having a dedicated butler to multi-course meals at the lodge every evening.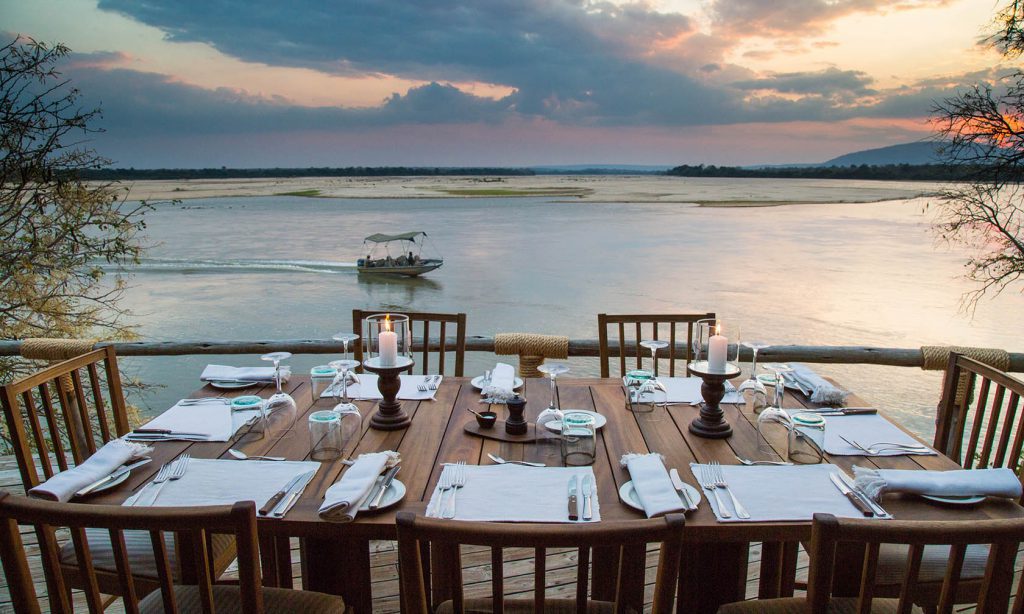 8. Nomad Sand River Selous, Tanzania
Perched high on a rocky peninsula, Nomad's Sand River Selous is the perfect opportunity to feel swept away by the romance of Tanzania. This beautiful lodge is glamping in Africa at its best, especially if you find solace in being by the water. There is much more on offer than morning and evening game drive, making this a great camp to choose if you want something a little extraordinary!

9. Legendary Serengeti Mobile Camp, Tanzania
If a mobile camp that moves around with the wind sounds more up your alley, look no further than Legendary Serengeti Mobile Camp in Tanzania. This camp is sure to surprise and delight with no two visits ever being the same. There are a total of 11 luxury tents on offer, making this a great way to meet people if you are traveling alone or as a couple.

10. Somalisa Camp | Hwange, Zimbabwe
Over in Zimbabwe, Somalisa is the perfect choice for those who prefer more structure and stability. When it comes to glamping in Africa, this camp is more like a lodge. But we know tents are not for everyone! Hwange National Park is a land of contrasts, giving guests an opportunity to experience the real and raw side of Africa.