Generally, wildlife and safari activities are the main attraction for travelers visiting Africa, but a huge bonus is the delicious local snacks and refreshments you'll taste while on safari. There are incredible dining opportunities in cities all throughout Africa, and we highly encourage you to check them out, but we've come to be most fond of the bites and beverages you'll find while in the bush.
If you ask anyone who's ever been on safari, they'll tell you that you definitely won't go hungry. When staying at luxury, all-inclusive properties, there is no shortage of incredible food to taste and traditional beverages to enjoy.
Beat the Heat and Jumpstart Your Day
First thing's first. To start your day on safari, you'll have an early morning wake up to beat the sun and catch wildlife when they're the most active. When you're ready, you'll meet your group in the main lodge for coffee, biscuits, fruit, teas, and more before jumping into a Land Rover and heading out for safari. You can expect aromatic African coffees and a variety of rooibos teas to enjoy. Rooibos is an herb native to Africa that, when harvested and dried, can be brewed into a reddish-brown herbal infusion dubbed "African red tea" or "red bush tea". It is tradition to serve rusks with tea, as well. These biscuit-like pastries are baked in a big sheet, sliced into chunks, and slowly dry out overnight in a cooling oven so they are able to harden. Once they've hardened, the idea is to dunk them into hot coffee and tea so they soften (and can be more readily enjoyed).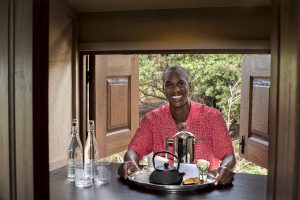 Some lodges feature a butler's hatch or coffee cupboard in your room, which is essentially a small window that opens to the outside of your lodge where your butler can leave your coffee ready-made so it is waiting for you when you get your wake-up call.
Mid-Morning Snack
After a few hours of game drive exploring, you'll take a mid-morning break to stretch your legs and grab a quick snack. Your ranger will pick a safe location to stop so that you can get out and explore a little on foot, while they set up the most wonderful spread of snacks (similar to the morning options mentioned) on a small table or on the front of the vehicle.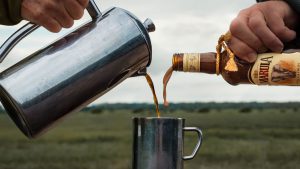 If you're in the mood for something special, a safari favorite is Amarula. This cream liqueur originates from South Africa and is made with sugar, cream, and the fruit of the African marula tree. Amarula mixed with coffee or hot chocolate are both iconic safari beverages, and mixing all 3 together is our personal favorite! Think: Cafe Mocha with Baileys!
Post-Game Drive: Breakfast, Lunch, and Relaxation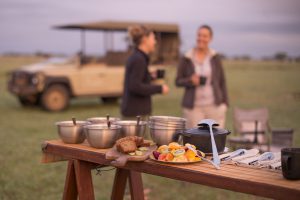 Following your game drive, you'll return to the lodge for a full breakfast: eggs, farm-fresh vegetables and fruit, incredible baked goods and more. You'll have an opportunity to explore and enjoy the lodge, spa, gym, walking safari, etc.
For breakfast and brunch, you can expect anything from omelets to quiches with a variety of salads. Continental breakfast is also typically served with toast, sausage, pastries, charcuterie, cold meat, coffee, and tea. Cereals, fruits, bread, eggs, and cheese are also very common. Like I said, you definitely won't go hungry.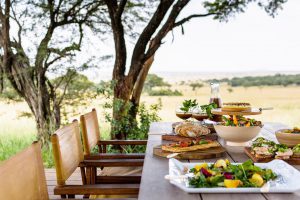 After getting your fill with brunch, you'll have a much-needed siesta before lunch at the lodge. Although it's hard to imagine eating more at this point, the food is so tasty and fresh, making it hard to resist. Menus and options are constantly changing based on the freshest ingredients and local produce.
Afternoon Game Drive: The Snacks Continue
When it's time to meet for your afternoon game drive, the main lodge is set with more snacks and beverages such as iced teas, coffee, and other baked goods.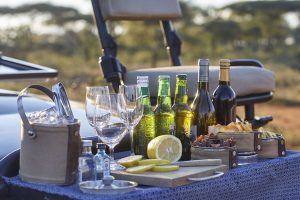 Before setting off to your late-afternoon game drive, high tea is served with afternoon snacks — or bitings, as it is usually called in East Africa. Freshly roasted peanuts or cashews, cakes, sandwiches, biscuits, quiches, and tarts are most commonly on the menu.
Towards the end of your afternoon safari game drive, you'll stop for a sundowner (or sunset happy hour) so that guests can drink in (figuratively and literally) the beautiful scenery in the African wilderness. An assortment of local favorites will be on offer: Biltong (Africa beef jerky/dried meat made from various types of game), droewors (Africa dried sausage), dried fruit, spiced nuts, more biscuits and cookies, etc.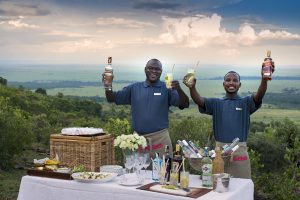 It is during the sundowner that your safari ranger quickly transforms into your bartender, offering delicious Gin & Tonics, assortments of beers (some great local choices include Savannah Dry Cider, Tusker, Castle Light and Kilimanjaro), or any wine, champagne or cocktail you'd like. You'll watch the sunset, down your beverages/snacks, and then head back to the lodge.
Once you've arrived back at your lodge, you'll enjoy dinner before you have a nightcap at the bar with your fellow safari-goers, and then it's off to bed. In the morning you'll repeat it all again.
The outstanding, all-inclusive luxury lodges in Africa can do it all. They provide the freshest quality ingredients and choices for visitors, including local and traditional flavors for guests to experience – which, of course, is part of the fun when visiting a new part of the world. They are also able to cater to any dietary restrictions, allergies, or preferences even for the pickiest eaters.
Dining is such an enjoyable part of travel – and it suffices to say you'll never go hungry on safari!
Start Planning Your Dream Trip
Reach out and let's start talking. We'll listen and begin to tailor an experiential, private, luxury vacation based on exactly how you want to experience Africa. From adventure to relaxation—and everything in between—let us handle every detail of your unforgettable journey.