A Long History of the Ultimate Safari Refreshment
As your evening game drive winds down, and you find yourself enjoying a stunning African sunset under a towering Baobab tree, you may wonder why a Gin and Tonic is the first refreshment offered to you by your guide. In addition to being regarded as a favorite summertime beverage, the Gin and Tonic had a very practical (and serious) beginning!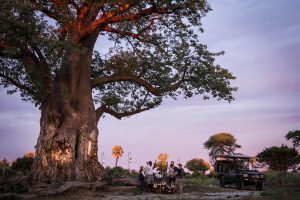 It All Started Here
Nicknamed and stylized G&T, the Gin and Tonic was originally developed out of necessity in the 19th century to ward off widespread malaria in the rapidly-expanding British empire. As British colonialists did not yet have the luxury of modern medicine, they took to quinine, an anti-parasite compound which possessed strong medicinal properties and effectively eliminated malaria. Originating in South America from the bark of the cinchona tree, the bitter quinine was mixed with sugar, water, and lime, and because gin wasn't in short supply and was easily accessible to soldiers in India, it was also added to the mix. The original G&T was officially born. With a healthy dose of vitamin C from the lime, this drink also provided protection from scurvy, which further enhanced its appeal.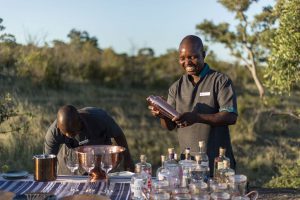 As the Brits continued to colonize, they found their way to Africa. Because there was still a strong need for an anti-malaria treatment, their signature G&T cocktail tagged along. It became the go-to drink of choice for all military personnel and was eventually infused into social situations and contexts outside of its use for treating malaria, which is how many of us understand and appreciate it today.
"The Sundowner"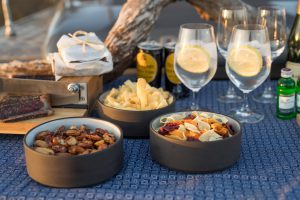 Having enjoyed renewed popularity, the Gin and Tonic is still widely used in Africa today, although under considerably different circumstances. It most frequently accompanies the pre-dinner sunset hour, hence the name "Sundowner".
The scene that comes to mind is likely to be right: You've stepped out of your Land Rover, gazing out at hues of neon orange, pink, and purple, as your field guide creates an impressive spread of dried fruits, nuts and biltong (cured jerky) on the hood of the car. To complete the ritual, he then offers you Gin and Tonic sundowner. Nothing tastes more refreshing and on-brand to end your day on safari.
Different Takes on a Classic
The perfect Gin and Tonic is:
1 to 2 parts Hendrick's Gin

3 parts Fever Tree tonic water 

1 wedge of freshly sliced lime 
Best served on ice with views of an African sunset!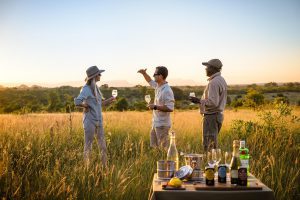 The craft gin scene is booming throughout South Africa, bringing you botanical and citrus flavors, bright colors, and aromas of which – it's safe to say – you've never experienced before. Although there are innumerable ways to concoct the perfect G&T, field guides in Africa swear by Fever Tree tonic water because its quinine is sourced from the last cinchona trees in existence. While easy to make, we guarantee that the best Gin & Tonic you'll ever have will be on your next safari in Africa. Visit us on Instagram for more travel inspiration.
Start Planning Your Dream Trip
Reach out and let's start talking. We'll listen and begin to tailor an experiential, private, luxury vacation based on exactly how you want to experience Africa. From adventure to relaxation—and everything in between—let us handle every detail of your unforgettable journey.